This is what I can do for you if you are…
I know that running a colorful paradise of shiny treasures is not only about playing with those little beauties. As the owner of the first bead shop in Slovakia I've been there myself. I learned a lot during those six years until I decided to pursue a different career as a jewelry designer, and I remember very well the happy times (there were a lot!), the challenges and the daily tasks, too.
Thanks to technology the world is getting seemingly smaller and smaller, and the competition between businesses escalates. I strongly believe that concurrency is not a bad thing. It can sometimes be frustrating, yes, but it forces us to be strong, determined and to come up with the best possible services and products answering the actual demand of the market.
It's not easy at all, and I would like to offer you a helping hand.
If you like these possibilities
or have a different idea,
don't hesitate to contact me!
Looking forward
to work with you!
Erika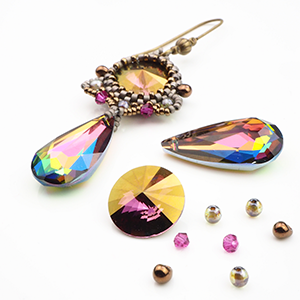 You can download my free jewelry making tutorials now.
You will get them one by one directly into your inbox, and yes, you can use them from now until the end of time. I will add new patterns from time to time, and you will receive them, too, if you decide to stay close.
You can hand them out to your customers in your shop as a special treat, or send them together with orders or newsletters. You are the one who knows your customers the most, so I'm sure you will know how to treat them according to their liking.
An easy and quick solution. You won't even need a graphic, because I can design a banner for your shop myself.
Your store can get featured on my website.
This website is much more than just a gallery of my own work. It features articles, interviews and offers inspiration and high quality resources for beaders and crafters. And your business can be featured here!
By answering my questions and sending me photos about your store you can introduce yourself to your current and future customers on a different level. Reading your story and some behind-the-scenes information creates deep engagement between them.
If you want, you can also offer a goody pack for a lucky reader or a special discount / coupon code for a purchase.
I can come and teach in your shop or on your event.
Downloadable beadwork tutorials are great, but nothing inspires as much as a face-to-face meeting. During a workshop all the questions get answered and a special bond is forming between beads, students, teacher and your place itself.
Real life meetings are the memories we treasure the most. I would love to visit your store or teach at your event.
If you decide to work with me, I can prepare kits for the students to use on the workshop, if you wish. If you have trouble finding any of the beads / components for the projects, I am happy to help you.
I can help you if you have trouble selling a specific product.
There are a lot of different beads and components available nowadays, and truth to be told, not all of them are perfect. Some of them get a lot of attention and some of them remain unnoticed even if you stocked them in a wide variety.
I can help you to boost the sales of specific products by:
developing a pattern specifically for you,
writing an article about that bead shape / color / tool / component, featuring the products which cause you trouble and directing attention towards your store.
I accept sponsored posts for beadingschool.com.
Yep, true. You can send me a text and pictures you would like to show to my audience. The article should be a well written, original content (min. 300 words) and the images must be free of copyrights under Creative Commons CCO or owned by you or your company.