This is what I can do for you if you are…

We can come up with different theories about the meaning of life, but I think we can agree, that the most important are people we love and the memories we share with them. Nothing can make up for a silent moment of holding hands with your loved one or a good talk and laugh together.
Love can not be translated into material things, but it's nice to remember a birthday, anniversary or a different celebration through a special gift received from a special person.
Here you can find meaningful, artisan jewelry. They are not only shiny crystals, stones and beads, but all of them have a special story – which will be continued by the person who receives this well-chosen, memorable gift.
If you like these possibilities
or have a different idea,
don't hesitate to contact me!
Looking forward
to work with you!
Erika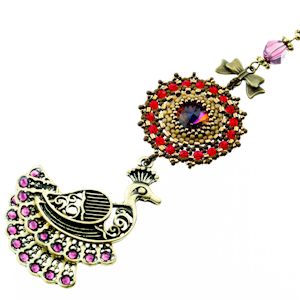 Choose a one-of-a-kind jewel for your one-of-a-kind lady.
Tastes are different, and sometimes it's not easy to make a choice. However, there are different tools on this site to help you: you can select the jewels by collection and colors, and you can also filter by price. There's also the option to make a detailed comparison.
And if you feel that none of this is a real lifesaver, remember, that you are only a mail away from me, and can write me about your conception and even send me pictures to help to visualize the style of your loved one better.
Ask her to create a wishlist!
This is a great consensus between enabling her to choose and killing the surprise completely. Ask your loved one to create a list of jewels she fancies. Making the choice from to this selection will be a lot easier and you can't possibly go wrong.
Making a wishlist can also be part of the experience – sit down with a glass of wine or a refreshing lemonade, and go over the collections together! Dedicated time to your loved like this one is just as important as the gift itself.
Get a gift certificate, so the xxx can make the choice!
Sometimes the wide selection of shapes, colors and sizes seems overwhelming, and sometimes there's just not enough time… Don't worry, I share Marie Forleo's opinion, that "everything is figure-outable."
You can choose to buy a gift certificate, which can be later used to purchase finished jewelry, beadwork tutorials or jewelry making kits and beads.
Order a personalized gift!
While of course there are some limitations, many of the jewels can be reproduced in a different color-way or size. If you see a design which you like, but the person you want to surprise would like it more in a different color, or you know that the size of the currently listed piece is too big / small / thin / wide for her, don't hesitate to contact me!
Here you can read about custom orders.
Oh, and don't worry, there is a back door…
It can happen that you think this time you nailed it and really managed to find the ultimate gift. But then, unfortunately, she doesn't seem to share your opinion. Don't worry, we can still save the situation together.
You can read here about the possibility to ask for a return or exchange the purchased jewel.