I first met "serious" beading when I was a student of Aesthetics and Hungarian language and literature with a focus on teaching. I intended to research old Hungarian texts. I even picked up Turkish language for a while just to see, how big or small are the similarities between the two after so many centuries of influence. (The Hungarians lived besides Turks before arriving to Europe, and later the Turks payed an uninvited visit to Hungary, which lasted 150 years.) I took my studies quiet seriously. But then, while studying for my double major and writing my thesis, I picked up a new hobby to ease the stress, which seriously infected my life.
Long story short, I didn't become a linguist nor an art historian. Only half a year after finishing university I opened my own bead shop. However, teaching stayed in my life thanks to those 6 years managing Koralkovy svet in Bratislava, Slovakia. I was teaching beginners and later advanced beaders, too. Sometimes alone, sometimes together with fellow teachers, Zsuzsanna and Sasa. And when it became really busy with the bead shop, I was staying in the background, preparing the tutorials, and my friends Zuzi and Brigi teaching the actuals workshops.
Since the shop was transferred to its new owners last year in March (and I moved to Amsterdam), I didn't have the opportunity to teach. And oh boy, how I missed it! Workshops are not only about talking on my side and following the instructions in silent on the side of the participants. I think beading workshops are the best place to meet creative, like minded people. You talk and laugh together, influence and teach each other all the time. I missed it very much during the last year. So if you like what I'm doing (wherever you are in the world), please persuade the owner of your local bead shop to invite me to teach a thing or two 😀 Or if you are a bead shop owner, contact me at erika@beadingschool.com today!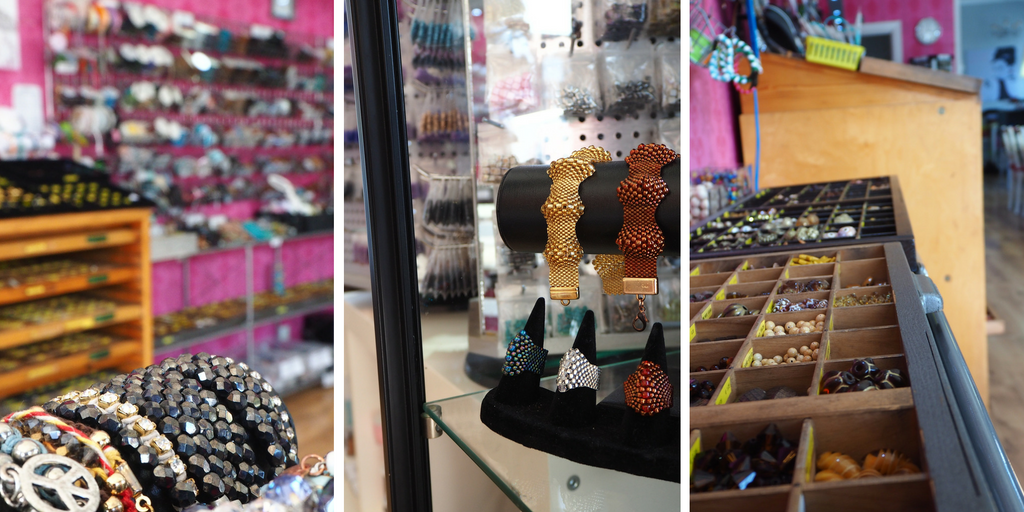 The Limited Edition in The Hague, The Netherlands
Last Saturday (22.10.2016) I visited the bead shop of Monique Kooij, the Limited Edition in Den Haag, The Netherlands. It's a happy, colourful place. Of course, Monique carries Miyuki and Toho, Czech beads and Swarovski Elements, but what I like the most is the unbelievably huge selection of leather cords, ribbons and metal components to go with them. I always struggle to find the best necklace or chain to go with a pendant, and I strongly believe that my problem is solved now, thanks to Monique's good taste!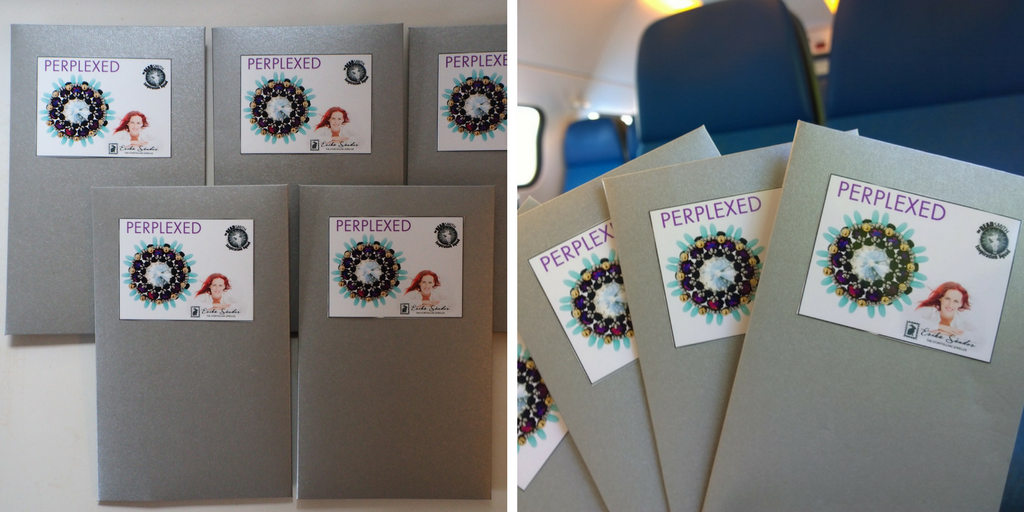 The tutorials lined out on my table, then traveling from Amsterdam to The Hague. I had a minor accident with the yellow ink cartridge while inserting a new one into my printer, but luckily the gift packaged patterns were not affected. On the right side they are on their way from Amsterdam to The Hague, already after a smooth change in Leiden.
The participants were all working hard. See, how focused they are! But in the meanwhile they also found time to teach me some Dutch words! It was a wonderful group with very kind people, and even the shop owner, Monique joined us! And the best part was, that some of the ladies even adapted the last part of the design to their own style, and came up with different versions of the Perplexed motif! I am looking forward to see the finished jewels next time, when we meet again to learn to make a Swarovski beaded bead and the the Butterfly Molecule earrings!