I have a personal challenge for 2020. And you're welcome to join me any time 😉 I decided that this year I'll focus on a different theme and a specific kind of material every month. In February, the material I work within every one of my jewels and about which I decided to learn more are pearls. You can find articles about the history, symbolism, trivia about pearls and a post collecting Storytelling jewelry with pearls already on the blog. Keep reading to find out what my theme is!
Today I brought you a collection of pearly jewelry from bead artists all around the world.
The accompanying text is a mixture of my fantasy, reality, beading info, etc. If you have any questions about the projects, please contact the artists directly. Wishing you lots of fun, and don't take me too seriously today 🙂
Yours,
Erika

Sign up to my newsletter if you don't want to miss articles like this in the future and would like to receive some free tutorials from me: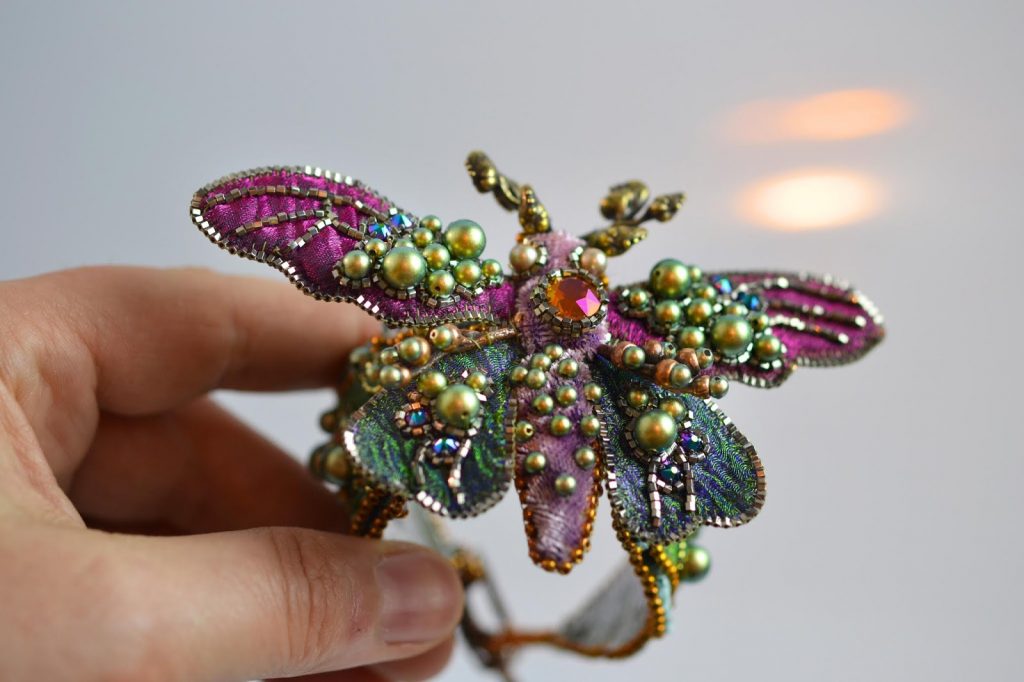 Zhuangzhi's Butterfly by Kinga Nichols (Crimson Frog Designs)
Look at Kinga's jewelry and step into a beaded dreamworld!
Trees with fruit and flowers from crystals, a pond in the distance – like a silver sheet of metal, frogs quaking and blinking their whimsical emerald-shine eyes at you. Then a butterfly sits on your shoulder. You look at it, and you notice all the sparkle. It's gently flapping its delicate wings, that look as if they were made of an oriental, soft fabric, and are covered by crystals, rhinestones, and pearls.
Zhuangzhi's Butterfly is one of Kinga's workshop only projects.
2 minutes of literature for Hungarian-speakers.
Click here for Kinga's blog, Etsy and Facebook page and check out Kinga's workshop schedule to see if she's coming somewhere near you.
Crabby Maryland by Kinga Nichols (Crimson Frog Designs)
Let's get closer to the silver pond with the blingy-eyed frogs, shall we?!
The velvety grass is gently bending under your soles. As you crossed the border to this wonderland, your shoes must have disappeared. Palm-sized beetles are running across your path. Their feelers briefly point at you, as the beetles stop for a second to check you out. Their antennas seem to be dipped into liquid gold, with a tiny diamond sitting at the end.
There is a red mass moving on the lakeshore. When you are about 10 meters away, the mass divides into… crabs! The coral-colored creatures are dancing together by the water shore. They shift into different shapes, drawing long, wavy lines into the sand. Suddenly, they all freeze and lift their clams to the air – every one of them holding up a huge, white pearl towards the sun! When they notice you, they all disappear into the lake. Except one…
The crab slowly walks closer and closer. It touches your pinky toe softly and continues upwards on your trousers and coat, until it can sit comfortably in your pocket.
You can bead your little companion during one of Kinga's workshops.
Click here for Kinga's blog, Etsy and Facebook page and check out Kinga's workshop schedule to see if she's coming somewhere near you. And if not – it'll be worth the travel  🙂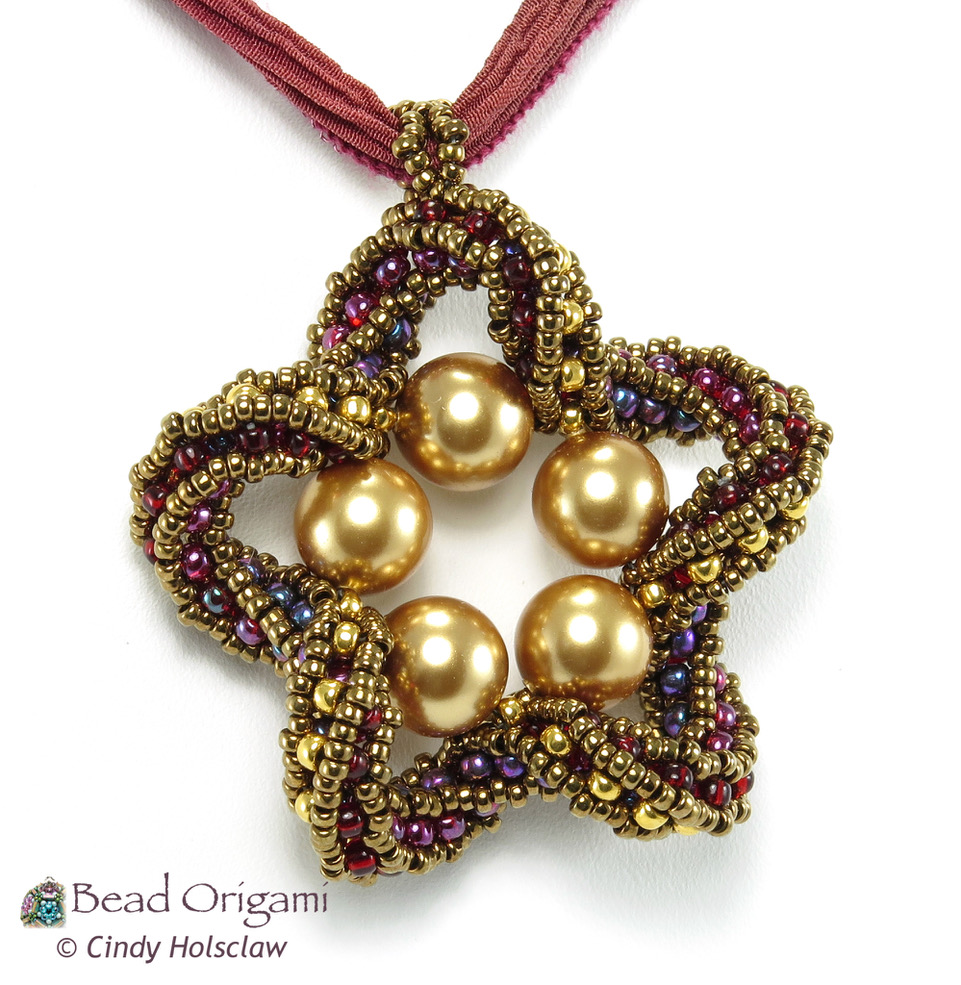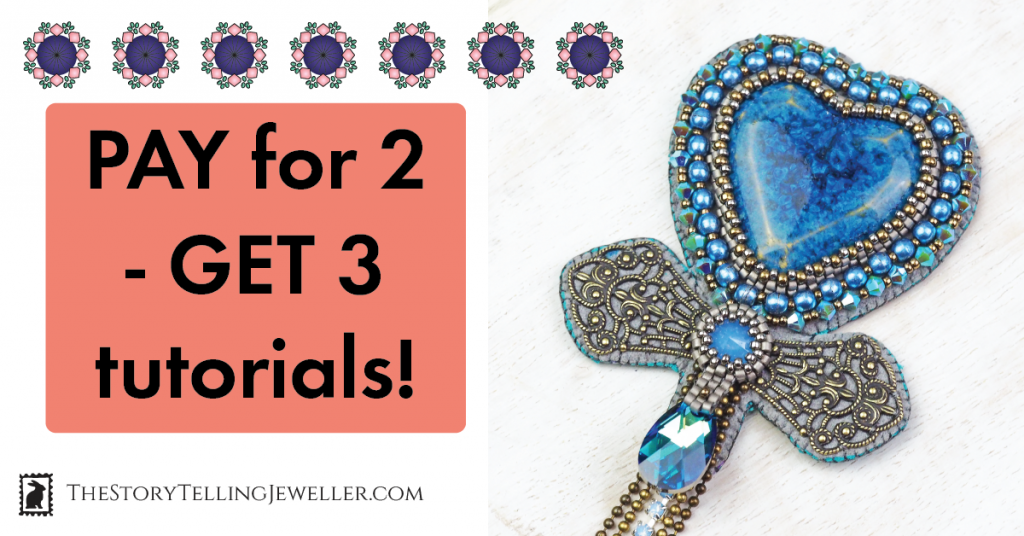 CLICK HERE!
When I look at Cindy's designs, I have a feeling that there is something very scientific and at the same time absolutely poetic about them. In this case, I can even put my finger on it: the strict geometrical structure of the CRAW-spiral is pulled together by pearls, which in my opinion add an oriental touch to every design. I bet that the night sky above the palace where Scheherezade told her 1001 tales was full of shiny stars exactly like this!
Click here for Cindy's e-shop and Facebook page.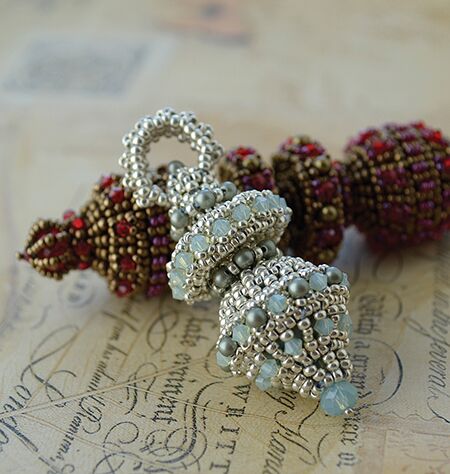 Albion Treasure by Heather Kingsley-Heath (Heatherworks)
I'm pretty sure that this vial decorated with crystals and pearls contains a magic potion!
Especially, since it comes from a beady kitchen in England, where all those weird creatures live, including a neurotic rabbit and long-eared, arrow-shooting folks dressed in silver, grey and green. Moreover, when you google English folk tales, between the first finds you have Ursilla from Stronsay, the witch-hare of Cleveland, the dandy devil dogs of Devon, and only then comes an ordinary vampire and a mermaid.
Check out Heather's e-shop and Facebook page. And if today is the day to learn a new technique, I highly recommend her versatile, easy-to-understand Albion stitch!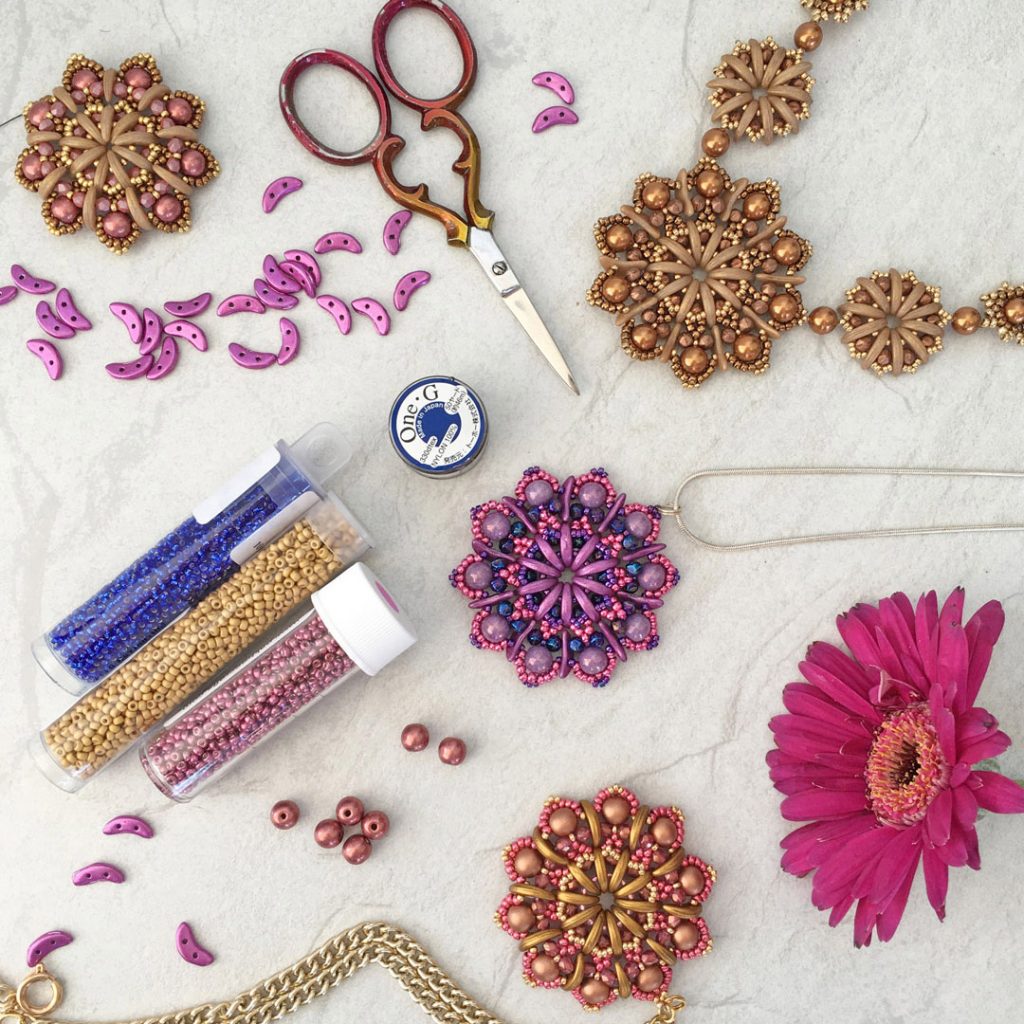 Crescent Mandala by Chloe Menage (Pinkhot Jewellery)
Let's stay a bit longer in foggy, stormy England! Imagine, that you live in the countryside. You take long walks day by day, up and down on the hillsides. The rain beats your cheeks and the wind is battling with your ankle-length skirt. (No, you don't have an Internet connection to occupy you in a warm, cozy living room until the downpour passes. You live in the 18th century, your name is very probably Jane or Catherine and you long for adventure.) Don't mind the puddles and the draught: something is keeping you warm.
In your pocket, your fingers are embraced around a precious medallion…
Click here for Chloe's e-shop and Facebook page to marvel at her happy, yet poetic pieces.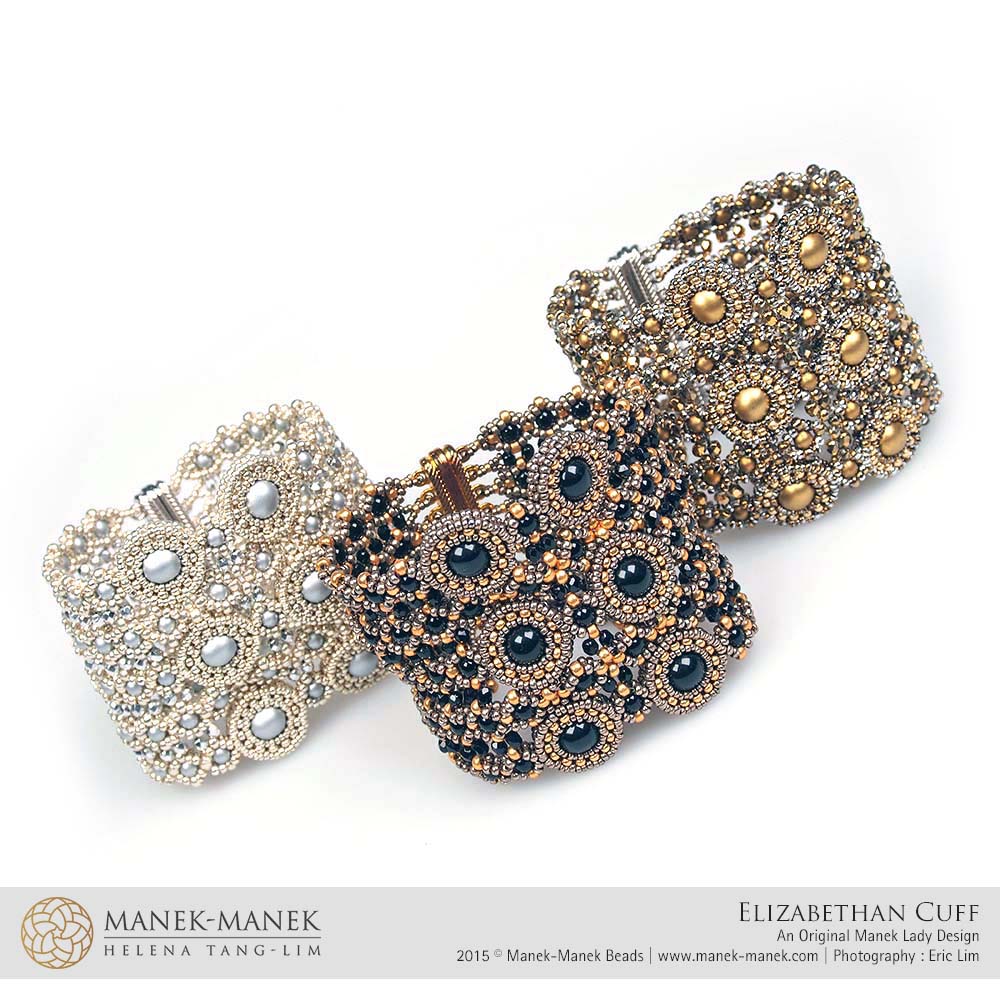 Elizabethan cuff by Helena Tang-Lim (Manek-Manek)
Not only the girl running across the hilly, rainy countryside but the fierce, red-haired woman sitting on the highest chair of England had an affection for pearls. A 7 row necklace around her neck, thousands of tiny pearls sewn onto her robes (removed and attached back every time when her robes needed cleaning), and most definitely a decorative, wide cuff – showing her strength and authority.
Put on the Elizabethan Cuff and you'll feel stronger and taller then ever before, I promise!
Click here for Helena's e-shop and Facebook page. Her jewelry is PERFECT. There is nothing else to add.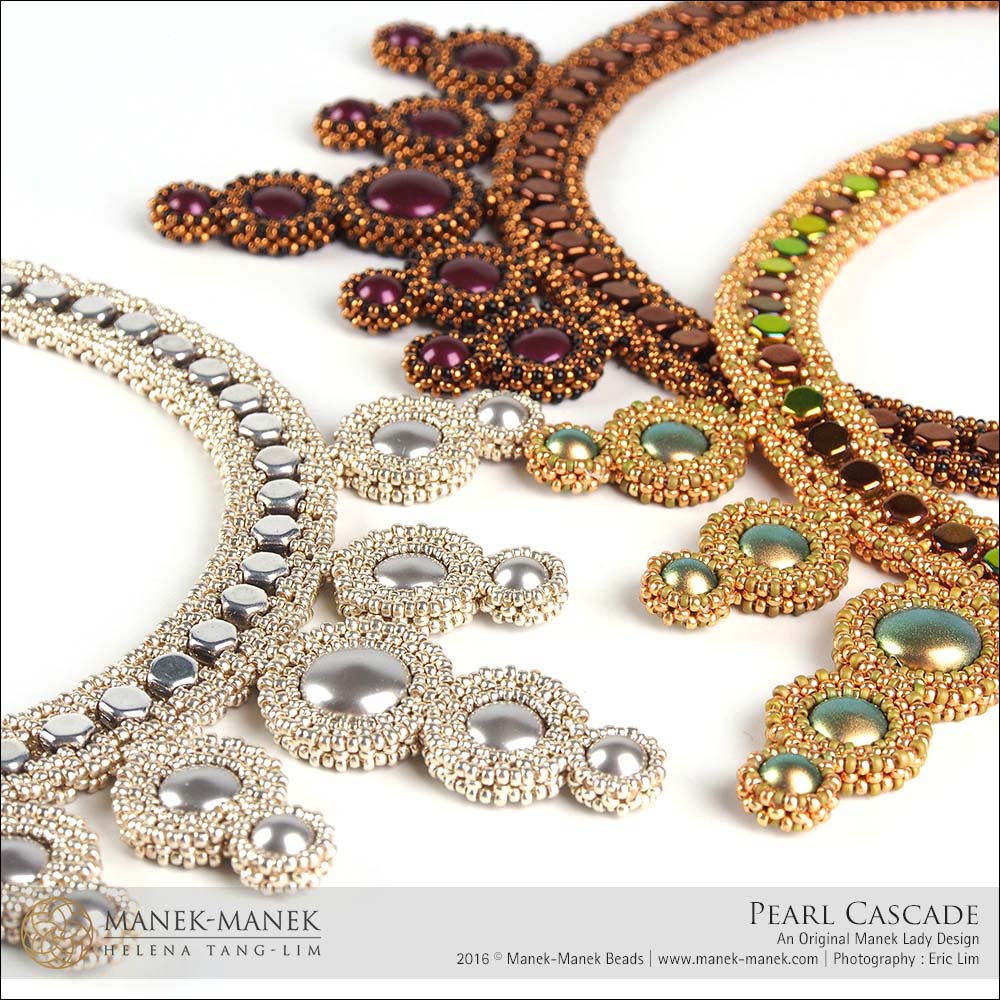 Pearls Cascade by Helena Tang-Lim (Manek-Manek)
A couple of years ago I stood under a 20 m tall waterfall in Sri Lanka. The rapid was surrounded by trees. The sunlight was filtered by the giant leaves of the rainforest and the small lake turned green. The noises of the surroundings were absorbed by the thundering of the water. Still, I managed to notice the monkeys creeping closer, eying the bananas I had as a snack. Only a couple of hours ago, we saw a group of wild elephants crossing the road in front of our three-wheeled tuk-tuk, and we found a slender, vibrant-colored snake when crossing a tea-plantation.
I could still hum the rhythm of the drumming from the other day in the  sacred temple.
All these experiences fall into their place, as we were standing under the mass of the running water. I have the same calming feeling of "everything is how it's supposed to be" when I look at Helena's Pearls Cascade, don't you?
Click here for Helena's e-shop and Facebook page. Her jewelry is PERFECT. There is nothing else to add.
Bezeling by Appolinariya Koprivnik (Pikapolina)
The cat sat comfortably on the young woman's lap. Her fragile, gentle hand was playing with its ears and she scratched her under the chin from time to time, exactly as the animal liked it. The chair was facing the window, however, she was most of the time focusing on a book or the kitty instead of staring out. Was she bored with looking at the sailors on the deck, scrubbing the wood, or was she following her father, the captain's orders who threatened her by throwing the cat to the deep blue sea if she was ever caught paying too much attention?
When the star-shaped medallion was found in the sailor's pocket, he kept his mouth shut. (The blond one from way up north, who used to stand guard in front of the lady's room and whistle with the wind.) No one ever got to know, if he received it as a token of love or if he took it without permission. The captain kept his word, and the cat flew across the railing only minutes after the waves closed above his young, blond head. No one ever dared to whistle on the ship since then.
Click here for Polinka's e-shop and Facebook page, and get to know her more through this interview.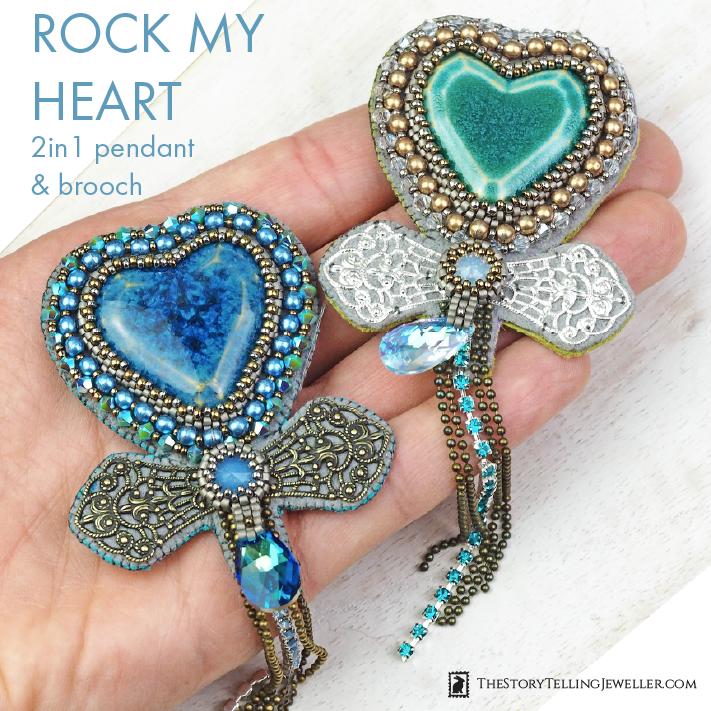 Rock My Heart 2in1 pendant and brooch by Erika Sandor (The Storytelling Jeweller)
Rough edges, ethereal wings, and deep, deep devotion. A chain and a jewel at the same time.
"You are something special in my heart…"
Click here for the tutorial, the kits, and the handmade, art quality cabochons.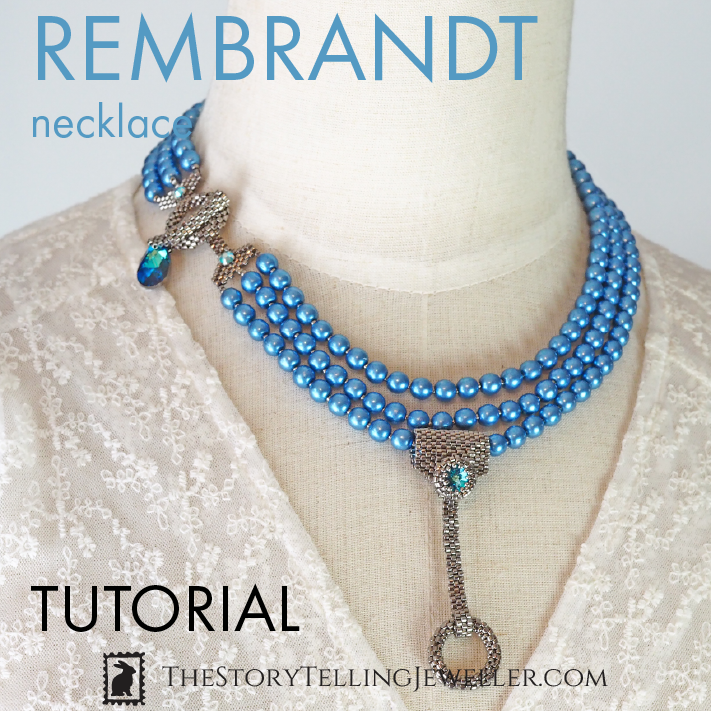 Rembrandt necklace by Erika Sandor (The Storytelling Jeweller)
The Rembrandt necklace was inspired by a recent visit to Amsterdam's Rijksmuseum. It's the next in my series for my challenge in 2020: a different theme and different material in focus every month. In February I focus on the theme 'Something special in my heart' and work with glass pearls in every one of my jewels.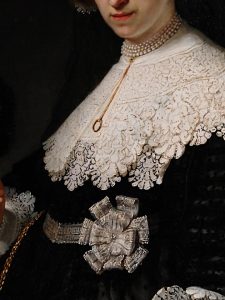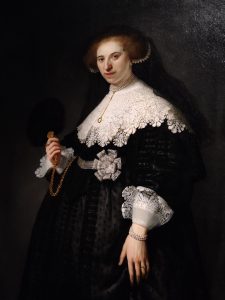 2019 was the year of Rembrandt van Rijn, marking the 350th anniversary of the maestro's death. His portrait of Oopjen (and her young husband Marten) was a turning point in art history: these two were the first head-to-toe portraits painted about "common" people, not belonging to the circles of royalty.
This incredible wealth was the result of commerce between the Dutch Kingdom and the so-called East and West Indies (Asia and the American continent). The exotic touch of the pearls reflects this perfectly. Even if this young couple lived through the happiest times of their lives while standing models for Rembrandt, sadly, the countries where all this wealth originated were used as vassal states and kept in poverty.
We can only imagine how the clasp of Oopjen's necklace looked like. However, the multi-strand pearls and the long, unusual shape of the pendant are clearly recognizable on this beaded 'replica.'
Click here for the tutorial and the kits.
Sign up to my newsletter if you don't want to miss articles like this in the future and would like to receive some free tutorials from me:

Read more about pearls!