#ClubDesigns is a series of articles on the Storytelling blog and a series of posts in the Beadingschool Club on Facebook.
Erika says:
"Since the beginning of the first COVID-lockdown, we bead together every Friday, to make sure that #NoOneHasToBeadAlone.
We bead a different jewel every week – designed specifically for the workshop. Afterward, it's really fun to see all the variations beaders come up with! Not only colors differ, but very often a pendant becomes a brooch, a motif that was originally an earring is modified into a bracelet or a ring. Moreover, sometimes it happens that not all the bead shapes are available to someone – and she needs to alter the original design to make it work."
The #ClubDesigns series is the collection of this beady wisdom.

Small in size, strong in attitude
The Attitude motif may seem small, but it's powerful and faithful to its name! The 3-bead shape is different from most of Erika's #NoOneHasToBeadAlone designs and it got very popular among beaders in the Beadingschool Club on Facebook. There were so many posts it was very difficult to select only some of them.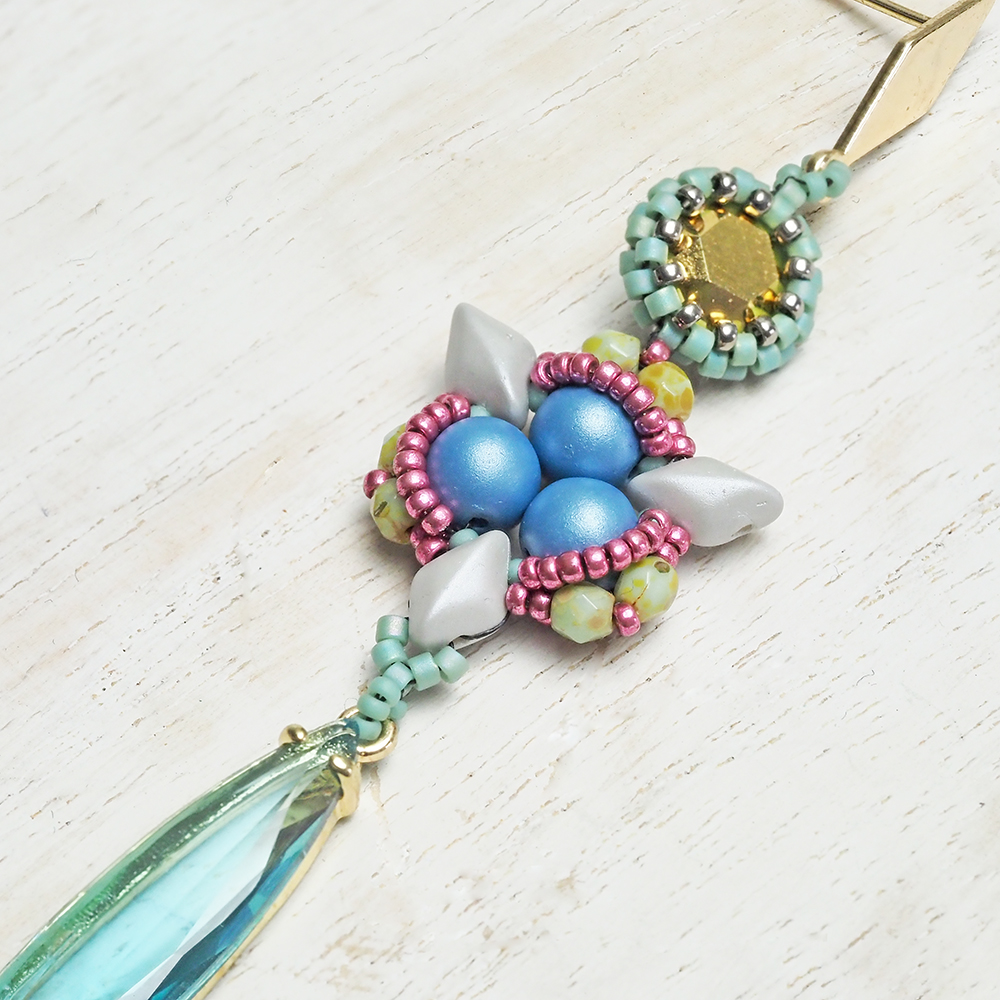 Click here for the beading tutorial!
MATERIAL LIST
Tools:
thin beading needle
bead mat
thread burner or scissors
Let's see what we beaded together and shared in Beadingschool Club on Facebook.

Attitude earrings by Britt-Marie Piltto Häggqvist and Ludmila Turzová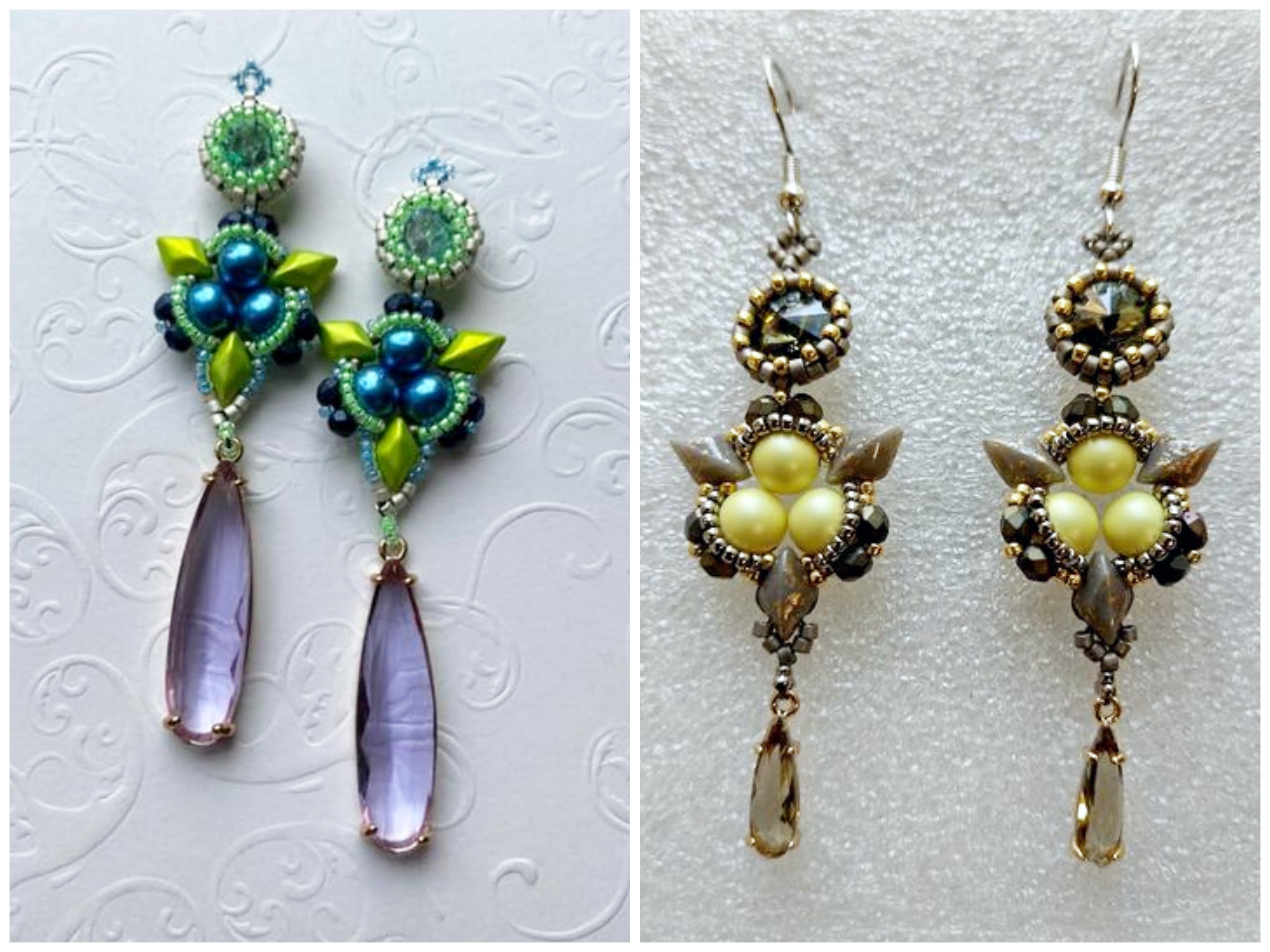 Britt-Marie – earrings on the left side
Ludka – earrings on the right
Ladies beaded Erika's version of Attitude earrings, the difference is Ludka used a small size of the glass drop in a metal setting. Both pairs are nice and I'm happy you shared them with us!

Attitude with pearl drops by Elena Lazovik and Faye Williams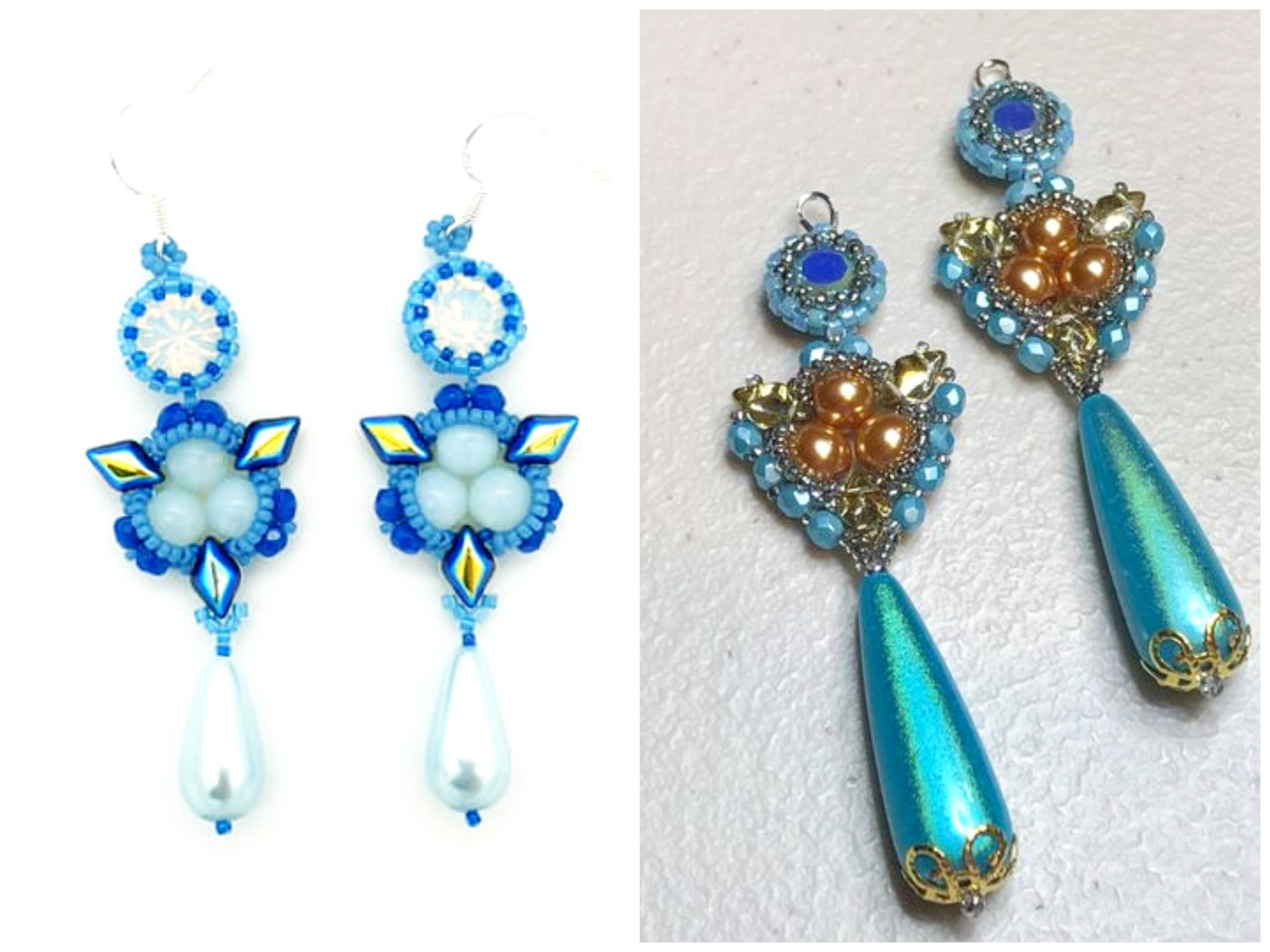 Elena – earrings on the left side – says:
I liked the Attitude pattern very much. I started with one pair using petrol, violet and pink colors, and I really liked the result. But then I just thought that I need to try while opal and blue. In the end I ended up with two pairs. And you know, I like them both!
Faye – earrings on the right side – says:
Attitude Earrings (with additions). I wondered what they would look like if the empty holes in the gemduos were filled so added extra 15/0's and firepolished along the sides. Quite like the outcome.
I really like ladies chose pearl drop beads to finish their designs. It fits nicely with the glass pearls in the center of the motif. They don't need to be in the same color, but the style and coating make the match. Thank you, ladies!

Romantic versions by Sheri Chapman and Ulrika Anderson
Sheri – earrings on the left side
Ulrika – pendant on the right side – says:
I did an Attitude decoration for the key to my newly painted dresser instead of earrings.
Sheri's earrings earned over 100 likes and 80 comments in Beadingschool Club on Facebook. It was quite a phenomenon! The colors and components worked together so well! Ulrika made a different call, making a charm pendant to decorate the key – what a great idea! Absolutely amazing, we loved it!

Fresh look with Attitude by Theresa Daudier, Deb Taylor, and Katalin Dudás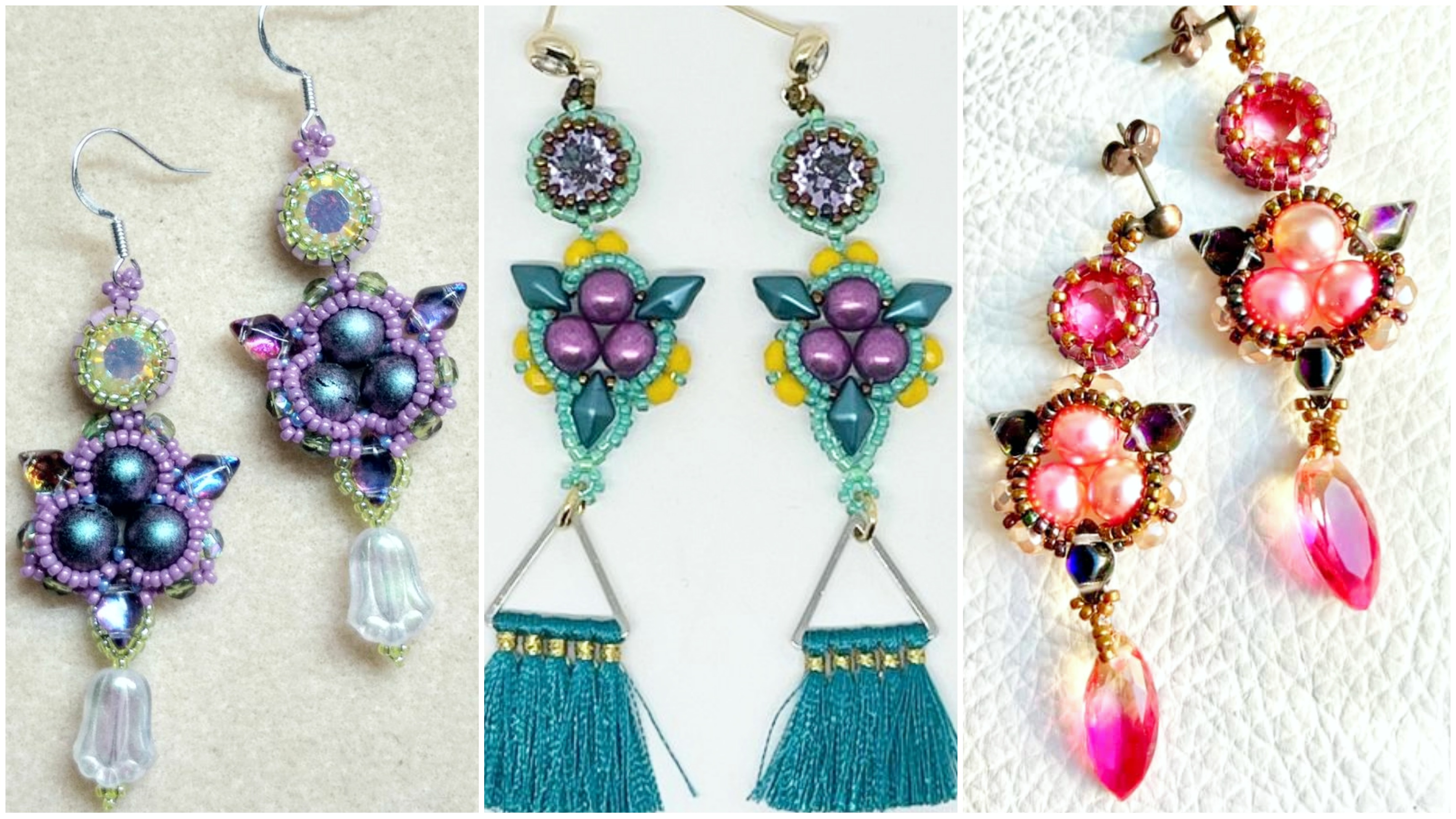 Theresa – earrings on the left side – says:
Here is my attempt at Attitude earrings. I used a substitute for the pearls and my chatons are from my rainbow preciosa box. I love the color but it is impossible to get a good pic!
Deb – earrings in the middle – says:
Attitude earrings thank you Erika!
Kata – earrings on the right side – says:
Here comes my Attitude earrings. Unusually single-toned from me

Hope you like them! Thank you Erika for the ws and pattern!
Fresh colors, inspiring components – the right combination for summer days! Tulip shaped beads,
fan tassel
,
multicolored glass pendant
in the color of a popular cocktail. It all comes together so well! Ladies, you beaded wonderful versions, thank you for sharing!

Attitude pendants by Sandra Lindahl and Aliz Gonda Stancz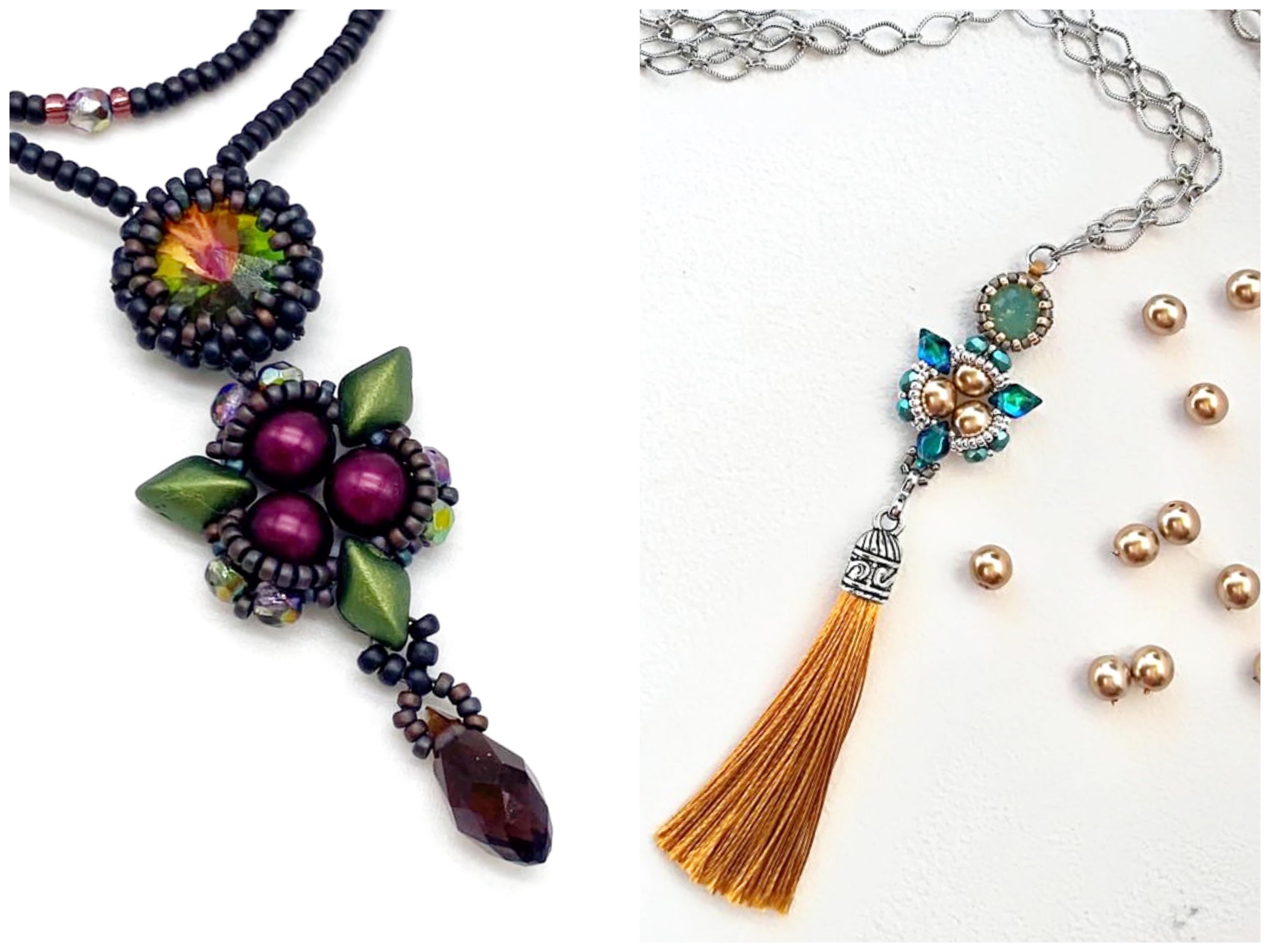 Sandra – pendant on the left side – says:
My Attitude. I think it worked great for a necklace
Aliz – pendant on the right side – says:
Attitude as a pendant on the long chain,thank you, Erika for the pattern
Adorable pendant versions where the larger size of Preciosa rivoli and a tassel add up to the size of the motif. Great idea to make a single pendant, thank you, ladies!

Attitude set by Virginia Bremken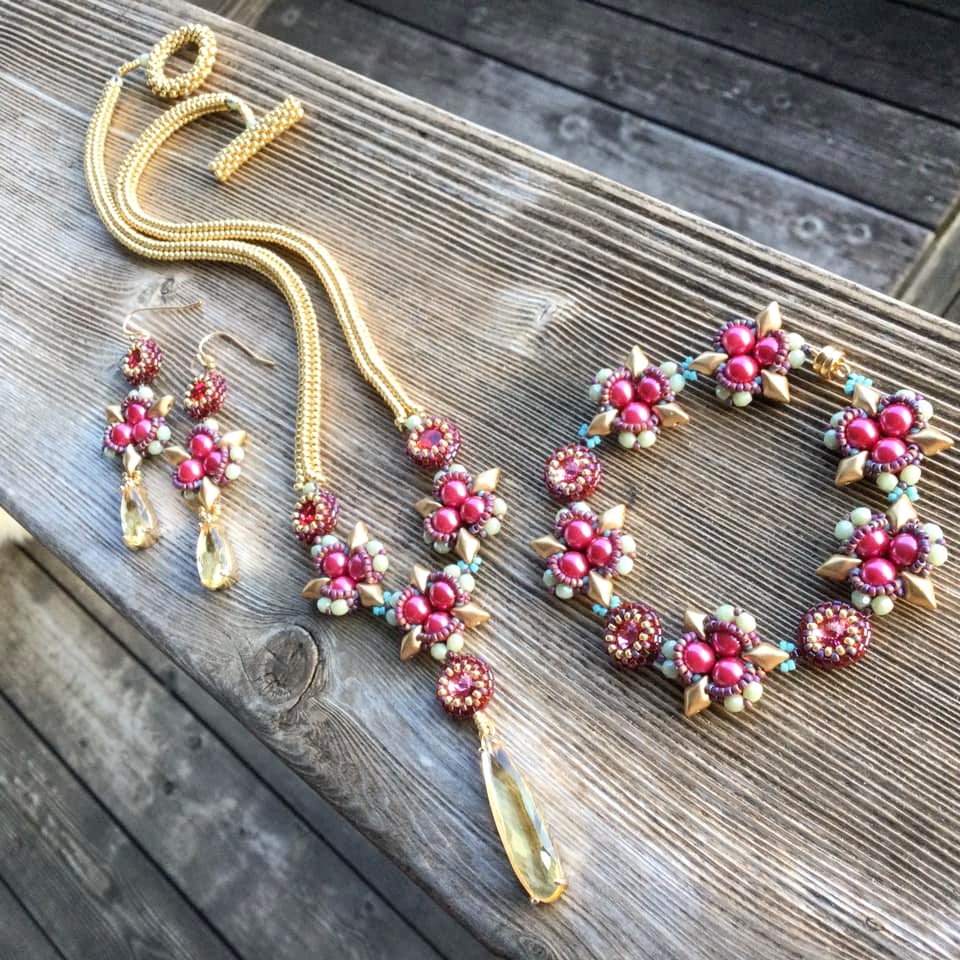 Ginny says:
This is it! My Attitude by Erika. I practiced and practiced bezeling these small rivolis so they will go well on my bead embroidery. They were tricky at first. I will put this aside and do the findings and chains later so I can get caught up on bead embroidery.
Ginny took her time and her Attitude grew into a full set of earrings, necklace, and bracelet in perfect colors and style. It was definitely worth creating this.  I love it! Bravo, Ginny!

Bead embroidered cuff bracelet with Attitude motifs and L2Studio art cabochon by Katalin Dudás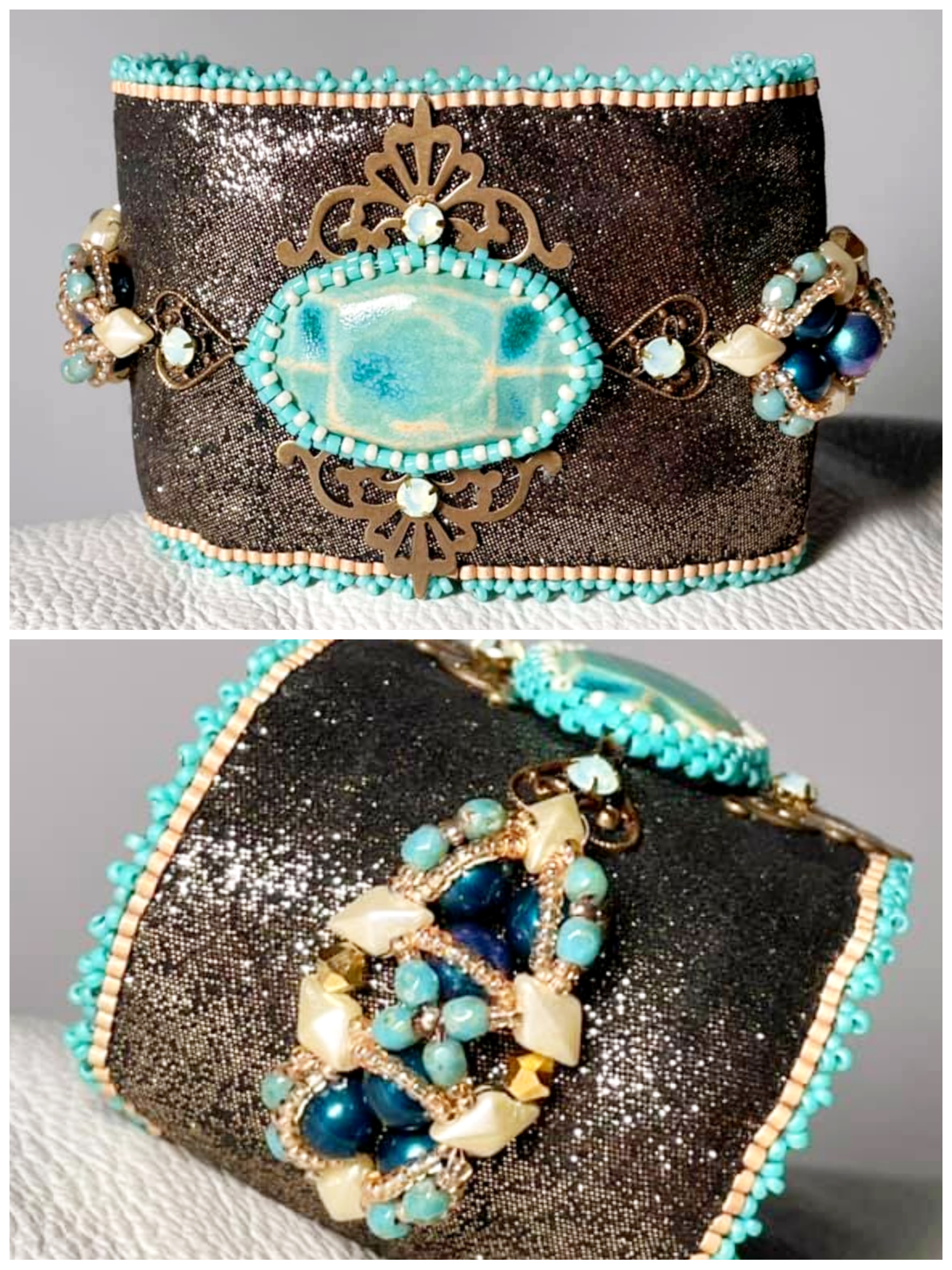 Kata says:
Galactic Attitude Cuff. Thank you,

Lenka

, for the coolest L2studio cab and the totally matching doubled pattern,

Erika

!
I think this may be the first time I saw Galaxy Oval cabochon in the finished jewelry. Kata used the L2Studio art quality cabochon and combined it with metal connectors and Attitude motifs. Thank you Kata for beading this beautiful piece!
If you got inspired by Kata's bracelet, there is a special deal this week on the L2Studio art cabochon category.


There is a lot more to see in the Beadinschool Club!
Come, join us, and bead with Erika and other beaders from all around the world.
Friday's

#

nooneHasToBeadAlone session is opened for everyone!