#ClubDesigns is a series of articles on the Storytelling blog and a series of posts in the Storytelling Beading Club on Facebook.
Erika says:
"Since the beginning of the first COVID-lockdown, we bead together every Friday, to make sure that #NoOneHasToBeadAlone.
We bead a different jewel every week – designed specifically for the workshop. Afterward, it's really fun to see all the variations beaders come up with! Not only colors differ, but very often a pendant becomes a brooch, a motif that was originally an earring is modified into a bracelet or a ring. Moreover, sometimes it happens that not all the bead shapes are available to someone – and she needs to alter the original design to make it work."
The #ClubDesigns series is the collection of this beady wisdom.
The name 'Crossing Borders' was chosen by a fellow beader, friend, and member of the Storytelling Beading Club.
Tanja says:
"When I saw the earrings, I thought the name should be something with a 'cross' and the name ′′ Crossing Borders ′′ came to me. I thought that was a beautiful name for the earrings, especially because of the symbolism behind it: every Tuesday and every Friday fans of Erika's designs come together to chat, laugh, and bead… We all come from different countries and cross borders every week to be together…"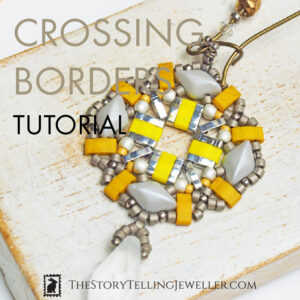 Click here for the beading tutorial!
MATERIAL LIST
Tools:
thin beading needle,
Fireline or other strong and thin beading thread,
bead mat,
thread burner or scissors.
This week it was our friends, kids, husbands, who told us which color we have to use!
I need to mention the challenge we have in The Storytelling beading club this March. We let other people choose our main color of beads, or pick with closed eyes from the stash. We have more fun and taste the magic of improvising.


Crossing Borders earrings by Tanja Quintelier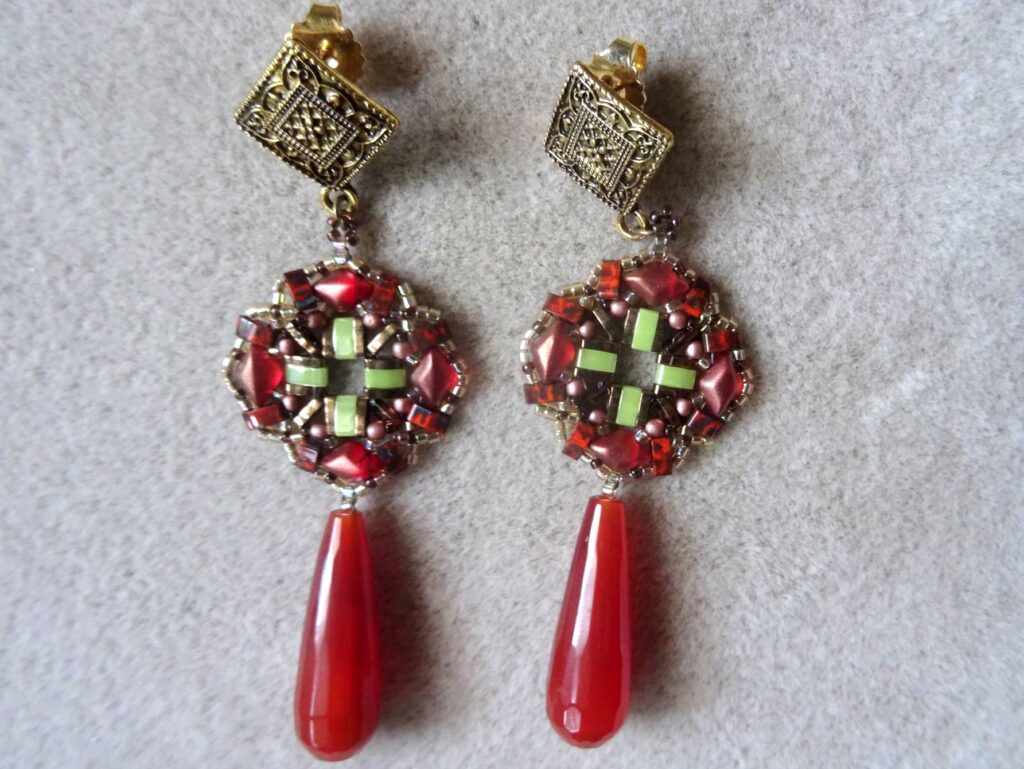 "Facebook friends have choosen the half tila's I had to work with…here is the result of my Crossing borders….thank you all to had a look into your country and to taste the original food and drinks…"
Tanja created these beautiful long earrings hanging on square studs, using a long drop on the bottom. Lovely result!


Beautiful earrings in silver color using different Tila beads by Karin Granstrom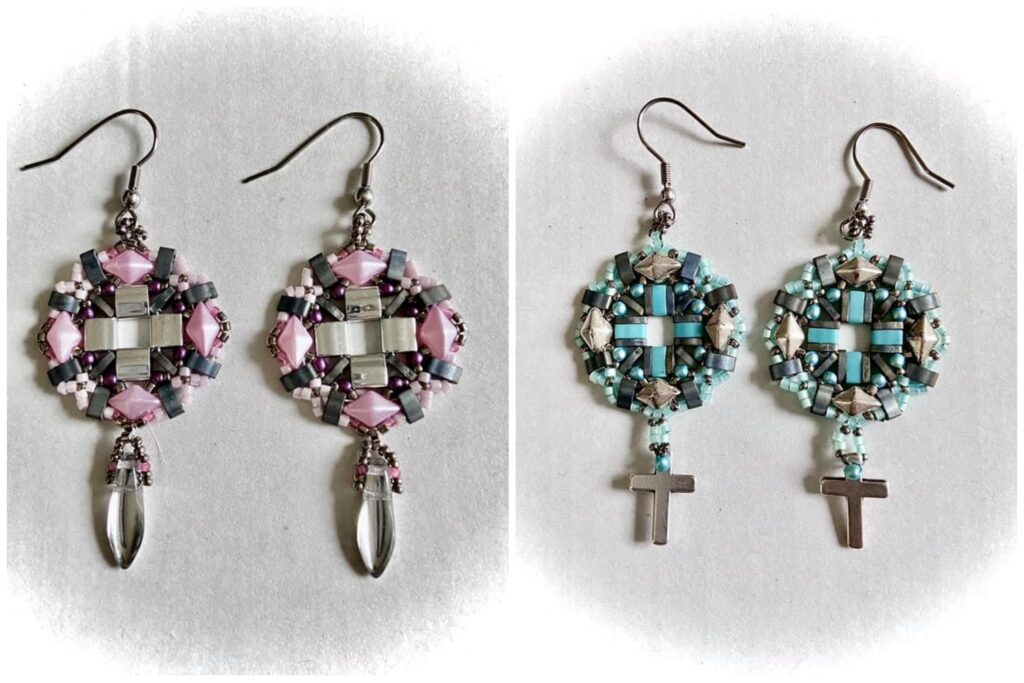 "I bought some Tila, Half Tila and Quarter Tila, so I made two pairs of Crossing Borders. One with "fake" Tila and one with Tila. I used two hole daggers on the pink one.

I'm most happy with the turquoise one with fake Tila."
Karin created two pairs of earrings in a similar style, but with different bead combinations in the center. The pair on left has four Half Tilas, while the pair on the right side has Quarter Tila and Half Tila beads. This gives the opportunity to experiment with more colors or textures in your beadwork.


Black and Turquoise set by Elena Lazovnik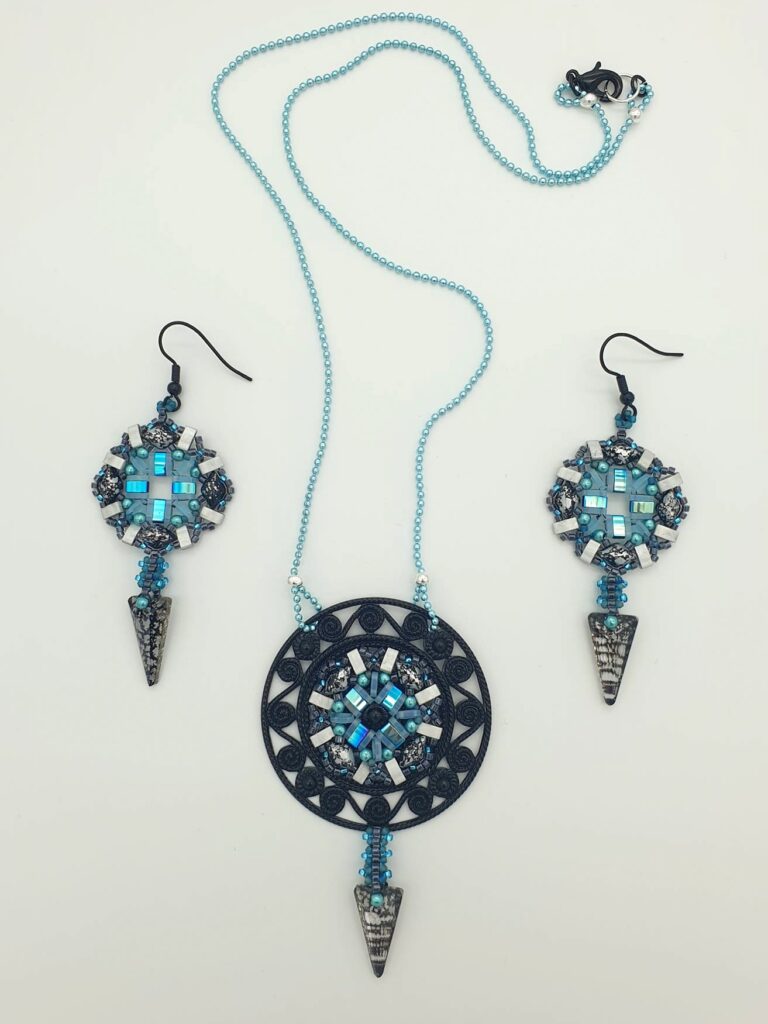 "This is my Crossing Borders set! I have chosen these Jet Sliver splash GemDuo beads with the closed eyes, and in the beginning I was in panic: I don't use so much black. But now I am in love with this color, since I so much like the resulting combination. I couldn't leave the earrings alone when I have checked it with black filigree: they are just made for each other, in my humble opinion! Great pattern! "
Elena combined turquoise and black components, using ball chain and Aztec filigree.


Purple Crossing Borders by Sara Lilja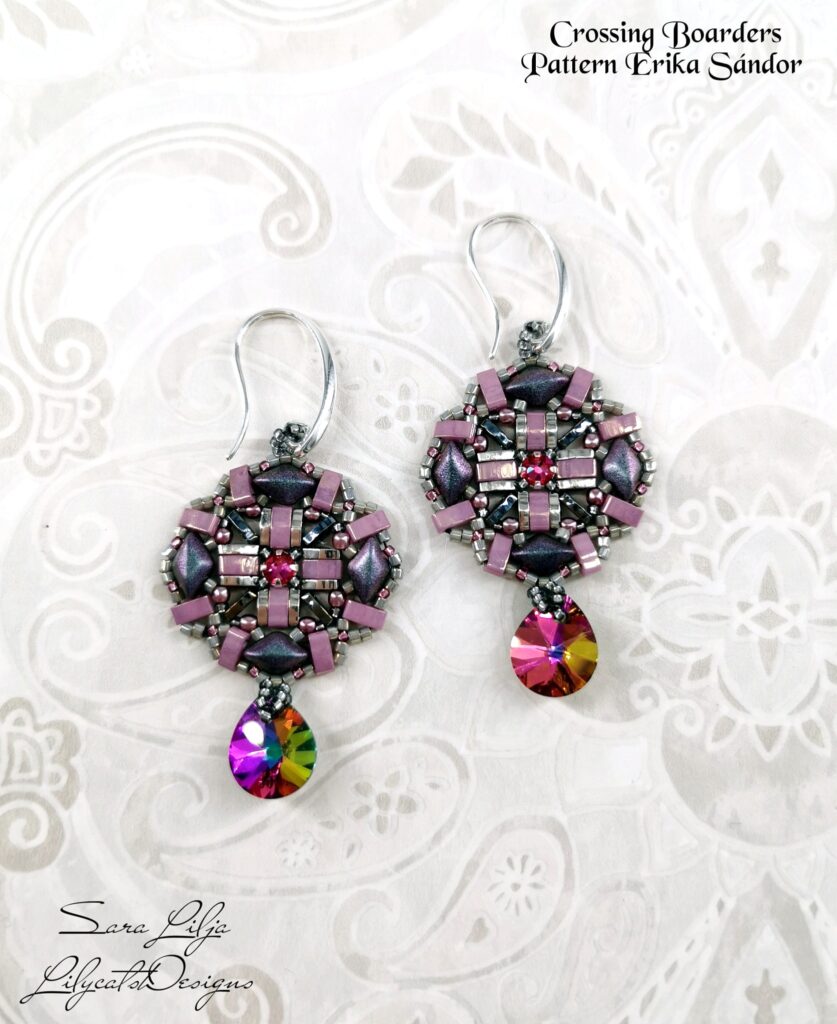 "What a nice time we had together today, thank you so much ladies!

I had to add a rhinestone in the middle!"


Fresh Green pendant by Ulla Edenmark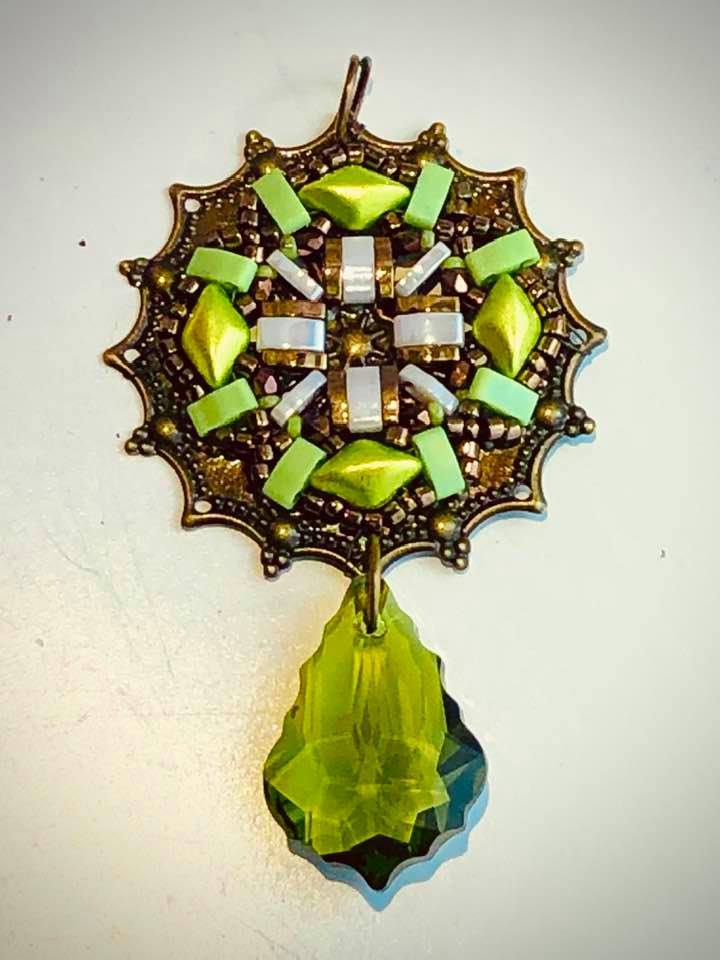 Ulla said she improvised around the white Half Tila beads. She chose green GemDuos and matte green Half Tila beads, finished with a baroque drop pendant. The main motif is attached to a filigree. Great result, it is both fresh and elegant!


Ellegance with black by Mehtap Uçar Spafford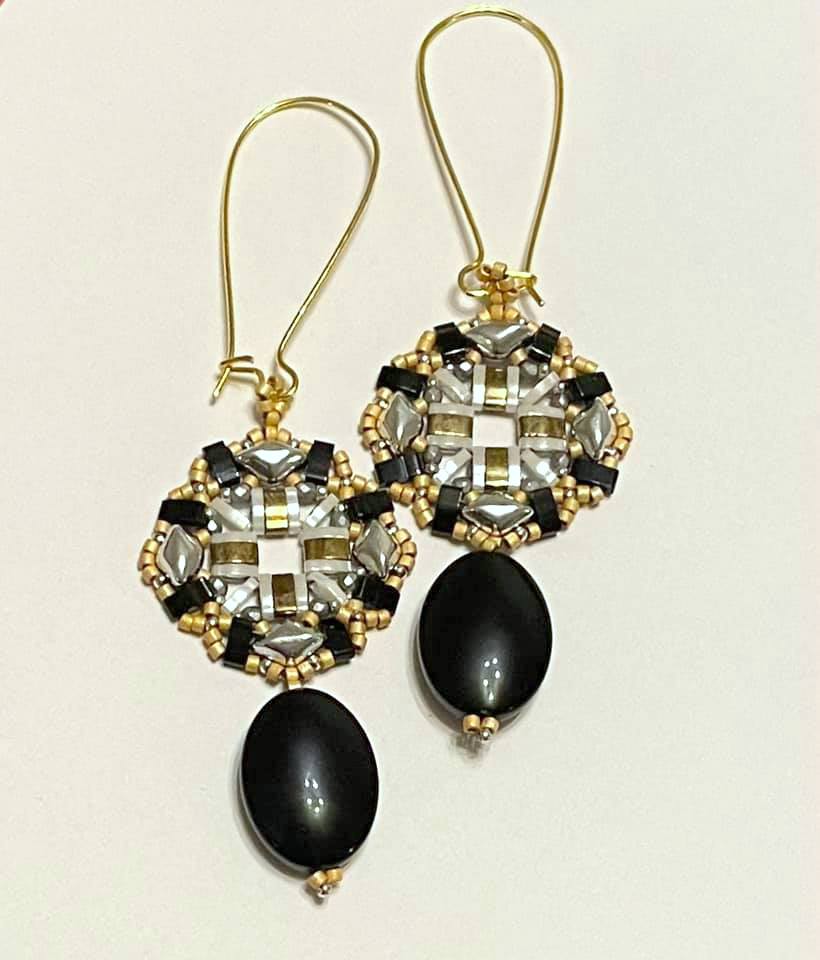 Mehtap started her earrings with bronze and white pearl Tila beads and added black color. Absolutely lovely result with lots of energy!
Crossing Borders Pendant by Ellinor Hellhoff
"My "Crossing borders" became a pendant. Not sure about the bail, so will have to rethink it.

"
No need to rethink as this is perfect assembly of all components!


Crossing Borders Bracelet by Cheryl Jackson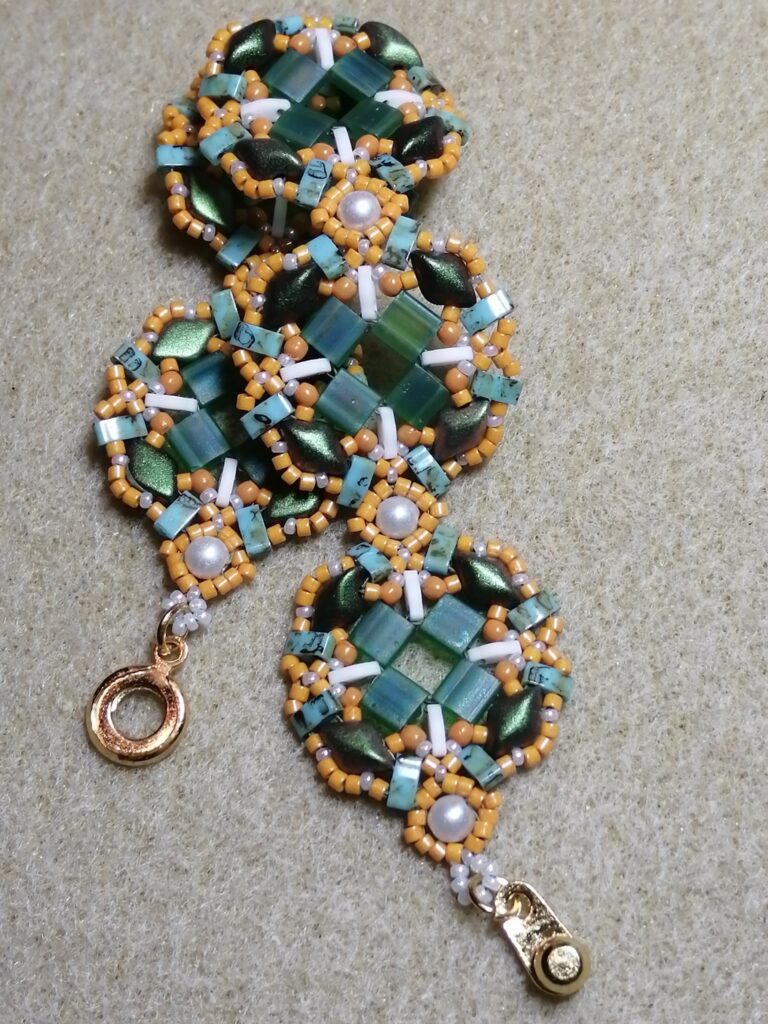 "Bracelet all finished."
…and it looks great! The connection between the motifs is really nice and fits with the motif and green colors. Cheryl, as a proper geek girl chose her colors by rolling 12-side dices – we love her way of combining colors 🙂


Amazing set of jewels and inspiration by Katalin Dudas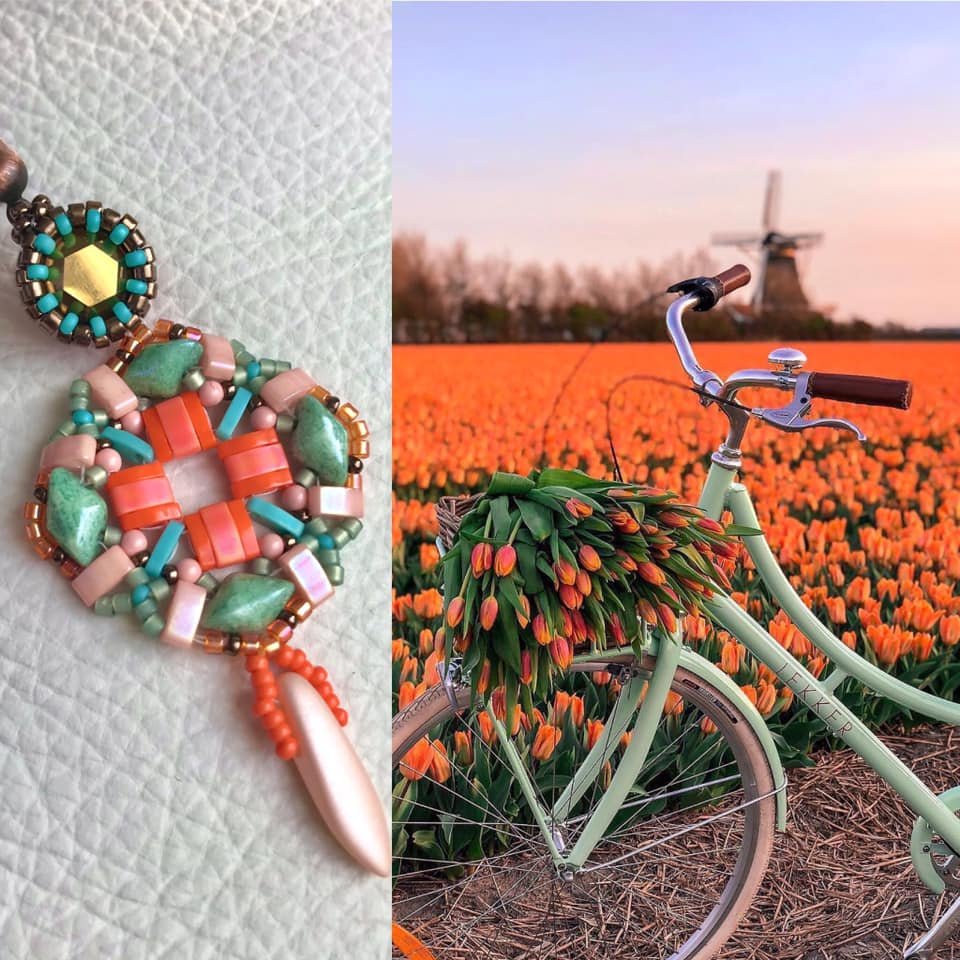 "I found this image on FB the other day and it reminded me of Erika's stolen bicycle, so I poked her: You may find it on the tulip fields. She answered me that it would be cool to bead something with these colors.

Well……

"
"Crossing Borders turned out to become a pendant.

I found this cubic zirconia drop (right picture) in my stash and could not resist beading a pendant. I really love how the Quarter Tila's structure and the drop's cut work together."
Yes, Katalin used 4 Quarter Tilas to create one full tila bead needed for the centre. Another way to rock this design and your options!
If you long for sea side walk, look at this brooch, that can be also a pendant!


One more look at the texture in different Tila beads
Full Tilas in sweet earrings with birdie pendant by Deb Taylor.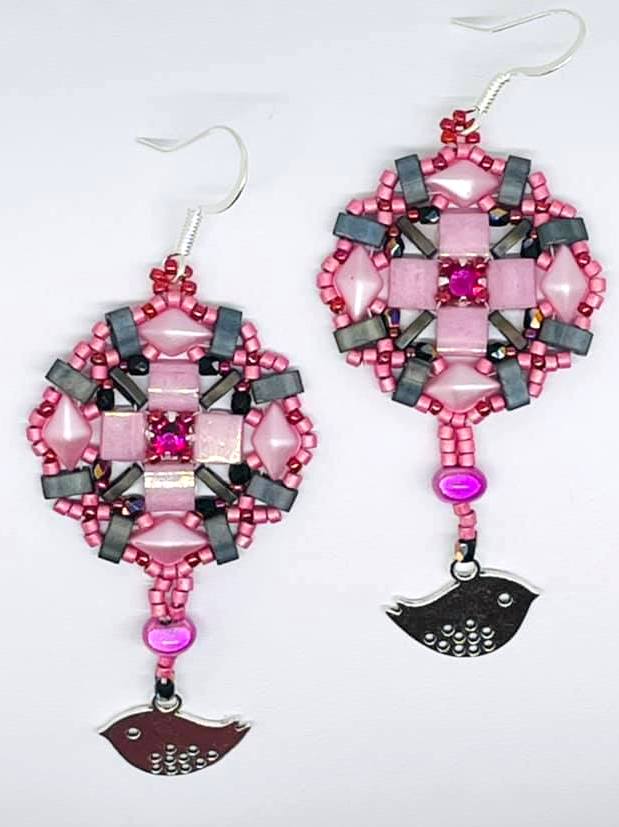 Half Tilas and Quarter Tilas in blue earrings by Anita Schackmann.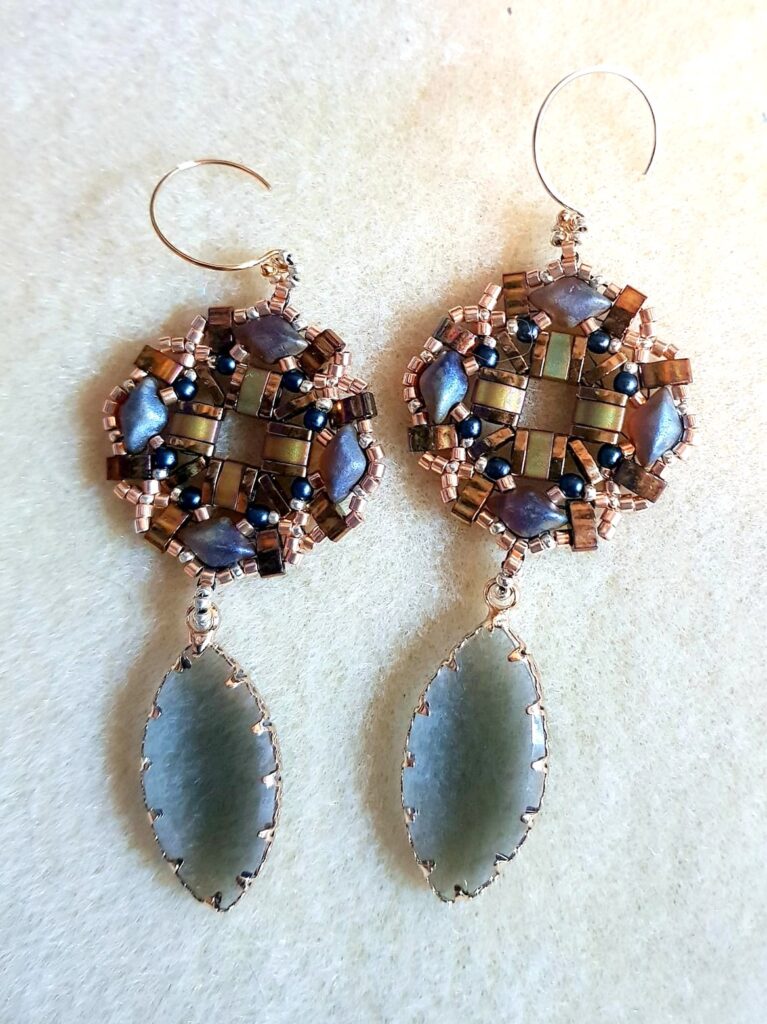 Quarter Tilas only in earrings by MaRo Mio.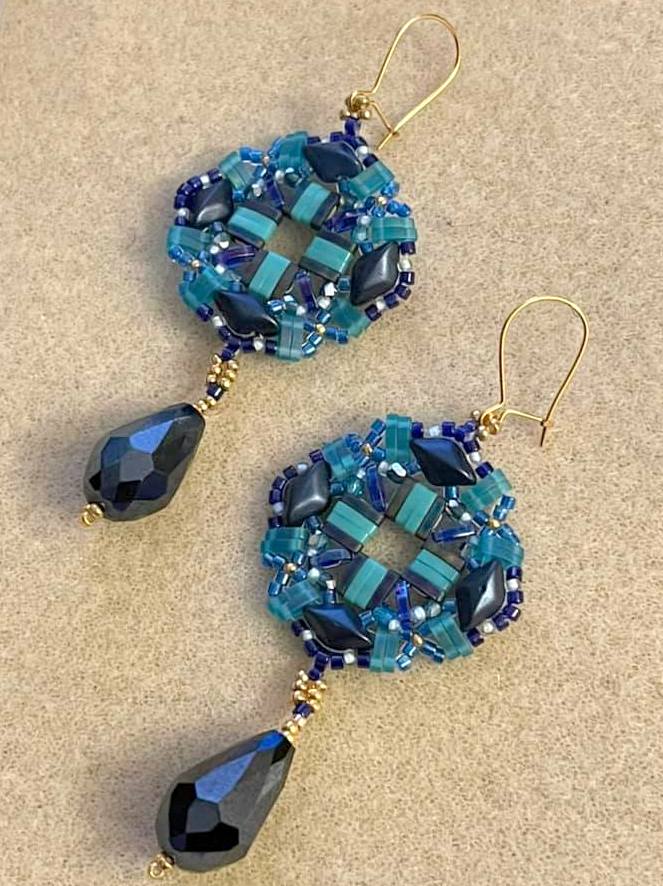 Crossing borders became really popular design overnight. There are way more pictures in the Storytelling Beading Club so don't wait and join the party!