#ClubDesigns is a series of articles on the Beadingschool blog and a series of posts in the Beadingschool Club on Facebook.
Erika says:
"Since the beginning of the first COVID-lockdown, we bead together every Friday, to make sure that #NoOneHasToBeadAlone.
We bead a different jewel every week – designed specifically for the workshop. Afterward, it's really fun to see all the variations beaders come up with! Not only colors differ, but very often a pendant becomes a brooch, a motif that was originally an earring is modified into a bracelet or a ring. Moreover, sometimes it happens that not all the bead shapes are available to someone – and she needs to alter the original design to make it work."
The #ClubDesigns series is the collection of this beady wisdom.

Dragonfly body beaded bead
We all get fascinated by the beautiful wings of a dragonfly. But have you ever paid attention to its body? This is this design all about: discovering hidden beauty!

Click here for the beading tutorial!
MATERIAL LIST

Waiting for a great adventure!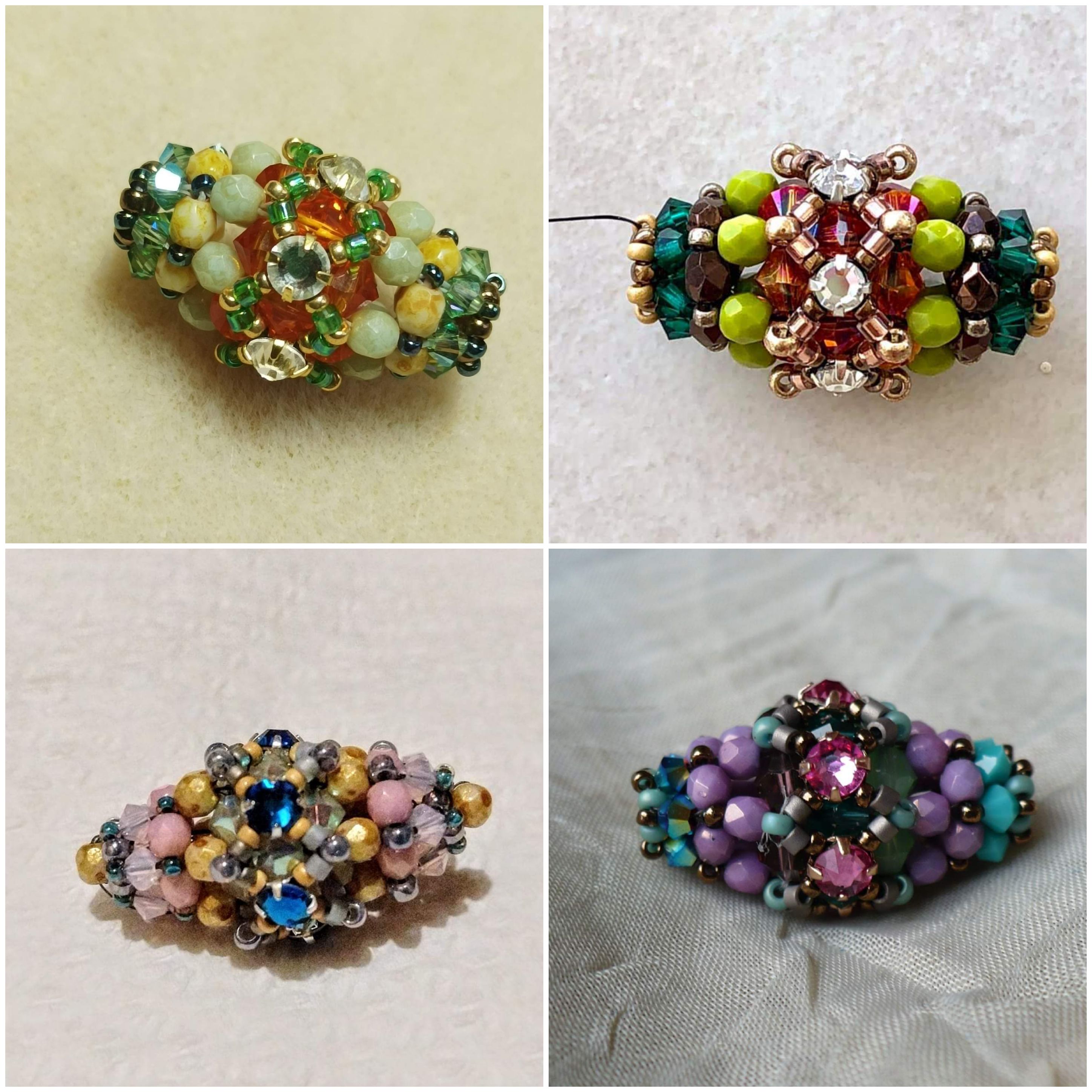 Left top: Cheryl Jackson
Right top: Martine Lion
Left bottom: Ludmila Turzova
Right bottom: Nicolien Avis
Ladies have already prepared their dragonfly bodies that will be part of something great. They have already showed us their main element and we can get a load of inspiration. The design sets the frame, but the colors and materials chosen will give the nature of these pieces. Truly inspirational. Thank you so much, ladies!

A memory to preserve – Faye Williams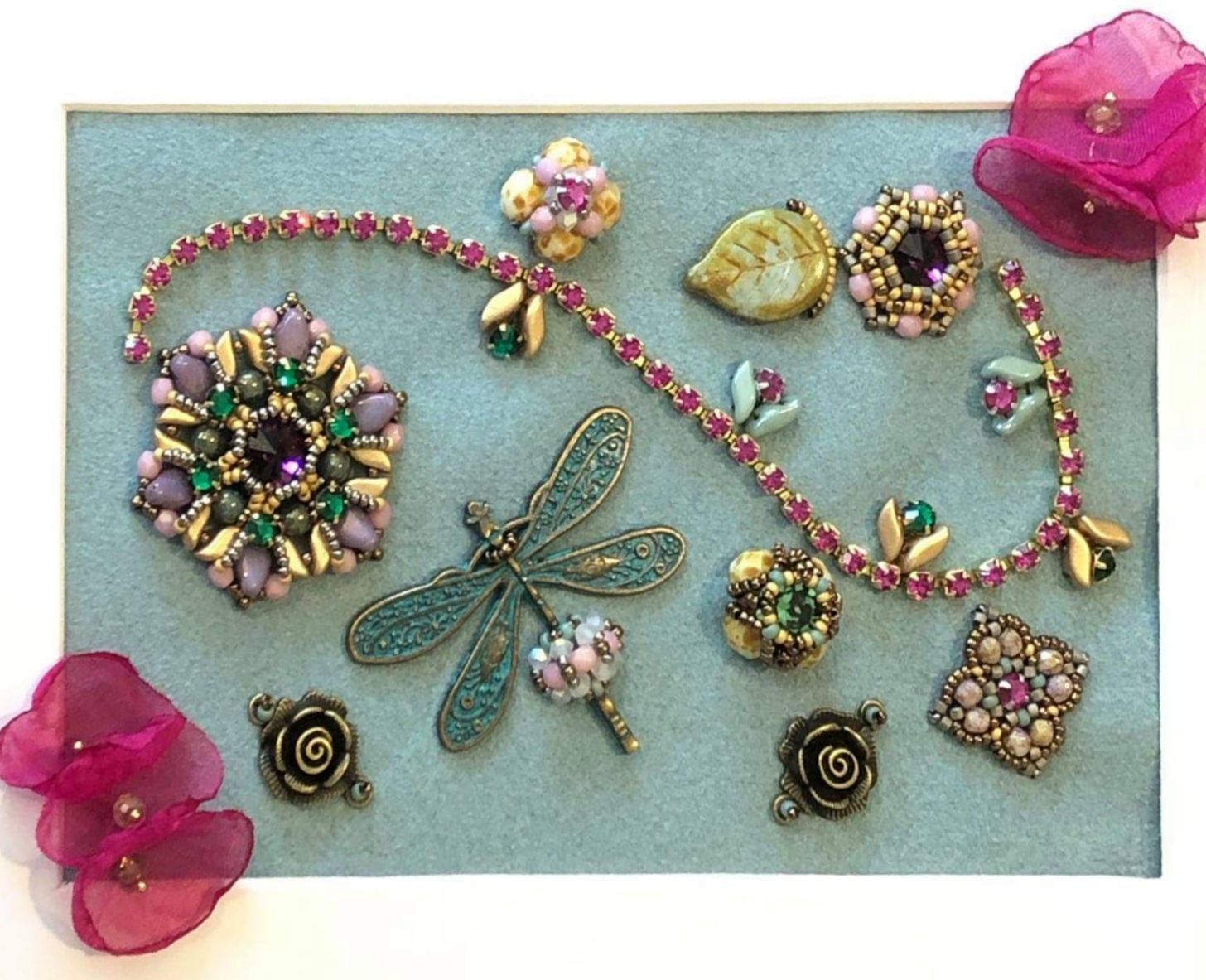 Faye has decided to keep her Magic Garden memories together.
Faye says:
I've had this idea floating around in my head for about a month. I have beaded motifs from the Magic Garden Academy and stitched them to ultrasuede in a type of collage.

The patterns used are: Primavera, Sarah, Satie, Magic Garden Bracelet and Dragonfly Bead.

I just need to glue the ultra-suede to cardboard (to stiffen) and mount in a photo frame.

Vertical or horizontal – it will be a special gem on your neck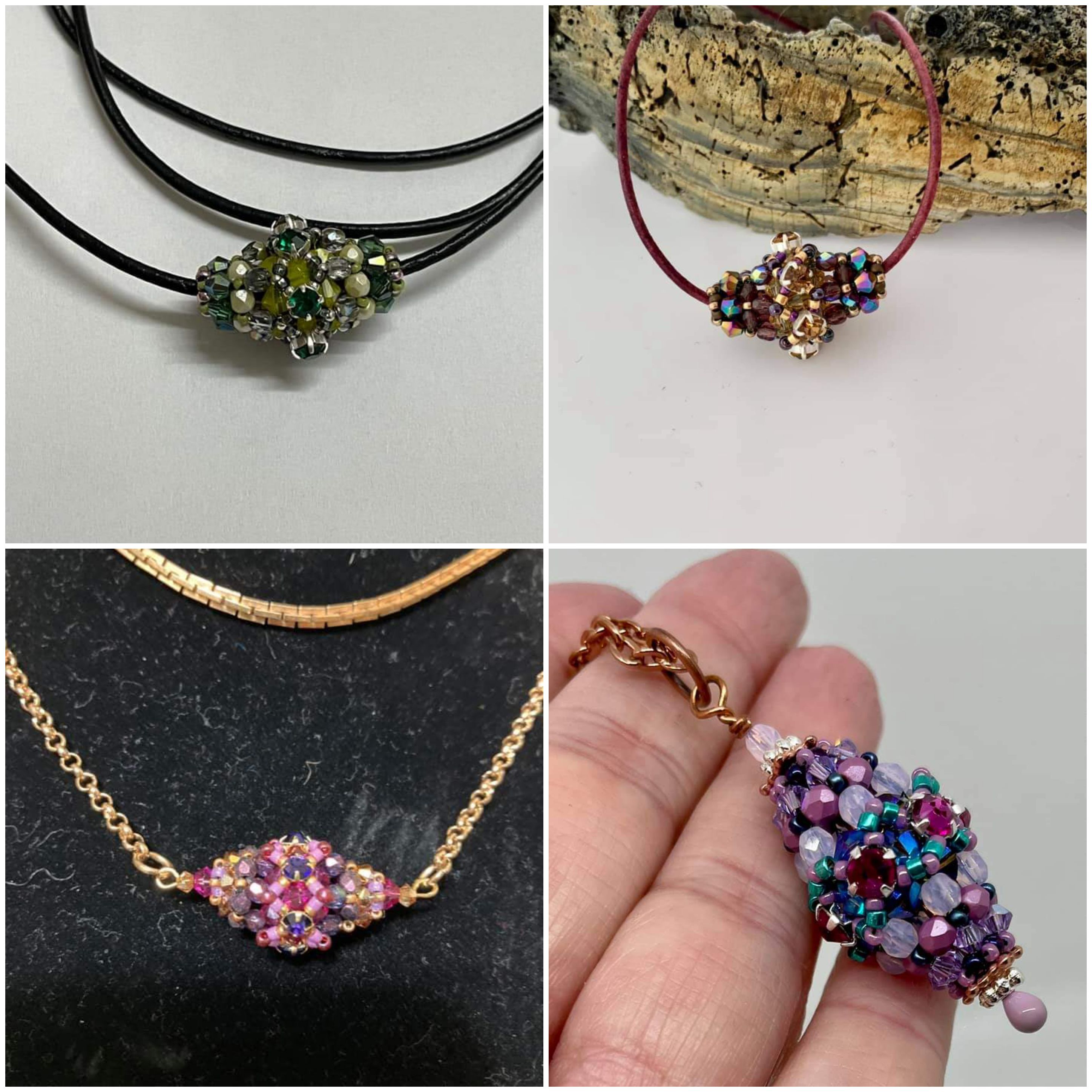 Left top: Mehtap Ucar Spafford
Right top: Shirley Jones Moore
Left bottom: Cindy Murphy Smith
Right bottom: Deb Taylor
The design itself makes it possible to either put it on a pin or pull a cord through the entire body. Whether you choose for one or another solution, you keep it simple or embellish it further, it will keep you great company.

Versatile & Creative
Left: Faye Williams
Right top: Tammy Netzer
Right bottom: Veronka Kralovicova
Ladies did an amazing job creating something different!
Faye made a keychain using some beautiful handmade big ceramic beads and a Tri-tassel.
Faye says:
Dragonfly Body Key Tassel.

A great beaded bead for my next key tassel – green with a pop of pink.

This time the beads have been threaded straight on to the loop of the tassel right up to the very top where a jump ring goes through the last little bit of the loop. Easy peasy to attach my lobster claw clasp. Pretty nifty idea I thought to myself
Tammy's earrings just pop with the colors she chose.
Veronka's interpretation of the Dragonfly Body is truly amazing. Instead of using a dragonfly charm she decided to make him completely out of different components: the tail is cupchain, the wings are pear glass drops in metal setting and Bollywood glass drops. She attached a bezeled rivoli to a beautiful flower shaped brooch base and connected her piece to it. The finished jewel just tells a story we can listen to. Great work!
Veronka says:

Dragonfly on a flower. Not sure about it tho, I'll probably cut it apart but I absolutely love the beaded bead, I will make it in another colours also!

Giving to the Art Nouveau atmosphere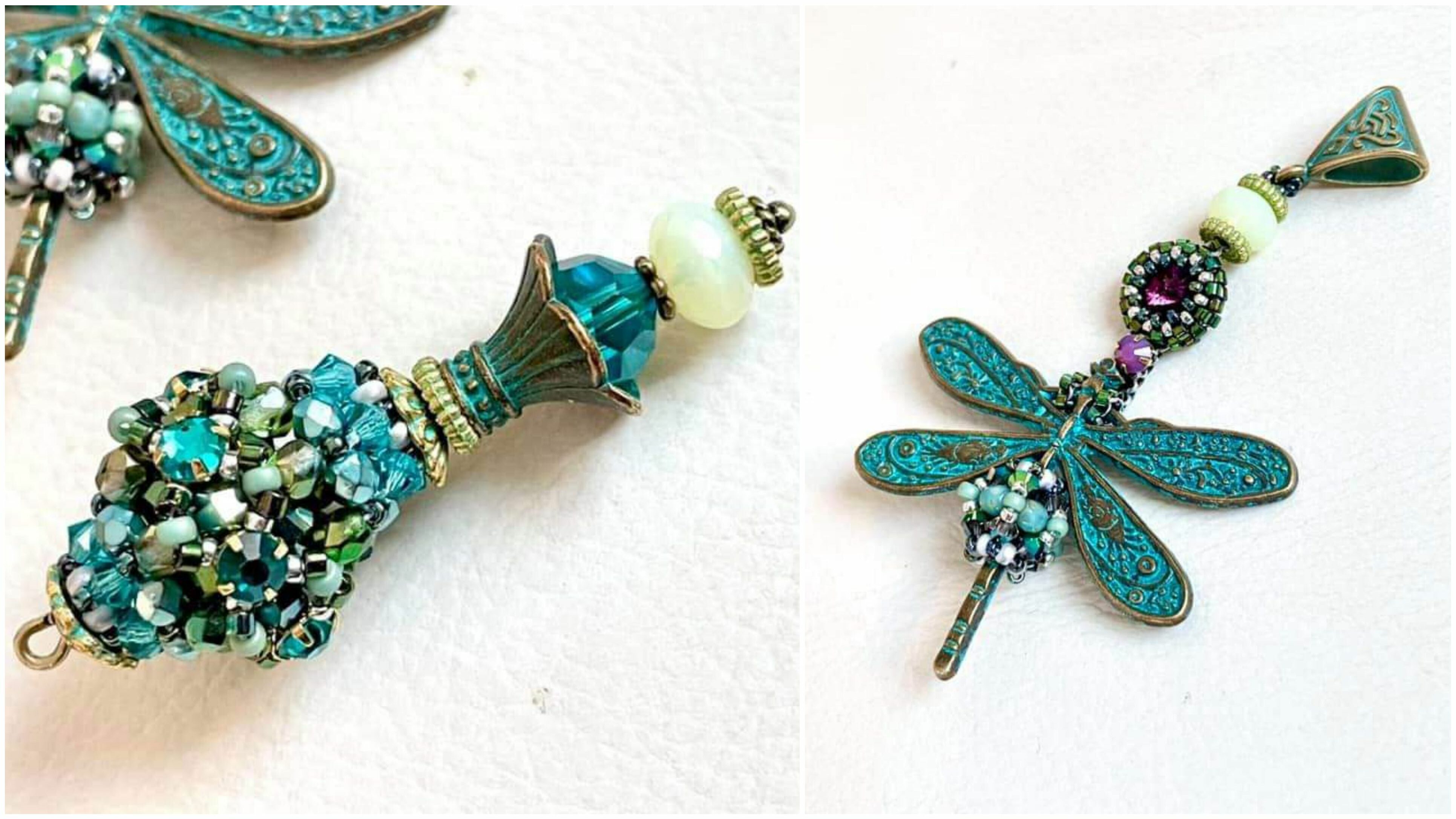 These beautiful elements were made by Katalin Dudas. She has combined some intricate elements to create an own world they can exist in. These two pieces now waiting for a last assembly. We cannot wait to see the final jewel.

You can always go bigger!
Left: Gonnie Versteeg-Grootendorst
Right top: Faye Williams
Right bottom: Ludmila Turzova
Gonnie made several sizes and versions of the motif and put them together with some bigger semi-precious stones into a statement piece.
Ludka used two sizes of the design and spacing them with metal beads she presented them on a ball chain. Such a lovely, romantic piece!
Faye decided to make another piece to become the center piece on her scarf.
Faye says:
I upsized the Dragonfly bead to use the 6mm fire polish beads and made it big enough for a fine scarf to fit through.

There is still a little bit of thread showing between the 4mm and 6mm layers so I may embellish a bit more (but I'll think about it for a bit)
Elegant set by Aniko Hesz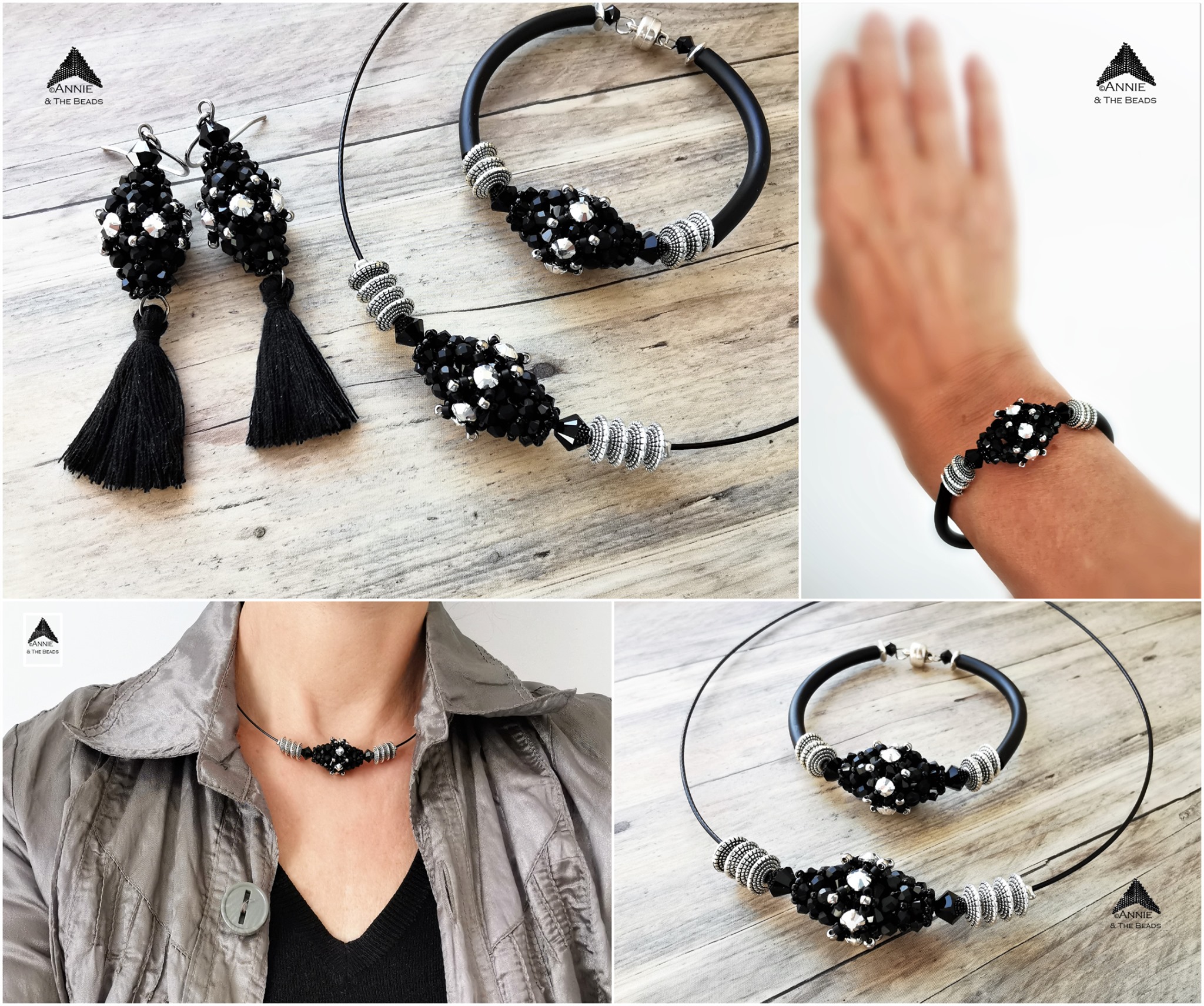 Aniko showed us that a bicolor version, using only black and silver can give an elegant appearance. She decided to use a horizontal orientation of the beaded bead, add metallic beads to the bracelet and necklace and some small tassels to her earring. Now let's stand still for a moment and imagine this set instead of silk with denim and leather jacket. It works!

Erika's original design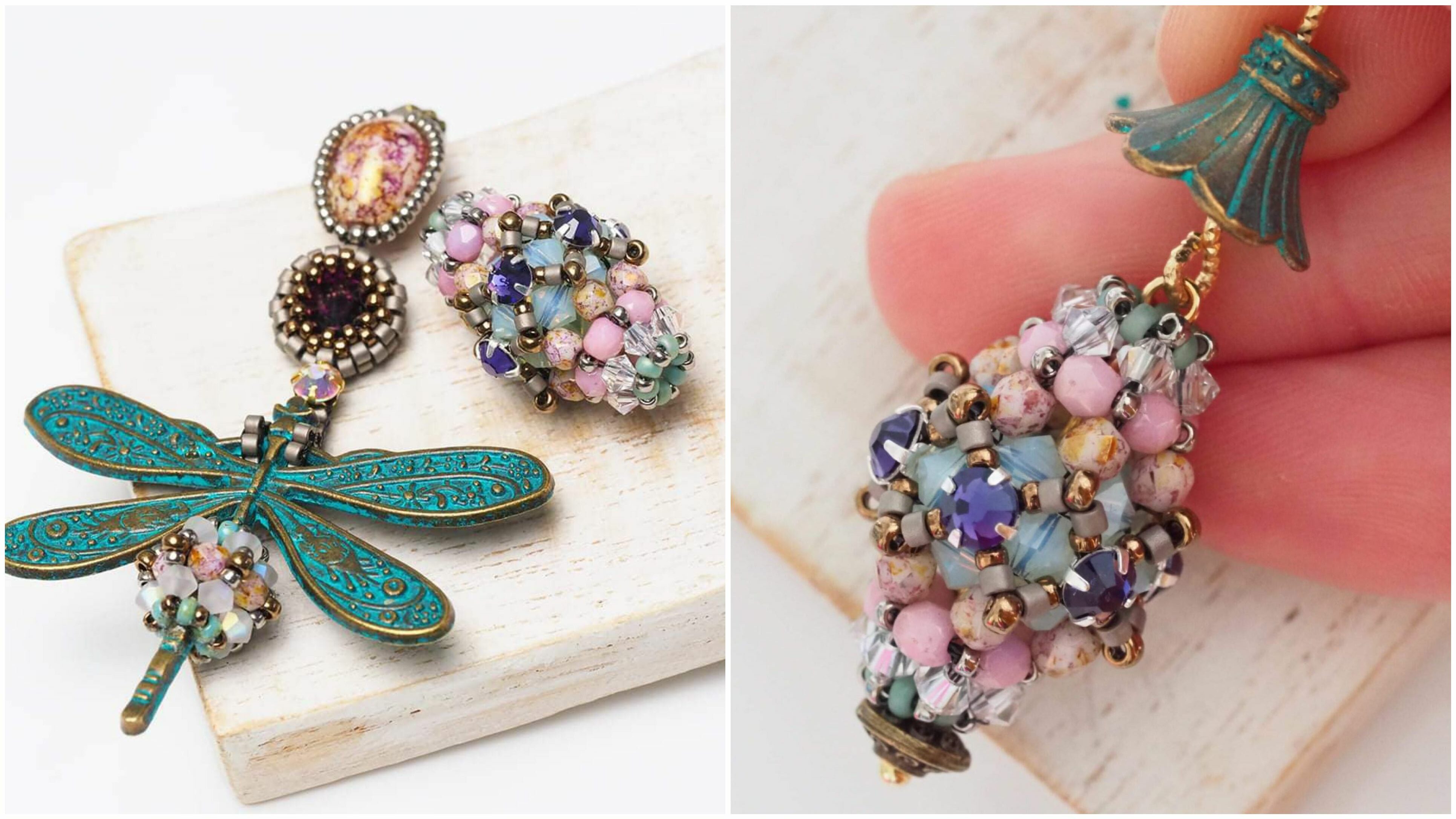 Erika says:
I wanted to share with you a trick:

I really wanted to use the diamond-surfaced eye pin (coming from the Summer Spirit box, also in the bead shop), but I didn't want to have a loop at the bottom of the beaded bead. I put my beaded bead on a normal headpin, ending with a small ball. I made a loop at the top and connected the diamond eye pin to it.

And to hide the connection, I simply inserted a bead cap on everything – now I will select one more nice bead for the very top and choose a fitting earring component

You are more than welcome to join Erika's #NoOneHasToBeadAlone. Don't forget to follow Beadingschool by Erika Sándor to receive the latest updates and event invitations!