#ClubDesigns is a series of articles on the Storytelling blog and a series of posts in the Beadingschool Club on Facebook.
Erika says:
"Since the beginning of the first COVID-lockdown, we bead together every Friday, to make sure that #NoOneHasToBeadAlone.
We bead a different jewel every week – designed specifically for the workshop. Afterward, it's really fun to see all the variations beaders come up with! Not only colors differ, but very often a pendant becomes a brooch, a motif that was originally an earring is modified into a bracelet or a ring. Moreover, sometimes it happens that not all the bead shapes are available to someone – and she needs to alter the original design to make it work."
The #ClubDesigns series is the collection of this beady wisdom.

Electrica – earrings design full of energy
If you look for a powerful and strong design, it's Electrica! No wonder it has been very popular in the Beadingschool Club and there are still new photos of jewelry club members share. Electrica is very fast to bead and the motif gives you many options.
Your earrings can be very simple, but also very long,
You can add bezelled cabochon to it to decorate it even more,
You can skip the final row of beads to have a lacy look,
You can add one more row of beads at the very end to make the motif larger.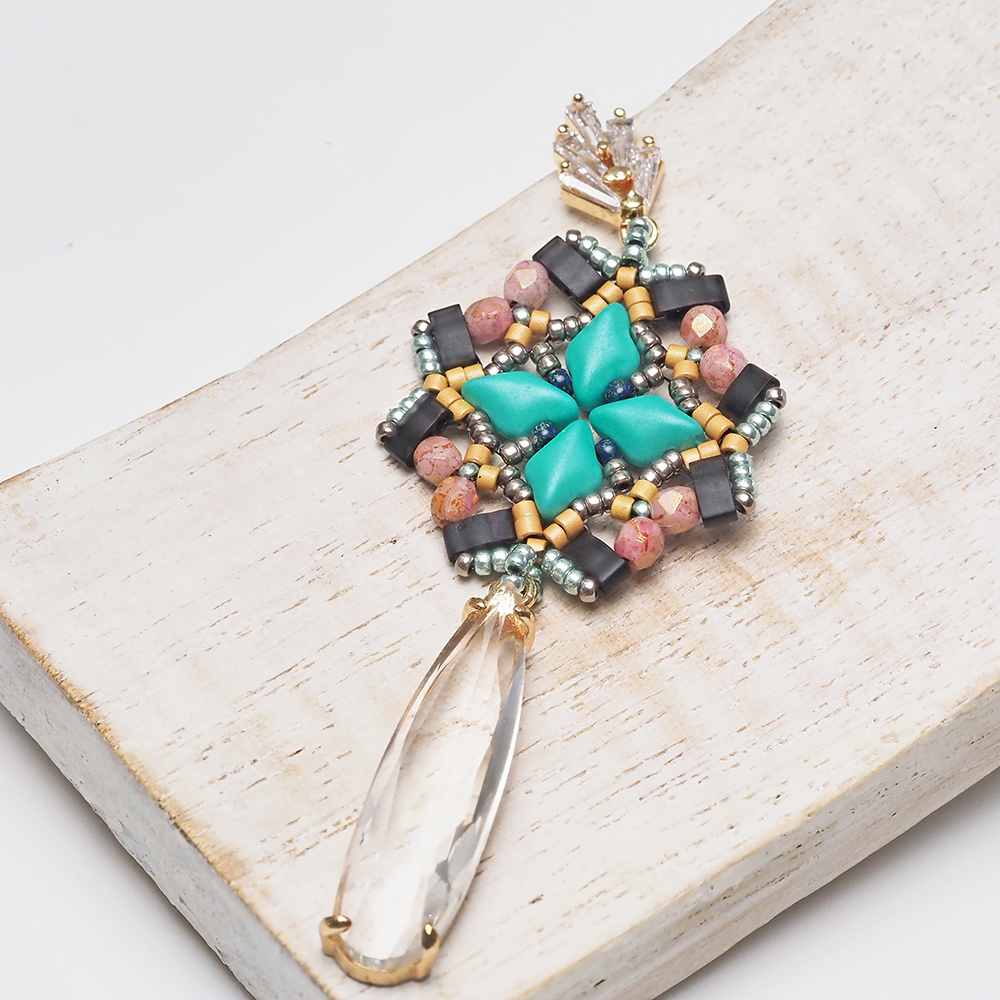 Click here for the beading tutorial!
MATERIAL LIST
5×8 mm Gemduo beads
8×32 mm glass drop in metal setting
3 mm fire-polished beads
Miyuki Half Tila beads
Miyuki seed beads 15/0 – 1-2 colors
Miyuki seed beads 11/0
Miyuki Delica 11/0
earring hooks
Tools:
thin beading needle
0.12 mm / 6LB Fireline 
bead mat
thread burner or scissors
Let's have a look at different variations of Electrica by Beadingschool Club members!

Electrica earrings by

Kathy Quintelier,

Sheri Chapman, and Ellinor Hellhoff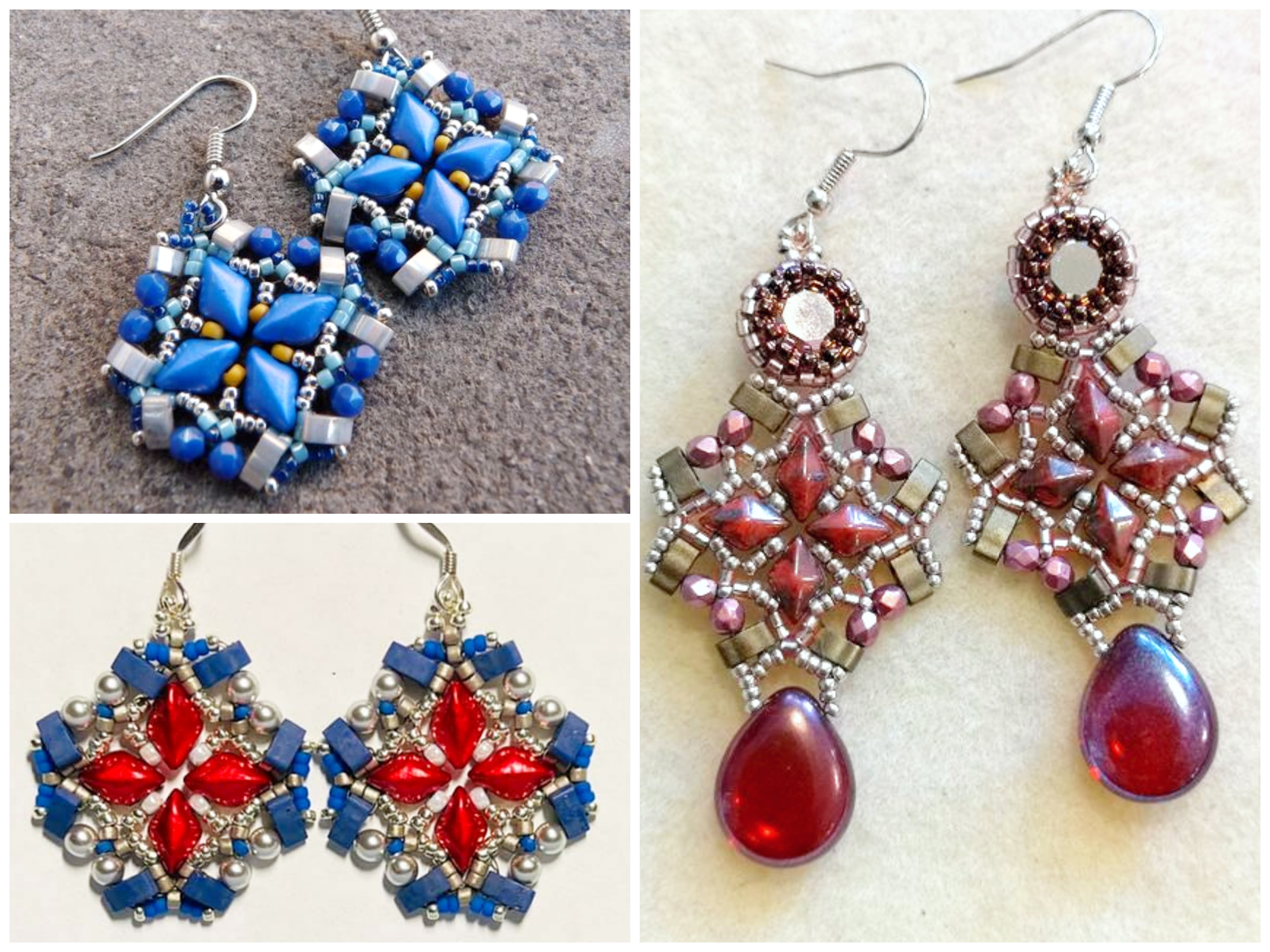 Kathy Quintelier – Earrings on the top left side – says:

Electrica in blue with shades of grey, turquoise, and yellow. No drop, just a single motif. I'm the opposite of Erika, I don't like very big earrings and that's completely okay.
Sheri Chapman  – Earrings on the down left side – says:
I've tried various drops on them, and couldn't find one that I really liked, so I'm wearing them as it is for now…which I love without, so maybe that's how they are meant to be!!
Ellinor Hellhoff – Earrings on the right side
You can see three different variations. Kathy kept the motif simple. Sheri did an experiment and used 3mm round pearls instead of fire-polished beads. Ellinor added bezelled chaton on the top and a glass drop bead on the bottom of her earrings. Each is different, all are beautiful! Thank you for sharing!

Electrica earrings with dagger beads by Sandra Lindahl, Elena Lazovik, and Deb Taylor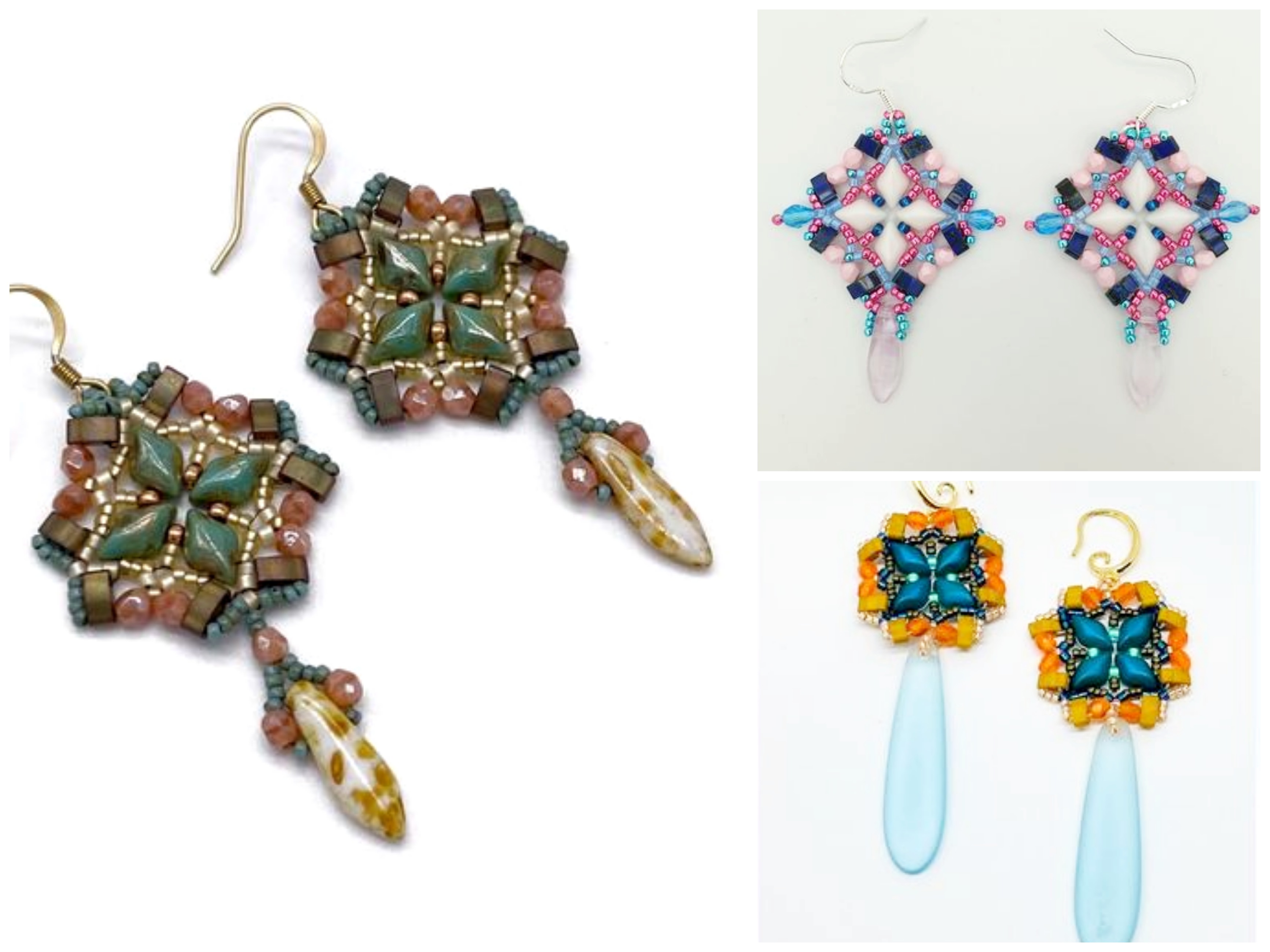 Sandra Lindahl – Earrings on the left side – says:
My Electrica earrings from Erika's live stream yesterday. Thank you Erika for sharing such a fun pattern Going to keep them for myself.

Elena Lazovik  – Earrings on the top right side – says:
This kinda strong pair of Electrica earrings is my result of #NoOneHasToBeadAlone . It is such a fun pattern! First I thought to make it in the stormy and lightning colors (I really thought about the name of the pattern!), but they somehow asked me themselves to use white, powder pink, orchid, cobalt, and turquoise!
Deb Taylor – Earrings on the down right side
These are the variations where you can see different sizes of dagger beads to create bottom pendants on the earrings. There is no limit in the size or length. Deb also decided to rotate the motif, adding earring hooks between the two Gemduo beads. This created a different look. Thank you, ladies!

Electrica with filigrees by Marianne Epping and Karin Granstrom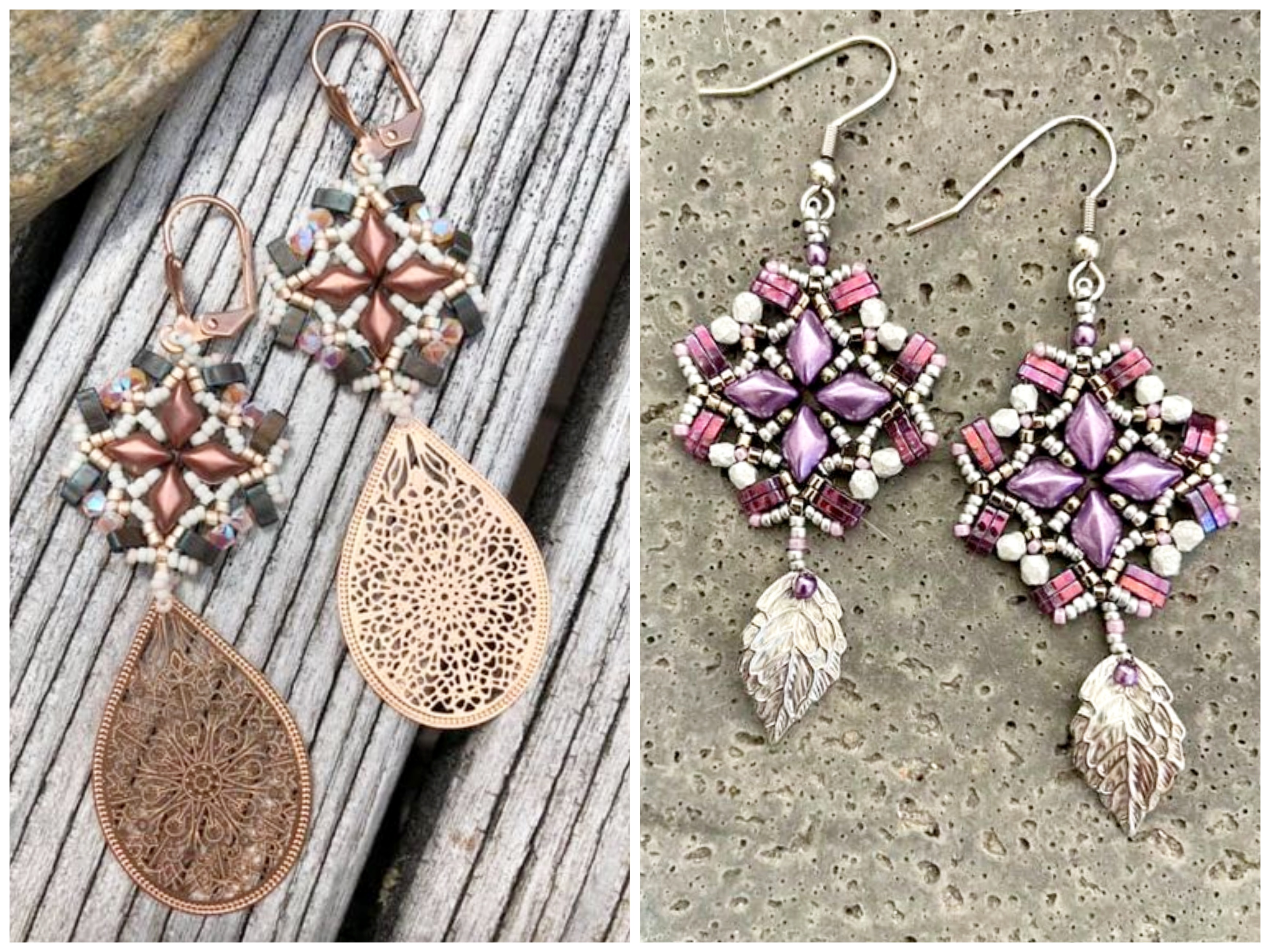 Marianne – Earrings on the left side
Karin – Earrings on the right side – says:
My Electrica earrings in purple and silver. Thank you Erika for this wonderful pattern.
Both earrings are very elegant and connected by using a filigree pendant. Karin also decided to double Miyuki Quarter Tilas to create the Half Tila bead size. This is a very effective trick if you don't have the desired color of Half Tila beads, or if you want to add more texture to the design. Thank you for beading with us, ladies!


More Electrica variations by Ludmila Turzová, Katalin Dudás, and Katja Foierl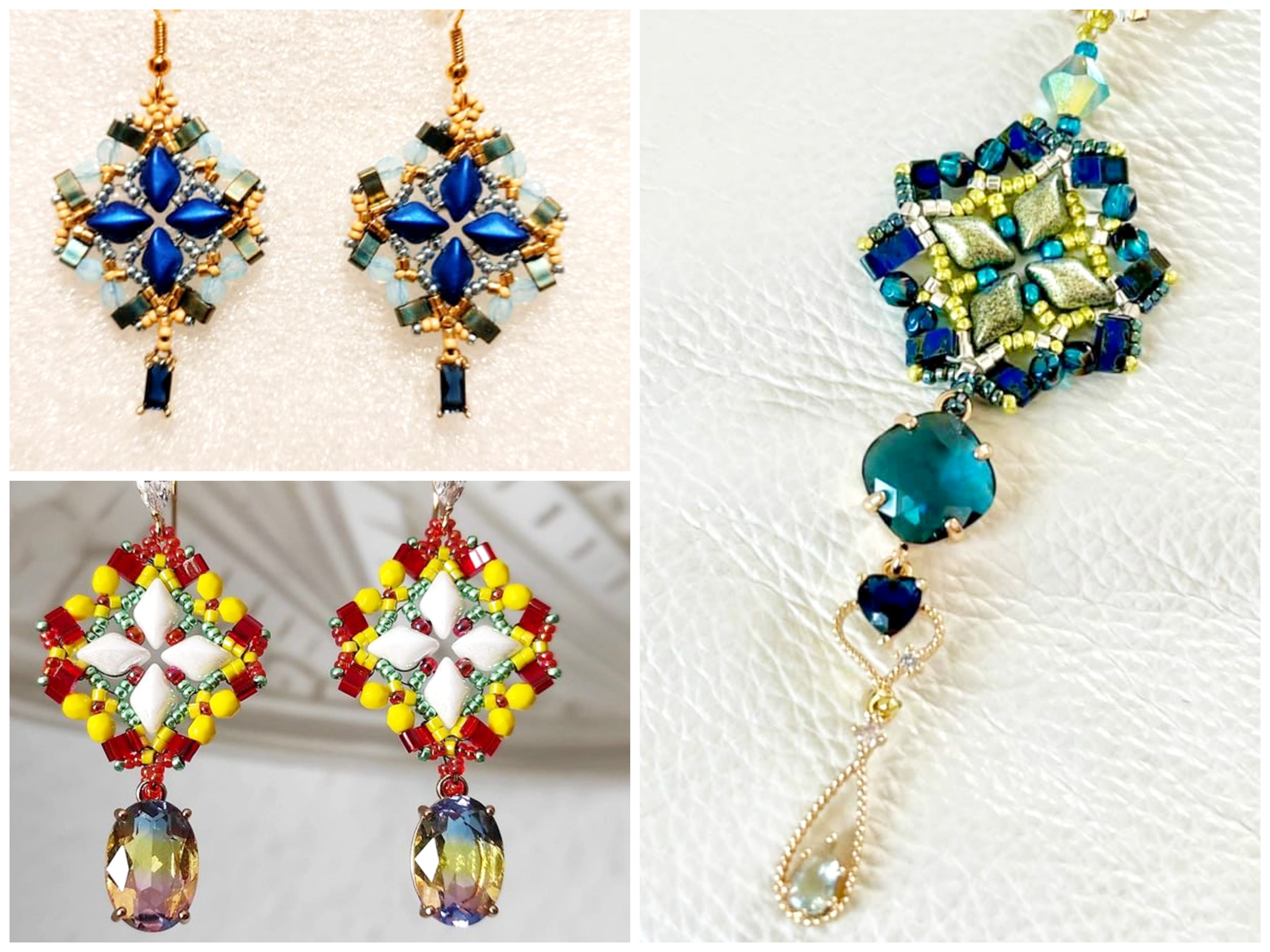 Ludmila Turzová – Earrings on the top left side
Katja Foierl – Earrings on the down left side – says:
My version of Electrica. Thank you Erika!
Katalin Dudás – Earrings on the right side – says:
My Electrica. I had a real struggle to find the colors which I wanted to have together, so it tool time to finish this little treasure. I love the pattern, thank you, Erika!
These earrings grow in size – Ludka used the smallest rectangle glass drop in a metal setting, Katja used a larger oval drop, and Kata's earrings are decorated with several crystal connectors and the Bollywood drop. Very similar in style, but each is different! Thank you ladies for your beautiful versions of Electrica.

Long Electrica by Tanja Quintelier,

Christina Nordin Kilpeläinen,

and Britt-Marie

Piltto Häggqvist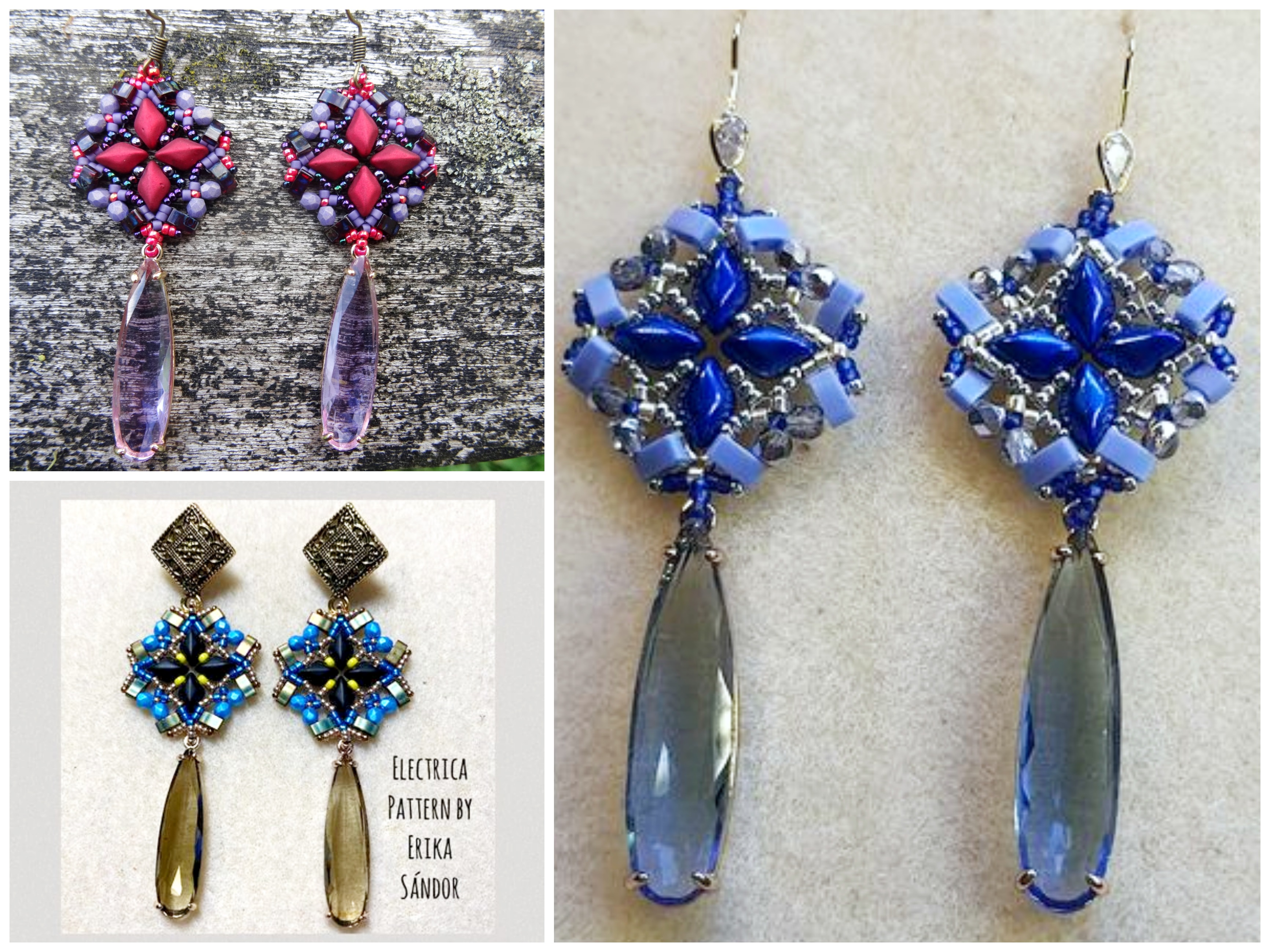 Tanja Quintelier – Earrings on the top left side – says:
Thanks to our beading session, I have again a nice pair of earrings added to my collection…Electrica…thank you Erika
Christina Nordin Kilpeläinen – Earrings on the bottom left side
Britt-Marie Piltto Häggqvist – Earrings on the right side – says:
My Electrica in black, blue, gold, bronze and yellow. Wasn't sure about the colors when I picked all the beads but I think I like them.
Ladies certainly weren't afraid of powerful colors and added the large drop in the metal setting to top the original design. Thank you!

Romantic Electrica by Anita Schackmann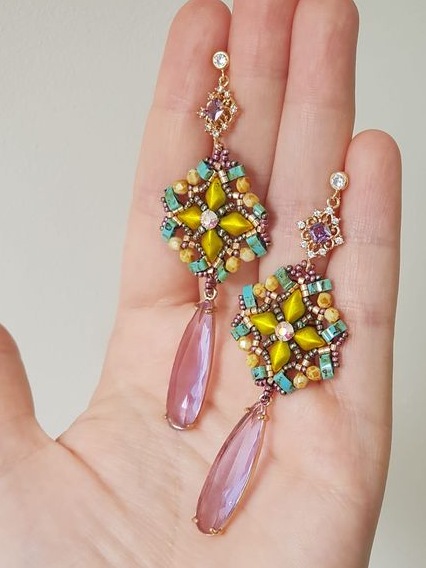 Nitty chose a fresh and romantic combination of green, turquoise, and pink. She used stud earrings and added a crystal connector and large drop to her motif. The result is gorgeous! Thank you, Nitty!

Electrica with tassels by Faye Williams and Alicia McAlister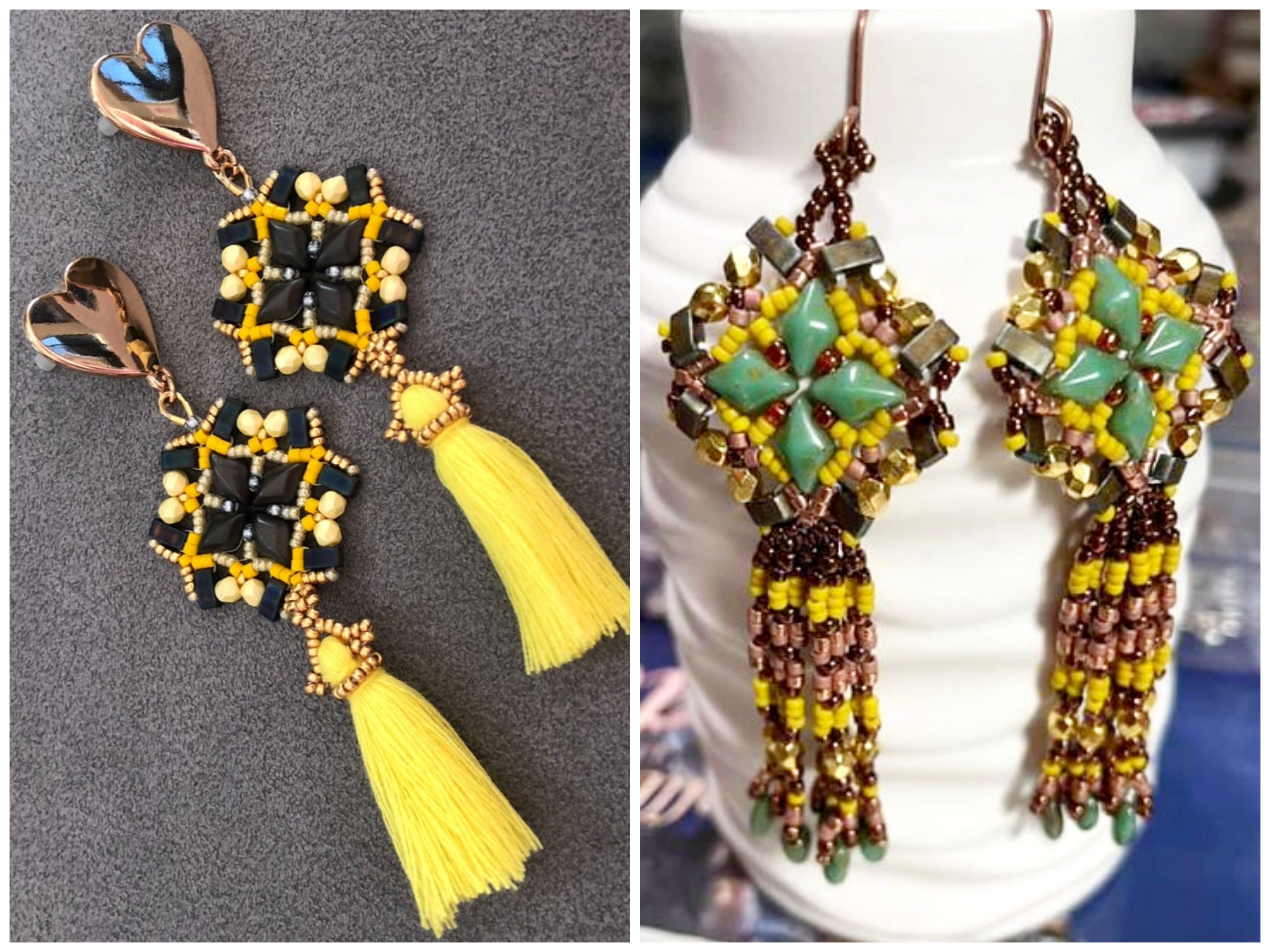 Faye Williams – Earrings on the left side – says:
Love how they have turned out using Pantone colours. A mid-grey gemduo, bold yellow delicas, pastel yellow firepolish and a bit of gold. Thanks for a great session Friday!
Alicia McAlister – Earrings on the right side
These two versions show the use of tassels. Faye's choice of color combination and the beads created a wonderful pattern in the motif, textile tassel created length and balanced the dark Gemduo Beads. Alicia created the decorative tassel from her beads – extra work and time, but so worth it! The Boho look is amazing!

Electrica brooch by Zuzi Hake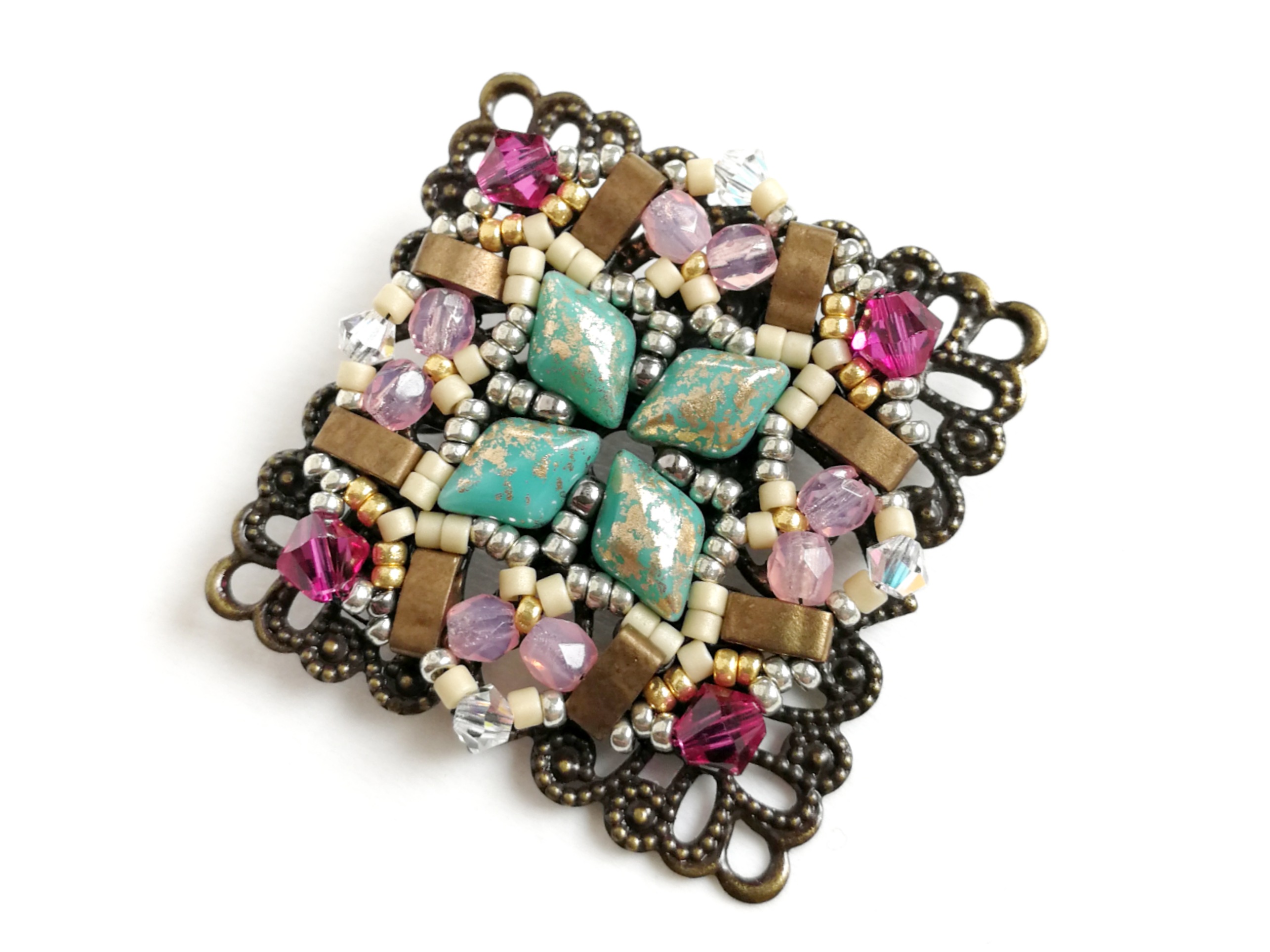 I love the versatility of the Electrica design! I decided to add extra row of beads, using 4mm and 3mm Preciosa bicone beads to fill gaps, add more bling and extend the original size of the motif. This is my Electrica brooch. I also tried other filigrees to fit for a nice pendant. Thank you Erika!

You don't have to bead alone! Erika prepared a new design for this Friday's #NoOneHasToBeadAlone. Come and join us to celebrate love for beading and community with Beadingschool by Erika Sándor!