#ClubDesigns is a series of articles on the Storytelling blog and a series of posts in the Beadingschool Club on Facebook.
Erika says:
"Since the beginning of the first COVID-lockdown, we bead together every Friday, to make sure that #NoOneHasToBeadAlone.
We bead a different jewel every week – designed specifically for the workshop. Afterward, it's really fun to see all the variations beaders come up with! Not only colors differ, but very often a pendant becomes a brooch, a motif that was originally an earring is modified into a bracelet or a ring. Moreover, sometimes it happens that not all the bead shapes are available to someone – and she needs to alter the original design to make it work."
The #ClubDesigns series is the collection of this beady wisdom.

Frida
Fresh colors combined with Mexican vibe left Erika with the idea of naming this design according to the famous painter – Frida Kahlo. The beaded motif may be small in size but it leaves you a lot of possibilities. I suggest you read further, some of the jewelry is almost as surreal as Frida's paintings!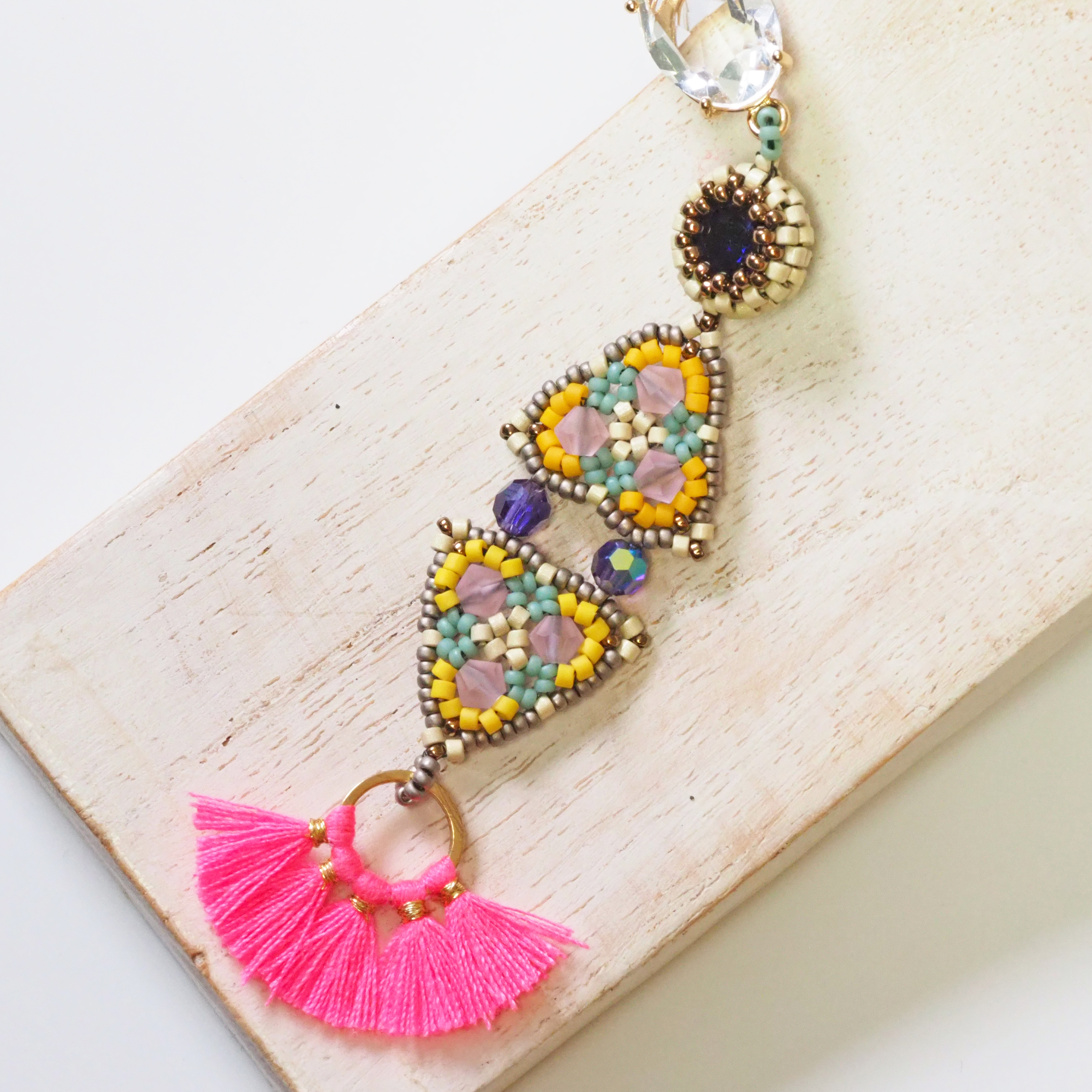 Click here for the beading tutorial!
MATERIAL LIST
Let's see what we beaded together and shared in Beadingschool Club on Facebook during the last weeks.
Frida earrings by Katja Foierl and Kirsten Schülp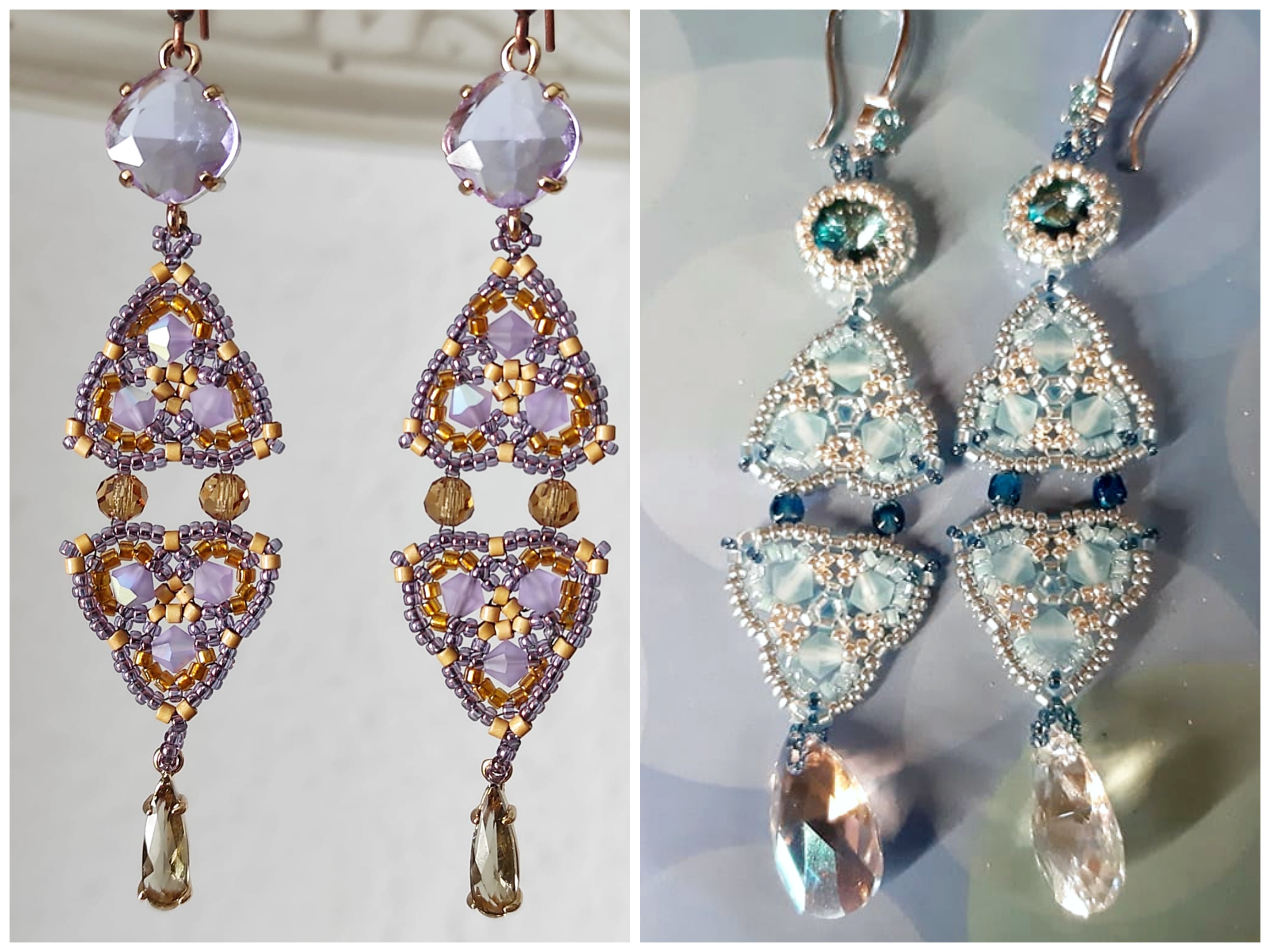 Katja – earrings on the left
Kirsten – earrings on the right
Both Katja and Kirsten used material from the Beadingschool webshop to complete their earrings with crystal connectors and drops in metal settings, Preciosa bicones, and rivolis. Their versions of Frida earrings are very harmonious in color and elegance! Thank you for sharing with us, ladies!

Frida earrings variations by Ellinor Hellhoff, Diane Sawczyn, and Ann Rust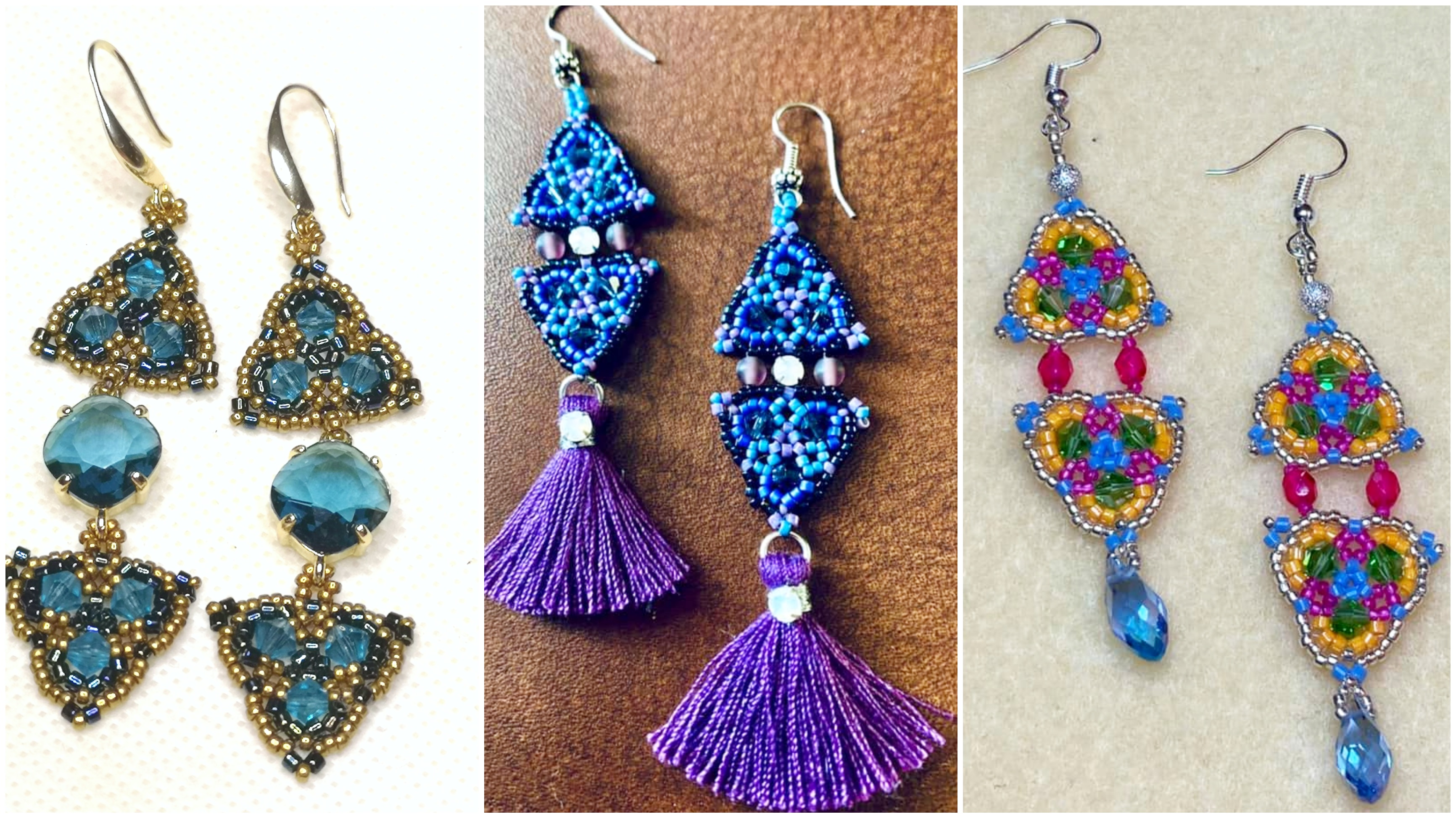 Ellinor – earrings on the left
Diane – earrings in the center
Ann – earrings on the right
These three versions of earrings are without bezelled chaton on top. Ellinor made a change in the middle part and connected Frida motifs with a glass connector in a metal setting. Diane connected the motifs with beads and added a rhinestone in a metal setting to the middle for extra sparkle. Ann used briolette crystal drop to decorate her earrings, tone-in-tone. Each is different, all beautiful! Thank you, ladies!
Extra long earrings by Annelien Willems and Britt-Marie

Piltto Häggqvist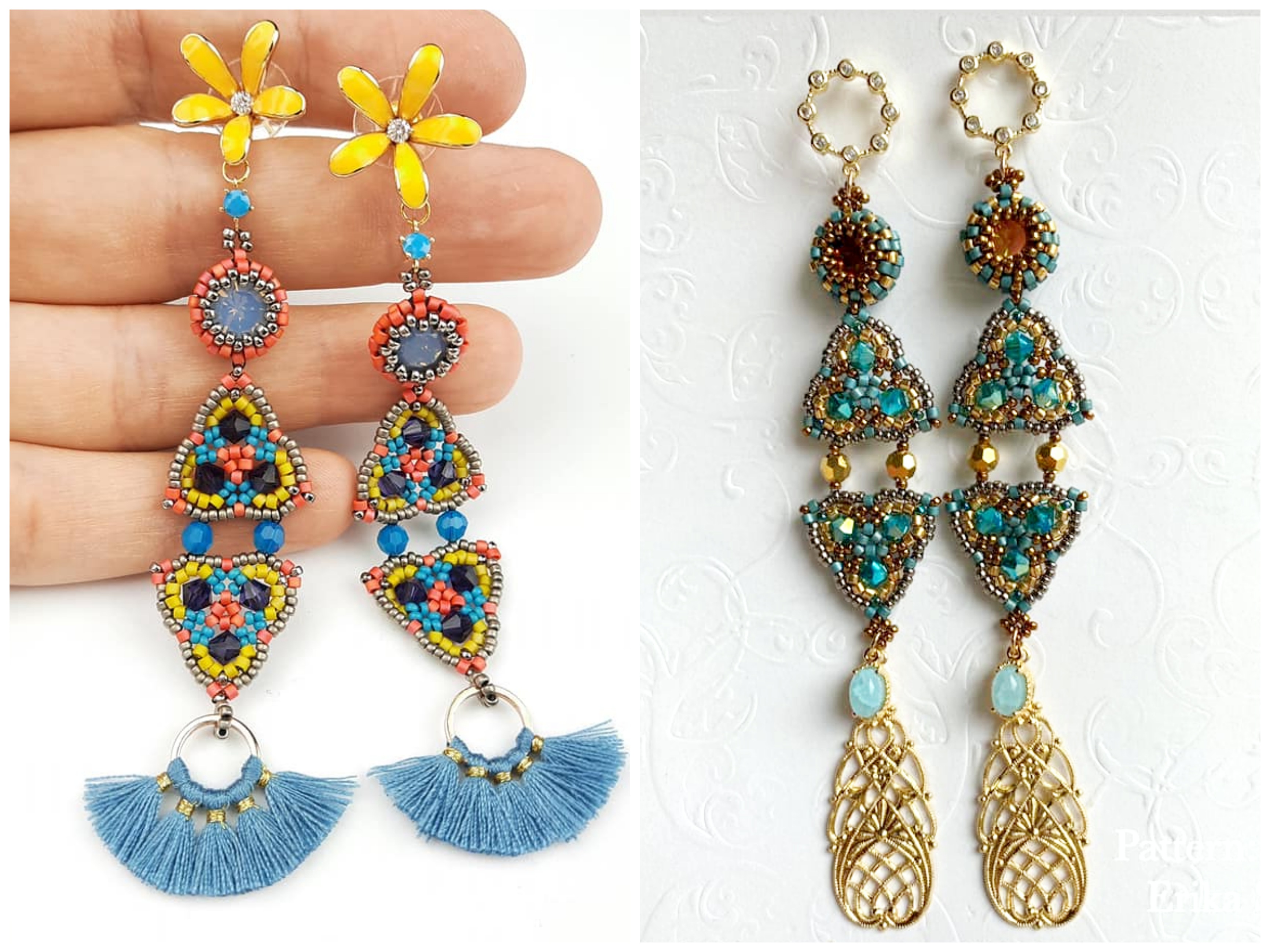 Annelien – earrings on the left
Britt-Marie – earrings on the right
Both ladies chose to include various components to make extra long earrings. The size and lightweight of the motif allow you to add filigree, drops, crystal connectors. Even to layer some of these components as Britt-Marie did. Ladies used some of the components from their Summer Spirit Boxes. Thank you for sharing these ideas with us!
Set of necklace and earrings by Annelien Willems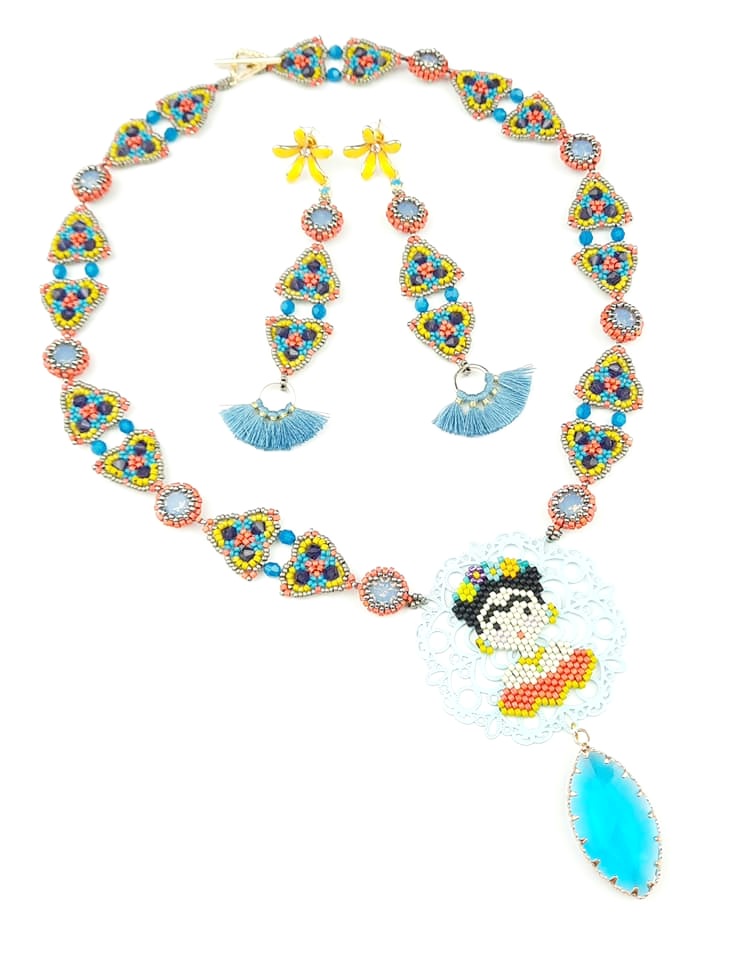 Vivid, playful, happy. This is 100% summer and Mexico thanks to Annelien's color choice and beaded Frida pendant! Annelien chose the textile fan tassels to decorate the earrings and colorful laser-cut filigree to create the centerpiece of the necklace. I love it!


Set of Frida earrings, necklace, and bracelet by Katalin Dudás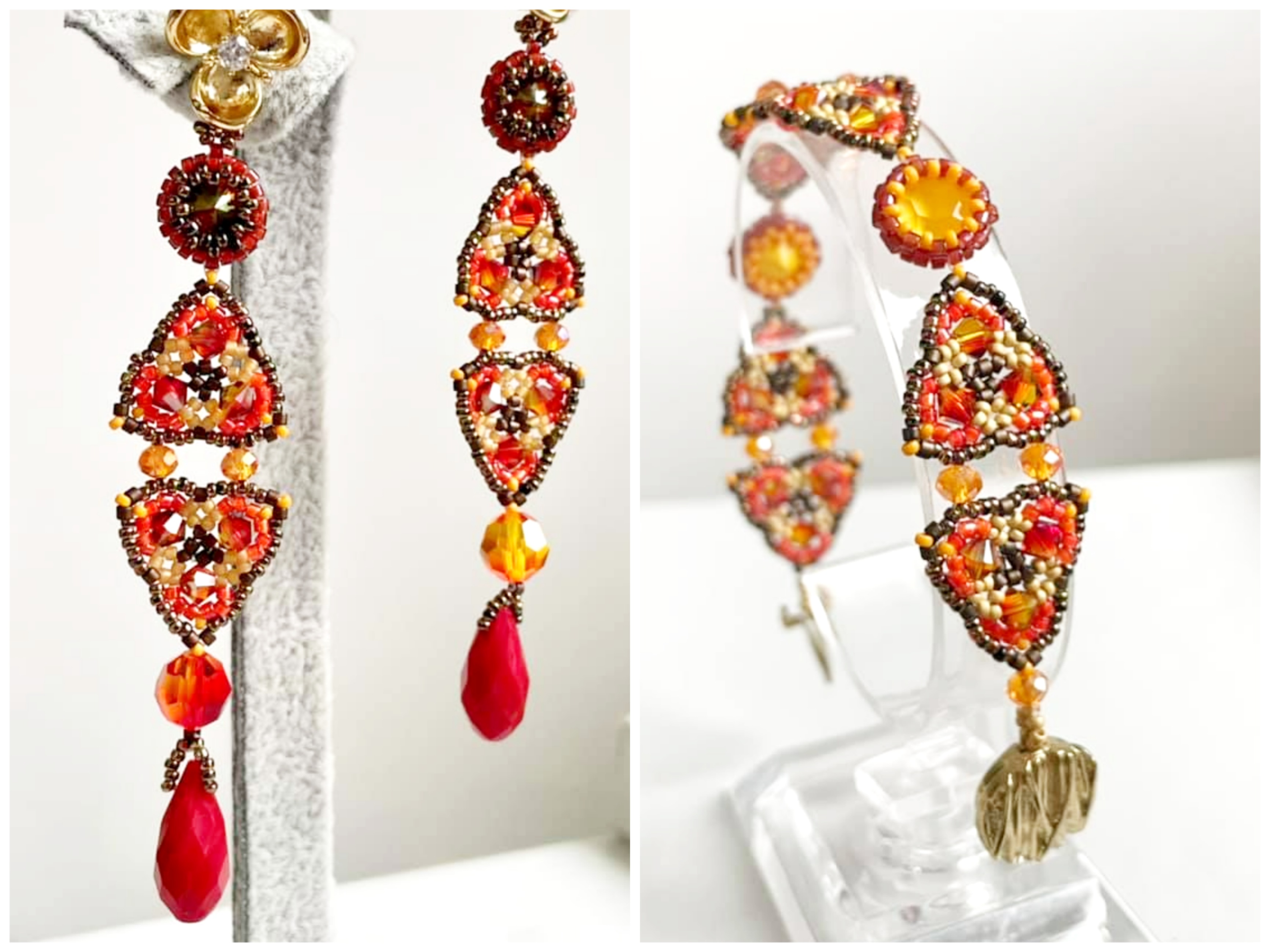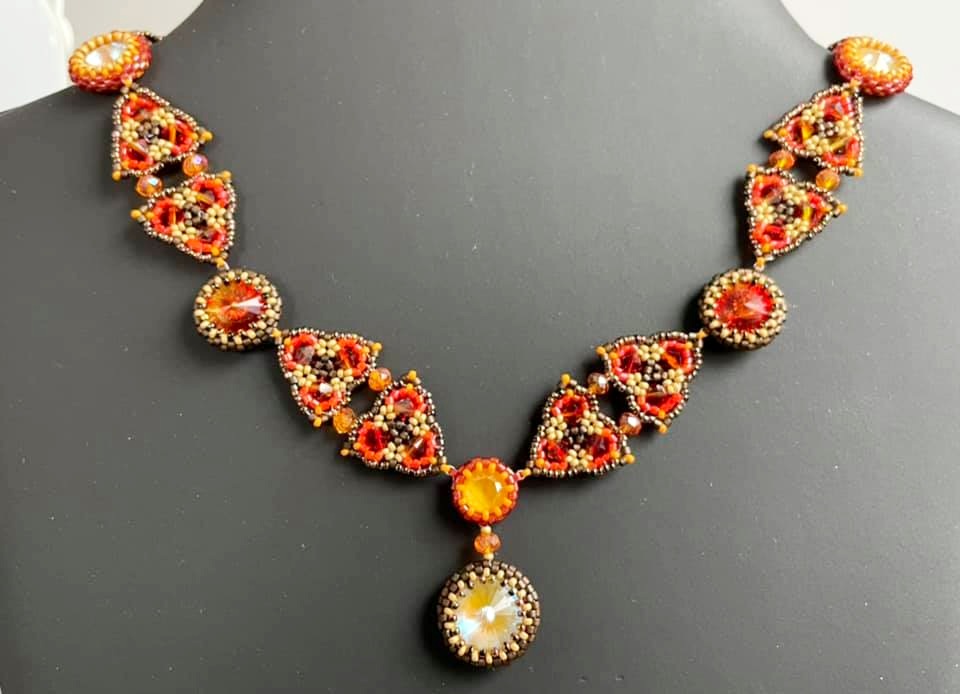 Kata is a real master when it comes to completing sets! She chose her favorite firey colors and created these amazing jewels. Thank you for lots of inspiration, Kata!

Earrings by Veerle Daeninck, Faye Williams, and Deb Taylor
Veerle – stud earrings on the top left side
Faye – earrings on the bottom left side – says:
It's been a couple of weeks since the Frida #NoOneHasToBeadAlone session and things just didn't go right with this motif so I have parked my original idea for another time. These are Frida, plan B. I am really enjoying seeing what everyone is making – such awesome pieces being made.
Deb – earrings on the right side
Ladies made their earrings based on the Frida motif, however, they took their own direction and showed us these great new possibilities. Veerle made stud earrings where Frida became part of the bottom pendant. Faye connected three motifs together in a way they form one single piece. Deb created large statement earrings with a lot of decorative parts that surely look amazing when they move while wearing these earrings. Thank you for beading and sharing with us!

Frida pendant by Elena Lazovik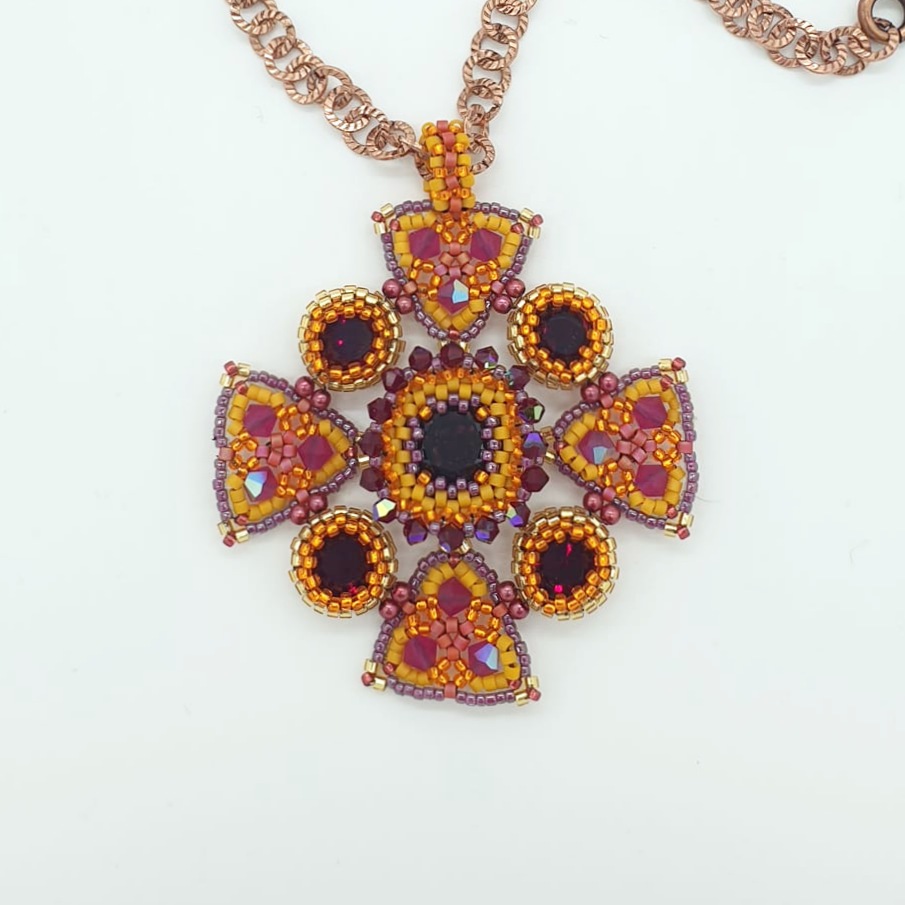 Elena says:
My Frida version on our Friday #NoOneHasToBeadAlone session has demanded from me to become a pendant. It claimed that it wants to become a medallion like in Medieval ages for all that orders of knights – you know that Tampliers, Golden Fleece, etc. I needed to succumb to it, but we agreed that it will be the Medallion of Beadingschool Order! So, this is the result made with the help of Preciosa Fire box! Are you with me in this new Order???
I'm with you, Elena! Absolutely amazing work with colors and elements, beautifully beaded and connected together with the central cabochon. Congratulations and thank you for sharing with us!