#ClubDesigns is a series of articles on the Beadingschool blog and a series of posts in the Beadingschool Club on Facebook.
Erika says:
"Since the beginning of the first COVID-lockdown, we bead together every Friday, to make sure that #NoOneHasToBeadAlone.
We bead a different jewel every week – designed specifically for the workshop. Afterward, it's really fun to see all the variations beaders come up with! Not only colors differ, but very often a pendant becomes a brooch, a motif that was originally an earring is modified into a bracelet or a ring. Moreover, sometimes it happens that not all the bead shapes are available to someone – and she needs to alter the original design to make it work."
The #ClubDesigns series is the collection of this beady wisdom.

Glasshouse Earrings
These exquisite earrings have an interesting story behind them. They came to life as a result of improvisation during one of Erika's weekly broadcasts. She asked fellow-beader to choose the main beads at #CoffeeTimeWithErika and she showed us how she designs. We all loved the result! It combines leaf-shaped Ginko beads that fill the inside and Miyuki Slender Blugle beads on the outside. It shows counterparts of full-empty and bold-fragile. Glasshouse – transparent walls with flowers and leaves on the inside.
Erika says:
Thank you for the super scary but super nice first-time experience of designing during a live video, while I let YOU choose my beads.
Sheila chose for me the Ginko, the 3 mm fire-polished beads, and the orange-red Miyuki Delica. I added some seed beads, Miyuki Slender Bugles, 3 mm pearls, and a glass drop in metal setting, of course.

The result: the GLASSHOUSE earring Shall we do this again? Did you like it?

If yes: my condition is, that someone has to be brave again and join me on screen to choose beads for me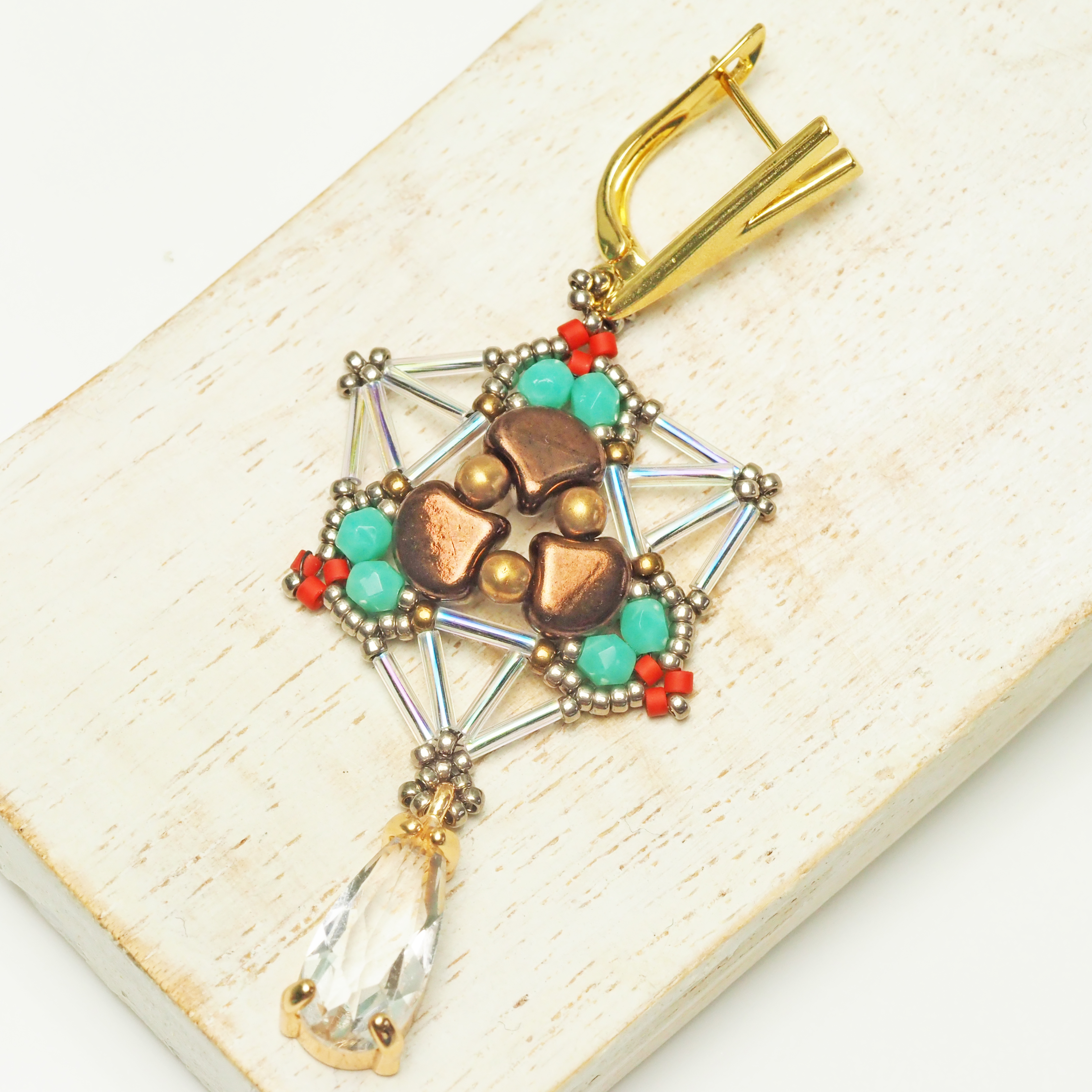 MATERIAL LIST
bead mat,
thread burner or scissors.
The design didn't just stay in the video that is publicly available, but Erika also drew the tutorial she shared in the Beadingschool Club. These are the Glasshouse variations by Beadingschool Club members.

Earrings by Faye Williams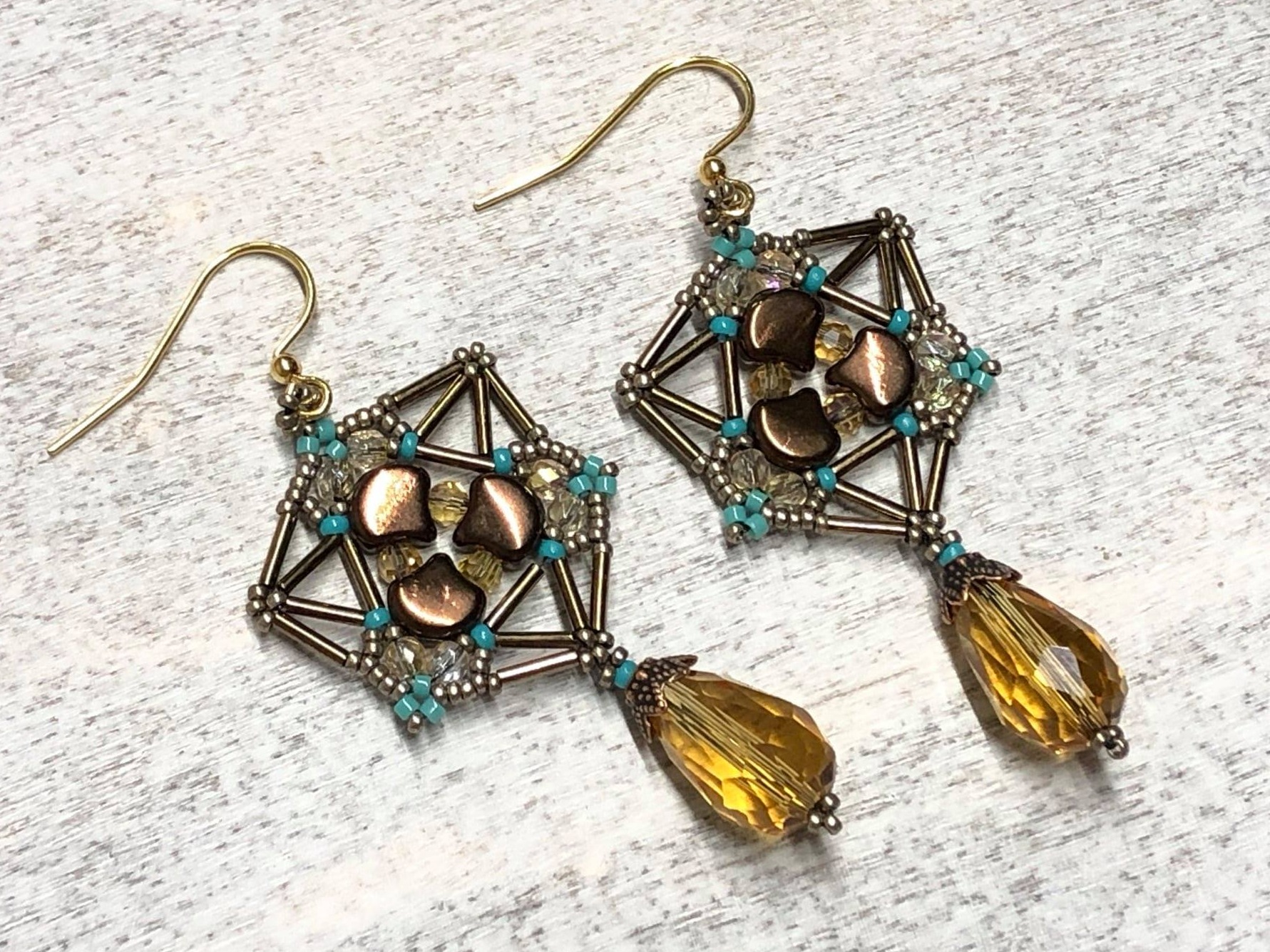 Faye says:
Glasshouse Earrings.
Now that I finally have some slender bugles, I thought it was about time to make this pair of earrings. I'm really pleased with how they turned out especially as I was making them to match a bracelet I've just finished. Great designing under pressure Erika!
Faye's classy and elegant version combines bronze tones with a little hint of turquoise. The faceted pear beads are a perfect drop!

Glasshouse variations by Cheryl Jackson, Kirsten Schlup, and Tanja Quintelier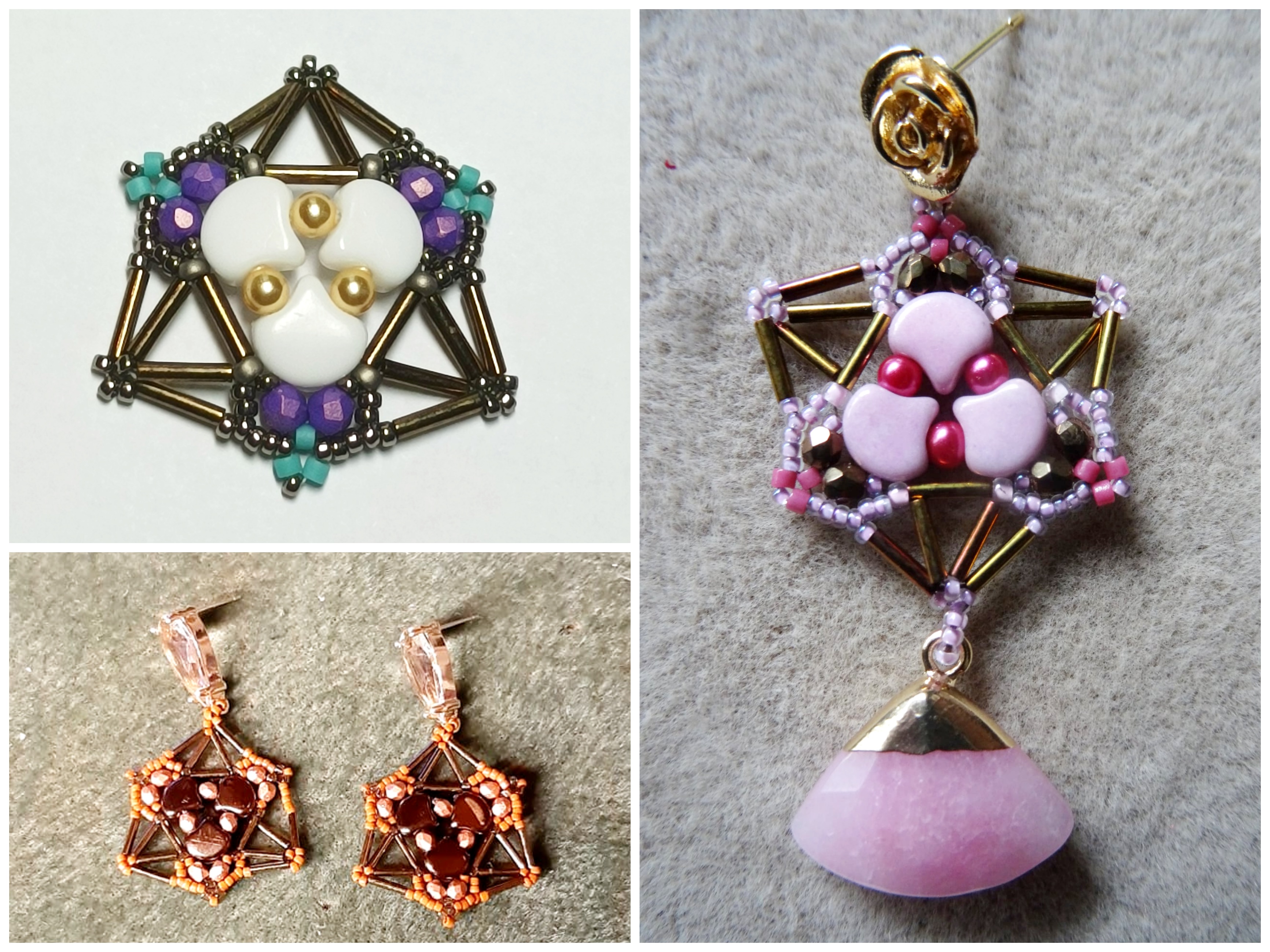 Cheryl – motif on top left side
Kirsten – earrings on bottom left side
Tanja – earrings on the right side
Tanja says:
I had such a great time yesterday during Coffeetime that I simply had to make the glasshouse earrings as a memory of that time. As Faye mentioned an orchid in a glasshouse, I have chosen the colors that I love the most in orchids and went for the rose-earstud from the Bloombox. Thank you Erika and ladies for the wonderful time yesterday.
Note that Cheryl and Kirsten turned the motif and the bugle beads are pointing up. Also, Kirsten and Tanja used
ear studs with crystals and rosebud
, which complete the whole idea of Glasshouse.

Little Glasshouse village by Katalin Dudas

Katalin called her earrings a little Glasshous village since she made several variations! Each is unique in colors, style, and components she used. Note that she used also twisted bugle beads to add extra structure to the motifs on the sides. The earring in the center has two different colors of bugle beads, that spruce up the whole design – the triangle of the Ginko beads is reflecting the bugle triangle facing the opposite side. Nice touch, Kata!

Glasshouse earrings by Katja Foierl and Gonnie Versteeg-Grootendorst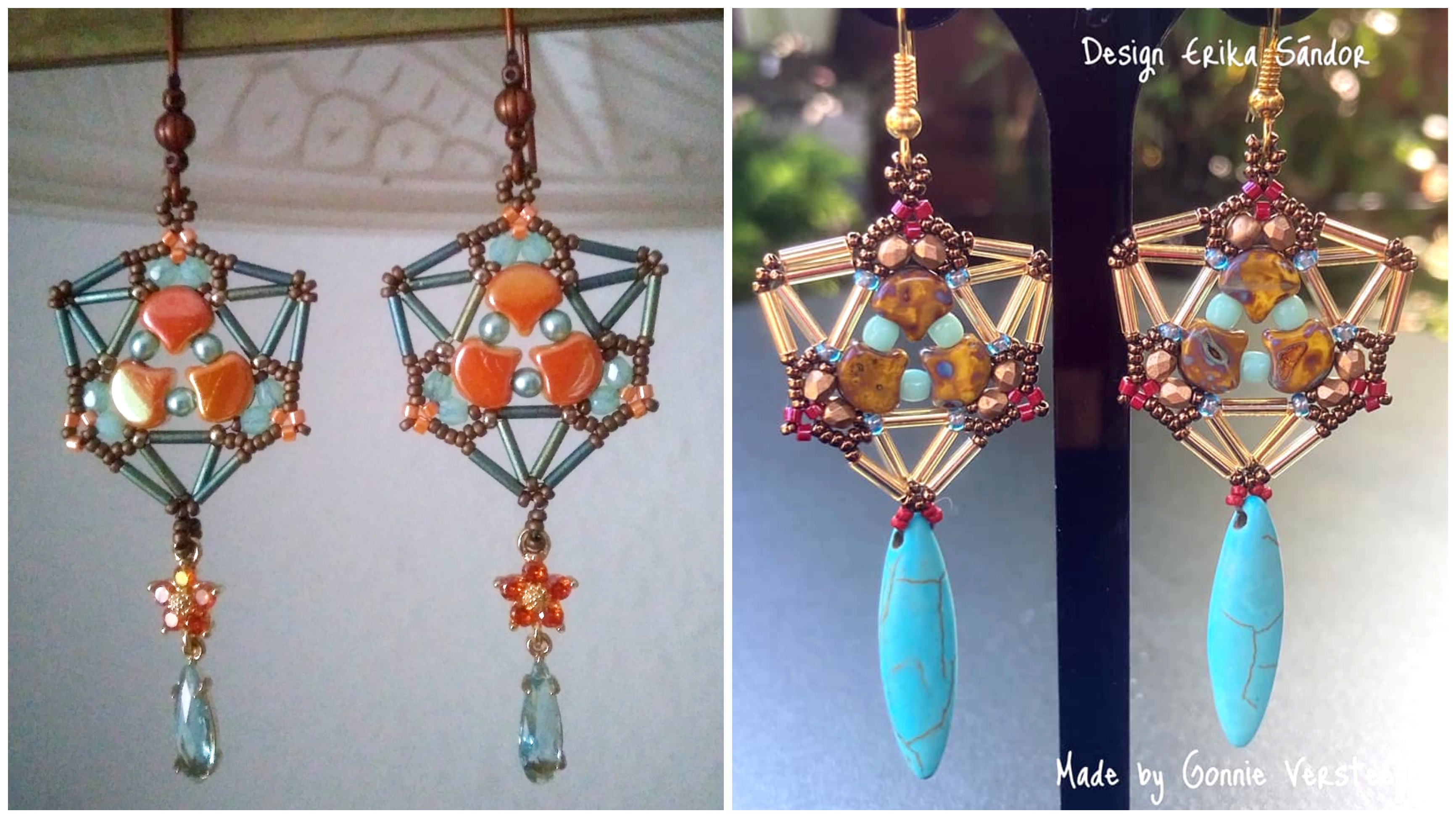 Katja – earrings on the left.
Gonnie – earrings on the right.
Ladies chose similar colorways – bronze, turquoise, orange/red are very flattering in accessories. Katja chose to add crystal flower connectors finished with the drop in a metal setting, while Gonnie finished the earrings with shaped gemstone drops.

Glasshouse earrings by Ulla Edenmark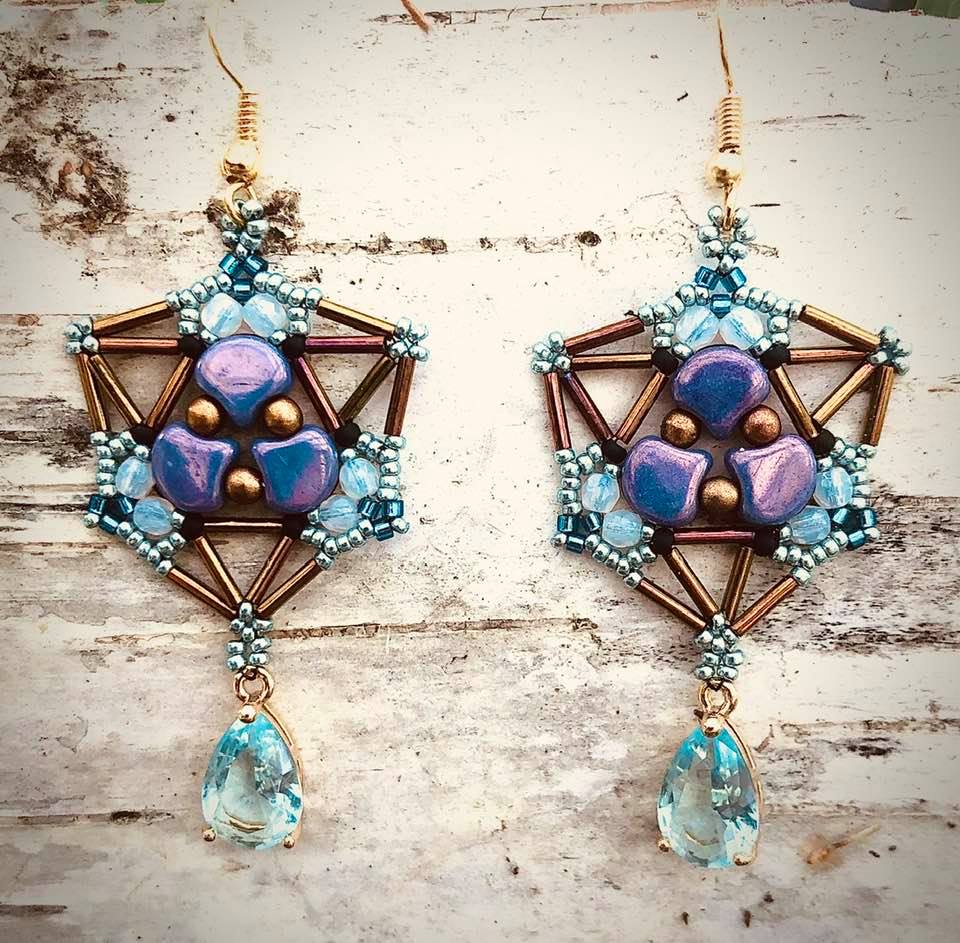 Another beautiful variation of the Glasshouse earrings. Ulla's main color choice was bronze and turquoise, the glass drop in the metal setting is a wonderful balance and final touch to the whole design.

Glasshouse with ear-studs by Deb Taylor and Diane Sawczyn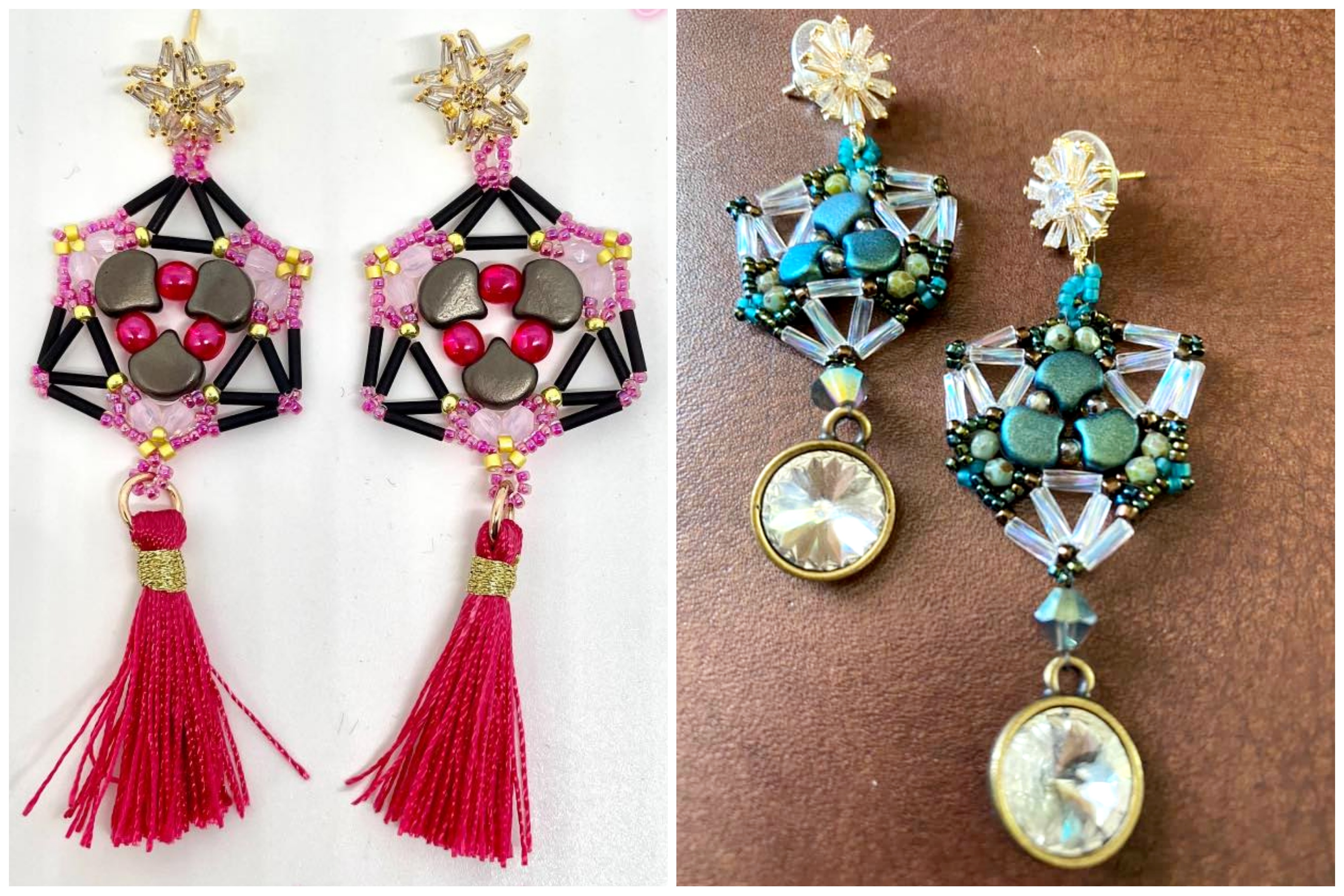 Deb – earrings on the left side
Diane – earrings on the right side
Deb chose a striking color combination of pink and black, adding a little tassel. These earrings really pops! Diane combined elegant metallic green with transparent twisted bugle beads to add extra structure and sparkle by rivoli pendant. Ladies added extra bling with cubic zirconia ear studs that were part of the special Luxury Component Box.

Glasshouse-inspired brooch by Zuzi Hake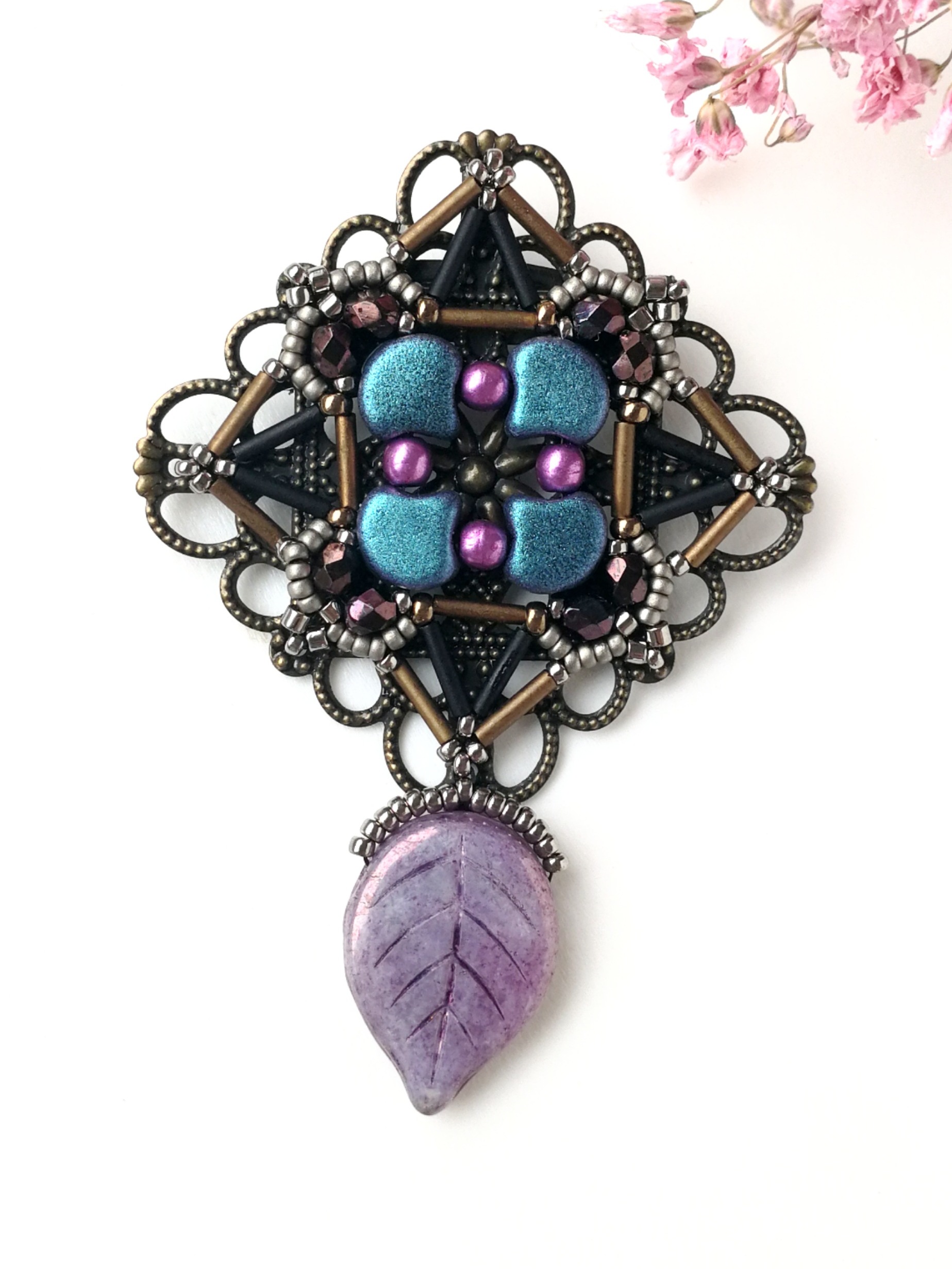 Zuzi says:
I love Erika showed part of her adventurous soul in designing from scratch according to someone else's idea! Besides that, Ginko beads are one of my favorite! I took the original design and added one more set of beads to create a square shape. I sew the motif to brooch base and added leaf-shaped bead to reflect Ginko shape and complete the idea of glasshouse. Thank you, Erika!

Live Design by Erika
Erika says:
Designing during a live video, from beads chosen by a fellow beader (thanks, Sheila!) was a huge milestone and a super scary experience for me. Because of the positive vibes of the Club, all went well, and now we have not only a nice memory, and a new jewel to bead, but I hope that something more to remember, too:
New challenges let us grow.

Cheering for a fellow human feels like a gift for her, and it will eventually come back to us. Maybe another day, maybe in another form – like a tutorial, for example And that friend will always remember the encouraging words.

In the end, what really matters is the fun time that we spent together. It could have happened that I get stuck and inspiration doesn't come. I wouldn't be happy about it, but would it be a catastrophe? No. The prospect is scary in our head, but between good people, there is nothing to be afraid of.
Wishing you lots of fun with the Glasshouse motif, dear beaders. Let's do this again!

You are more than welcome to join Erika's #NoOneHasToBeadAlone. Don't forget to follow Beadingschool by Erika Sándor to receive the latest updates and event invitations!