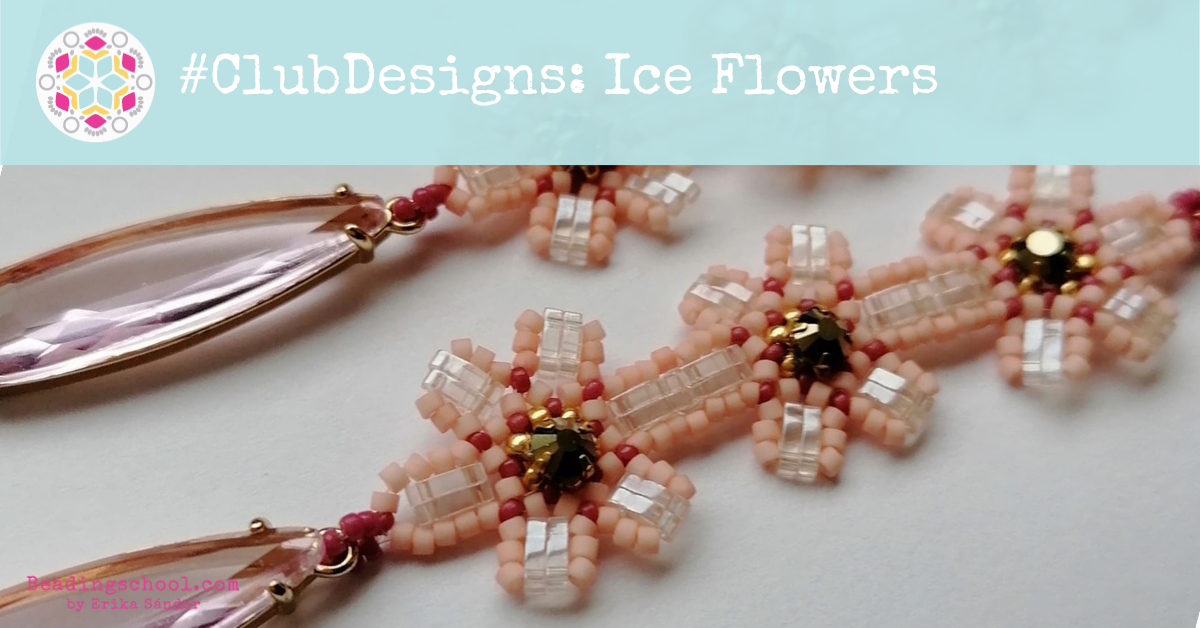 #ClubDesigns: Ice Flowers variations
#ClubDesigns is a series of articles on the Beadingschool blog and a series of posts in the Beadingschool Club on Facebook.
Erika says:
"Since the beginning of the first COVID-lockdown, we bead together every Friday, to make sure that #NoOneHasToBeadAlone.
We bead a different jewel every week – designed specifically for the workshop. Afterward, it's really fun to see all the variations beaders come up with! Not only colors differ, but very often a pendant becomes a brooch, a motif that was originally an earring is modified into a bracelet or a ring. Moreover, sometimes it happens that not all the bead shapes are available to someone – and she needs to alter the original design to make it work."
The #ClubDesigns series is the collection of this beady wisdom.
Ice Flowers earrings
January's loved design, the Ice Flowers earrings are slowly reappearing into our selection of jewelries for the season. Have you ever wondered how ice flowers are created? Those majestic drawings of ice on a single glass window. Artistic, geometrical, floral, many-many breathtaking variations that we can discover. This simple little motif has all the possibilities to make something that resembles what nature created for us.
You can purchase the Ice Flowers earrings pattern in the webshop.
MATERIAL LIST
thin beading needle,
Fireline or other strong and thin beading thread,
bead mat,
thread burner or scissors.
You can see a collection of beaded jewelries our Beadingschool Club members created based on the Ice Flowers beading tutorial.
Set beaded by Sarah Pasquin-Haskin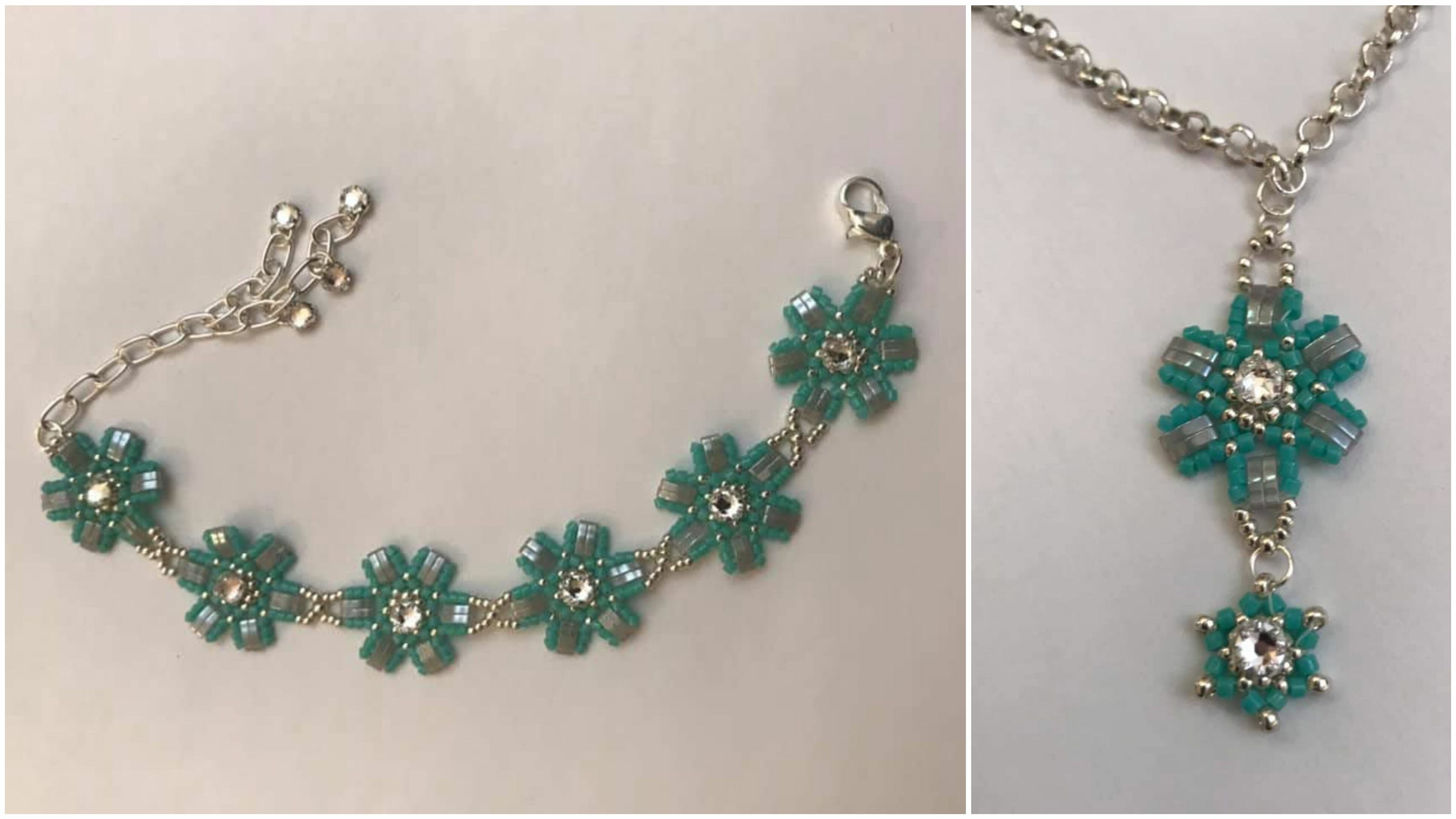 Sarah decided to be true to the frozen motif and used cold green tones and grey Quarter Tila beads. For her bracelet she connected several pieces while her pendant features a full and a smaller motif. Elegant pieces that are made complete with crystal colored sew-on rhine stones.
Set beaded by Katalin Dudas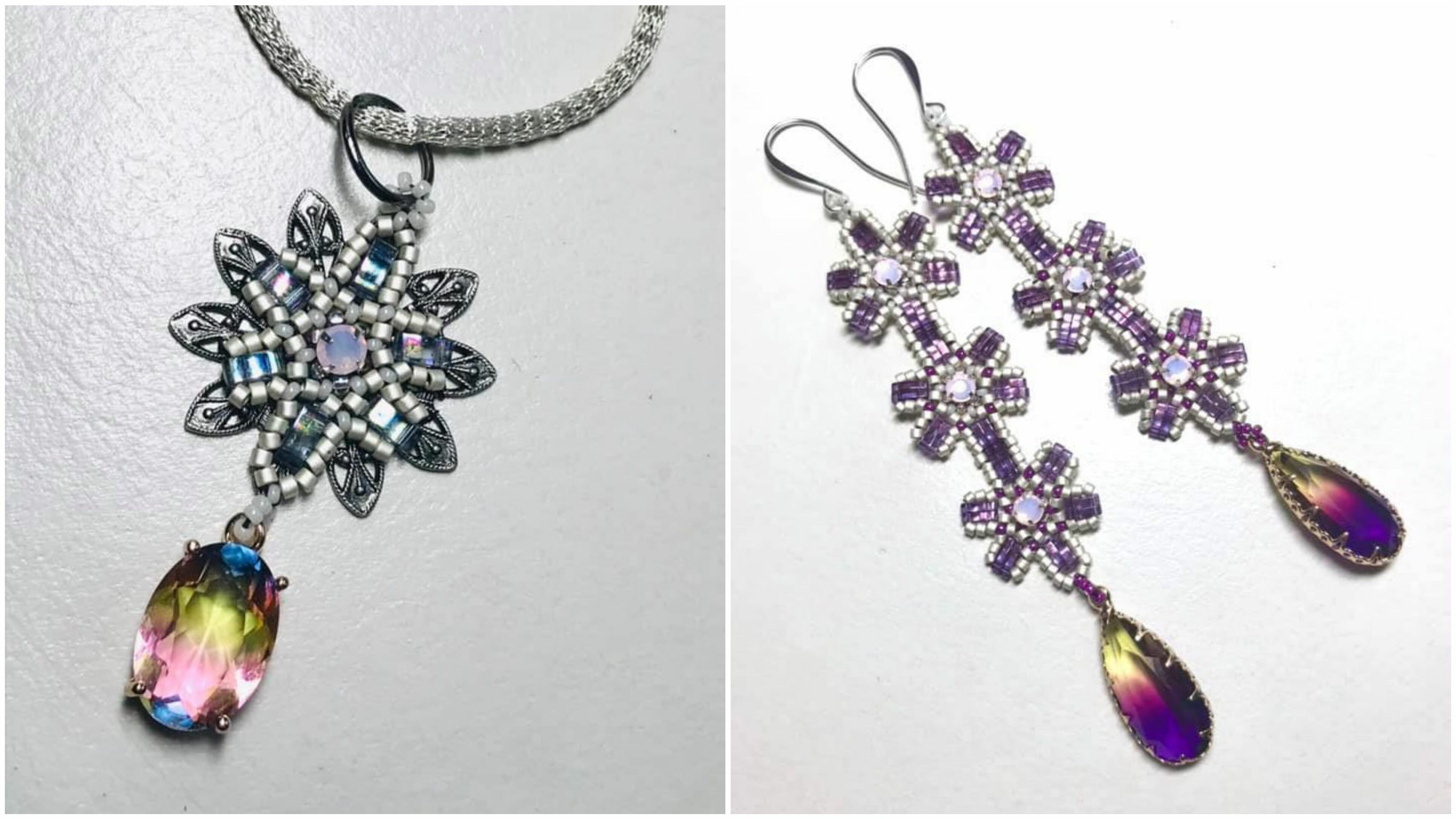 Kata used purple, transparent colors in her set. The matte silver delica beads enforces the effect of the transparent Tila beads. Her pendant got a filigree support as well. The shape of the metal component points back to the origin of the design: floral patterns.
Earrings beaded by Janine Heruday, Nancy Klis Kurdiziel and Liana Magee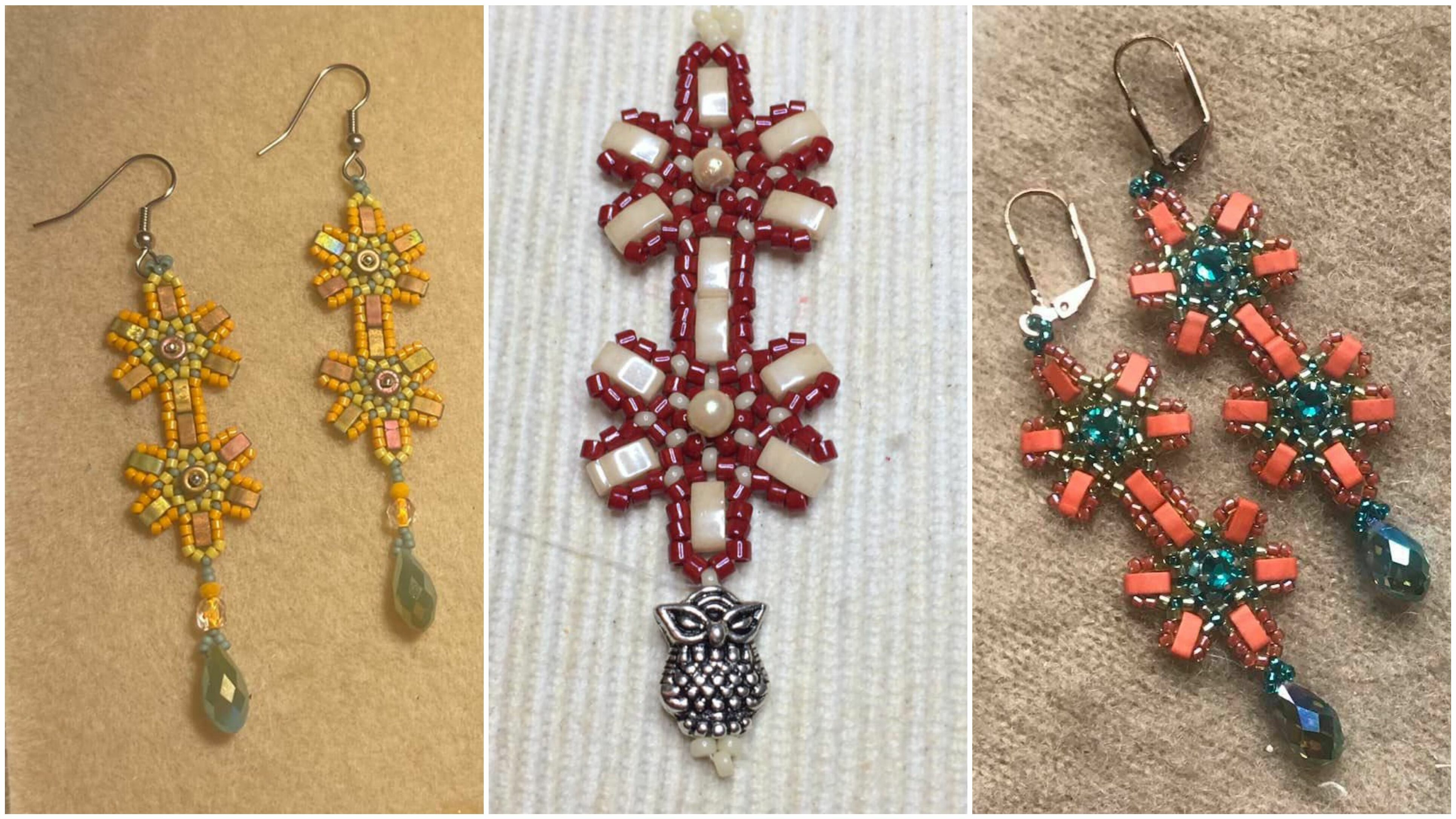 The ladies went for a warmer tone. However the shape of the pattern still brings back a cooler touch to them. Janine made sun flowers instead of ice flowers. She also substituted the sew-on rhine stones with Teacup beads. What a great idea! Nancy also found a replacement for the Preciosa stones. She used pearls to match her Half Tila beads. Liana went for a color combination that is match made in heaven: brick red tilas with blue zircon Preciosa stones.
Earring variations by Ellen Welling (left), Angelika Sommer (top right) and Rosalind Bisset (bottom right)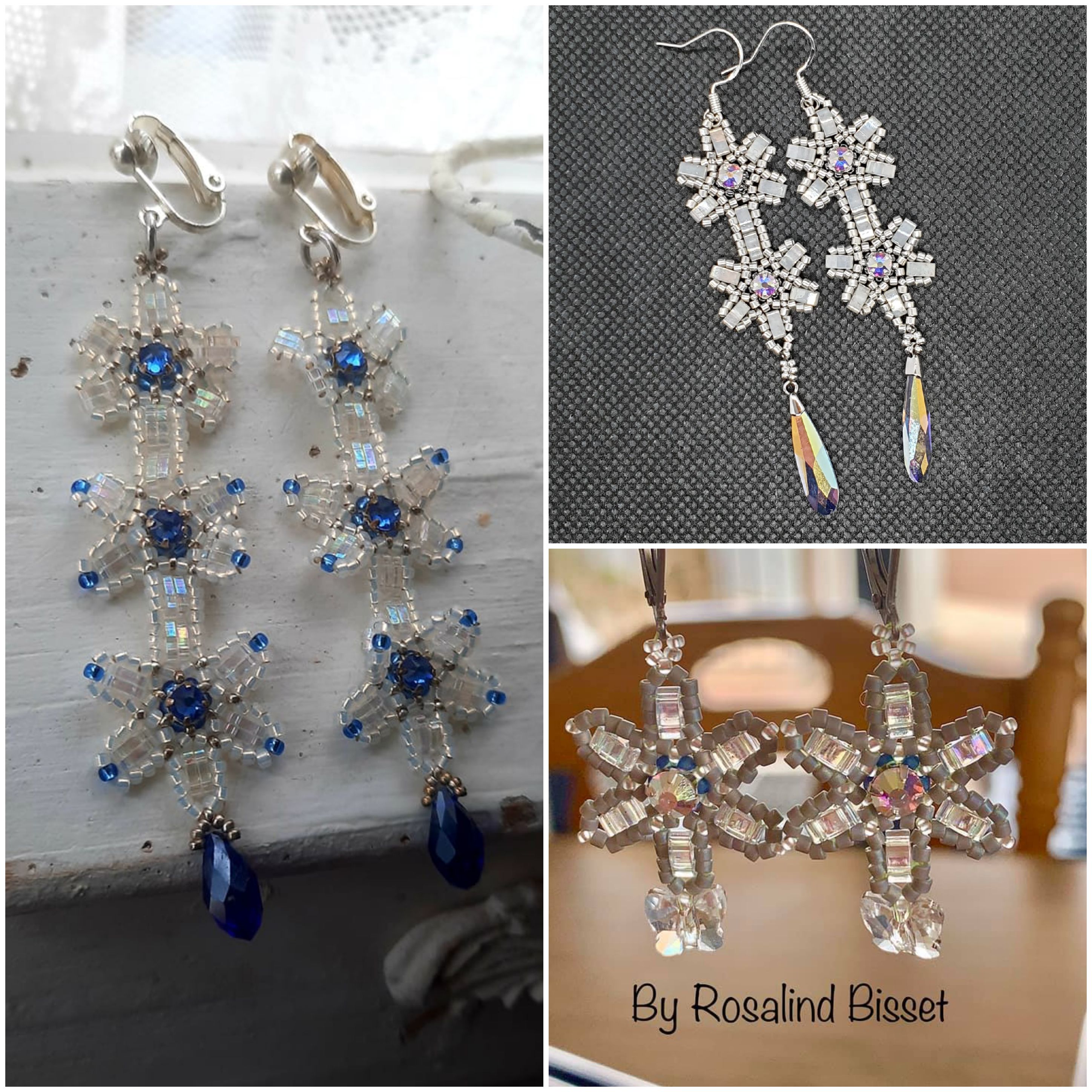 Greys, crystals and blues. Perfect combinations to bring back the winter atmosphere and wear something elegant. Regardless the length of your earrings, you can create something eye catching. Thank you ladies for your beautiful pieces.
From Ice Flowers to Spring Garden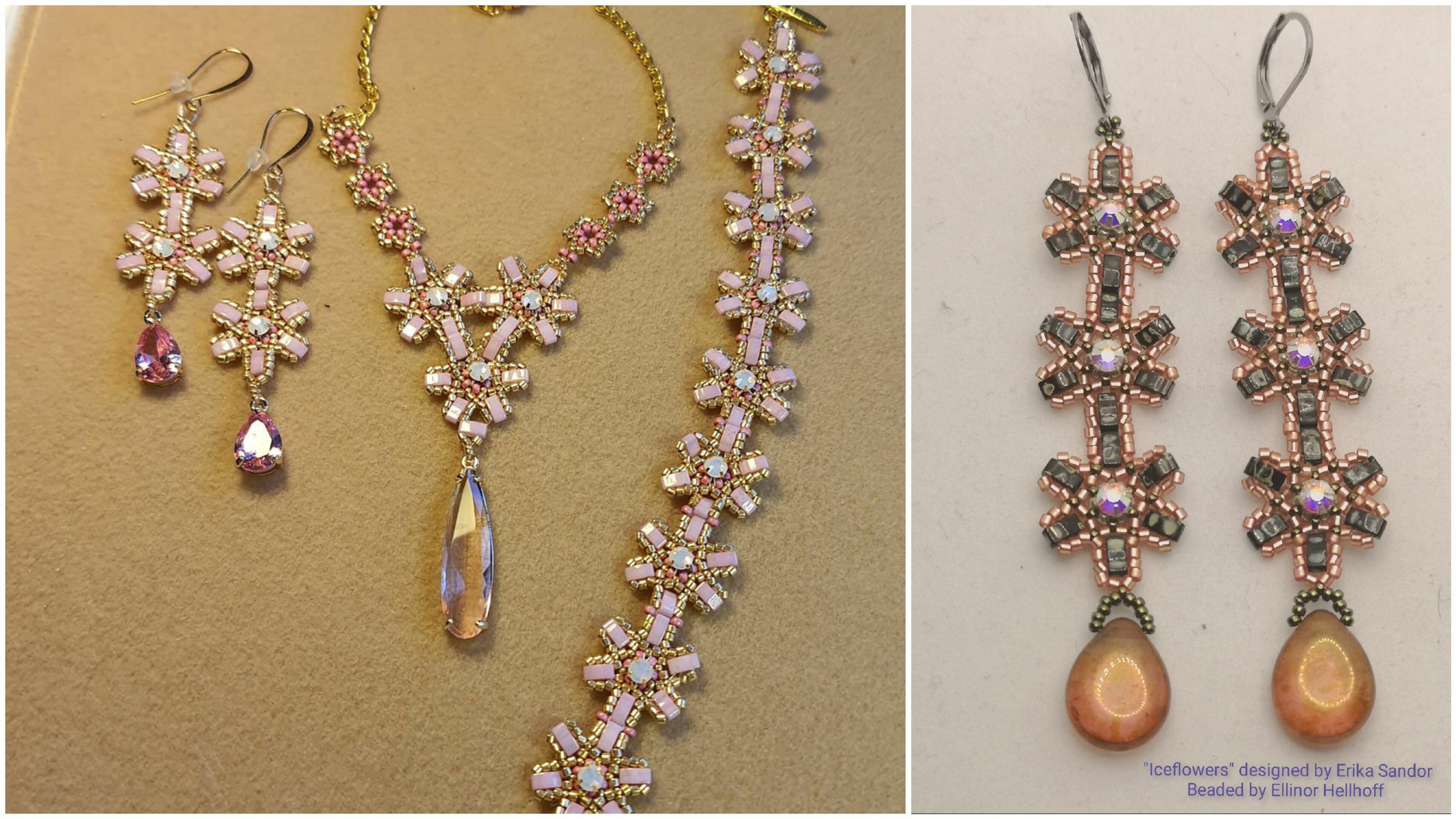 Left: Christina Nordin Kilpelainen
Right: Ellinor Hellhoff
The ladies decided to use warmer colors and say goodbye to the cold chills. Christina made a beautiful romantic set using soft pink, silver and white opal sew-ons. In her necklace three elements are connected together in the center being supported by a glass drop in metal setting and three-three smaller motifs on both sides. Ellinor created a softer look using warm grey Half Tila beads and crystal AB sew-on rhine stones. She made the earrings complete by adding a pressed drop pendant to them.
The color makes it all!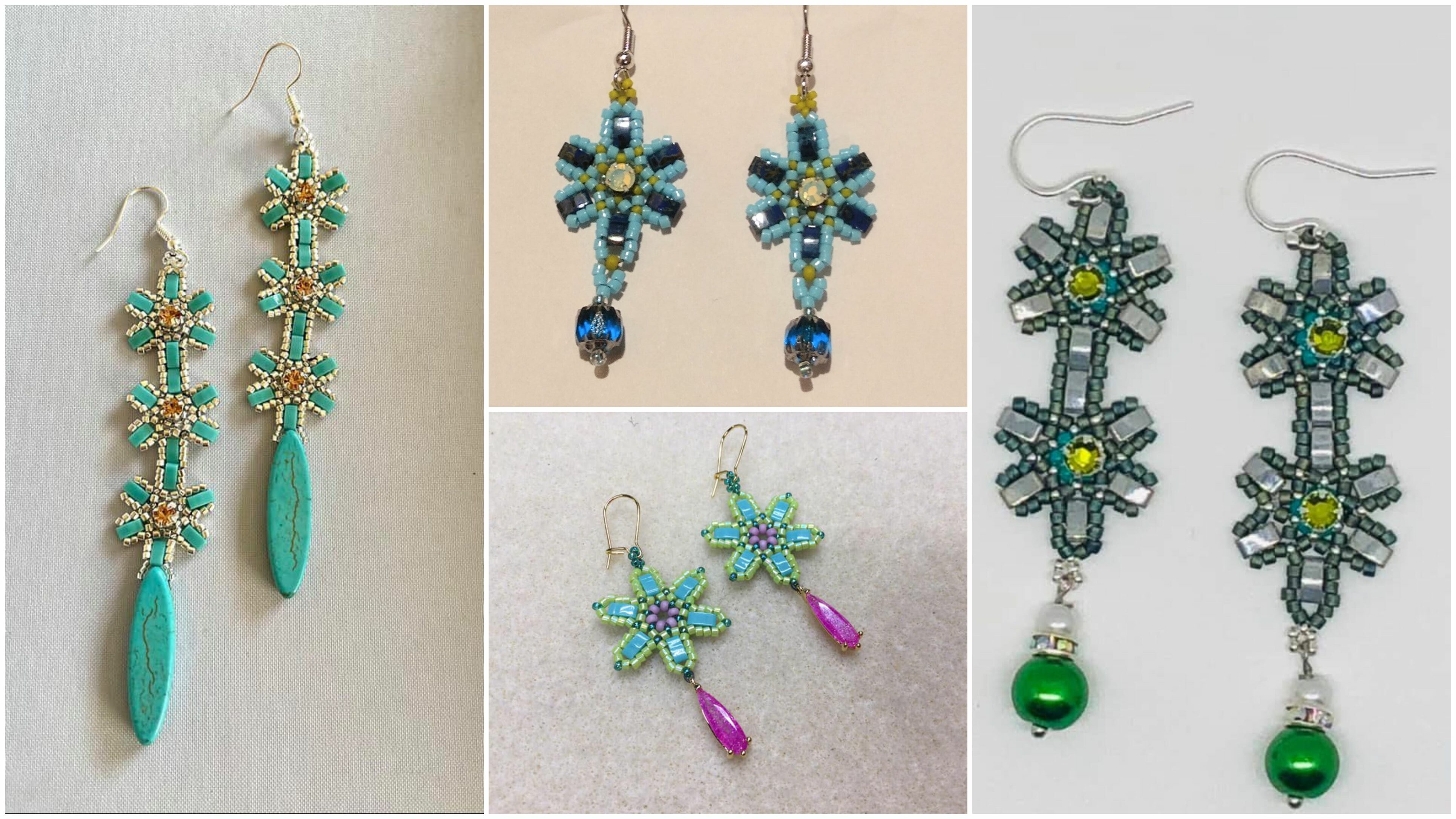 Left: Mehtap Ucar Spafford
Top center: Ludmila Turzova
Bottom center: Virginia Bremken
Right: Deb Taylor
Thank you so much, ladies for these beautiful variations.
Virginia says:
"I am making a few Ice Flowers earrings to put in the Master Gardeners plant sale in a few weeks. I bet you didn't except to show up at a plant sale instead of a bead show. I will be putting your name in the card with the earrings. We usually sell plants, baked goods and crafts. This year the baked goods are off the table because if the pandemic so we are stepping up our game on the crafts."
Earrings beaded by Erika Vasas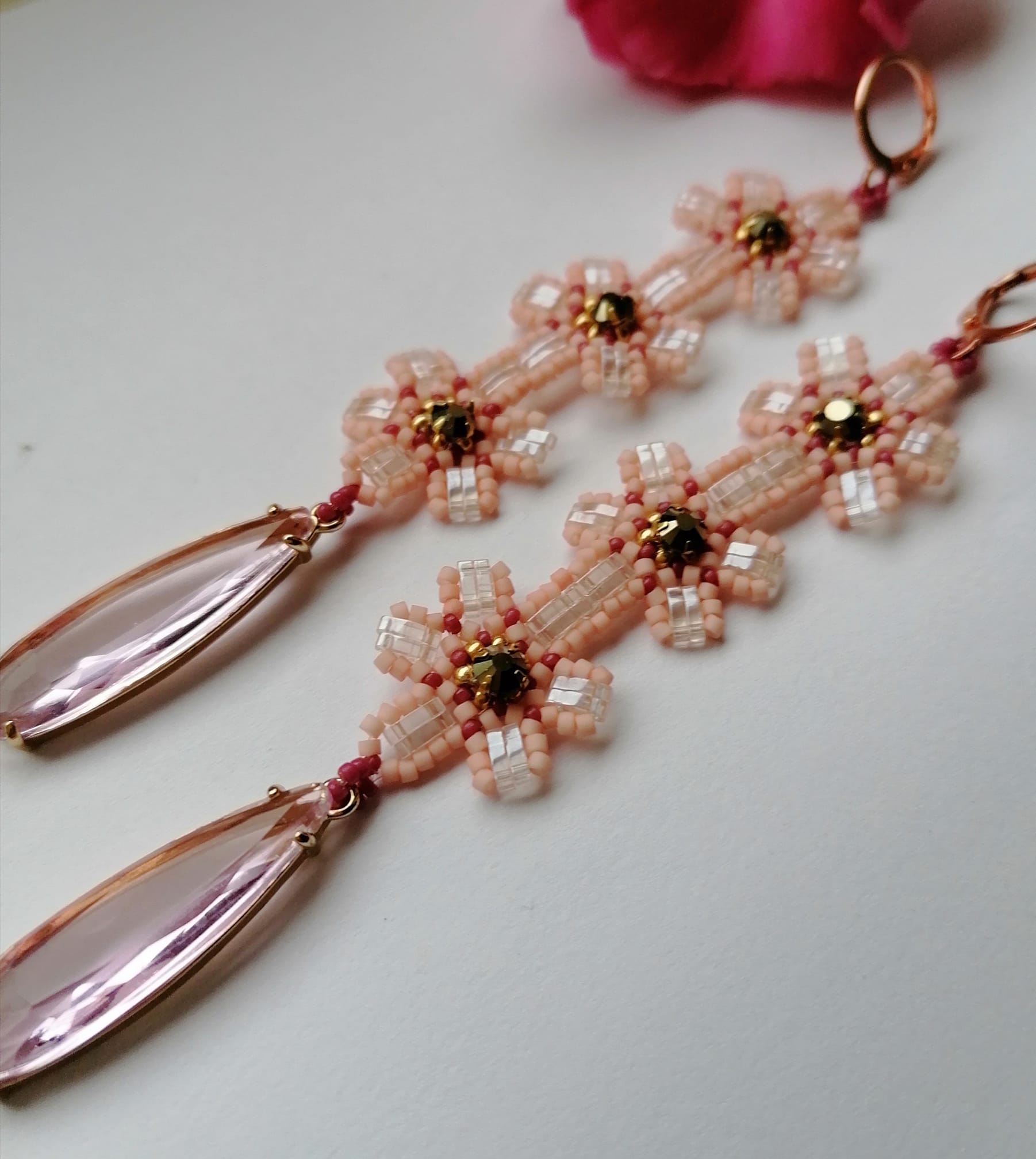 Erika achieved a sophisticated look with her color choices. Using transparent colors, metallic finishes and soft colors she managed to bead a stunning pair of earrings.
Would you like to get a bunch of free beading tutorials?
There is a lot more to see in the Beadinschool Club!
Come, join us, and bead with Erika and other beaders from all around the world.
Friday's 

#

nooneHasToBeadAlone session is opened for everyone!
Reader Interactions