#ClubDesigns is a series of articles on the Storytelling blog and a series of posts in the Beadingschool Club on Facebook.
Erika says:
"Since the beginning of the first COVID-lockdown, we bead together every Friday, to make sure that #NoOneHasToBeadAlone.
We bead a different jewel every week – designed specifically for the workshop. Afterward, it's really fun to see all the variations beaders come up with! Not only colors differ, but very often a pendant becomes a brooch, a motif that was originally an earring is modified into a bracelet or a ring. Moreover, sometimes it happens that not all the bead shapes are available to someone – and she needs to alter the original design to make it work."
The #ClubDesigns series is the collection of this beady wisdom.

Petronella earrings
Four bead types and one of them is Miyuki Half Tilas. How easy is this? Despite the small variety of beads Erika used on her prototype, Petronella gets the shine through components. The motif provides you with options to substitute and add extra beads in different shapes. It can be as small, or as large as you want. Petronella looks beautiful every single time.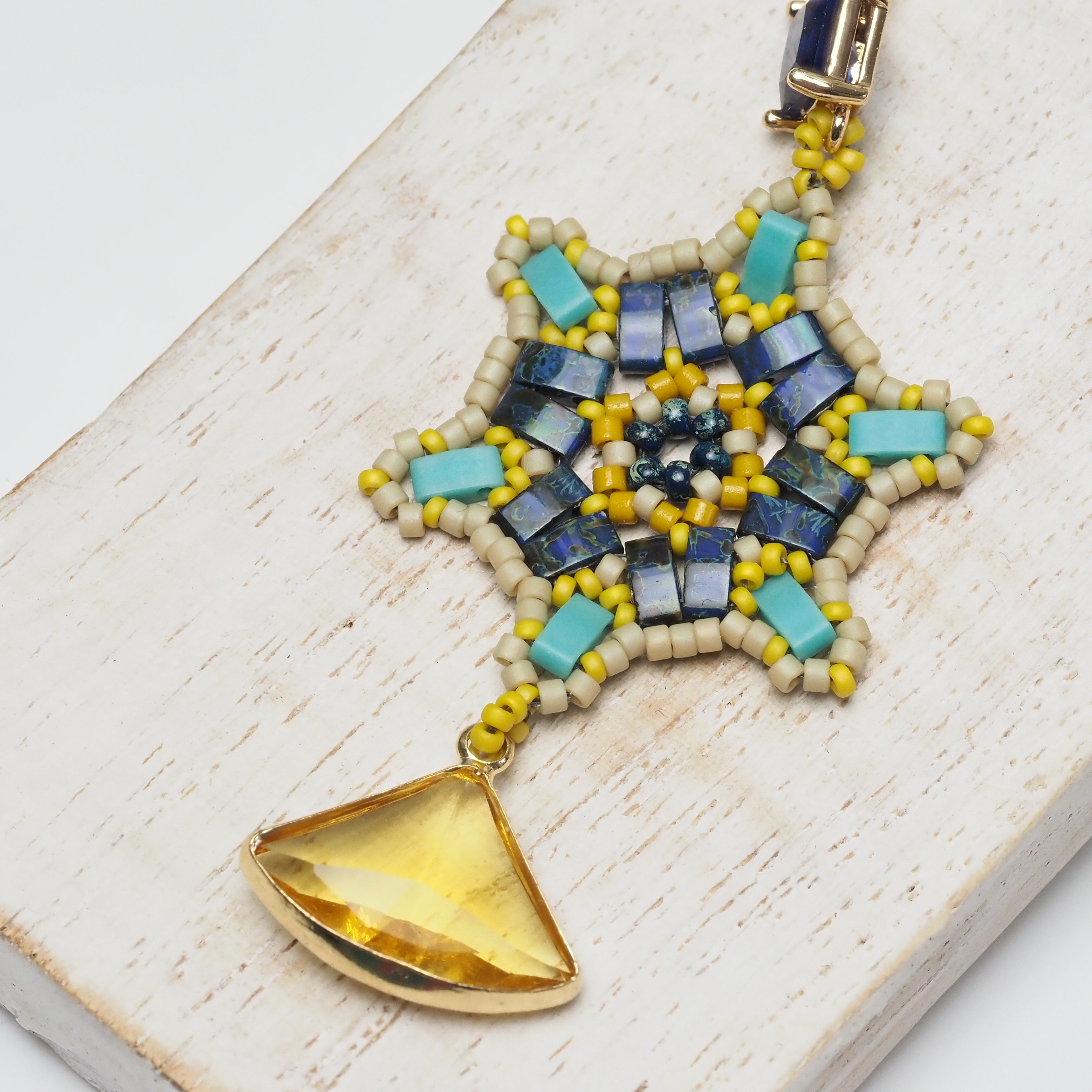 Click here for the beading tutorial!
MATERIAL LIST
fan-shaped drop in metal setting,
Tools:
thin beading needle,
bead mat,
thread burner or scissors.
Let's see all the variations of the Petronella motif beaded by our Beadingschool Club members!

Petronella earrings by Asaria Speicher, Britt-Marie Piltto Häggqvist
and Corinne Langshtad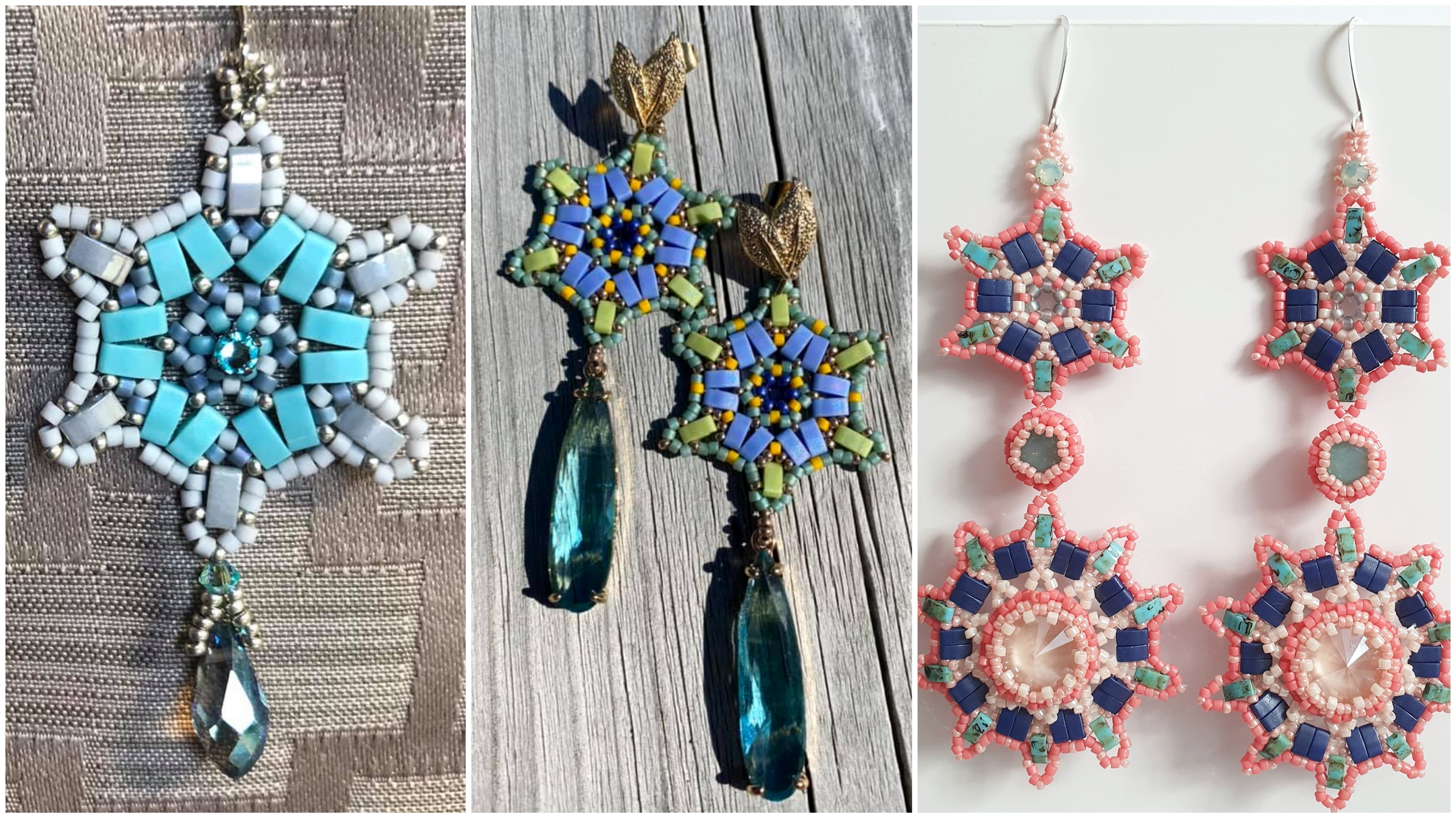 From left to right – Earrings by Asaria, Britt-Marie, and Corinne.
Asaria decorated the center with Preciosa sew-on rhinestone. Britt-Marie added a large drop in a metal setting to the bottom. Corinne loves large earrings and connected two motifs together. She enlarged Erika's original with bezelled rivoli in the center and then continue with adding beads according to instructions.
Same pattern, three completely different sizes of the finished jewel.  Thank you, ladies, for sharing these lovely ideas and finished jewelry with us!

Petronella earrings with pearl-drop by Neeti

Khanna-Mehrotra,
and Katja Foierl
Earrings by Neeti (left) and Katja (right)
Every time I seek an elegant touch, my choice goes to pearls and sparkles. Both ladies created beautiful earrings. Neeti aimed for turquoise with earthy tones. Katja added a baroque rhombus connector and metallic seed beads and components. Thank you for beading with us!

Brooches by Mirjam W. and Katalin Dudás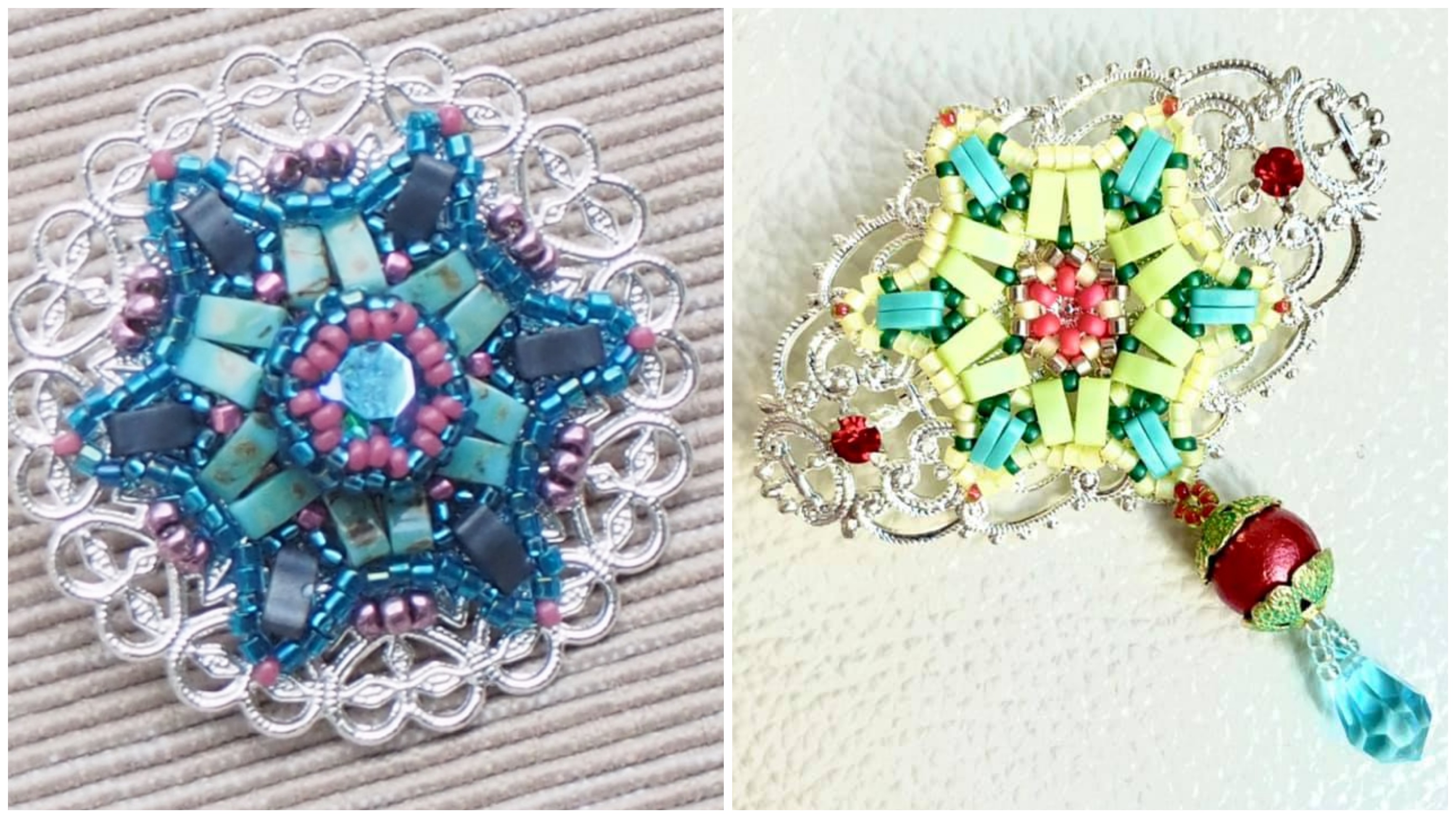 Brooches by Mirjam (left) and Kata (right)
Another option shown by Mirjam and Kata is to sew the motif to the filigree. This component provides also more possibilities if you decorate it with extra beads or crystals. Kata also added texture by using two Miyuki Quarter Tilas to substitute a Half Tila bead. This solution is very popular when you want to play with more colors or you don't have "the right shade" of Half Tilas you'd like to use. Thank you, ladies!

Bead embroidered brooches by Virginia Bremken and Faye Williams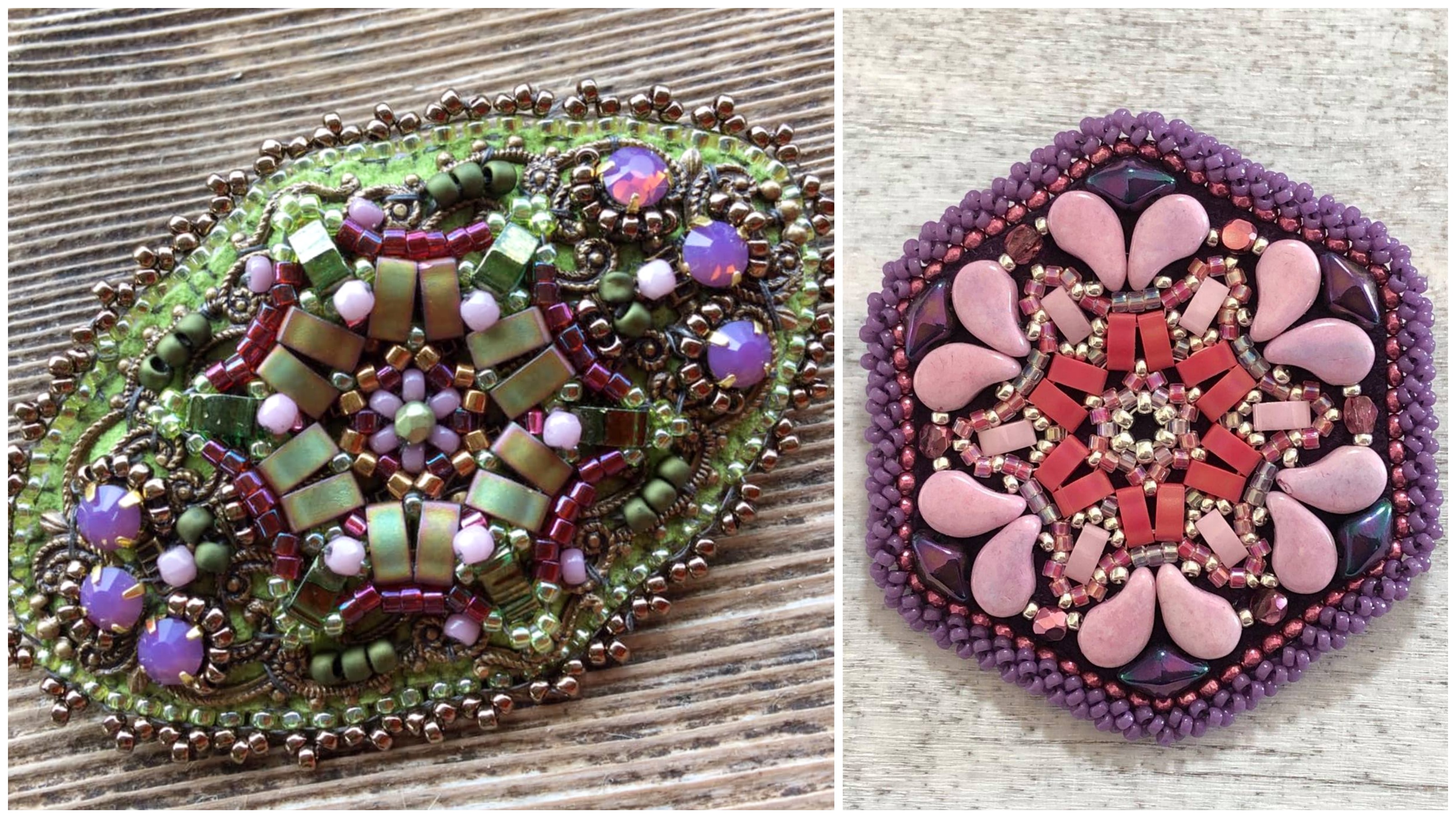 Ginny's brooch is on the left side, Faye's on the right.
Ladies created beautiful brooches by sewing the motif into the Ultra Suede foundation. This added extra color and support for newly added beads. Ginny used filigree to get a vintage look. Faye continued with adding 2-hole Paisley Duo and GemDuo beads. She changed the original star shape into a hexagon. Absolutely wonderful journey to the final jewel. Thank you, ladies, I'm so happy you are beading with us!

Petronella pendant by Terry Stegeman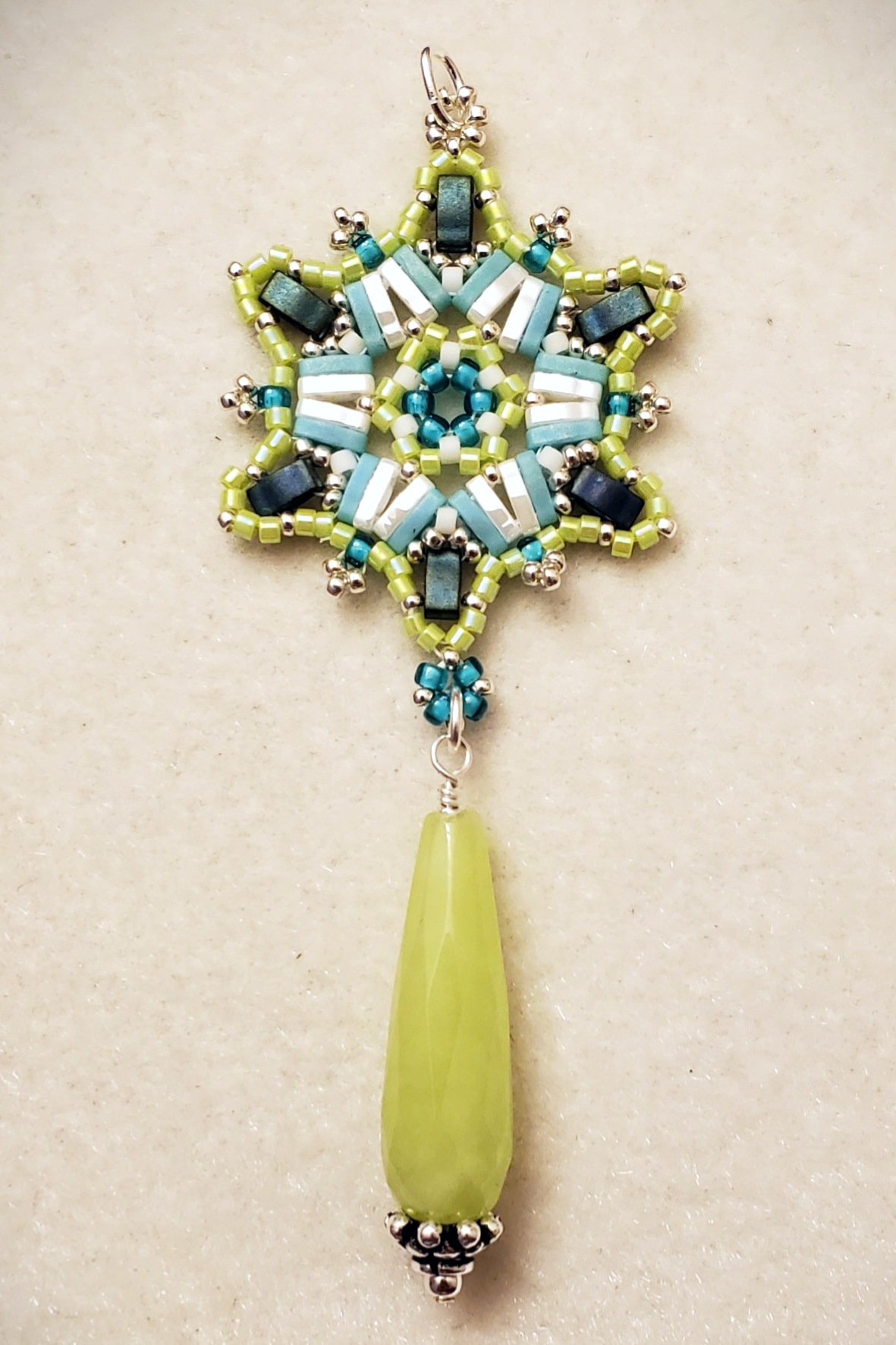 Terry shared with us a single Petronella pendant in a fresh color combination. She played with Miyuki Quarter Tilas in a very interesting way 😉 Faceted drop is the perfect touch for the summery atmosphere glowing from this jewel. Thank you for beading with us, Terry!

Necklace by Daniela Heine – 2nd place in the Beadingschool Colors category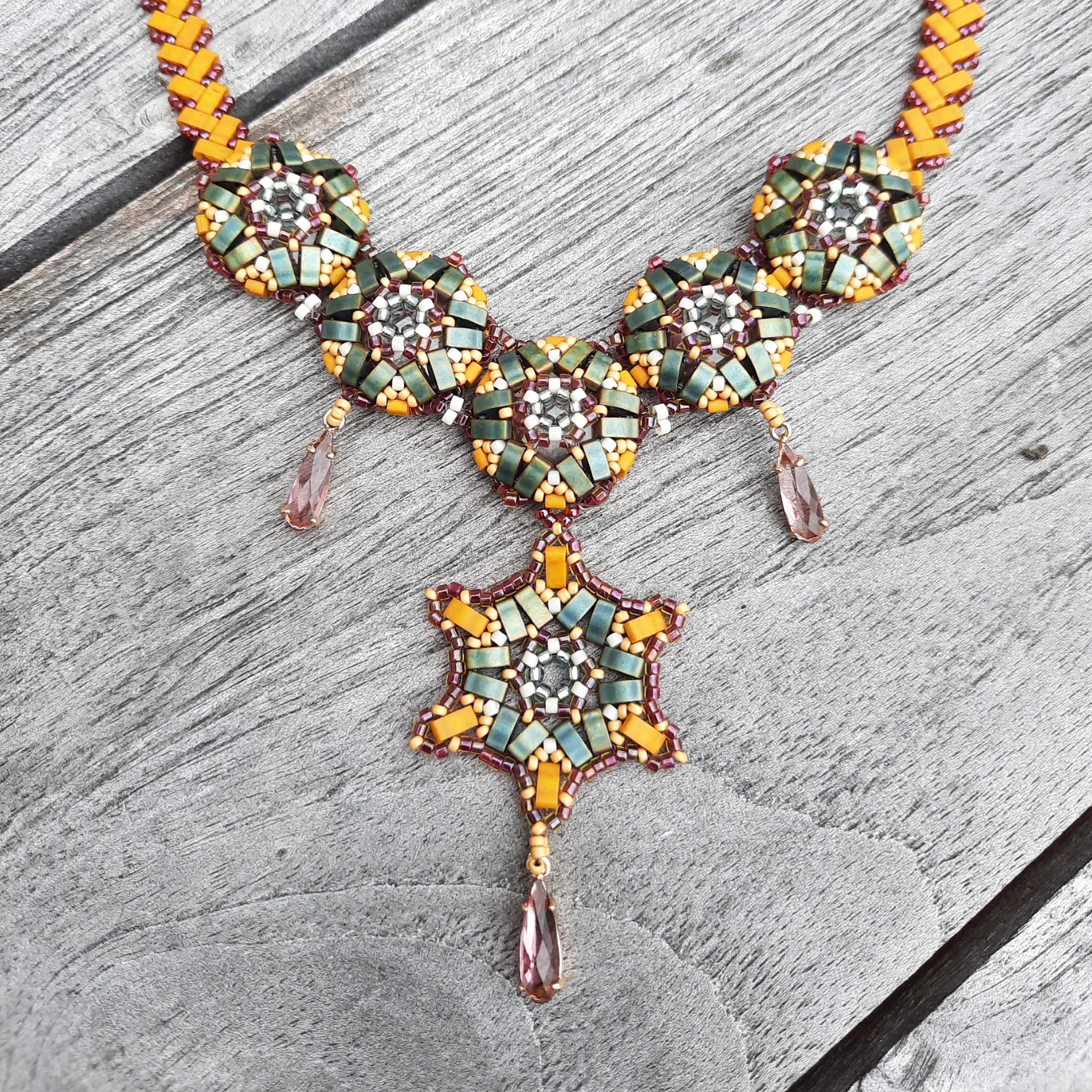 Necklace with Petronella motif by Veronka Královičová – Special Newcomer category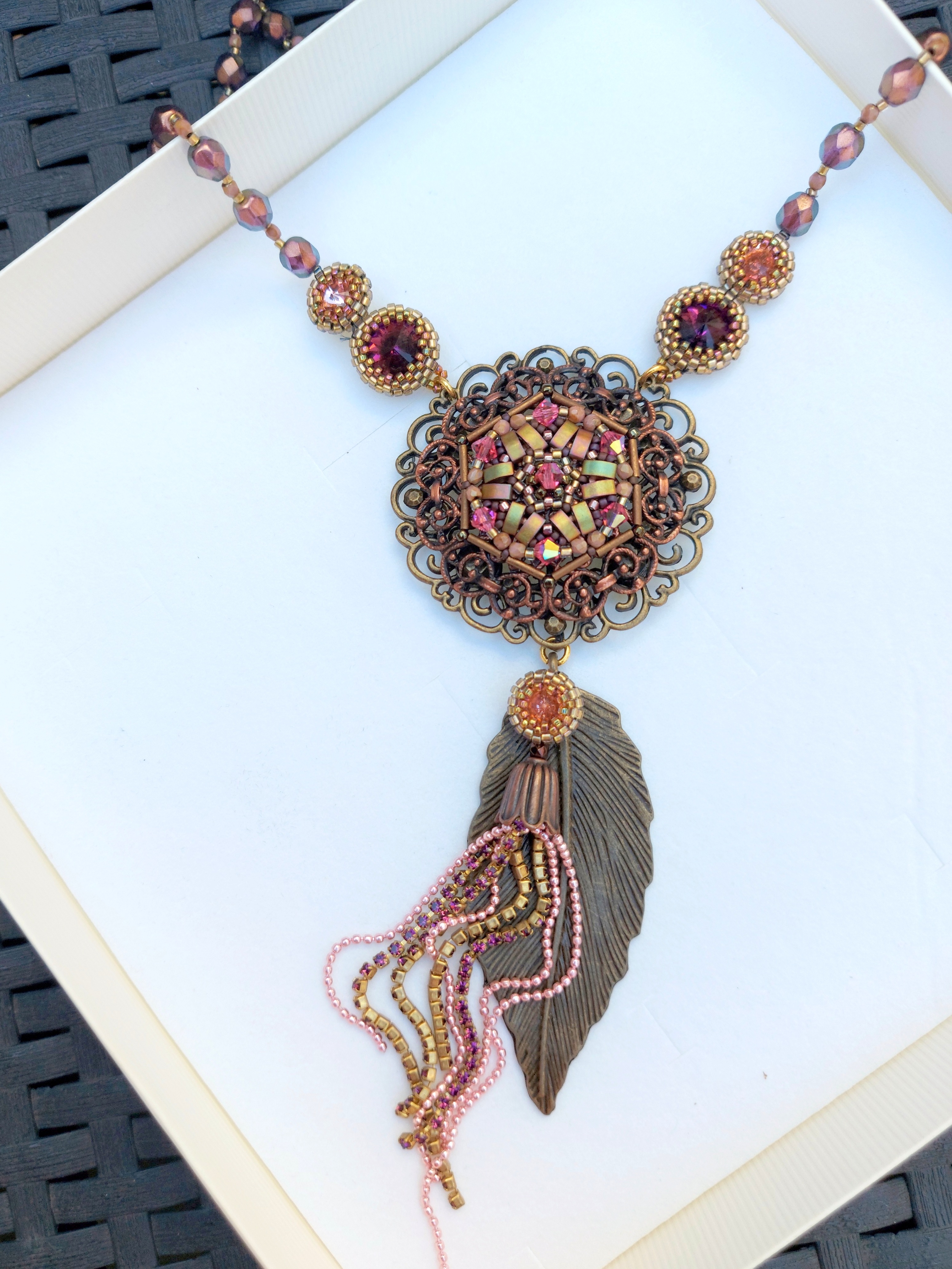 These two beautiful necklaces are great examples of possibilities you have if you start to think big. Ladies connected more elements together. We see bezelled rivolis, beaded necklace, sparkle tassel, metal components, glass drops,… It all adds up to come together as harmonious and award-winning pieces. Congratulations!

You are more than welcome to join Erika's #NoOneHasToBeadAlone. Don't forget to follow Beadingschool by Erika Sándor to receive the latest updates and event invitations!