#ClubDesigns is a series of articles on the Storytelling blog and a series of posts in the Beadingschool Club on Facebook.
Erika says:
"Since the beginning of the first COVID-lockdown, we bead together every Friday, to make sure that #NoOneHasToBeadAlone.
We bead a different jewel every week – designed specifically for the workshop. Afterward, it's really fun to see all the variations beaders come up with! Not only colors differ, but very often a pendant becomes a brooch, a motif that was originally an earring is modified into a bracelet or a ring. Moreover, sometimes it happens that not all the bead shapes are available to someone – and she needs to alter the original design to make it work."
The #ClubDesigns series is the collection of this beady wisdom.


Regina is the Queen among motifs!
Why would I say that? I missed the live broadcast, but the Regina motif stole my heart. Erika used GemDuo beads with her favorites from Miyuki bead shapes to create this design. Regina gives you the option of rich or simple decoration. It provides inspiration and possibilities to attach bezelled chatons, glass drops, tassels,… This design looks lovely by itself, but royal if you attach the motif to filigree. Also, the meaning of the name Regina is the "queen". Perfect match, don't you think?
Click here for the beading tutorial!
MATERIAL LIST
thread-burner or sharp scissors,
thin beading needle,
bead mat,
metal components according to the piece of jewelry you would like to make.
Meet Her Majesty, Regina in variations by Beadingschool Club members!

Pendant and Brooches by Virginia Bremken, Faye Williams, and Anita Malmgren

Ginny Bremken – locket pendant on the left side – says:
Made mine into a pendant. Just tacked it with a bit of glue to make it easier to keep in place while I stitch down later.
Faye Williams – brooch on the top right side – says:

Sometimes I just get stuck! My motif has been sitting on my board since our last #NoOneHasToBeadAlone session. I wanted to make earrings but didn't have enough gemduos! I've never used a filigree brooch so I took a deep breath this morning and just went for it. I love how it turned out! Around the outside gaps I've used 4x6mm Czech glass pearls in Aqua Blue. Just have to add – I love this pattern!!
Anita Malmgren – brooch on the down right side, made in her favorite turquoise color.
Ladies decided to make their Regina motif similar to Erika's original, as they attached it to the filigree, creating single-piece jewelry. They all have one thing in common. An additional row of beads – round pearls, oval beads, and bicone beads to decorate the edge. What a lovely touch!

Earrings by Tanja Quintelier, Ellen Welling, and Elena Lazovik

Tanja Quintelier – earrings on the left side.
Ellen Welling – earrings on the top right side – says:
Meet Regina, the queen of candy colors. I guess I was in a sweet mood!
Elena Lazovik – earrings on the bottom right side – says:
These are my Regina earrings! Today I was in avocado and summer mood. And I thought: what does work better than green, yellow and some mute tomes for summer? It is a lovely design from today's #NoOneHasToBeadAlone session, and I was so much enjoying making it! I thought to make a brooch, but the design and colors asked me to make the earrings!
Three lovely pairs of Regina earrings, decorated with extra beads, glass drops, and pendants on the bottom. You can't go wrong with this combination!

Pendant by Terry Stegeman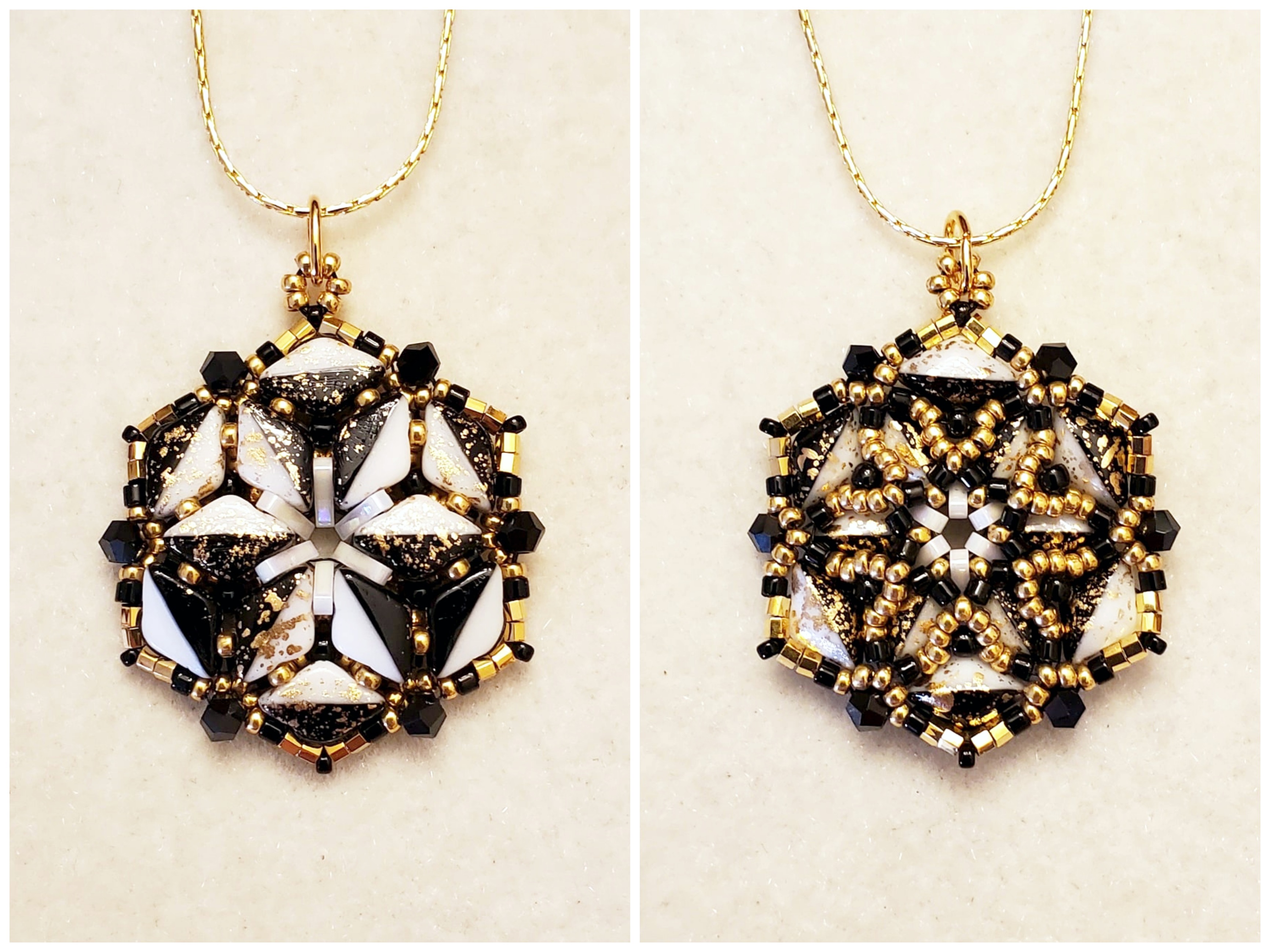 Terry says:
I made this Regina pendant and added a little bit. The back looks interesting with the Duet GemDuo beads I used.
I love how Terry looked at this design, flipping it to its back brings a new perspective. Using Duet GemDuo beads opens new possible color combinations of the caleidoscope look and plays with your imagination.

More Regina pendants by Katalin Dudás and Terry Stegeman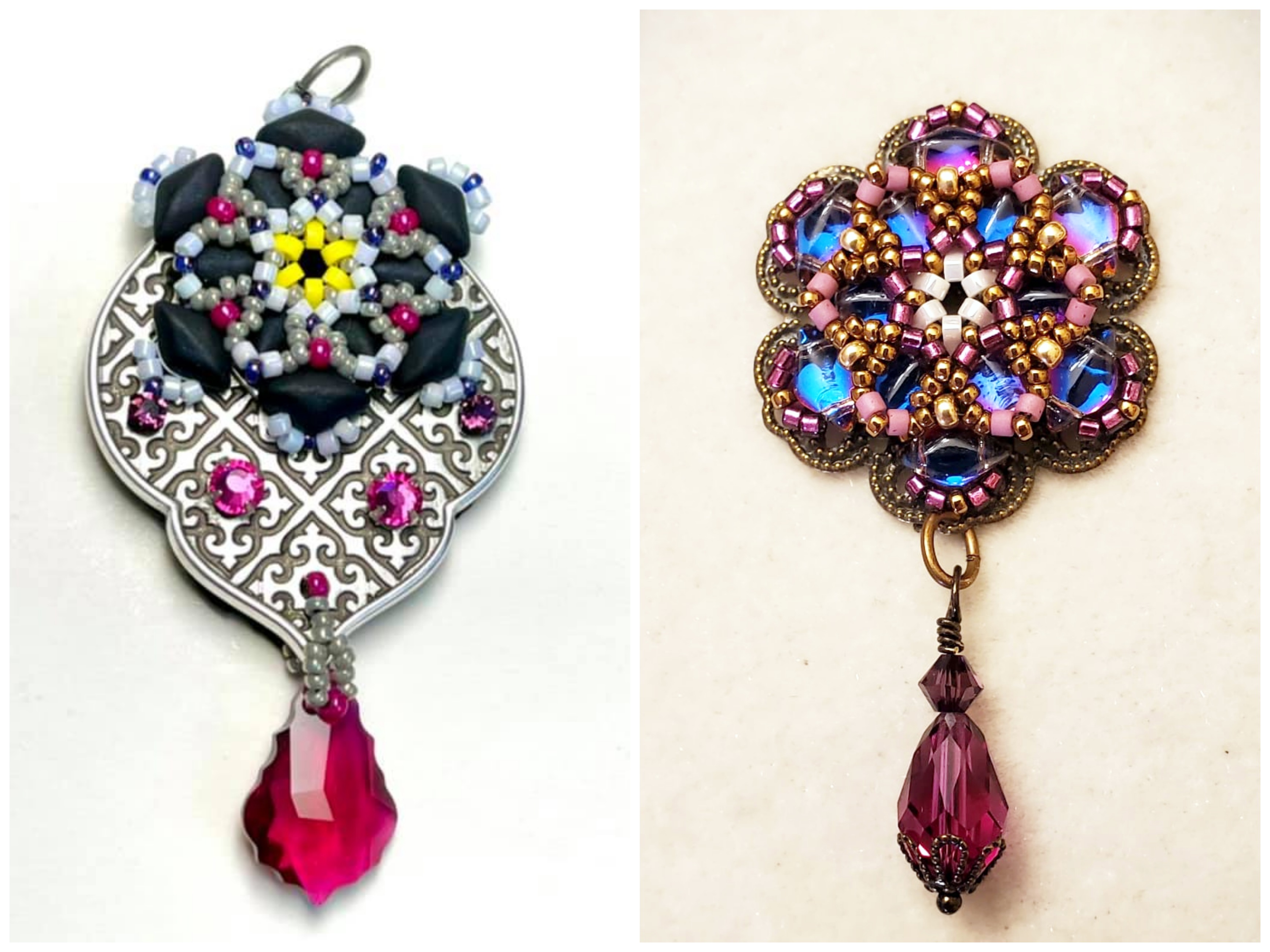 Katalin Dudás – pendant on the left side.
Terry Stegeman – pendant on the right side.
Katalin and Terry created pendants by attaching the motif to the filigree and decorated the bottom with a glass drop pendant. While Katalin placed her Regina motif to the upper top and created asymmetry, Terry's flower-shaped filigree allowed her to center the piece. Both are gorgeous and so different!

Regina design variations by Veronka Královičová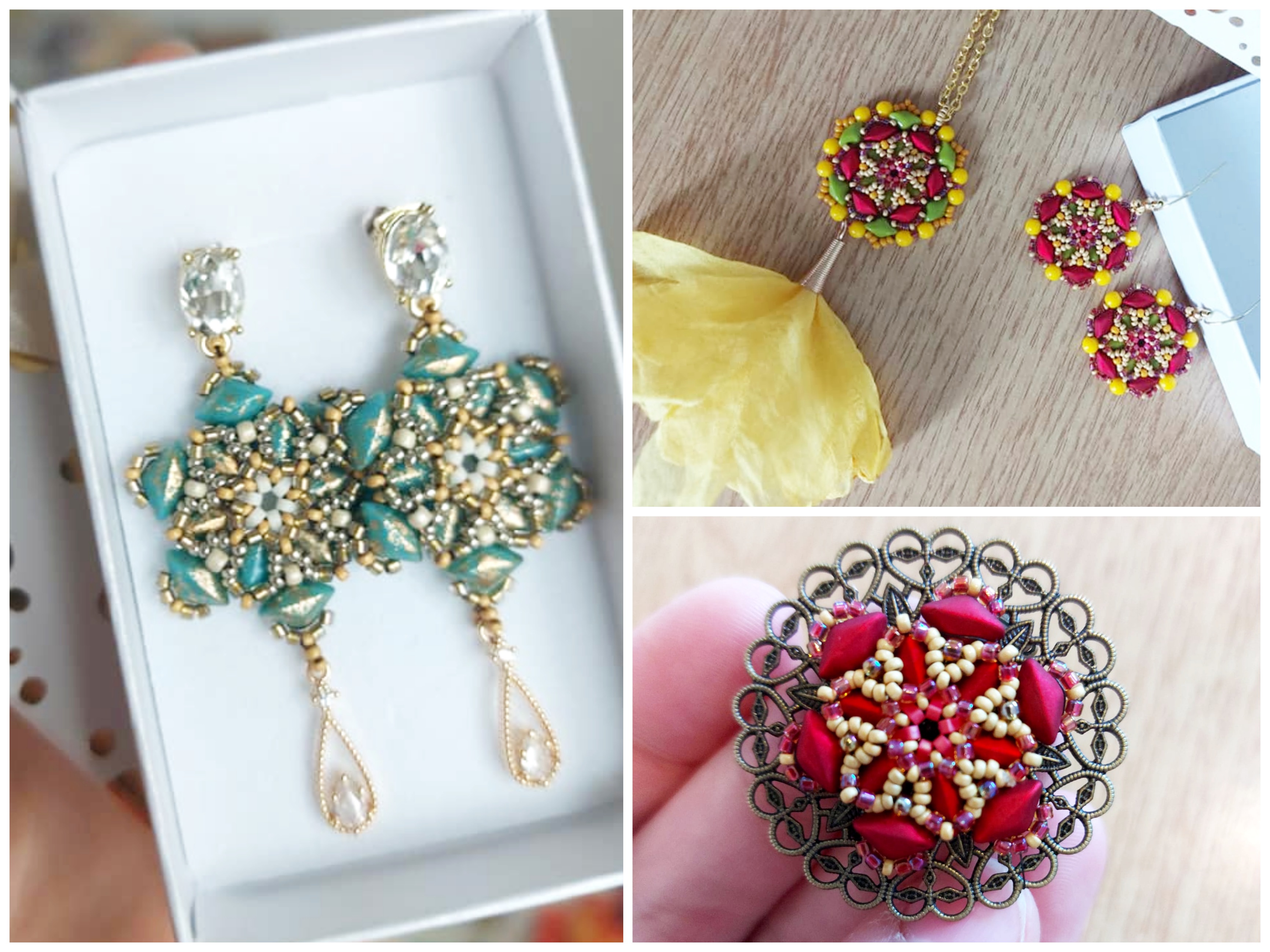 Veronka is fairly new to beading and joined Beadingschool Club just recently. We love to see her motivation and she learns faster than she beads. Or the other way around? 😉 She created several variations of Regina-motif-based jewelry, using filigree brooch base, glass components in metal settings, textile poppy flower. All beautiful, thank you for sharing these with us!

Bead Embroidered pendant by Ellen Wellings

Ellen says:
I made a pendant from the Regina design. I recently started using the filigree and bead embroidery, so this is my first official piece. I think it has something Middle Eastern about it, in those blues. I used an extra round of firepolish 4 mm and two Delica's to fill out the Regina design.
Indeed, One Thousand and One Nights Tales jewel! Vibrant colors, gold-tone filigree, extra sparkle with Preciosa rhinestone cupchain, tassel, it looks great. Congratulations on your first bead embroidery piece, Ellen!

Easy to make, fast and the result is 100% beautiful! That was Regina in different variations by some of our Beadingschool Club members.
If you want to join the party, come to bead new Petronella earrings with Erika and other beaders from all around the world this Friday at #NoOneHasToBeadAlone!