#ClubDesigns is a series of articles on the Storytelling blog and a series of posts in the Beadingschool Club on Facebook.
Erika says:
"Since the beginning of the first COVID-lockdown, we bead together every Friday, to make sure that #NoOneHasToBeadAlone.
We bead a different jewel every week – designed specifically for the workshop. Afterward, it's really fun to see all the variations beaders come up with! Not only colors differ, but very often a pendant becomes a brooch, a motif that was originally an earring is modified into a bracelet or a ring. Moreover, sometimes it happens that not all the bead shapes are available to someone – and she needs to alter the original design to make it work."
The #ClubDesigns series is the collection of this beady wisdom.

Satie bracelet and the Magic Garden box
Erik Satie was one of the most creative composers of the Art Nouveau era. Erika chose his name for a lovely, romantic bracelet connected to the theme of the first Beadingschool Academy – Magic Garden. We beaded Satie bracelet during  #NoOneHasToBeadAlone. The single motif is very easy and quick to make. It is sturdy enough to be used separately, so you can create earrings, a pendant, brooch, anything you like.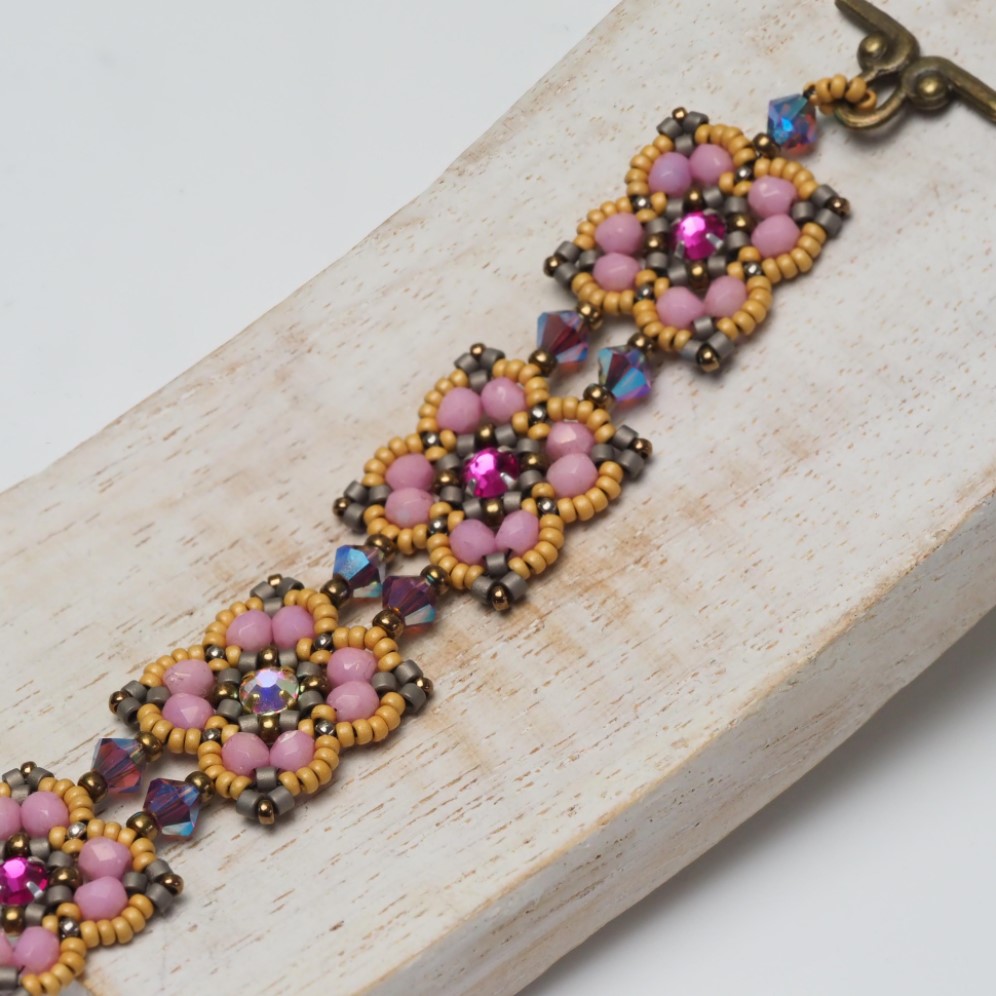 While #NoOneHasToBeadAlone offered us only a bracelet, the pdf file includes extra steps for creating a pendant that is more complex. You can watch the recording of the class on the Beadingschool Youtube channel, and you can buy the tutorial for the whole Satie set of jewels (bracelet and pendant) here.
MATERIAL LIST
thread-burner or sharp scissors,
bead mat,
This is a small collection of Satie-inspired jewelry by Beadingschool Club members! Enjoy 🙂

Satie bracelets by Katalin Dudás, Lynn Hudson, and Martine Lion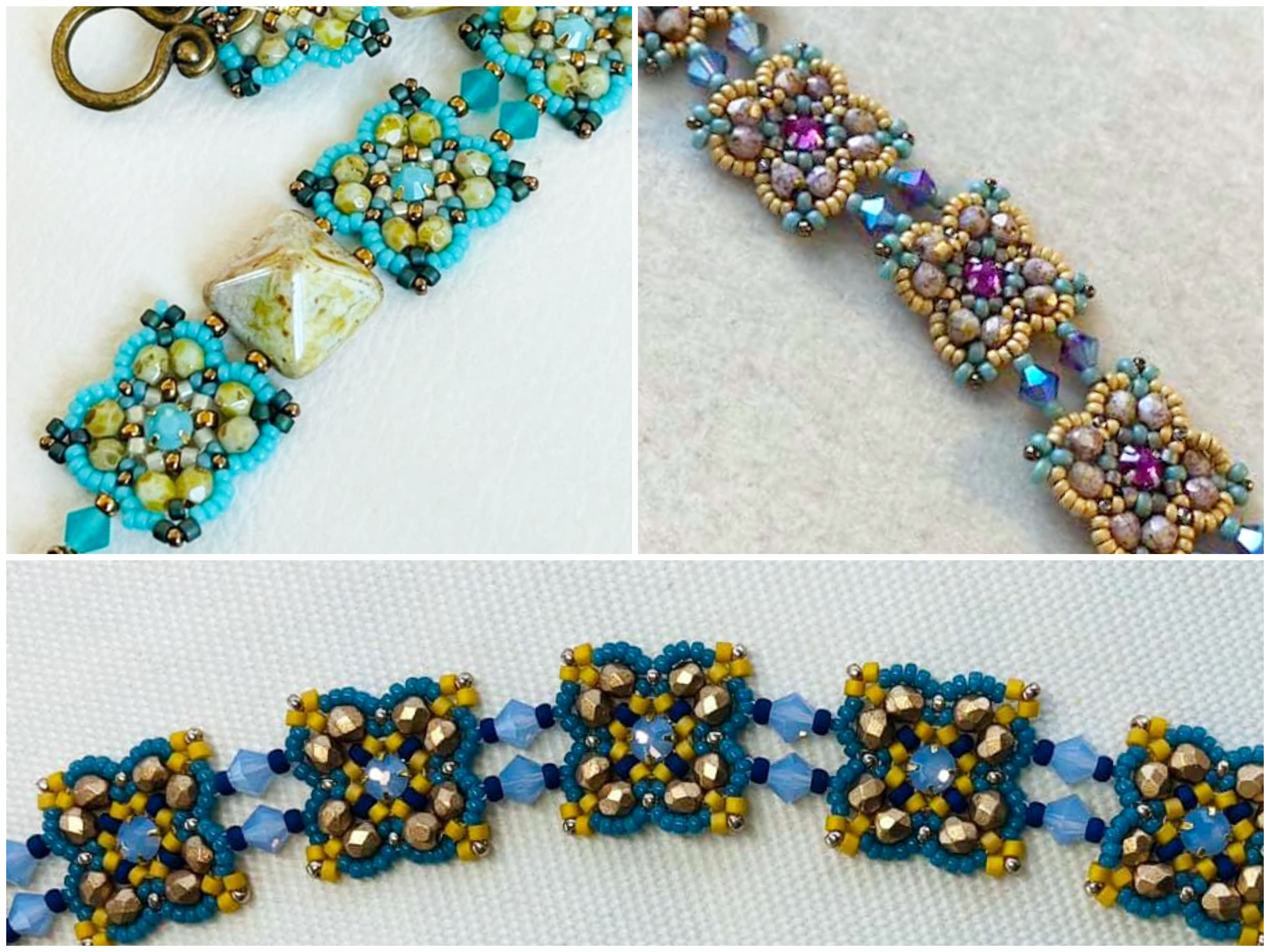 Bracelets by Kata and Lynn are on the top, Martine's piece is on the bottom.
Ladies kept very close to the original version of Satie. Lynn's bracelet is in Magic Garden color scheme, very romantic and truly Art Nouveau. Kata was a bit adventurous with using two-hole pyramid bead studs as connectors, but I really like this and it inspired me to work more with these beads! Martine's version in bronze and blue tones has an elegant vibe, love it!
Thank you for beading with us!

Satie pendant by Daniele Haine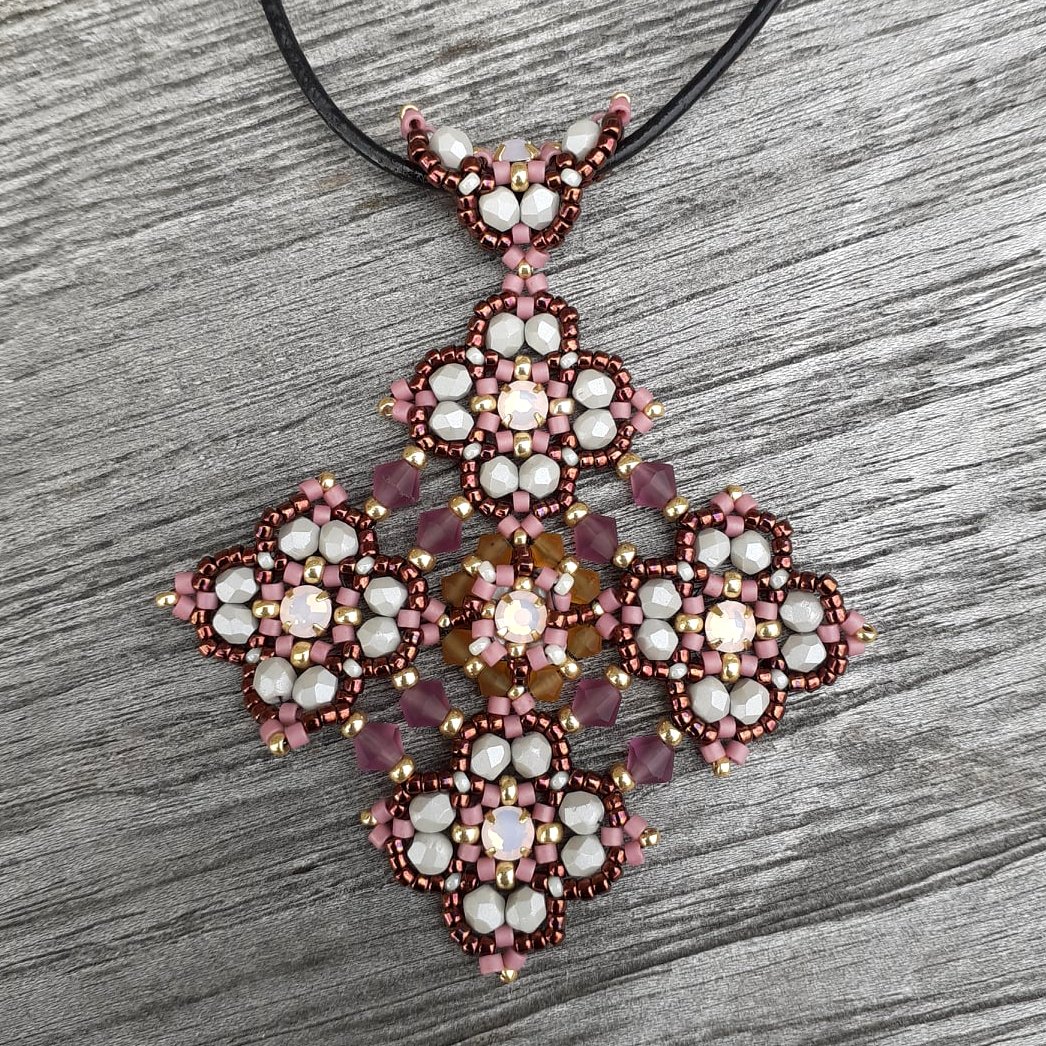 Daniele says:
Busy beading day! The Satie pendant. I'm kind of happy with the bail.
I can only agree, the pendant from Erika's pattern looks amazing! Daniele chose beautiful colors and created the perfect pendant, including the bail made from the Satie motif.

Satie earrings by Veronka Královičová, Katja Foierl, and Zuzi Hake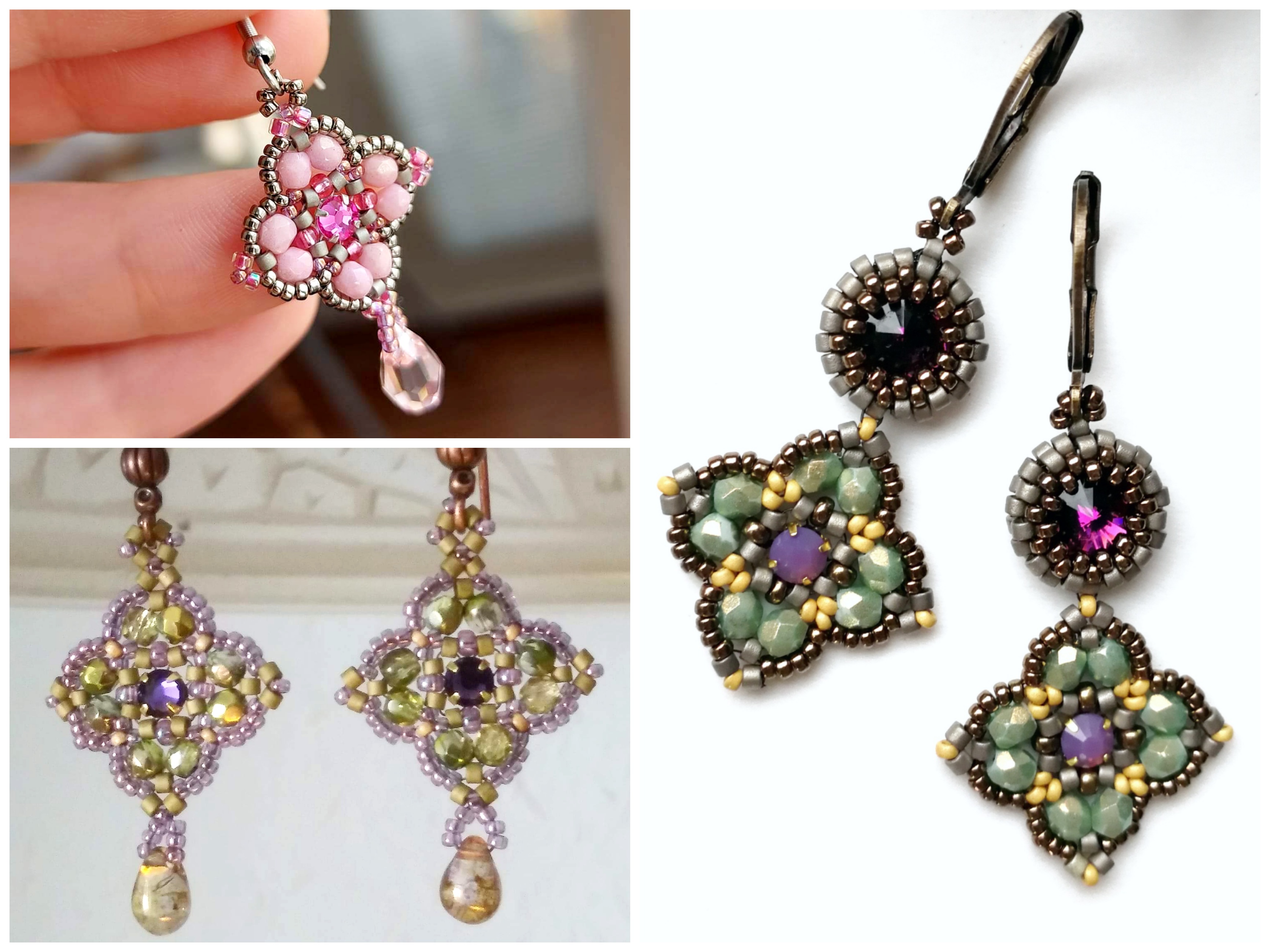 Earrings by Veronka are on the top left, Katja's on the bottom left and Zuzi's earrings are on the right side.
If you're looking for beading to relax and have a piece of jewelry you finish in one evening, this is the right choice. Satie motif can be used alone, or with different components in a metal setting. It can be decorated with a beautiful drop on the bottom or bezelled 8mm rivoli on top. Each choice is a winner!
Thank you ladies for sharing your earring ideas!

Satie set by Tammy Netzer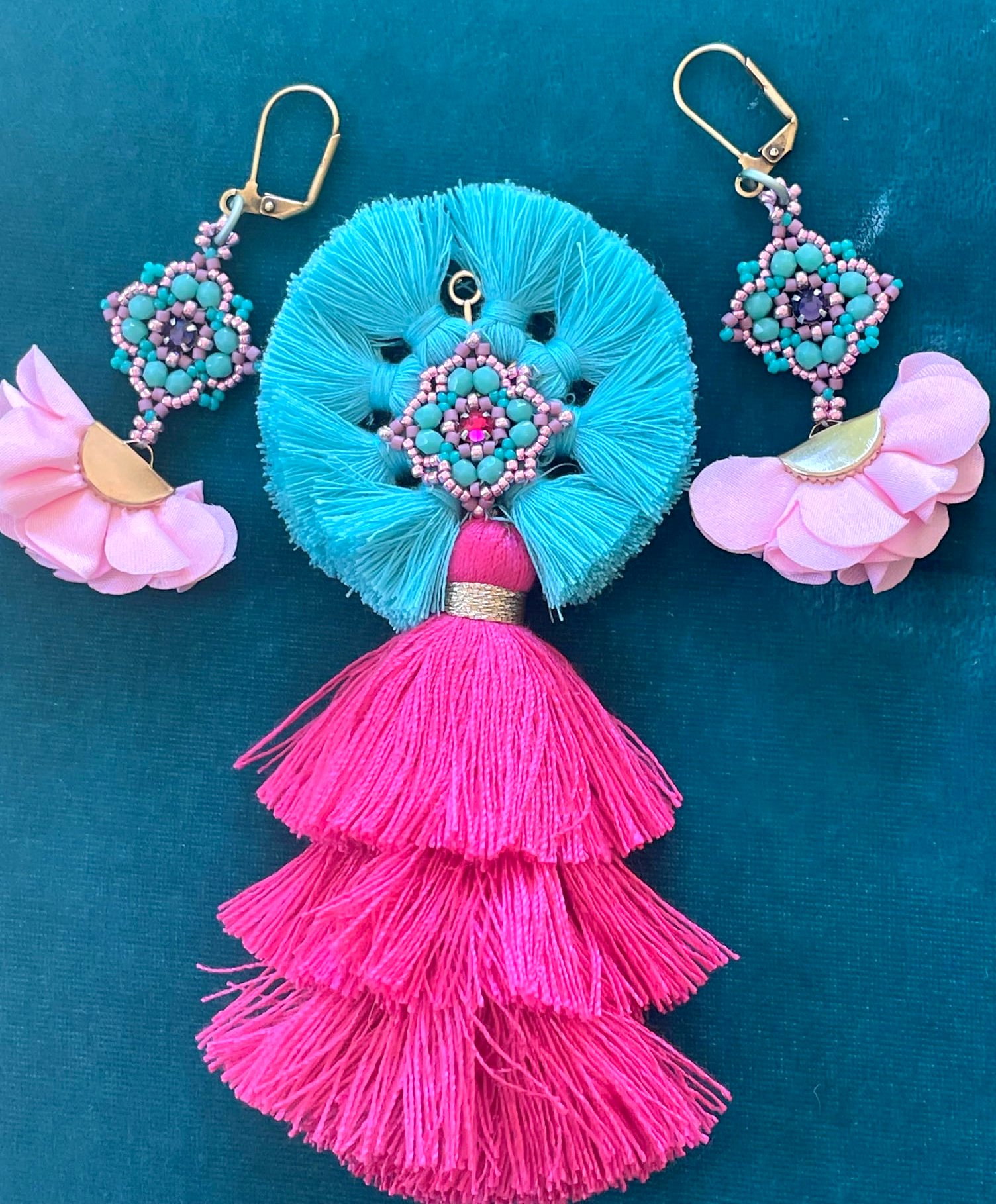 Tammy's Satie motifs got to meet fan flowers and the rich tri-tassel that is perfect for pendants. The result shows very happy colors and beautiful jewelry. Thank you Tammy!

Satie necklace by Mariëlle Breedeveld and Faye Williams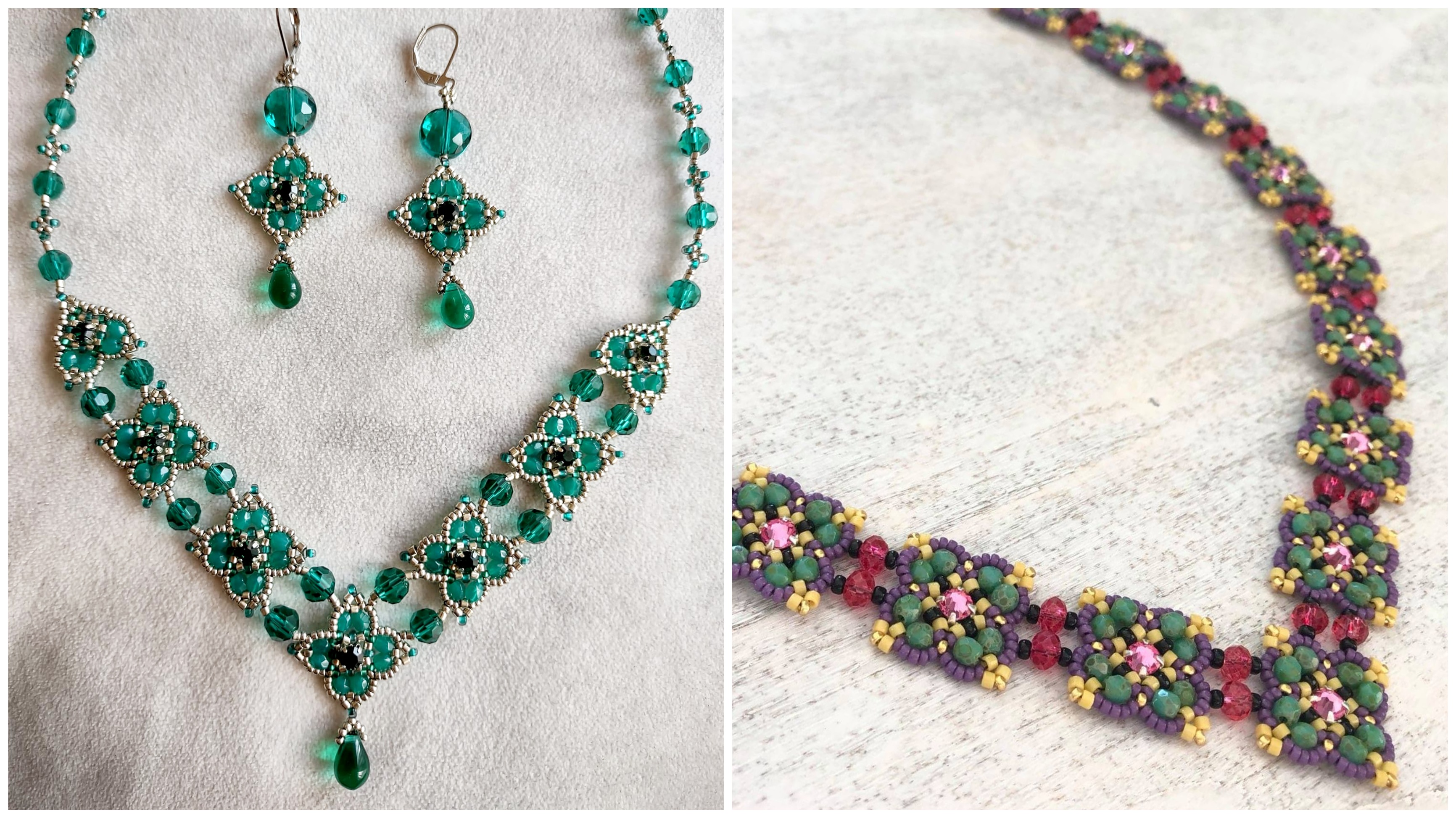 Marielle – her Satie set is on the left – says:
I made a green set with Satie. Just green and pewter. In this way the set will be easy to combine with some of my clothing.Lovely design.
Faye – necklace on the right – says:
Satie Necklace. It's so delicate and it looks absolutely divine on, like a necklace of flowers.  Erika, such an ingenious way to move from one component to the next, it made it so easy. Thank you.
Thank you, ladies, for a very inspiring way how to handle colors for the necklace.

Bead embroidered pendant with Satie motif by Natasha Wiegelman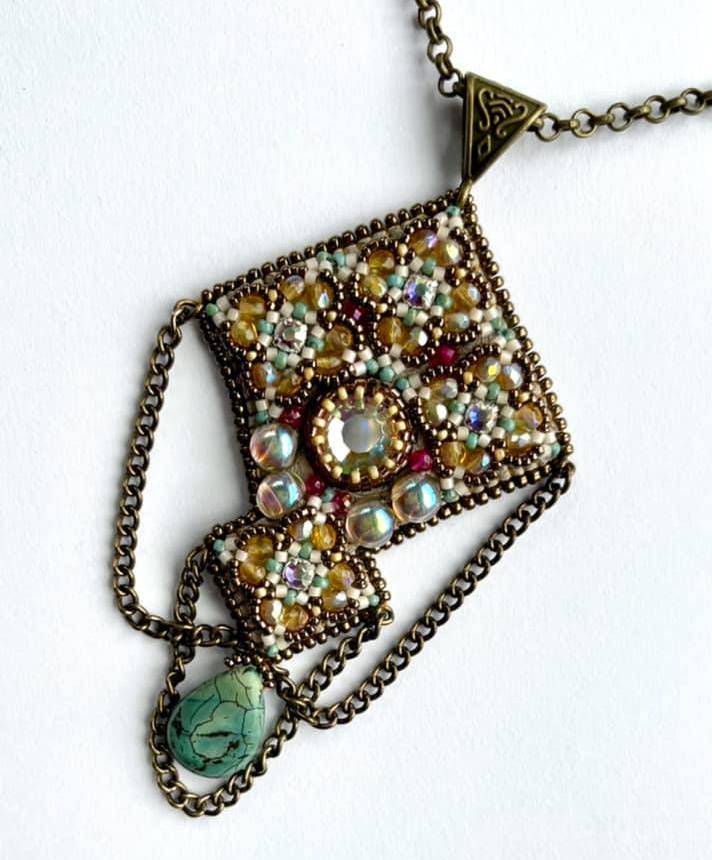 Natasha created a bead embroidered pendant where she included several Satie motifs, bezelled chaton, beads, turquoise pendant. Everything is very harmonious and the result is wonderful and very inspiring. Thank you, Natasha!

Satie brooch by Zuzi Hake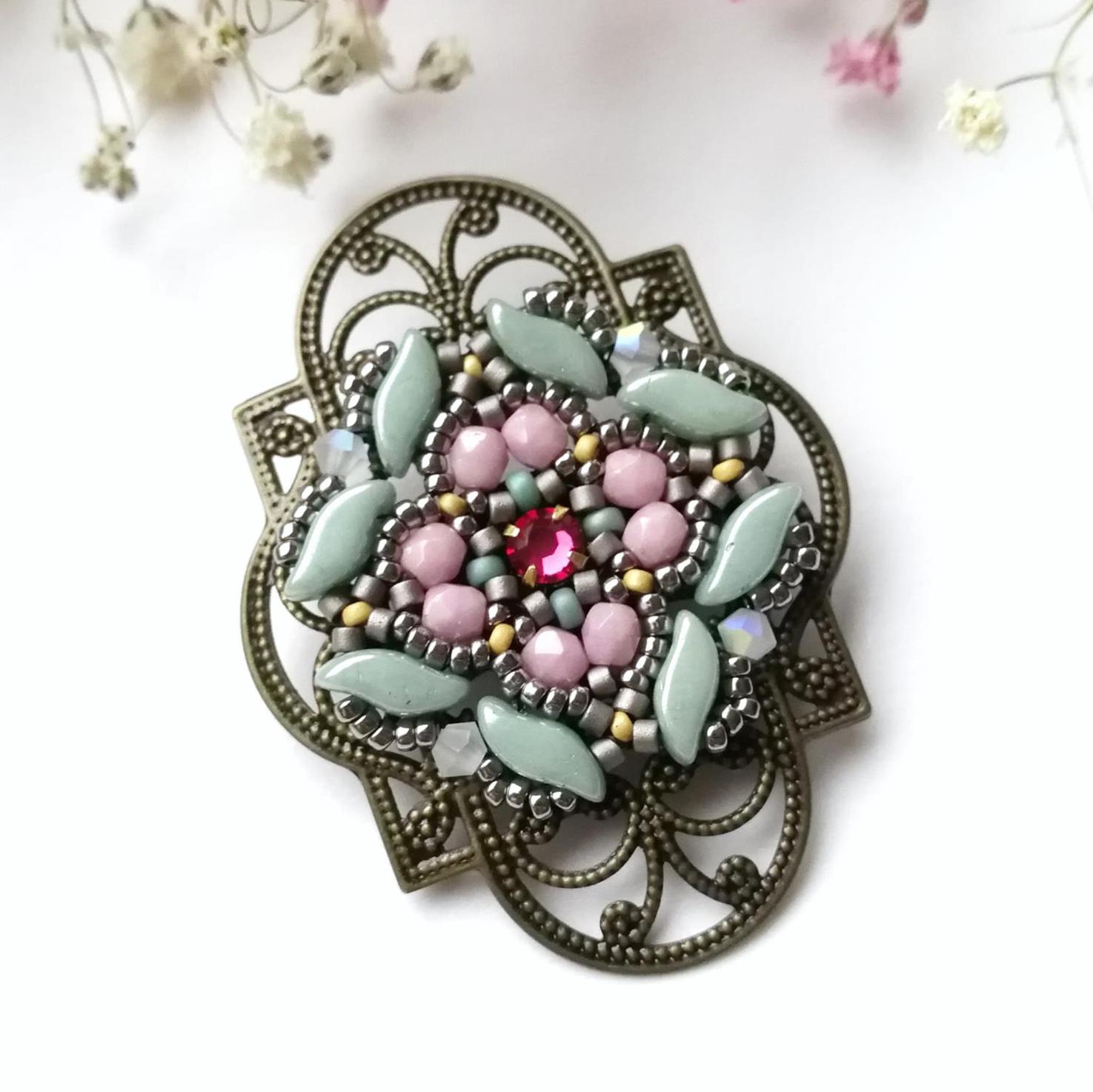 This Satie motif was made from beads that were in the Magic Garden box.
I found the StormDuo beads very interesting and I tried to fit them to one extra outer row of beads. I added also 3mm Preciosa bicones. They both were perfect match to whole design. I used filigree brooch base in Art Deco style from my stash and I love my new brooch!

If you like these #ClubDesigns jewels, come, join us, and bead with Erika and other beaders from all around the world.
 

#

NoOneHasToBeadAlone session is opened for everyone and we continue to bead jewels in the Magic Garden theme!