Can you imagine creating beautiful pair of earrings from crystals you find in only one box? Erika recently brought to beaders a specially curated selection of beads in the Preciosa boxes. It didn't take long and we started to fall in love with them and the new designs she prepared using Preciosa crystals.
This design focuses on 4 mm bicone beads and 8 mm chatons, it is easy and quick to make. Tulip Tower is originally meant for earrings. It also gives you the option of making:
necklace

bracelet

crystal connector

small focal component to be used in a larger jewel.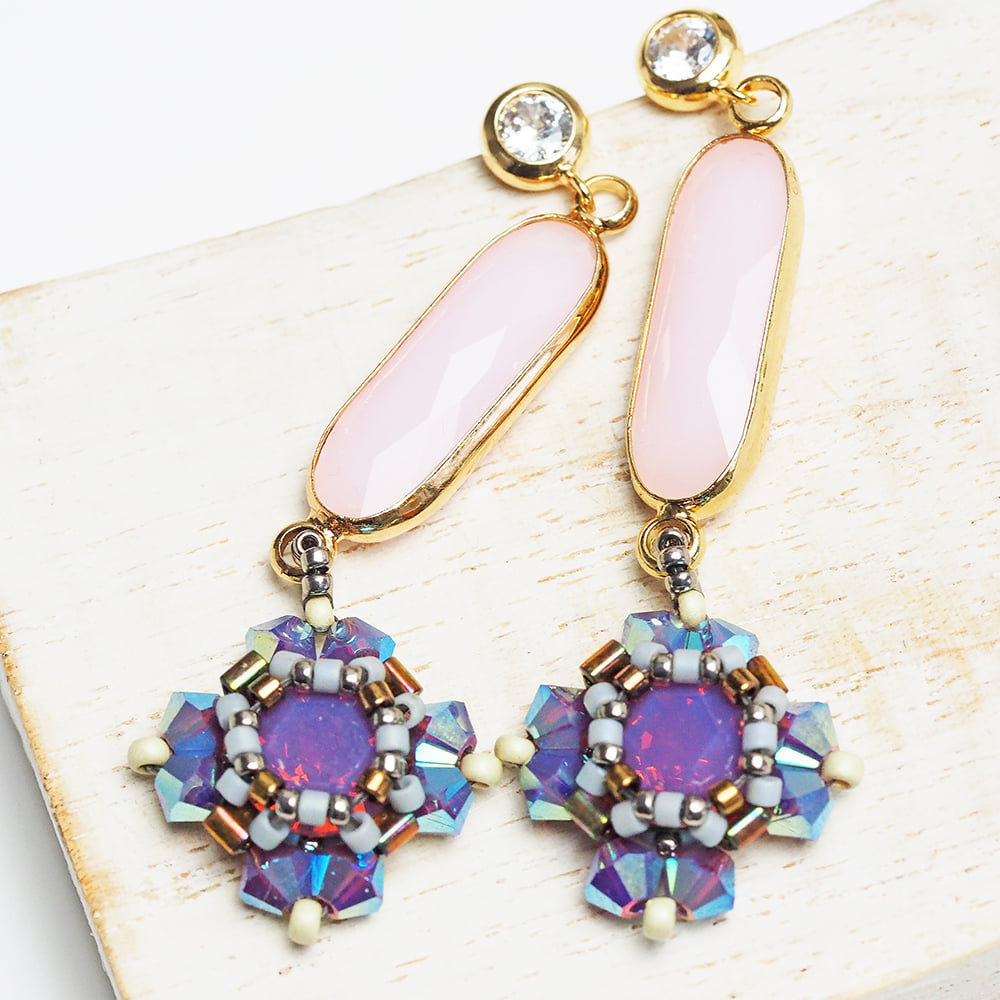 Let's have a look at Tulip Tower variations by Beadingschool Club members! Most of our beaders used chatons and bicone beads from the Preciosa Boxes.

Tulip Tower Earrings in two variations by Sara Lilja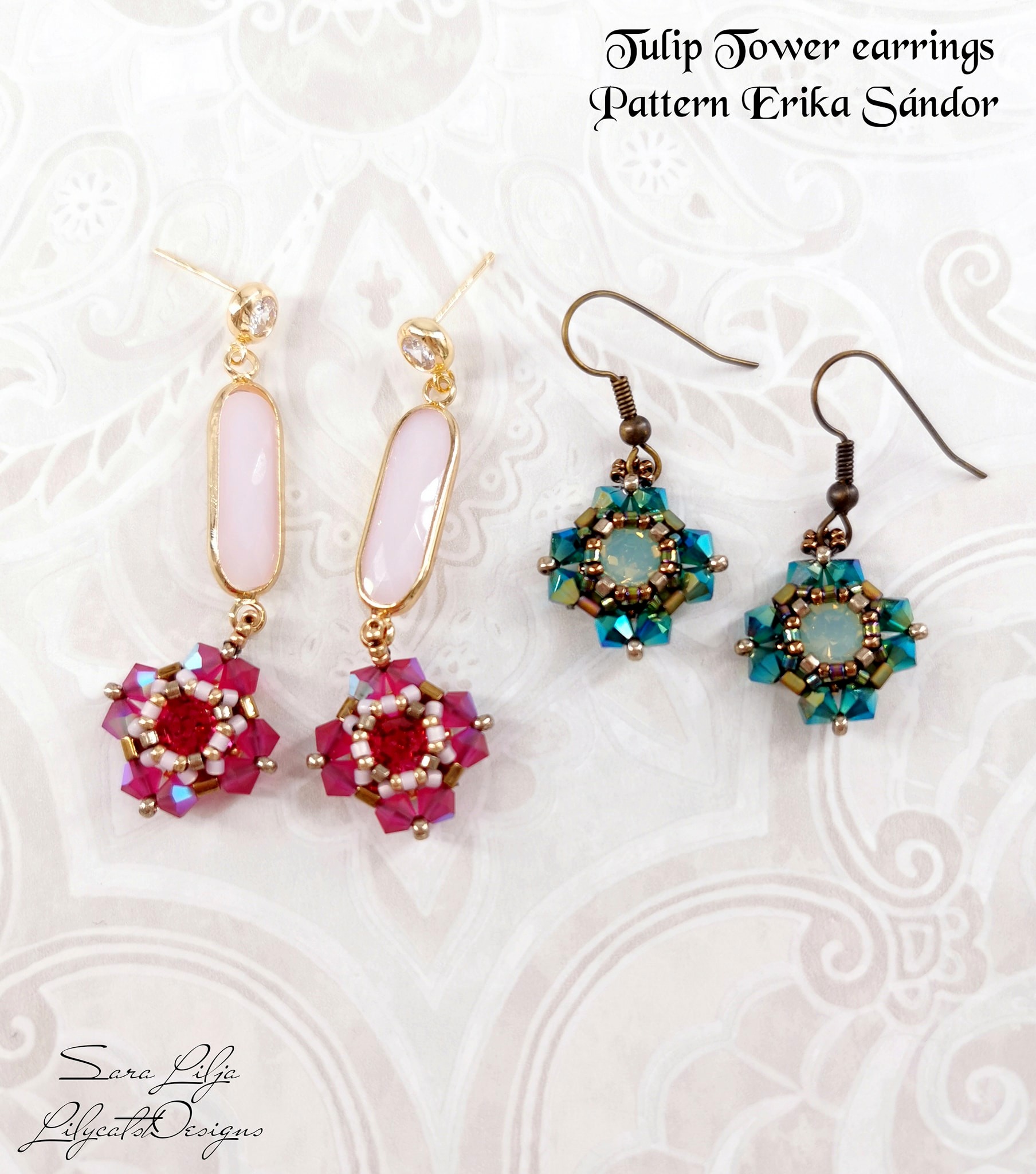 Our Beadingschool club member, Sara made two different versions. The pair on the left side followed Erika's original design, including the elongated crystal connector and ear studs. Version on the right side is a single motif attached to ear hooks. A simple, yet beautiful choice for someone who prefers smaller earrings.

Long and extra sparkly earrings by Nancy Pikulik, Katalin Dudás, Deb Taylor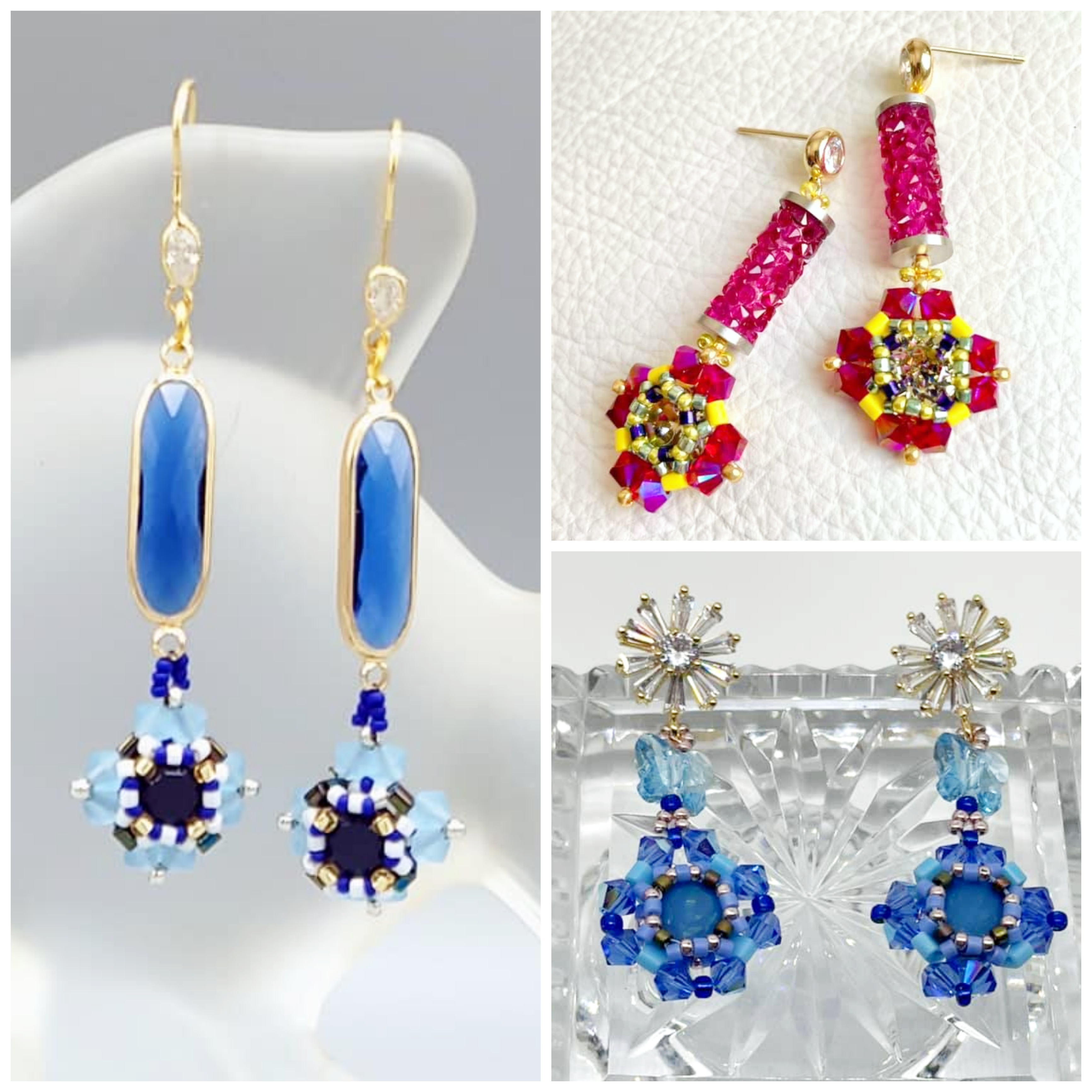 Nancy Pikulik – Earrings on the left side – Nancy's version looks very similar to Erika's original, but she used earhooks decorated with crystal.
Katalin Dudás – Earrings on the top right side – Kata stays faithful to her red-yellow color combination, using a special rhinestone bead instead of a crystal connector.
Deb Taylor – Earrings on the bottom left side – Deb used crystal flower ear studs and crystal bead in butterfly shape to fly above her Tulip Tower.

Earrings with the glass bead pendant by Katja Foierl and Sheri Chapman

Katja Foierl – Earrings on the left side – Blue Preciosa pearls in drop shape were part of the Ocean Box and they are the perfect choice to decorate! The result is elegant and smooth.
Sheri Chapman – Earrings on the right side – Faceted glass drop used by Sheri makes her version of Tulip Tower even shinier.

Each different, all unique by Mirjam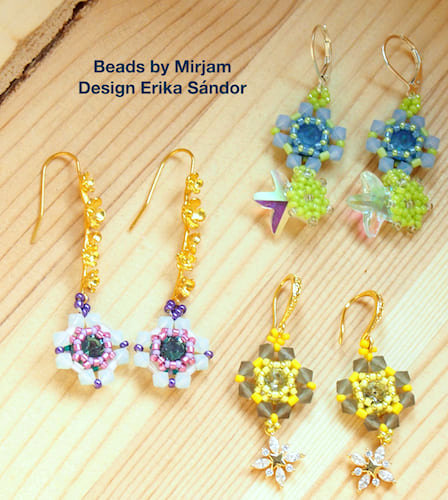 Mirjam created three different versions of Tulip Tower. She used a decorative chain instead of a glass connector, star pendant with the additional beaded element. This brings a fresh look!

Tulip Tower with glass drop pendant by Britt-Marie Piltto Häggqvist and Manuela Hamm

Britt-Marie Piltto Häggqvist – Earrings on the left side
Manuela Hamm – Earrings on the right side
These two versions are decorated with pear glass drops that come in different shapes and sizes. Always a good choice for your earrings!

Red variation with small rectangle drops by Asaria Speicher

Asaria decided to use small rectangle drops. Their shape matches the 4-corners of Tulip Tower, square crystal connector can be used as well if you want to make your earrings longer.

Tulip Tower set of earrings and necklace by Zuzi Hake

The long glass drop pendant plays the main role in decorating the motif. If you want to create a necklace or a bracelet, connect more motifs together. The result is always beautiful!

I really hope you liked these few examples of Tulip Tower Earrings design! If you want to join the party, get inspired, and enjoy community, come to bead with other beaders from all around the world to Beadingschool by Erika Sándor!