#ClubDesigns is a series of articles on the Storytelling blog and a series of posts in the Beadingschool Club on Facebook.
Erika says:
"Since the beginning of the first COVID-lockdown, we bead together every Friday, to make sure that #NoOneHasToBeadAlone.
We bead a different jewel every week – designed specifically for the workshop. Afterward, it's really fun to see all the variations beaders come up with! Not only colors differ, but very often a pendant becomes a brooch, a motif that was originally an earring is modified into a bracelet or a ring. Moreover, sometimes it happens that not all the bead shapes are available to someone – and she needs to alter the original design to make it work."
The #ClubDesigns series is the collection of this beady wisdom.

Tuschinski set with Art Deco feel
Erika's inspiration for 2020 Tuschinski's design came after she visited the building of Theater Tuschinski, officially Pathé Tuschinski. It is a movie theater located in the city of Amsterdam, in the Netherlands.  The movie theater was founded during the 20s and will celebrate 100th anniversary this autumn. It was elected the most beautiful cinema in the world by Time Out magazine. The main auditorium hosts many premieres of Dutch, American, and European films.
First to bead was the bracelet, followed by earrings. Since it is one of those designs that allow your imagination to thrive, soon after that came Tuschinskaja pendant – as spin-off design by Zuzi Hake, based on Erika's Tuschinski.
The best design to show the pearls
If you like pearls, this is the right design to show their beauty. The basic motif is quite quick to make. Most of us used glass beads to create the first Tuschinski jewels. It is the right time to look back and update the 2020 design with beautiful 2021 material! As the time passed, Beadinschool webshop offered Preciosa pearls in the bundle. A small selection of pearls is also part of the Preciosa curated boxes, along with crystals and bicone beads.

If you want to make a bracelet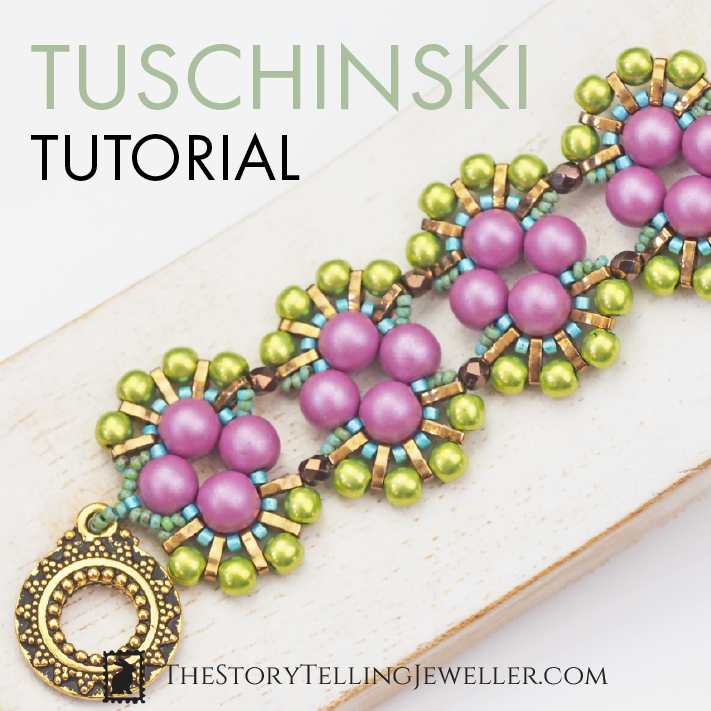 Click here for the beading tutorial!
MATERIAL LIST
If you want to make earrings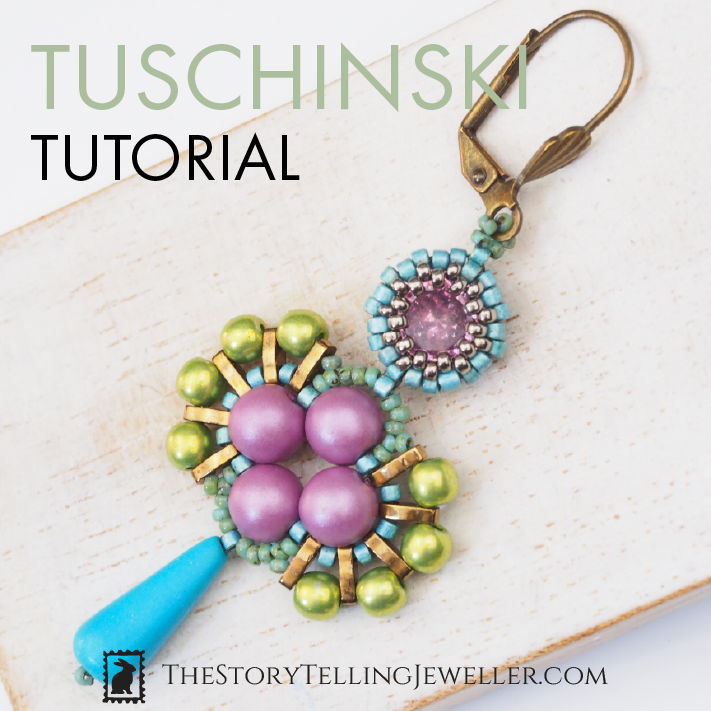 Click here for the beading tutorial!
MATERIAL LIST
drop,
earring hooks,
8 mm rivoli.
If you want to make a pendant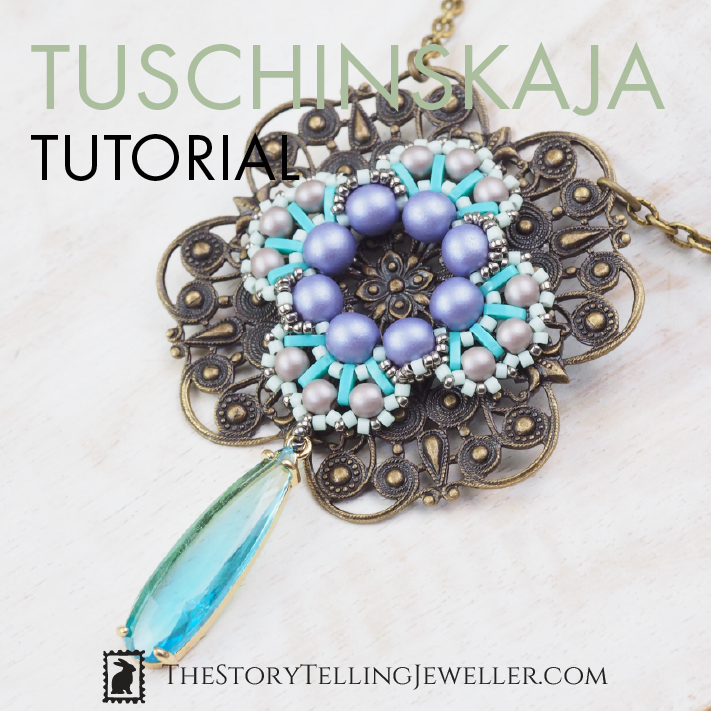 Click here for the beading tutorial!
MATERIAL LIST
Don't forget your tools to enjoy beading:
thin beading needle,
Fireline or other strong and thin beading thread,
bead mat,
thread burner or scissors.
Besides the earrings, pendant, and bracelet, it's possible to make also a beaded ring or brooch. Let's have a look at Tuschinski design variations by Beadingschool Club members!

Tuschinski bracelets by Corinne Langhstad, Marion Hentrich, and Katalin Dudás

Corinne – bracelet on the top left side
Marion – bracelet on the bottom left side
Katalin – bracelet on the right side
These were the very first Tuschinski bracelets shared by Beadingschool Club members after #NoOneHasToBeadAlone. Marion and Kata emphasized the Art Deco feel. Corinne added a bit more color with 4mm round pearls. All very pretty and elegant. 

Tuschinski bracelet and earrings by Gonnie Versteeg-Grootendorst

Gonnie's favorite color combination is red with turquoise and Tuschinski gave her a great opportunity to show it! We loved especially the XXL drops and admired the whole set in the Beadingschool Club.

Tuschinski and Tuschinskaja by Katalin Dudás

It wouldn't be Kata if she didn't come up with an eye-catching color combination. Her earrings and pendant have an oriental feeling thanks to the colors and components she chose. We loved it!

Tuschinskaja pendant by Annelien Willems and Beverly Donforio

Annelien – pendant on the left side
Beverly – pendant on the right side
So different and both beautiful. These two pendants are a great example of how the colors and components you choose influence the final result. Annelien's pendant is very romantic, while Beverly's matches a rock chick.

Tuschinski pendant by Anikó Hesz

Anikó decided to enter the Beadingschool contest 2021 with this beautiful pendant! She included bezelled Preciosa chatons and a tassel to it. Very fresh and summery!

Tuschinski ring by Zuzi Hake and Manuela Hamm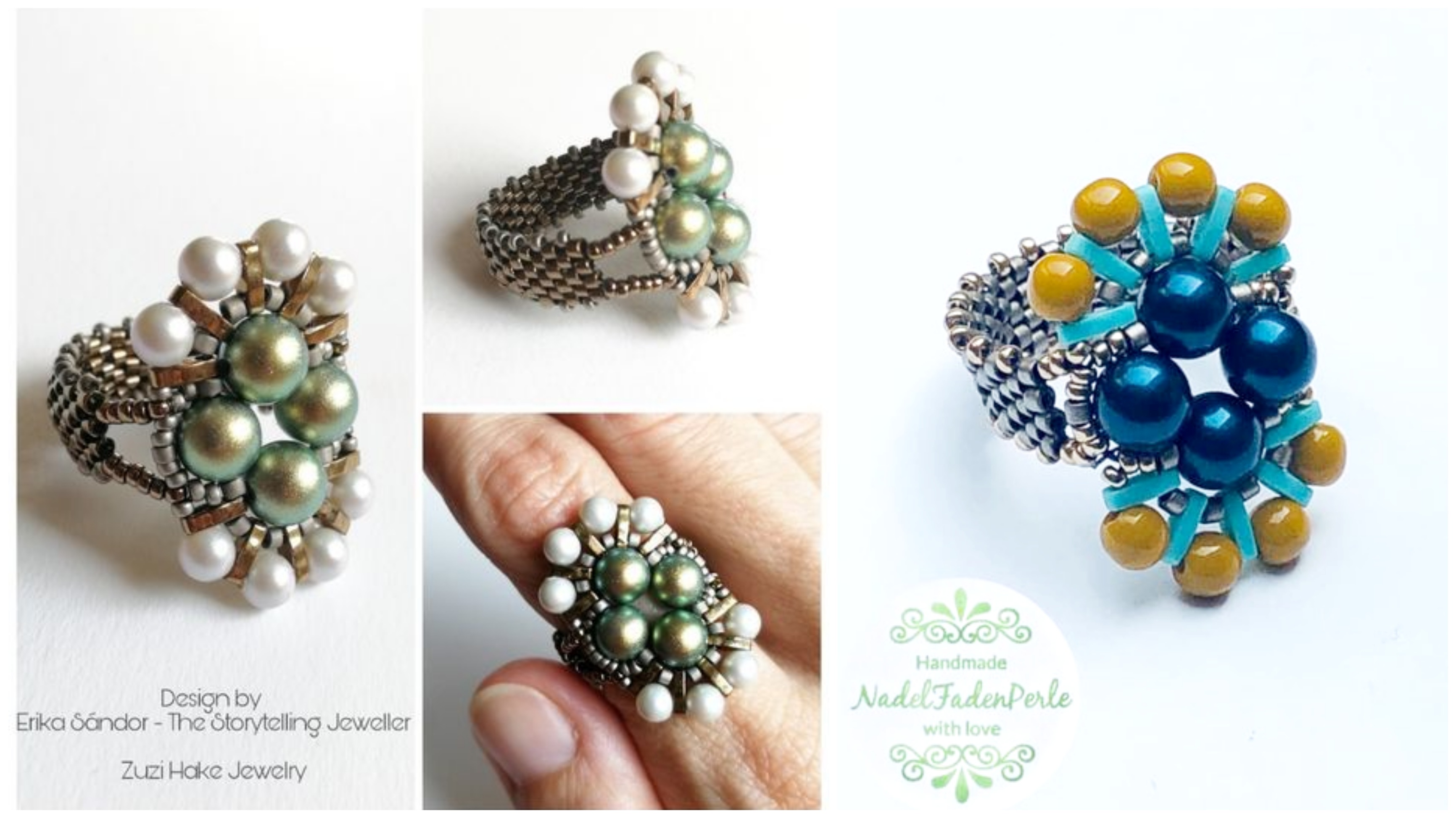 I beaded a single motif I wanted to attach to the brooch base, however, the events took a different turn and I made a ring instead. Manuela beaded her own version. You can make the ring by attaching the motif to a filigree base, or just like we did – use a bit of peyote to create the ring. It's smooth and it feels nice when you wear it.
Small project, very fast to make and it's a keeper.

Pantone 2021 in Tuschinski set by Annelien Willems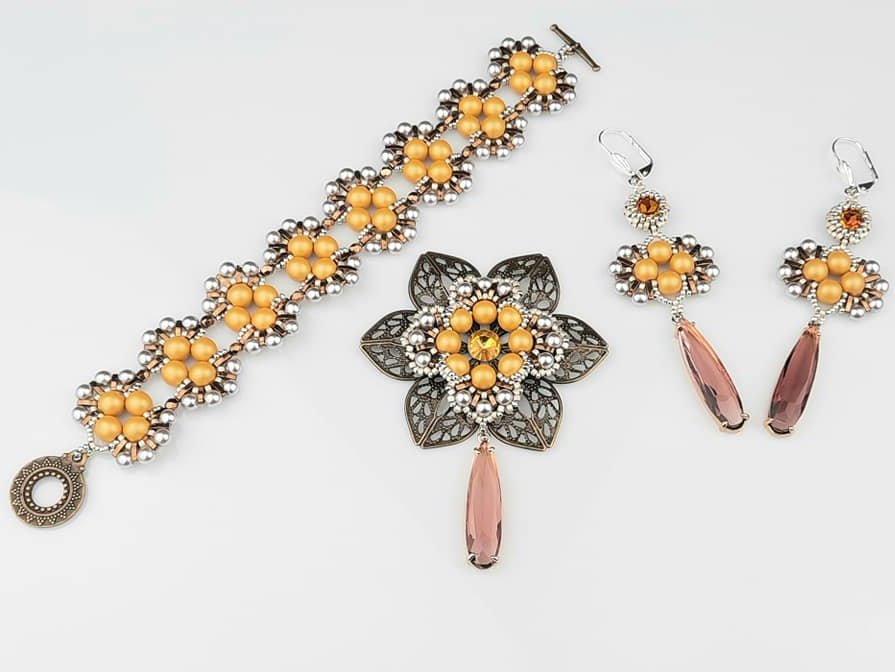 We had a winter holiday challenge of beading Erika's designs in Pantone 2021 colors. Annelien chose Tuschinski and beaded the whole set!

Tuschinski set by Mirjam W.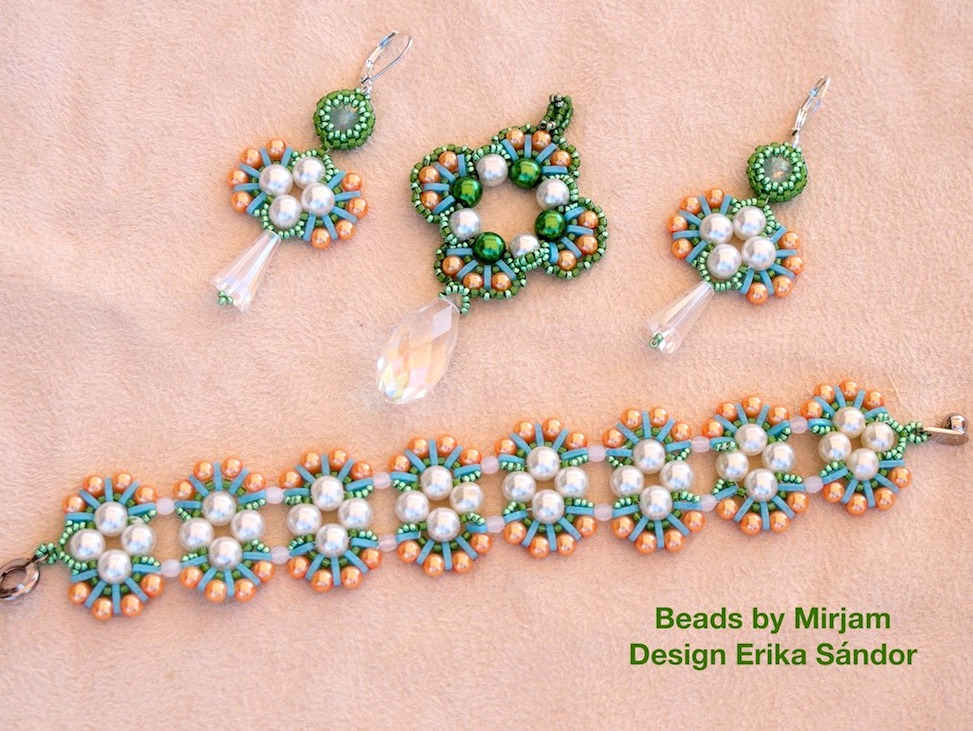 Mirjam's favorite color is turquoise and she certainly surprised with this fresh summer combination. Beautifully beaded, as always!

Tuschinski set by

Mariëlle Breedeveld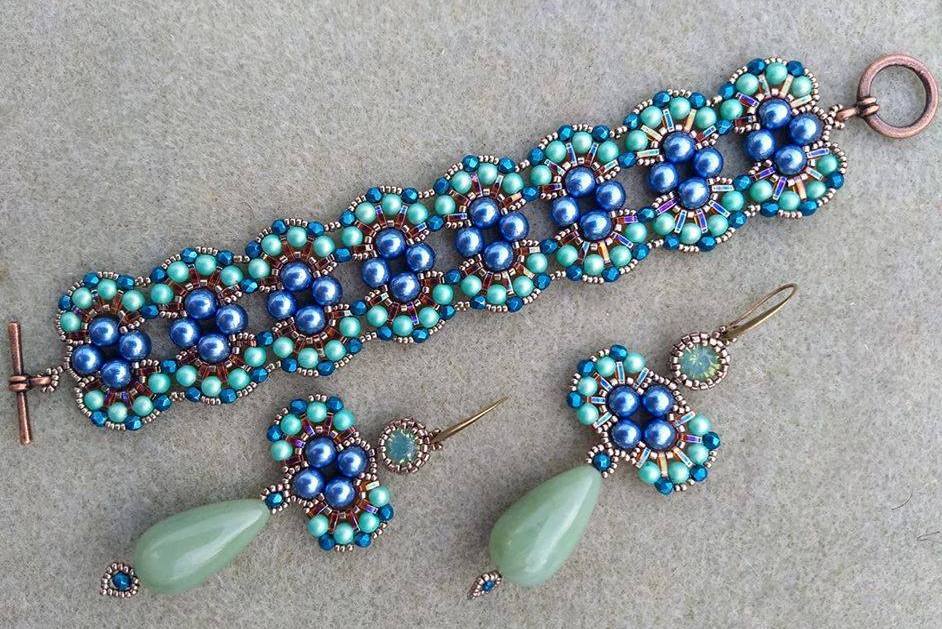 Beautiful blue shades come in this harmonious set by Marielle. She added an extra row of seed beads and 3mm fire-polished beads on the outer edge.

Tuschinski set by Deb Taylor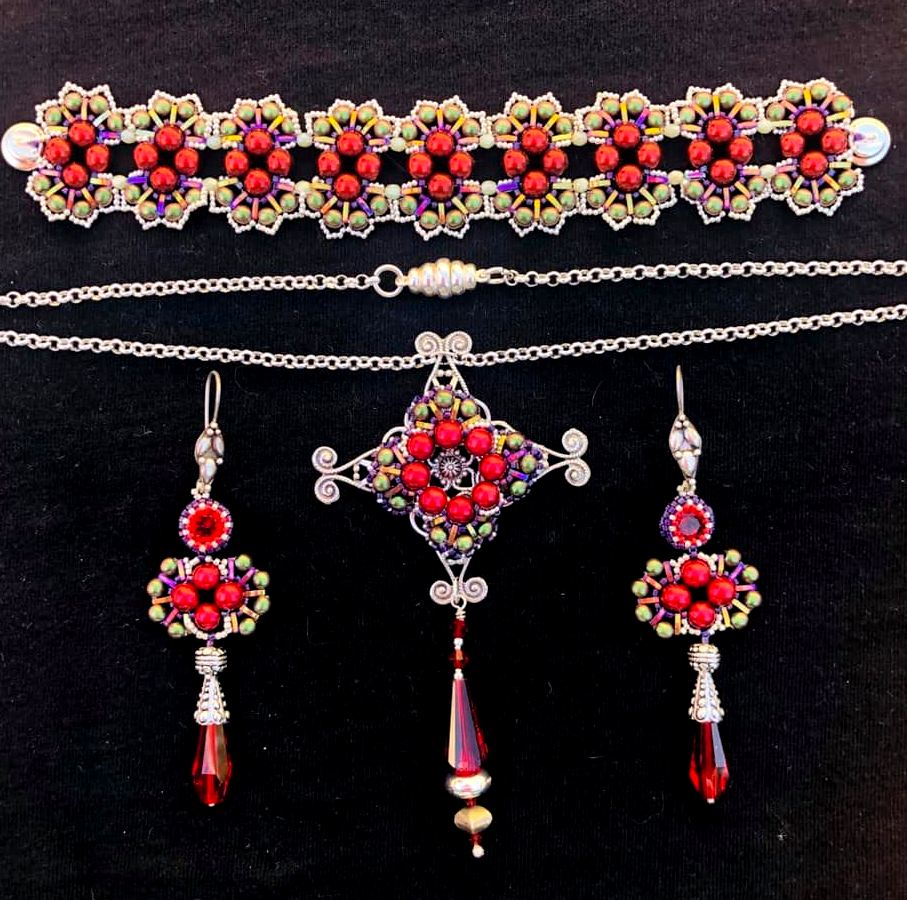 Deb finished her bracelet with extra picots on the outer edge. Her color combination of red, violet, green, and iris is amazing!

Tuschinski with Preciosa pearls and crystals by Zuzi Hake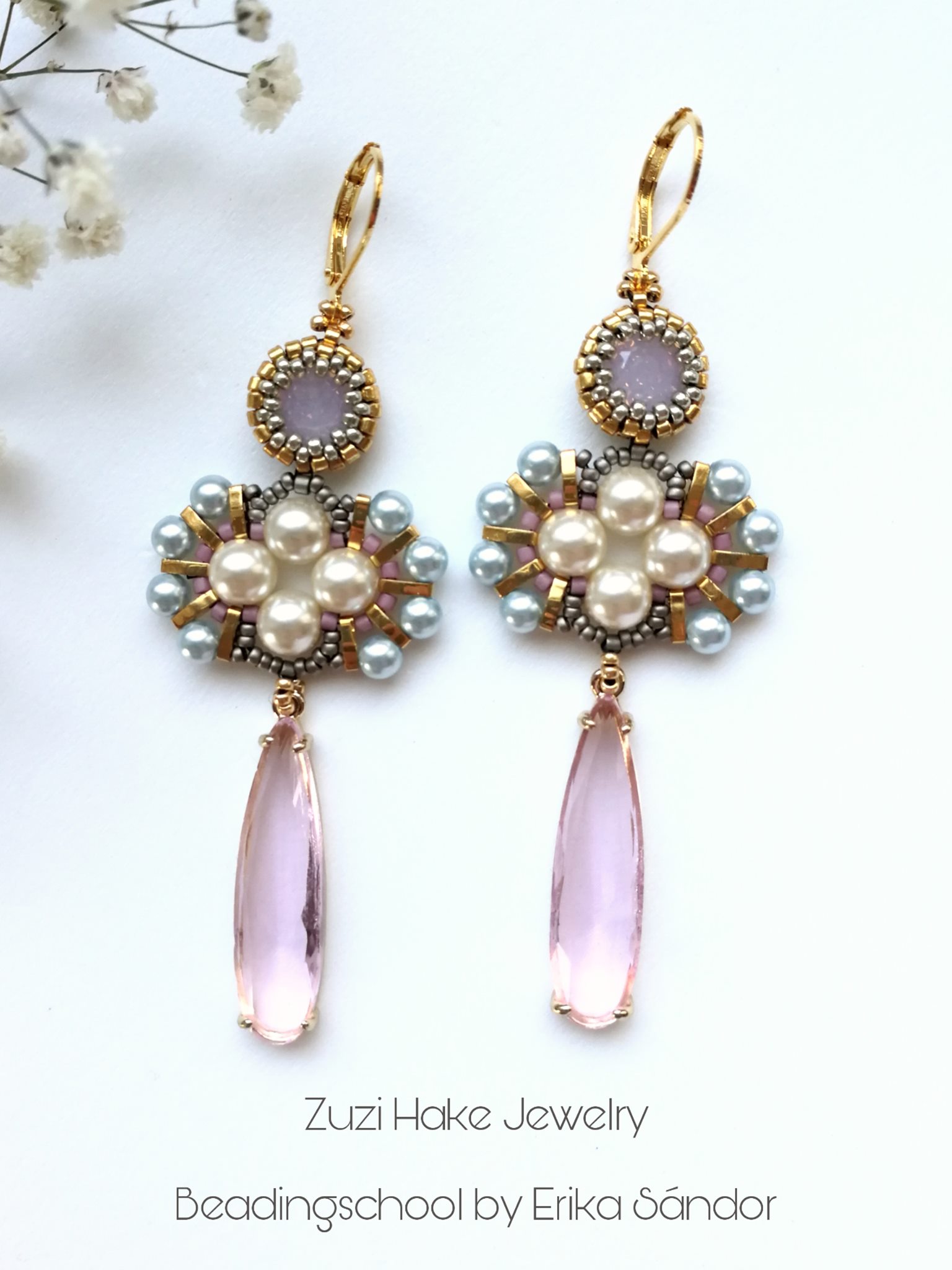 As time goes, seasons change, and trends in beads evolve as well. There are many new shades of our favorite shapes that arrived and I'm curious to see the impact on the overall design. These earrings are from my collection of favorite 2020 designs, beaded with new 2021 material. I used Preciosa pearls from the bundle and chatons, that weren't available a year ago. I'm very happy with the result and will continue in my journey of re-beading and re-discovering!

There is a lot more to see in the Beadinschool Club!