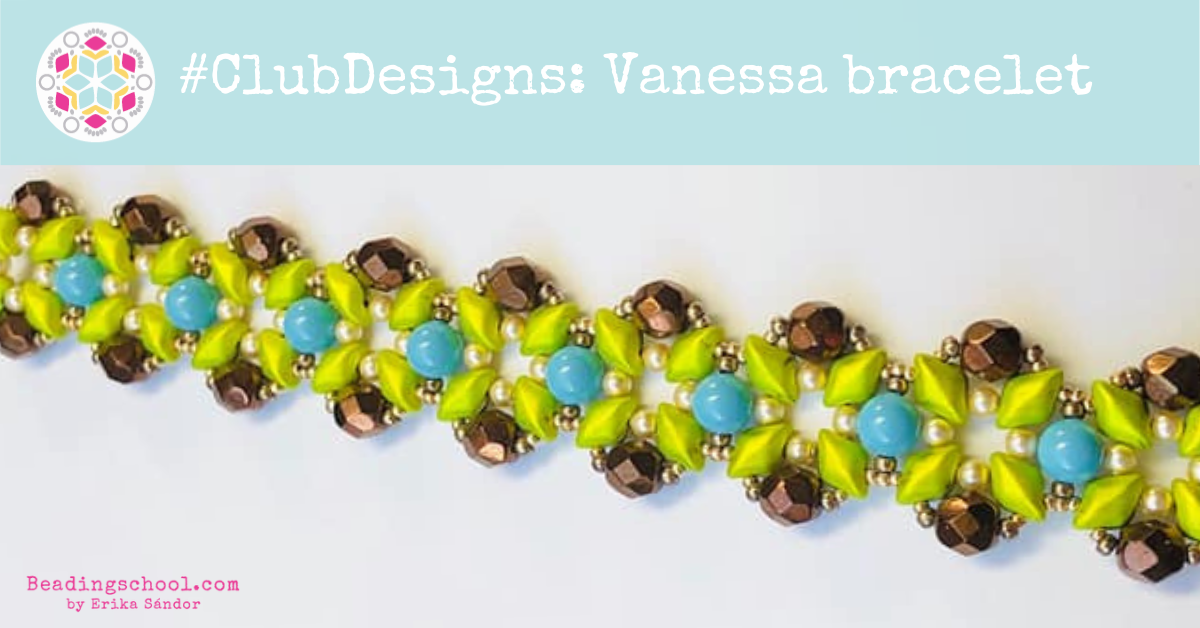 #ClubDesigns: Vanessa bracelet variations
#ClubDesigns is a series of articles on the Storytelling blog and a series of posts in the Beadingschool Club on Facebook.
Erika says:
"Since the beginning of the first COVID-lockdown, we bead together every Friday, to make sure that #NoOneHasToBeadAlone.
We bead a different jewel every week – designed specifically for the workshop. Afterward, it's really fun to see all the variations beaders come up with! Not only colors differ, but very often a pendant becomes a brooch, a motif that was originally an earring is modified into a bracelet or a ring. Moreover, sometimes it happens that not all the bead shapes are available to someone – and she needs to alter the original design to make it work."
The #ClubDesigns series is the collection of this beady wisdom.
Vanessa bracelet
Vanessa was the very first pattern that was made as a part of the #NoOneHasToBeadAlone sessions. By now it is over one and a half year that once a week we clean off bead mats, prepare our beads and get together for a beady afternoon (or morning).
Simple shapes, common beads, so that everyone can join. Sometimes the pattern is so catchy that we stay at the original version of it, sometimes the forms and pathways inspire us to look behind and go on a beady adventure.
Let's see what did the Beadingchool Club members create during and after our first bead together.
You can find the  Vanessa bracelet in the Beadingschool webshop
MATERIAL LIST
thin beading needle,
Fireline or other strong and thin beading thread,
bead mat,
thread burner or scissors.
Vanessa bracelet by Anna Linczmayer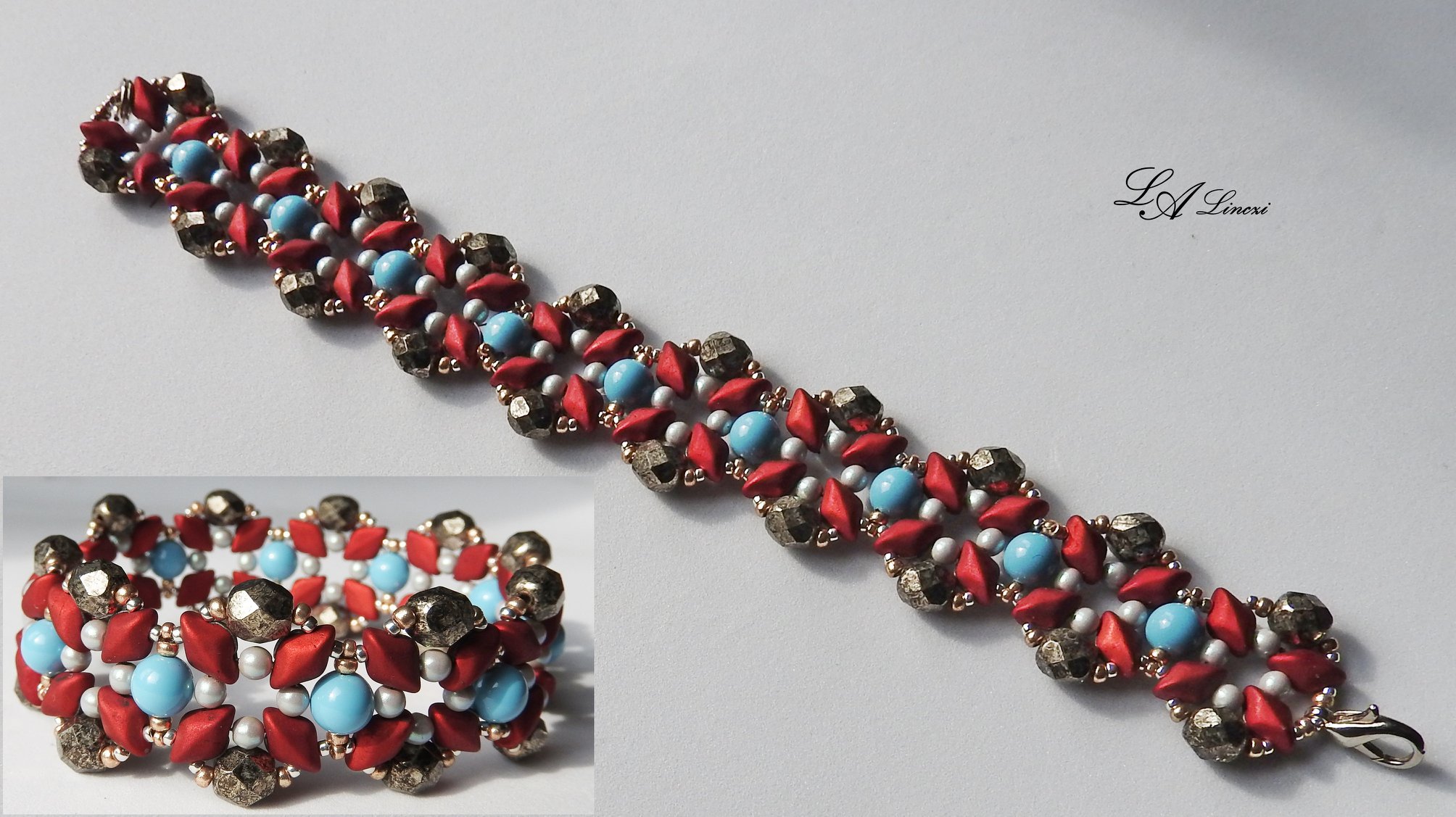 Anna created a strong piece using soft blue and dark red combining them with neutral metallic colors. The fire-polished beads give a nice frame to her bracelet, while the middle section with the round pearl and GemDuo beads really pop.
Annelien Willems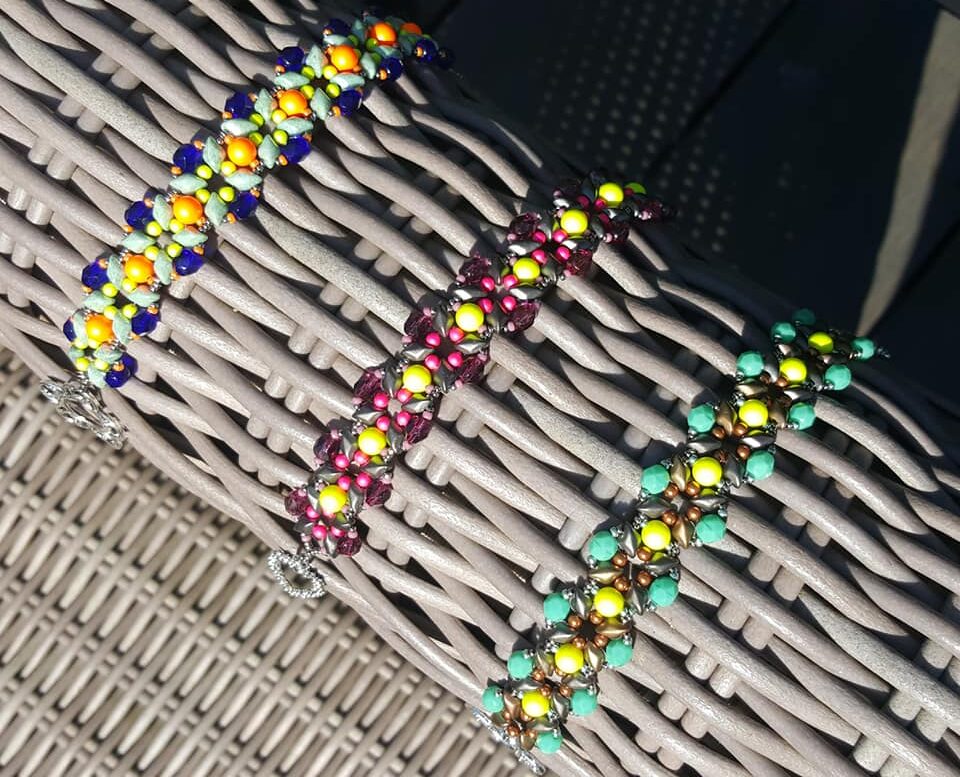 Annelien couldn't stop beading only one bracelet. She used happy, spring colors creating playful pieces to wear.
Reinhilde Van Hoyweghen and Tanja Quintelier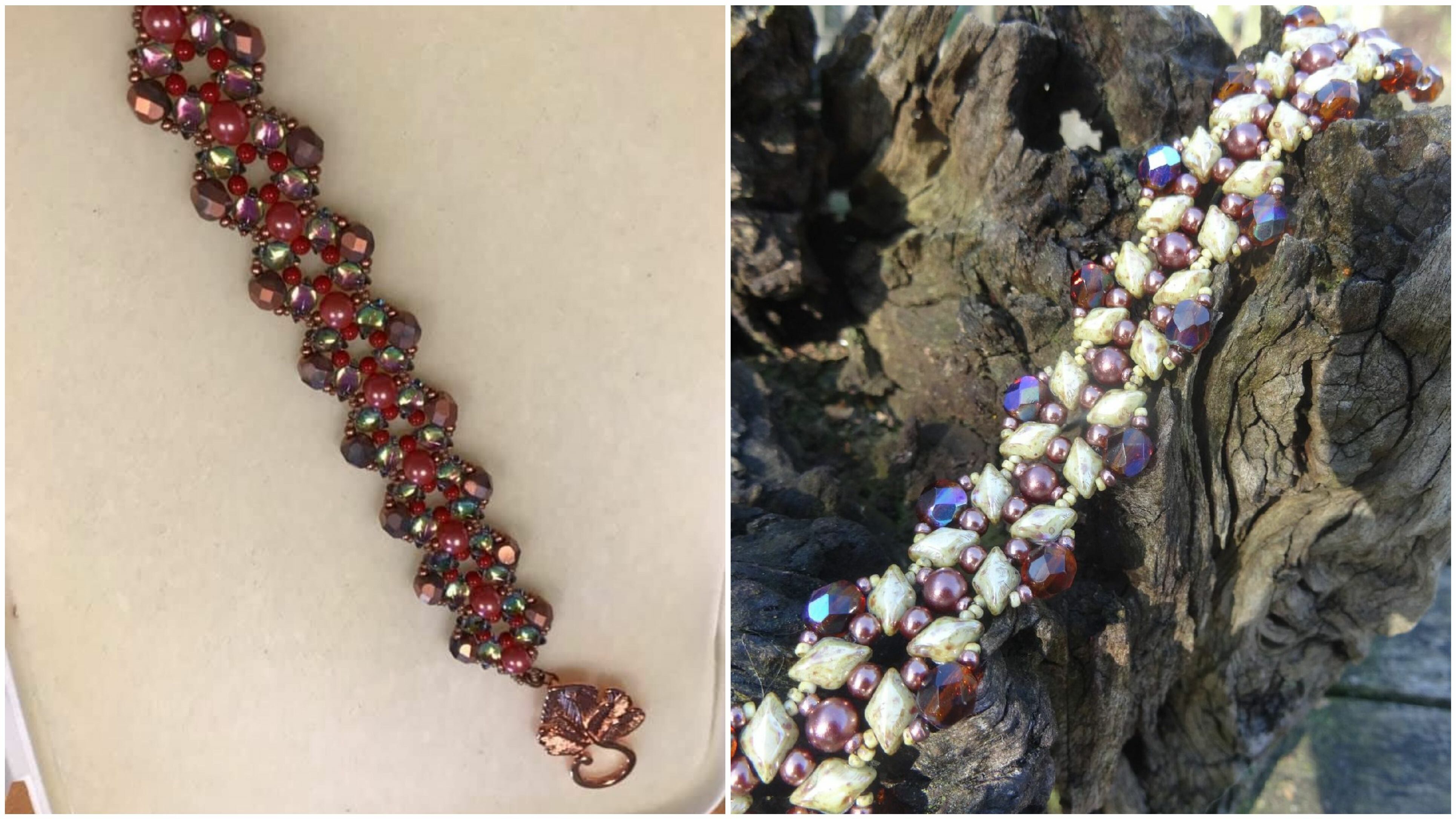 Reinhilde and Tanja both chose warmer red tones. The colors and the finishes they have used resemble an autumny vineyard. Reinhilde decided to strengthen her colors with her toggle clasp: a grape leaf.
Katalin Dudas and Ludmila Turzova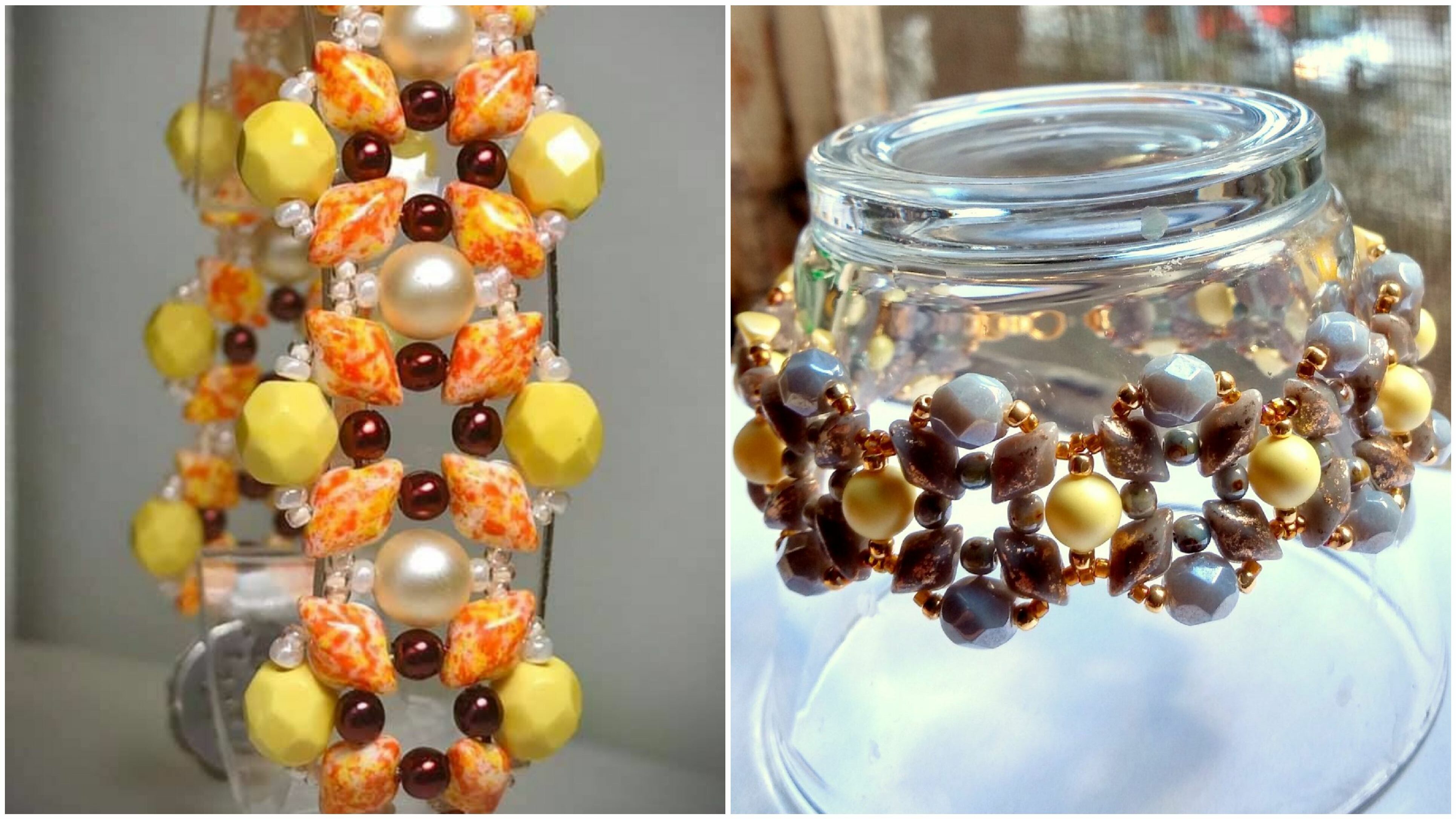 Kata and Ludka both stared the color yellow in their bracelets. While Kata is going for a more vibrant look by supporting her jewel with stronger, bolder colors, Ludka uses soft tones achieving a more elegant finish.
Zuzi Hake, Amy Blevins and Annfi Larsen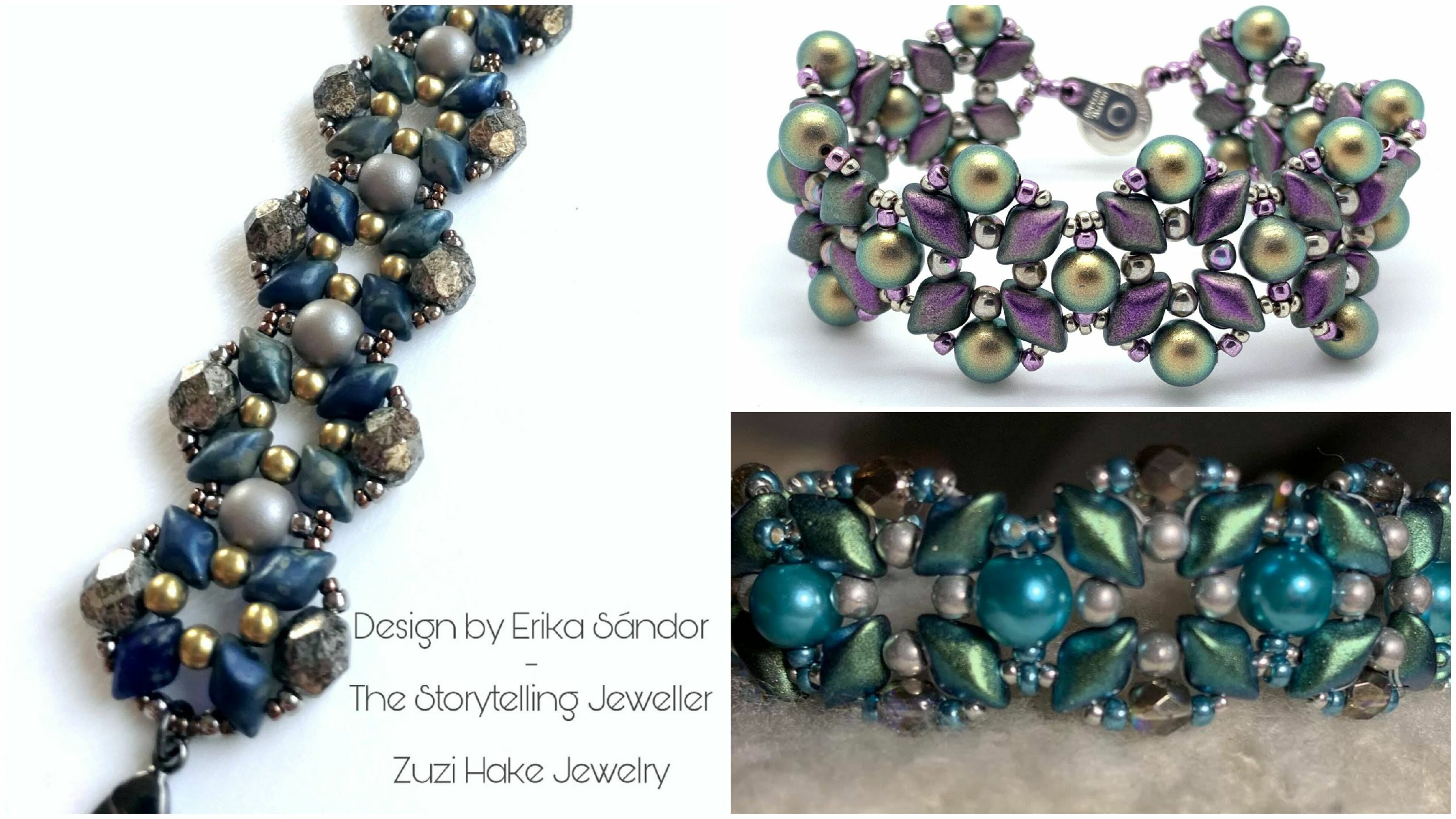 Dark colors, metallic and iridescent finishes. Perfect choice for a winter walk, a dinner night. The ladies chose their colors to go with any event.
Vania Stabnov Jacobs

Vania's creativity came in handy replacing the GemDuo beads. She used Silky beads and to make the pattern work she added Demi Round beads in between them. With this substitution, the bracelet got a completely different characteristic.
Anita Schackmann and Manuela Hamm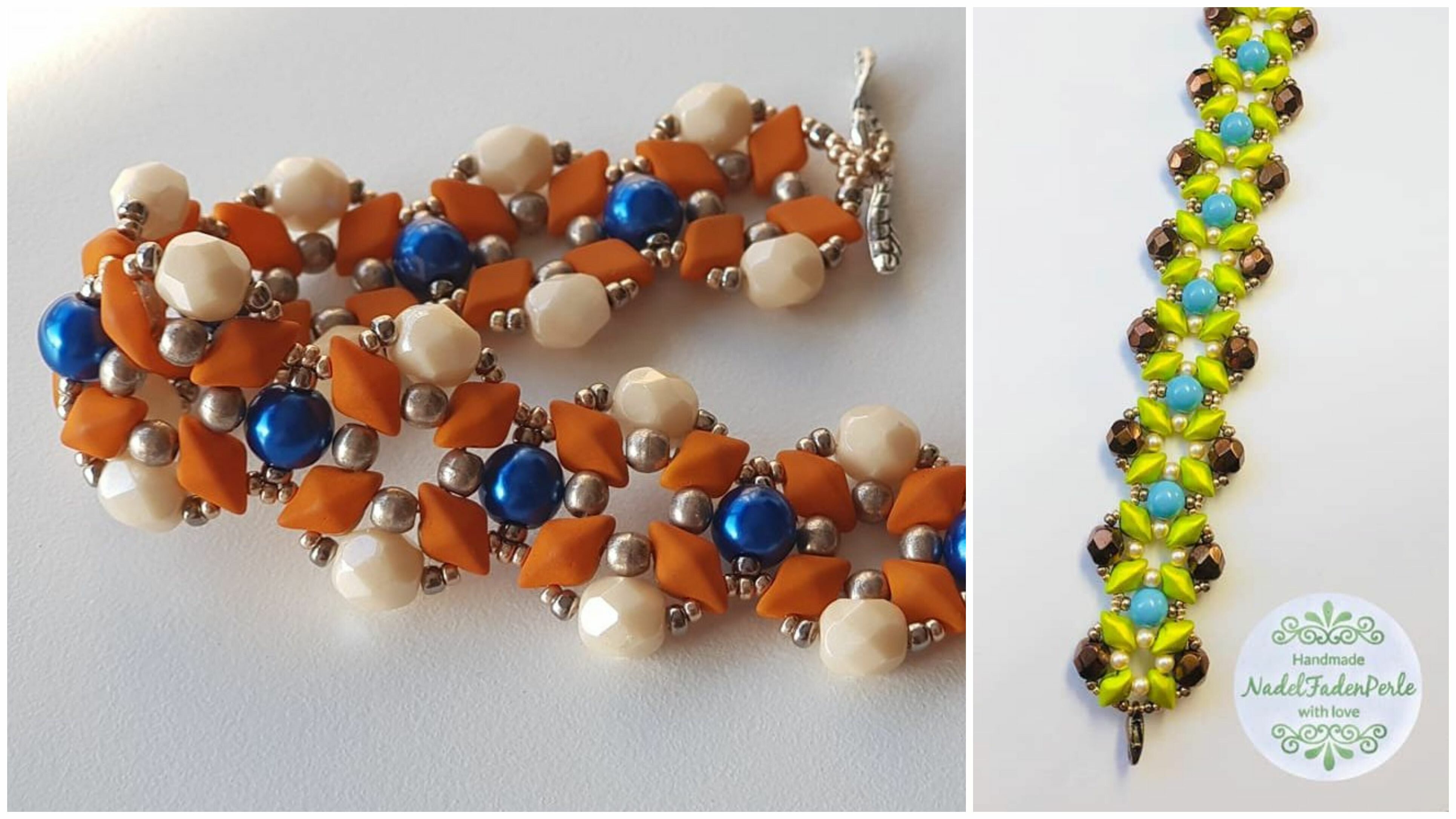 Blue and turquoise in the spotlight. Both jewels have a fresh vibe. Manuela's bracelet is a real eye-catcher with a fluorescent theme.
And this is only the beginning. You can alter the pattern: add a second row to it, fix cabochons under the GemDuos or decorate the motif further using your endless imagination.
Recently some nice colors of 6mm Firepolished beads were added to the webshop. In case you got inspired, you can stock up on some of the hot colors.
Would you like to get a bunch of free beading tutorials?
If you like these #ClubDesigns jewels, come, join us, and bead with Erika and other beaders from all around the world.
Reader Interactions