#ClubDesigns is a series of articles on the Storytelling blog and a series of posts in the Beadingschool Club on Facebook.
Erika says:
"Since the beginning of the first COVID-lockdown, we bead together every Friday, to make sure that #NoOneHasToBeadAlone.
We bead a different jewel every week – designed specifically for the workshop. Afterward, it's really fun to see all the variations beaders come up with! Not only colors differ, but very often a pendant becomes a brooch, a motif that was originally an earring is modified into a bracelet or a ring. Moreover, sometimes it happens that not all the bead shapes are available to someone – and she needs to alter the original design to make it work."
The #ClubDesigns series is the collection of this beady wisdom.
Erika did it again!
New week, new Friday, new design that is (again!) as versatile as your beading skills, mood, stash, time allows.
This is the Wolvega motif.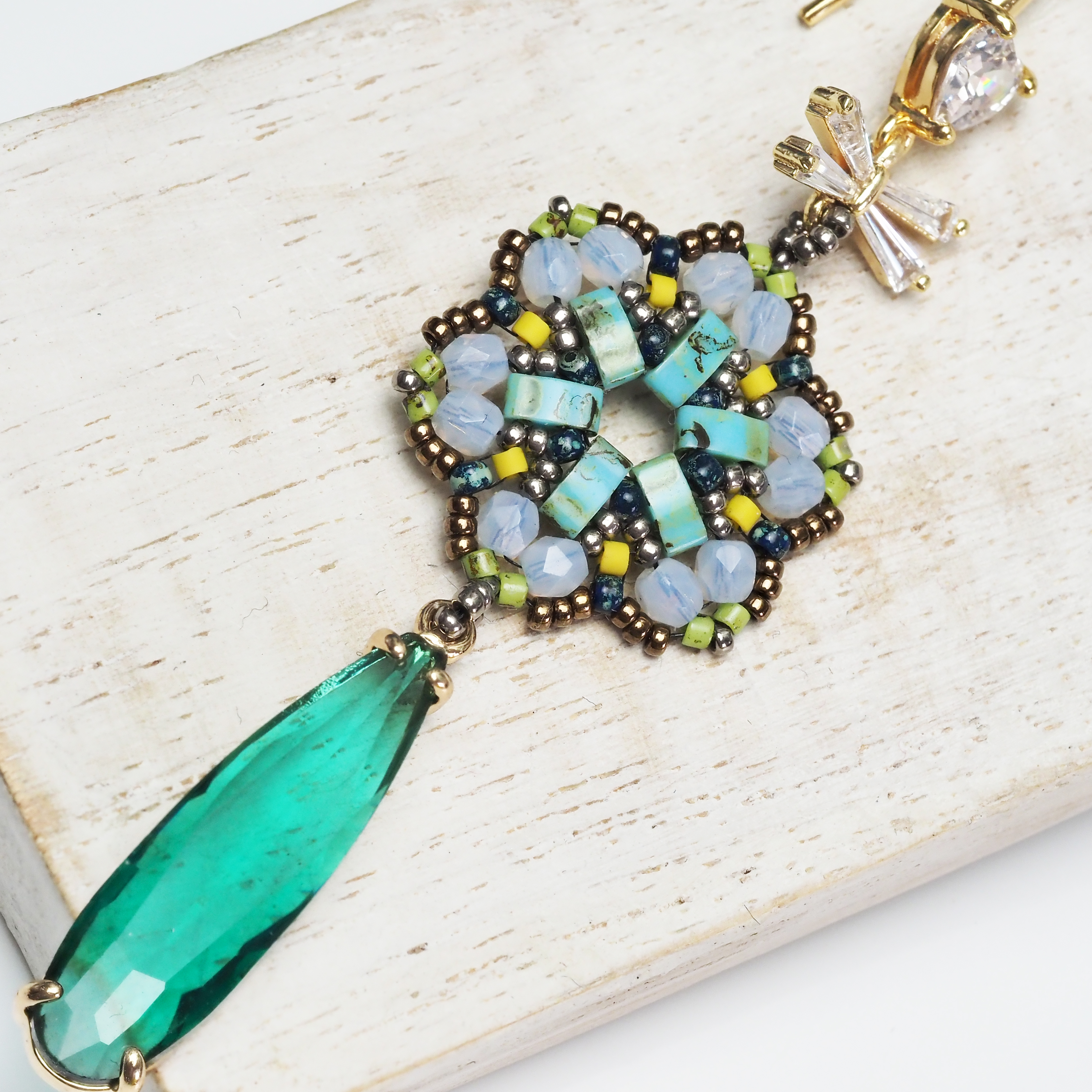 Click here for the beading tutorial!
MATERIAL LIST
3 mm fire-polished beads
Miyuki Half Tila beads
Miyuki seed beads 15/0 – 1-2 colors
Miyuki seed beads 11/0
Miyuki Delica 11/0 – 1-2 colors
8×32 mm glass drop in metal setting
earring hooks + dragonfly connector
Optional:
7×21 mm elongated crystal connector
11×17 mm cushion cut crystal connector
Raindrop filigree
5×16 mm pear glass drop in metal setting
Tools:
thin beading needle
0.12 mm / 6LB Fireline 
bead mat
thread burner or scissors.

Let's have a look at Wolvega variations by Beadingschool Club members, to bring you inspiration!
You will see this design can be:
simple
relaxing
challenging, if you want.
Depending on your color choice you can make jewelry that is:
Romantic
Elegant
Casual
Crazy
YOURS.

Romantic look with earrings by Sandra Lindahl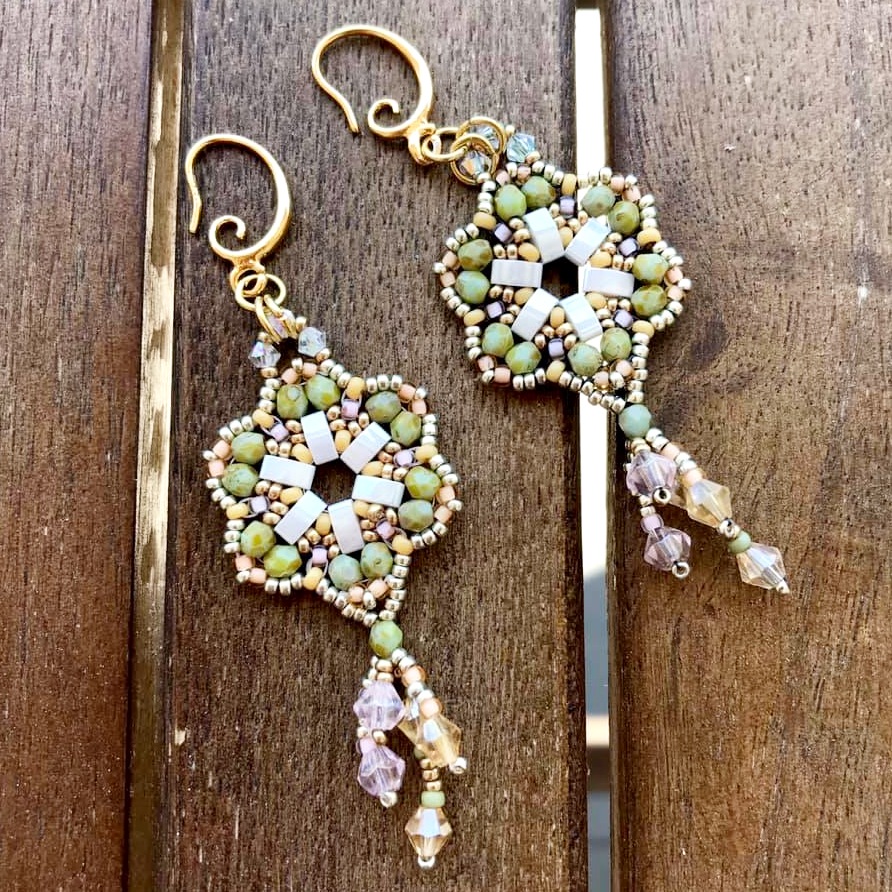 Sandra created beautiful pair of earrings by using soft, warm colors. I love the idea of using extra seed and bicone beads to create the fringe on the bottom. She also used golden Voluta earring hooks. All together makes these earrings dreamy, romantic, and ready to complete any summer outfit!

Earrings with drops by Tanja Quintelier, Christina Nordin

Kilpeläinen

, and Kirsten

Schülp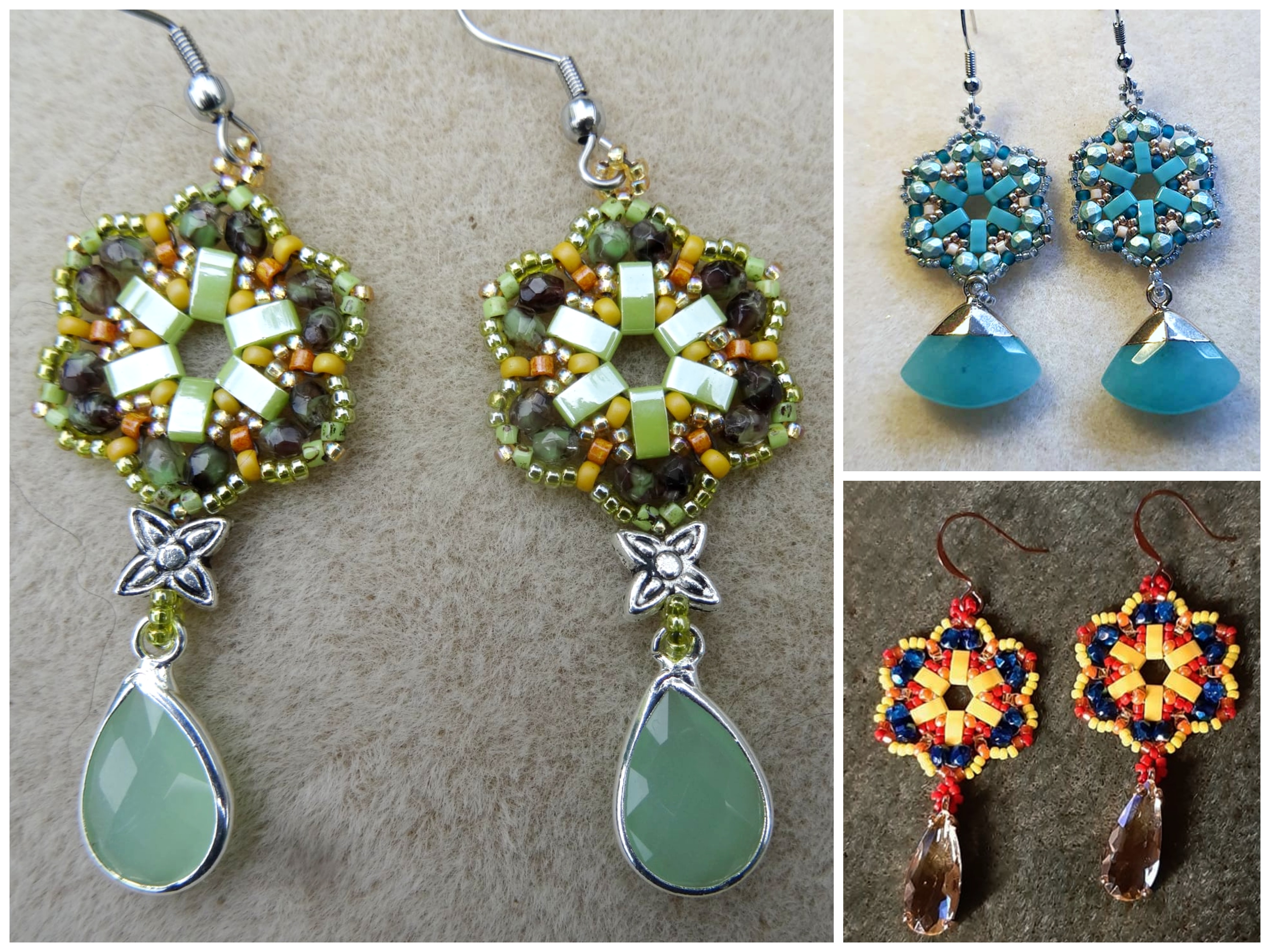 Tanja Quintelier – Earrings on the left side
Christina Nordin Kilpeläinen – Earrings on the top right side
Kirsten Schülp – Earrings on the down right side
Ladies created beautiful earrings that are similar in using gemstone and glass drop pendants in metal settings to add the final touch to the Wolvega motif. If you decide to use a tassel, connector, or additional beads, you can prolong the whole motif. Each will make your beadwork beautiful and different!

Elegant pendant by Terry Stegeman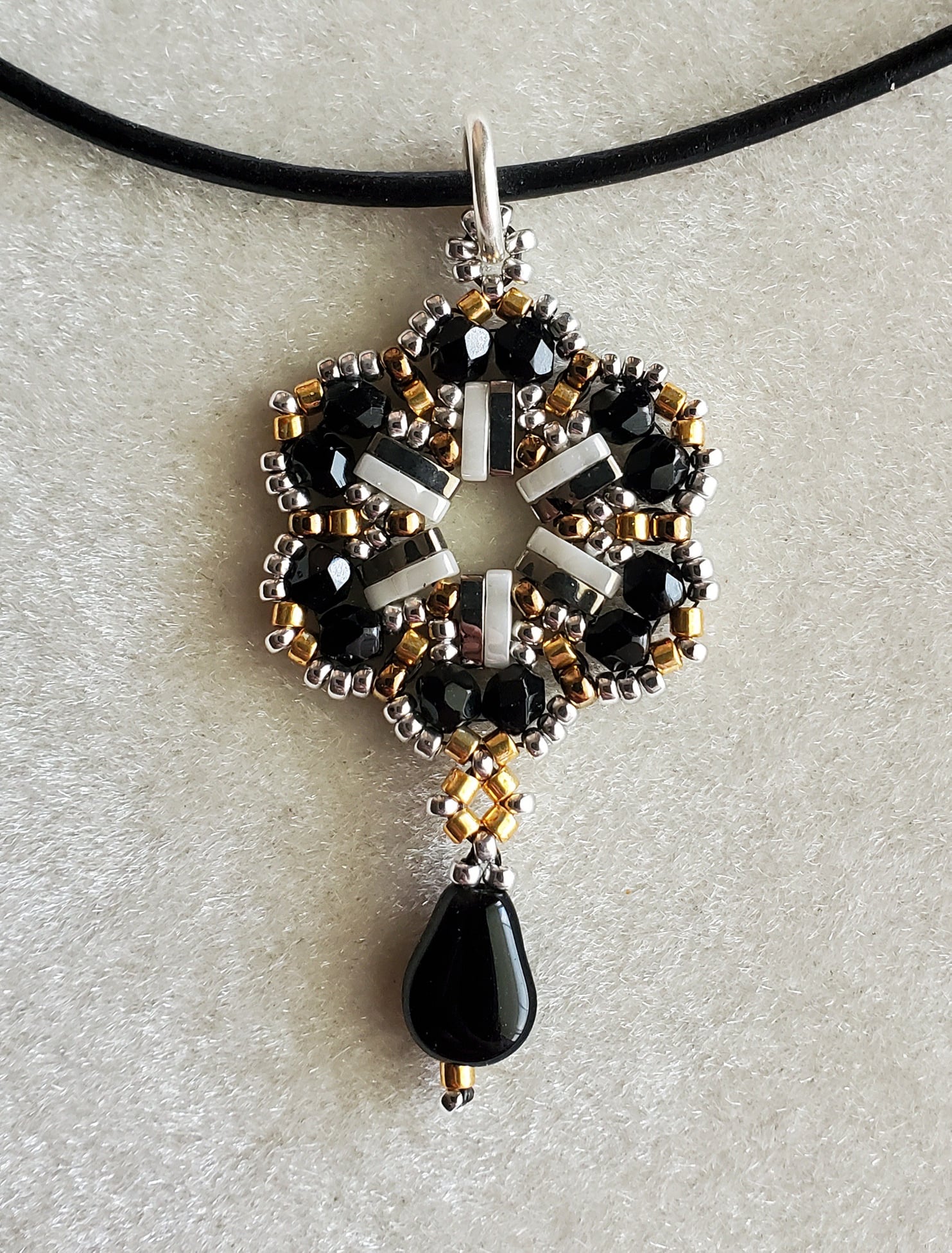 Terry chose to make a pendant. She chose black and metallic colors of beads that look very elegant together. Using doubled Quarter Tila beads instead of Half Tila beads gives her jewel extra texture and new possibilities. Very nice, thank you for sharing with us!


Fresh look with earrings by Deb Taylor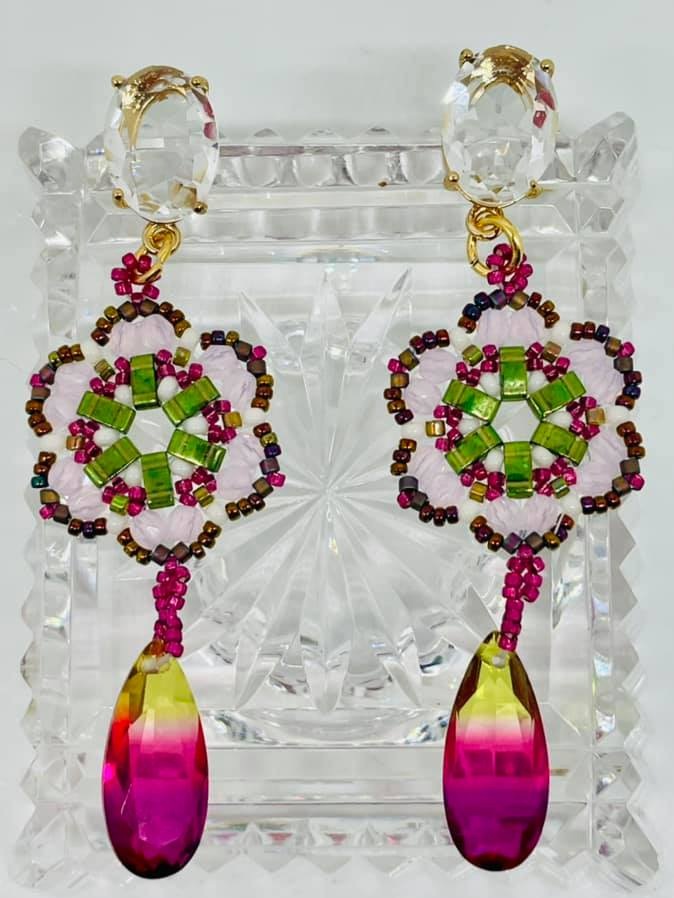 "Passion fruit" is the first thought when I see these long earrings by Deb. She used crystal earring findings and a glass drop pendant with the Wolvega motif to create a fresh flowery look. So juicy!

Multicolored Wolvega set by Katalin Dudás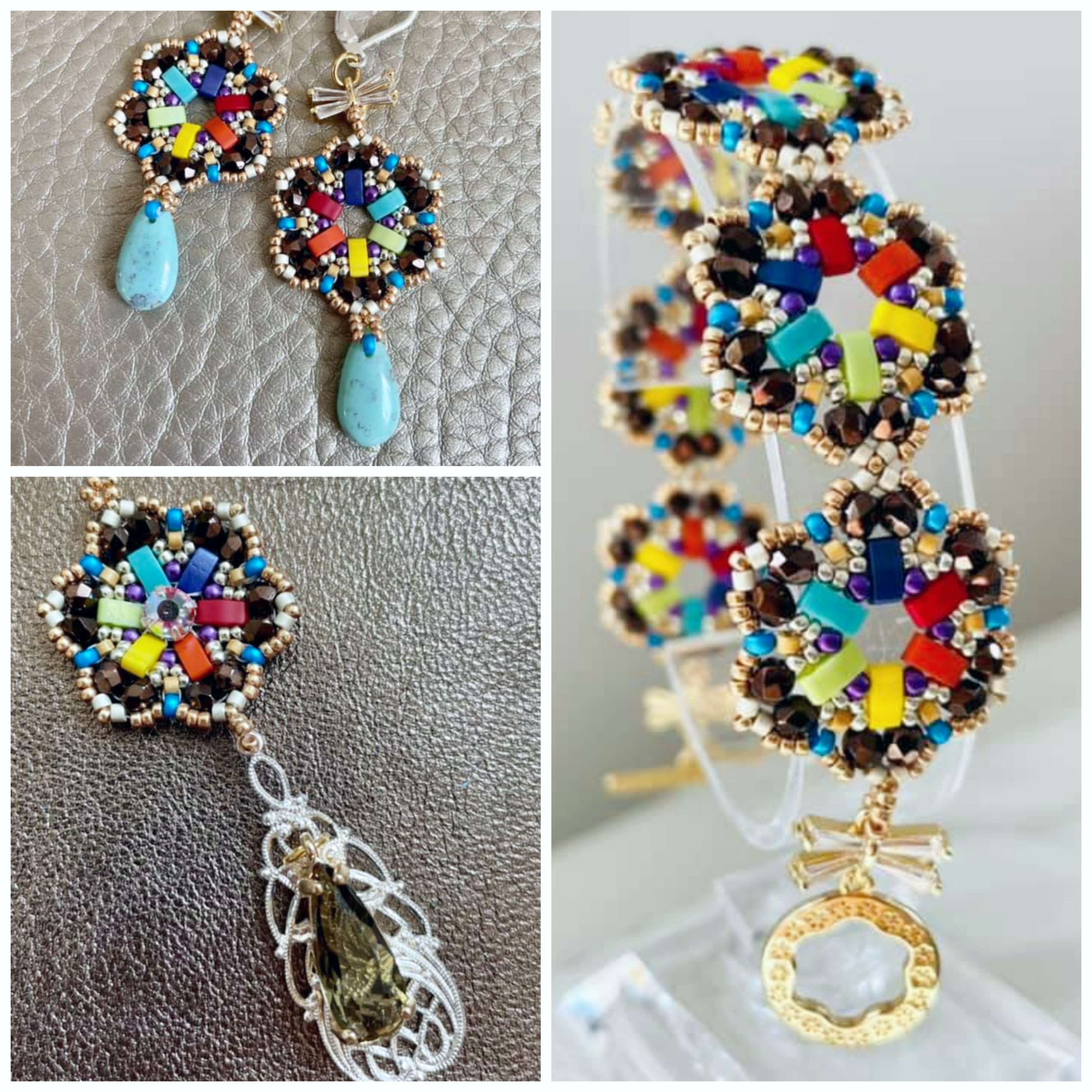 Meet the Wolvega Family! Kata made fun, multicolored earrings with a dragonfly connector on the top and a flat glass drop on the bottom. She doesn't usually stop until the whole set is finished 😉 After earrings, a bracelet and pendant were born. She used different components like sew-on rhinestone,  raindrop filigree , pear glass drop in metal setting, dragonfly connector, or flower field clasp to create catchy and inspiring details.

Vintage Wolvega brooch by Virginia Bremken
This unique brooch is the result of  #NoOneHasToBeadAlone combined with creative bead embroidery lessons Erika taught in May. Ginny was inspired with ideas from Arabesque Garden embroidered pendant, attached the Wolvega motif to the filigree, and finished her jewel as a brooch. The result is a very unique, special piece. Thank you, Ginny and Erika!

You can find more Wolvega earrings, pendants, and inspiration in the Beadingschool Club! We're meeting with Erika again this Friday, and you are more than welcome to join! We're going to bead  Regina Brooch!