Life is unpredictable and takes many unexpected turns. The wind can blow us through half of the globe until we settle down again. However, we always carry something with us from our previous adventures in a different location. It's not about the luggage! That something is inside us, and travels with us all the time.
Whenever I look at the art of Ileana Munteanu, something reminds me of the rich traditions of the beautiful mountainous country she was born in and which I was lucky to spend some time at during my university studies – in the same city and the same school where Ileana studied, too! I can't explain it with the colours or shapes she uses. It's something more and something deeper then that.

Hi Ileana! Can you tell us a bit about yourself? Where do you live and what do you do when you are not beading?
My name is Ileana Munteanu and my brand is called Enchanted Beads. I was born in Romania and studied French Literature at the University of Cluj, in Transylvania. I taught French in Bucharest and later in Washington DC. I came to the USA with my family about 28 years ago. I have two children, a son and a daughter, and a beautiful granddaughter. I live in Bay Ridge, Brooklyn, NY, in a beautiful neighborhood, very close to Verrazzano Bridge.
When and how did you start to create? How did you learn to bead? Did you also try other techniques?
I was always very creative. I liked to make things that would embellish my house, a wall with river stones or a mosaic table for example. Back in Romania I used to make fancy dresses, using a wide variety of fabrics and materials, embellished with beaded appliqués (flowers, butterflies, leaves) and I sold them in galleries. Later I decided that what I enjoyed the most in the process of designing an outfit was the elaborate embellishment. I started to make pieces of jewelry resembling my appliqués. Little by little my jewelry evolved as I developed new techniques. I am a self-taught beader.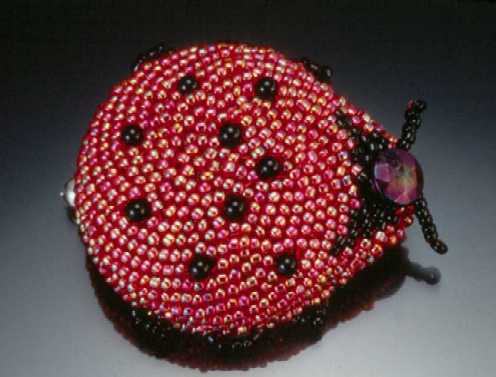 Tell us about the piece of jewelry you are the most proud of!
One of my favorite pieces is the Ladybug Brooch. I created it when my granddaughter was little, she inspired me a great deal. The Brooch participated in the Firemountain Gems and Beads Beading Contest, 2004-2005, and it was a finalist.
The Ladybug pin was featured in the Fire Mountains Gems and Beads 2004-2005 Catalog afterwards.
Where do you like to create? Do you have a designated area in your home where you keep your beads and play with them?
I live with my daughter and granddaughter in a large apartment and I have my own quiet room. I like to listen to music or watch TV while I work. A large corner of my room is dedicated to my beads. Of course there is a place for the computer as well. And Sasha, my cat is also present!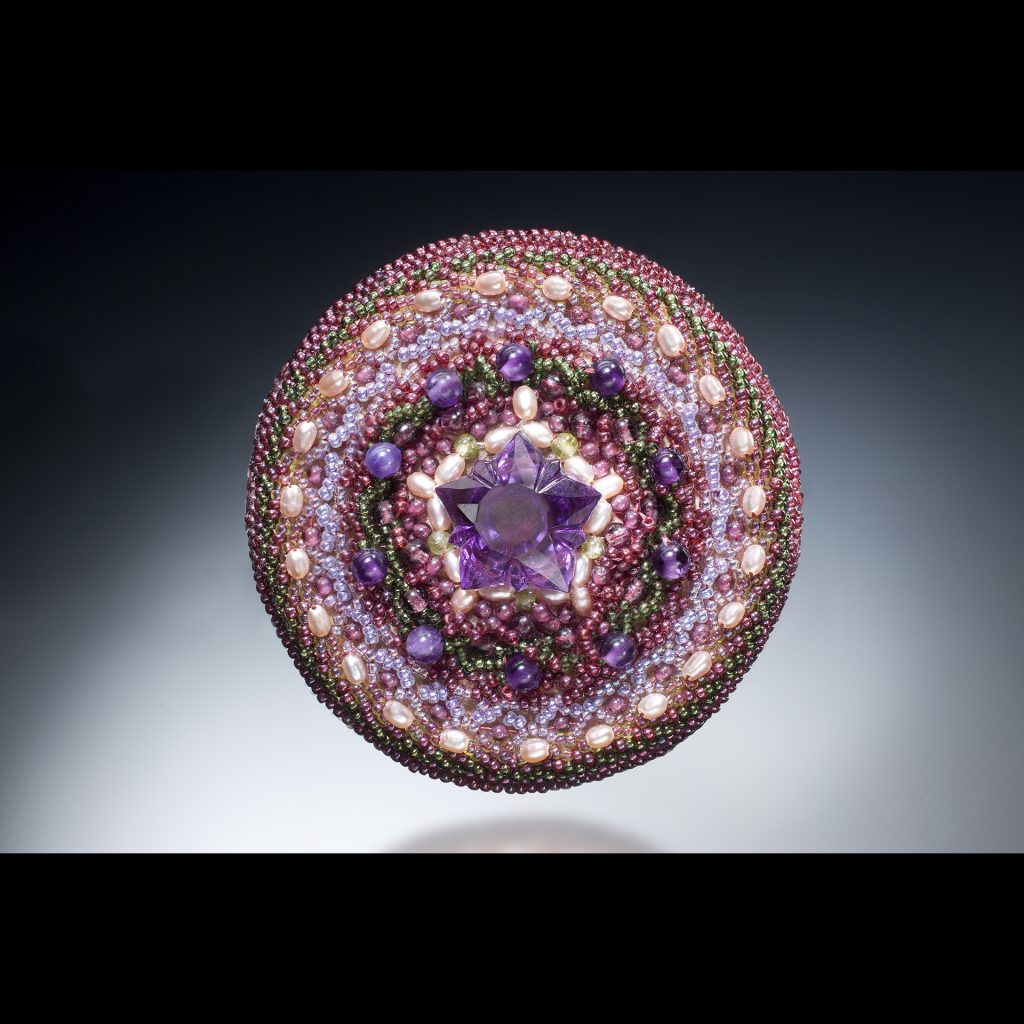 What is your favorite stitch? Which colors do you like the most? On the other hand, is there any color or color combination you don't like?
I started with peyote and modified peyote, which is my favorite. I also love herringbone and I am always in the process of discovering and learning more stitches. I love the earthy/ natural colors: light brown, golden brown, moss green, olive green, kiwi green. I adore red, especially in combination with other colors. I also love royal blue and sky blue. I avoid crazy combinations; too many colors at the time are too much.
Do you follow instructions or do you like to develop your own designs?
I never follow instructions. I like to be original and independent of any patterns.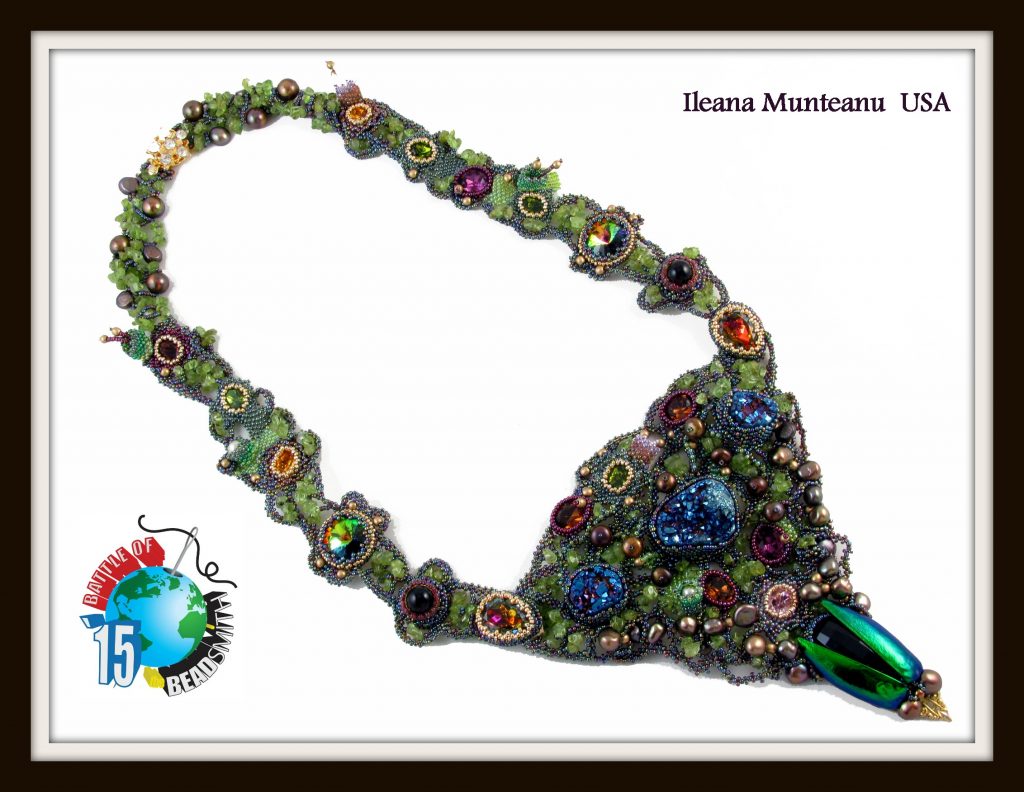 Who are your favorite designers? Why?
BOTB broadened internationally the field of talented designers I admire and I find difficult to only name a few favorites.
There are several I consider friends and I follow them on Facebook: Marsha Wiest Hines, Nadya Gerber, Cath Thomas, Betty Stephan, Kris Empting-Obenland, Nancy Dale, Carol Dean Sharpe, Miriam Cielo Shimon, Kinga Nichols, Patrick Duggan, Mikki Ferrugiaro and Helena Tang-Lim.
I discovered lately many talented beaders from all over the world and I have great admiration for them. I would mention Ruxandra Puscas, a young beader from Sibiu, Romania, who continues to amaze me with her work. Her necklaces won many contests and she was a semi-finalist in the BOTB17 Challenge.
Do you have a favorite bead shop? Tell us about it!
I bought a whole collection of beads and other beading materials from Firemountains Gems and Beads. Recently I switched to shops like Artbeads and Caravan Beads. I also like to buy from Etsy Shops in order to support my fellow Etsians.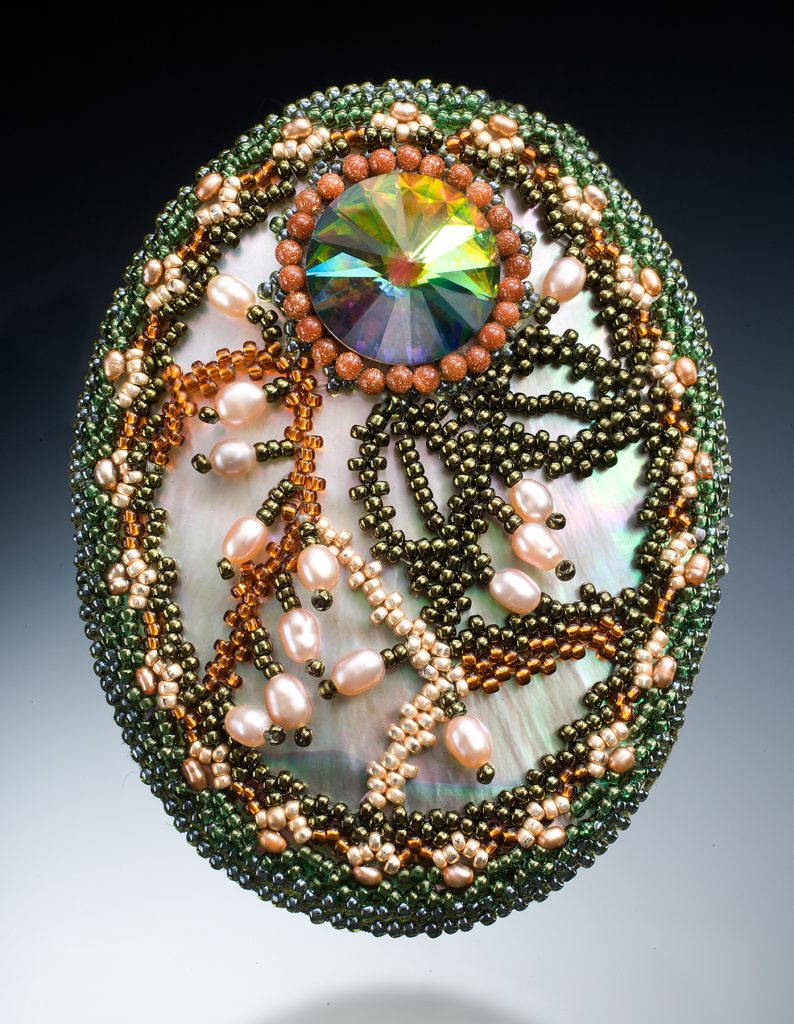 Which is the bead / component in your stash which you treasure the most? Where and how did you get it? Do you already have plans how to use it?
I am partial to Cameos and to other vintage/ antique pieces. I have plans to use them but sometimes the lack of time goes into equation and I have to take one day at a time…
Have you ever visited a bead show, a cruise or any other meeting dedicated to beading? If yes, tell us about the experience!
I visited many bead shows In Washington DC and here in NYC. I find myself lost among the beads and the experience is always overwhelming. It is a love affair…
Is there a beadwork-related book you would like to recommend to other beaders? Or maybe a clever storage solution or any other trick to make a beader's life easier?
I would recommend "Beading with Cabochons" by Jamie Cloud Eakin, published by Lark. It would be helpful for any beader, from beginners to advanced. I would also recommend "Showcase 500 beaded Jewelry" published in 2012 by Lark Crafts – editor Ray Remachandra. Two of my Brooches are featured in the book, pages 106 and 424. One of the Brooches is featured on the back page as well. This 'beautiful gallery book celebrates beaded jewelry with photographs of innovative designs from leading artists around the world'.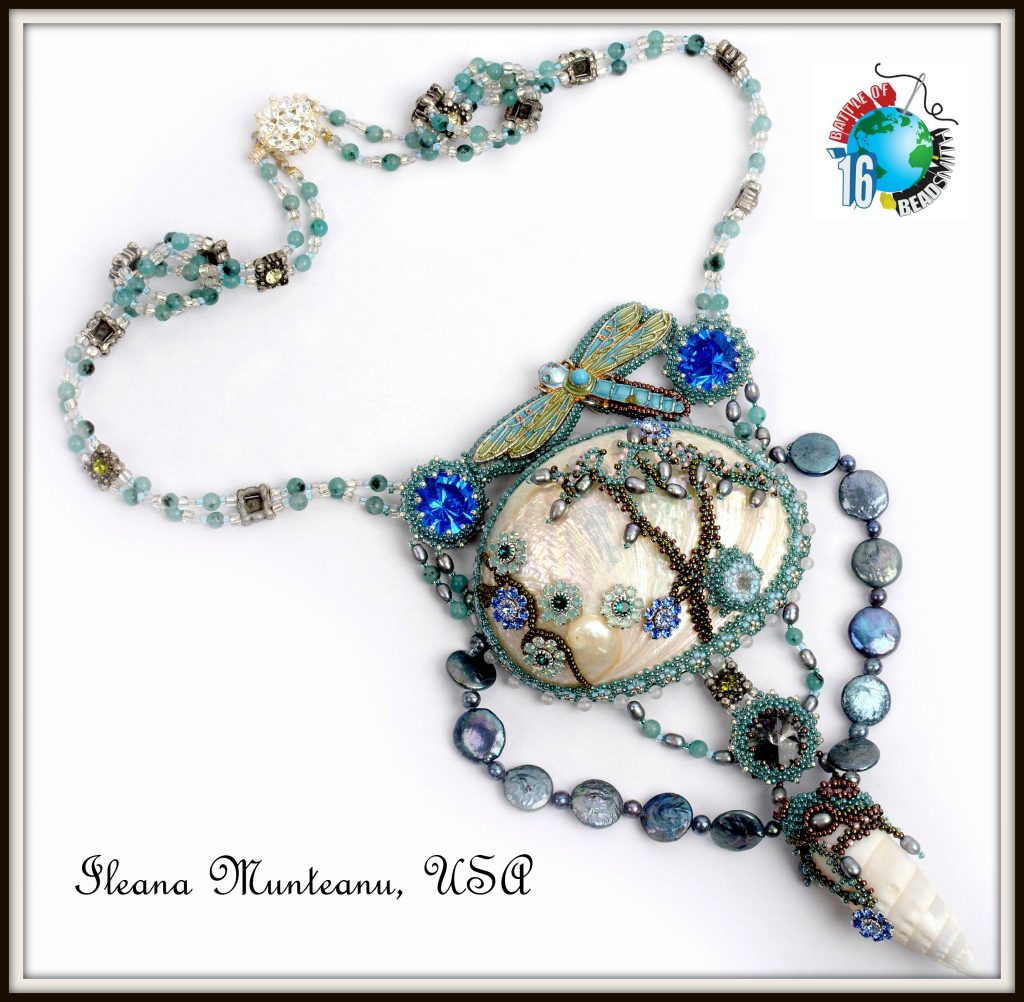 What are your plans for the future as a beader? Is there something you would really like to learn or an instructor you would like to meet?
I would like to be able to continue beading and to participate in contests like Battle of the Beadsmith and Bead Dreams. I always like surprises and I am waiting for them to appear.

Thank you for answering my questions, Ileana!
Say hello to Ileana Munteanu in a comment, and tell her how do you like her art.
Whould you like to tell us more about your art and be featured in one of the upcoming interviews?
Don't hesitate and drop me a line here ?
Have a nice day and happy beading!
Erika