Face to Face interviews with our fellow beaders and designers continue! We're naturally curious to meet and know more about people in our community, to learn more about them, their life as a person and beader, inspiration, plans. This time I looked into our Beadingschool Club again and asked for an interview.
She is a beader who has an amazing sense of harmonious colour combinations. You can recognize her beadwork by single look as there's a special touch, a fingerprint she leaves and the way how she takes photographs of finished jewellery. A nice person who brings laughter to us, beading-friend we're happy to have around!

Meet the Beadingschool Club member, Annelien Willems!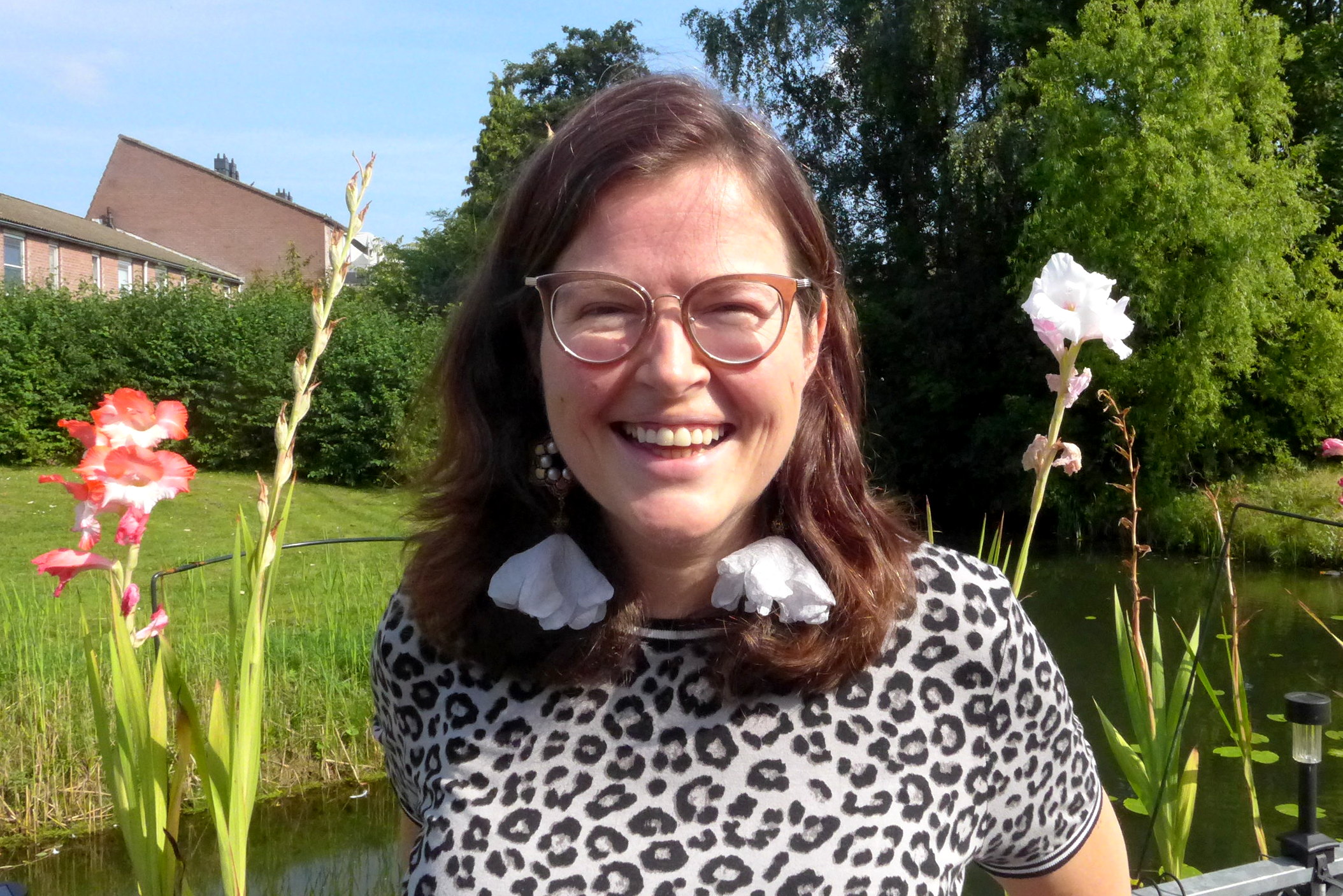 Please tell us about yourself a bit! When and how did you start to create? How did you learn to bead?
My name is Annelien, I am originally from Belgium. I'm mother of 2 kids, Clémentine (5 y.o.) and Arthur (3 y.o.). I moved to the Netherlands in 2008 through my work and met my partner, Fergus. I previously lived in Belgium, France and Brazil.
My beading adventure began in 2018 after taking part in a 'King's Day' market in the Netherlands. This is a yearly Dutch tradition where anyone can sell anything from second-hand stuff to original creations. That year, I partnered with my neighbours and realized that I had sold most of my Brazilian earrings at the end of it. That brought upon the idea of creating my own jewellery. I am, by nature, a creative person, and my time in Brazil also taught me that one should never be afraid to dare when it comes to colours. Furthermore, my mum is also very creative – she creates Patchwork and is generally very creative.
My first step was Youtube where I ended up watching a lot of videos in Italian. It is still a mystery as to why but certainly not for the language. I don't speak a word of it although, after 600+ hours of videos, I am now reasonably fluent… at least when it comes to jewellery. Italians are tempted to work with a lot of shapes so I ended up searching for a lot of different shaped beads at the start. Luckily (and fortunately!), a year later, I came upon one of Erika's videos while browsing on Pinterest when I was searching for a beaded turtle.  A new world opened to me, I realized I didn't need all those shaped beads! It was such a relief that all I needed were basic beads!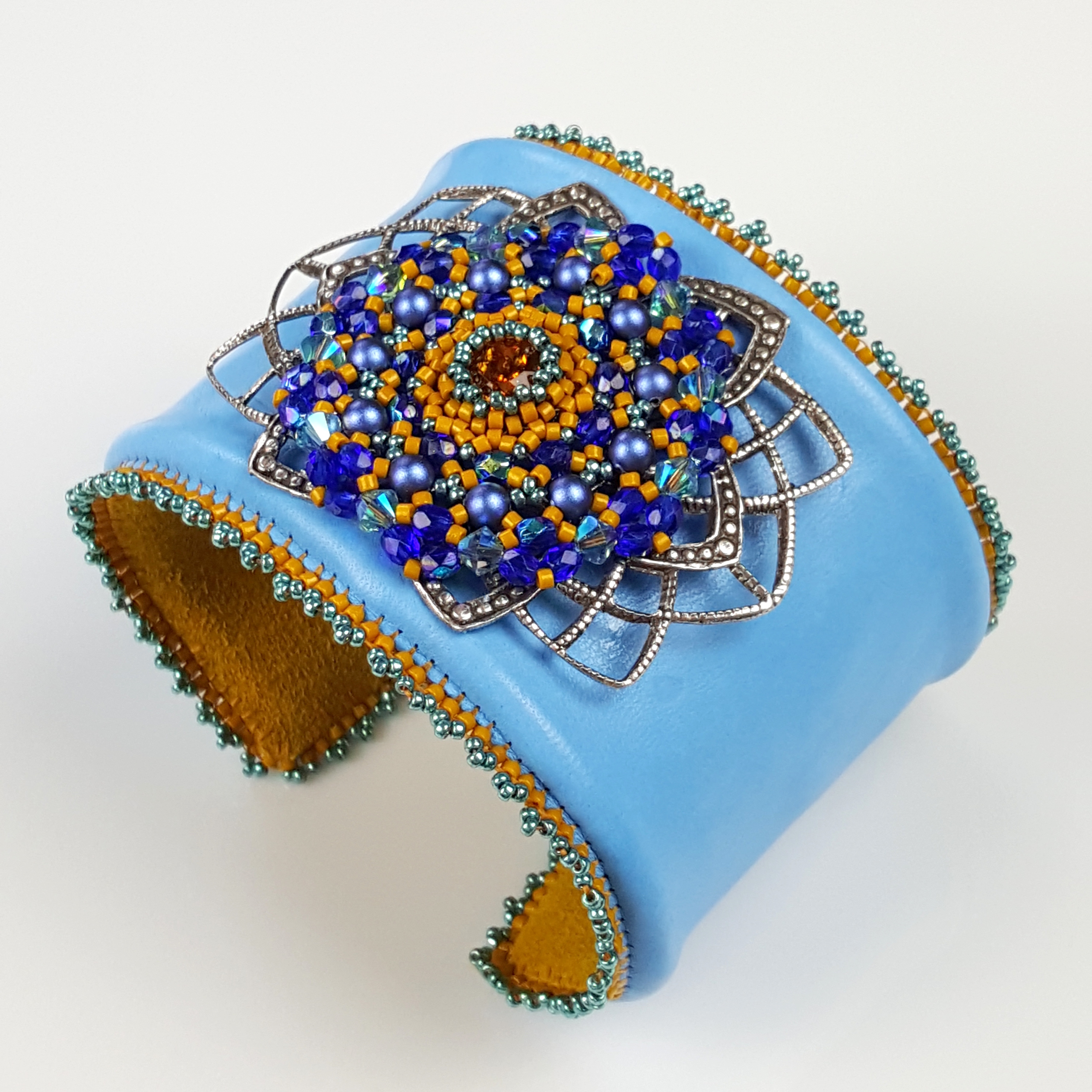 Is beadwork your hobby or profession? How does your average day look like? When do you have time to create?
Beadwork is my hobby. I wish it could be my profession, but I'm not that great at selling, I tend to give everything away for free…
I'm working full-time as a technical support specialist in molecular diagnostics. My weekdays are quite busy – They usually start by making the meals, bringing the kids to school and going to the office or working from home. In the evening after work, it mostly depends on my energy levels if I'm still able to bead or not. But, in all honesty, it gives me always a better feeling if I can bead just a bit… So my precious (and rare) beading time takes place mostly during the weekends, holidays, when I don't need to leave home.
Tell us about the piece of jewellery you are the most proud of!
I'm most proud of my Brazilian Traveller, because it's one of my first bead embroidery projects and I'm so happy that Erika brought the idea of creating a piece with a personal background story. When I was 17 years old, I was an exchange student in Brazil. I lived there for 1 year and fell in love with the country. I didn't know the language at all but was welcome with open arms. My love for jewels came from there. Brazilian women always wear colourful clothes with a lot of jewellery, and most of the time long earrings. I always loved to go to the Hippy Fair (Feira Hippie) in Belo Horizonte on Sundays. There I would purchase homemade jewellery which would be shown to my friends once I was in Europe. It was always a lot of fun and also interesting to showcase these pieces upon my return.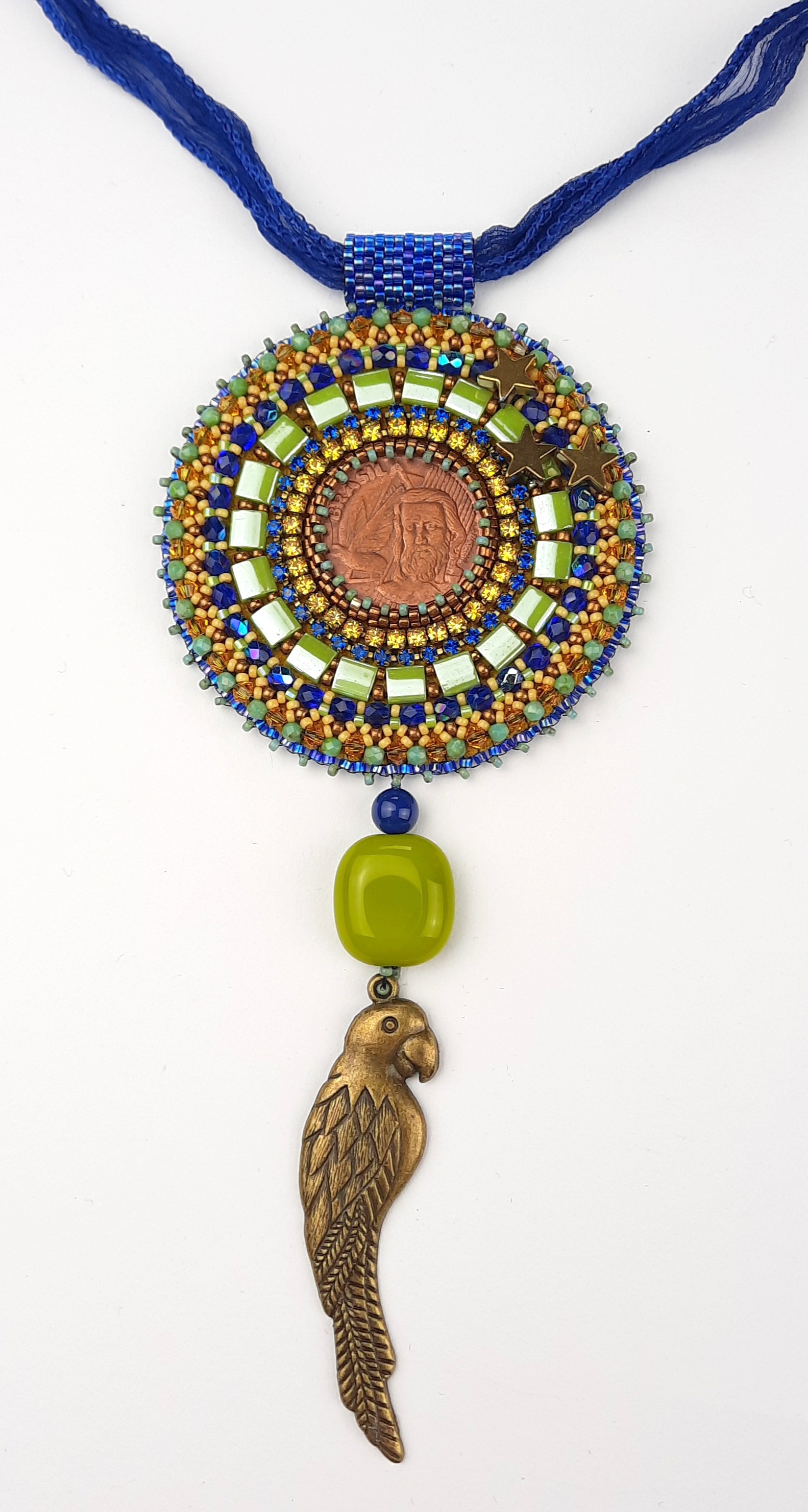 Where do you like to create? Do you have a designated area in your home where you keep your beads? Can you show it to us?
My kitchen table has essentially turned into my beading table. I am trying to create a place for myself where I can store all my beads, but at the moment my children still need supervising when I am at home, so this location has become my default site for the creating process and storage facility.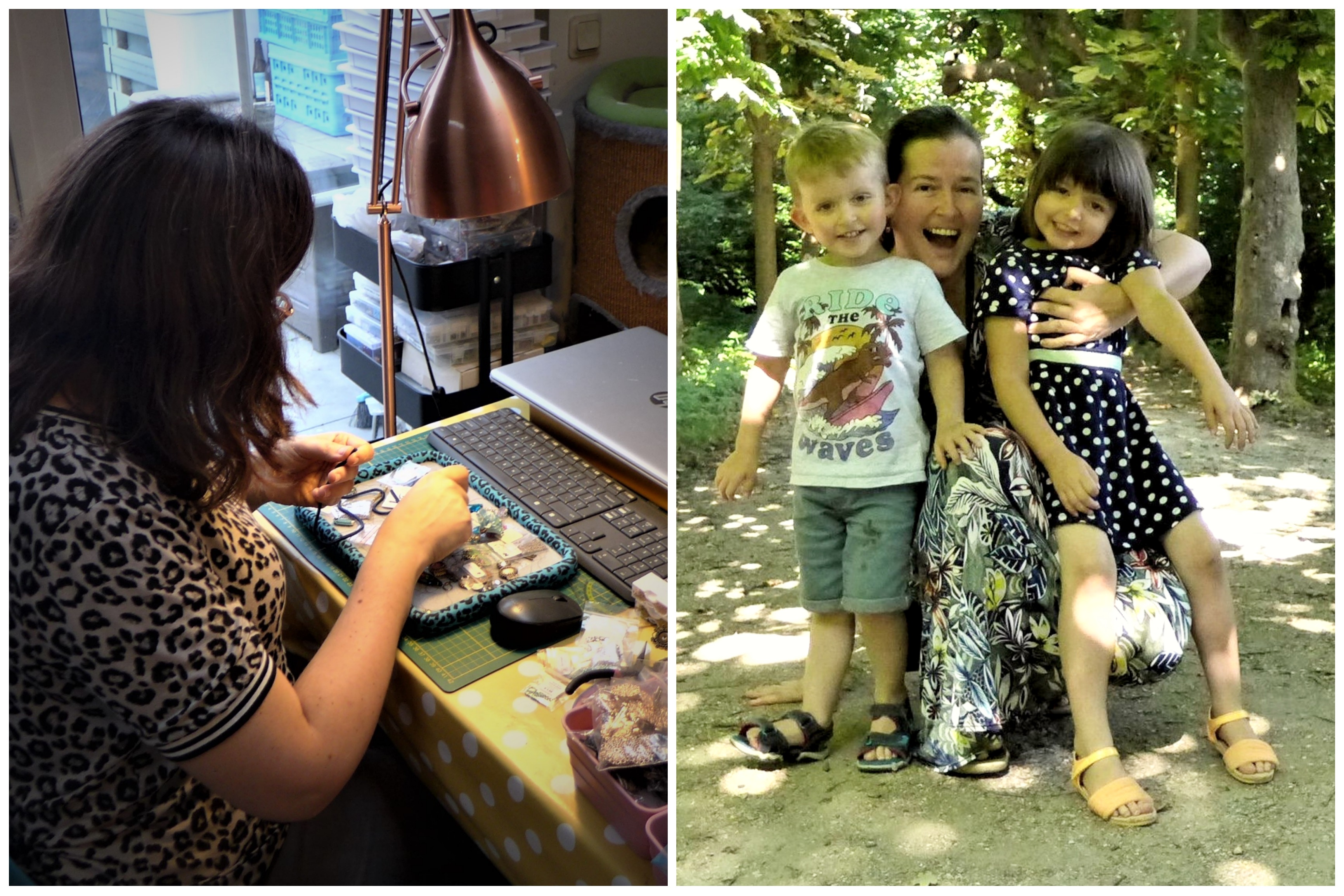 What is your favourite stitch? Which colours do you like the most? On the other hand, is there any colour or colour combination you try to avoid?
If push comes to shove, then this has to be peyote because I started with it, it's never boring and you can incorporate it into so many other jewels 😊
I like a lot of colours, but my favourites are ocean colours: blue-turquoise-sand, and also the soft romantic colours: pink-purple-opal colours…I'm actually not such a fan of black or white, but in combination with brighter colours, do not mind using them.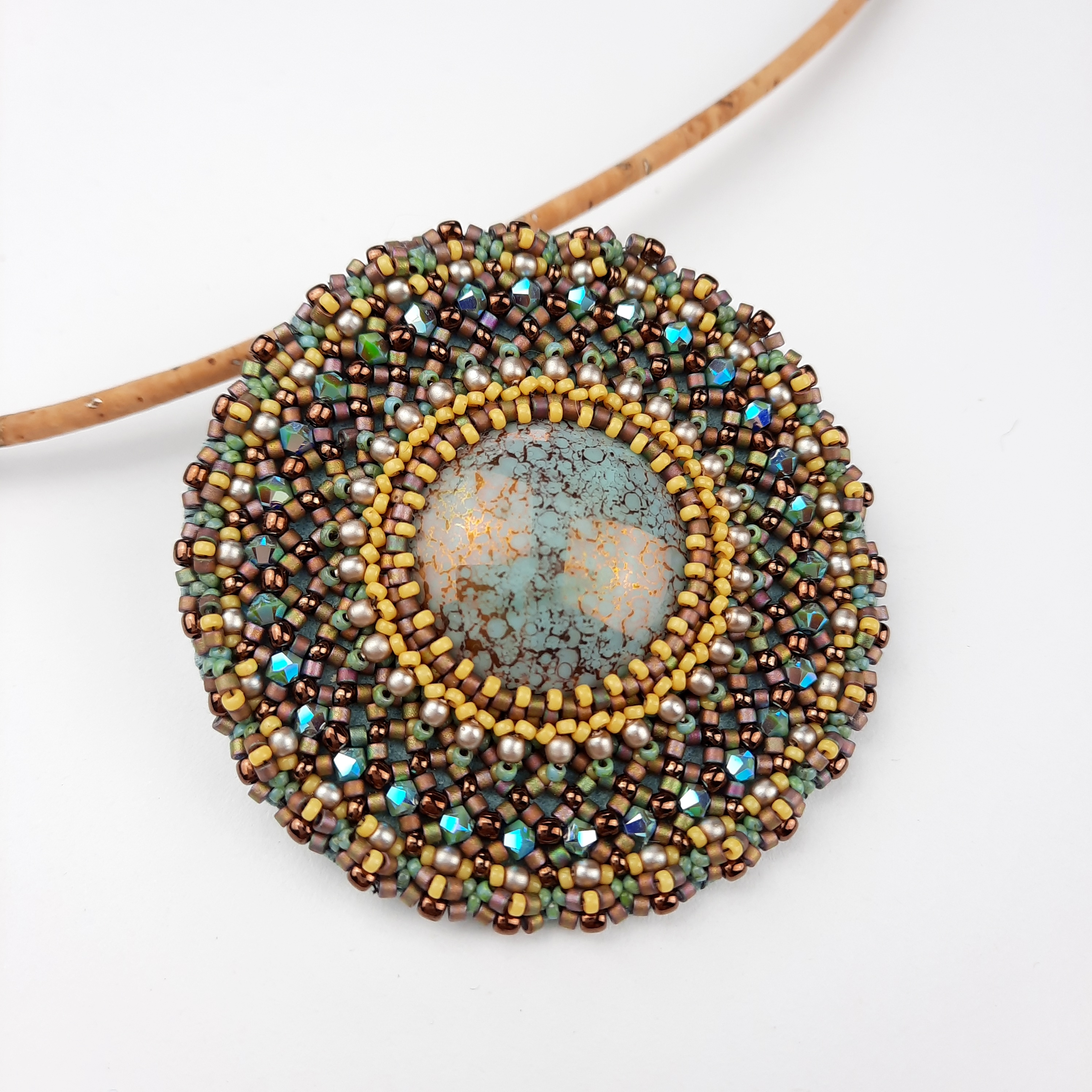 Do you follow instructions or do you like to develop your own designs? How would you define your style?
In bead weaving I'm more inclined to, first, follow the instructions and then, when I get an idea, coming up with my own creation based on the same concept. This will depend on the style of the jewel obviously. This could be as simple as simply adding to the design.
With bead embroidery, I usually try to create something from scratch. I have no idea how to define my style, this is a tough question. I would say dreamy, romantic, colourful and intuitive…but one thing is certain: it needs to pop!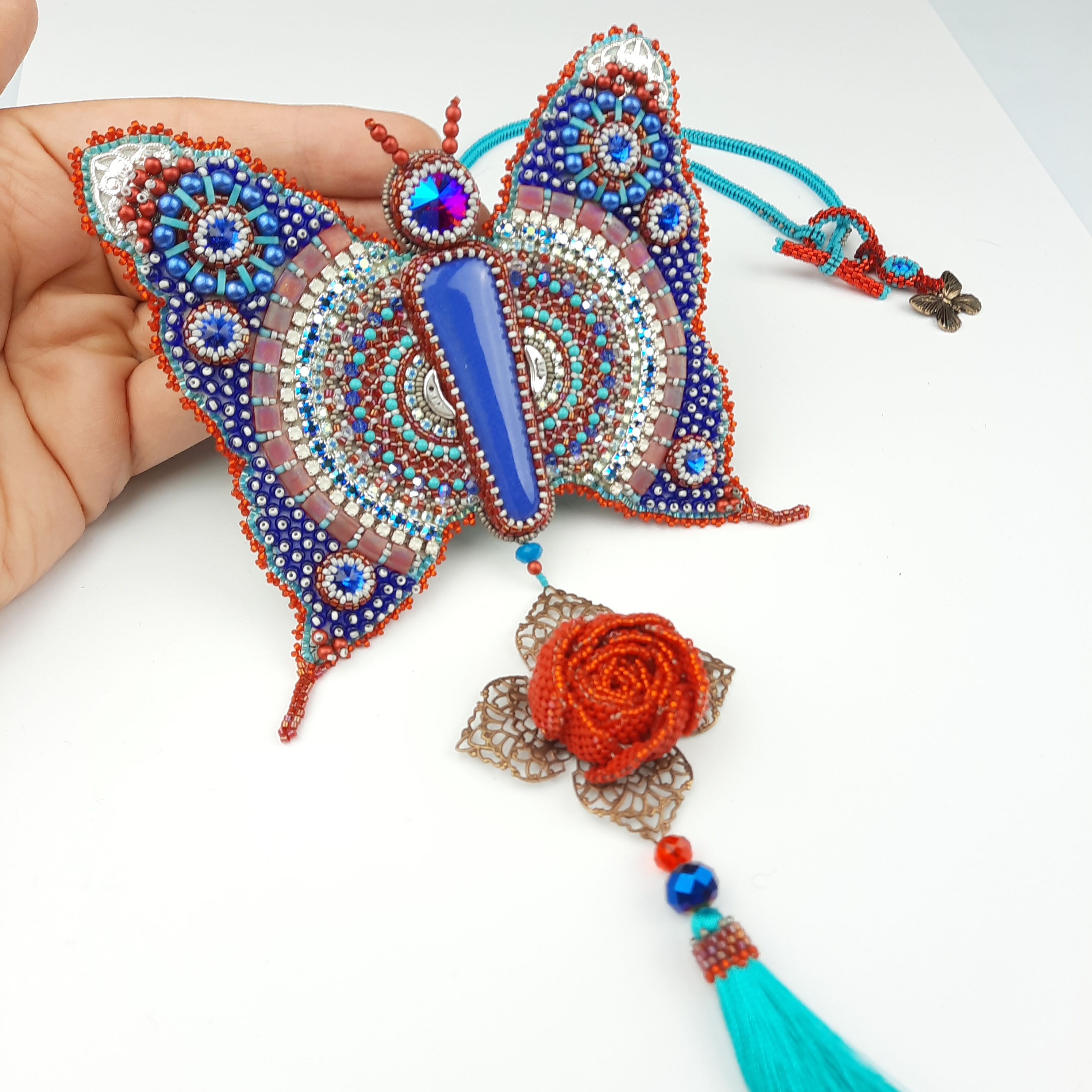 Who are your favourite designers? Why?
My favourite is Erika of course because I love her style and her colours. Her patterns are well explained and there is always a story behind it which she always shares, which makes her unique in my opinion.
I'm still in the learning phase, so I'm also getting to know other designers. One is Cliff Swain-Salomon, he is a very nice guy and his designs are so realistic and so detailed that it's borderline scary. I also like the designs from Cora Sparidaans, because they are also very well written and Cora always comes up with the most intriguing concepts (e.g. mystery pattern, reverse-mystery pattern,…)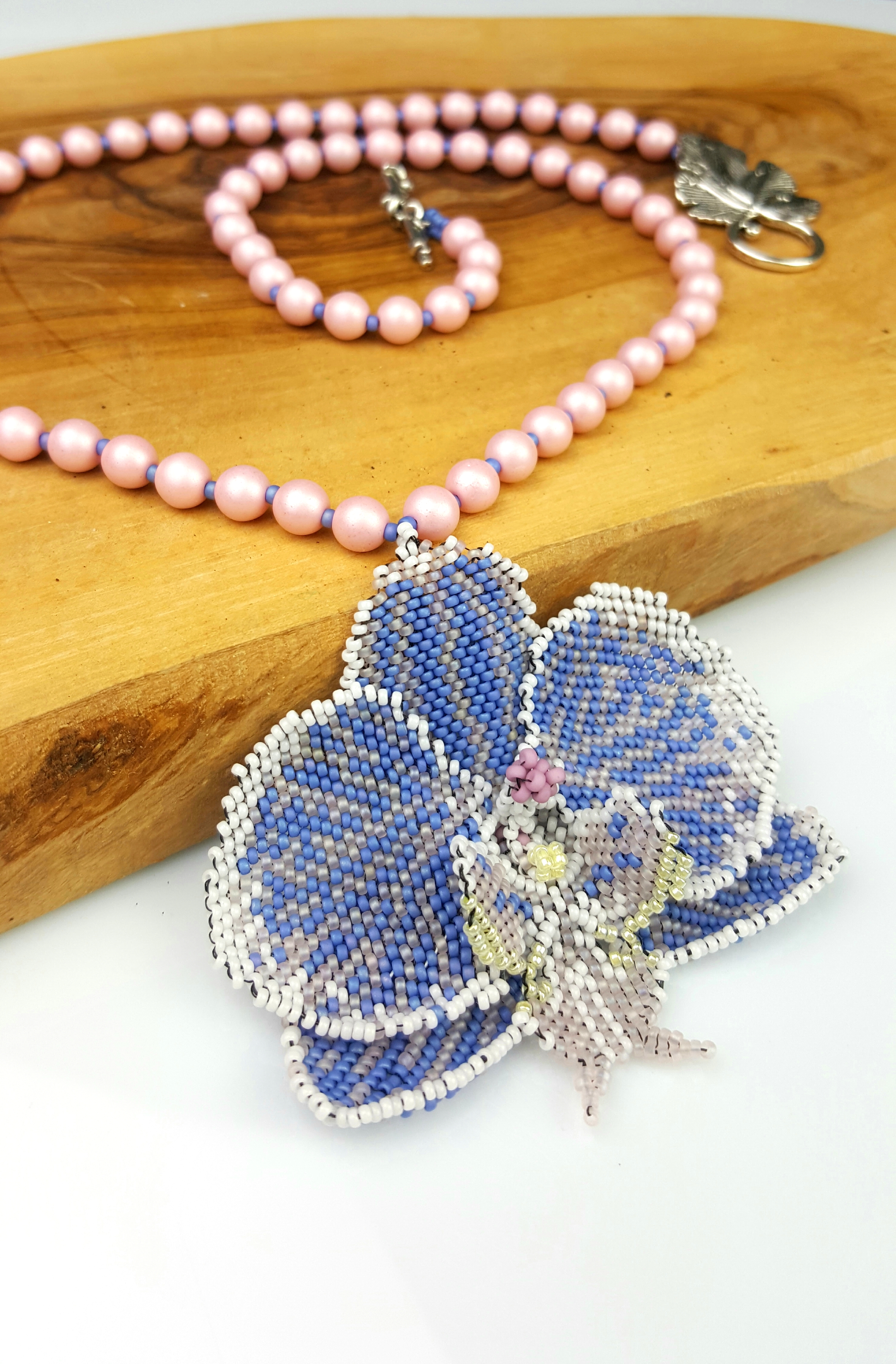 Do you have a favourite design by Erika? Tell us about it!
That's a tough question, so many to choose from! I'd say Sashiko because of its intricate design. Alina & Archangel & Estrella for being outrageous and over the top.  Lemonade because of its use of filigrees and tassels. Tuschinski because I really love the Art Nouveau style and, finally, Cloë and Acantha for the Mandalas. But, I also like very Gemstone Rose and Alicia's Flower because they are beautiful simple designs and, no matter which colours you choose, it always works!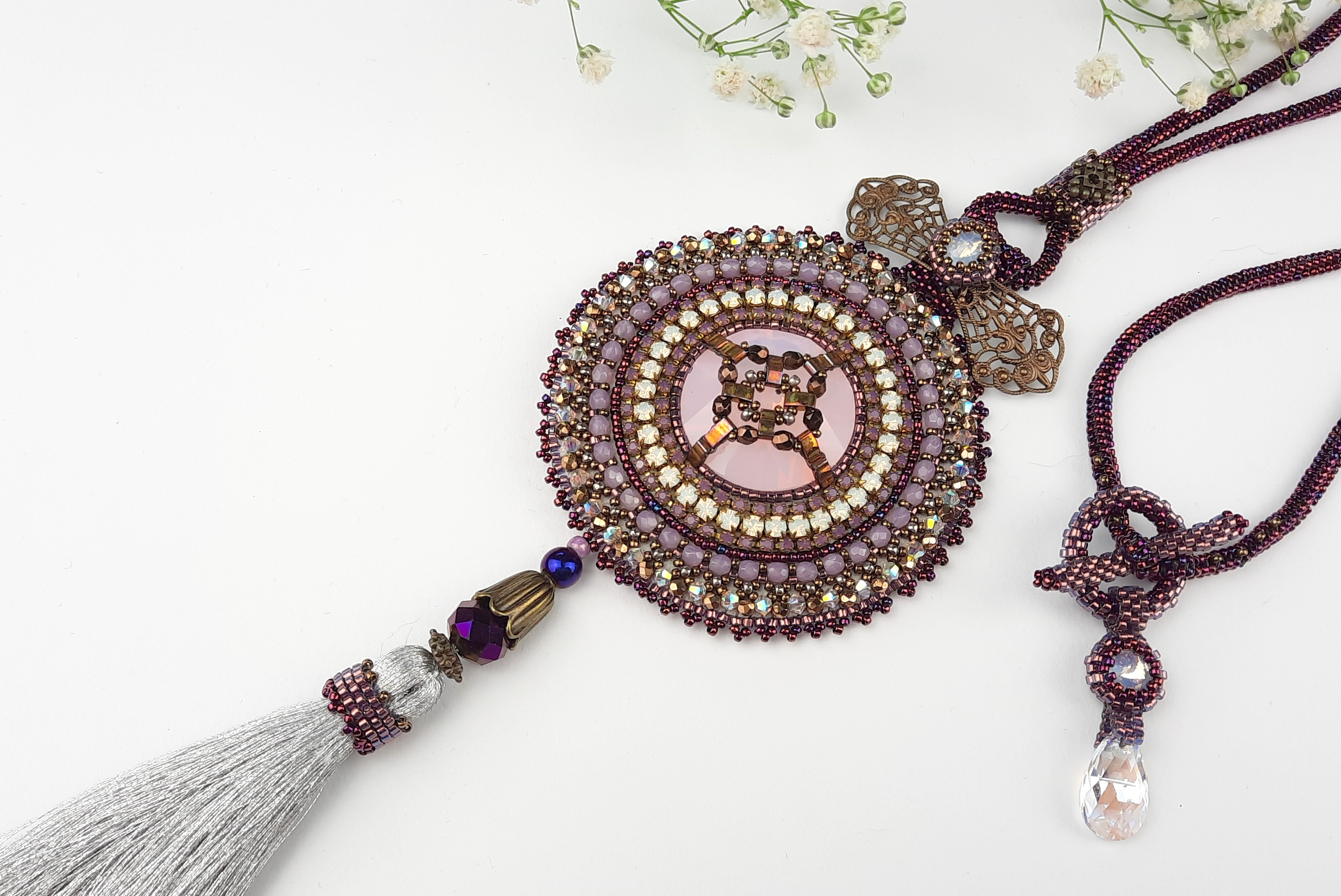 Which is the component in your stash you treasure the most? Do you already have plans for how to use it?
My art cabochons by Beadingschool – L2Studio Cabs! At the moment it may look like I went into cornering the entire cabs market, but I have started to incorporate them more and more. They really deserve to be put into a jewel because they always give it that extra dimension.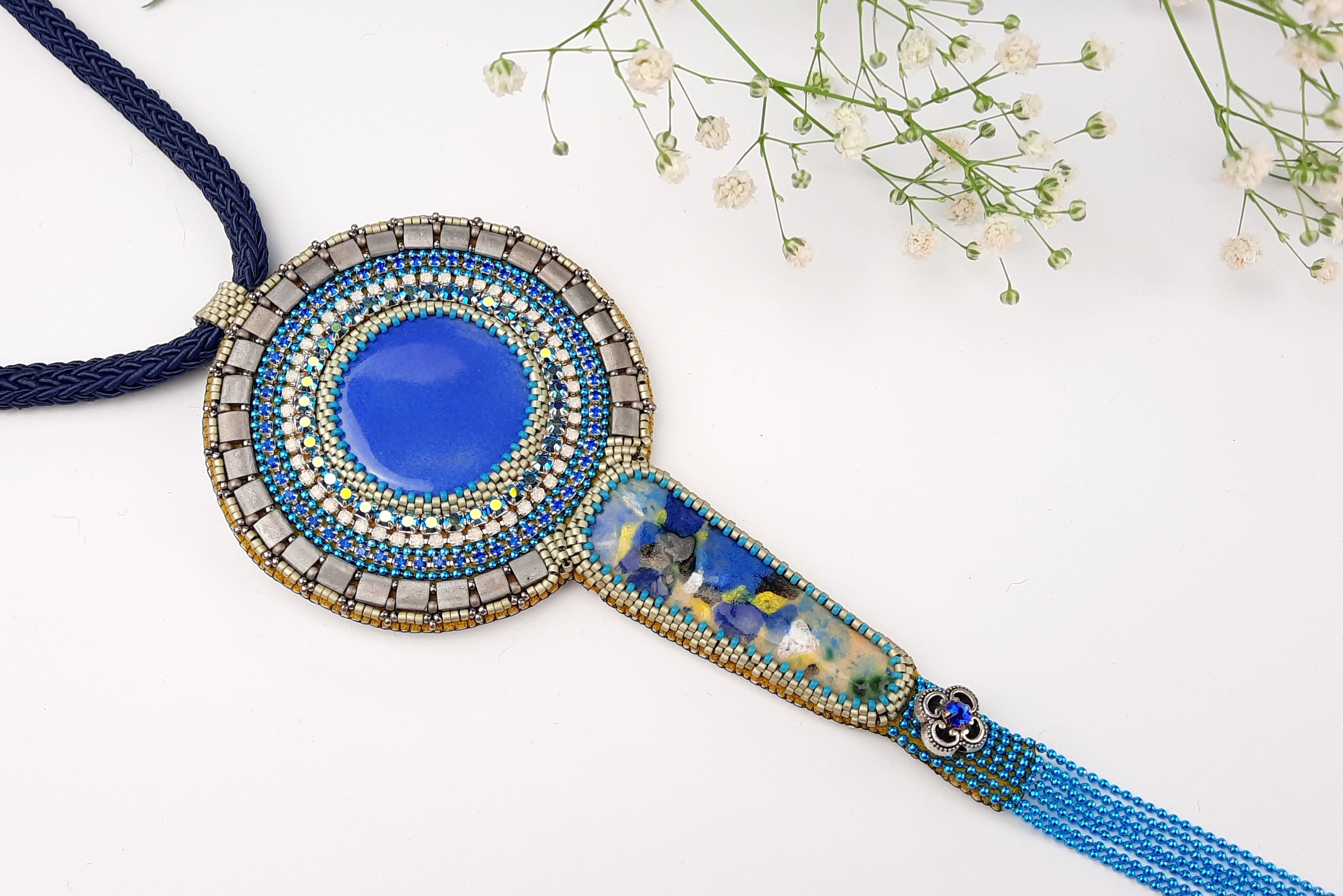 If you could design something for a well-known person or maybe a fictional character from a film or book, who would it be, and why?
I would choose Queen Maxima because she likes to wear eye-catching jewels and long earrings. As she is photographed a lot, it's a great way to promote your own jewels. But I guess this is just a dream…
Alternatively, a bespoke jewel for Max Martini (my secret crush – approved by my partner) would be great!
What are your plans for the future as a beader? Is there something you would really like to learn?
I think I still need to learn a lot, but my plan is more to achieve my own style. Apparently, I already seem to have one but do not see it myself.
This is logical, whatever comes naturally to you is an expression of who you are as a person. Consequently, whichever piece I create is only an interpretation of what I feel most at ease with and I would never question its origins.
There is still a lot of fine-tuning and hard work to be done. This is true for any activity you undertake after all and, as they say in French:

"Patience et longueur de temps font plus que force ni que rage." – You need to do things step by step without forcing yourself. Doing things quickly doesn't bring anything.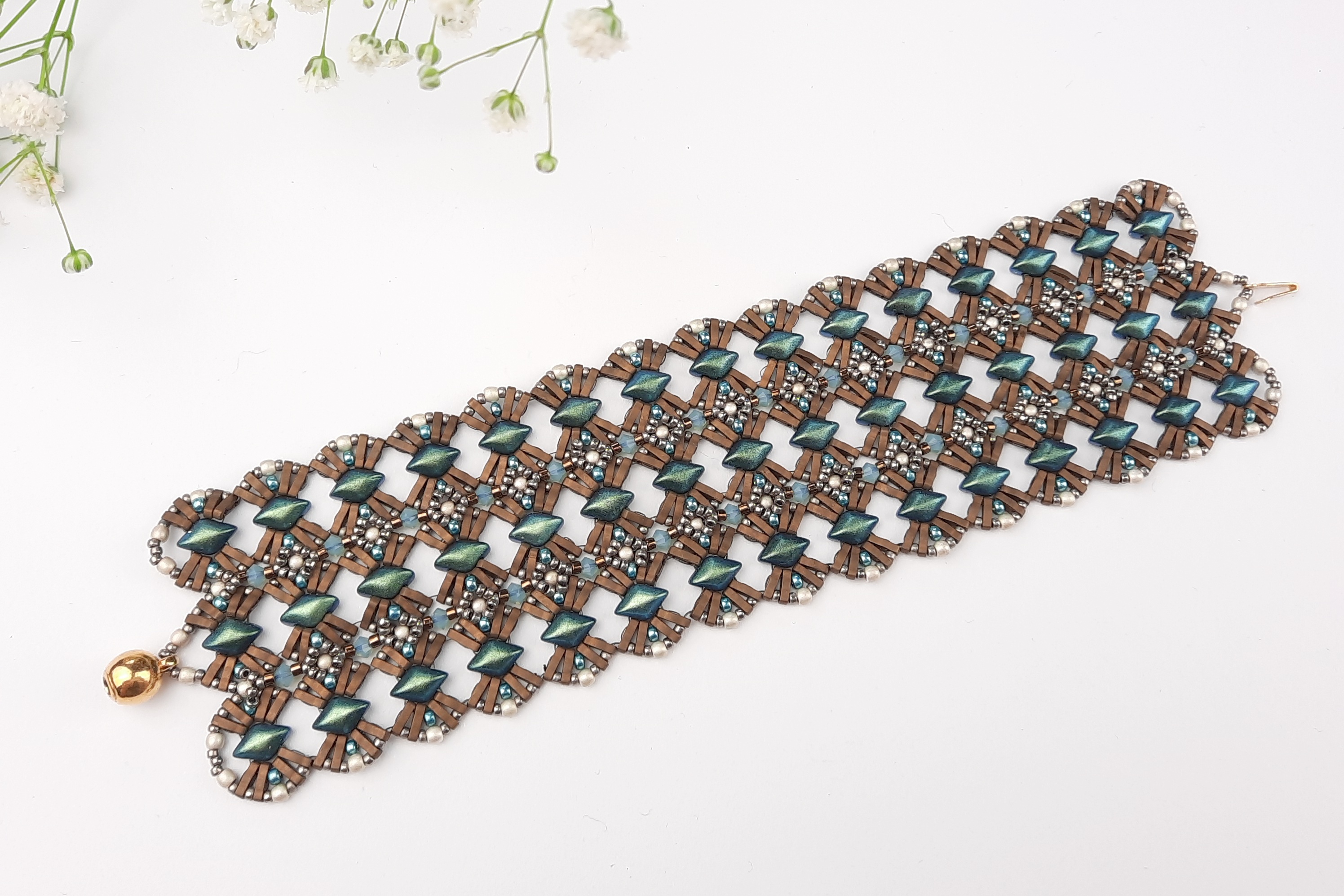 Where can we see and buy your designs?
You can find them on my Facebook or Instagram pages. I'm planning to keep them more up-to-date, but I'm always lagging behind when it comes to taking pictures. I prefer to bead after all! An Etsy shop might come in the future, but, at the moment, I just want to showcase my collection and also keep on enjoying the discussion and chats together with my fellow beaders!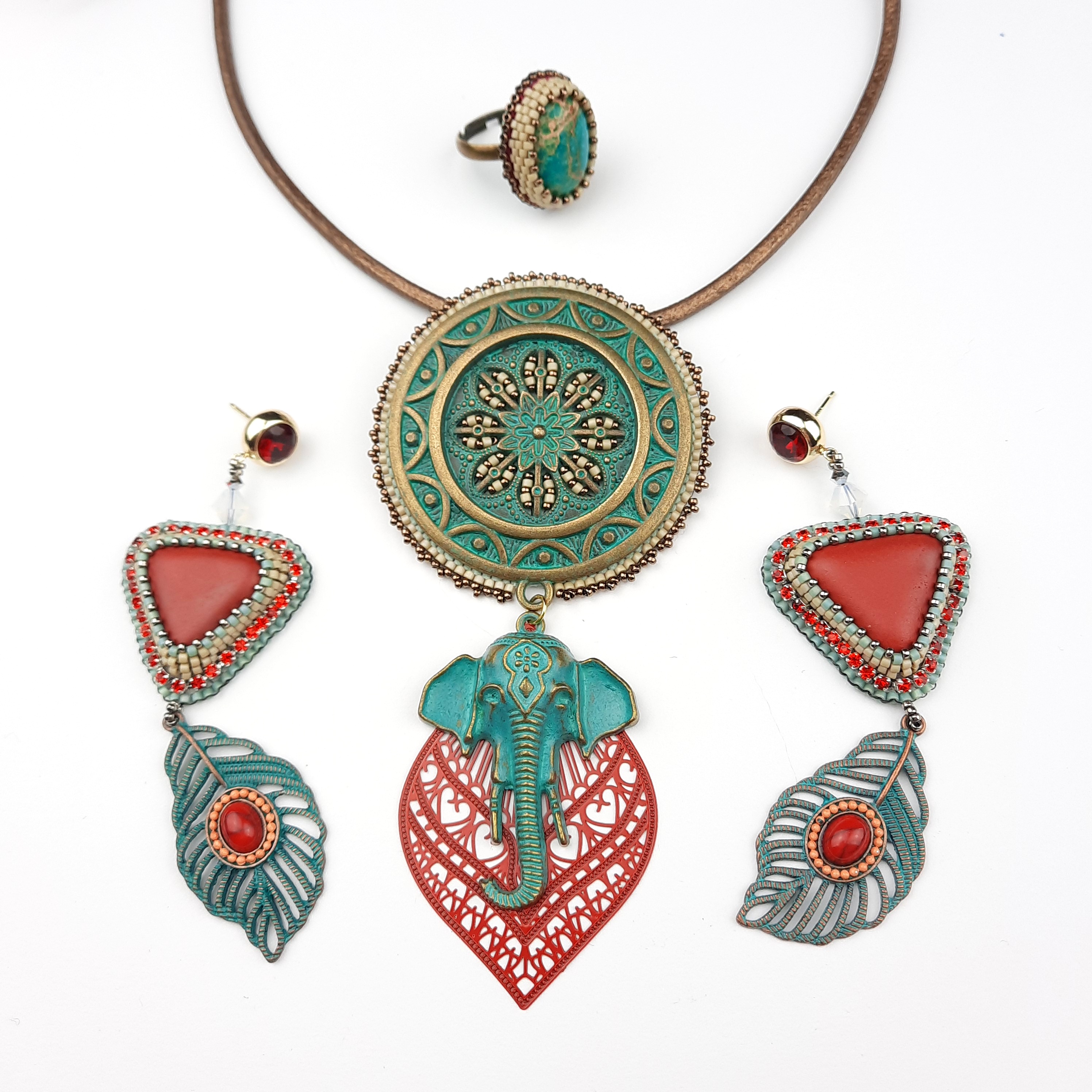 Thank you for answering my questions, Annelien!
Dear friends, you can use the comment section if you have more questions you would like to ask, or greet Annelien.
Stay tuned for more interviews for Beadingschool.com by Erika Sándor!