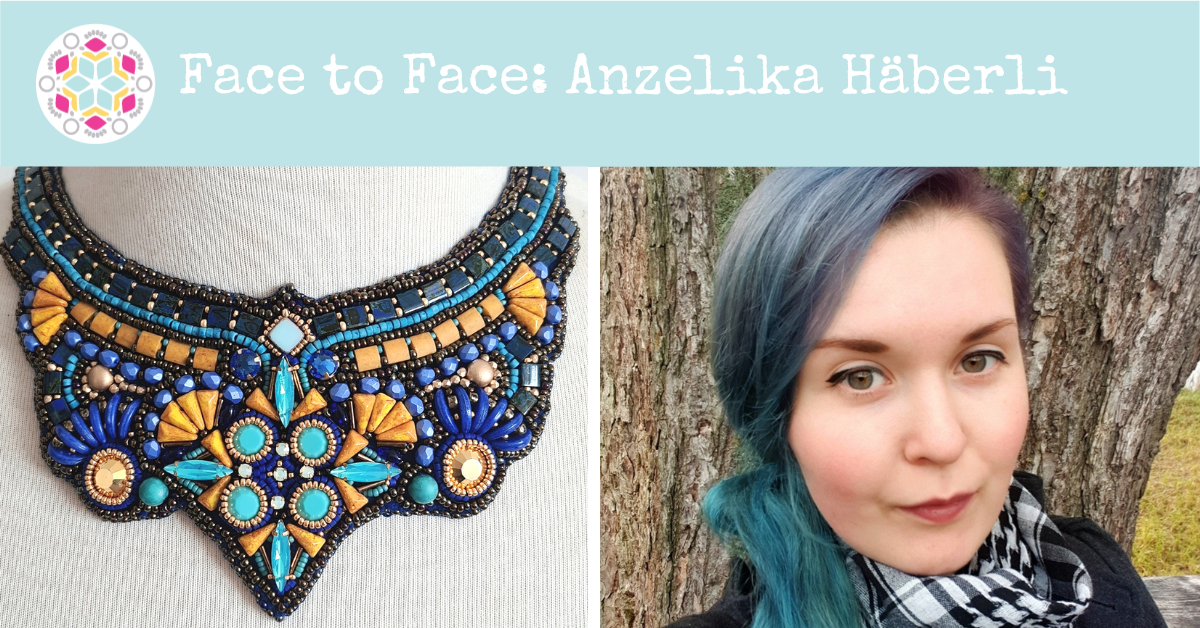 Face to Face: Meet Anzelika Häberli
The last Thursday of the month is here and we dedicate it to the new Face to Face interview with our fellow beaders and designers! We're all part of the community and beading world, where we're connected through love and passion for beads and creating. We often see the photos of the finished jewels, but want to know more about the person who made them 😉
Not so long ago, all of a sudden a strike of energy and fresh breeze hit the Beadingschool Club! It was a pretty fast and very exciting ride, blowing us away with the creativity, humble and friendly soul and lots of laughter. We love her for all the help and advice she provides to other beaders, small gifts to the community as an act of kindness and beautiful jewelry (of course!).

Meet the Beadingschool Club member, creative force and kind heart, Anzelika Häberli!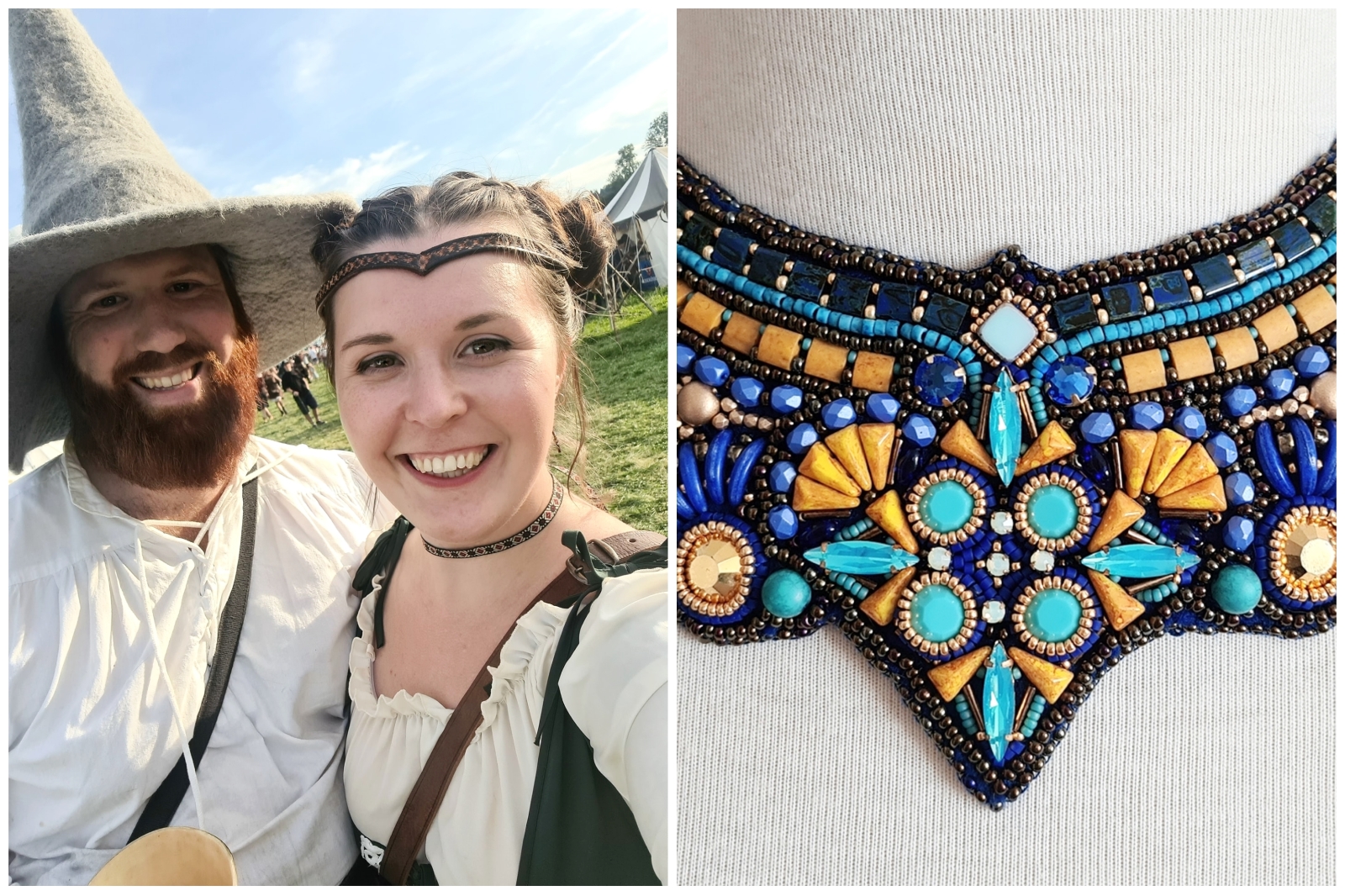 Please tell us about yourself a bit! When and how did you start to create? How did you learn to bead?  
I'm originally from Estonia, a very small country in the Baltics. In 2019 I moved countries to follow my heart which very adamantly led me to a certain ginger-bearded man from Switzerland. We got married, bought a house and filled it with laughter, cats and well..  beads!
My beading journey started in highschool and actually via wirework first. A friend of mine was wearing wire chandelier earrings that immediately caught my eye. When I asked where she got them, her face lit up like a Christmas tree, exclaiming: "I made them myself!". That impressed me so much that I raided my local craft shops the very next day, stocking up on pliers, copper wire and glass beads. I experimented with wirework for the following weeks but was more frustrated than anything. My bloody fingertips and broken nails profusely protested this method of jewelry making. I thought in anguish: "There must be a way to create jewelry and have a manicure at the same time!".
I then walked past a Bead&Button magazine at the supermarket and noticed an intricate beaded medallion on the cover – with no wire in sight! I took the magazine home and inhaled it front to back, marveling at what's possible with beadweaving. I learned basic stitches and simple peyote projects from the magazine and a few library books I found on the subject. As my English improved, I started to search for beading materials online and at that point there really was no turning back – I was hooked! 
As I watched tiny seed beads come together to intricate motifs, something profound clicked in me. My ADHD often causes me anxiety and difficulties concentrating. While beading though, the world suddenly made sense. Beading was and remains to this day the only thing that can completely soothe me and help bring order to a chaotic mind. 
Other than beading I also enjoy occasional roleplaying and LARPing. Sometimes it's going to a medieval market all dressed up, sometimes it's going to a LARP where you stay in character for the whole weekend. My next one is in January 2023 where a full castle in Poland is dedicated to Game of Thrones and the council of selecting the next king. Will definitely bead something intricate for myself for that occasion!
Is beadwork your hobby or profession? How does your average day look like? When do you have time to create?   
It's definitely a hobby. There was a time where I attempted to sell my jewelry and it was a very demoralizing experience which most crafters can probably relate with. I just don't want to put myself in a position where I have to justify my workhour costs (especially since I live in Switzerland). So I made peace with myself that beading is a money sink and I do it purely for the joy of creation 😉
Tell us about the piece of jewelry you are the most proud of! 
I think it may actually be the necklace I made for the Jardin Majorelle mini challenge. It was my second bead embroidery overall and first choker-necklace design. I had constant anxiety during the creation, worrying about how free-form it all is and whether it's symmetrical etc. Once done though, it was exactly as I imagined it. Collar piece with bold colors and Egyptian/Moroccan design influences.
Where do you like to create? Do you have a designated area in your home where you keep your beads? Can you show it to us? 
Just recently we repurposed a whole room in our house to be my craft den! I had so much fun painting the walls turquoise and cutting wood with my husband to make extra shelves to my bookcase that contains all my treasures.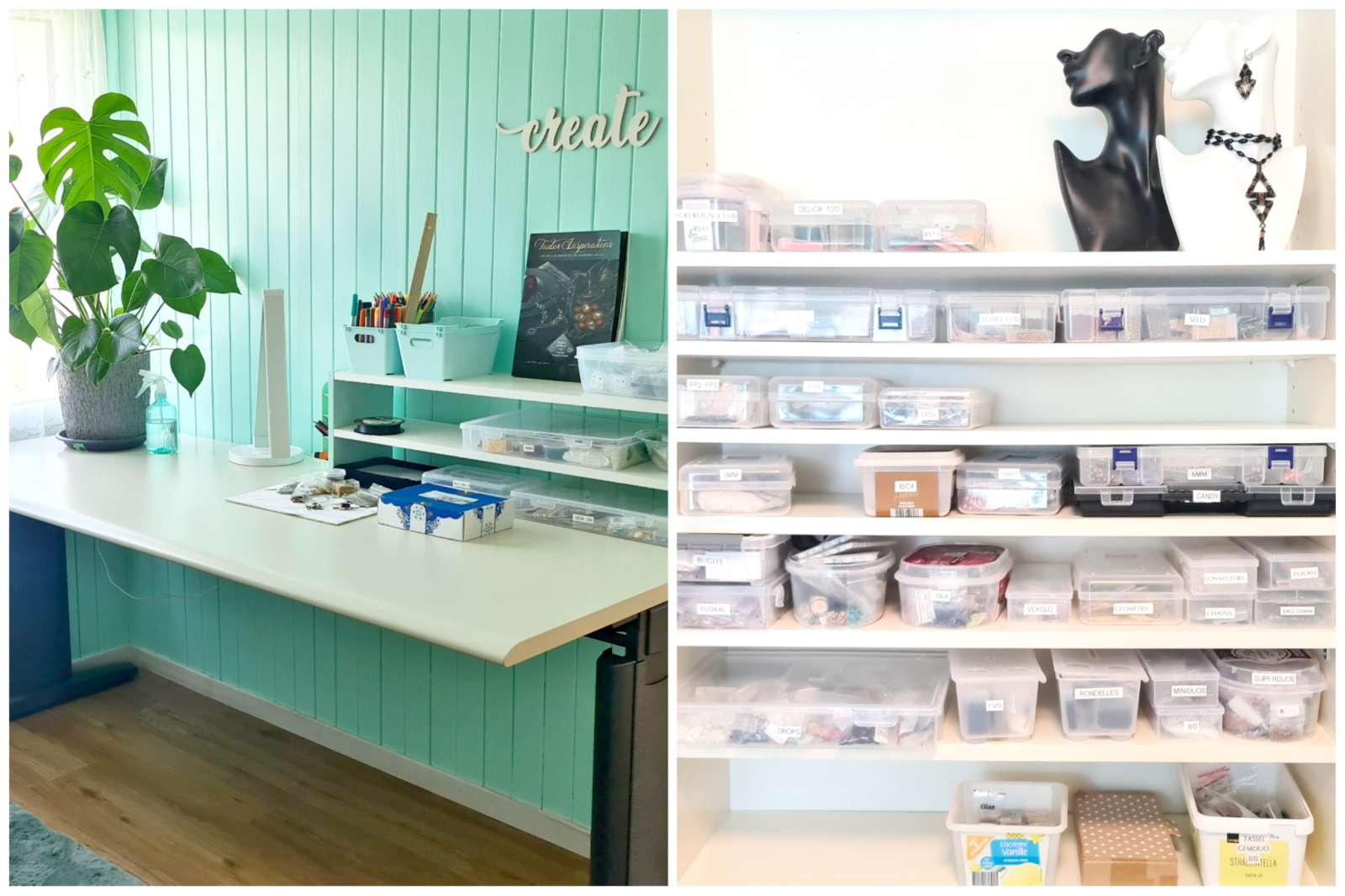 Do you follow instructions or do you like to develop your own designs? How would you define your style?  
I like following diagram instructions because then it's a well outlined project with a definitive end and a gratification moment. But there's this creative bug in me that urges to make something of my own to "really call myself a beader". So it's a constant state of tug-of-war between following instructions and making my own depending on the mood.
What is your favourite stitch? Which colours do you like the most? On the other hand, is there any colour or colour combination you try to avoid? 
Peyote is my favourite because it builds up quickly and allows easy geometric shapework. As for colors, I adore the mix between metallics, greens (especially Patina Iris) and grey, demonstrated by the Terra Meteora colorway. Though Dolce Vita and Majorelle theme boxes have helped, I'm still not friends with yellow and orange though, a sentiment that many fellow beaders probably share. Poor sun!
Who are your favorite designers? Why? 
Ooh, so many… well, obviously Erika! Her eye for mixing metallics, matte beads and chatons is what brought me to the beading school in the first place. My whole Pinterest was full of her designs so after a while it became clear I need to sign up. Also a large amount of Zuzi's patterns really go right up my alley, you go girl! After the Great British Bead show I also have to add Heather Kingsley Heath and Melanie de Miguel to my list of idols. Melanie taught me how to make your own "custom filigree" bases to create awesome Art Deco vibe jewelry by quilling. Heather's eye for elegant and flowing organic designs has no comparison. I'm in the process of booking an alpine retreat with Heather in October, super excited! I also like Liisa Turunen's geometric designs and the CRAW queen Marcia De Coster.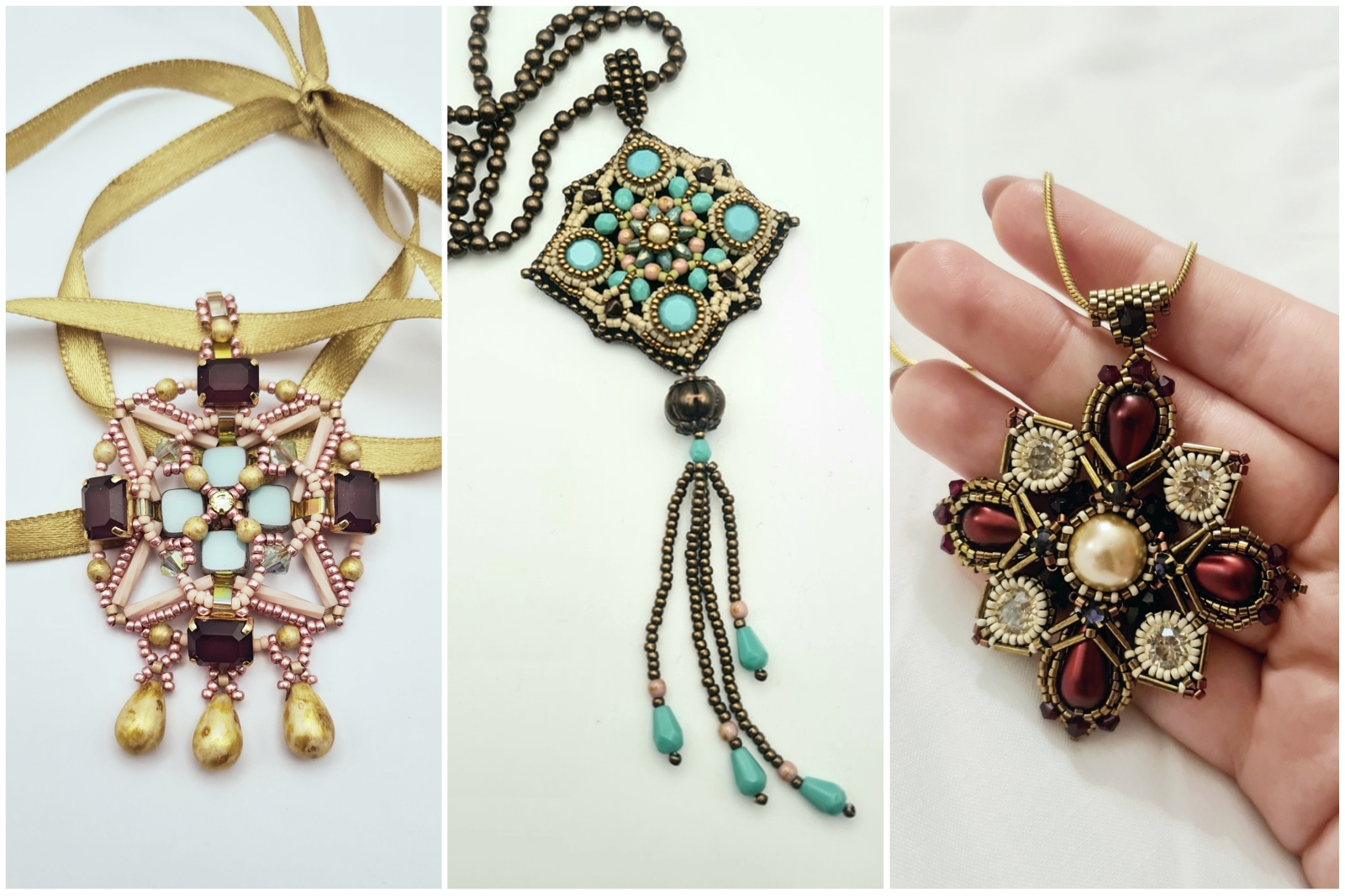 Which is the bead / component in your stash which you treasure the most? Do you already have plans on how to use it?
I have these gorgeous 1.5mm cup chains in different colors that beg to be used but I honestly have no clue. They'd be ideal for an earring fringe or to connect motifs in a necklace. Waiting for the inspiration to strike!
Do you have a favorite design by Erika? Tell us about it!   
Adelaida! I remember getting super excited over it before the Advent Calendar event since it's otherwise a workshop-exclusive design. I've made 3 of them so far but I have a feeling there's more coming. It's just so much fun with all the quarter tilas!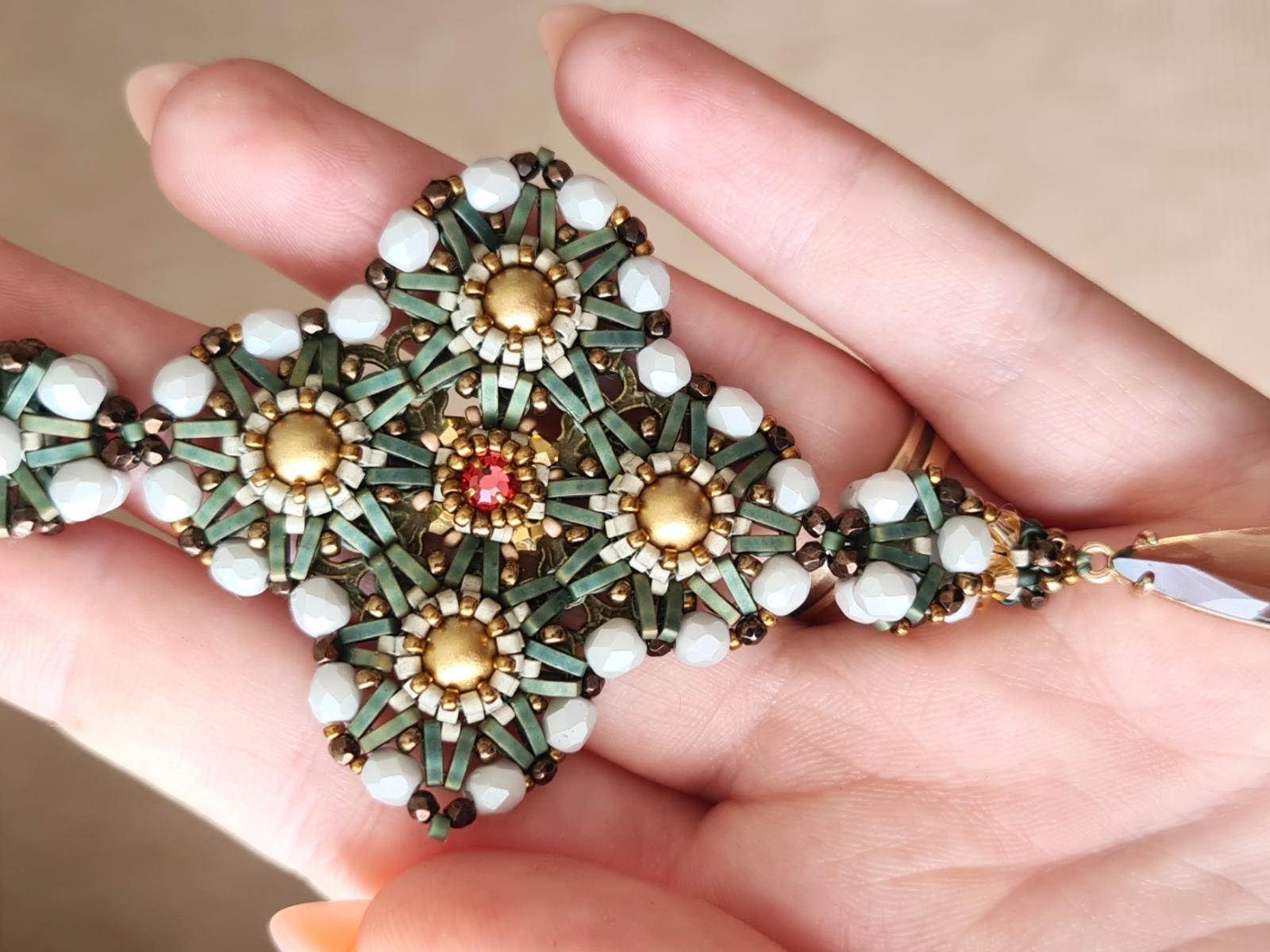 If you could design something for a well-known person or maybe a fictional character from a film or book, who would it be, and why? 
I'm a fan of the Tudor era aesthetics so I'd have to go with Anne Boleyn, and perhaps more specifically, Natalie Dormer who portrayed her in the Tudors TV show. Would love to design an opulent necklace as a token of affection from Henry.
What are your plans for the future as a beader? Is there something you would really like to learn? 
As our club members may already know, I've recently tested the waters lately with pattern creation. When my very first Meteora kit was so warmly welcomed at Beadingschool it injected the seed further so I may actually dive deeper into designing and pattern creation! As for learning, I'd like to learn how to focus long enough to complete/design a necklace piece. Seems like my attention span runs out after the first motif 😀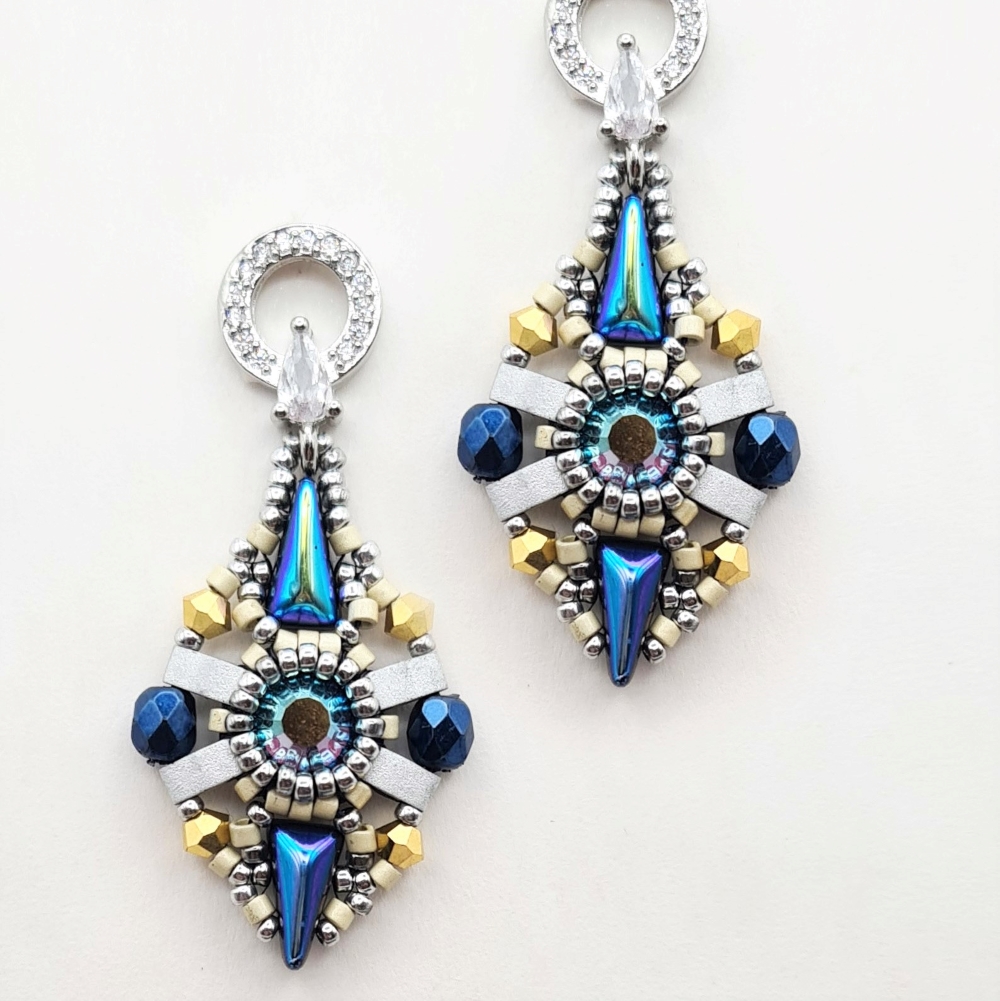 Where can we see and buy your designs? 
I'm happy to be listed in the Beadingschool Designer Zone with my Meteora. You can find some of my small designs in the Beadingschool Club as a gift. I also recently made an Etsy page but haven't really promoted it anywhere yet since it only has 2 designs: etsy.com/shop/AnzuBead. But who knows, it may get busier in the future 🙂 
Thank you 🙂

Thank you for answering my questions, Anzelika!
We all are happy you are beading with us and inspire us with all the energy and your beautiful jewelry!
Dear beading-friends and beadwork admirers, please, use the comment section if you have more questions you would like to ask, or greet Anzelika.
Stay tuned for more interviews for Beadingschool.com by Erika Sándor!
Reader Interactions