Face to Face interviews with our fellow beaders and designers are back! We're naturally curious to meet and know more about people in our community, to learn more about them, their life as a person and beader, inspiration, plans. This time we looked into our Beadingschool Club and asked for an interview.
Do you know the feeling, when you think "Hm, ok,…I've seen that, nothing can surprise me", and then there's a new beaded jewel that takes your breath away! It doesn't have to be big in size, but it is fresh, full of new ideas, interesting components and it plays with your mind.

Meet our Beadingschool Club member and fantastic beader, Deb Taylor!
We're very happy Deb is part of our community. Her jewelry often leaves us amazed. She likes to use colors and is not afraid to think outside the box. Each component is added wisely and creates balance. If you ever look at driftwood on the beach and you think it's not useful, you should change your mind. Deb is able to mix it with beads and create an amazing necklace! Come, let's meet her!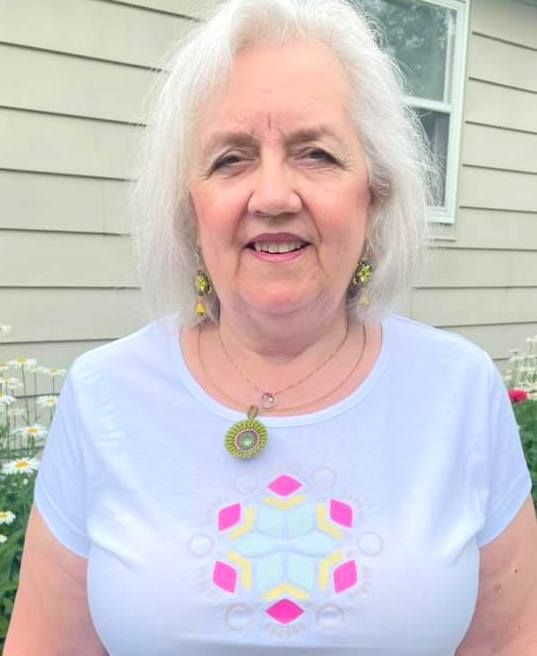 Please tell us about yourself a bit! When and how did you start to create? How did you learn to bead?
I was 15 years old when my parents took us to a museum in Northern Arizona. There was a Native American lady and she was demonstrating beading. I was so enthralled with her I never saw the museum just stood and watched her bead. I told her I would like to bead as well one day. She said: "Do you really think you will do it?" My answer was "Yes", and she said "Good for you".
I started making basic necklaces and bracelets in the 70s and I took silversmithing classes during high school and college times. I really enjoyed it. I went to the craft store and purchased a beading book, thread, needles, beads a few years later. I proceeded to make a pair of earrings. One earring took me 6 hours! That book was for advanced beaders, and it was printed in black and white. I pushed forward anyway and I still have that pair of earrings as a reminder I could do it.
I also love to go to one of the lakes here in Michigan when my husband gets time off. We walk the beach looking for driftwood, rocks, beach glass, and enjoying the time out in the sun. I do lots of crafting and scrapbooking when time permits. I also enjoy walking downtown and taking photos. I love seeing how people decorate their houses and I love taking pictures of the new sculptures in town. I collect anything with a Mickey Mouse theme – somehow I fell in love with him and beading around the same time so there is a special connection.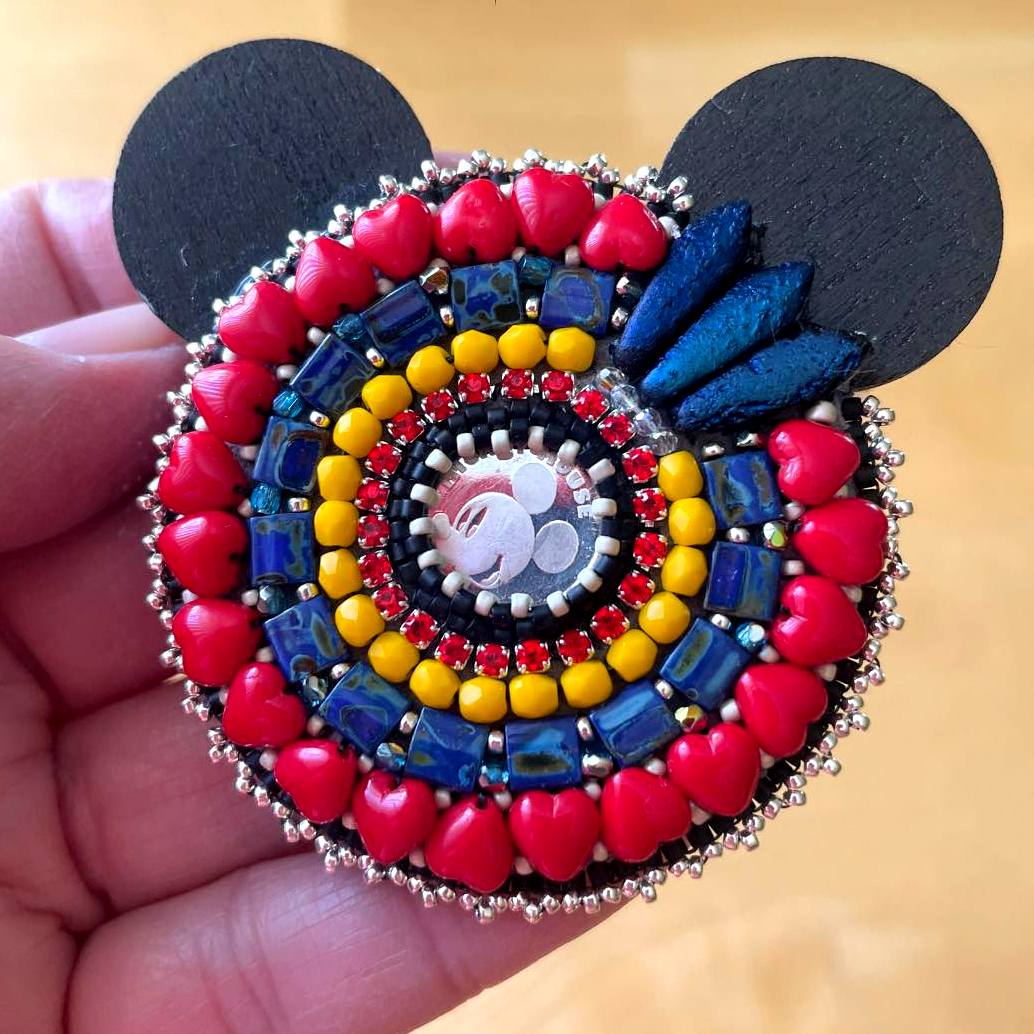 Is beadwork your hobby or profession? How does your average day look like? When do you have time to create?
Beading is my hobby, but I always wanted to do it as a profession.  Life turned a bit differently. I worked, had kids. At one point I worked 80 hours a week and visited my mom in the hospital between jobs. Anyway, I always took my beading with me. Now I try to bead daily during the week as I just retired a little over a year ago. This is new for me and sometimes it's really hard to realize I can bead whenever I want. I don't bead during late nights anymore as I was making too many mistakes. Sunday is my beading day because my husband usually cooks dinner and I have all day and night for creating.
Tell us about the piece of jewelry you are the most proud of!
I made two necklaces, but I am not sure who the designer was. I just learned how to do peyote stitch at that time and I loved how they felt in my hand as I was beading. One is of a Santa bag that is big enough to hold your glasses, and the other is a beaded set of children playing and swinging.
I love them both but the motif with children is really close to my heart as I worked for the school system and was around the little ones for a long time.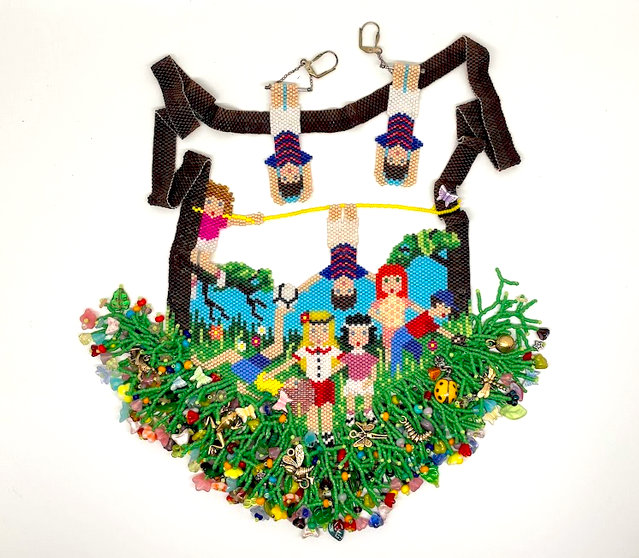 Where do you like to create? Do you have a designated area in your home where you keep your beads? Can you show it to us?
I bead in the upstairs attic. It has a window and I can look out of it as I bead. I like when it is snowing or raining and I can watch the birds land on the roof. I have all my things around me within reaching distance and it is almost always scattered with beads books and papers everywhere. I really don't know how I can create – it's so crazy most of the time.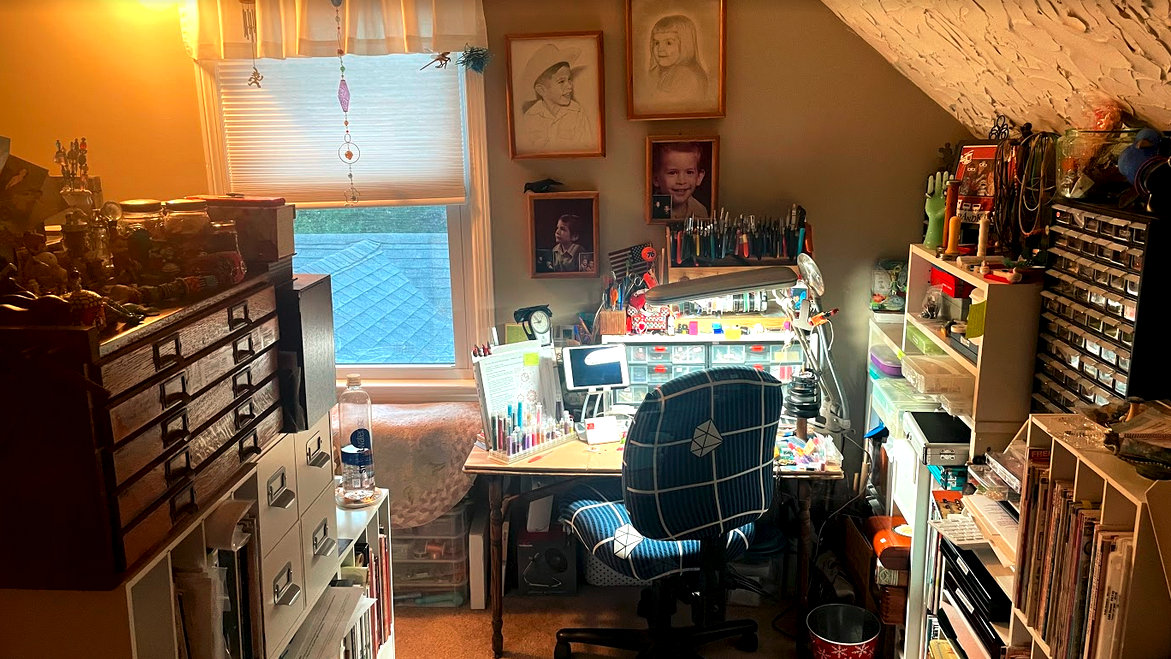 What is your favorite stitch? Which colors do you like the most? On the other hand, is there any color or color combination you try to avoid?
I have to say my favorite is peyote stitch. Once I learned it I just took off. My favorite colors are dark blue, red, pink, and purple shades. I try to use other colors too, but I noticed I stay away from brown and black. I love working with bright cheerful colors.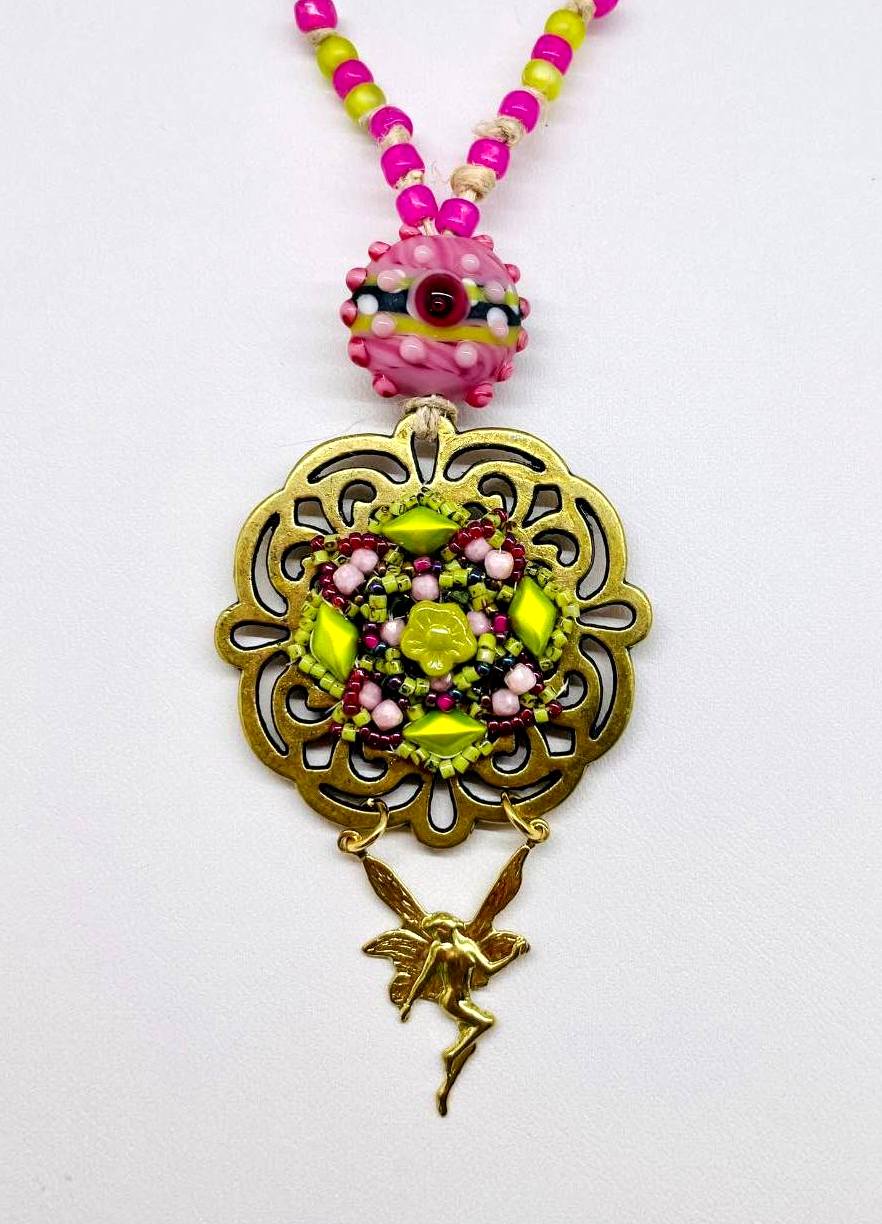 Do you follow instructions or do you like to develop your own designs? How would you define your style?
I have made a few of my own designs, I mostly follow patterns. My style is a bit of everything and I love to try new things. I have to confess I do better visually than reading instruction.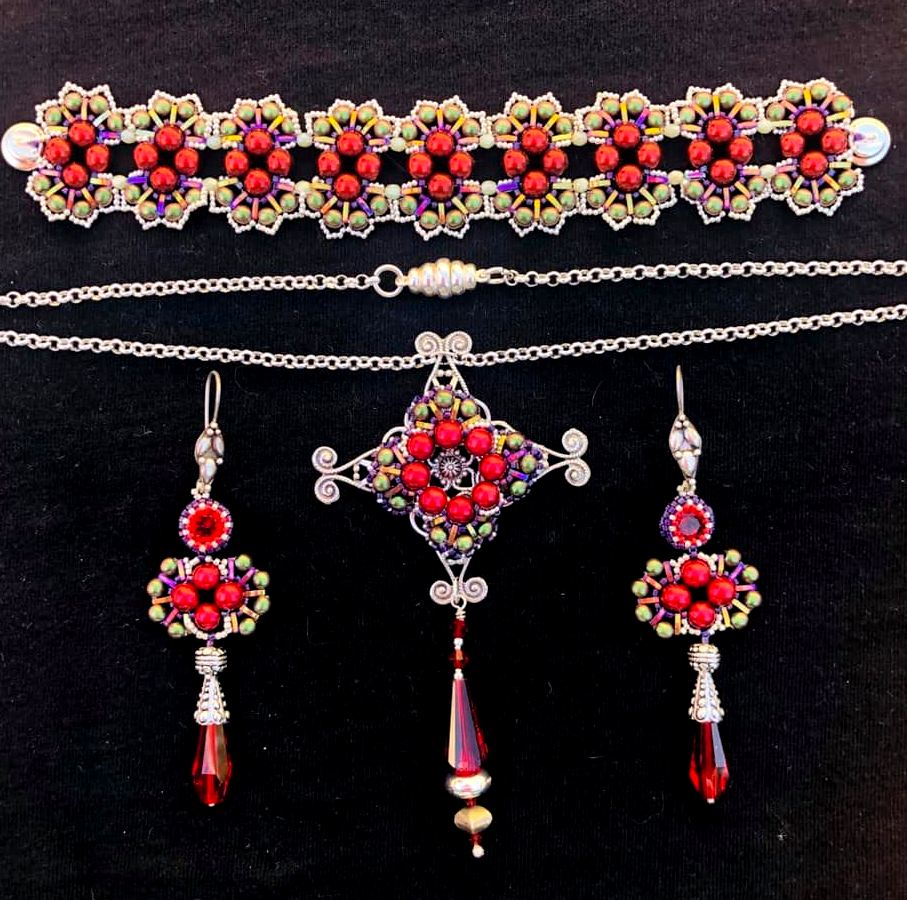 Who are your favorite designers? Why? Do you have a favorite design by Erika? Tell us about it! 
There are so many good designers that it would be hard to name just one!  The truth is, I tend to lean toward brighter and cheerful colors.
I love many of Erika's patterns. I don't think I would have learned there was such an array of stitches you can do if it wasn't pandemics and her
Traveller
series in Seed Beads and More group last year. It is a hard time choosing what to wear, but
Shooting Star pendants
are my most favorite.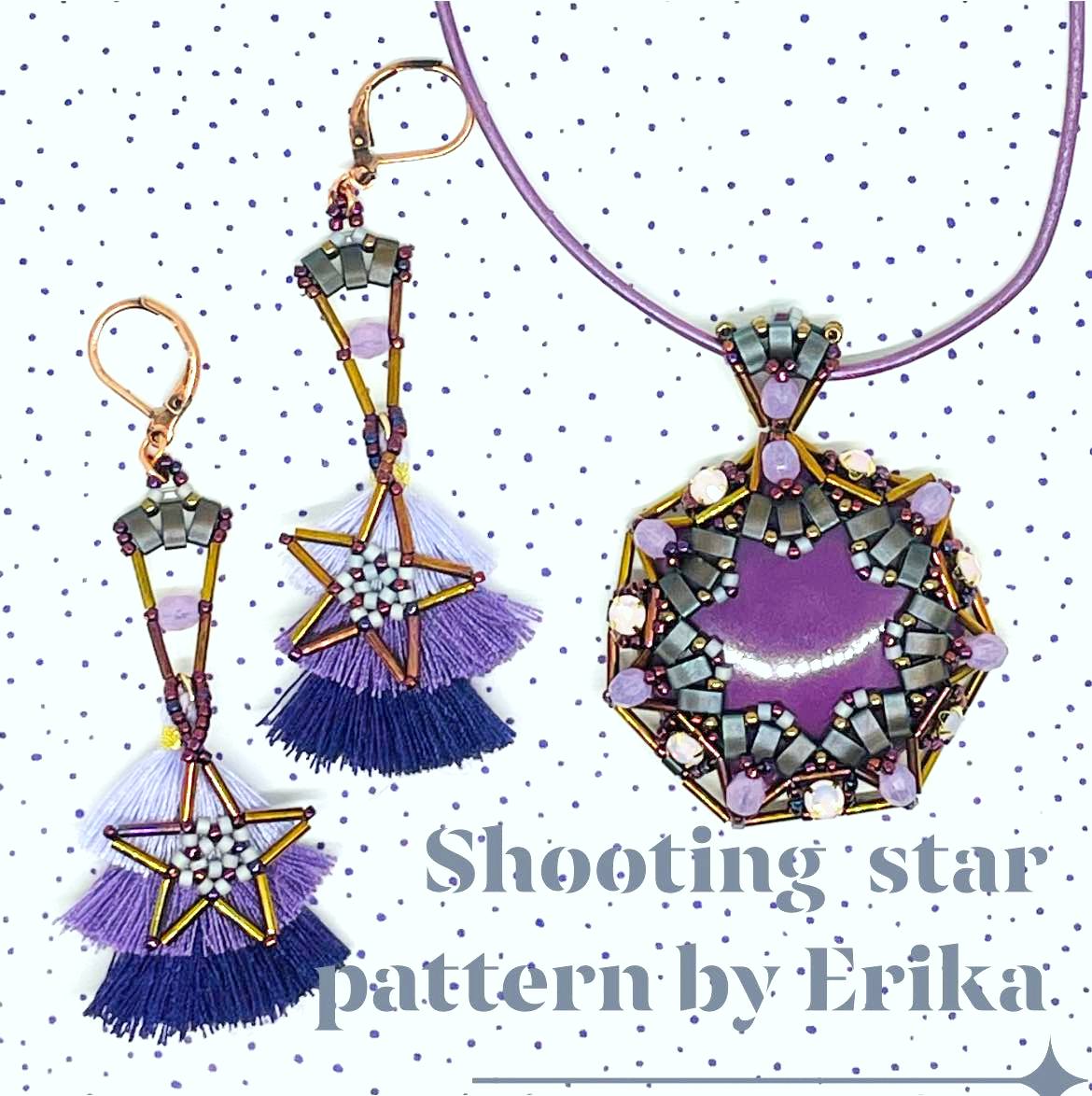 Which is the component in your stash which you treasure the most? Do you already have plans how to use it?
I have an antique oriental face I have had for a while. I am still learning bead embroidery and I think I will probably use it very soon.
If you could design something for a well-known person or maybe a fictional character from a film or book, who would it be, and why?
This is a very hard question as I have often thought about this. It would be awesome to see someone on TV wearing what I have made, wouldn't it?
What are your plans for the future as a beader? Is there something you would really like to learn?
I would love to keep on beading, learning, and changing things up. I would like to make Erika's Estrella necklace.
Where can we see and buy your designs?
I have my photo album with jewelry on
Facebook
. You can message me if you want to own something I made.


Thank you for answering my questions, Deb!
Dear friends, you can use the comment section if you have more questions you would like to ask, or greet Deb. Stay tuned for more interviews for Beadingschool.com by Erika Sándor!