From time-to-time I hear beaders having second thoughts about the abundance of new beads. I agree, it can be hard to keep up with all the new shapes and colours which hit the market every year. It's only March, and I already counted at least 10 new ones this years. However, I like to look at the new beads more as wonderful possibilities then something intimidating. And I can tell, that fellow beader Debora Hodoyer feels the same!
Debbie's art is characteristic of funky new bead shapes and vibrant colours blending into elegant, yet modern pieces of jewellery. She likes to play and experiment, and luckily also enjoys sharing her passion with us thanks to her numerous beading tutorials on Etsy and in beading magazines, too.

Debora Hodoyer is running a sale!
Take advantage of Debbie's Easter sale in her Etsy shop:
you can have all her patterns with 25% discount.
The offer is valid until the 1st of April 2018.
No minimum purchase, no cupon code needed. Click here!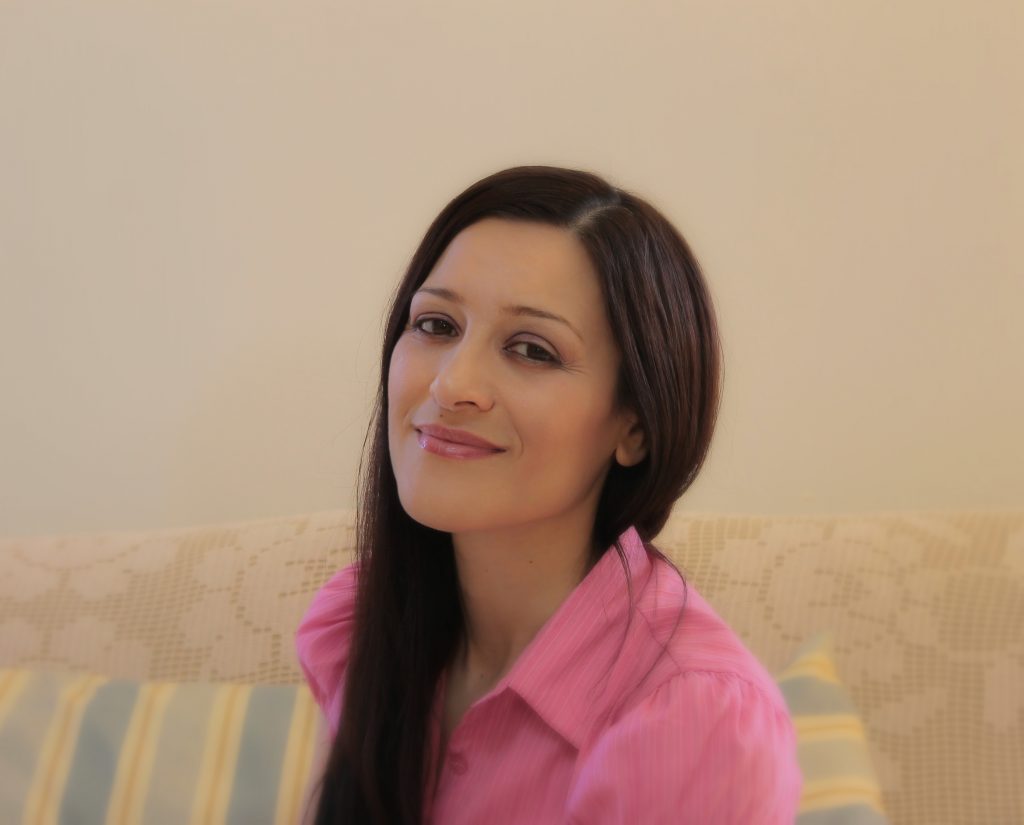 Please tell us about yourself and your brand a bit! When and how did you start to create? How did you learn to bead? 
I was born and raised in Sardinia, a beautiful island in the middle of the Mediterranean Sea. Being an islander, at a certain time I felt the urge to see what was overseas. So I started travelling by myself and now, back from those beautiful experiences, I'm concentrating on the valorisation of culture, language, protection and improvement of the environment, archeology, traditions and ancient history of my island, which you're welcome to come and visit!
My adventure in the bead world started when I was looking for a hobby. At the same time, I was looking for some pretty earrings to wear. Unfortunately I found out that I wasn't able to find what I was looking for, so I thought I would make them myself. I bought wires, pliers and beads (stone beads and Czech glass beads). I began to make simple earrings and bracelets in a very compulsive way. I was having lots of fun. At a certain time I needed smaller beads to embellish my jewellery and my attention was attracted by those little sparkling seed beads. I never came back since then!
Do you follow instructions or do you focus on developing your own designs?
Over time I developed my own designs and I sell my instructions in my Etsy shop named Crown of Stones. My designs have also been published in some major beading magazines as Bead and Button, Beadwork, Beading Polska, Perlen Poesie, Bead and Jewellery magazine, DIY beading magazine and on the Creative Beading Volume 12 book. In Beadwork I had two covers with my 'Star of Venus' necklace in the December/January 2016 issue and 'Wish upon a star' bracelet in the February/March 2017 issue.
I really like working with magazines and I'm full of ideas. I can tell you that you'll see me again soon on these magazines, so stay tuned!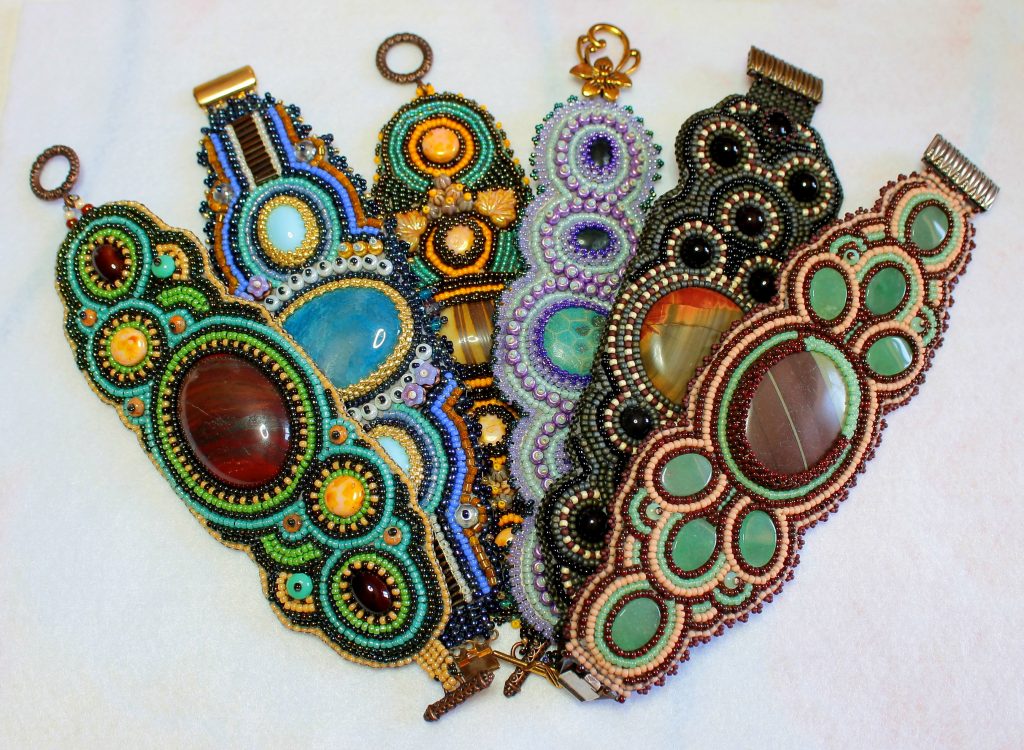 Is beadwork your hobby or profession? How does your average day look like? When do you have time to create?
Beading is almost a full time job for me because I'm always thinking about new projects and working on some new designs (finished jewellery, patterns for my store or beading magazines). But it's not a profession in the true sense of the term yet. I wish it could be one day!
My daily routine suddenly changed after the passing of my dog. We were almost inseparable and in his last months of life we struggled together a battle against his kidney failure. After almost 17 years and a half, he left me and now, after almost two years, I've got a new furbaby shih tzu dog named Sharden.
I feel more productive in the early evening or at the end of the day, when everything is quiet and I feel at ease to work at my beading table listening to some music or watching tv.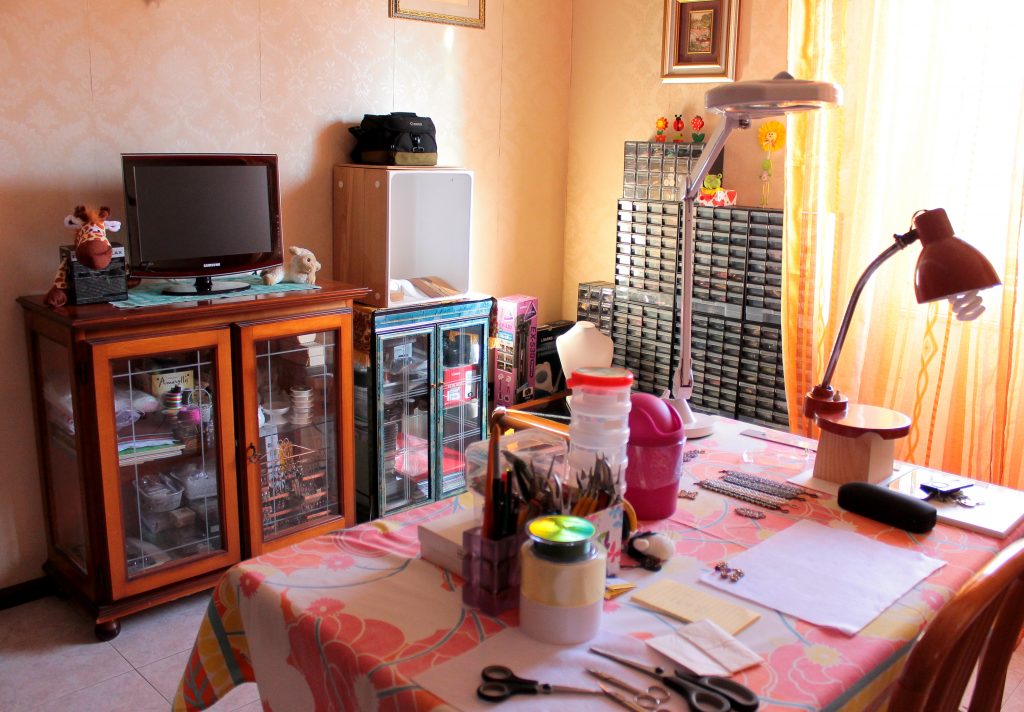 Where do you like to create? Do you have a designated area in your home where you keep your beads and play with them?
I bead on the dining table in the center of the living room, where I keep my tools (pliers, scissors, beading needles, pens and notebooks), stringing materials and desk lamps. I have a dedicated area nearby where I take step by step pictures of my projects (if I'm going to write instructions for that design). The sofa and laptop are behind me so I can rest if I'm tired and I can listen to the music with my headphones directly from the laptop when I'm beading. My storage area is located on a small table near the window and I also have a small glass showcase where I keep my beading magazines, along with my photography equipment (cameras, lenses and so on).
How would you define your style? Which one is your favourite stitch? Which colours do you like the most? On the other hand, is there any colour or colour combination you don't like?
I wouldn't know how to define my style because it's not easy to tell when it's so specific to myself. But for me it's very important for an artist to have a recognisable style and, according to some of my fellow beaders, mine is. I really enjoy working with different shades and finishes and I love purples and blues. I don't like certain shades of green and blue when they're combined
together. It takes a very well balanced undertone choice to match those two colours in my opinion.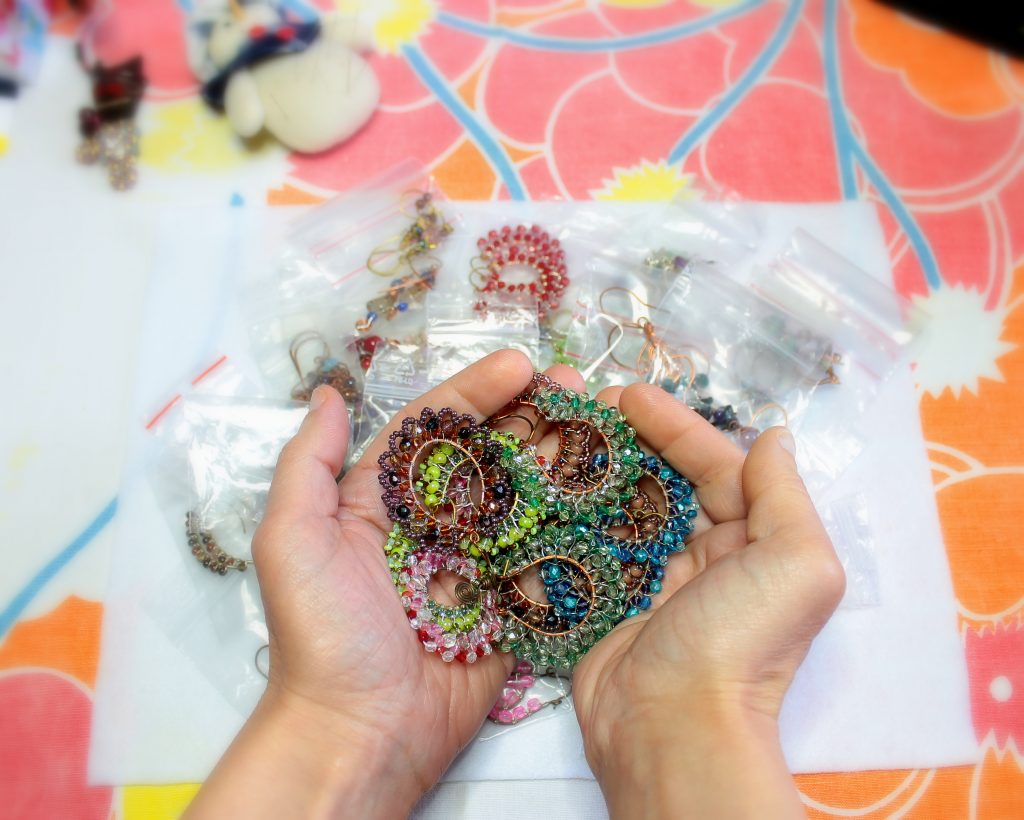 Where does your inspiration come from? Do you have some rituals to boost your creative energy?
Generally speaking, my inspiration comes most of the time from music, art and nature. I am, indeed, a musician, and I play bass guitar. I'm always listening to music when I'm beading. I can tell that my jewellery is made of music. I usually don't look for an inspiration; I sit at my table and it just comes to me. Then I try to channel that feeling into something productive. Sometimes beads can be an inspiration themselves because of their shape or colours.
When I feel tired, I go outside to take pictures. I love photography! Taking pictures, in a way, is therapeutical for me because I like to think that I was able to catch the moment, that's gone forever, for the eternity. Recently I discovered the world of vintage lenses with some of their gorgeous bokeh effects and I'm improving my skills and having lots of fun going places to take pictures.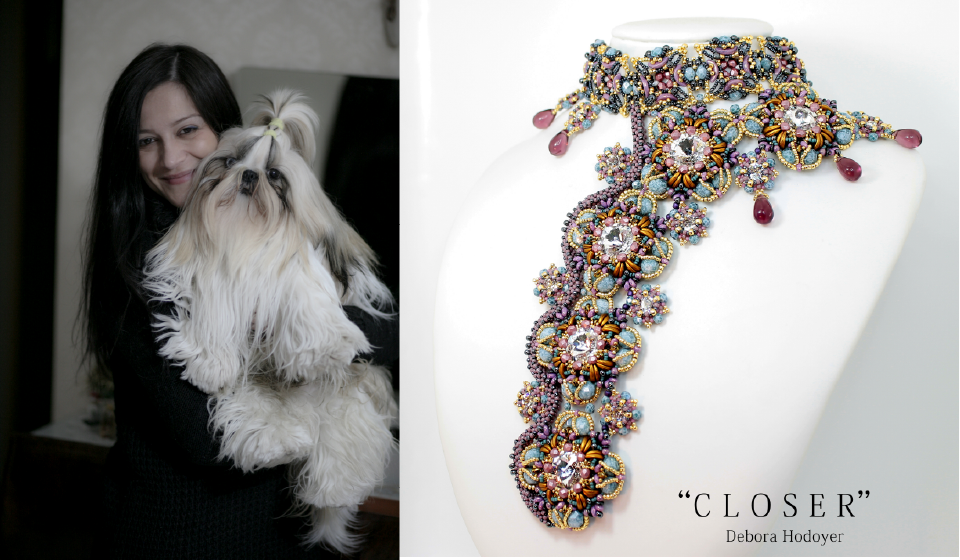 Do you have a piece of jewelry you made, that is somehow special to you?
In 2016 I participated in the battle of the Beadsmith competition with my necklace 'Closer' and this is a piece of jewelry that was born during a very difficult time of my life. I was mourning the loss of my beloved dog, Shannon and the following sudden loss of my grandmother. That competition helped me to keep my mind busy and that necklace would become my special piece dedicated to both of them. After the competition I got the necklace undone as a symbolic and cathartic act.
Who are your favourite designers? Why?
There are plenty of wonderful designers, and it's hard to mention them all. Actually I don't have a favorite designer and I hope to better know some of them one day.
If you could design something for a well-known person or maybe a fictional character from a film or book, who would it be, and why?
Being a lover of Russian literature, it would be Ivan Severyanych Flyagin, the protagonist of 'The enchanted wanderer', a short novel by Nikolai Leskov, published in 1873. I would probably design an amulet bag for him to carry during his extraordinary adventures, wandering through Russia and the Asian steppes.
Do you have a favourite bead shop? Tell us about it!
I use to buy my beading supplies mostly from Perles and Co, Kadoro and Hobby Perline.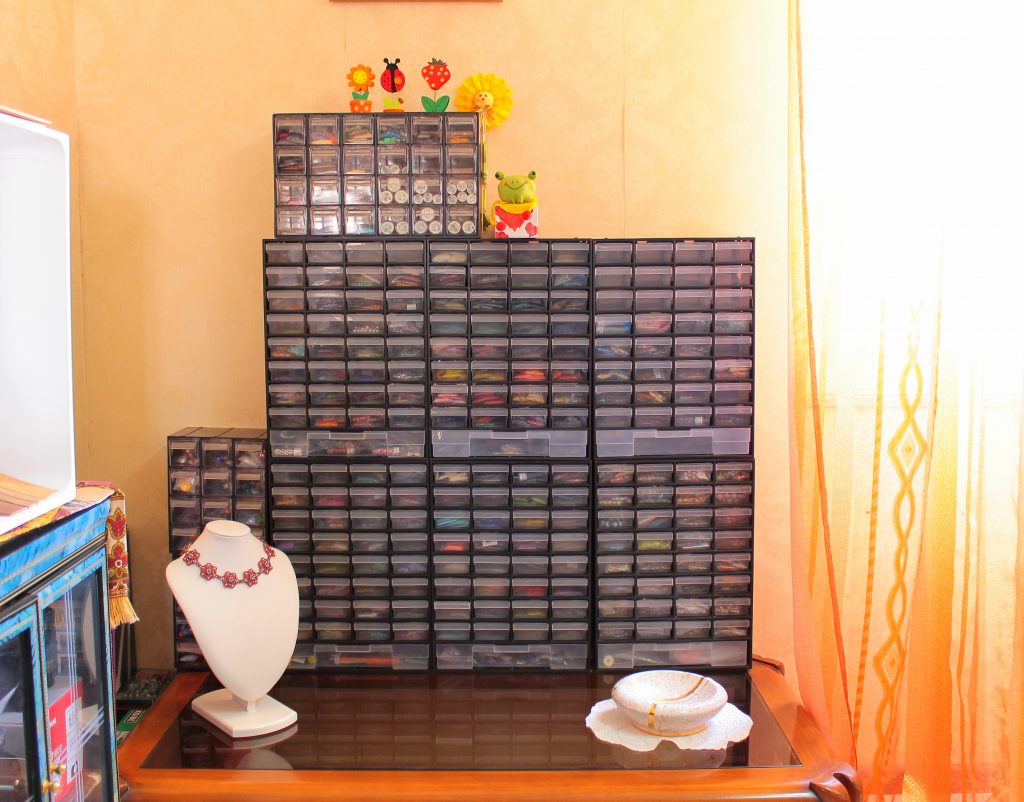 Is there a beadwork-related book you would like to recommend to other beaders? Or maybe a clever storage solution or any other trick to make a beader's life easier?
I keep my beads in plastic cabinet drawers and I use to organise them by size, colour and type (seed beads, crystals, Czech pressed beads and so on). I also keep my needles, threads and findings organised, in separated drawers. Tools (pliers, scissors, pen and paper to take notes), some needles and thread are at hand on my beading table.
What are your plans for the future as a beader? Is there something you would really like to learn or an instructor you would like to meet?
I'd like to keep on publishing in beading magazines and in the next future I would like to be an instructor myself. This way I would be able to teach to my students and meet some experienced bead artist. That would be great!
Where can we see and buy your designs?
My beading patterns can be bought at: Crown of Stones on Etsy
I'm also on Facebook at this page: Debora Hodoyer Jewelry Designer.

Thank you for answering my questions, Debbie!
Say hello to Debora Hodoyer in a comment, and tell her how do you like her art.
Whould you like to tell us more about your art and be featured in one of the upcoming interviews?
Don't hesitate and drop me a line here ?
Have a nice day and happy beading!
Erika