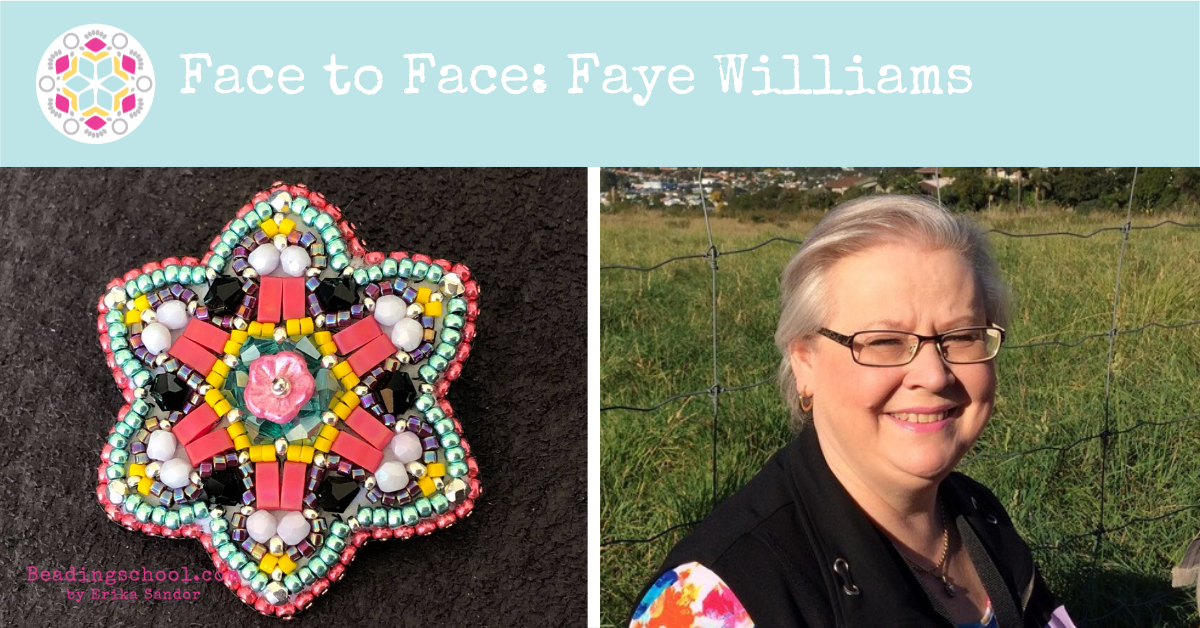 Face to Face: Meet Faye Williams
Face to Face interviews with our fellow beaders and designers continue!
We're naturally curious to meet and know more about people in our community and the Beadingschool Club. So I asked for an interview and she said: "Yes" or "Āe"?!
She is an amazing beader with a unique style and fresh ideas, she is a lovely person and an active member of the beading community. Her comments and attitude warm your heart, her jewelry is a source of inspiration for many. We all admire her strength and determination to wake up at 3 am or 5 am in her time zone, so she can join to be(ad) with us during Erika's #NoOneHasToBeadAlone.

Meet the Beadingschool Club member, Faye Williams!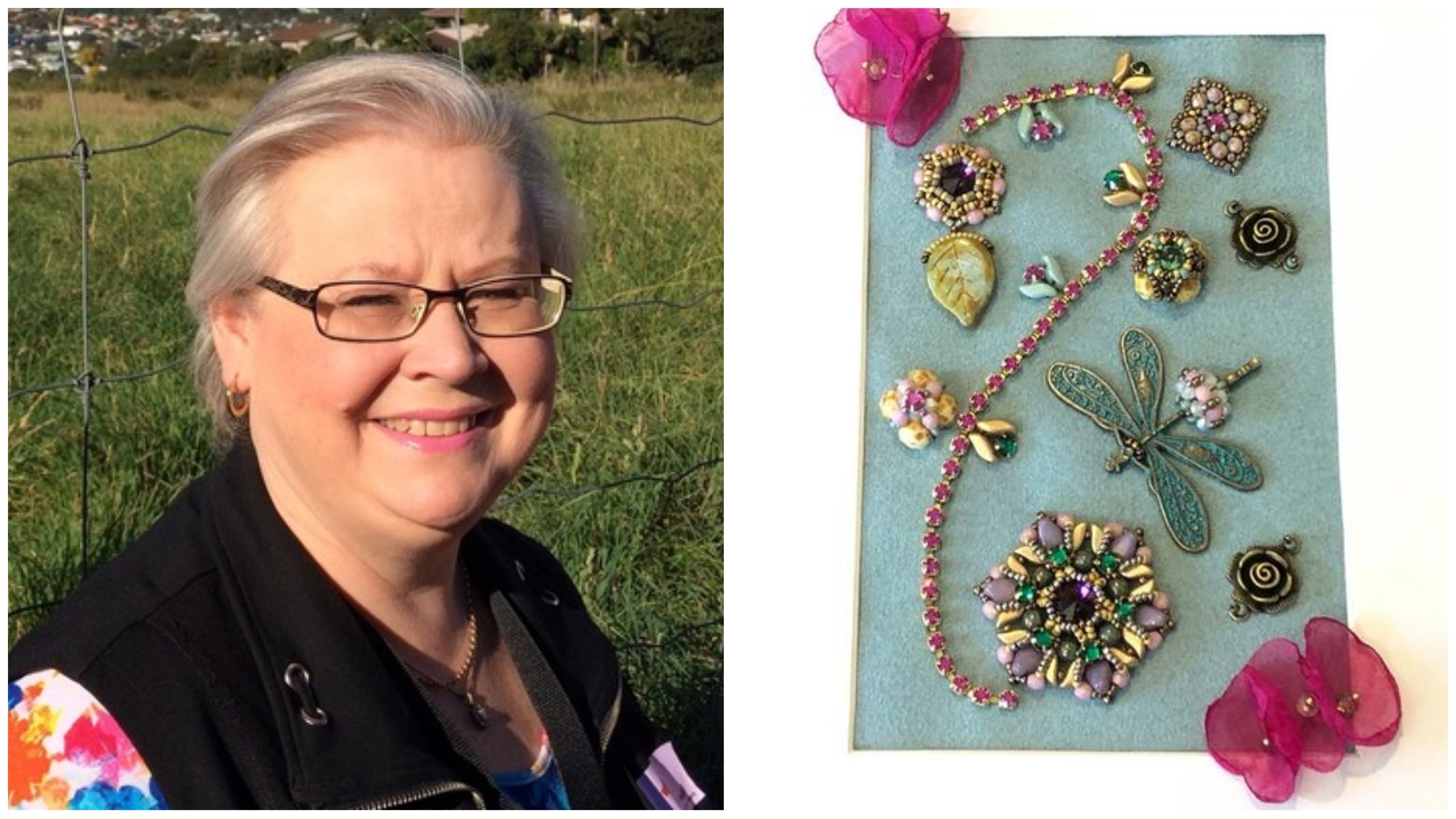 Please tell us about yourself a bit! When and how did you start to create? How did you learn to bead? 
Hi everyone.  A bit about myself… I live in Auckland, New Zealand, with my wonderful husband. We have lived here all our lives and have only moved about 25kms from where we both grew up and went to school.  We have one son, who is married to a lovely English girl.
Up until a couple of years ago, I worked in mostly administrative roles but now I am a housewife (the best position ever as I am quite a shy person really and prefer to be at home).
I have always had some sort of creative hobby (knitting, cross-stitches, long stitches, coloring) but in 2016 we went on a cruise that literally changed my life.  There was a lady who ran craft classes onboard – everything from crochet, silk painting, knitting, to beading.  The first time I saw the beading I was captured – hook, line, and sinker. I think I made about five bracelets and two necklaces there.  When we returned home, I was buying beads, researching patterns, and soaking up as much beady goodness as I could.
I had never used YouTube in my life but this is where I went to learn more.  I came across Jill Wiseman (Jill Wiseman Designs), Kelly Dale (Off the Beaded Path), and Stephanie Willert Spirer (Bronzepony Beaded Jewelry).  I also found Deb Roberti (Around the Beading Table).  For a long time, these were my 'go-to' tutors.
Is beadwork your hobby or profession? How does your average day look like? When do you have time to create?
Definitely a hobby.
My husband is my biggest supporter, so when he suggested I retire early I was able to dedicate more of my time to beading.  Apart from the usual housework stuff, I am either catching up on Facebook beading groups, looking at patterns, buying beads or beading.  There are not enough hours in the day for me to bead everything I want to bead. I mostly bead in the afternoon and/or evenings (I am not obsessed, or anything).  *My husband has read this and commented on the number of times I mentioned beads in this paragraph – I had to chuckle.
I also get great support from my family and friends.
Oh, I also love reading but these days, as I can't read and bead at the same time (with a physical book), I have discovered audiobooks – fantastic!!!  I mostly read sci-fi/fantasy, or for a quick read, I've been listening to The Alphabet Murder series by Sue Grafton.  I have just finished the Seven Sisters series by Lucinda Riley.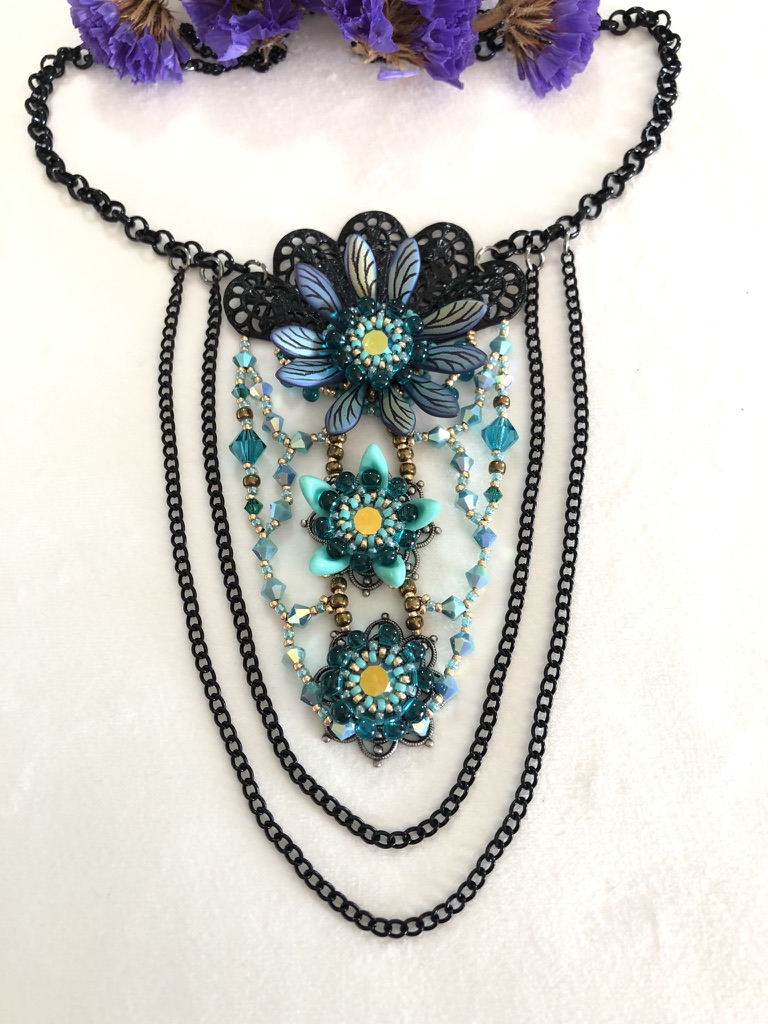 Tell us about the piece of jewelry you are the proudest of!
Every time something comes together, or I finish a new project I get so excited!  I am proud of quite a few pieces.
The latest piece I am most proud of would have to be my Cascading Flowers Pendant that got second place in the 2021 Beadingschool Competition, Preciosa Category.
I had never designed anything like this before. It took me days to just place the crystals around the central beading.  I found the whole process quite stressful but I was so very proud that I had stepped out of my comfort zone and had a go!
The encouraging stories from all the ladies who had entered the year before and those entering for 2021 allowed me to think I could try – so a big thank you to this wonderful group.
Where do you like to create? Do you have a designated area in your home where you keep your beads? Can you show it to us?
Mostly at home.  I usually sit at our kitchen bench, which is a very large island bench. I also have a small table in front of my chair when watching TV and I have converted one of our bedrooms into a little beading room.
I also meet up with a beading group. Currently, there are only three of us but we hope to grow.  We meet at a local library and talk about all things related to beads. We bring along our latest creations and purchases (my Beadingschool boxes). We also keep in touch through our Lockdowns showing what we are working on.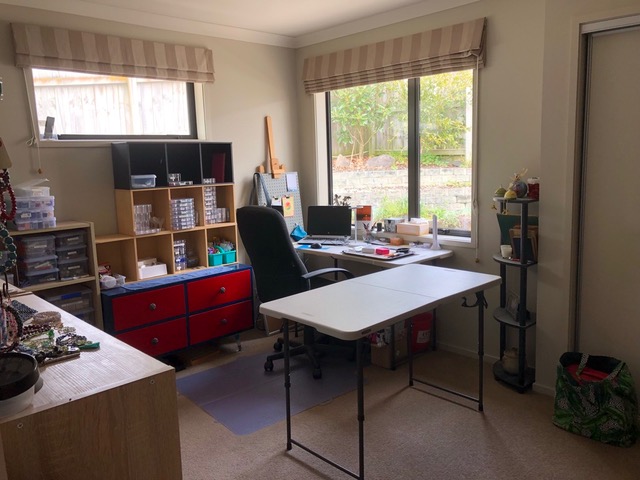 What is your favourite stitch? Which colours do you like the most? On the other hand, is there any colour or colour combination you try to avoid?
I don't think I have a favourite stitch as I am constantly learning new techniques but guess I use peyote the most.  I am loving Erika's designs as they are so different to other designers out there and the fact that we get to play around with the motifs and make them our own.
I love all colours, it just depends on how they are put together – I am constantly amazed and inspired by other people's choices and this helps me to grow and explore.  For the longest time I was mostly drawn to blue.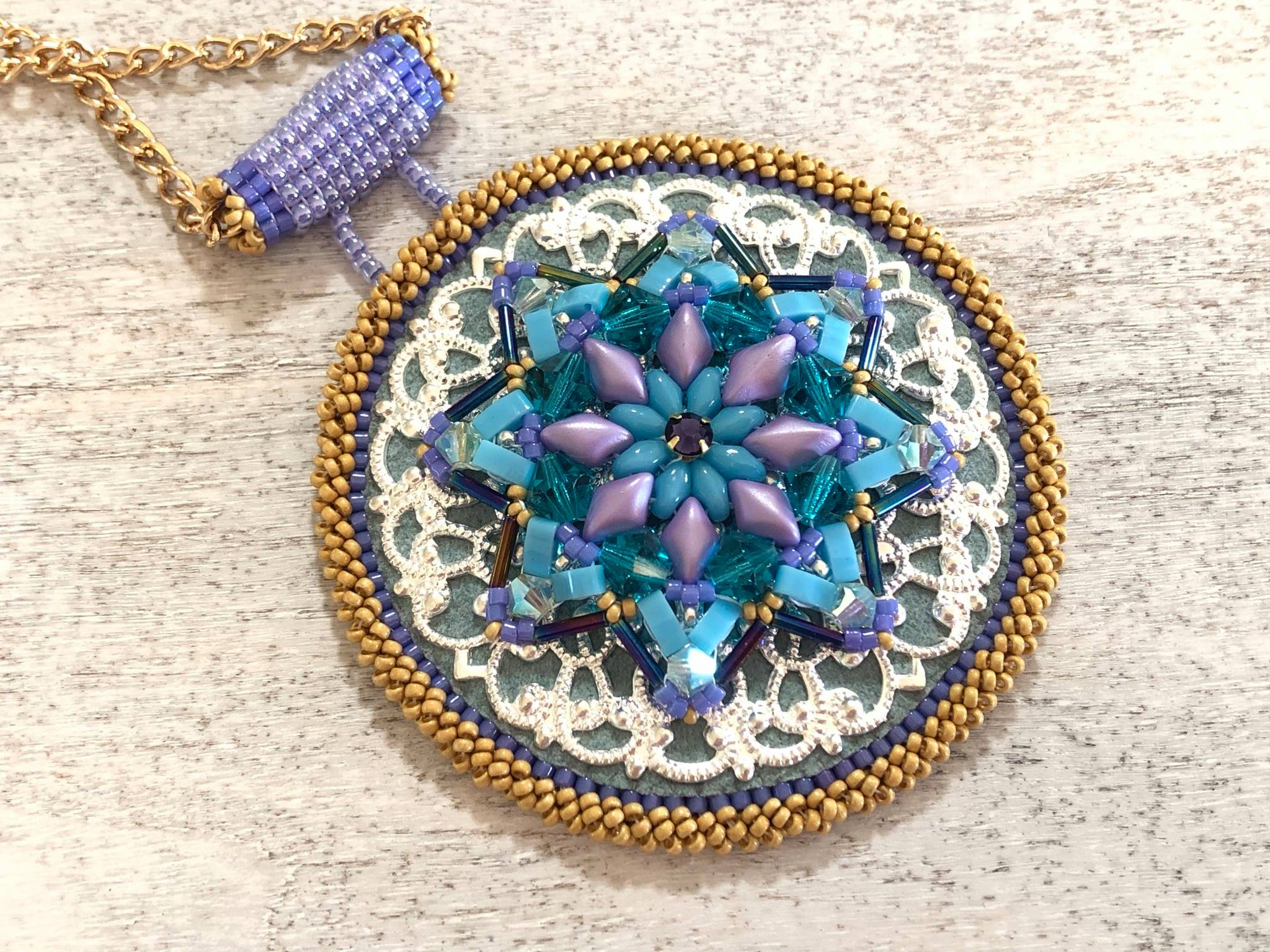 Do you follow instructions or do you like to develop your own designs? How would you define your style? 
I LOVE instructions.  Nothing makes me happier than having a pattern to follow and, wow, there are some gorgeous patterns out there!  My personality likes detail, structure, and order; I am a linear thinker so I am perfectly suited to following instructions.
Being part of the Beadingschool community has opened my 'brain' to try new things that I would not normally do, like designing my own pieces or using a motif in a new way, or putting colors together differently, boldly. I'd never done this before.
As I am not a designer, I don't think I have a certain style.  I am lucky enough to pretty much bead what takes my interest (which is a lot)!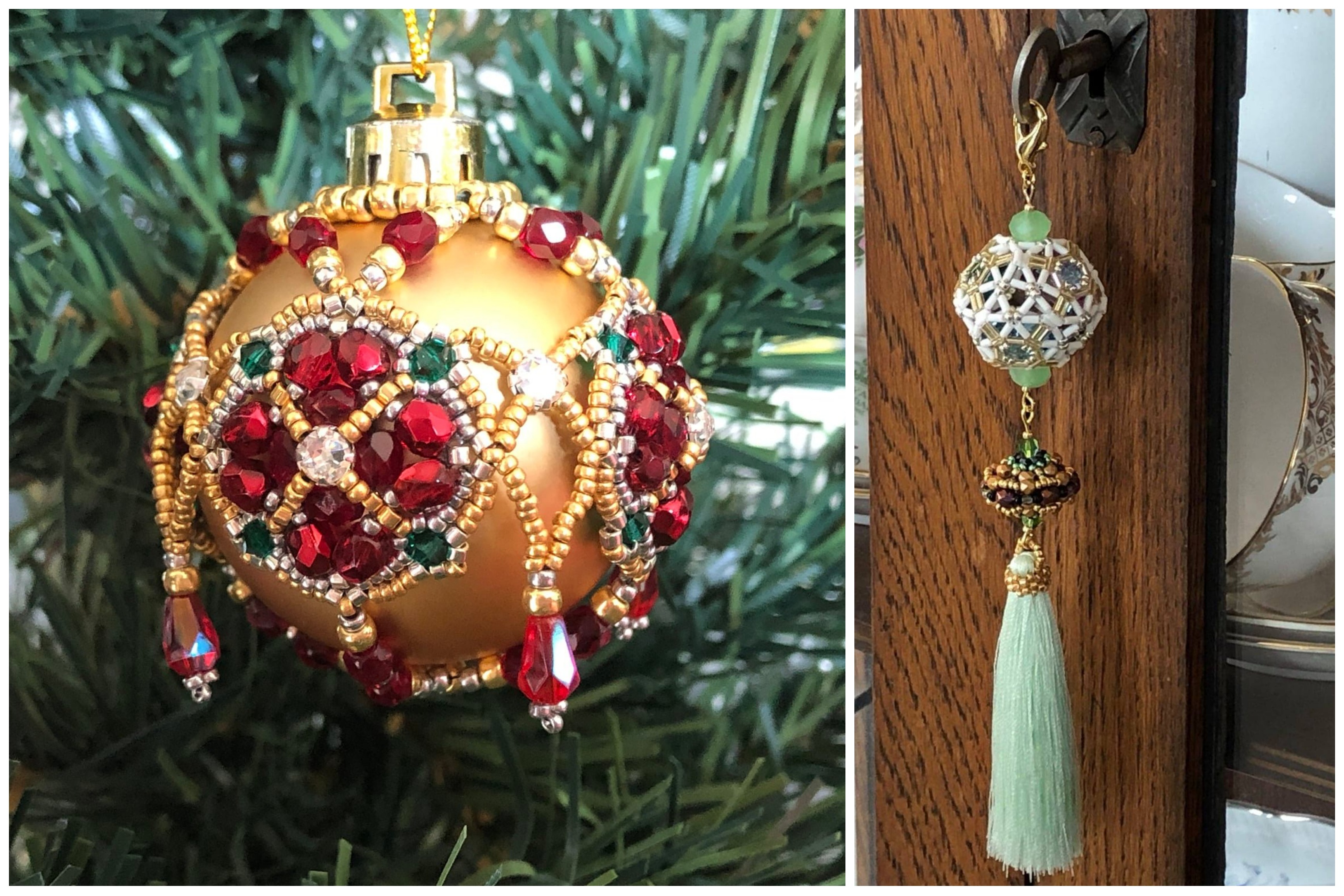 Who are your favorite designers? Why?
Oh my gosh!  Erika, for sure!  For me beading isn't only about the technical, it is also the emotional input and inspiration.  There is so much joy in the creation of Erika's patterns and I have the best fun creating from them.  Her designs have given me wings – I know that sounds a bit cliched but it is true.  She introduced me to bead embroidery – which I am still a little bit scared of because I have to make decisions – but the more I do, the more I love it.  And with all the ladies in the Beadingschool Club, her designs become even more inspirational.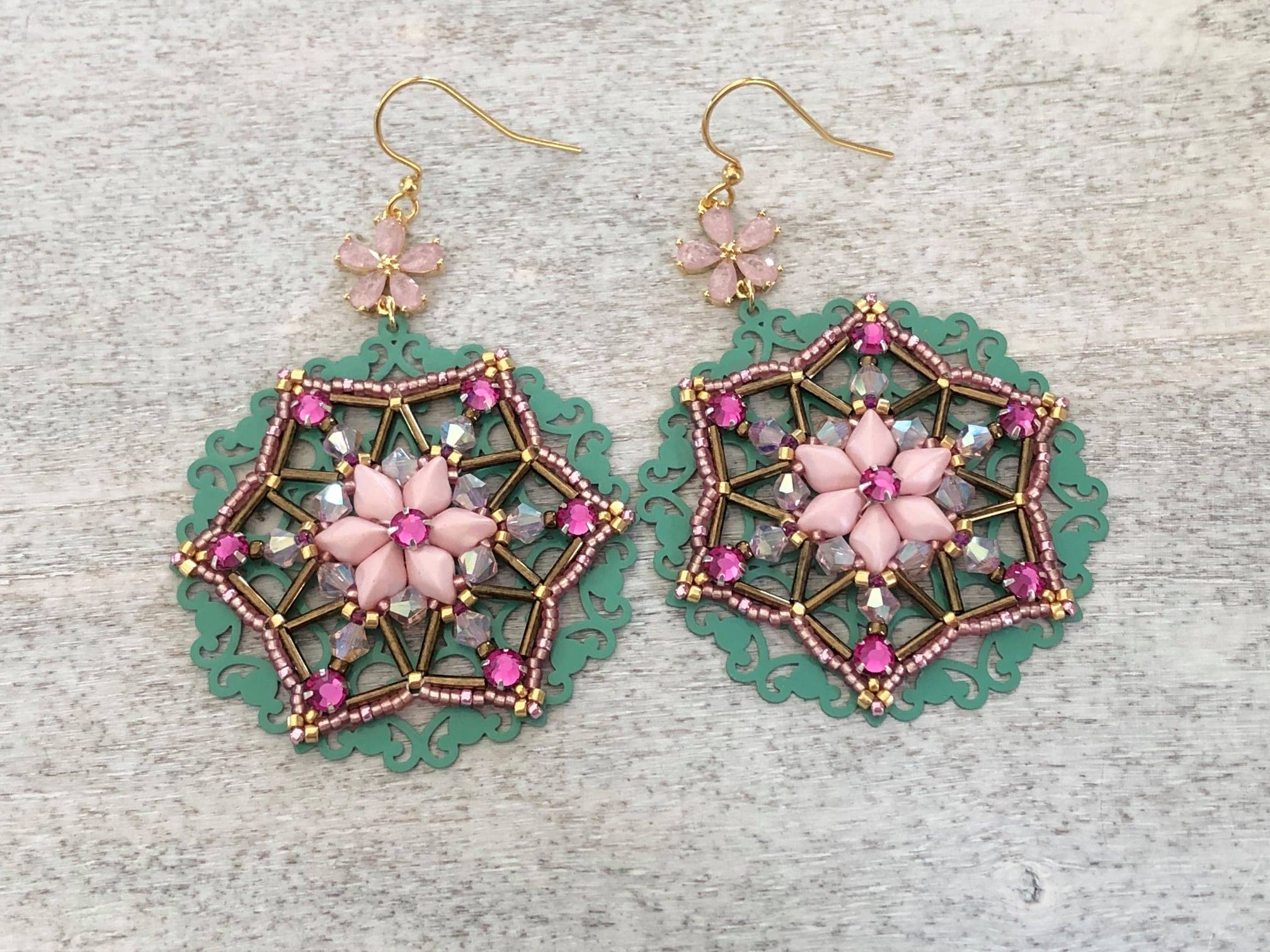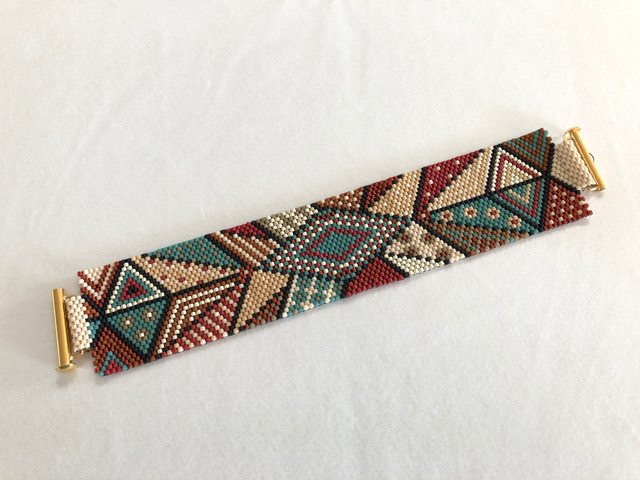 Other designers I love at the moment (they change depending on what I am inspired to do) are:
Sue Arrighi – amazing peyote bracelets and really creative/interesting color combinations;
Stephanie Willert Spirer – I have always liked her style, timeless elegance;
Lynsey James (Threadabead) – her pieces are a lot of fun (I've made only a few, but they are adorable);
Do you have a favorite design by Erika? Tell us about it!
More than one but I'll limit it to two.  The Traveller – it introduced me to bead embroidery and I made mine using a New Zealand dollar coin and colors associated with my country – to me it is just so special.
The other piece is the Beadingschool mandala which became a brooch for me.  I adore it and all it stands for.
There are so many more of her designs that I want to try – I am slowly working my way through them.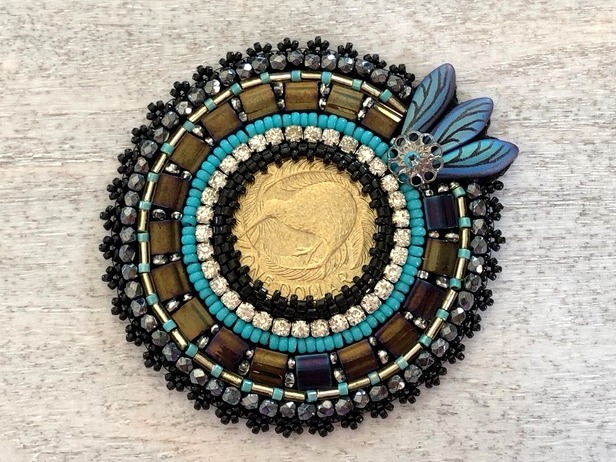 Which is the bead / component in your stash which you treasure the most? Do you already have plans how to use it?
I don't have a treasured bead or component.  I know this may sound funny, but when I get the little boxes from Beadingschool I hate to break them up.  The little bags would come out for me to admire then they get packed away.  Only this last week have I 'rehoused' some of the beads so I can use them.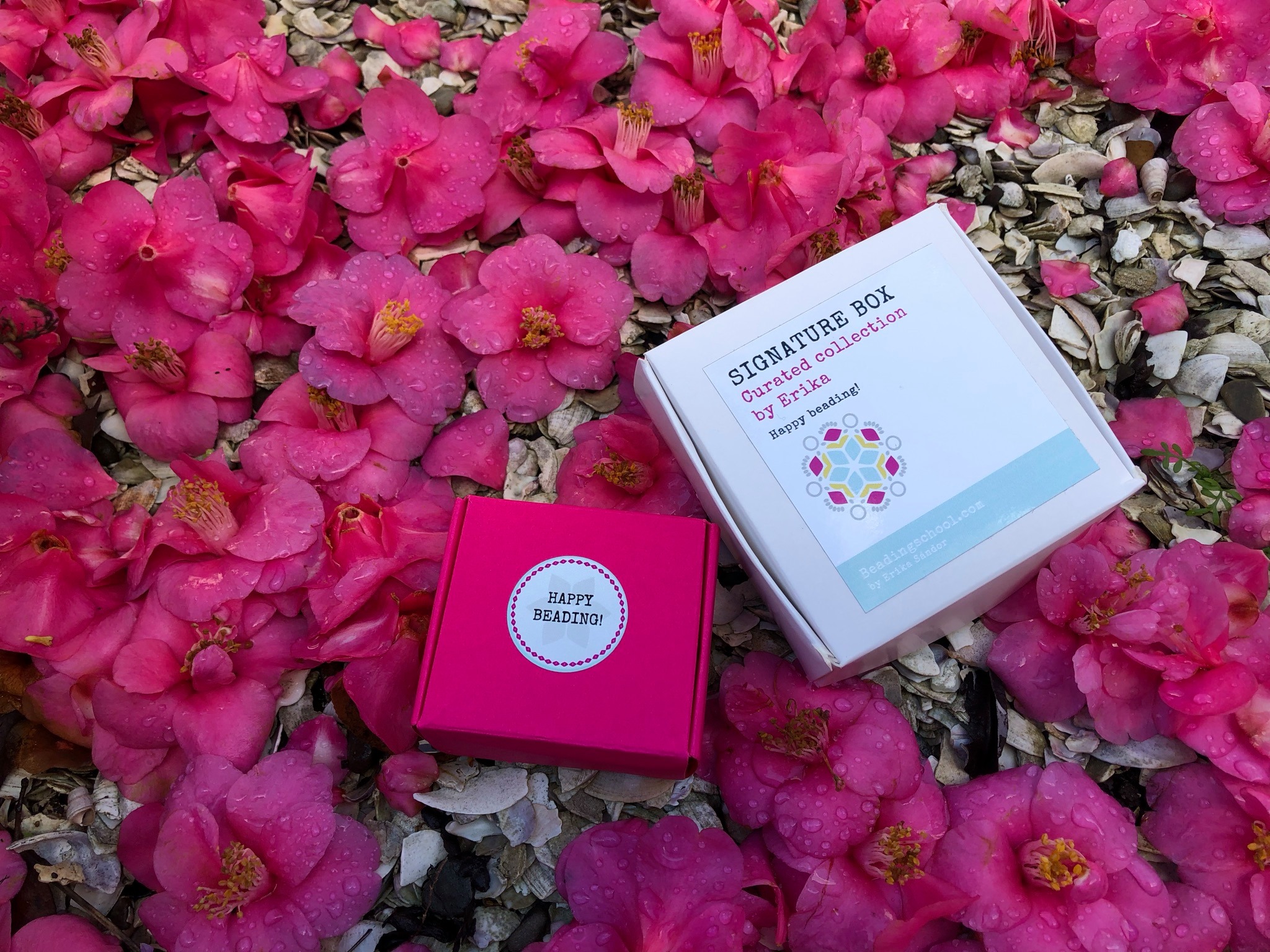 If you could design something for a well-known person or maybe a fictional character from a film or book, who would it be, and why?
I've never really thought about this.  If I was a designer, it would be lovely if someone well-known chose a piece of mine.  Wouldn't it be great if, say, Queen Elizabeth wore one of my brooches!  Or someone famous wore a pair of my earrings!  Something to think about.
What are your plans for the future as a beader? Is there something you would really like to learn?
I had to chuckle at this question!  Like a lot of beaders, to get through as many patterns as I possibly can!  I have a pile of patterns that is very large but each one inspired me in some way, whether it was the colours, the style, a new technique or just plain cute!  In essence, I want to continue to learn, explore and grow as a beader – I guess that is my passion.
Where can we see and buy your designs?
As this is a hobby for me, I sell at a local craft market, with the funds going back into buying more beads and patterns. I also have a Facebook page 'Faye's Beaded Jewellery' where I post my work, from which items can be purchased and delivered within New Zealand.

Thank you for answering my questions, Faye!
Dear friends, you can use the comment section if you have more questions you would like to ask, or greet Faye.
Stay tuned for more interviews for Beadingschool.com by Erika Sándor!
Reader Interactions