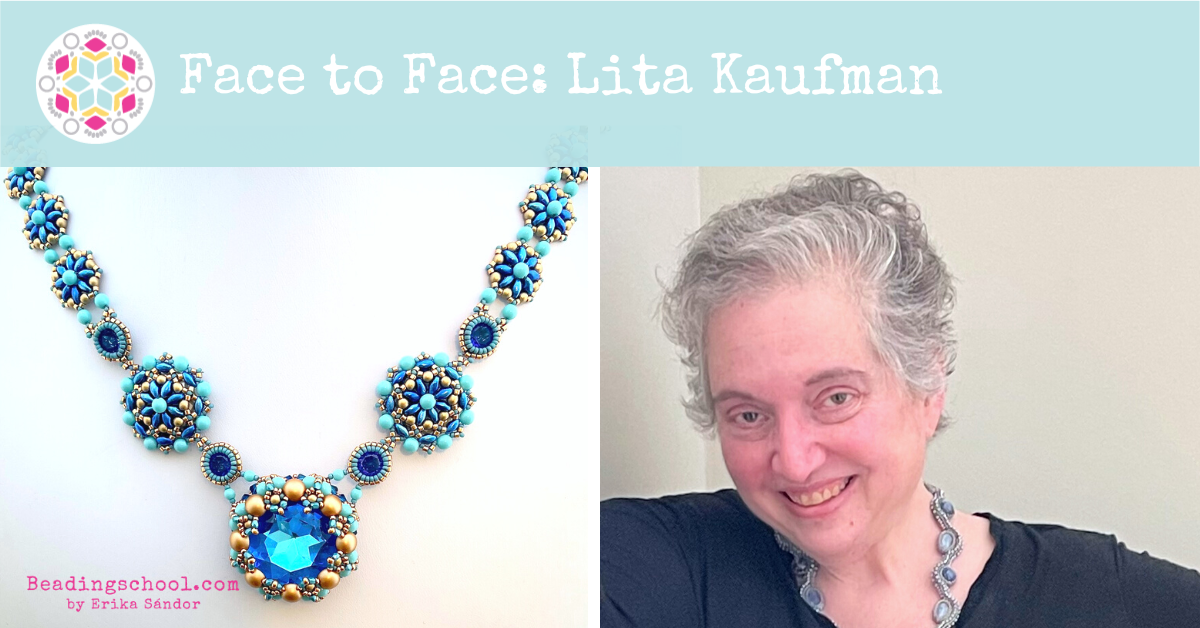 Face to Face: Meet Lita Kaufman
The last Thursday of the month is here and we dedicate it to the new Face to Face interview with our fellow beaders and designers! We're all part of the community and beading world, where we're connected through love and passion for beads and creating. We often see the photos of the finished jewels, but want to know more about the person who made them 😉
Joining a little over a year ago, she added her special touch through her statement pieces to the Beadingschool Club! It has been wonderful to watch her journey through different themes, seeing creative ideas, learn from her solutions and color combinations.

Meet the Beadingschool Club member, creative mastermind, Lita Kaufman!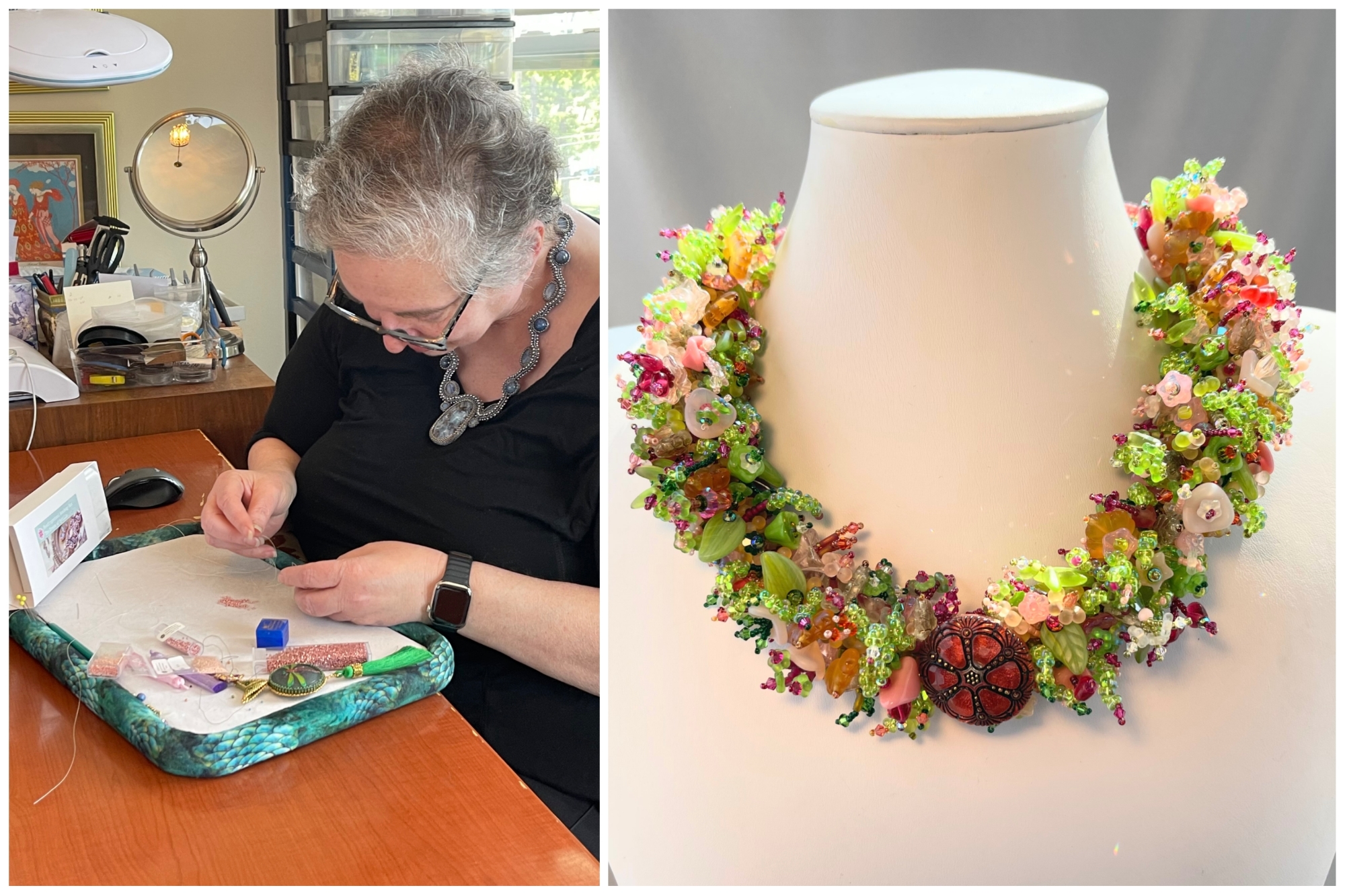 Please tell us about yourself a bit! When and how did you start to create? How did you learn to bead?  
A bit about myself first.  Oy vey, that's always the hardest part.
I can't remember a time when I wasn't making something.  Growing up in my family, that wasn't unusual.  My grandmother was always sewing something (she burned out three Singer sewing machines, which shouldn't be possible).  My father spent his weekends building things around the house or taking Adult Ed crafting classes – learning how to carve or paint (the painting was a total bust, but I still have and treasure his wood carvings).  My mother would spend her evenings doing needlepoint until there was no more room on the walls – and then she started knitting (People say buying beads is an addiction!  Beaders have nothing on yarn crafters).  
And yet, of my parents' three children, I was the only one who had any interest in any kind of handicrafts.  My drawing skills were indifferent (and they still are – can't draw a straight line to save my life, even with a ruler), but my parents sent me to a summer camp focused on creative arts, and the weekly silversmithing session got me hooked on jewelry making – not beading but enameling and metalsmith.  Truthfully, beadwork wasn't really a thing in the 1970s and '80s.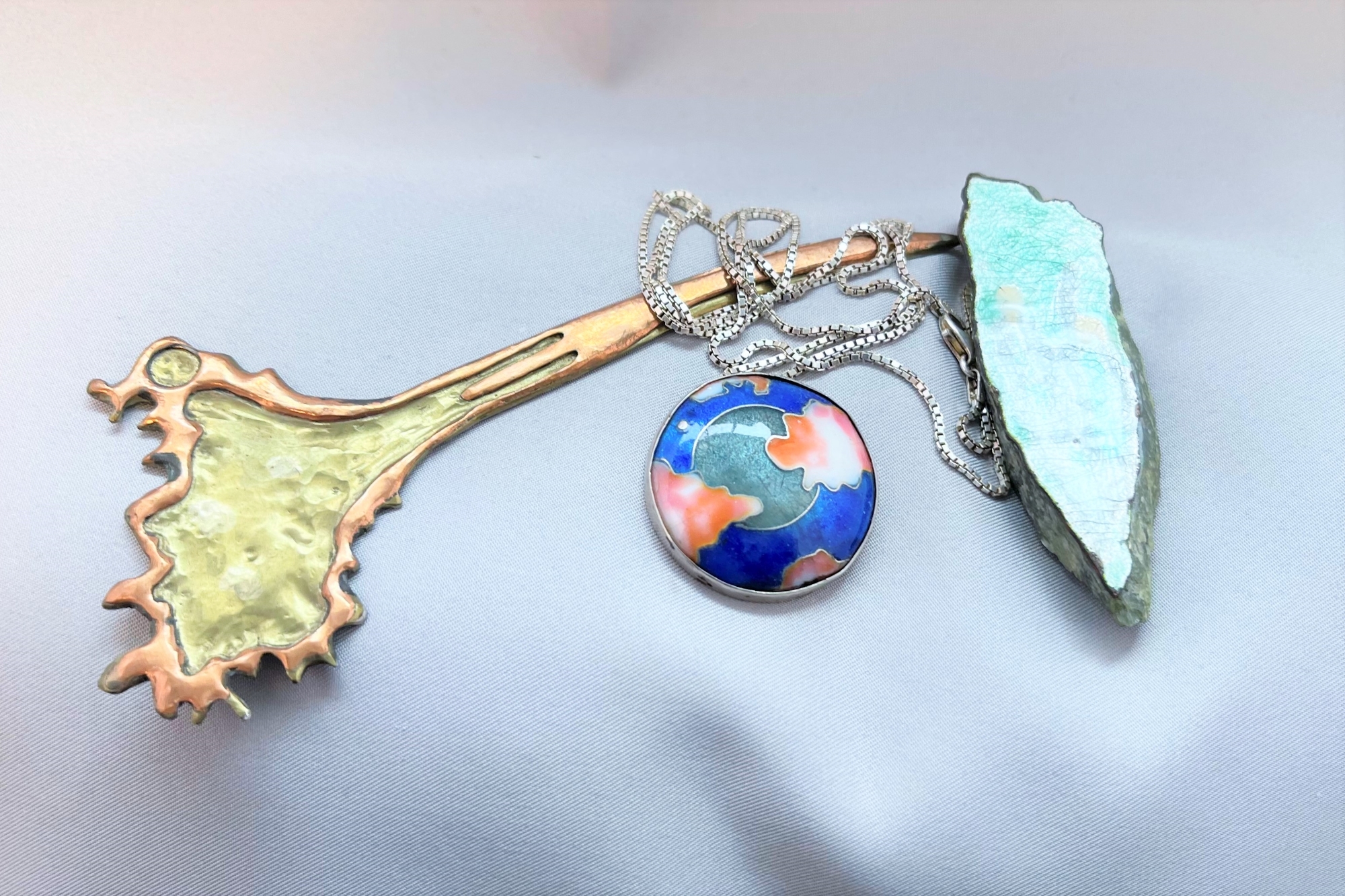 Letter Opener – Fused Mixed Metals, circa 1981; Moon and Clouds Pendant – Cloisonné on Fine Silver, circa 1982; Unfinished Jade and Enamel Brooch – Chinese Jade Slab, Enamel on Fine Silver Sheet, circa 1980.
Although my parents indulged my jewelry making, it was always with the understanding that schoolwork had to come first, and that I would be pursuing an academic, not an artistic career.  Good daughter that I was, I eventually put down my tools and took up my books.  I fell in love with history and art and culture and had I been a lot better at math, I might have studied architecture.  Instead, I became a lawyer. And one of the boring kinds of lawyers, who argue over of words and commas and insist on numbers spelled out properly.  And heaven forbid your contract has multiple fonts and unjustified margins!
Anyway, this really should be about beading, shouldn't it?  So let's get to the fun stuff.
My journey into putting the little round things on string starts with a moment of serendipity. It was a damp Saturday afternoon in October, 1990 (shades of "It was a dark and stormy night…"), and I was a newly minted lawyer living in Center City, Philadelphia. I wanted to see a movie (I don't recall what).  I'd walked to the theater, and by the time I got there, the damp mist had turned into a steady drizzle, and then a nasty downpour.  The theater lobby was closed (for no apparent reason) and I was told to wait outside after I paid for my ticket (naturally, I hadn't brought my umbrella).  I could huddle with the few fellow moviegoers under the dripping eaves of the building or go into one of the few stores that were open.  I vividly remember that my choices were limited – a cigar shop, a hardware store, and an Indian clothing store that recently opened.  
I don't smoke (and certainly not cigars!); I knew from experience that the hardware store would not welcome loiters (I wasn't going to buy some inedible nuts just to stay dry); but the Indian clothing store looked very interesting.  The shopkeeper was extremely welcoming, offering me tea and cookies, and asked me if I would like to see anything special.  I was about to ask about a shawl (even then, I loved shawls), but then I saw the back of the store and the array of beads and tools and beads and beads and gems and gold and silver and I forgot all about the shawl. Let's just say I missed the movie, too.
I remember what I bought after an eternity of dithering  – a carved Chinese jet "long life" bead, which I still have, and a hank of silver lined emerald green seed beads (probably Czech), a spool of thread, a pack of collapsible eye wire needles, and some kind of clasp.  My idea was to restring the hank through the focal bead and create a "power" necklace.  Very "Wall Street".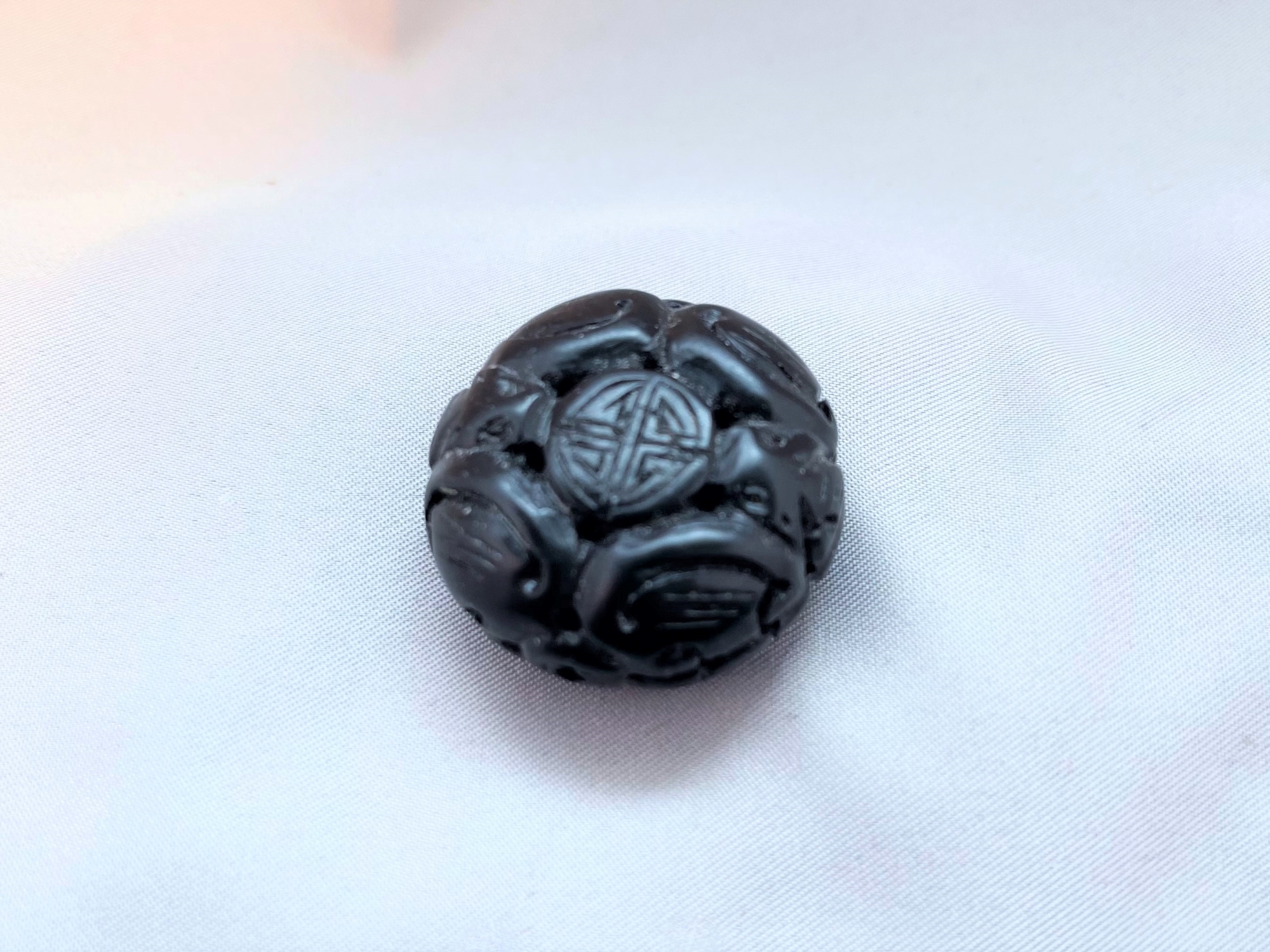 First Bead, carved jet.
You know what?  I hated re-stringing all of those seed beads with a passion and quickly gave up on the idea.  Next weekend, I went back to the store and bought a strand of freshwater pearls and tiny amethyst beads, a spool of silk thread, and a knotting awl.  The owner taught me how to do pearl knotting – he was very patient and let me sit behind the counter for almost two hours practicing until I got the hang of it.  I gave that necklace to my mother and she wore it for years.  I remade it at least twice as styles changed.
For almost twenty years, that was what I did.  Any kind of bead – pearl, gemstone, glass, I would string and knot.  No Beadalon and crimp tubes for me. I had to do it the hard way.  Actually, in 1990, there was no Beadalon, no crimp tubes – so I really didn't have that option.  Okay, there was something called "Tigertail" but it was not … great.  And I liked what I was doing, I liked the craftsmanship of knotting and knowing I was making something to last, so even when Beadalon came on the scene, I didn't make the switch.
I really don't know what the impetus was that made me take up seed bead weaving.  There was a local bead store that offered classes, and sometime around 2007 I wet my feet with a class on how to bezel a Swarovski fancy stone, and that got me hooked on the sparklies.  Shortly after that, I took another class in kumihimo braiding with beads, and that sort of cemented my full-time departure from gemstone stringing and converted me to a seed bead lover, although one who loves to incorporate natural materials into her creations as often as possible (see The Kraken, below).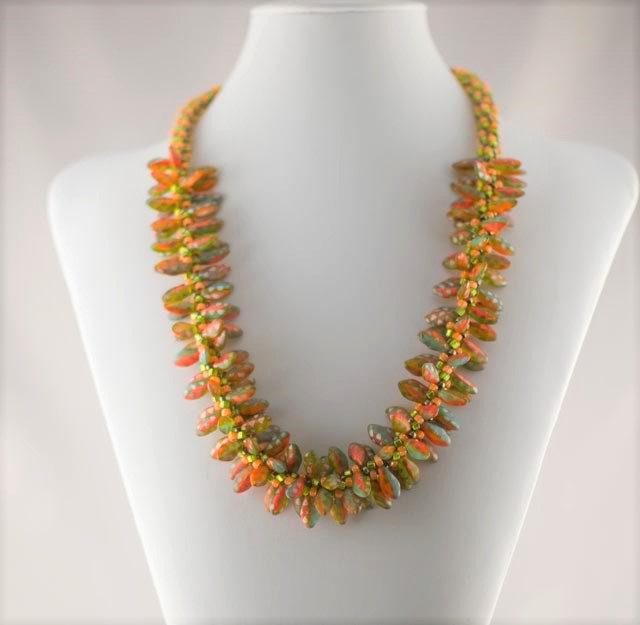 A Thing With Wings, circa 2008 – 8-strand kumihimo, Czech glass dagger beads, Czech glass 8/0 seed beads.
I could go on and on about my journey as a beader, because it is one that never really ends.  I'm always learning, always finding new interests, always seeking new methods and new ways to improve my craft.  But it does need to be said that in the nine short months that I've been a member of Beading School, my skills have improved tremendously – I owe much to both Erika and to the whole community.
Is beadwork your hobby or profession? How does your average day look like? When do you have time to create?   
Beading is a beloved avocation.  I am lucky to be a work-from-home professional, and although my day is long (I start at 8 am) I can usually take a lunch break and sign on for #NoOneHasToBeadAlone and #CoffeeTimeWithErika, although my office email and chat programs are open and I'm often replying to messages while Erika is talking on another computer monitor!  
And my evenings and weekends are my own, no spouse or children – so I can dedicate a lot of my free time to beading.  
Tell us about the piece of jewelry you are the most proud of! 
I call this piece The Kraken for obvious reasons. The design is completely my own, and the process of attaching the cubic right angle weave onto the peyote bezels is something I figured out myself.  I'm sure there's an easier way to do it, but I'm pretty pleased how I got it done.  There's no internal wire structure in the "arms" – the piece is completely self-supporting through the beads, and although it's a substantial necklace, it wears very comfortably.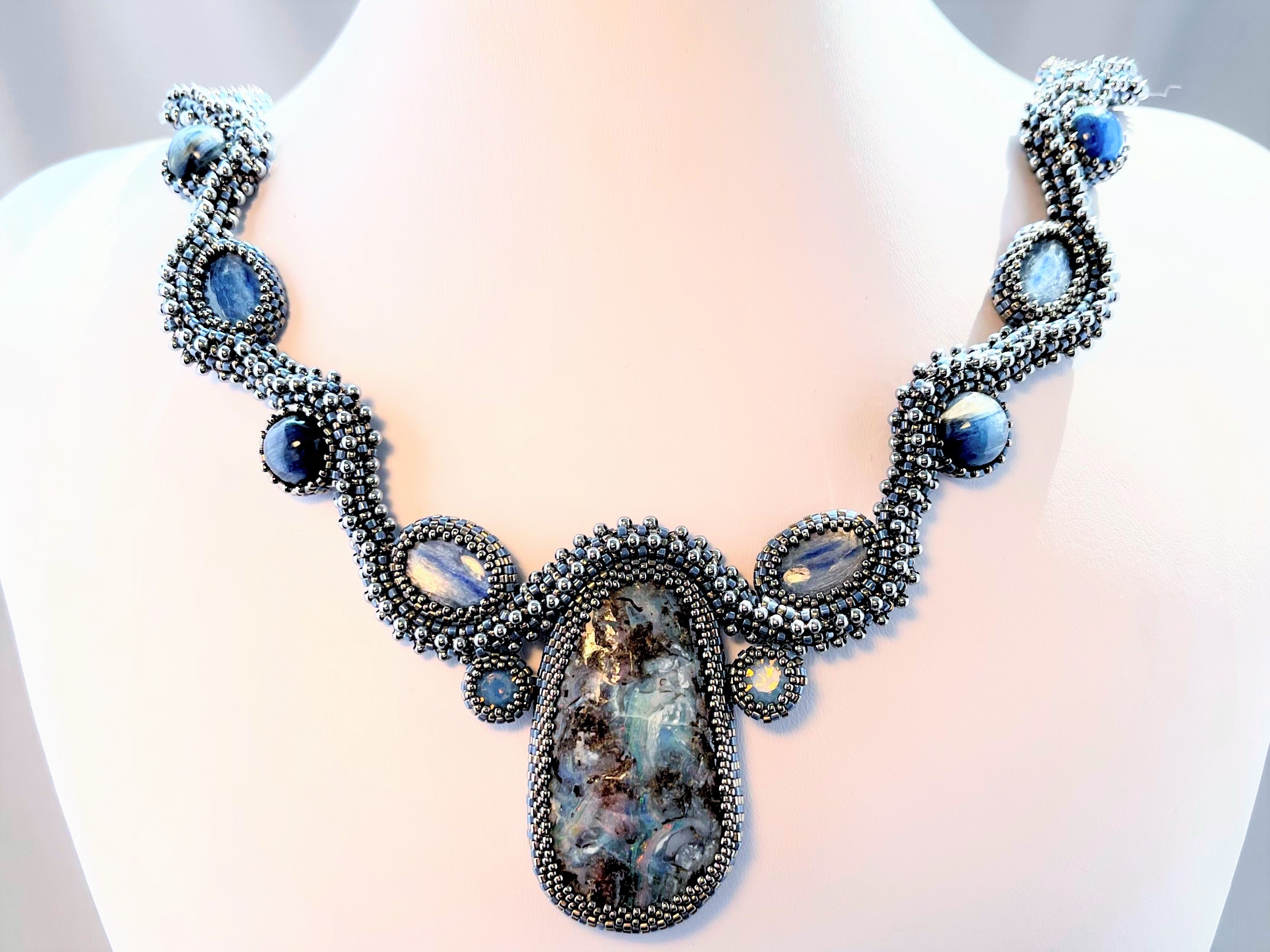 The Kraken, 2020 – Australian Boulder Opal, Preciosa chatons, kyanite, Miyuki Delicas, Miyuki Rocailles, 2mm Nickel-Plated Czech Round Druks.
Where do you like to create? Do you have a designated area in your home where you keep your beads? Can you show it to us?
I have converted the front bedroom in my house to my office – it has the most natural light, and it's where I both work and after the workday is done, it's where I bead, too.  
I have a bad back, bad shoulders, a wonky neck, arthritis, an essential tremor, and other health issues, so being able to maintain good posture is very important.  Most of the time, I need to be able to bead with my feet flat on the floor, my shoulders back and down, and my beading surface at a 90-degree angle from my face.  (I have no clue how people bead sitting in an armchair or on a couch!).  
Also, if I'm working from a pattern, I like to have it in a digital format, so I can put it up on my computer monitors – they are large.  If I have a printed pattern, I get lost going back and forth from my work to the paper and I end up just not finishing.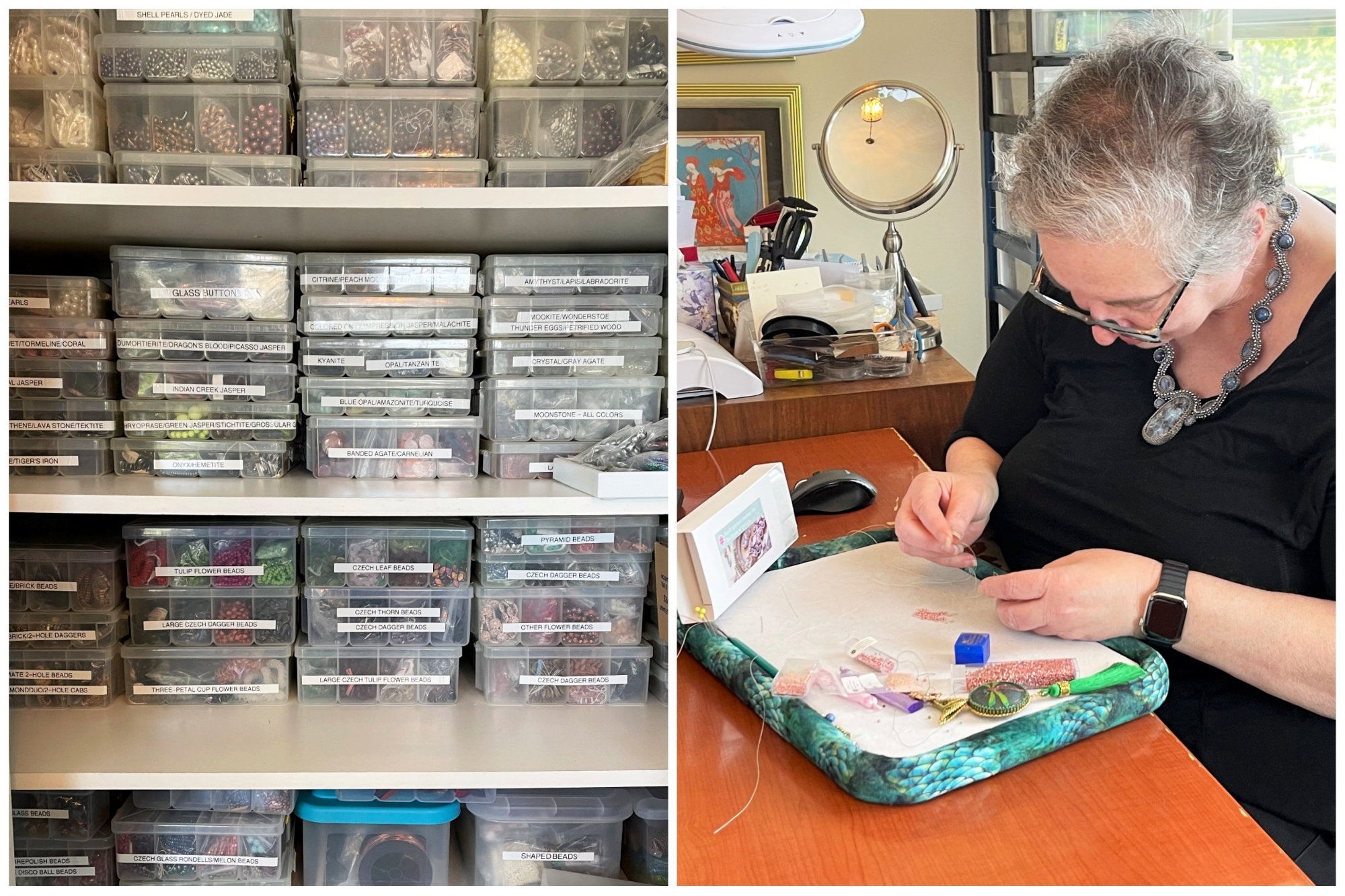 What is your favourite stitch? Which colours do you like the most? On the other hand, is there any colour or colour combination you try to avoid? 
Hmmm, favorite stitch?  Let's work backwards and consider what stiches I don't enjoy… 
I dislike flat peyote.  I admire people who do it, but I find it boring, and doing patterns is beyond tedious.  I dislike endless ropes of cubic right angle weave for the same reason.  Ditto ropes of herringbone. On the other hand, I love spiral ropes and spiral herringbone with larger beads because they work up so quickly and have maximum impact, and I tolerate chenille ropes because they go faster than straight herringbone, even with tiny beads.
So, what do I actually like?  Any kind of bezel.  Also, netted ropes.  Kumihimo.  Bead embroidery (we really haven't touched on that, have we?).  I love patterns that use stitches in unexpected ways.  But I don't think I actually have a "favorite" stitch, per se.
As for color – Blue, turquoise, green – the cooler side of the spectrum (and yet I do love orange, too).  All metallics – I'm on a gold kick right now, but I love every shade of silver and copper, too.
Colors I dislike – opaque "primary school yellow", and not even the Flowers in Her Hair box could convert me.  I'm not much of a fan of translucent seed beads in any color these days (I don't know why, maybe because of the way the thread shows?).  While I love black (my entire wardrobe, all four seasons, is black), I dislike working with black beads – too harsh and disruptive.  Same with white beads, particularly opaque white.
Do you follow instructions or do you like to develop your own designs? How would you define your style?  
With the exception of the Beadingschool Academy designs, I rarely follow instructions.  And even with the instructions, it is really rare for me to follow the instructions exactly from start to finish.  I love to adapt and reimagine and put my own spin on a design.  What makes Beadingschool just such pure beading pleasure for me is that the tutorials are truly "motifs" and everyone is encouraged to utilize them in their own way.
Outside of what I create with Beadingschool motifs and materials, I "free bead" it.  My style is eclectic and organic, and sometimes just a little odd.  Here's just a few of my crazier pieces: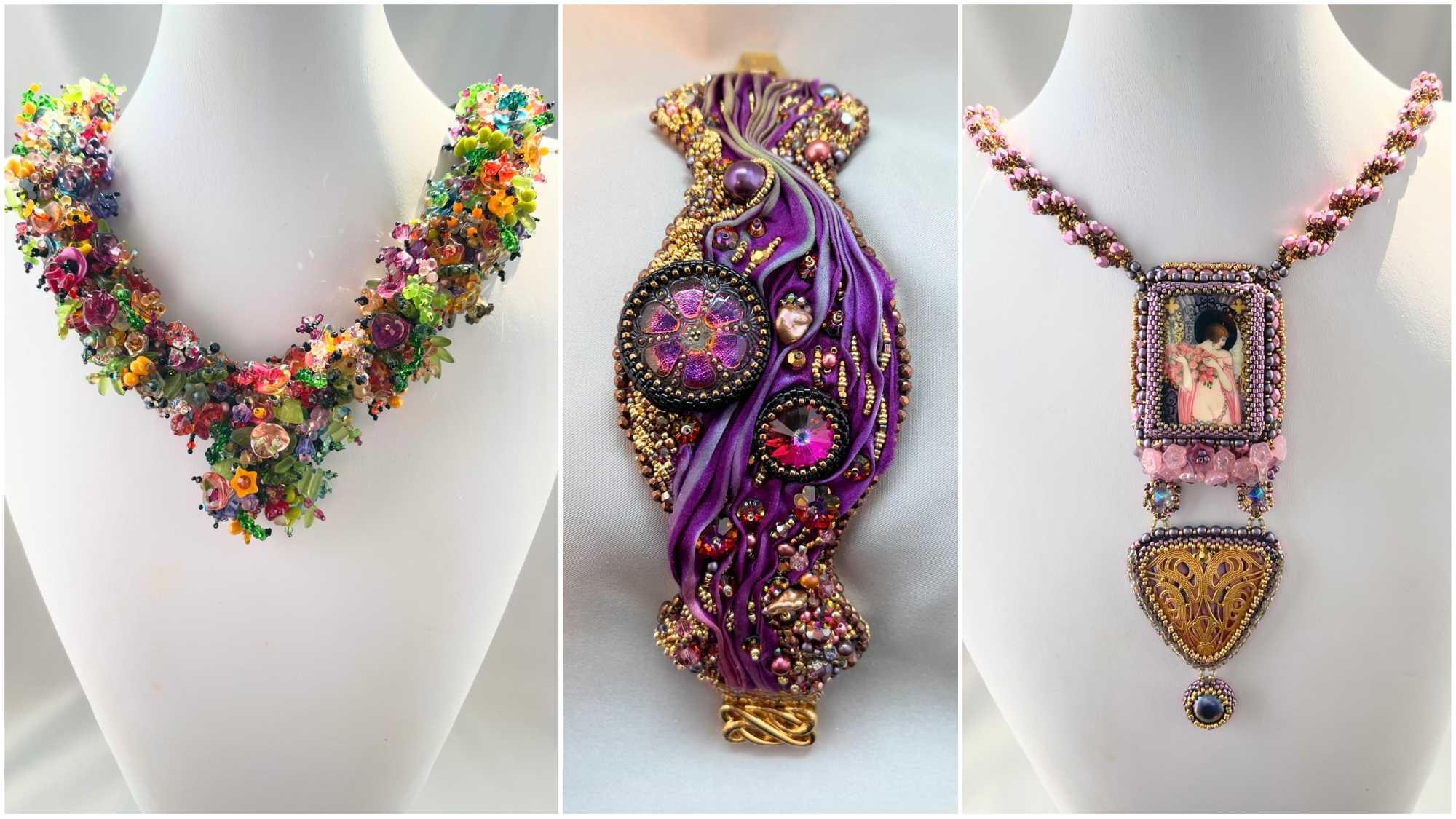 Dark Bouquet, circa 2012-2014 – Japanese Seed Bead, Vintage and New Swarovski Crystal, Czech Pressed Glass Flower Beads
Purple Prose, 2019 – Shibori Bead Embroidery, hand dyed shibori silk, various crystal and pressed glass beads, freshwater pearls, seed beads, Czech pressed glass button, Swarovski rivoli, Claspgarden clasp
The Pink Princess, 2020 – Bead Embroidery – Hand Painted Art Nouveau Focal, Delica bezel, trimmed with Czech fire polish beads, pressed glass flowers, vintage brass filagree backed on layered shibori silk, freshwater pearl element.
Who are your favorite designers? Why? 
Erika Sandor and the Beadingschool design team – For their endless well of generosity, creativity, and kindness.
Laura McCabe – For being the ur-designer who saw the potential for those amazing pointed rivoli stones and how to capture them with those strangely perfect Japanese seed beads back in the late 1990s.  Also, for using creepy glass eyes and spikes in her bead sculptures.
Sherry Serafini – She defines "organic" in bead embroidery.
Jamie Cloud Eakin – For teaching me how to bezel every kind of stone, and then finding a million ways to make it look amazing.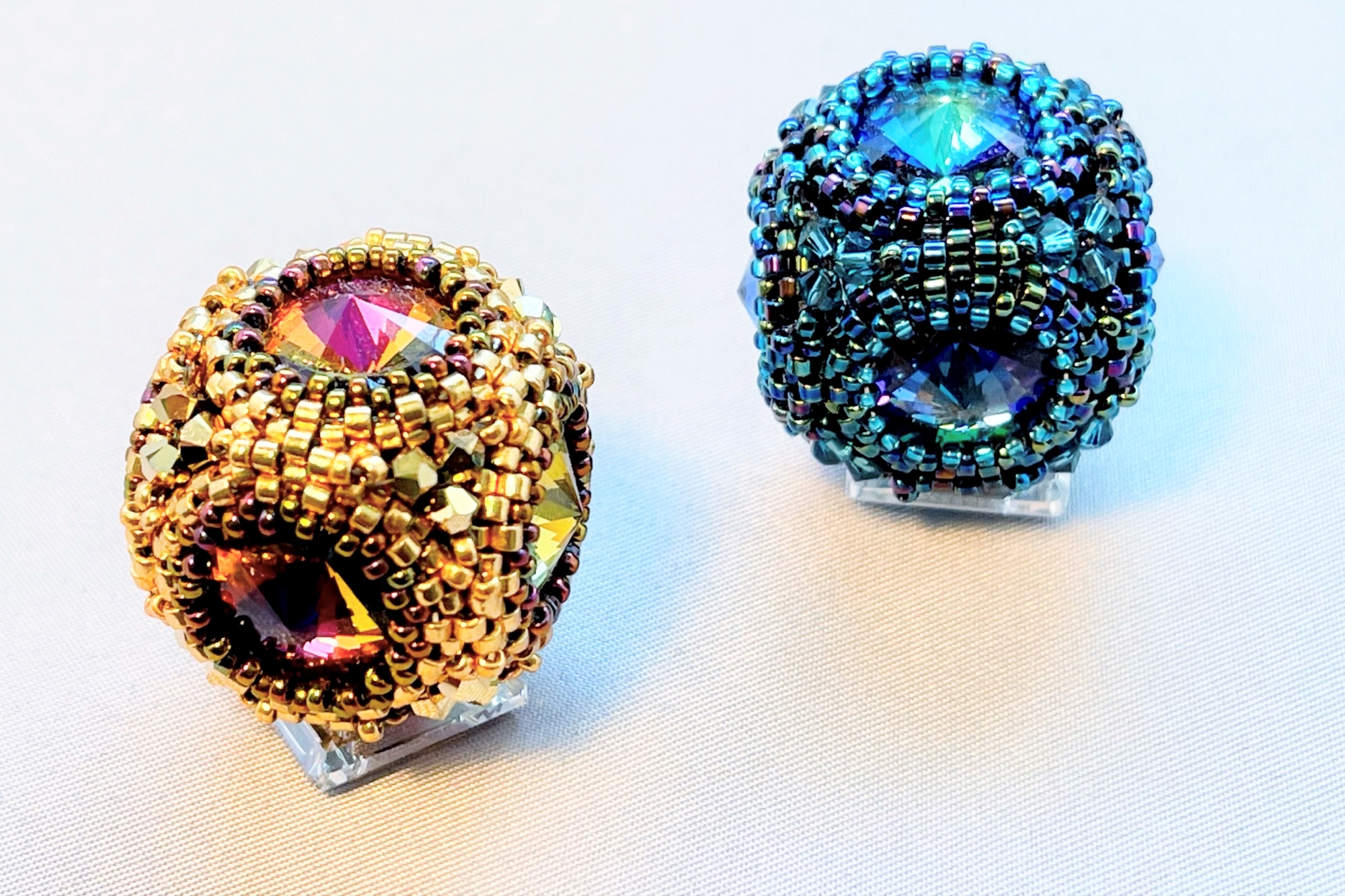 "Crown Jewels" pattern by Laura McCabe, completed during the 2020 during lockdown – Swarovski Rivolis, Swarovski bicones, Miyuki Delicas
Do you have a favorite design by Erika? Tell us about it!   
It's the first pattern I ever tried – the Tuschinski bracelet, which Erika had done as a retro NOHTBA at the start of the Art Deco Academy box.  This was my first box, too, and I had the gall to send Erika a note on a way to improve the pattern!  
Tuschinski  design by Erika Sandor, 2022.
Which is the bead / component in your stash which you treasure the most? Do you already have plans on how to use it?
My friends call me a dragon because I am as much a collector as a beader, and my stash resembles a horde. Albeit a well-organized and well-labeled one ("If it's not labeled, you don't actually have it", Adam Savage, Mythbusters).   Anyways, I digress.  
For years, I have been collecting Art Deco era glass cabochons, and about 25 years ago, I found a single perfect "peacock eye" cab that I had saved with the hopes of finding another.  I haunted Ebay, antique stores and festivals, bead shows, but never had any luck locating another one.  I had thought it was French, and maybe that was the problem in locating another one.  About four years ago, I finally used it, and posted a picture of the finished piece on the Seed Beads & More FB group.  The amazing Diane FitzGerald commented and told me that the cabochon was Czech, not French, and that she had collected them herself for many years!  She'd even shared an article she'd written about them.  To make a long story short, about a year ago, I had been casually searching through Etsy for vintage cabs and I came across a lot of seven of these elusive beauties! For one dollar, total!  To put that amazing price into perspective, there is a collector in France parceling out her collection and she is selling them for $40 or $50 a piece!  Needless to say, I bought them and am now waiting for the perfect project to use them.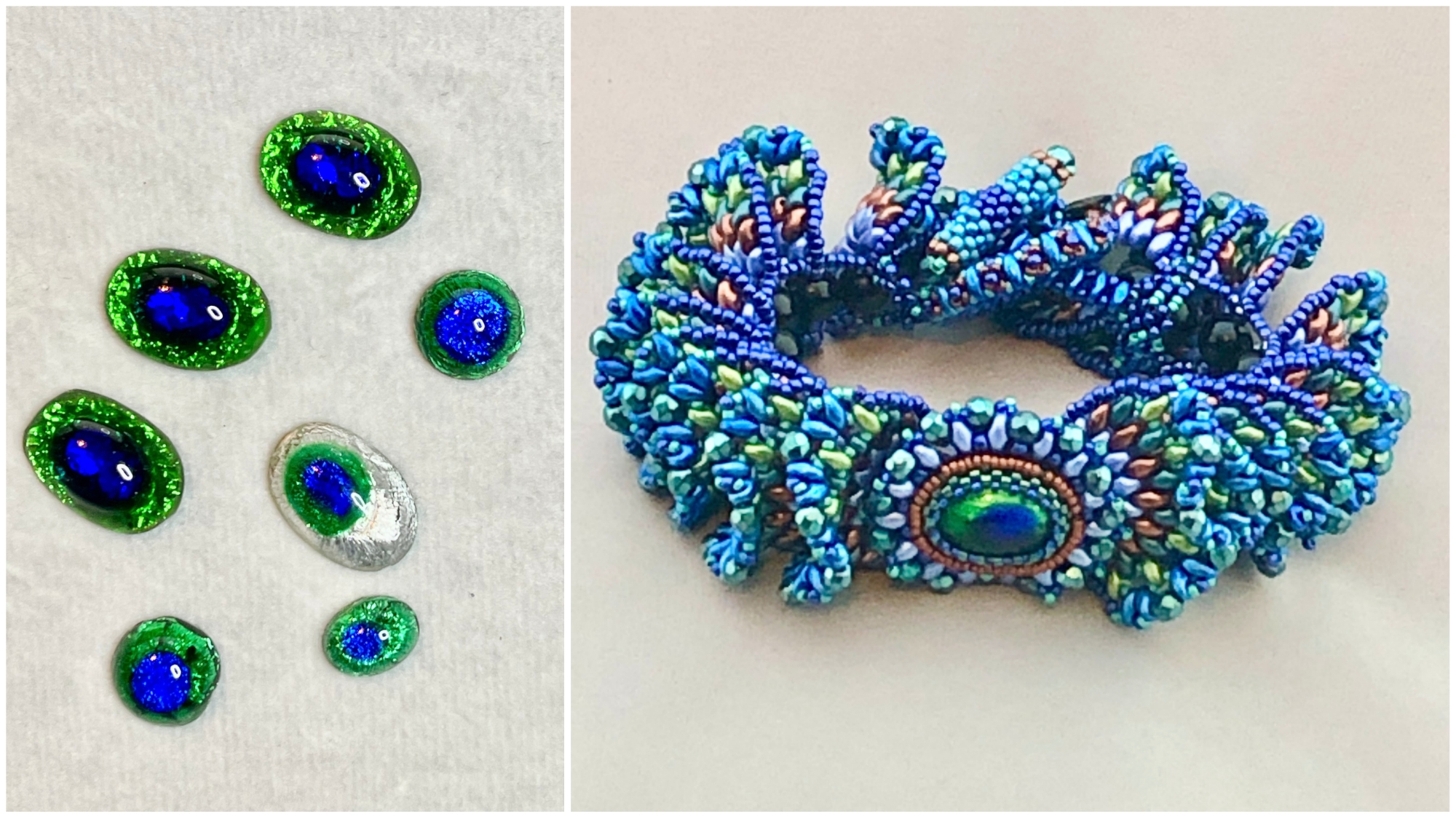 Peacock Eye Cabochon collection and Heavy Feathers, 2019 (Czech Superduos, Toho rocaille seed beads, black onyx round beads, antique Czech glass bead embroidery peacock "eye" cabochon focal).
If you could design something for a well-known person or maybe a fictional character from a film or book, who would it be, and why? 
Oh, this is a hard one!  I don't think I can say that there's someone in particular I'd like to design for, but I'd like to design a necklace that is meant to be worn with a Fortuny evening gown.
What are your plans for the future as a beader? Is there something you would really like to learn? 
I always want to learn and improve, but specifically, I want to become better at bead embroidery.  I am self-taught and my finishing skills are not up to my personal standards.
Where can we see and buy your designs? 
I don't sell my work. I create for the joy of creation. So, I will rarely take commissions but prefer to gift to friends.  I occasionally post pictures on Seed Beads &  More and on a few other Facebook groups, but mostly on the Beadingschool FB group these days.  It is the most welcoming group I've found.

Thank you for answering my questions, Lita!
We all are happy you are beading with us and inspire us with your beautiful jewelry!
Dear beading-friends and beadwork admirers, please, use the comment section if you have more questions you would like to ask, or greet Lita.
Stay tuned for more interviews for Beadingschool.com by Erika Sándor!
Reader Interactions