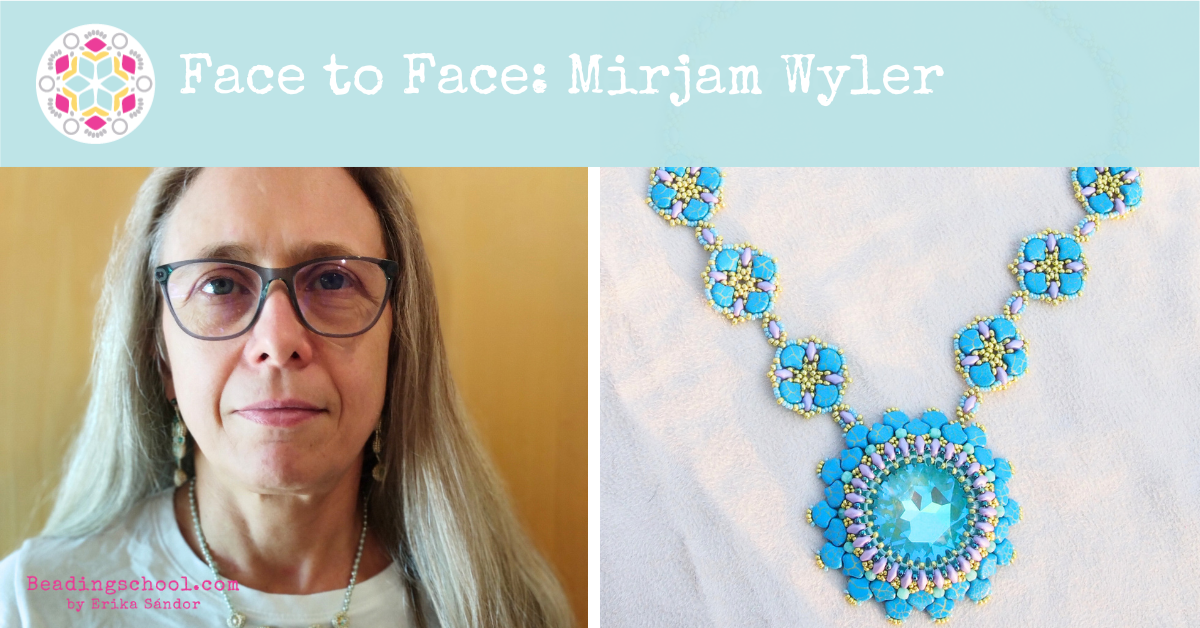 Face to Face: Meet Mirjam Wyler
Our newest Face to Face interview with our fellow beaders and designers is here!
She has been with us for a long time,  from the period when a little bunny was part of my logo 😉 I can't imagine our Beadingschool Club without her – her support expressed by beading almost every single design coming from me and the Beadingschool Creative Team, her friendly personality, uplifting comments are here for everyone. It has been wonderful to watch her journey, her love for turquoise (and also other color combinations – of course!), her solutions for finishing her jewels.

Meet the Beadingschool Club member, enthused beader and turquoise lover,
Mirjam Wyler!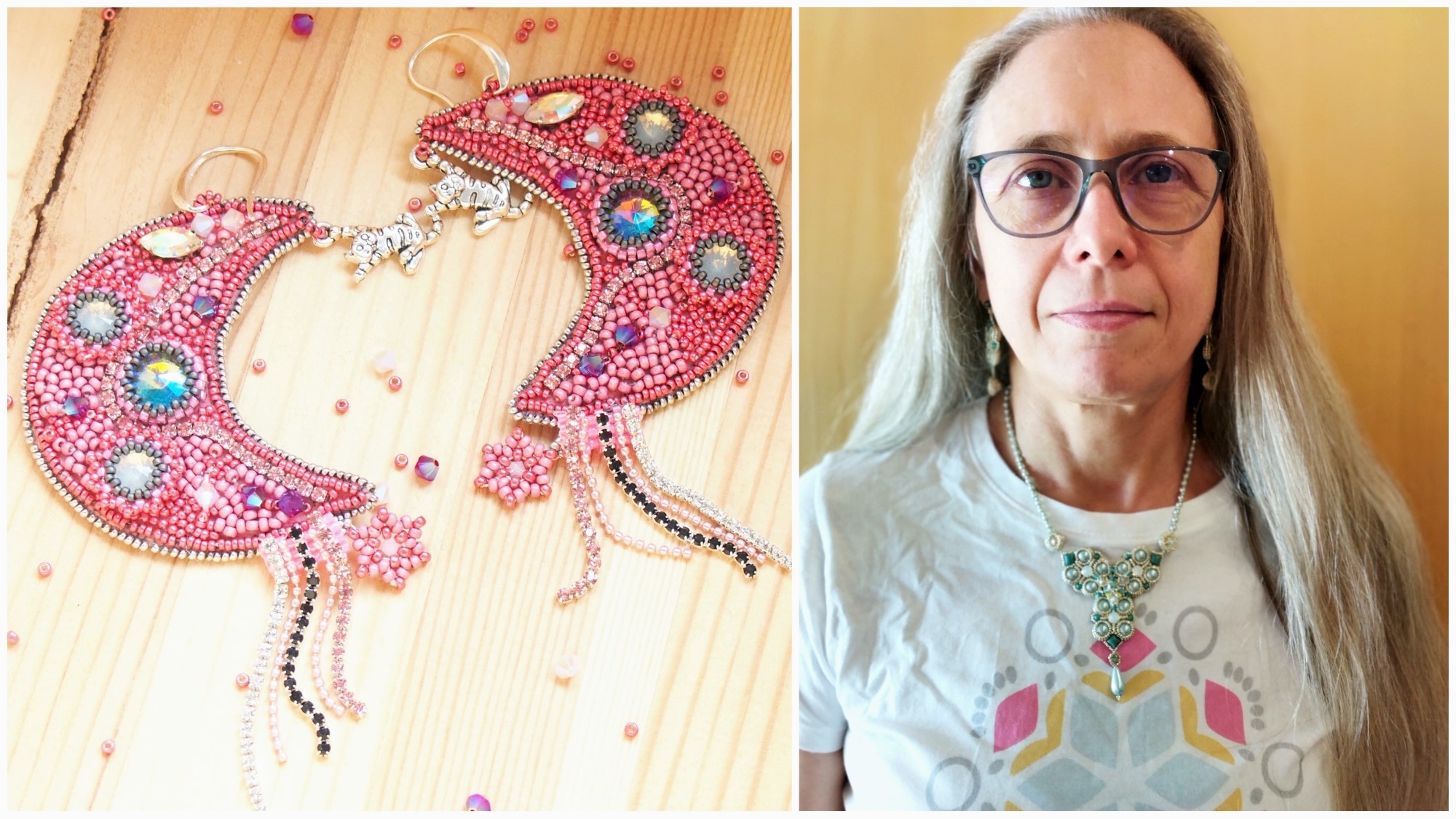 Please tell us about yourself a bit! When and how did you start to create? How did you learn to bead?  
I am 58 years old and I am living in Switzerland, my birth country.
Thinking back, I always loved to do creative things. As a child I did wire earrings with a friend and later some knitting. From my mother and her family I got the skills for handicrafts. I started doing some serious :–) wirework and very simple crochet necklaces about 15 years ago.
A colleague was already doing beadwork and suddenly I got infected with the bead bug. She told me about Bead & Button magazine and where I could order material in Switzerland. I am an autodidact in beading. I was learning from beading books, the Bead & Button magazine and the Beadwork magazine. The biggest challenge in the beginning was to have good material, it took me quite a while to learn about bead quality.
Some time later I saw that there is a (digital) beading community in Germany and I found a beading forum in German language. Later I made friends in real life with some of the beader from there meeting at beading shows in Bavaria and Hamburg (Germany) or at yearly meetings.
Beading has become a very important part of my life. I participated for the first time in a beading workshop at the Perlenkunstmesse in Hamburg, at a workshop with Anja Schlotman 5 years ago. One year later I took the workshop in Hamburg again, but with Erika Sándor. :—) I finally met her in person and it was a fantastic time. I was very happy and also excited.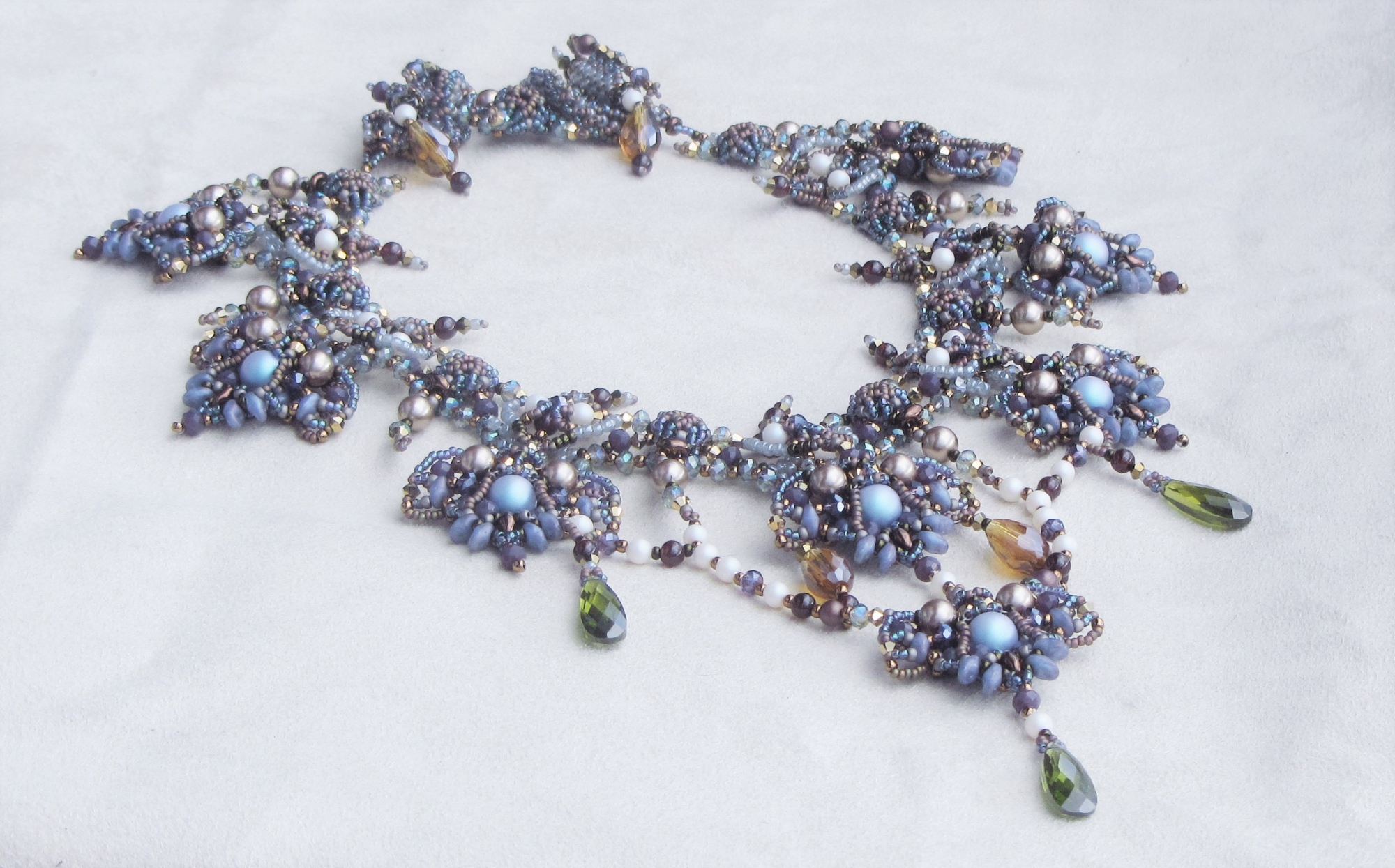 Is beadwork your hobby or profession? How does your average day look like? When do you have time to create?   
Beadwork is my hobby.  I am a non-medical practitioner, working with spine therapy and kinesiology in my own practice in my birth town, Basel. I am working during the day and in the evening and on weekends I have time for my hobbies. I am also a violin player in two classical orchestras and we are featuring about 4 or 5 concerts per year. Even though this is a hobby, it needs some time for practicing and rehearsing.
As soon as I am at home and have time for myself I am beading and beading and beading.
Tell us about the piece of jewelry you are the most proud of! 
There are a few pieces I am proud of.  There are the necklaces I beaded for Toho Mini Challenges and a few pieces I beaded in workshops with Anja Schlotman, Erika Sándor and Melanie de Miguel.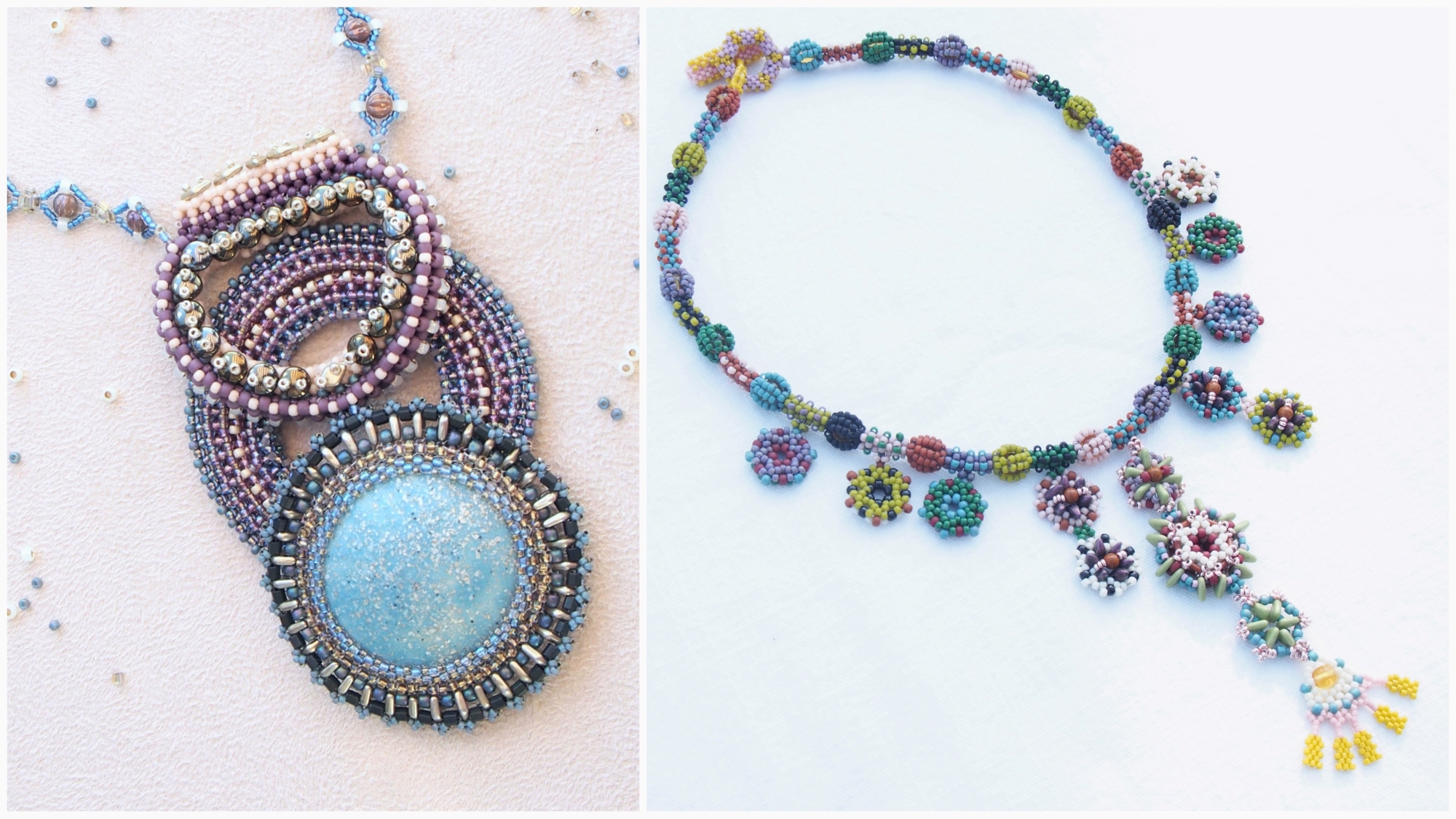 Where do you like to create? Do you have a designated area in your home where you keep your beads?  
I am sharing an  apartment with my husband and two cats. It is small and I am beading on our dining table. This means that there is theoretically :–) not much space for disorder. The beads are closed away in cupboards and on one shelf behind the dining table.
What is your favorite stitch? Which colors do you like the most? On the other hand, is there any color or color combination you try to avoid? 
I do not have a favorite stitch, I like those stitches where the thread is nearly invisible.
Bead embroidery is the technique where I can relax the most.
My favorite color is turquoise, all shades of turquoise and blue. I love all kinds of metallic colors, bright and happy colors. I try to avoid color combinations like gray with black and beige with white, for me these are non-colors. 😉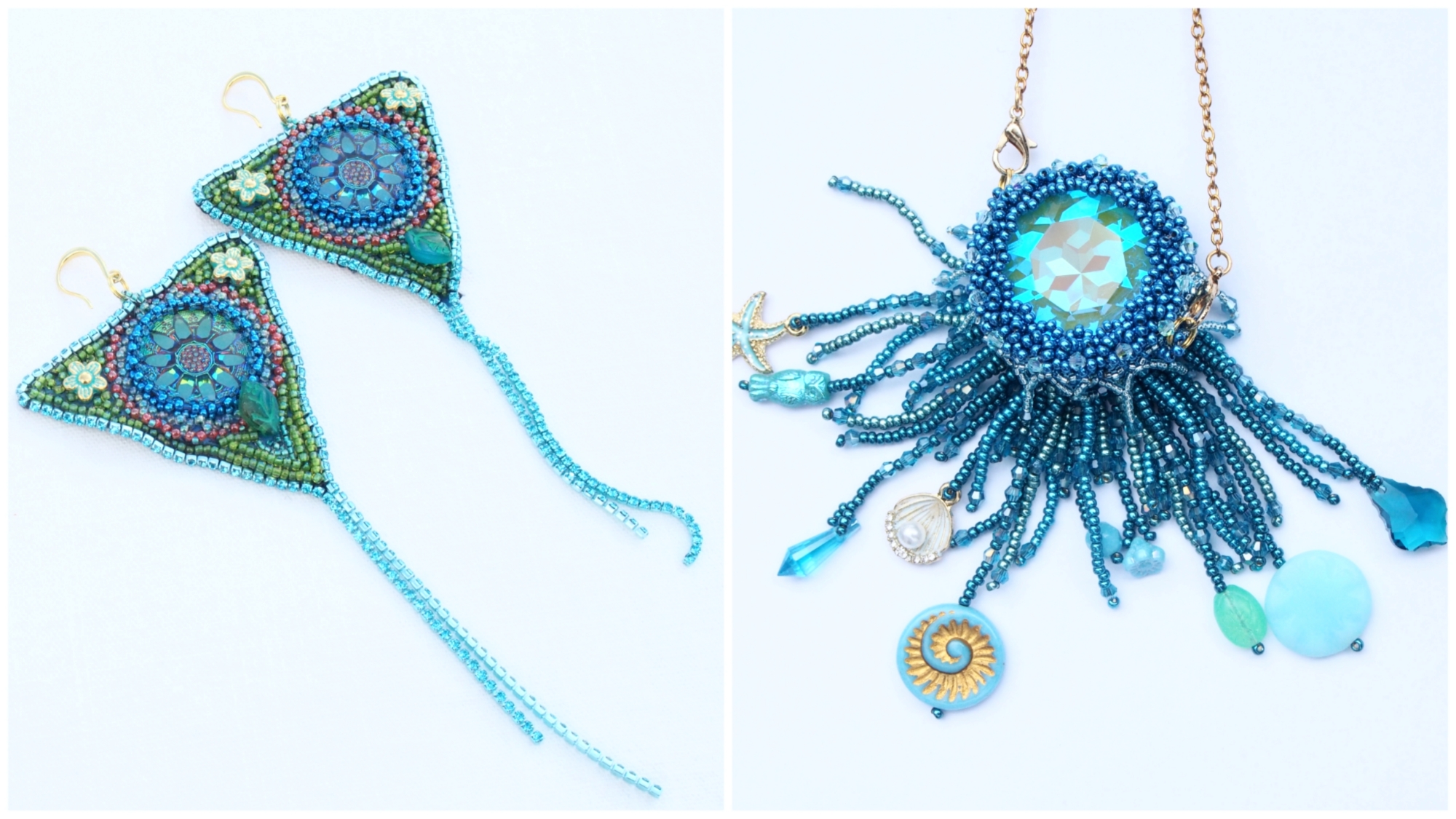 Do you follow instructions or do you like to develop your own designs? How would you define your style?  
Both, I follow instructions and I am developing my own designs. My style is colorful and I love details, fringes and bling.
Who are your favorite designers? Why? 
There are a lot of designers I really like but those I met in person and I got a personal relationship with are those who I adore. I would like to mention here:

Erika Sándor

Anja Schlotman

Melanie de Miguel

Heather Kingsley-Heath

Elke Leonhardt-Rath

Sabine Lippert

Frauke Gugat

Isabella Lam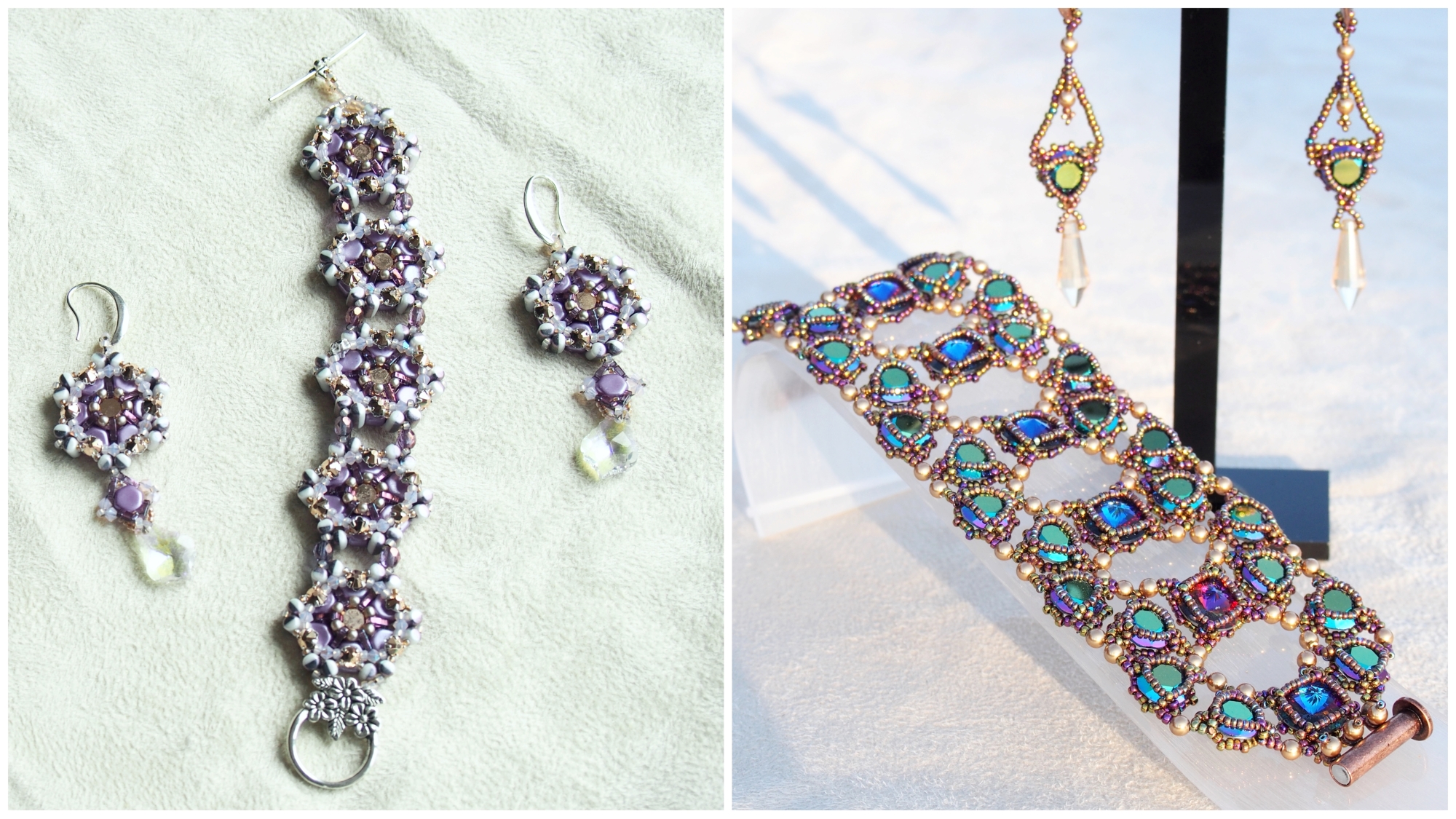 Do you have a favorite design by Erika? Tell us about it!   
I love Erikas designs very much. Byzantine, the bracelet I beaded in her workshop, is very delicate and beautiful and Star Storm bracelet  was a special gift from Erika. I worship them.
My favorite pendant designs are: Caravaggio, The Traveller, Bleu Aimable and Sassifraga. And the favorite earring designs are Timea , Tulip Tower, Chandigarh and Sophia.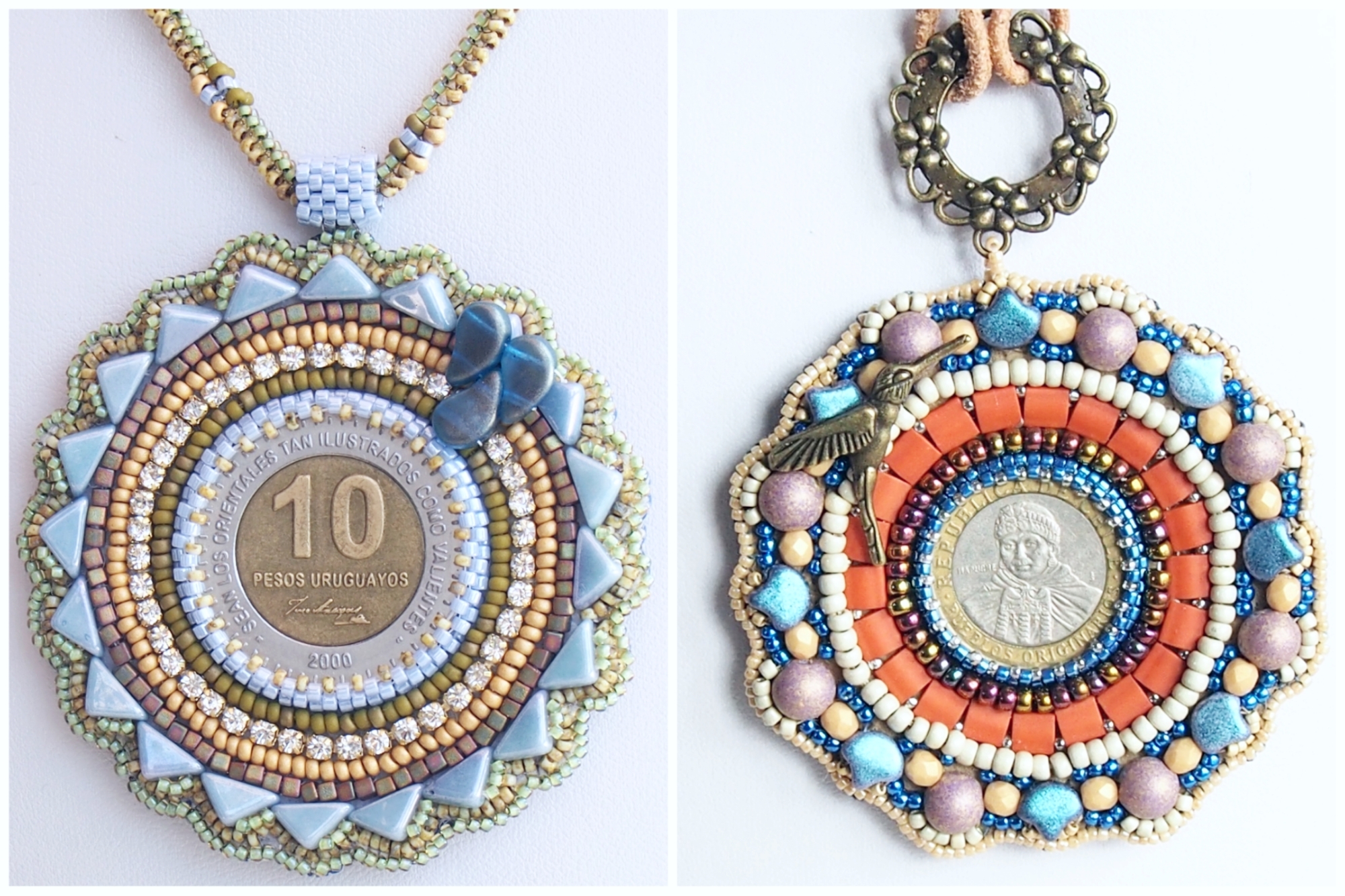 Which is the bead / component in your stash which you treasure the most? Do you already have plans on how to use it?
There are a few cabochons which I treasure and haven't planned yet to use, one of them is handmade by a lovely beading friend and another one is the golden cabochon with the Beadingschool logo on it.
If you could design something for a well-known person or maybe a fictional character from a film or book, who would it be, and why? 
I would have been great to design a pair of earrings for Koko Taylor, a famous Blues singer who was the Queen of the Blues. Her voice was so unique and she was a symbol of female Blues. She often wore a pair of statement earrings when performing.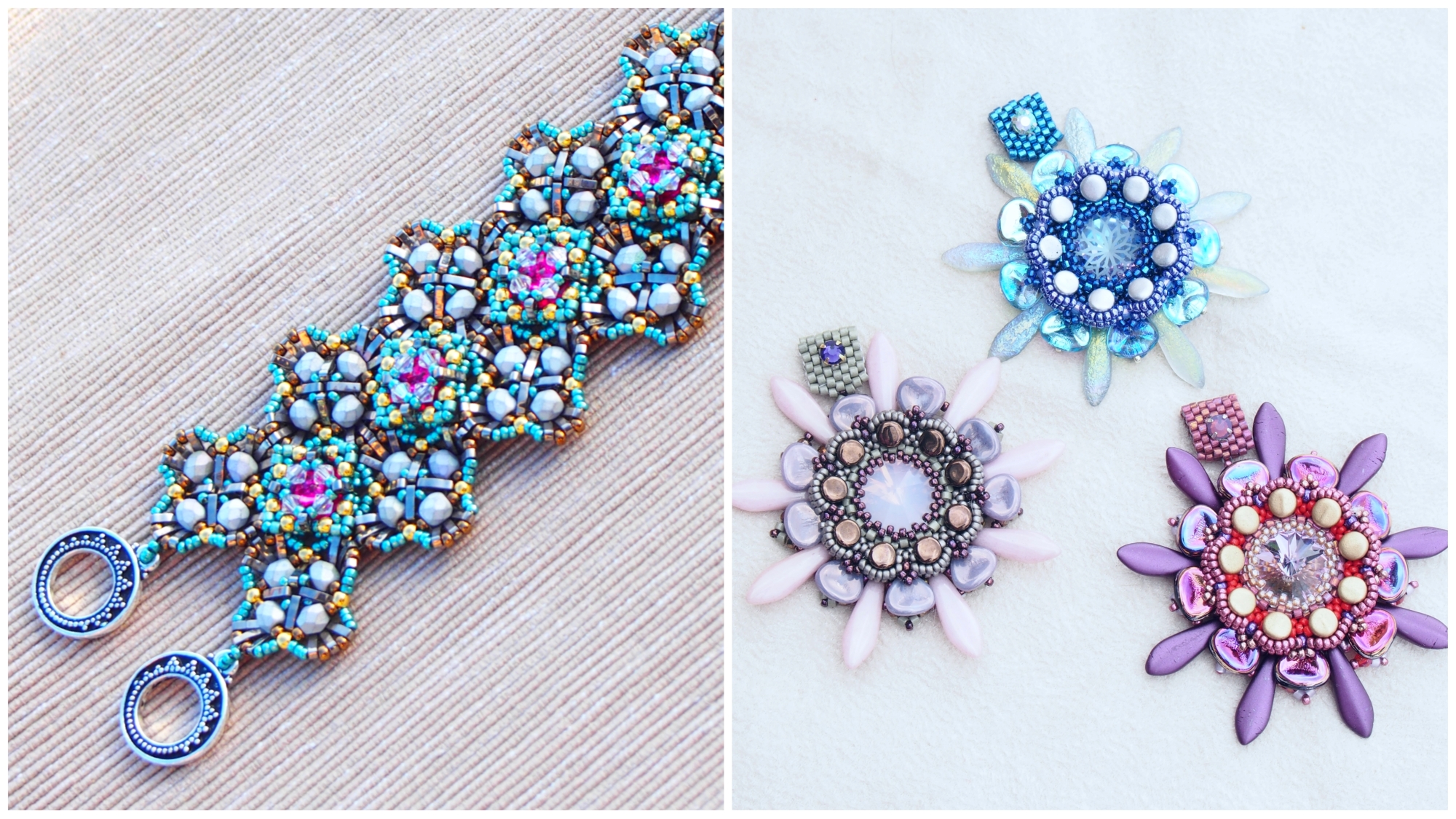 What are your plans for the future as a beader? Is there something you would really like to learn? 
I want to brush up my skills in soutache. There are so many possibilities adding soutache elements to beaded jewellery.
Where can we see and buy your designs? 
I do not write instructions nor sell my designs but I am selling finished beadwork. You can see a lot of my beadwork on Facebook – Beads by Mirjam.

Thank you for answering my questions, Mirjam!
We all are happy you are beading with us and inspire us with your jewelry!
Dear beading-friends and beadwork admirers, please, use the comment section if you have more questions you would like to ask, or greet our Mi.
Stay tuned for more interviews for Beadingschool.com by Erika Sándor!
Reader Interactions