Different beading contests and exhibitions always bring someone new with a unique style. It is one of the reasons why I like to follow and watch them. Then I continue watching the beaders' work I found interesting. It was the case of Ruxandra Puscas some years ago, too.
She works with a very little variety of beads – the smallest seed beads, pearls, and crystals – but her designs are complex and vivid. Ruxandra created her own style and you can recognize her work by a single look. When I see her jewels I think of romantic paintings and poetry. I'm very happy and honored she agreed with the interview!

Welcome to Ruxandra's world of beads and designs!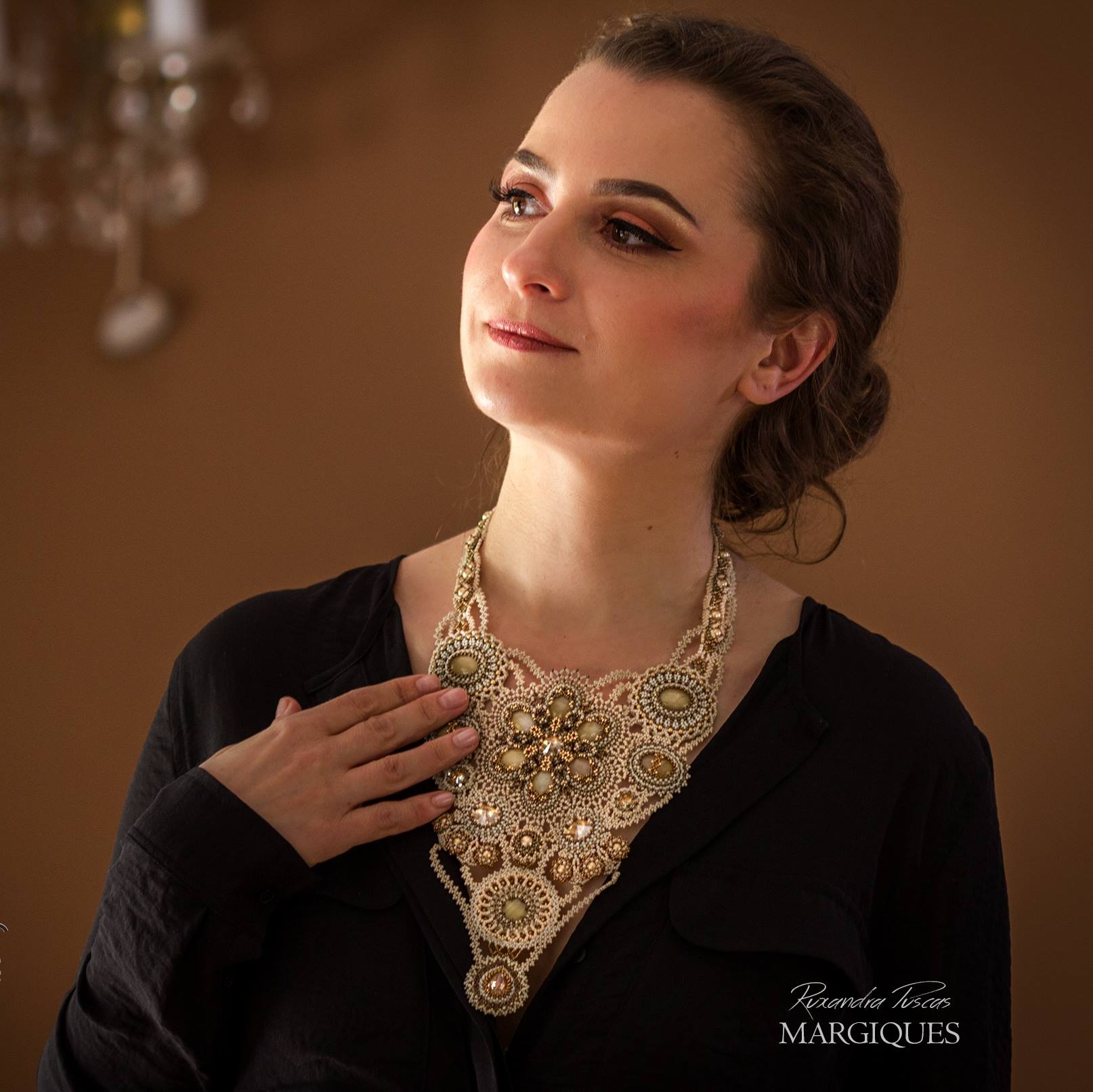 Please tell us about yourself and your brand a bit!
I live in Transylvania, in the heart of Romania, in Sibiu, an old medieval town, full of life and history, surrounded by the magical landscape of the Carpathians. I have studied German and English language and literature and have a Master's in German Traductology. However, after leaving university, I specialized in other fields, among which software testing, which I still practice today as a part-time job. My full-time activity is beading and everything that is related to it: photography, photo-editing, marketing, customer service, research, etc.
I have developed several directions for what my work is concerned: on the one hand, I create finished jewelry, some of it to order, customized to fit specific outfits and events. On the other hand, I make tutorials for some of my designs.
How did your story as a designer begin? Do you remember the first piece you sold?
My story began when my daughter was one year old, and I was looking for a way to not return full-time to my previous job, in order to spend more time with my children. I had to find something I could do from home, at any time – preferably late in the evening and early in the morning when they were asleep, so I came up with the idea of jewelry making. Then a friend of mine sent me a link to an Etsy shop with beaded jewelry. It was love at first sight. A few months of research followed, then practice with the help of YouTube tutorials for another few months and then I gathered my courage and left the nest so to speak, and started creating my own designs. The first piece I sold was a pair of snowflake earrings made after a YouTube tutorial.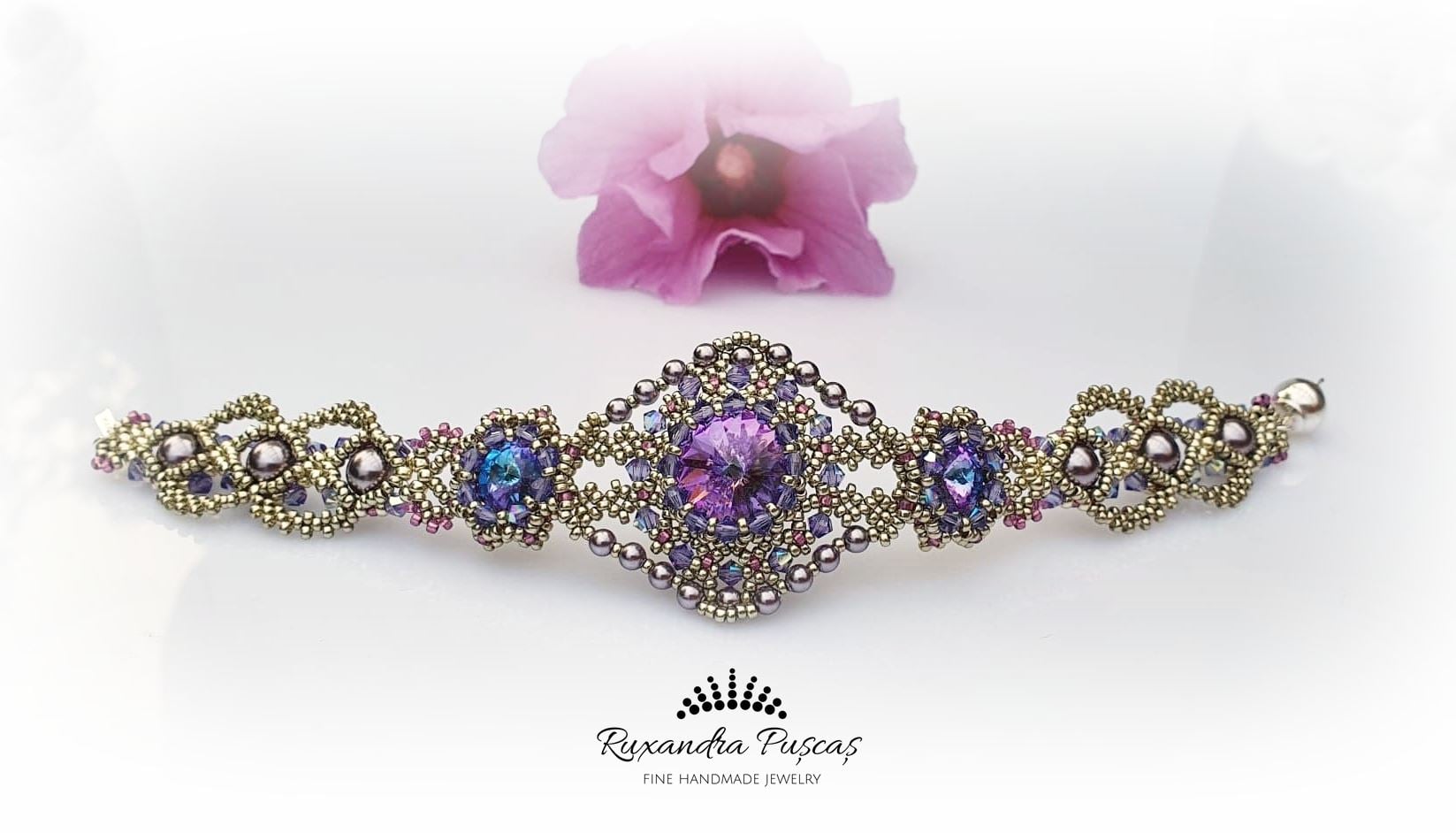 Please tell us how does your average day looks like! It's so exciting to get to know more about your lifestyle.
My average day starts very early, around 4.30 in the morning, with coffee and beading, accompanied by various documentaries on history and literature or audiobooks. These few hours are actually my fuel for the rest of the day. I work part-time as a software tester, for 4 hours, while the children are at school. The rest of the day is a chaotic mixture of cooking, playing, going to the park, beading, taking photos of jewelry pieces, photo editing, discussions with various customers on their desired pieces, cleaning the house, doing laundry, helping with homework, etc. It does not sound very fancy, but I love my routine and am addicted to it, so much so that I start worrying before going on holiday and having the prospect of more leisure time.
What makes your designs stand out from the crowd of other designers? Which are your favorite colors, shapes, materials, etc?
The first thing being observed in connection to my beading style is that
I do not follow the "less is more" principle. The reason for this is very simple: I cannot.
I so much admire people who can because I believe that true beauty lies in simplicity most of the time. However, this is how my mind works and I cannot help it: I need to over-complicate things and find good solutions to solve the created entanglements. This brings me peace; it is like meditation to me. I learned to use colors from my daughter and her drawings which are like an explosion of joy. I do not have a favorite color or shape what my jewelry is concerned, I like all of them! Regarding materials, I love seed beads most, the smaller the better, then crystals, pearls, then semi-precious stones.
Where does your inspiration come from? Do you have some rituals to boost your creative energy, a favorite place for work?
My inspiration comes from history most of the time I would say. I am an old soul, who would have fit better in different times, I think. I love classic, old-fashioned, vintage things. I do not have a favorite place for work, I am accustomed to being mobile around the house, taking my beading tray from room to room or outside to the garden, as the situation requires.
Do you have a piece of jewelry you made, that is somehow special to you?
I love all my pieces very much, but if I had to name a favorite, that would be my necklace Caprice, created for the Battle of the Beadsmith 2017, and a finalist of BeadDreams 2018. It is a necklace created exclusively of Miyuki 15/0 seed beads. It derives its name from Paganini's Caprices for Solo Violin, the sounds of my childhood, Paganini being one of my father's absolute favorites.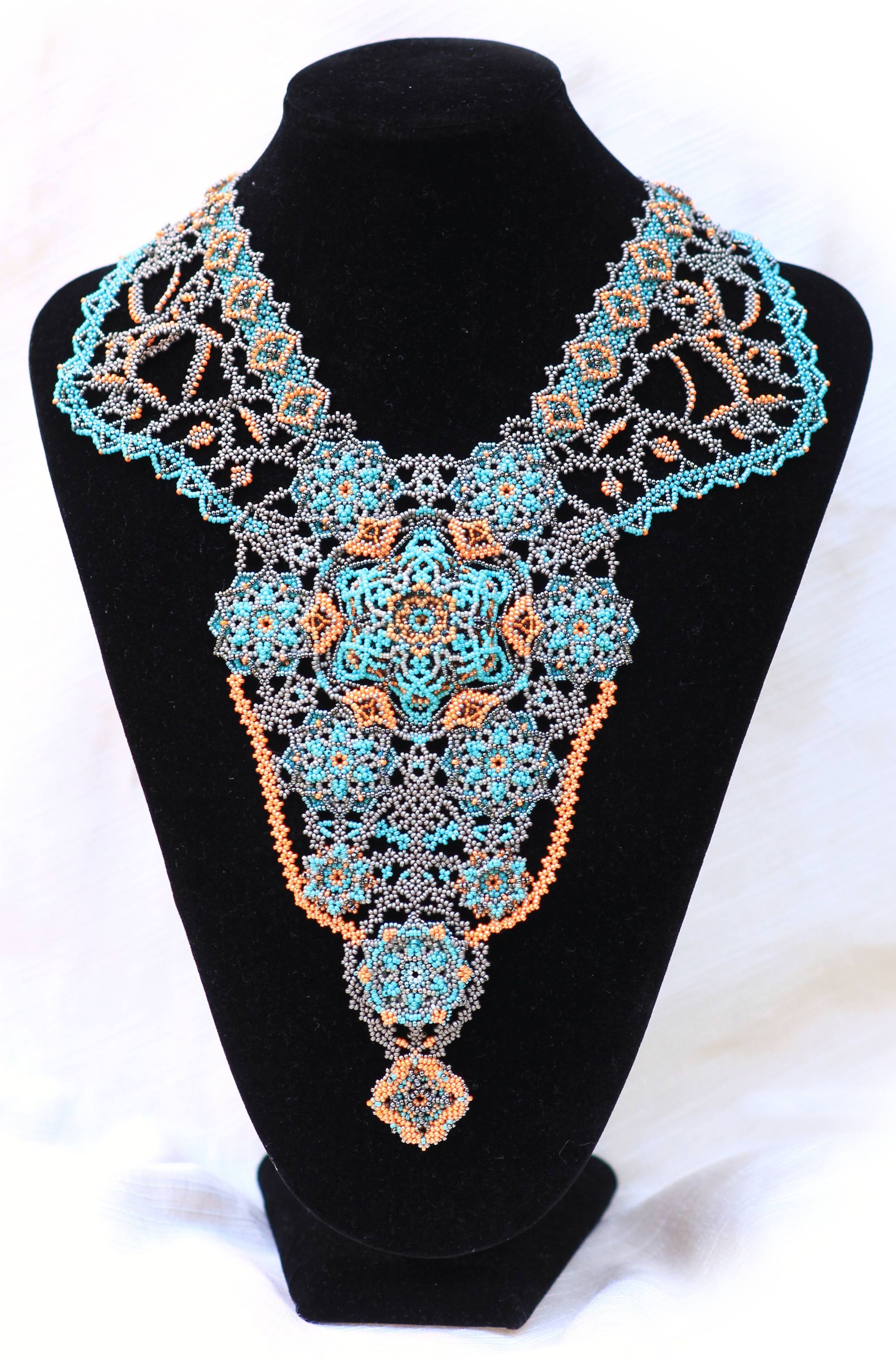 If you could design something for a well-known person or maybe a fictional character from a film or book, who would it be, and why?

I have actually made a pair of earrings thinking of a historical figure, namely Madame de Pompadour. Jeanne Antoinette Poisson, Marquise de Pompadour (1721-1764) was the official chief mistress of Louis XV. She was a major patroness of architecture, decorative arts, and of the philosophers of the Enlightenment, including Voltaire. She had a great political mind, and her influence was feared by many, because she seemed to have the power of overturning social and gender hierarchies, both as a non-aristocrat and as a woman. I believe we should remember people like her.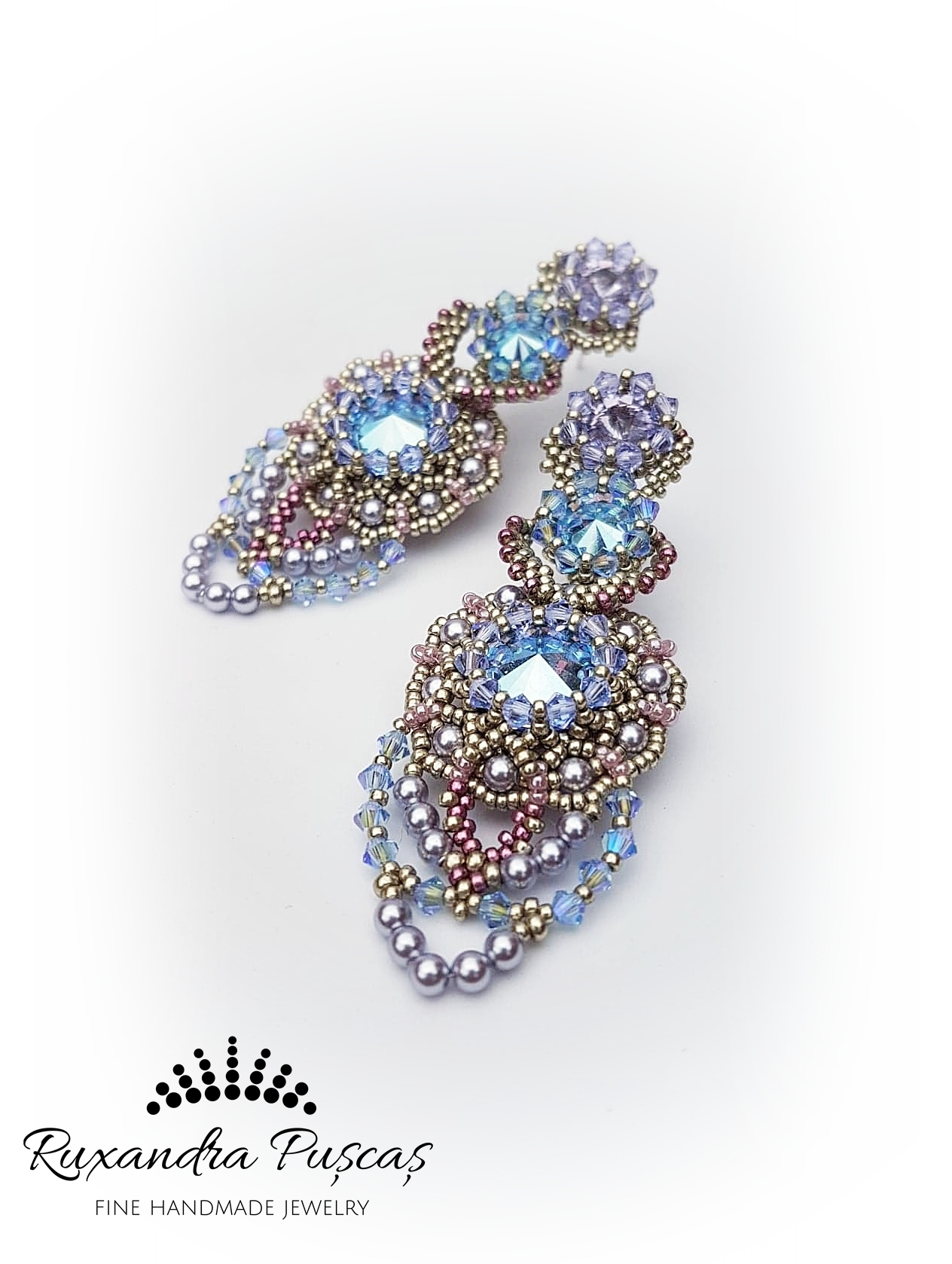 What kind of clothes and accessories do you wear? Who are your favorite designers and why?
For the last couple of years, I have started wearing very simple clothes in dark colors, mostly black. I normally wear only basic jewelry, my wedding ring and a tiny pair of earrings. This is because it helps me be more creative and concentrate my attention on the surroundings.
I need to create some balance in my mind between myself and the things I create, which are colorful and complex. Therefore I like to keep myself monochrome and simple most of the time.
There are many designers I admire and look up to, but I will name only my favorite one: Apollinariya Koprivnik. To my eyes, she is the ultimate bead artist.
What is your goal in the future? Where would you like to see your brand?
I know it sounds totally inappropriate for the 21st century, but I do not have any specific goal. I just want to enjoy my beady journey and see where the way leads. I do not put any pressure on me or my work (besides what brings me joy), because I need to keep my beading in my happy-area.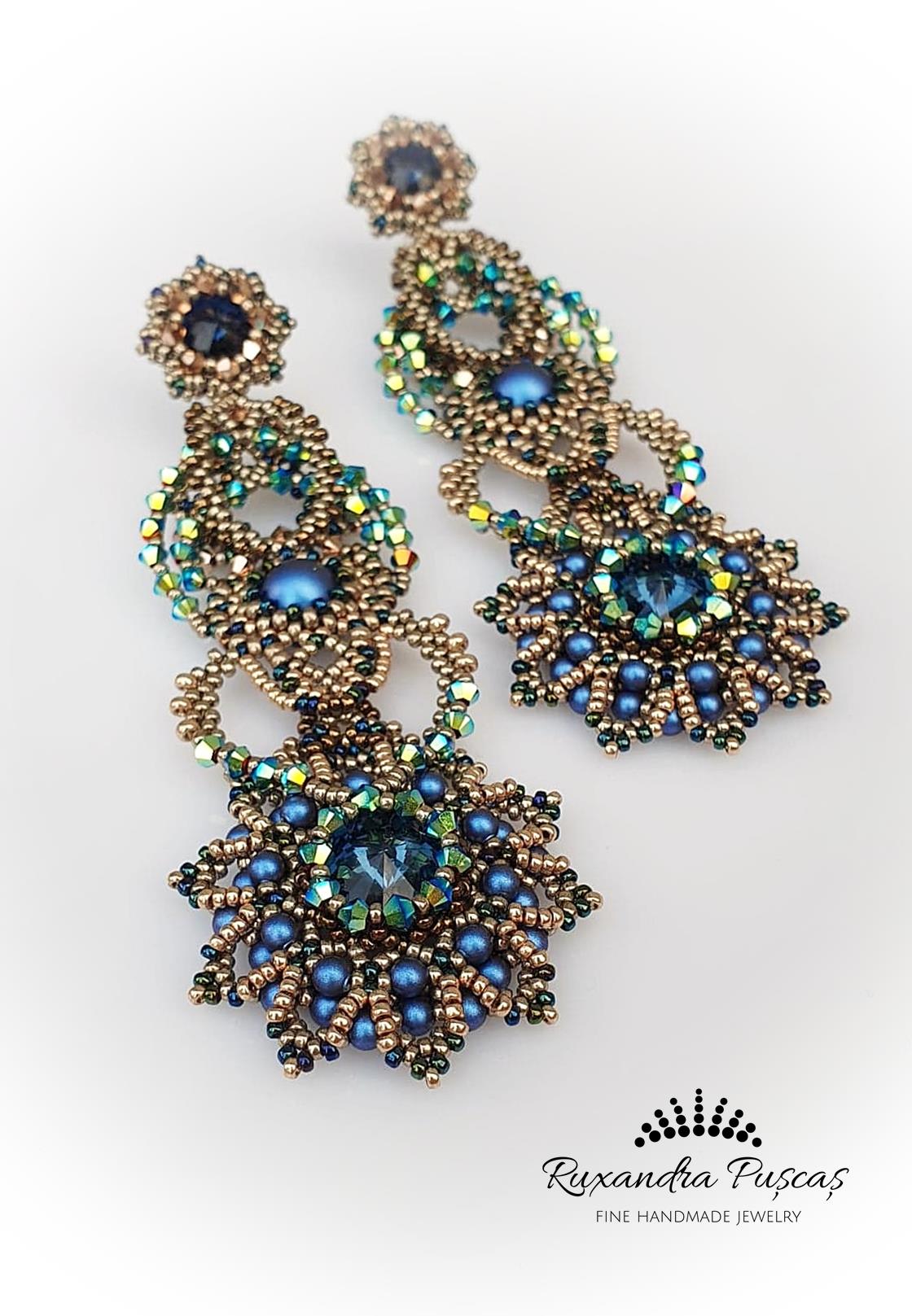 Where can we see and buy your designs?
I have an Etsy shop with both finished jewelry and, so far 20, tutorials.
Thank you for answering my questions, Ruxandra!

We, at Beadingschool.com, are very happy you let us into your world and surely brought a lot of inspiration to our readers and also beaders. It has been wonderful to meet you! We can't wait to see your creations from Preciosa Ocean Box you selected for your beading and that you received as a gift from us. We'll be happy to follow up with another article about your beadwork in the future where you use this selection of crystals and pearls.
Dear friends, you can use the comment section if you have more questions you would like to ask, or greet Ruxandra.

Stay tuned for more interviews for Beadingschool.com by Erika Sándor.