Face to Face: Meet Sabine Lippert
Face to Face interviews continue and we're able to meet and to know more about people in our community in this way.
This time, a wonderful designer says "yes" and answer our questions. Since we at Beadingschool greatly admire her work, we were over the moon!
When I think of her, first words coming to my mind are: perfection, precise architecture of each jewel, laughter and a book! If you are around beads for some time, it's very possible you recognize the name or own one of her books about beading. She is also behind some bead shapes that were produced under her supervision and are available on the market!
If you want to explore and experience new beading adventures, she's the right person to join!
Meet the Trytobead designer and mastermind.
Wonderful, inspiring, full of energy – just like her jewels and designs!
Sabine Lippert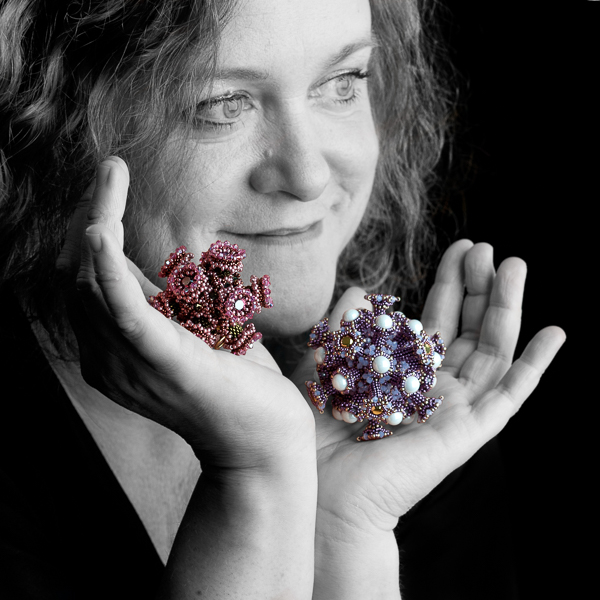 Please tell us about yourself and your brand a bit!
In my first life I was working as a physician with the addiction to everything thread related. Knitting, crochet, embroidery, tatting, bobbin lace…. no thread was secure when I was around. As a school girl I even made my pocket money by knitting samples for a yarn store. Beads were not a theme, as there were sources for nice beads. One first attempt in doing peyote was a disaster because the only beads I could get were some silver-lined 3mm beads in blue, green, yellow and red. One day I found a bead shop in my hometown and they had a small collection of Japanese seed beads. That was about 2007… The rest is history. I started out with bead crochet but thanks to some gatherings with other beaders and the internet, I quickly started to enter the universe of seed bead techniques.
The name Trytobead has a funny genesis. I had an email address that I was using for all kinds of internet groups and that was "Trytobebetter".. that was too long for the German online beading community that I joined, so I made an abbreviation and just called myself Try to Be. My first Etsy shop had that name and also my first patterns were sold under that name.
When I started my own website in 2009, we needed a brand name and I thought… Trytobe…. be…. bead! That is also the reason why the last two letters in my logo are in a different color 😉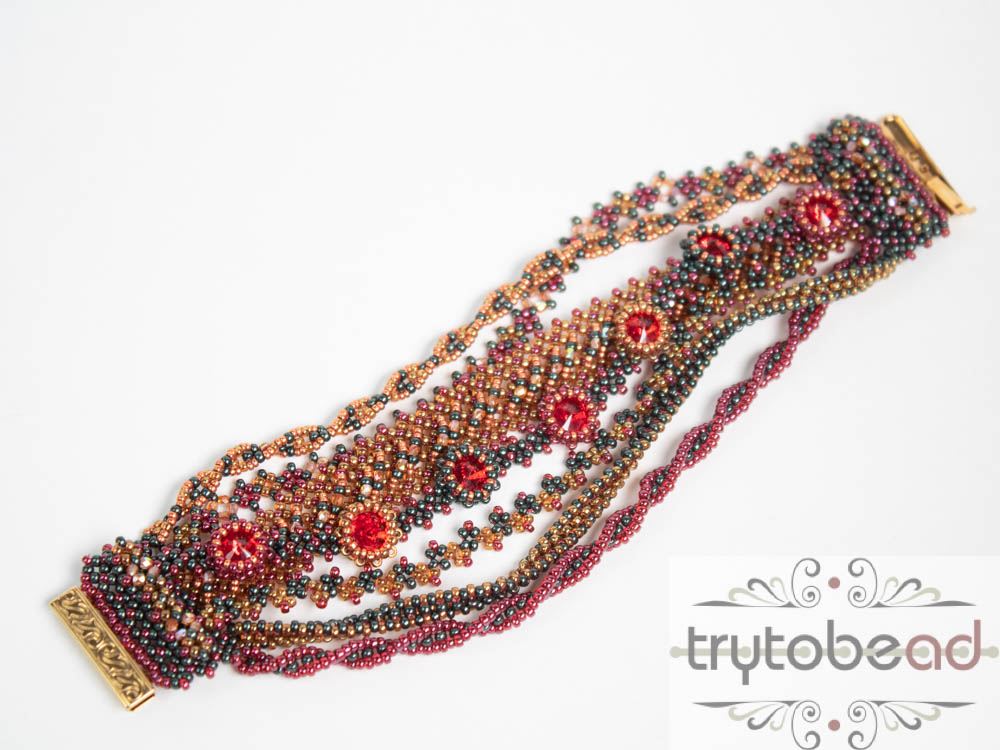 How did your story as a designer begin? To those who know your work – can you tell us one interesting and one fun fact we don't know yet?
I kept showing up at my local bead store with the things I had made, buying new beads and one day the owner asked me to teach a class. My first patterns were more rough sketches for classes but after a while they got more and more polished. One German Publisher (Claudia Schumann from Creanon) contacted me and the first book was published (Perlenkochbuch/Beaders cookbook). In the following years there were two book publications in the USA (Beaded Fantasies and Beadwork Evolution). Meanwhile I was writing instructions like crazy and the former Hobby took over more and more of my time. I was still working full time in a doctors office and finally decided to cut the cord and go fulltime into the beading. My former boss shook his head and said "Why on earth did you go to university then?" My reply was: "That gave me the skills to create nicely constructed beadwork and write patterns"
Mentally I never turned back and although medicine was my life for 25 years, I have to admit, I don't miss it at all.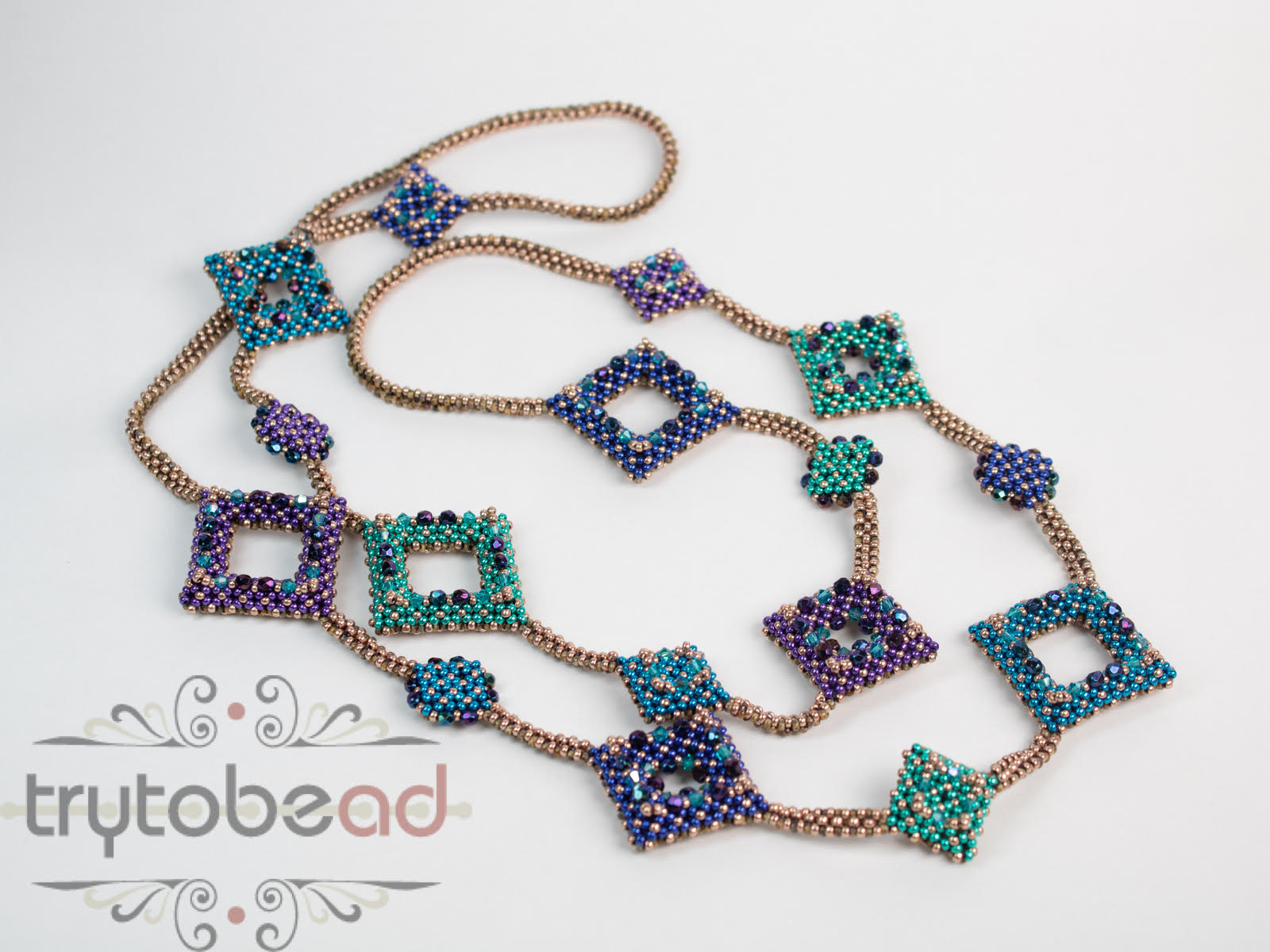 Do you remember the first piece you sold? What was it?
Well I sold some pieces on smaller fairs, but that was never really a big thing, I was focusing from the beginning on "sharing the knowledge about beading". My mission is to infect others with the beading virus. It was actually never the finished piece that tempted me, but the way to create it.
Please tell us how does your average day look like! It's so exciting to get to know more about your lifestyle!
I am German, so I have my strict office times. Every day starts around 7am (that is sleeping in for someone who started early shifts in hospital at 6 am ;-)), and then I have the luxurious decision between paperwork, beading, kit packing, pattern writing. I work 7 days a week often 10 hours a day. But at 8pm I drop the hammer, go upstairs into my "Yarn room" and knit or crochet (yeah right, when I stop moving my hands I fall asleep).
I have my little dog that forces me to walk three times a day so there is some fresh air and in the summer I can also work outside so I am quite spoiled.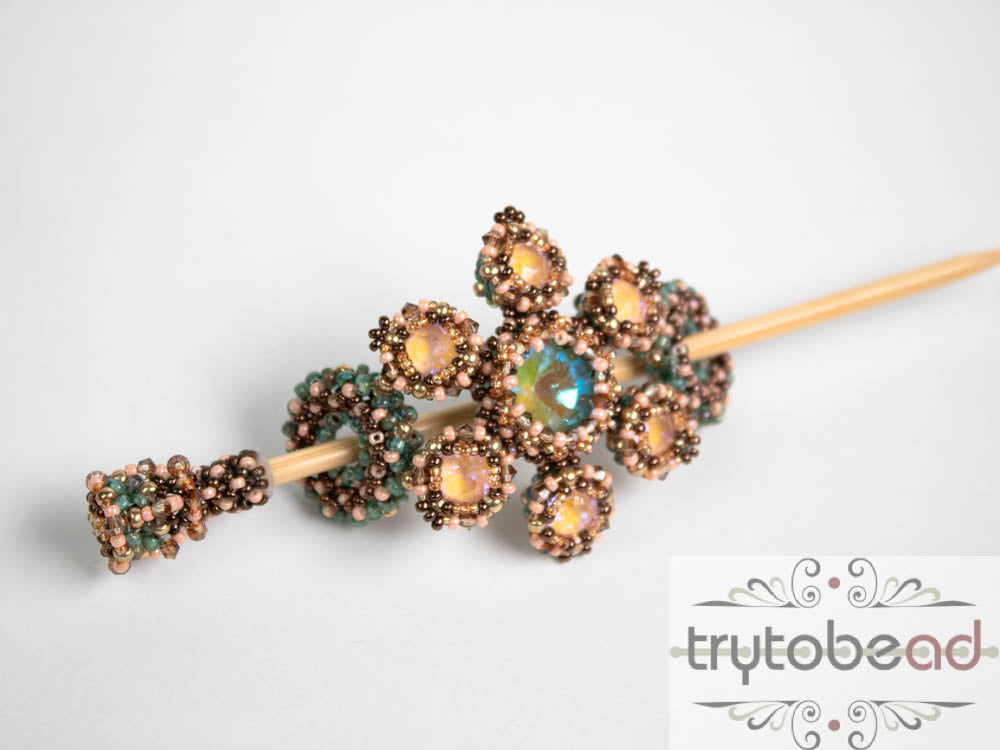 What makes your designs stand out from the crowd of other designers? Which are your favorite colors, shapes, materials, etc?
I used so many techniques… there are Peyote Periods, Chenille times, RAW rounds and bunches of netting nights that you find in my designs over the years. There is no typical design or technique and I am continuously learning and moving forward. Revisiting a design I made years a go, I would make completely different nowadays. Others make me wonder how on earth I had that genius idea back then … lol… Well one beader once said "whenever you think you are done and then comes three more rows of embellishment, then it is a piece from Sabine Lippert". That hits the nail (at least a bit) as I love structure and embellishment is often a structural support, but I think what is really typical for many designs and often not obvious for the user of my patterns is something else:
When I design something I make a first prototype. Often with a lot of going forth and back. And then I spend time beading 3 more further samples trying to modify the order of steps on and on until the beading process gets as comfortable and logical as possible. For example when I realize that one bead gets quite busy with thread, then I change the thread paths to avoid that. When another zone turns into a needle bender, I change the order of steps so it is still easy to get through the beads in a pleasant way.
In the end the journey is the destination. I already dumped a couple of designs that might haver looked nice but were a nightmare to make. If the process is no fun, it will not become a pattern.
Where does your inspiration come from? Do you have some rituals to boost your creative energy, a favorite place for work?
My inspiration usually grows out of technique. I have a piece of beadwork e.g. flat RAW, roll it up, fold it, think about how or where I can add a stone bead whatsoever and just let it grow and at some point I see a structure and it assembles. It is kind of intuitive… no big plan behind it. It can begin with the idea of making a necklace and it ends as a bracelet or earrings or beaded box.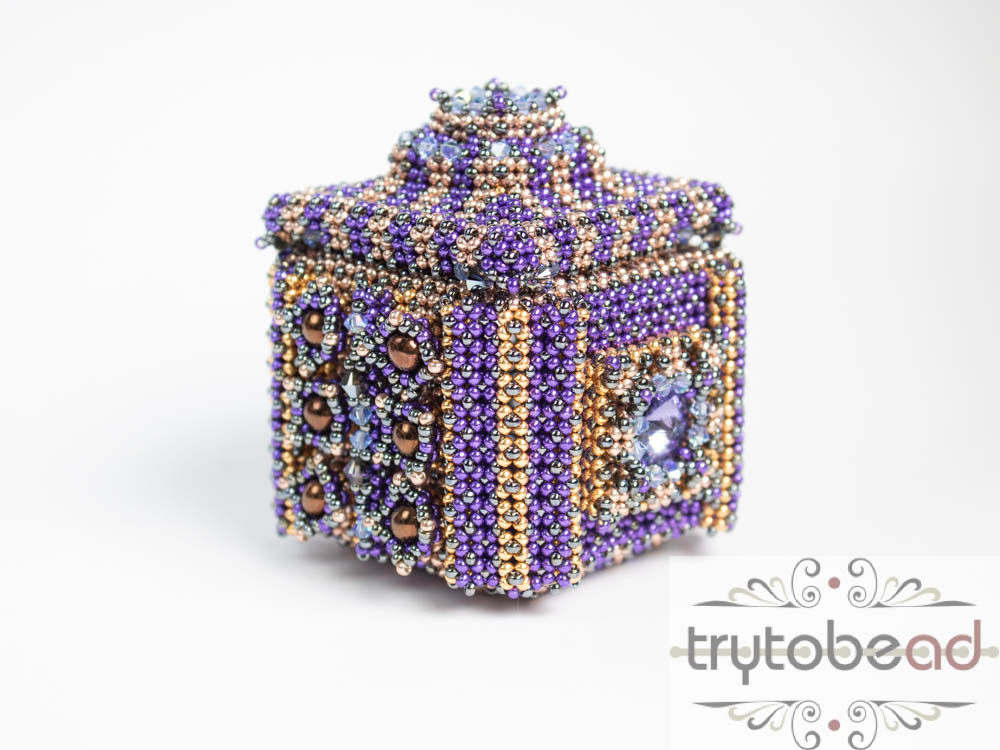 Do you have a piece of jewelry you made, that is somehow special to you?
Three of them, actually. Granada is one of my very first patterns and it was my signature piece for years! There were so many Granada Pendants out there… unbelievable!
Last year I created
Supergirl
. It's not just a multi strand bracelet but girl alive! The beaders had a blast with it and I could not do anything else but make one sample after the other for new kits until my stock of clasps was wiped out! I never ever experienced something like this before and was literally blown away!
But one piece that is really close to my heart is the
Star of David
that I made a while ago. It is a free pattern on my website and the PDF includes the story why this is so touching to me.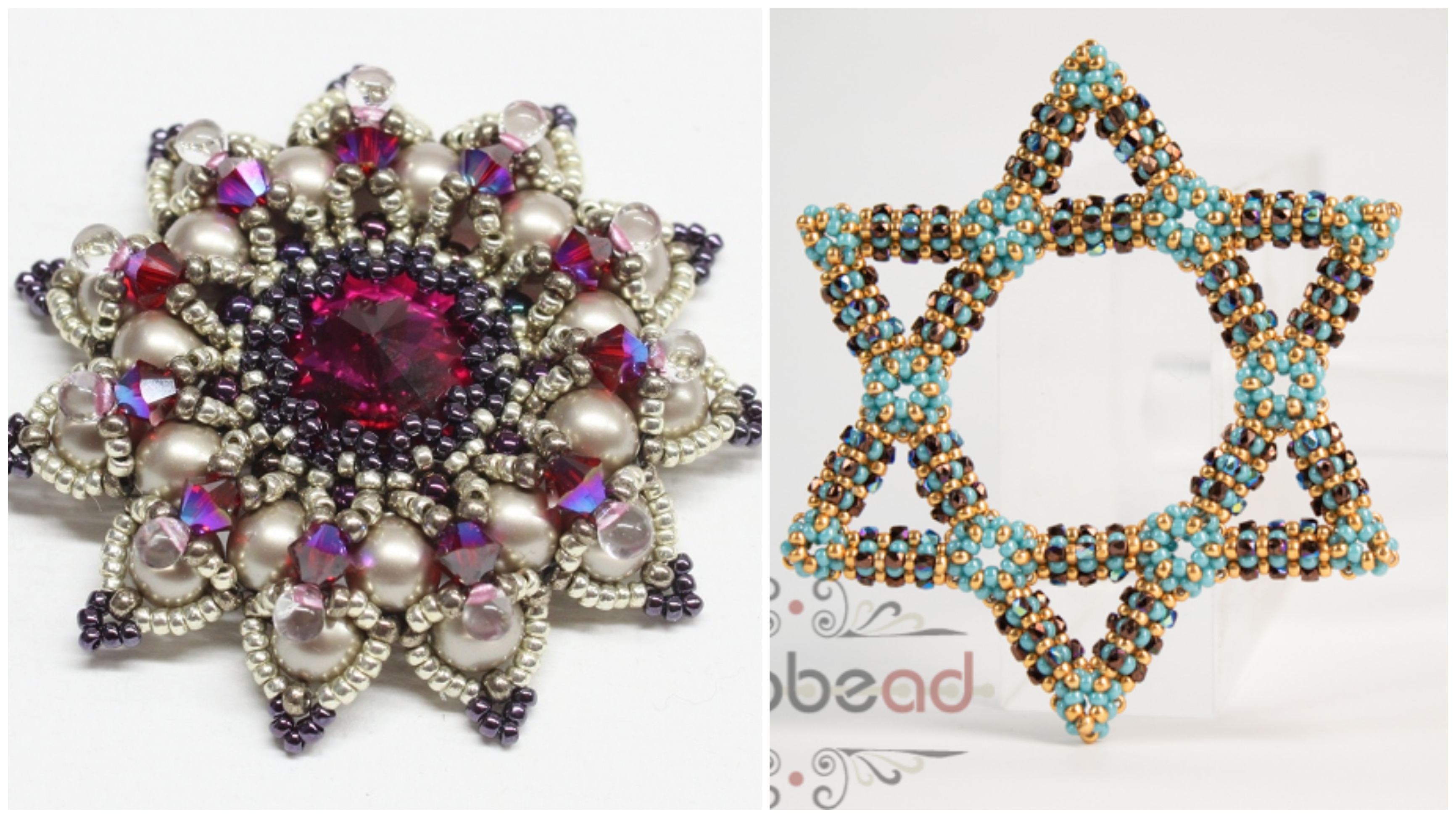 If you could design something for a well-known person or maybe a fictional character from a film or book, who would it be, and why? 
I name all of my pieces after songs lately and one of them is actually dedicated to a person of the public.
There is a reporter on German TV who is a trans woman and about 2 years ago she finally had her coming out. I followed her since the first days on Twitter. It was so touching to see how she enjoyed to be finally herself, how she stands against the battle with internet bullies, how she soaks up the support from her colleagues and so I dedicated
"I am what I am"
pendant to her. I don't know if she ever saw it, I sent her a message but never got a reply 😉 Her name is Georgine Kellerman.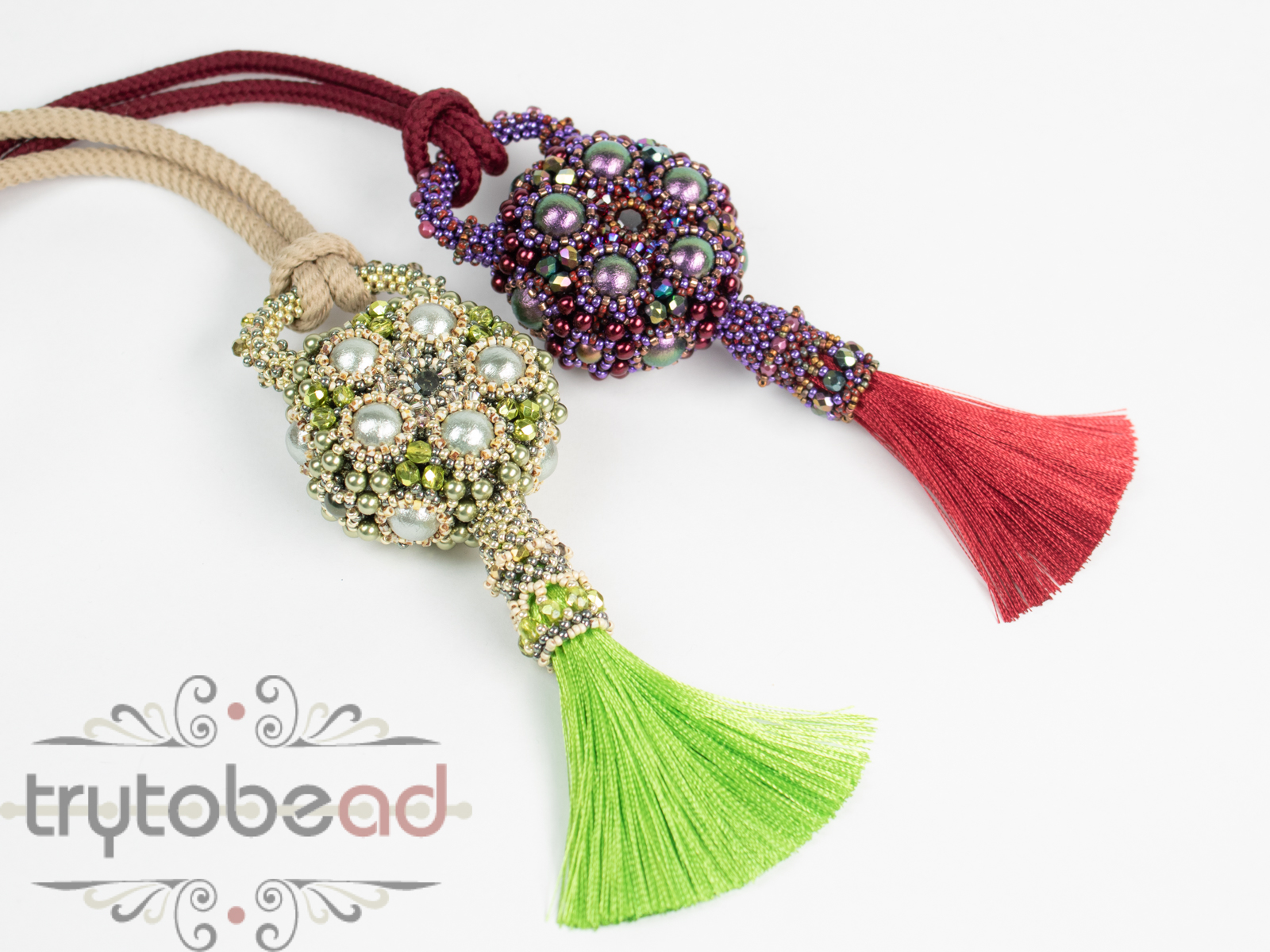 What kind of clothes and accessories do you wear? Who are your favorite designers and why?
Well I wear what fits. With my covid figure vanity goes right through the window 😉
What is your goal in the future? Where would you like to see your brand?
If things stay as they are now, I would be a happy camper!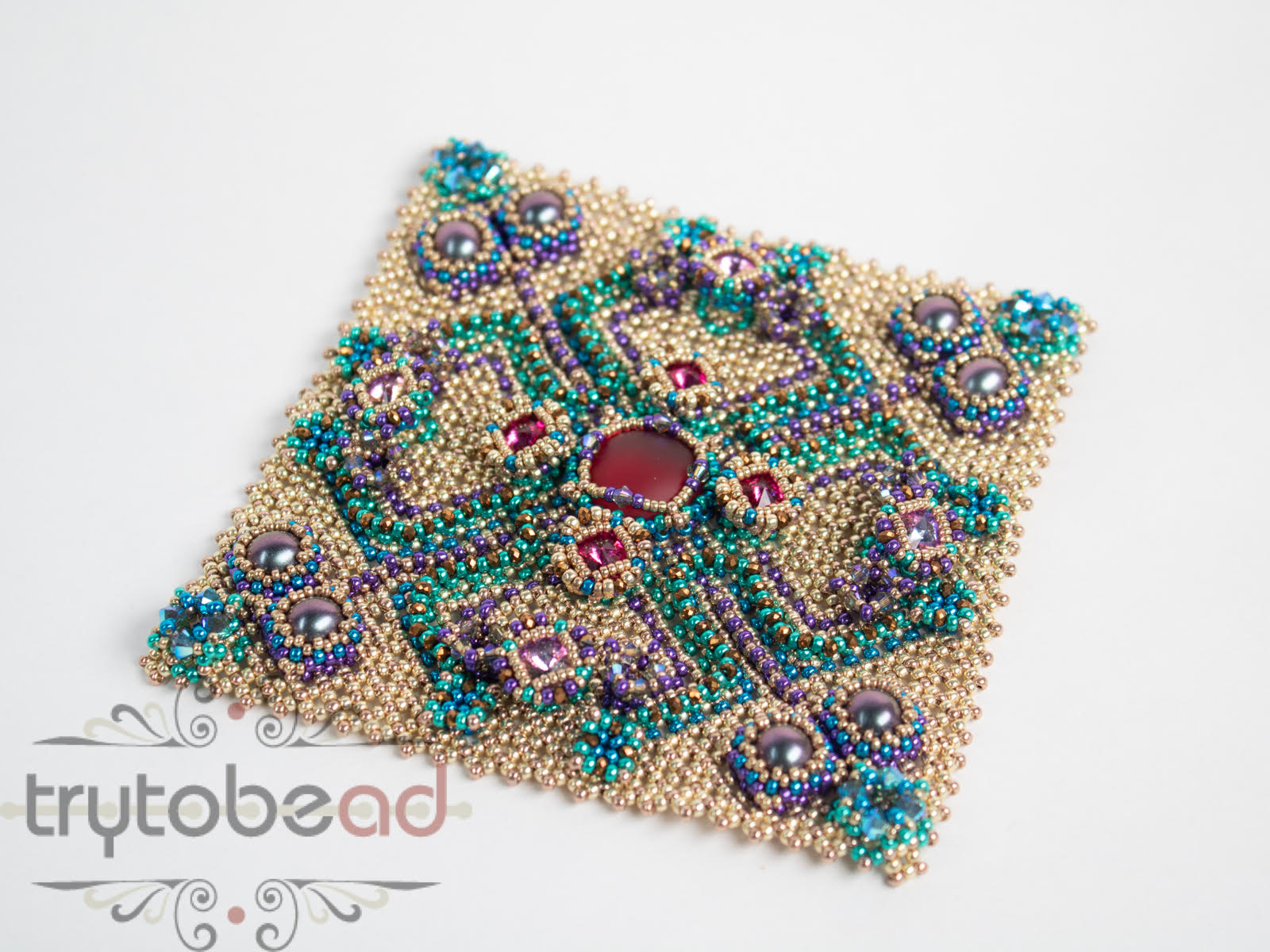 If you could ask yourself one question and also respond to it…and a bit of fun, because I know I can joke with you 😉
Actually I am in my Double RAW period. It is a stitch that I did not invent, but I think I can say I am working on getting some systematics into that stitch. It often gets confused with Pondo stitch as unfortunately there are many Youtube videos out there that say "Pondo" stitch but what they actually show is Double RAW.
I love this stitch, as it is so versatile and allows soft draping fabric like bases and also can be made sturdy as a rock by adding certain constructional parts, so it is even suitable for boxes and vessels.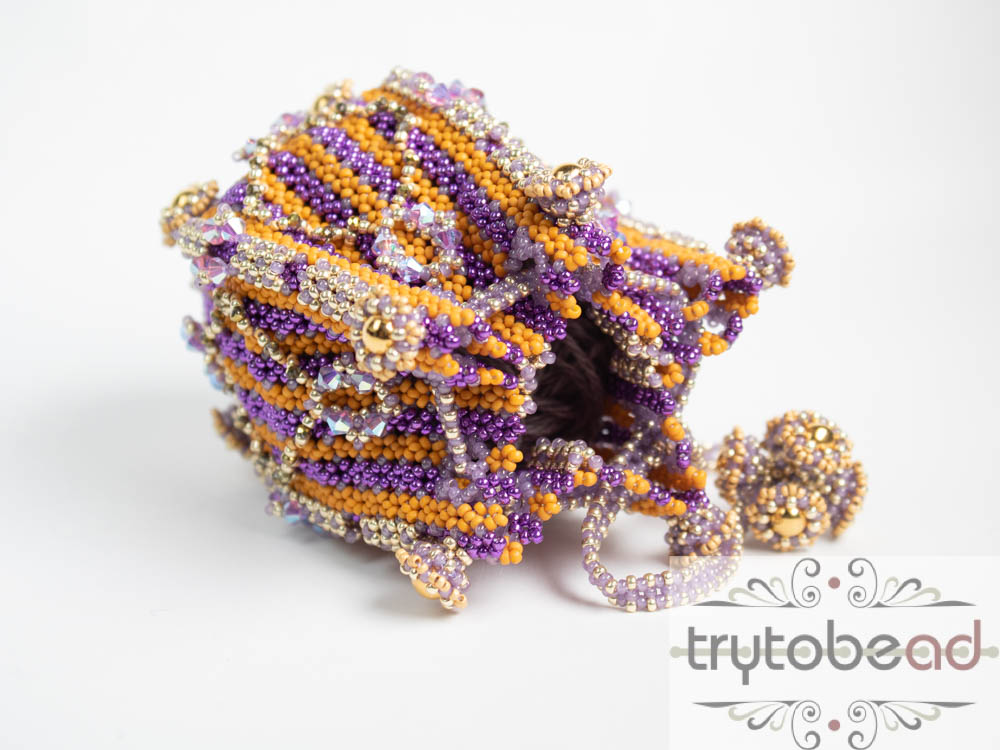 A little joke from my end… if you don't like DRAW, please check back on my designs in 5 years as it will take a while until I am done with my DRAW journey 😉
And one last anecdote:
As I already mentioned, I started naming my pieces after songs. Just take the time before you start beading and google for the song if you don't already know it. (Zuzi's note – I remember also your "Game of Thrones period" and dragonscale beads…).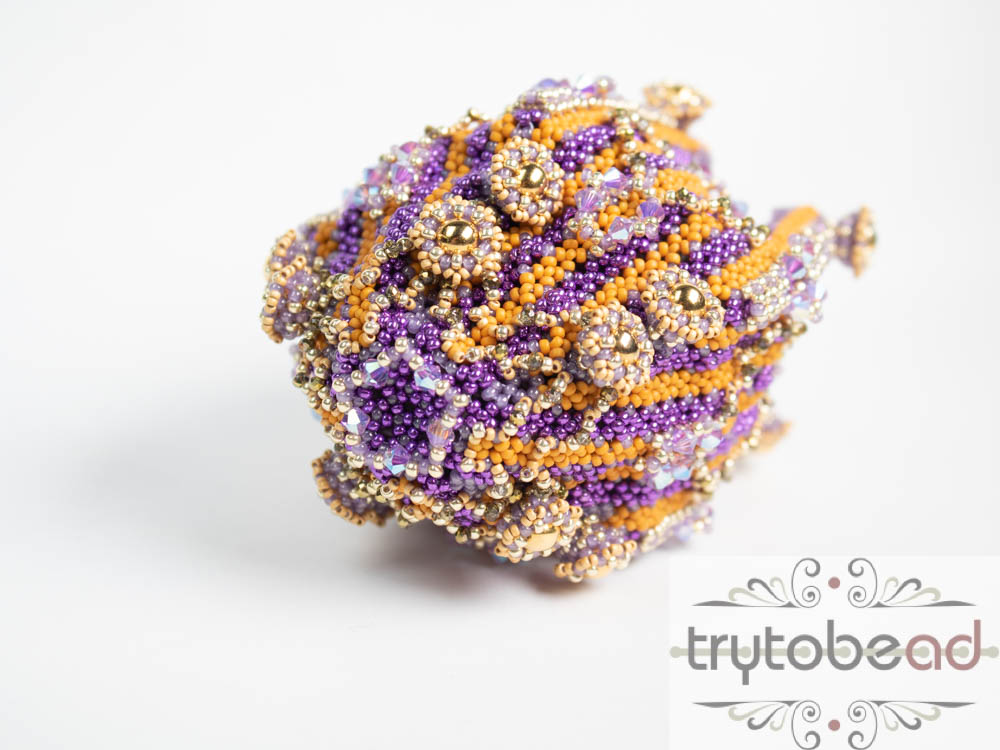 You can visit, support and follow Sabine at:
Would you like to get a bunch of free beading tutorials?
Thank you for answering my questions, Sabine!
Dear friends, you can use the comment section if you have more questions you would like to ask, or greet Sabine.
Stay tuned for more interviews for Beadingschool.com by Erika Sándor!
Reader Interactions