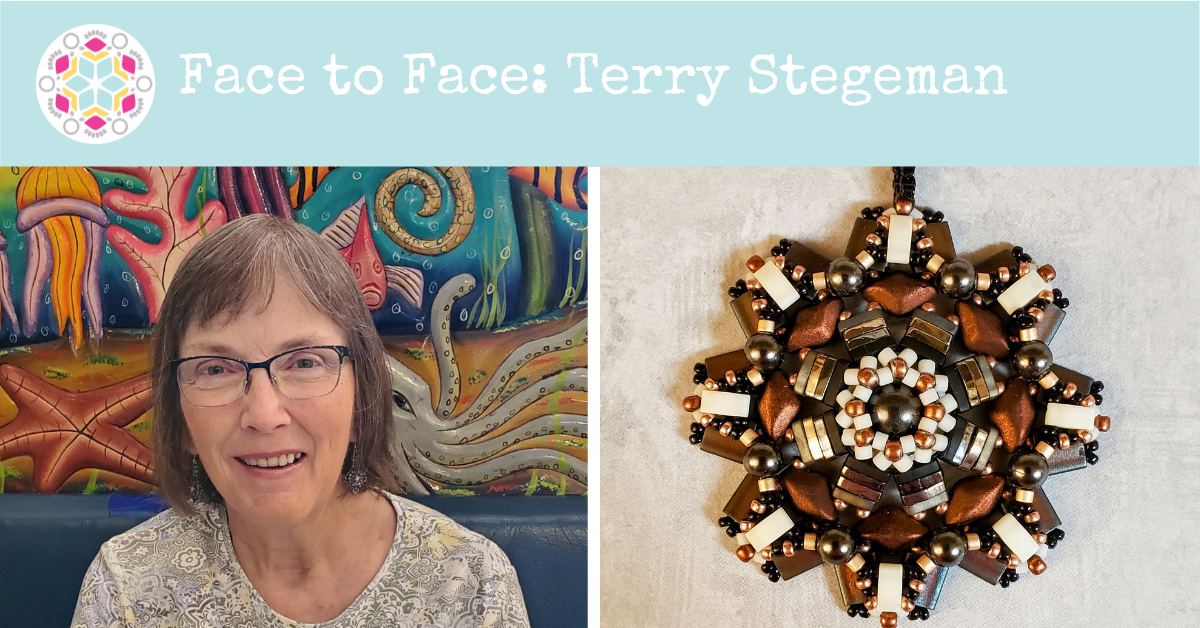 Face to Face: Meet Terry Stegeman
Today we continue with our regular Face to Face interviews with our fellow beaders and designers. The Beadingschool Club keeps growing in number and we love to introduce our community members who inspire so many of us not only with their jewelry.
We're so different in style when it comes to beading, and our background story, but we fit together as a beautiful jigsaw puzzle. If you look for a beader who loves small earrings, created amazing pendants, is very skilled in outstanding color combinations and find a nice, friendly word for everyone – this is her!

Meet the Beadingschool Club member and Tila-beads lover,
Terry Stegeman!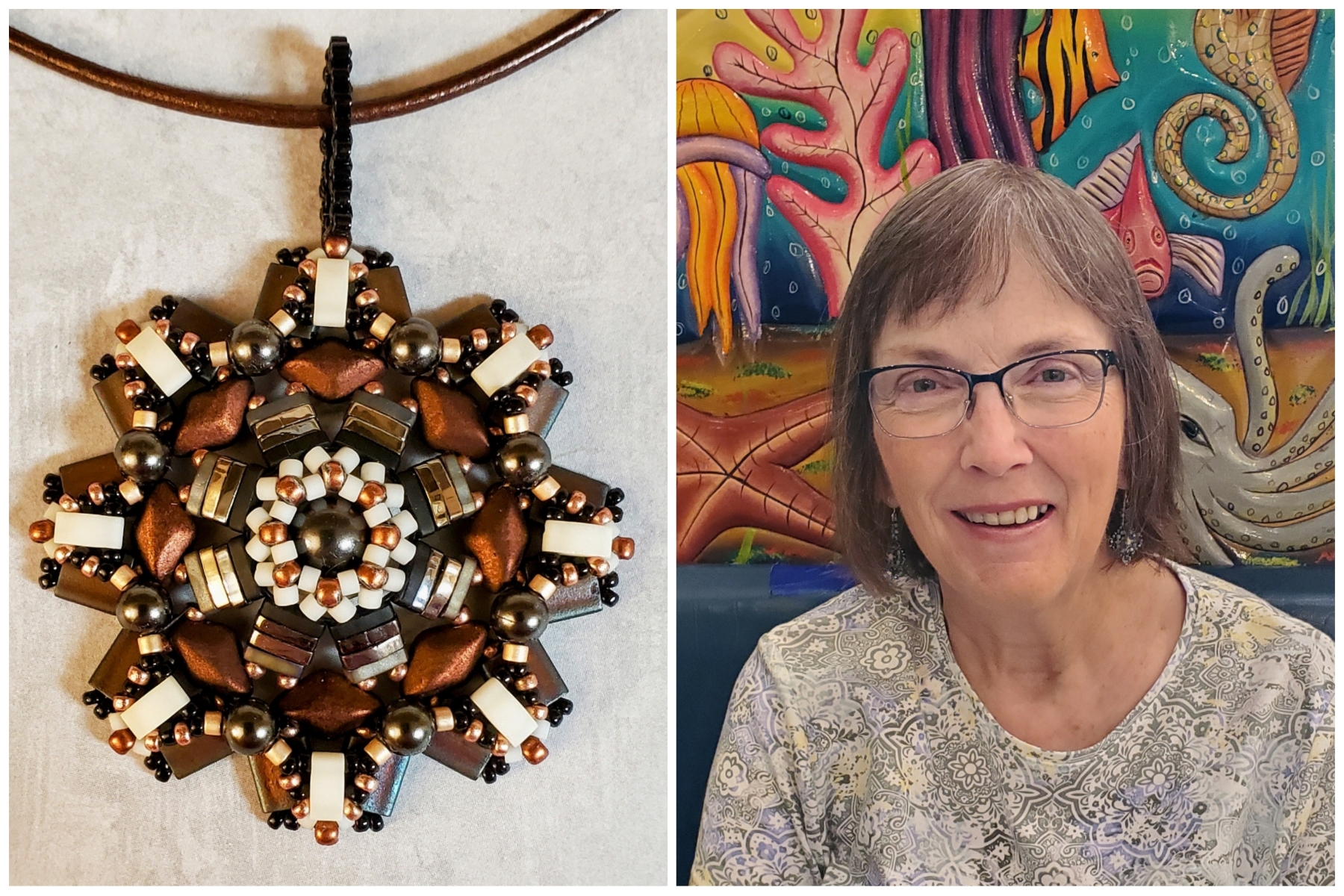 Please tell us about yourself a bit! When and how did you start to create? How did you learn to bead? 
I grew up in the Midwest of the United States and as an adult I had the privilege of being a military wife and supporting my late husband in his army career. It took us to some wonderful places and some not so wonderful ones. We lived in Kentucky, Oklahoma, Pennsylvania and best of all got to live in Germany for 3 years. I loved our time in Europe and took advantage of my time there and saw as much of it as I could. I have done many jobs over the years that included accounting, medical assisting, being a recreation assistant working with kids, working as a secretary and in retail. In 2002 I was diagnosed with a rare cancer that changed my life but I am thankful to say that I am a 20 year survivor. I have not been able to work due to my health issues but I am thankful for every day. I got started beading while visiting a friend in Seattle 12 years ago.  She was wearing a simple pearl pendant I loved and she offered to show me how to make it. She knew very little but showed me what she knew. I caught on and soon she was asking me to make her pieces! Those first pieces were pretty simple but I was hooked and never looked back.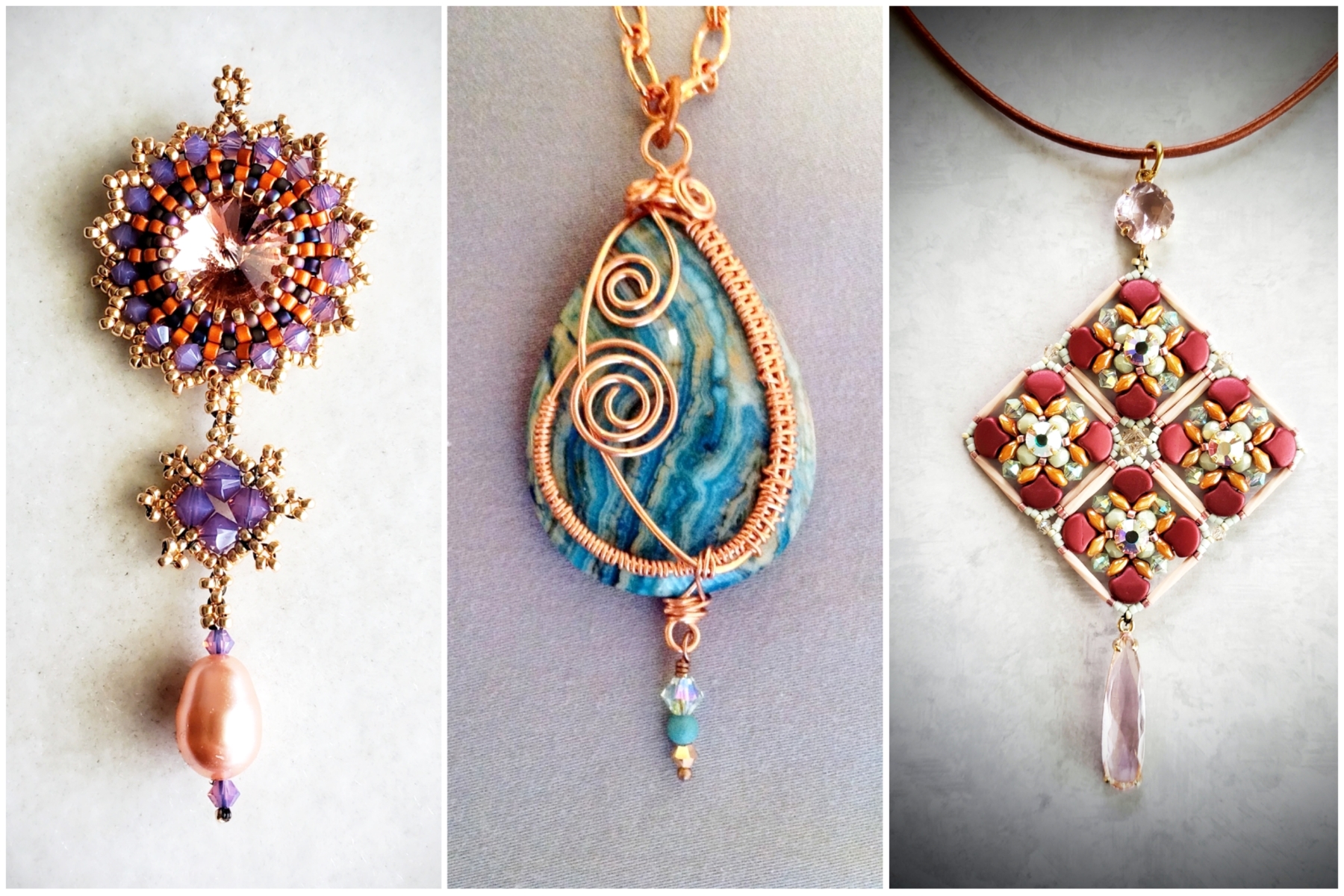 Is beadwork your hobby or profession? How does your average day look like? When do you have time to create? 
Beadwork is my hobby.  Although I am not able to work anymore, I love to read, get outside to enjoy nature, spend time with my grandkids, and bead when I am up to it. I have a serious pain condition in my arm and hand from a medical procedure called CRPS that dictates when I can bead so I don't really have set times to create.
Tell us about the piece of jewelry you are the most proud of! 
I am most proud of my first mini challenge piece I did for beading school. I started it and I hated it and as we like to say I wanted to frog it and not enter at all but I decided to ask our group. I got so much encouragement to keep going that I kept going and ended up loving the piece.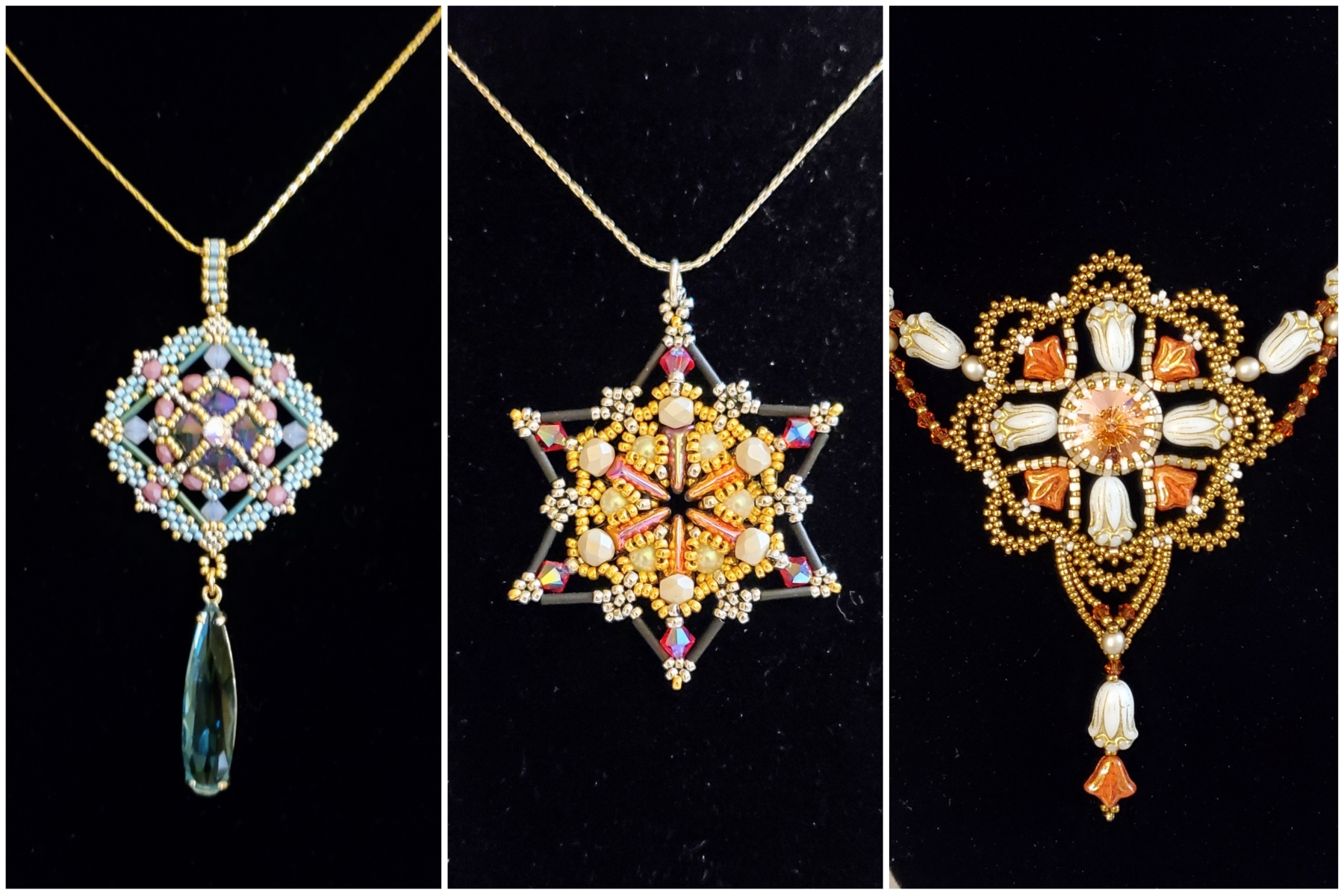 Where do you like to create? Do you have a designated area in your home where you keep your beads? Can you show it to us? 
I do most of my beading from the comfort of my recliner in my living room. I keep my beading supplies in a different room. Keeping things organized is a real challenge.
What is your favourite stitch? Which colours do you like the most? On the other hand, is there any colour or colour combination you try to avoid? 
My favorite stitch is peyote because I love to bezel things. I really have fallen in love with the square stitch bezel I learned from beading school too. Choosing colors is my favorite part of beading. I love putting colors together and when I used to visit my local bead shop my friends were always asking me to help them with their colors. I love blues and greens together and I love the colors of Spring and Fall. I think the only color I don't use a lot of is orange. I don't hate it but find it can be hard to work with.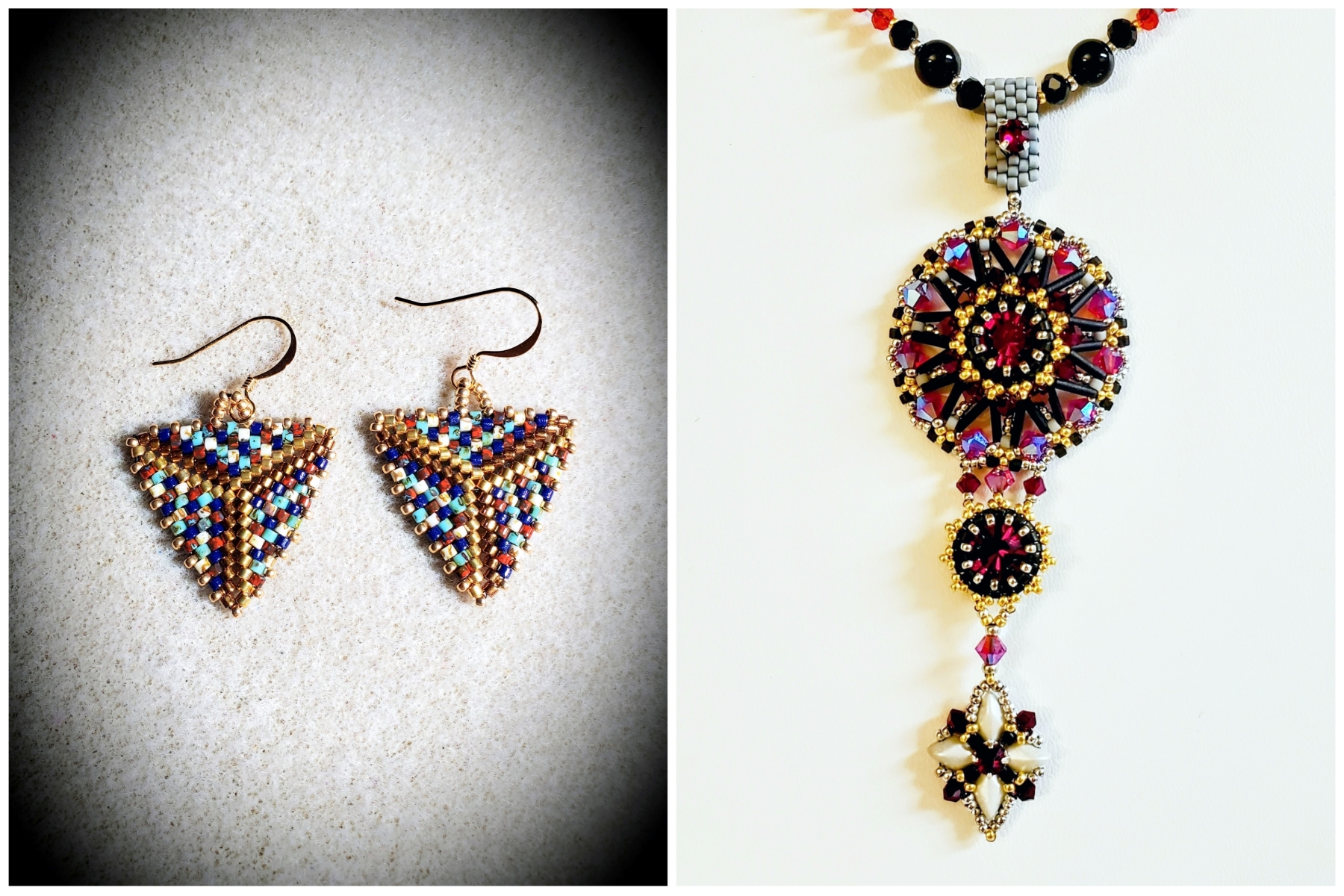 Do you follow instructions or do you like to develop your own designs? How would you define your style?  
I call myself a "fly by the seat of your pants" beader. I don't consider myself a designer in the true sense of the word because I don't publish tutorials or anything like that but I do design some of my own pieces. I follow patterns but use color and embellishments here and there to give them my own personal touch. A lot of my inspiration comes from the things I find in nature. I am constantly taking pictures of things I see outside and then I try to replicate them in my beadwork.
Who are your favorite designers? Why? 
 I have several. Erika is probably my favorite but I love Zuzi and Veronka's designs too. The tutorials are so well done and easy to follow and they really are fun to do. I also like Michele Snyder at Poetry in Beads and enjoy Bronzepony designs. 
Do you have a favorite design by Erika? Tell us about it!   
Anyone here that knows me knows that hands down my favorite design is Thetis from our Thetis' Treasure theme. I love working with Tilas and that tutorial is perfect for me.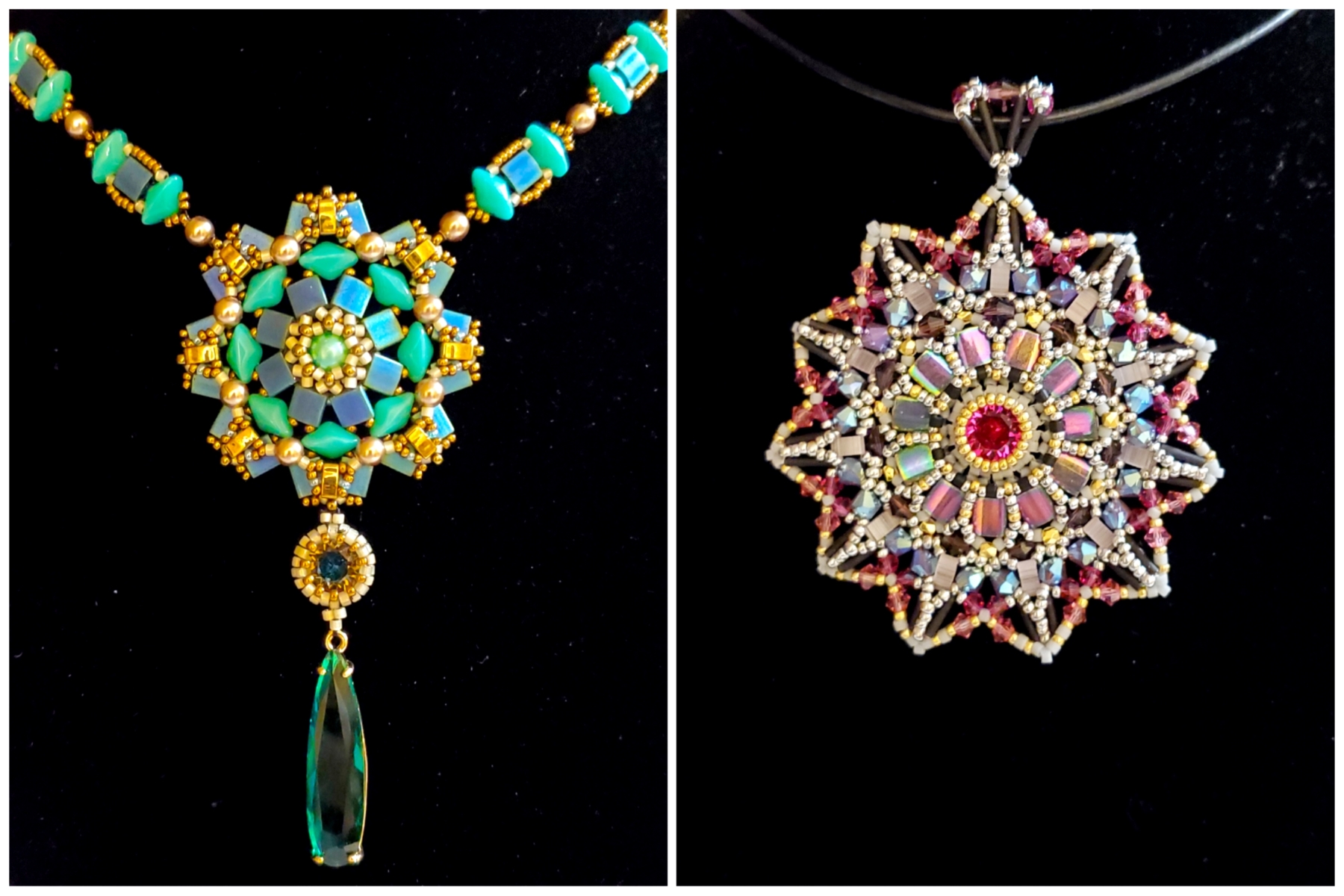 Which is the bead / component in your stash which you treasure the most? Do you already have plans on how to use it?
 I don't have a specific piece waiting to be used but I do have some beautiful cabochons that I would like to use for bead embroidery in the future.
If you could design something for a well-known person or maybe a fictional character from a film or book, who would it be, and why? 
Her life was so short and her disappearance tragic but she accomplished a lot during her lifetime so if she were here I would love to make something for Amelia Earhart. I can imagine that she would only wear simple pieces and that is my style so it would be her.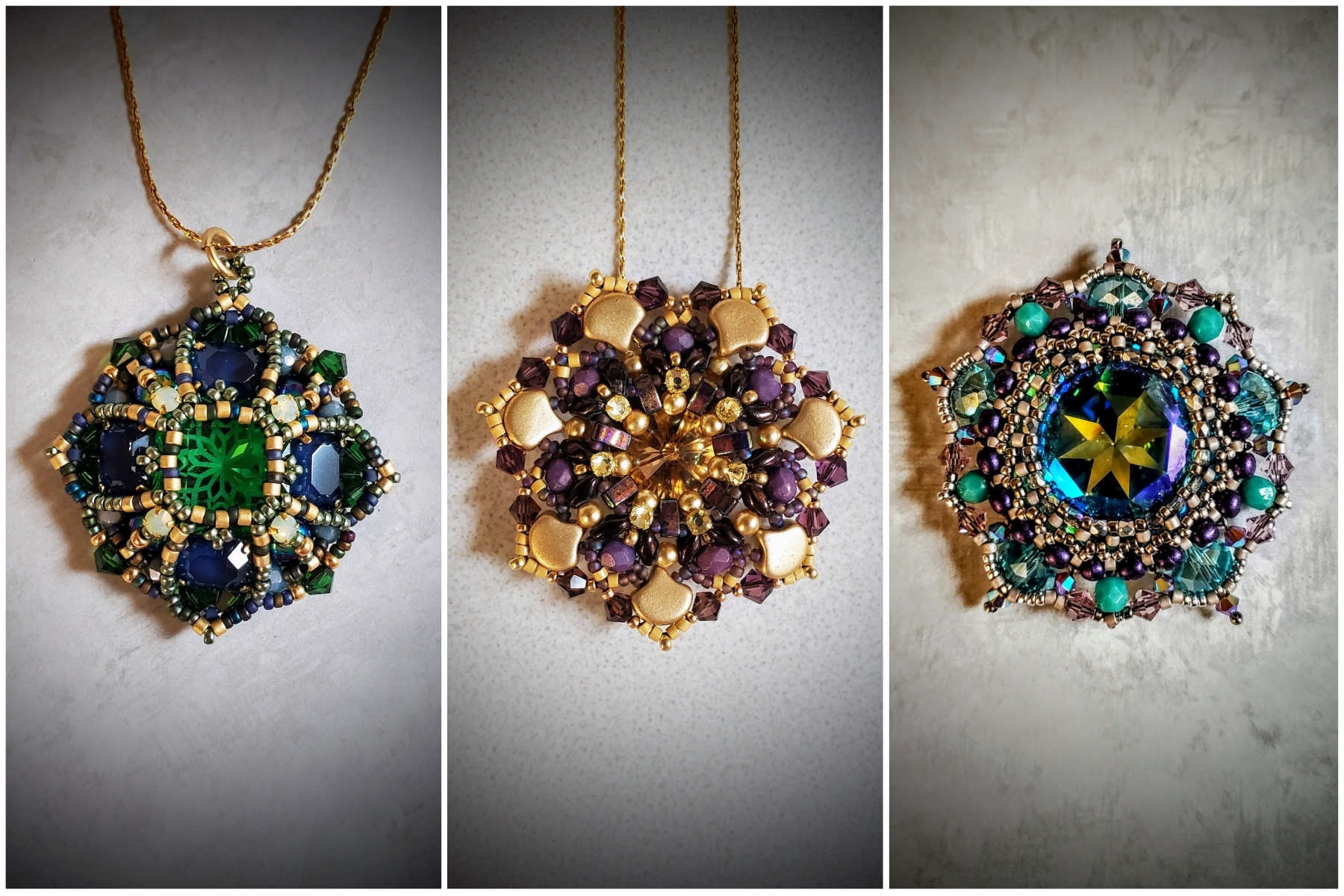 What are your plans for the future as a beader? Is there something you would really like to learn? 
My plans for the future are to do more of my own designs and to delve into bead embroidery more. I also want to challenge myself to do more difficult pieces so that I can keep learning and growing.
Where can we see and buy your designs?
I don't sell my designs but do plan to continue sharing my pieces with my friends at Beadingschool.

Thank you for answering my questions, Terry!
We all are happy you are beading with us and inspire us through both – your personal and also beading journey !
Dear beading-friends and beadwork admirers, please, use the comment section if you have more questions you would like to ask, or greet Terry.
Stay tuned for more interviews for Beadingschool.com by Erika Sándor!
Reader Interactions