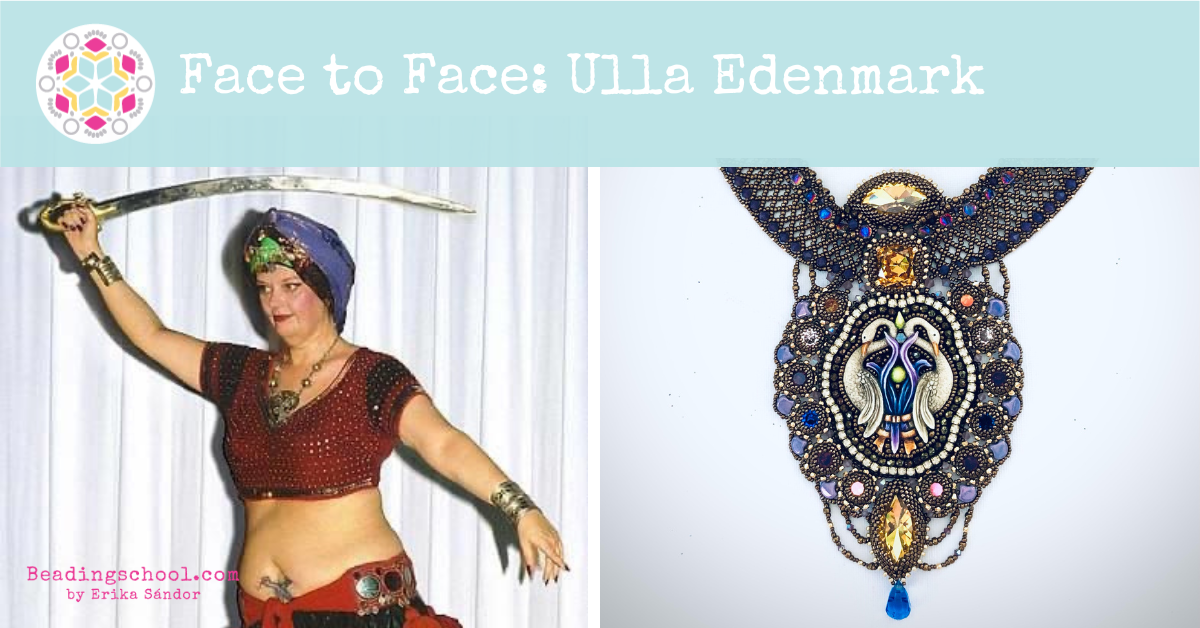 Face to Face: Meet Ulla Edenmark
We got to the end of next month and that's the time for the Face to Face interviews with our fellow beaders and designers!
This time we looked into the Club! We're naturally curious to meet and know more about people in our community, as the Beadingschool Club keep on growing.
If you look for a beader who is generous, giving to the community, attentive, who combines various techniques and always surprises with a perfect jewel – this is her!

Meet the Beadingschool Club member, Ulla Edenmark!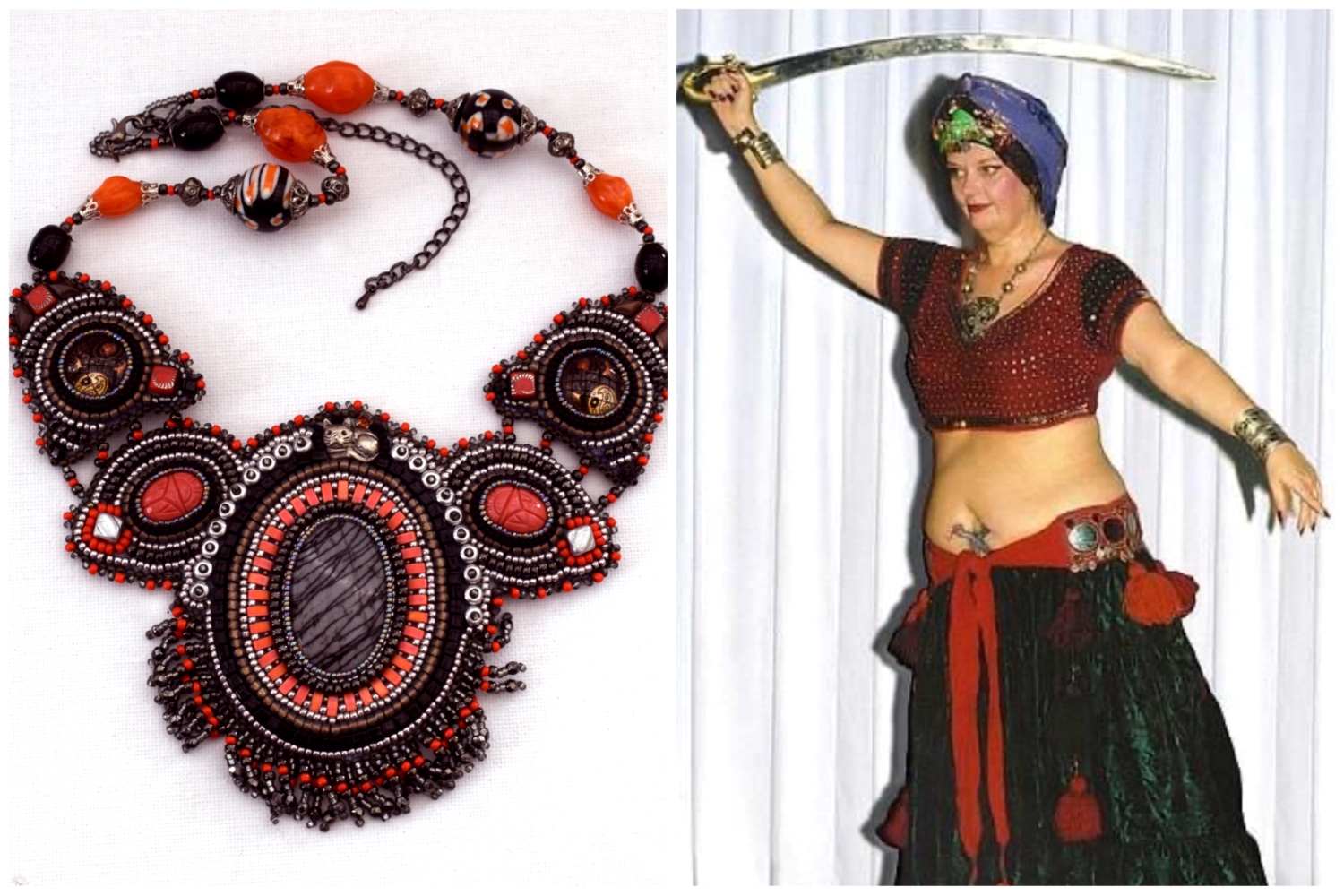 Please tell us about yourself a bit! When and how did you start to create? How did you learn to bead?
I have created most of my life! Knitting, crochet, embroidery and sewing, painting on textiles and painting tiny models of dragons…I used to role play, and created adventures for my players to enjoy. Then, I started dance class, and true to form I soon found myself in a performing troupe, where I also created the costumes. During this phase I learned to embroider with beads and sequins, Egyptian style! A few years later, a neighbor showed me some beadwork netting she was working on and of course, I had to try.
I soon learned that the best place to learn was Youtube. My very first jewelry pieces were by Aleshia from Beadifulnights. I also learned a lot of good foundations from Jill Wiseman.
I soon started bead embroidery and my first inspiration came from Jamie Cloud Eakins books.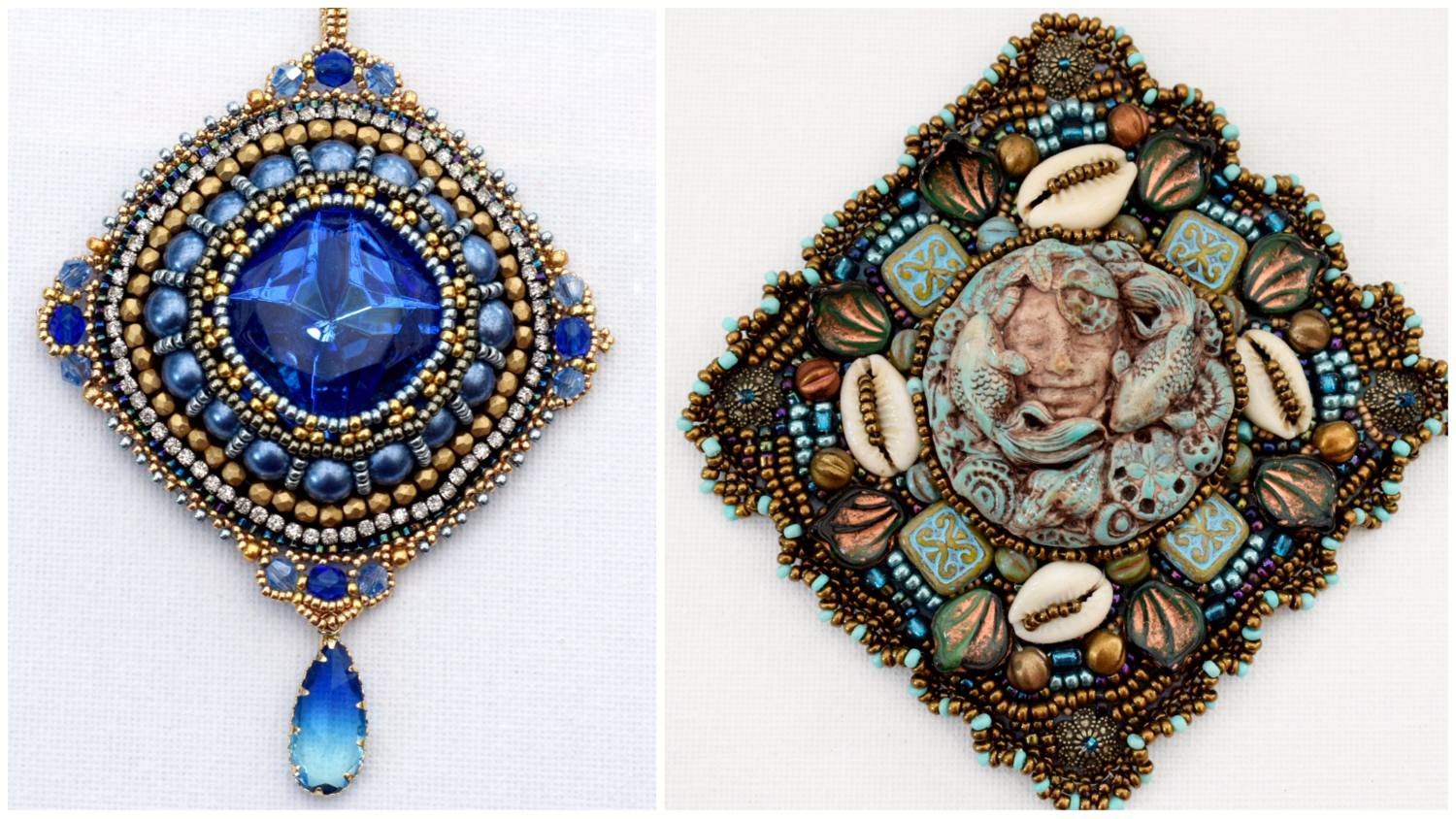 Is beadwork your hobby or profession? How does your average day look like? When do you have time to create?
Beading is a hobby, my profession is librarian. I am 67 years old so I have sort of retired, but I still work 3 days a week. I have custody of two small libraries in my community, both are open just one day a week. It's nice to have the whole library to myself, to arrange and keep nice and inspiring.
I also work one day a week as a substitute, this will end in August. Then, I will have one more day a week to BEAD!
I live with my two cats in a small house in the country. I can bead whenever I like, and fill the whole house with boxes of supplies. I try to keep it contained to one room, which is a bit hard.
Tell us about the piece of jewelry you are the proudest of!
It is probably the bead embroidery I made for one of our bead retreats, I called it Cityscape. It was for a contest, I won first prize to my surprise, but I am still happy with it. I spent most of that summer working on it.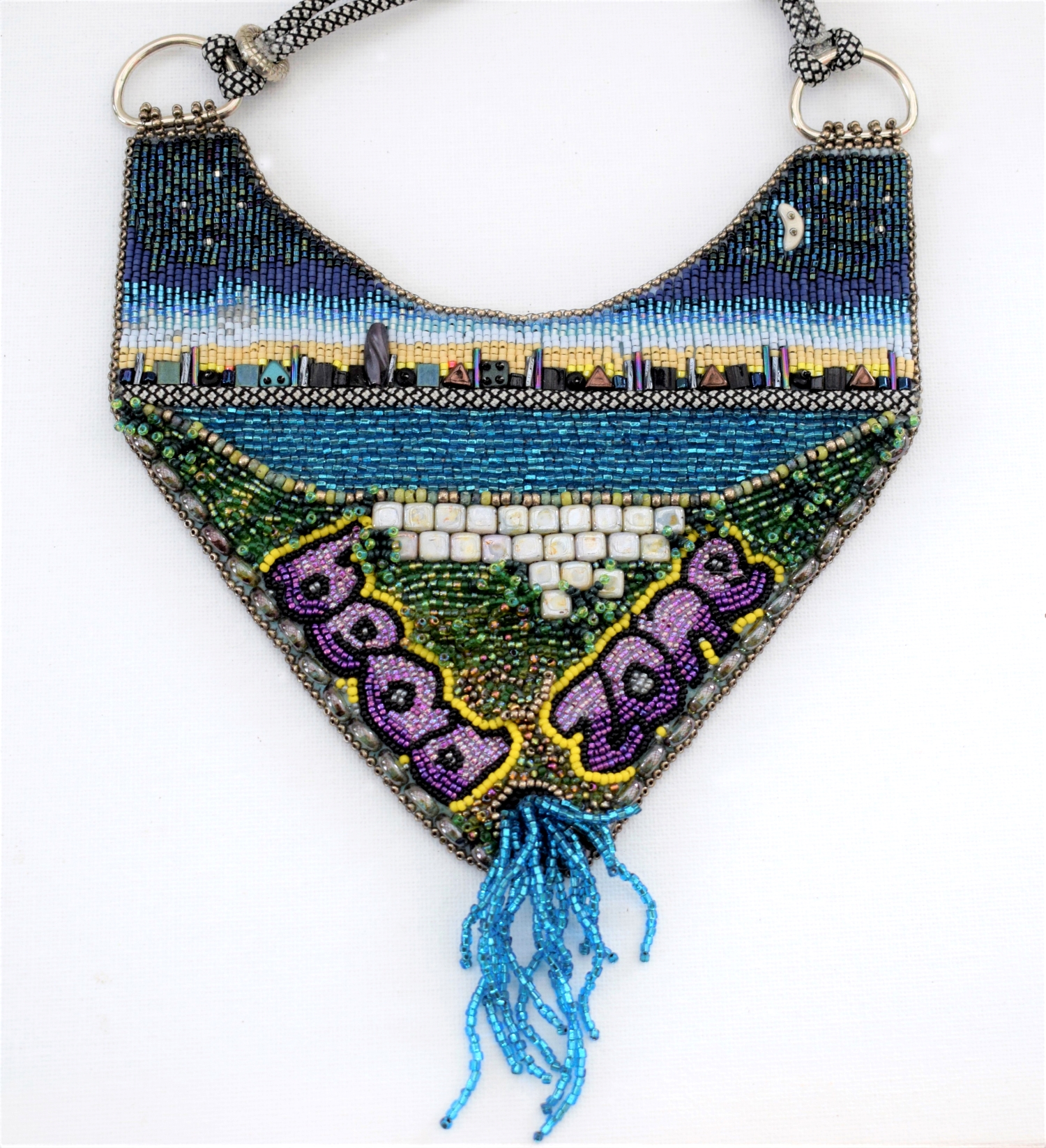 Where do you like to create? Do you have a designated area in your home where you keep your beads? Can you show it to us?
I have a chest of drawers with most of my supplies, and I mostly sit in an armchair with spotlights over my shoulders onto the beading board. I also have an arm where I put my iPad with patterns or tutorials!
What is your favourite stitch? Which colours do you like the most? On the other hand, is there any colour or colour combination you try to avoid?
I used to do a lot of RAW but I think peyote is my all time favorite – it is so versatile. I like to use clear, vibrant colours combined with metallic like bronze or silver. Erika has taught me to use colours that I normally wouldn't use!
Do you follow instructions or do you like to develop your own designs? How would you define your style?
Both. I like to follow instructions and learn from other designers, but I also like to use what I learn to make my own designs. I design peyote patterns with delicas, and I have an Etsy shop with those patterns. I don't really design patterns with other beads, it happens sometimes but not too often. I make up my own bead embroidery designs. My style is a bit oriental, according to my friends who usually spot my creations – I don't see it myself, but bow to their combined expertise.
I designed and made dresses for dance performances, including stringing the fringe on the belt, strand by strand. It took a lot of time! I also used to wear a lot of the kuchi jewelry, mainly from Afghanistan and northern India. The sword is from a performance at a friend's wedding (first picture in the article – Zuzi's note). I still collect swords, and have a whole wall in my living room where they are displayed.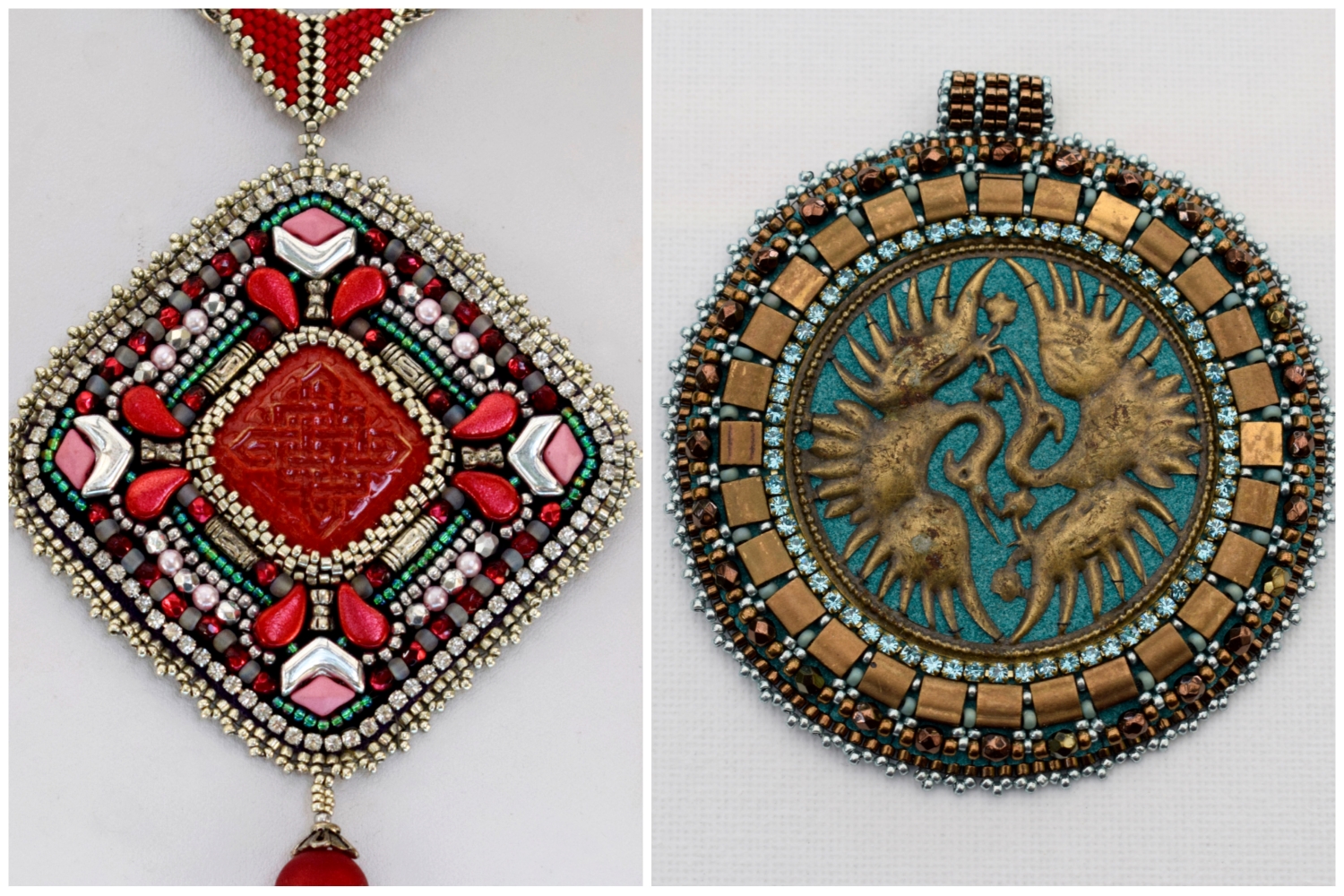 You recently created a beautiful jewel – Lucky. Can you tell us more about your inspiration or a background story if there's any?
This was a result of playing around with the new kite crystal beads and the 6mm sew-ons. No specific inspiration beyond that – it was fun to make and came together fairly quickly.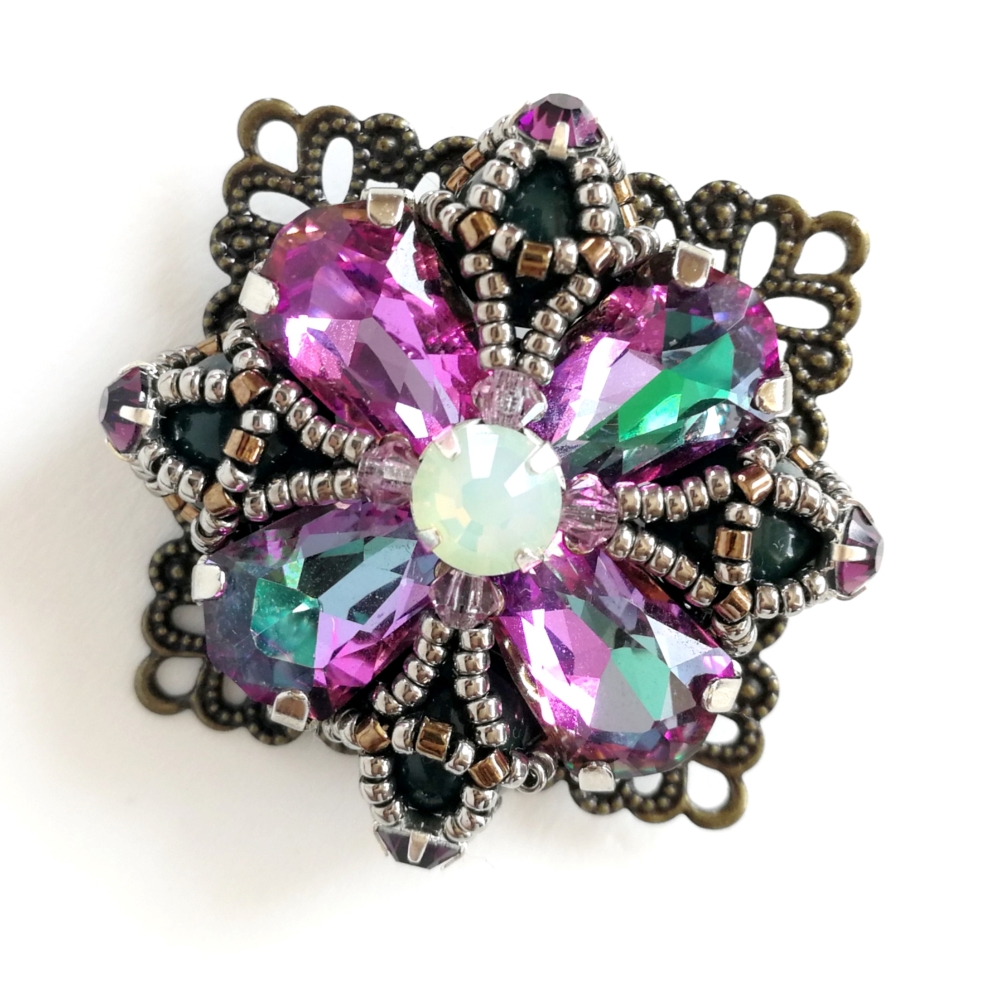 Who are your favorite designers? Why?
Oh dear, long list! Starting with bead embroidery, there is Heidi Kummli who is just beyond. She is an artist, and I humbly am in awe of her creations. Sherry Serafini, and Jamie Cloud Eakin are also on my inspiration list.
My mentors from when I started also come to mind – Aleshia because she is an original, she does what she wants and creates her own rules. I admire that. Also Jill Wiseman for being a very generous human being, sharing her knowledge with a lot of basic technique instruction. Miriam Shimon was also an early inspiration, and taught me soutache. Several of my Swedish beading friends are among my favorites, Anna Lindell, Margareta Gustavsson, Olga 1 and 2 (you know who you are), Kerstin Kallin and others. Everyone I took a class from gave me something. Kate McKinnon from the Geometric Beadwork community inspires me, I can listen to her tutorials all day, they are brilliant and soothing at the same time. And last but not least, Erika of course, whos Traveller series I learned a lot from regarding bead embroidery, and who created this fabulous community that we all are a part of. She has no limits to her creativity it seems, and she taught me something very important that I really needed – to be meticulous! I'm loving to see her creative process when she does the improvised live beading sessions some Tuesdays!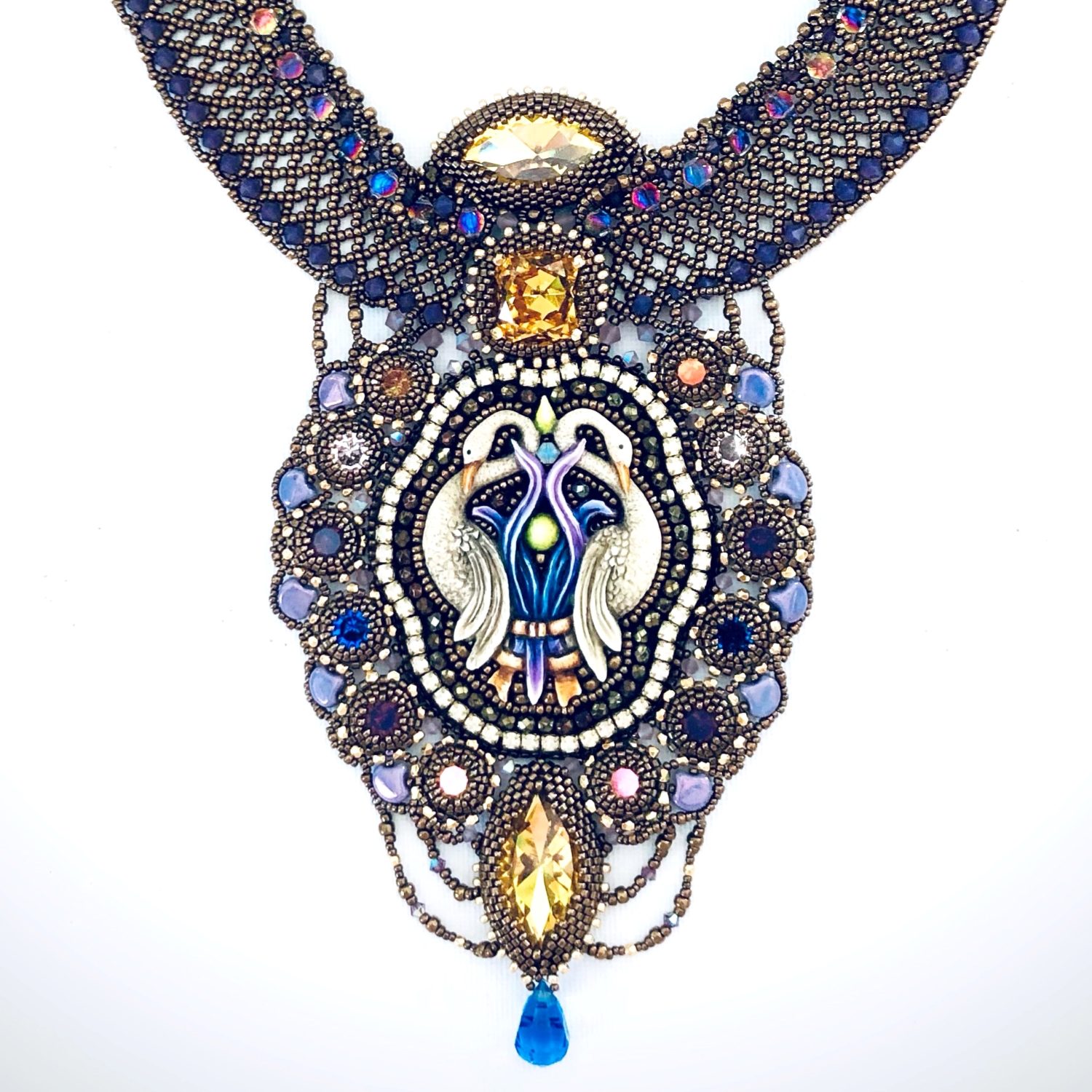 Which is the bead / component in your stash that you treasure the most? Do you already have plans on how to use it?
I have some (a lot!) of components for bead embroidery projects that I gloat over, and play with. I like to buy vintage jewelry second hand and take them apart for the often unique components – I have some that I really like, and they will find their place in some beady project one day!
Do you have a favorite design by Erika? Tell us about it!
Many! All her bead embroidery is fabulous, I never get tired of the Traveller, the Chandr Devee and I also  love the Moonlight Sonata earrings and have made several variations of those. Caravaggio is an early favorite and I think I made 4 of those. Those stand out but there are many many more!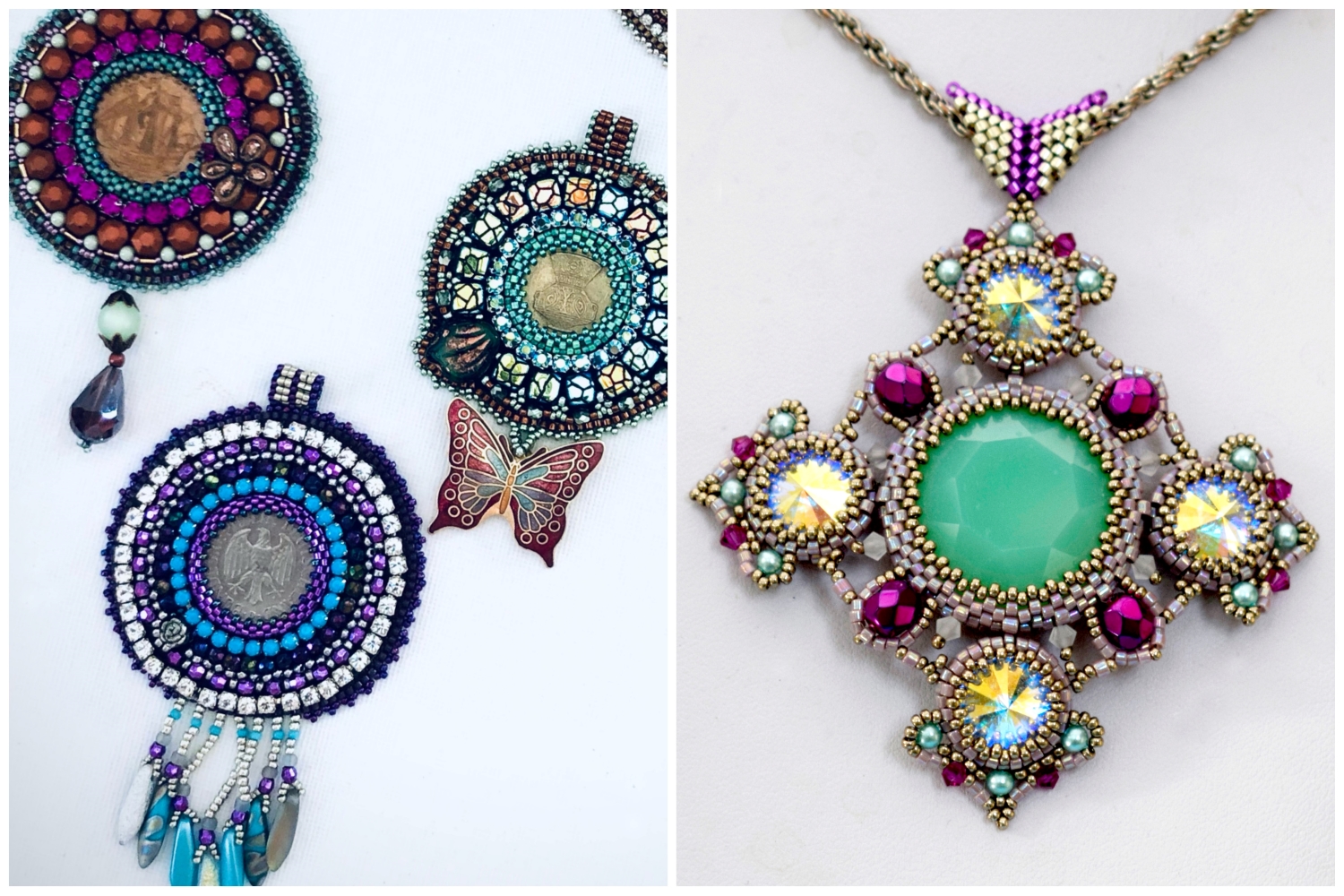 If you could design something for a well-known person or maybe a fictional character from a film or book, who would it be, and why?
Not thought about that really – however, when I'm watching the news or someone on TV with ordinary clothes and some jewelry, I often design some other jewelry in my mind for those. It's fun to think about colour matching and sizes and shapes.
What are your plans for the future as a beader? Is there something you would really like to learn? 
My future hopefully includes me learning to draw patterns – I used to work as a web designer and was fairly proficient with making buttons and things for web sites – however, this was 20 years ago and I have to learn new programs, and it seems there is never enough time for everything you want to do!  Also, lots of beady stuff I want to be better at – I love to learn new things and understand how things work. I would like to have time to work more with sculptural peyote.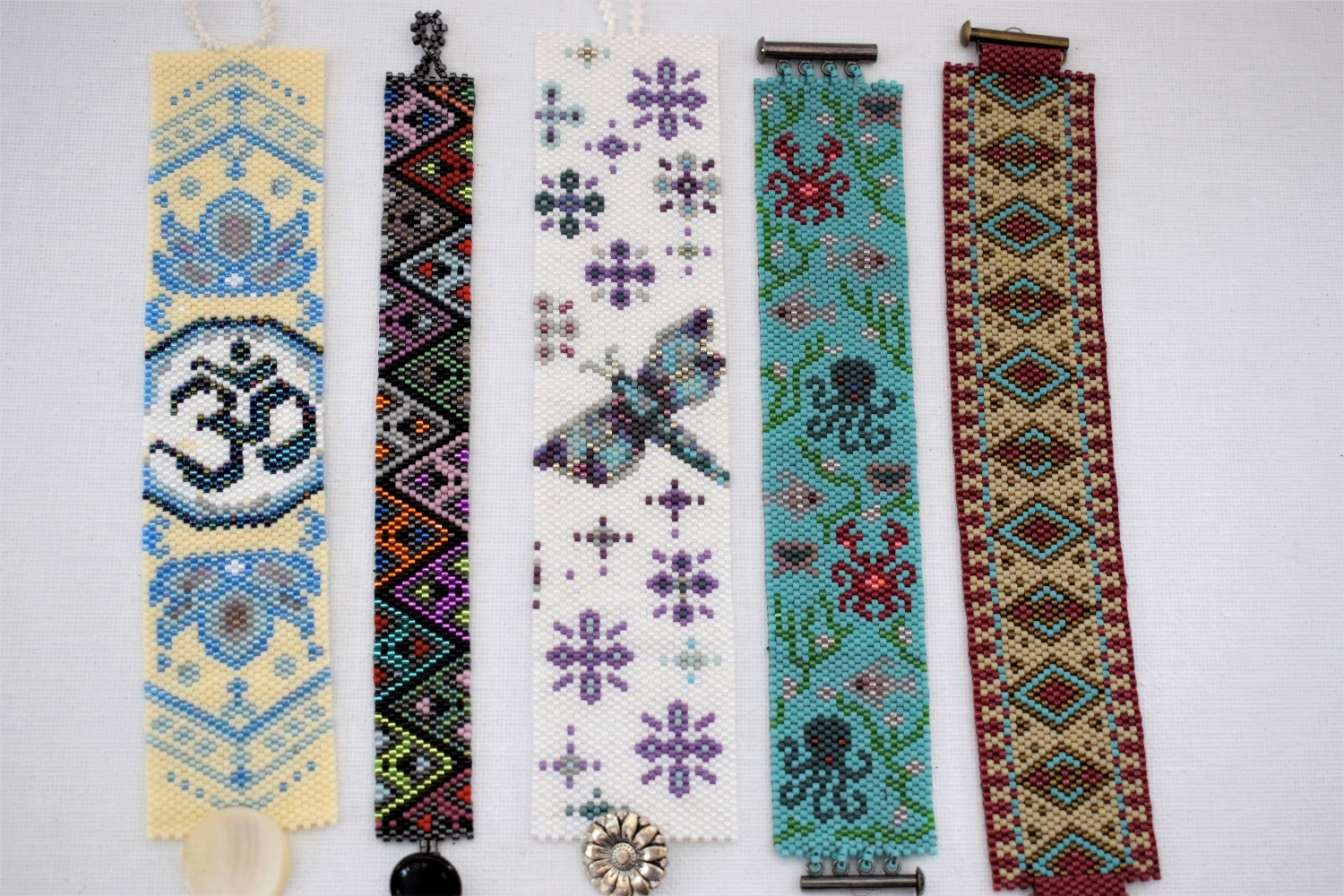 Where can we see and buy your designs? 
I have a Facebook page for UllaEdenmarkDesigns where I should publish more than I do, and a shop on Etsy by the same name, with my peyote patterns. Sometimes I take part in local art exhibitions and fairs, which is fun.

Thank you for answering my questions, Ulla!
Dear Beadingschool friends, keep on reading…
Ulla in cooperation with the Beadingschool Creative team prepared a lovely, sparkle gift for all the Beadingschool Club members! You can find her tutorial for "Lucky" in the Files in our Club where you can download it as a gift! Thank you, Ulla! 🙂
The tutorial is also available for purchase in the webshop.
Please, use the comment section if you have more questions you would like to ask, or greet Ulla.
Stay tuned for more interviews for Beadingschool.com by Erika Sándor!
Reader Interactions