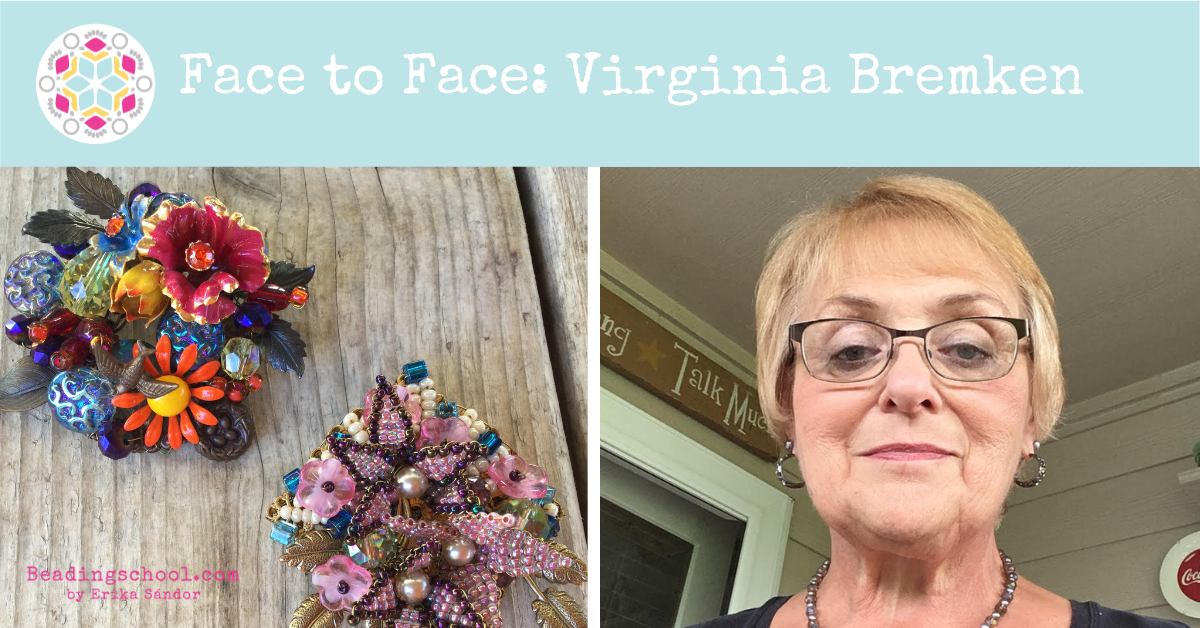 Face to Face: Meet Virginia Bremken
Face to Face interviews with our fellow beaders and designers continue! We're naturally curious to meet and know more about people in our community, as the Beadingschool Club grew a lot in last two years.
This time we looked into the Club! Her signature jewels are brooches she collects, restore and also create. We all also enjoy her  harmonious color combinations. Her jewels are often like blooming garden or flower arrangements she is so fond of.
If you look for an inspiring, friendly person and skilled beader, she is the right one!

Meet the Beadingschool Club member, Virginia Bremken, our Ginny!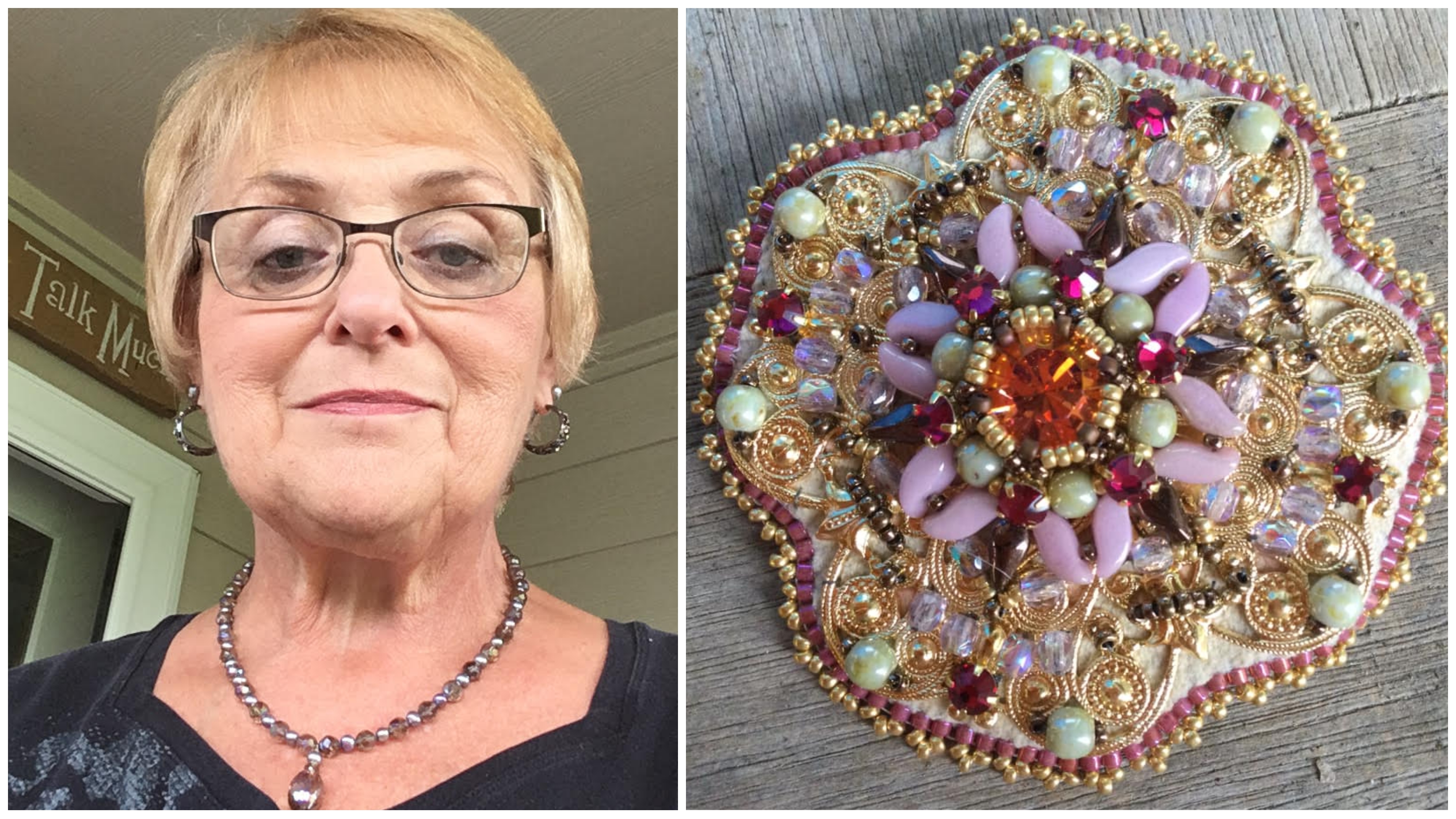 Please tell us about yourself a bit! When and how did you start to create? How did you learn to bead? 
Ever since I can remember, and that's been a while, I have always dabbled in some sort of artwork.  I find so much art in everything I do.  My home decor, sewing, gardening, cake decorating, crafting, and had jobs that involved teaching art.  Color has been so important in everything I do.  I can't help myself, my dog even has a collar that coordinates with her fur.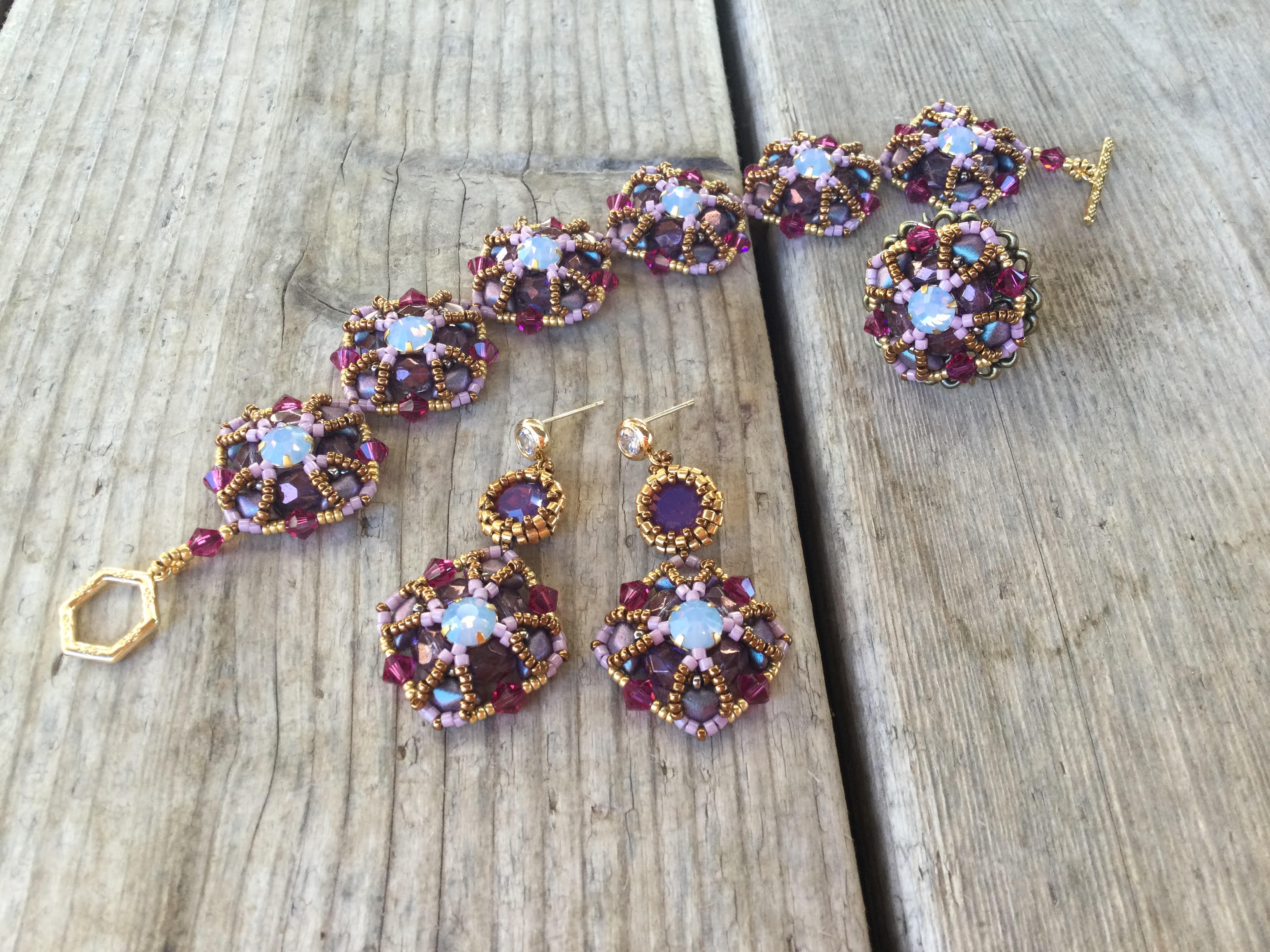 Is beadwork your hobby or profession? When do you have time to create?
I have collected brooches all my life.  That's one of the reasons why you see several of the motifs become brooches.  My hobby was repairing vintage pieces after I retired.  I was looking for a hobby that wasn't mass production of anything.
One day, a couple old friends  called and asked if I'd like to bead with them  once a week.  That was 3 or 4 years ago, when I was still on the lookout for brooches. We did some stringing and some chain maille.  Then after attending a local bead fair, I was hooked.  I bought a few kits and that got me started.  There was so much to learn.  So many new shapes and sizes of beads I never even imagined.  I am still amazed at all the new beading items I learn about every day.  I just love it.  Then when the pandemic hit I had unlimited beading time as we sheltered in place.  I began watching videos and joined a couple groups.  What an education!
So beading became my new hobby.  As a retired person I try to bead everyday.  I look forward to watching Erika's online classes and learning all I can from the group.  Even my husband knows the NOHTBA schedule.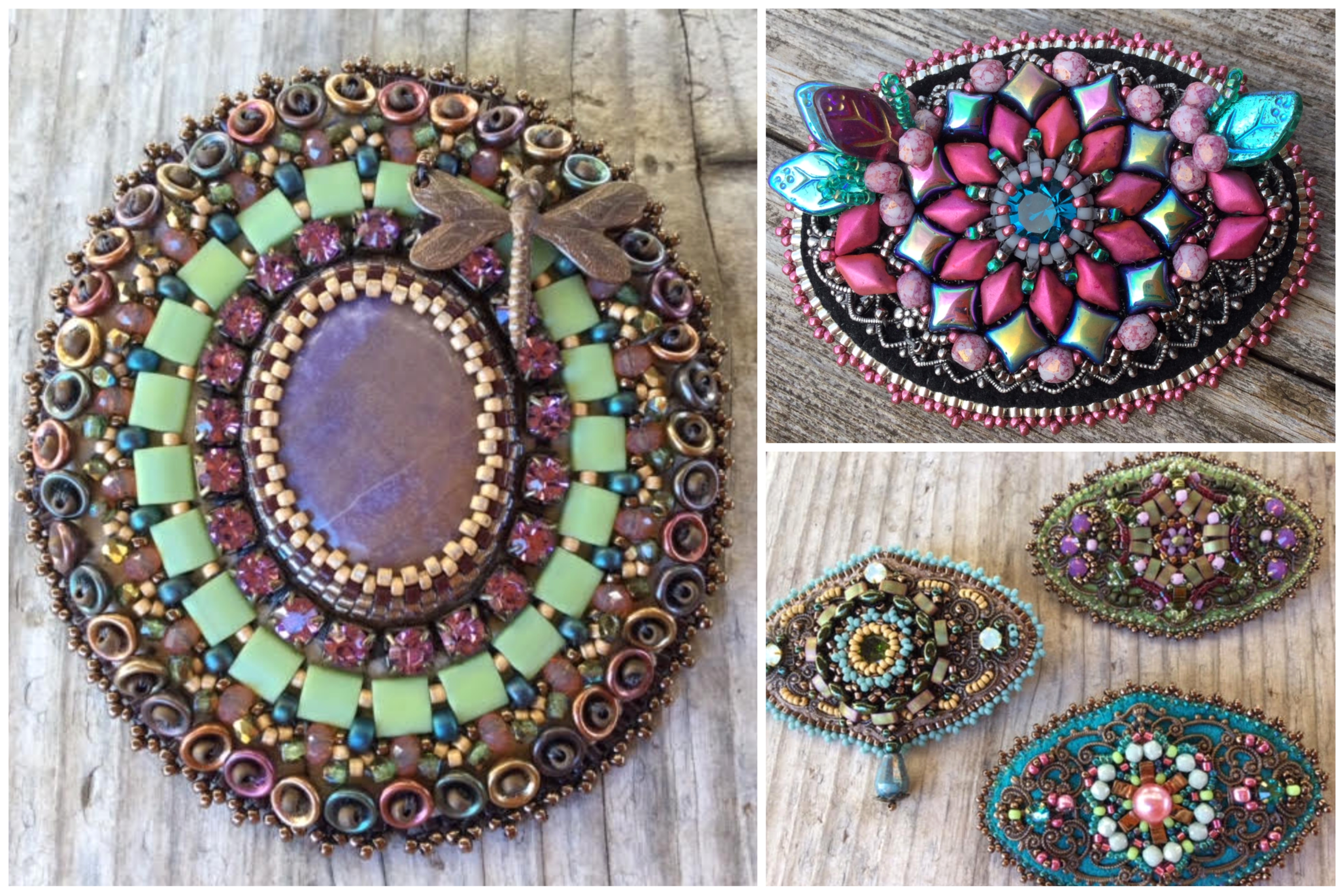 Tell us about the piece of jewelry you are the proudest of!
As for the piece of jewelry I am most proud of, that changes from day to day.  Just when I think I have a favorite, we do a new one and it changes.  I was pretty happy with the Cellini spiral bracelet I did off of YouTube, then the  peyote bracelet I did for our beading contest last year, then the Magic Garden one came along.  Now I am in love with the Indira design that Gina did from our Maharaja Box.  No idea what it will be next week.  I would love to do a bead embroidery out of recycled and vintage pieces.
Where do you like to create? Do you have a designated area in your home where you keep your beads? Can you show it to us?
I have a section of our storeroom set up in the basement to keep my beads organized.  Nothing fancy.  Pegboard and hooks with all the beads visible which makes planning easy.  It used to take so much longer to chooses beads when it was all in boxes and drawers.    My husband put up some great lighting.  I'd love to have a beautiful room, but I like that I can see at a glance almost all of my supplies and can choose them with ease. It's nice that they are so portable. I often take them to other locations after I have picked them out.  Like beading on the sofa or the deck, or even on a trip or to a friend's house if we are crafting together.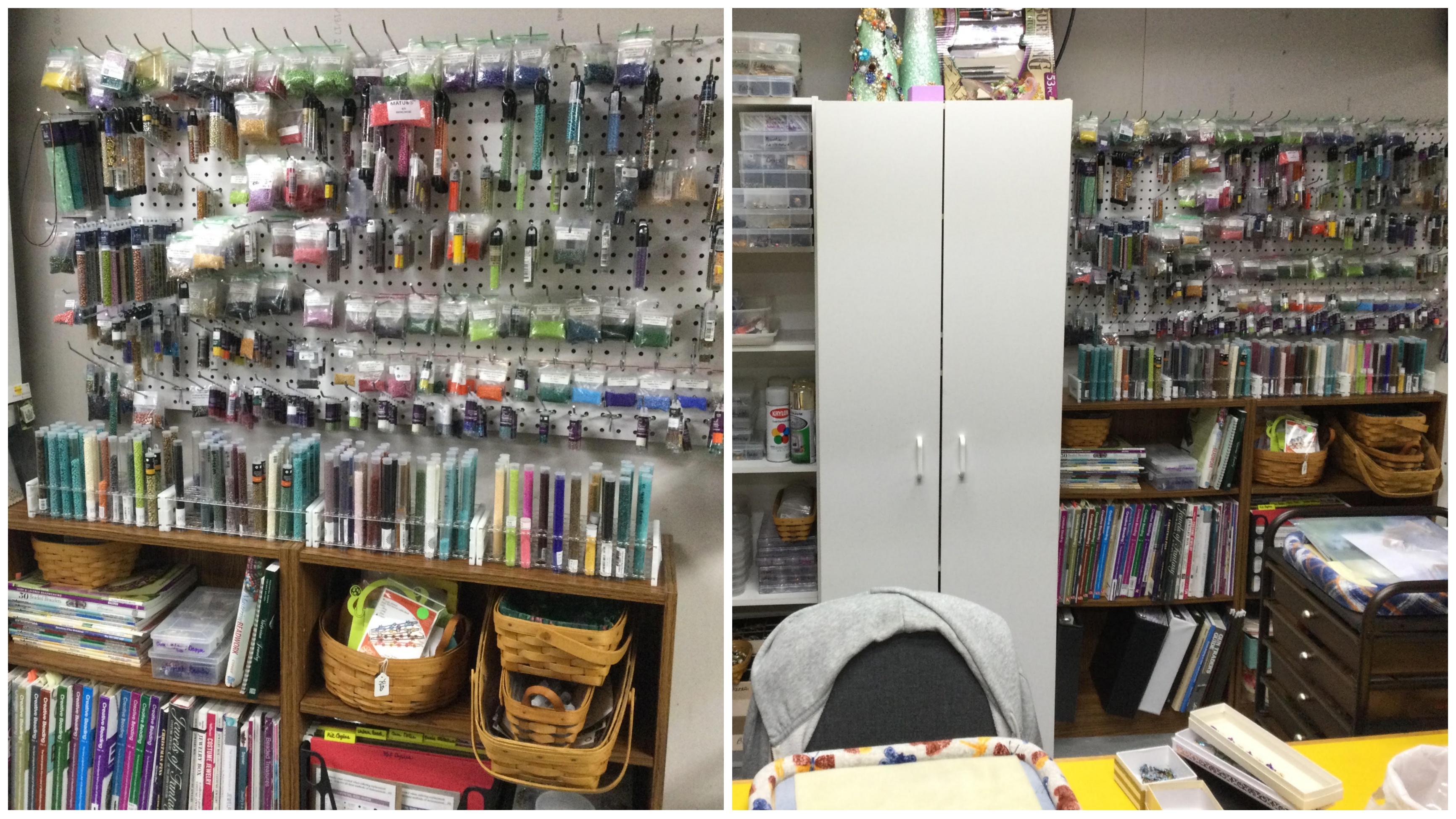 What is your favourite stitch? Which colours do you like the most? On the other hand, is there any colour or colour combination you try to avoid?
I love learning new stitches.  The first formal beading class I ever took was at the local shop in Omaha.  She taught me and my beading ladies peyote stitch.  It's so versatile.  There are many versions so it's up there at the top.  I am also pretty fond of tubular herringbone.  I am always excited to learn a new stitch.  I love how you combine them to make something amazing.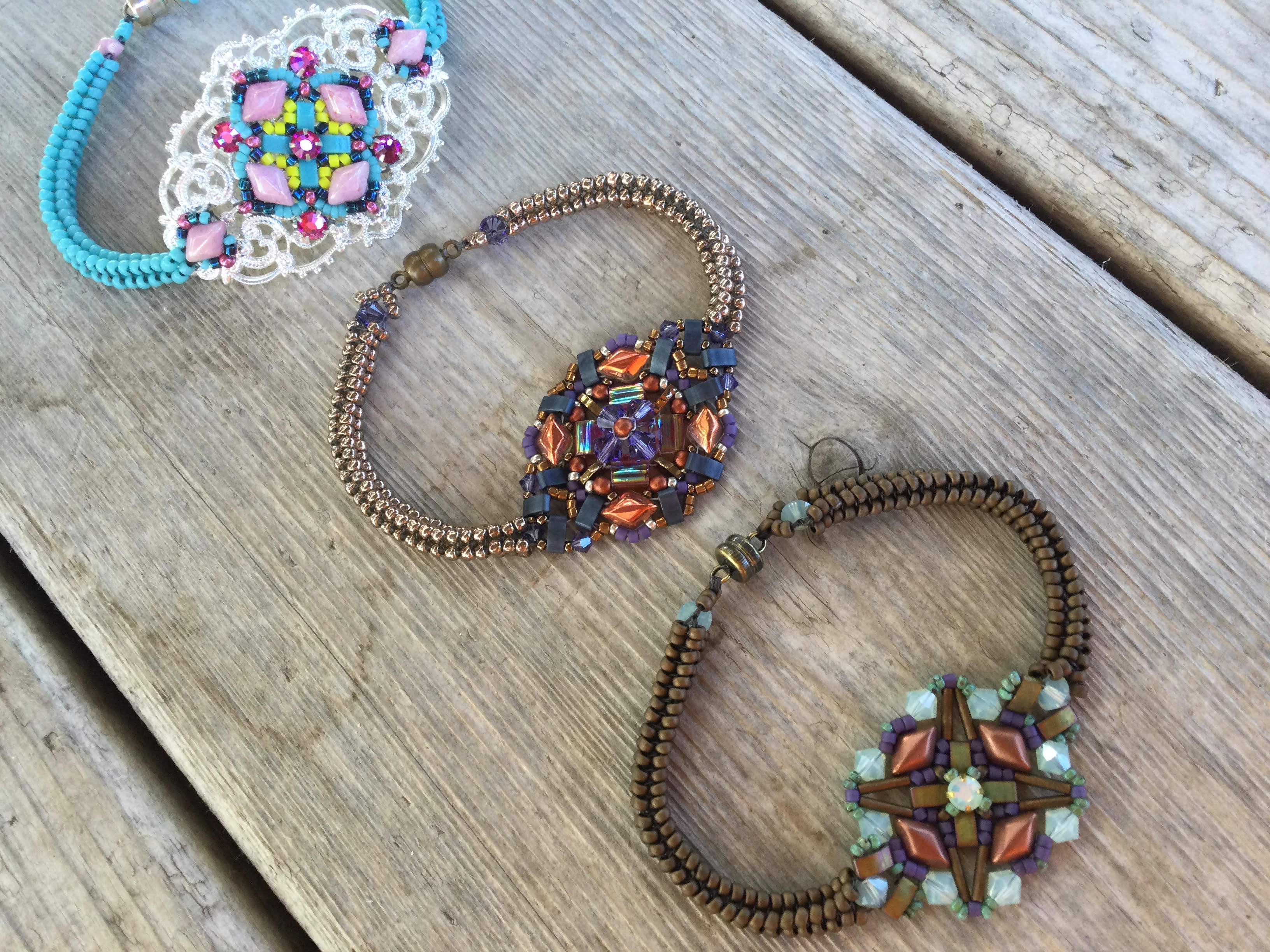 Do you follow instructions or do you like to develop your own designs? How would you define your style? 
I do love several of Erika's designs.  The Shiraz Bracelet is up there at the top for sure.  I am very taken by the Frozen Flowers design too.  I was so taken it became a full set I love to wear.  I have 2 tops that it matches so why not?  That is unusual.  Usually I make something and then have to buy a new top to match!  I also liked  Attitude so much it became a set.  The set came out so pretty because of the glass drops in metal settings I think.  Last Spring I made several pairs of the Ice Flowers earrings for our Master Gardeners plant sale. They were a hit!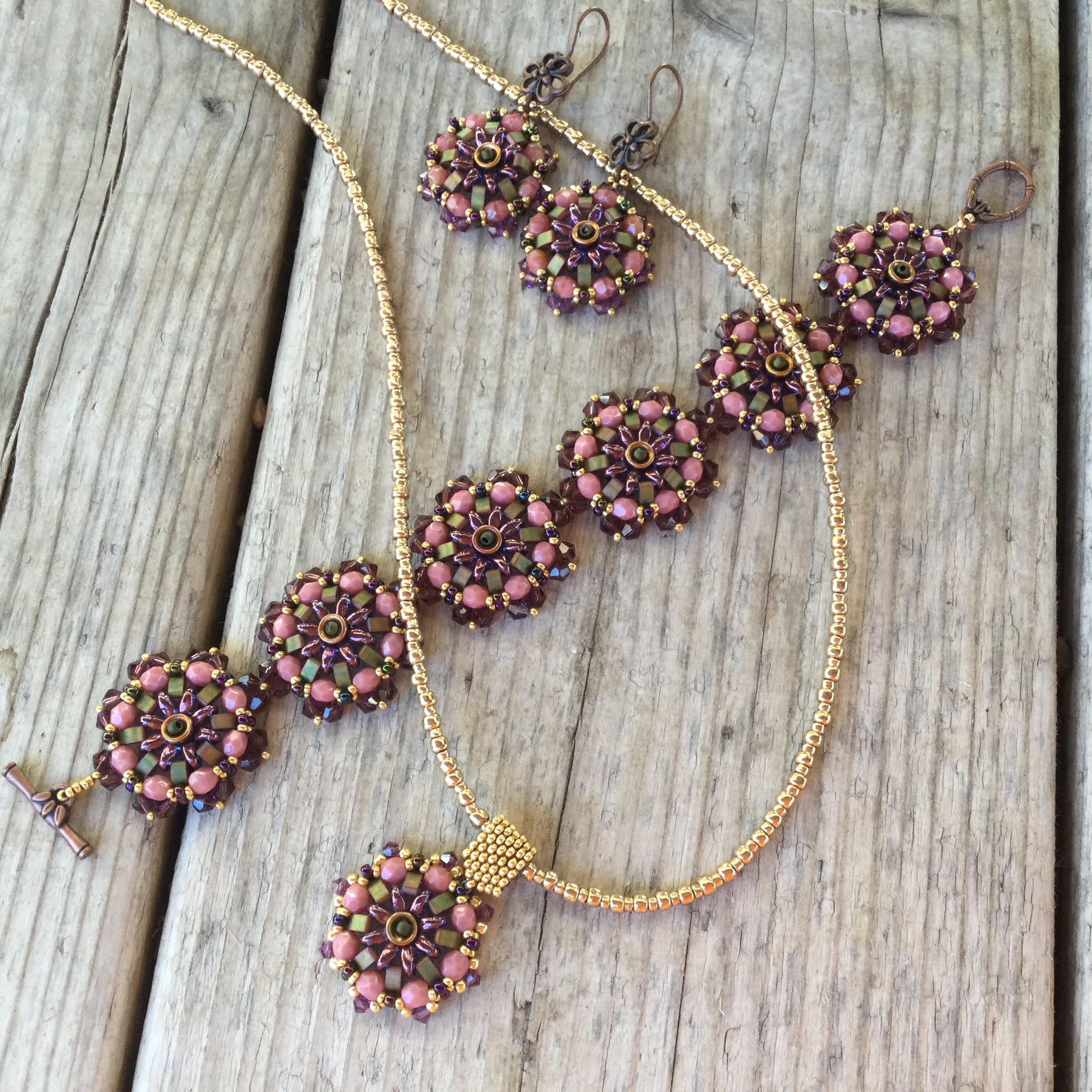 Who are your favorite designers? Why?
I do not know a lot of designers to be honest. I have met many of them through Erika, her classes and interviews.  So I'd say Erika is my favorite.  I am amazed how she can create something new each week.  I find her tutorials so easy to follow.  In the beginning I had never purchased any others to make a comparison because I watched videos.  Now that I have I am sold on hers for sure.  She is an amazing young lady.  Her ideas are endless it seems.  Thank you Erika for all you do for the beading community!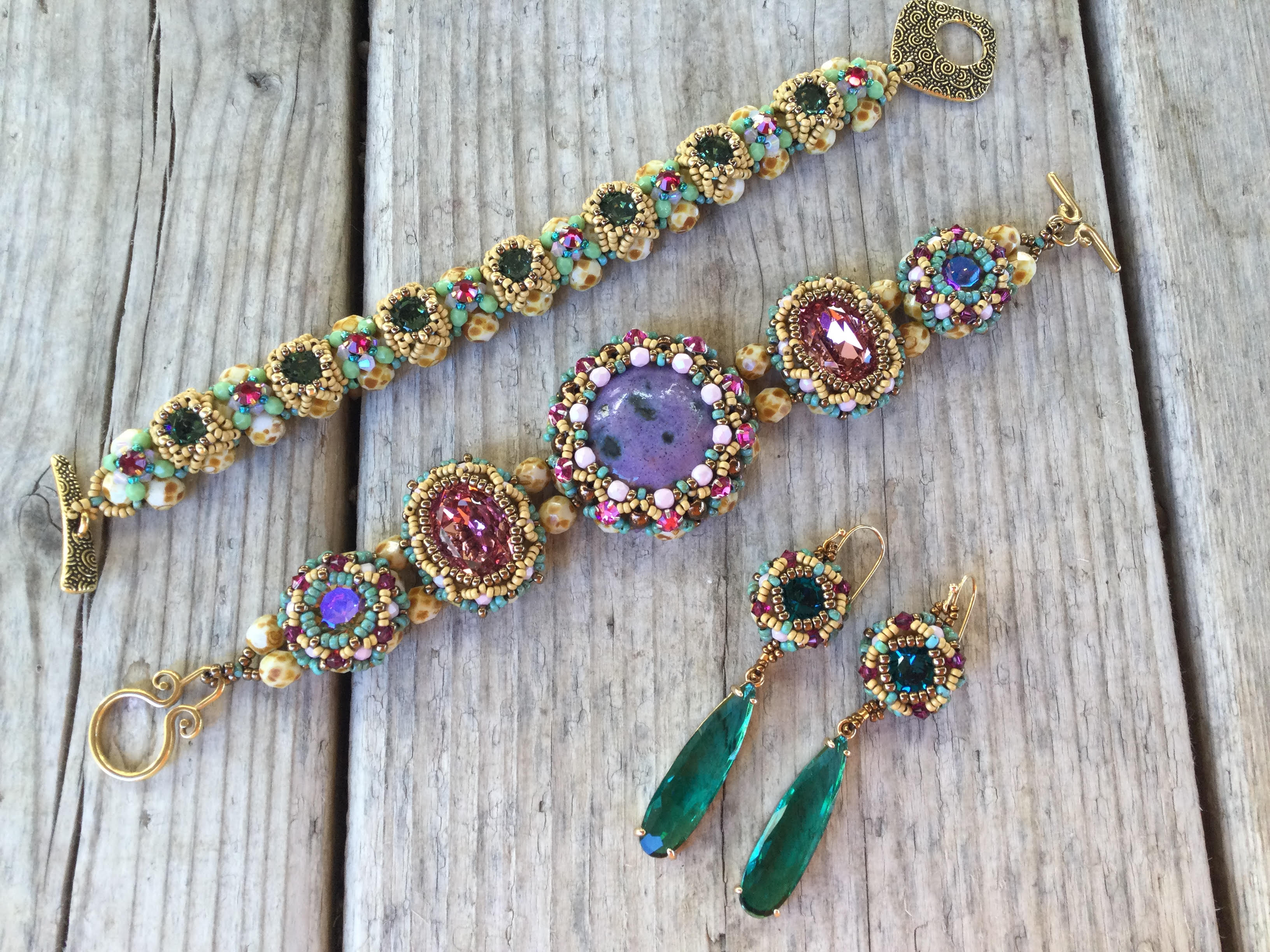 What are your plans for the future as a beader?
I hope to keep on beading forever.  I hope someday I can make a statement bead embroidery like the one in the beading classroom that Erika has on display (note by Beadingschool: "Safekeeper" necklace).  When I was invited to the Southwest Iowa Art Tour last year that would have been amazing to have a bigger piece to display.  Maybe this year.  I have time until October 😉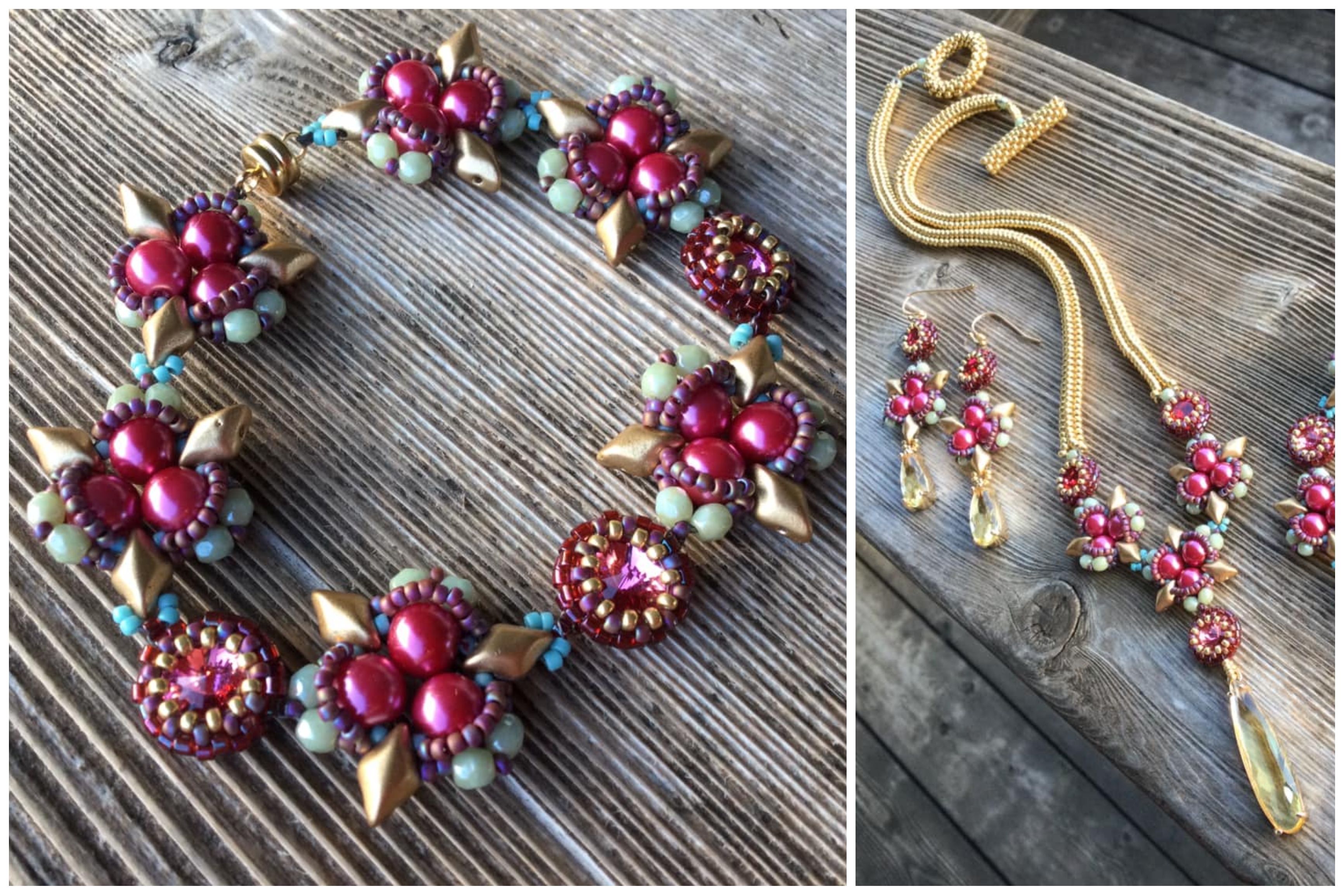 Where can we see and buy your designs?
I really do not sell my jewelry, but it makes lovely gifts for my sisters, coffee ladies, neighbors, and daughter.  I did sell a bit of it at the art tour, jewels that I had duplicates of and others that were came out larger in size than I originally wanted.  Maybe sometime when my curio is overwhelmed I'll sell at a local boutique!

Thank you for answering my questions, Ginny!
Dear friends, you can use the comment section if you have more questions you would like to ask, or greet our Ginny.
Stay tuned for more interviews for Beadingschool.com by Erika Sándor!
Reader Interactions