Face to Face: Samia Dewan
Our newest Face to Face interview with our fellow beaders and designers is here!
Joining only a year ago, she captured many hearts in our Beadingschool Club with her open mind in the creative process and open heart for the Beadingschool community. It has been wonderful to watch her journey from a very simple designs, growing in the confidence and technical skills with every Beadingschool Academy theme box.
Besides posting pictures of her finished beadwork, we also often see ideas on how to combine full outfit, what is also inspiring 🙂

Meet the Beadingschool Club member and growing designer,
Samia Dewan!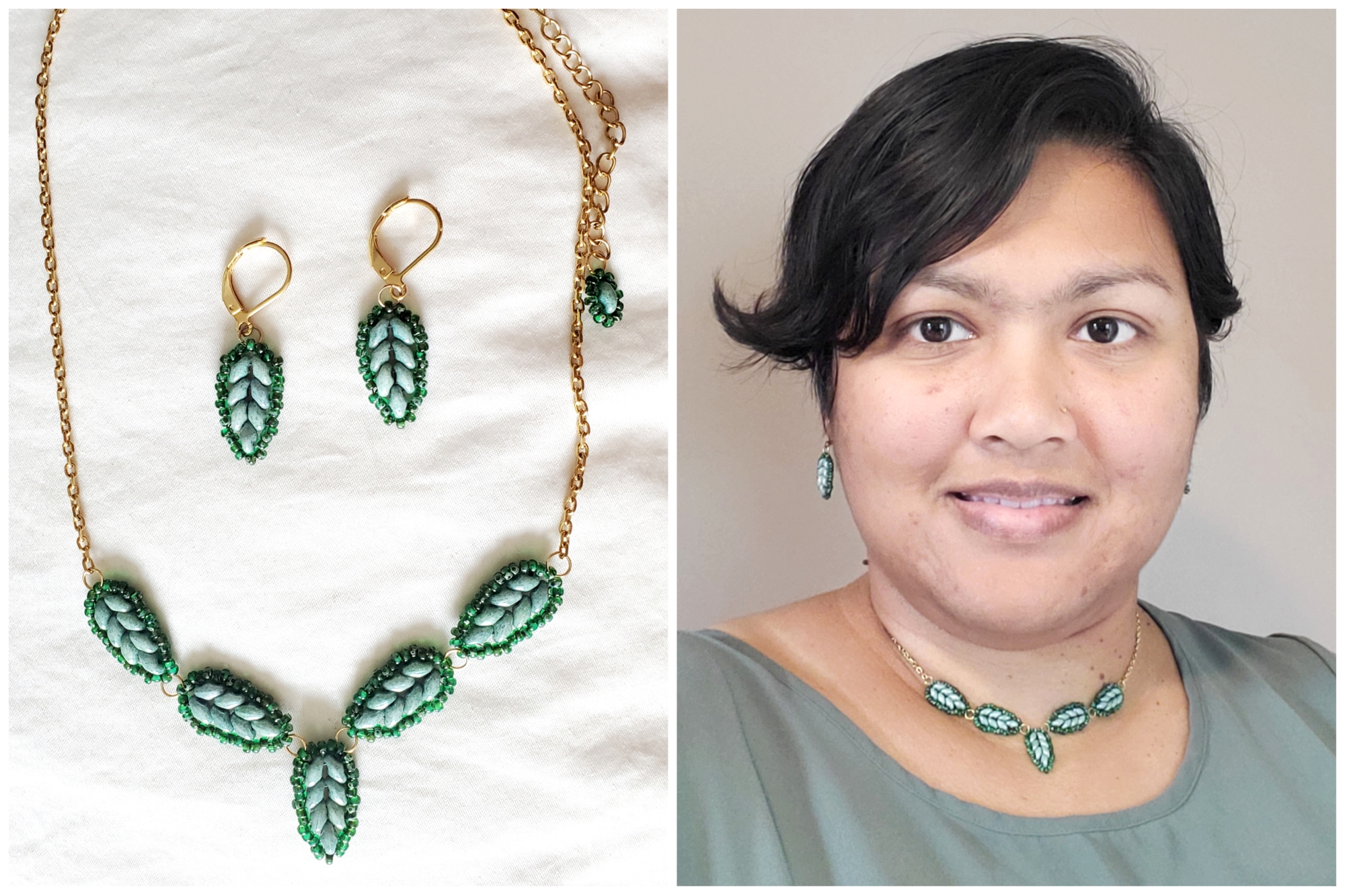 Please tell us about yourself a bit! When and how did you start to create? How did you learn to bead?  
I live in a small city in the Canadian Prairies called Saskatoon, in a townhouse where I have lived for over eight years. 
Besides beading, I also enjoy indoor gardening. I have too many plants throughout my townhouse (at every window except for one north facing window). I mainly like growing Hoyas as they have beautiful leaves and flowers. I struggle with my mental health on a regular basis. Beading and indoor gardening often helps me. I have other hobbies and interests, but these are the ones I am more into these days. One fun fact about me is that I have a brown belt in Karate although I have not trained Karate for a while. 
I have started bead weaving at the beginning of 2022 but I have been designing and making jewellery, on and off, since I was a teenager. Back then I had only done bead stringing, simple wireworks and simple knotting. I have learnt bead weaving by watching YouTube videos and I have never taken any formal training.
Is beadwork your hobby or profession? How does your average day look like? When do you have time to create?   
Beadwork is a hobby for me. On a typical weekday, I work eight hours as an Electrical Engineer designing electrical systems and doing project management. My job can be stressful sometimes, but for the most part I love what I do. I usually get some time to bead during the evenings unless I am spending time with my Dad and Step-Mom, my friends, talking on the phone with my brother and sister-in-law or I have some other engagements. I tend to have more time to bead during the weekends but that also depends on if I have any other plans.
Tell us about the piece of jewelry you are the most proud of! 
I will need to think about this. I would have to say the necklace, bracelet and earrings set, in mint green and copper colour, I have created to wear for this year's end of Ramadan Eid celebration. It is a mixed media and style set, and I had a lot of fun designing it! It turned out beautiful if I may say so myself. I do not have a name for this set yet. I tend to struggle with naming my designs.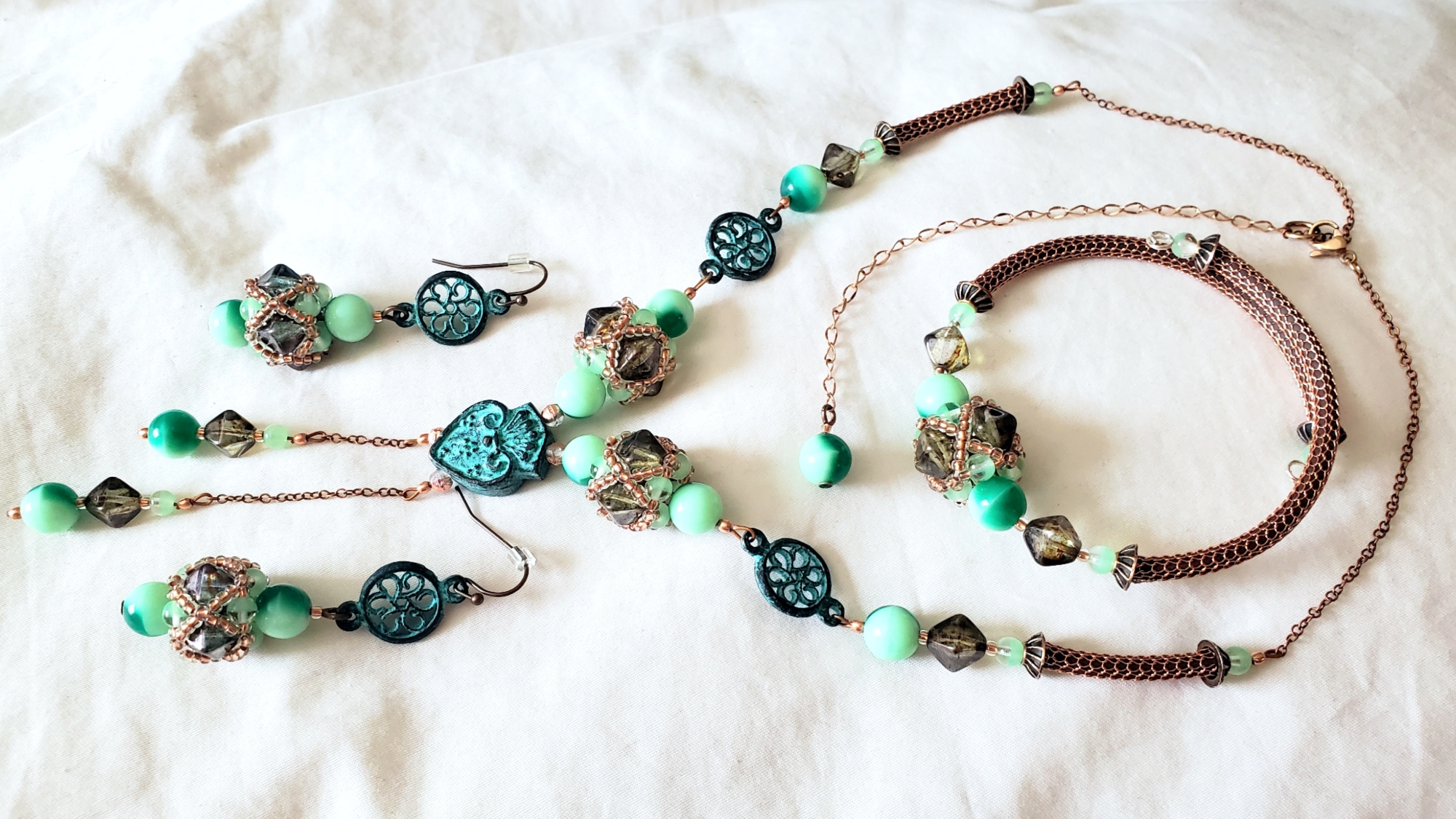 Where do you like to create? Do you have a designated area in your home where you keep your beads? Can you show it to us?
Believe it or not, I usually create, sitting on my bed, in my bedroom. I typically have a YouTube video going, on my laptop computer, beads on my bead tray and I start beading. I am often finding beads on my bed when I am trying to sleep. Haha! I keep most of my beads in a couple of shaves in my bedroom. I am not the most organized person so my bedroom is a mess. I need to figure out a better way to organize and store my beads as my collection is growing at a very fast pace. Organizing and keeping things tidy is one of my weakest points. Kind of like those mad scientists you see in movies or television shows. Hahahaha!
What is your favourite stitch? Which colours do you like the most? On the other hand, is there any colour or colour combination you try to avoid? 
 Not sure if I have a favourite stitch. The very first stitch I learned was brick stitch. 
Do you follow instructions or do you like to develop your own designs? How would you define your style?  
I usually like to create my own designs or take someone else's design and create a piece using my own interpretation. There are times, I do like to follow instructions as this allows me to learn new techniques and skills. I must say, I have learnt so much ever since I have joined Beadingschool Academy! My skills have improved multiple folds within a very short period of time. Thank you Erika and the Beadingschool Team!
I usually like to create day to day wearable elegant pieces. In general, my designs start with me wanting to create a jewellery set to match with a shirt or a dress. I like to use mixed media, mixed styles and techniques in my designs. I guess I am a bit of a rebel and like to do things outside of the box. I would call my pieces small statement but not "in your face statement" pieces. I am not sure how else to describe it.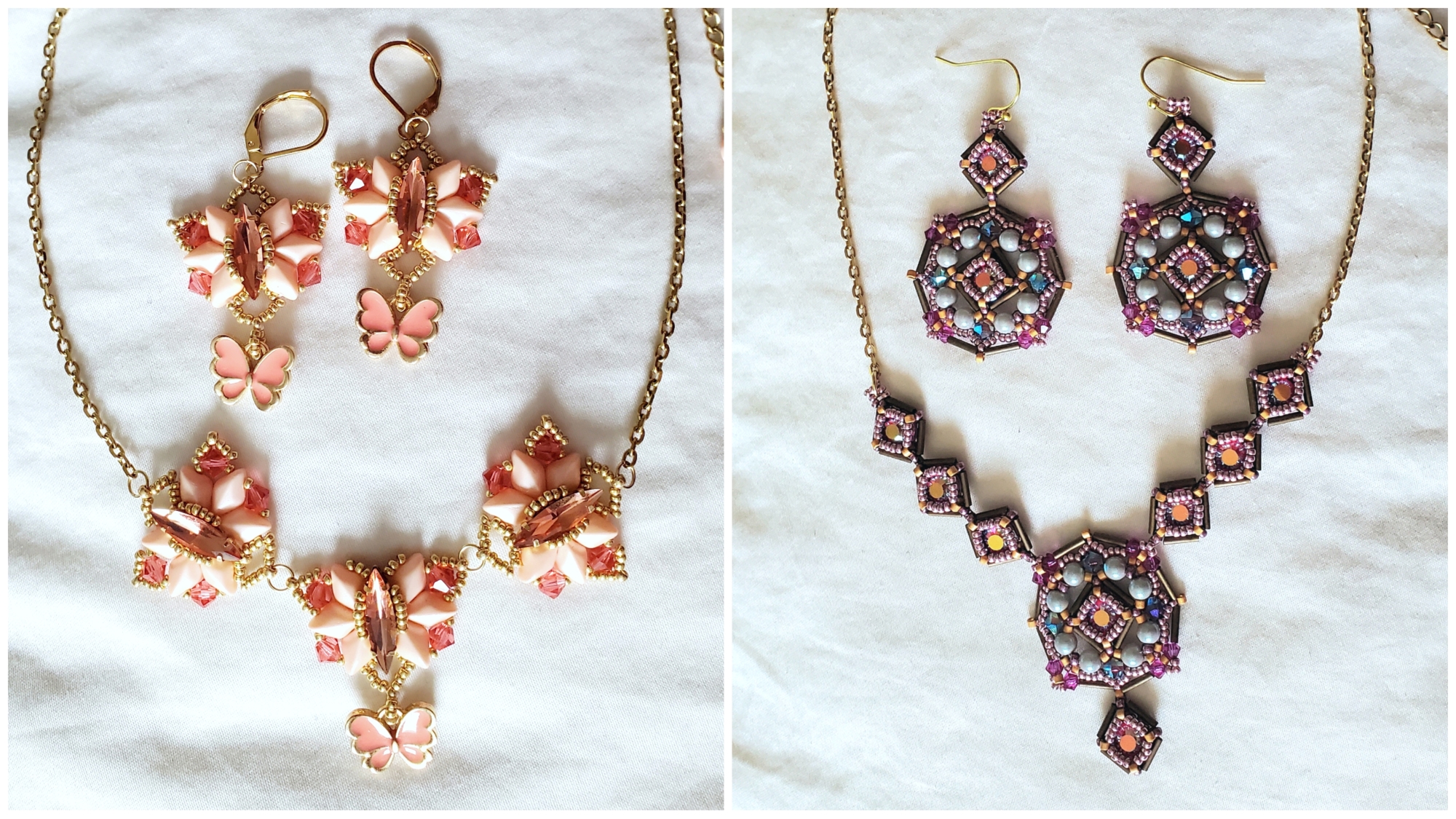 Who are your favorite designers? Why? 
This is a very difficult question for me to answer as I have not been in the bead weaving world very long. I did not have much exposure to that many designer's work.

Do you have a favorite design by Erika? Tell us about it!   
I will have to say Theodora pendant. It is gorgeous!! I hope I will get to bead it someday.
Which is the bead / component in your stash which you treasure the most? Do you already have plans on how to use it?
Hmm… another difficult question for me to answer. Honestly, I can not think of anything. My preferences tend to change a lot from time to time. I do not even have a favourite colour but I tend to prefer one or two colours at different times.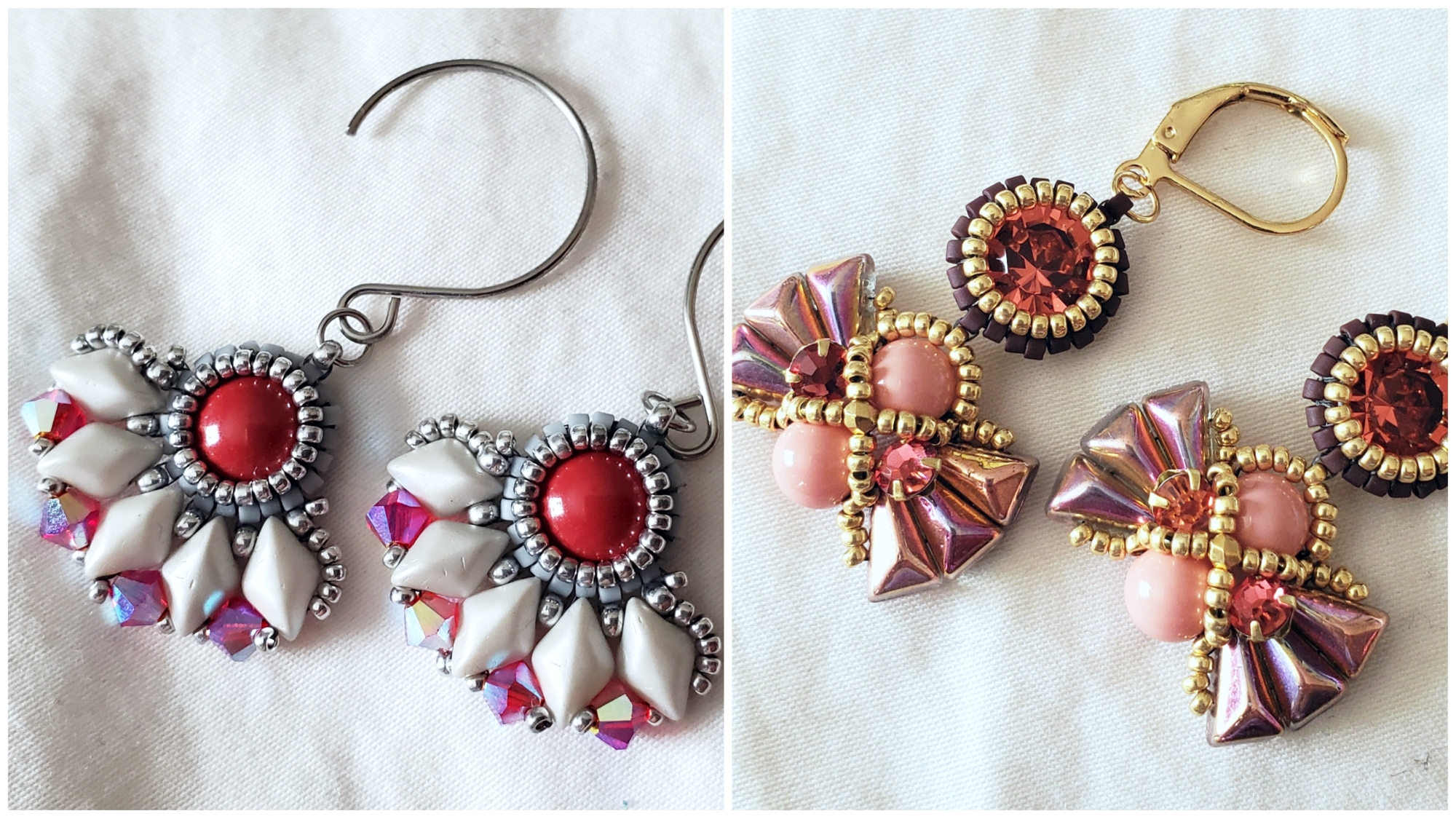 If you could design something for a well-known person or maybe a fictional character from a film or book, who would it be, and why? 
I can not think of anyone at the moment. 

What are your plans for the future as a beader? Is there something you would really like to learn? 
My future plan as a beader is to continue to learn and improve my skills. Also I would like to create tutorials/patterns. I just need to figure out which graphic design software I should use for that. I have not done much research into this and I am open to suggestions.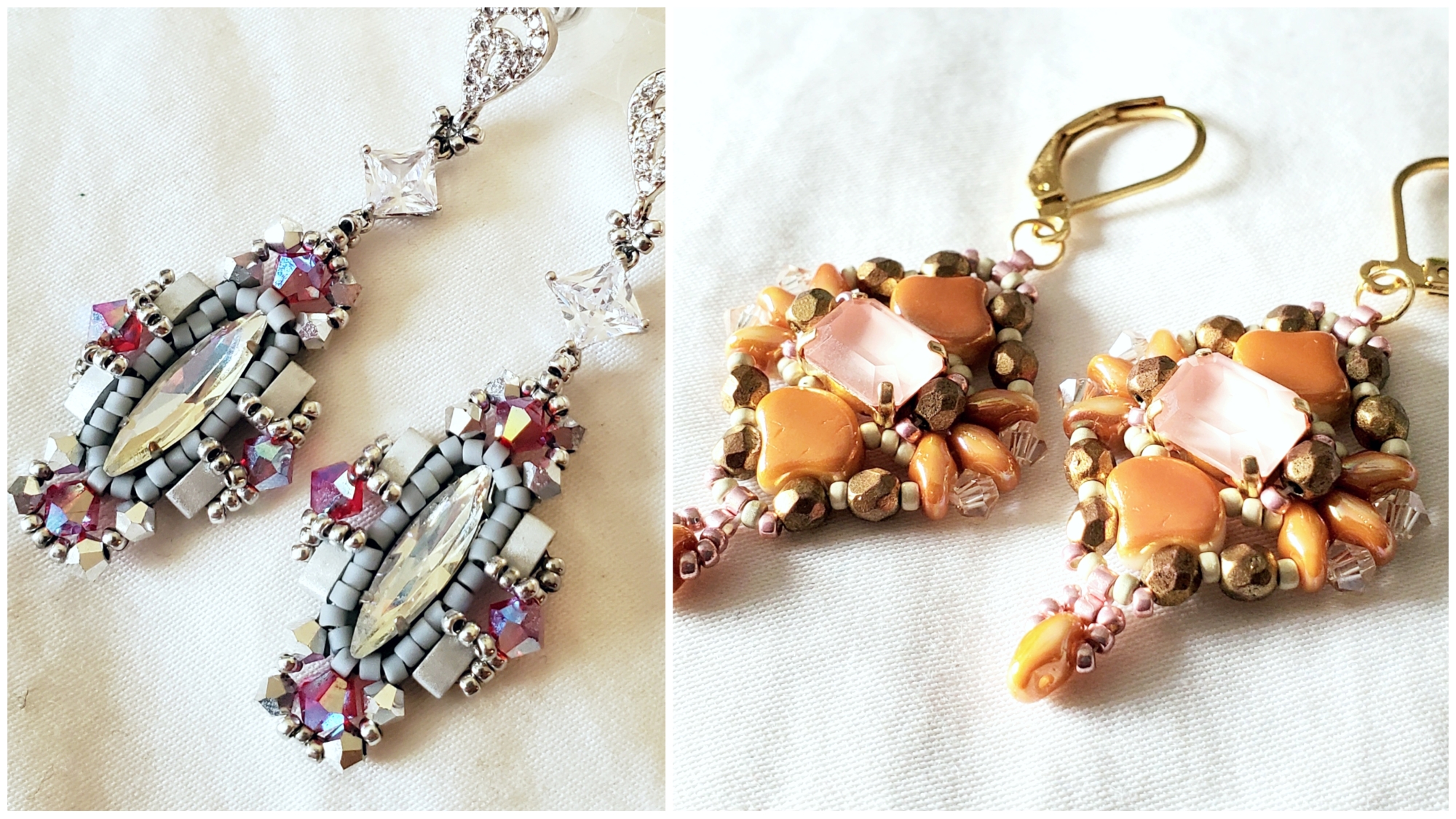 Where can we see and buy your designs? 
 I mainly create jewellery for myself, family, and friends. I post pictures of, most of my, designs on Instagram . Btw, I also have an Instagram account for my plants. 

Thank you for answering my questions, Samia!
We all are happy you are beading with us and inspire us with your jewelry! 
Dear beading-friends and beadwork admirers, please, use the comment section if you have more questions you would like to ask, or greet our Samia.
Stay tuned for more interviews for Beadingschool.com by Erika Sándor!
Reader Interactions