Description
A luxurious jewel, inspired the Dutch Golden Age and by Baroque painter Clara Pieters's painting "Vanitas". Clara was the first significant female Dutch painter. The painting is probably an auto-portrait of the artist wearing a necklace, a headband, earrings and two bracelets.
This bracelet is wonderful if you are looking for a project you can really get your teeth into!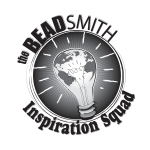 The True2 beads used in the bracelet were a sponsorship gift of Beadsmith.
MATERIAL LIST
LICENCE
Buying this tutorial enables you to finish the jewel for personal use and also to sell the finished product.
KEEP IN MIND!
The diagrams and written instructions are clear and easy to follow, but remember, that you are always only a mail away from me if you need more help or have problem with finding the right material.