Do you remember the
Giveaway! Take your Beadingschool mandala on Vacation
, we had in the
Beadingschool Club
in June? I can't believe it's more than two months ago! The time passed so quickly and we just stepped into September. Let's look back.
Before we give "Goodbye" to the summer
Every summer is about making more time to relax, get outside, travel a bit if possible. I remember when I was a kid or even a teenager, that I collected memories and adventures through whole holidays. Then we all waited for the first days of school so we could share our adventures. It was a very different time as there were no social media. You barely saw your classmates during summer, unless you hung out together outside school as well. So it was always a very exciting time to get back together and talk about all the experiences.
Take your Beadingschool Mandala on Vacation…
…and share a picture of it with us! Let the Mandala walking the streets with you on your tote bag or on a package from us, the Mandala on a Preciosa Crystal and Pearl Box cover traveling with you in the car, touring the hills, sitting on the balcony and enjoying the sunshine, or watching the ducks by the pond of the local park with you.
Let's see and read some of your vacation pictures with the Mandala!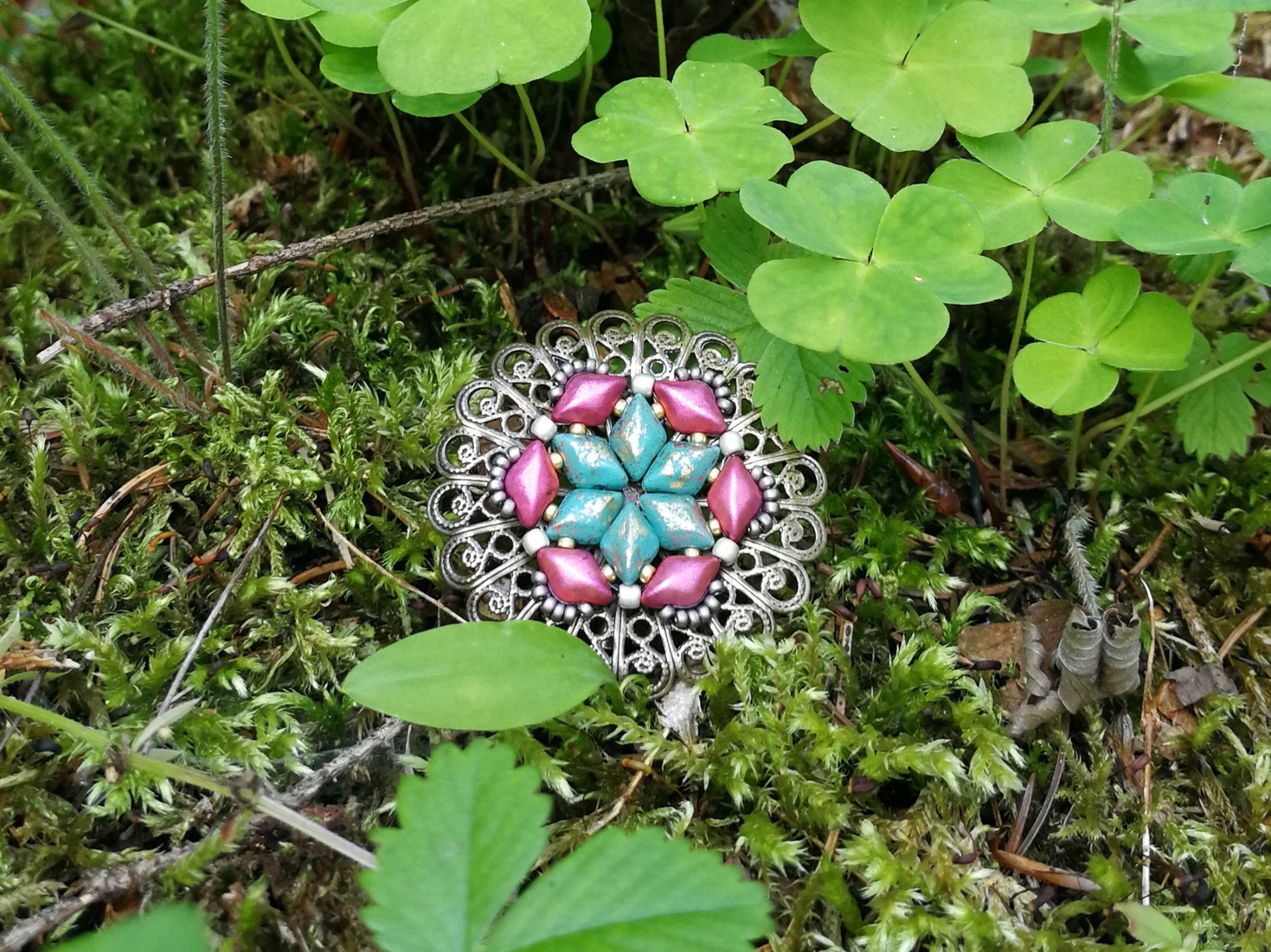 Virginia Bremken:
Hanging out at the car show! It was such a dreary day, glad she didn't get rained on. It was a great turn out despite the clouds. I packed a box like Erika suggested. There were so many friends to visit with I didn't have time to bead. The guys In Our group did great. They all took home trophies! My husband was at 1st place, his brother got a 2ndtrophy for best in the show.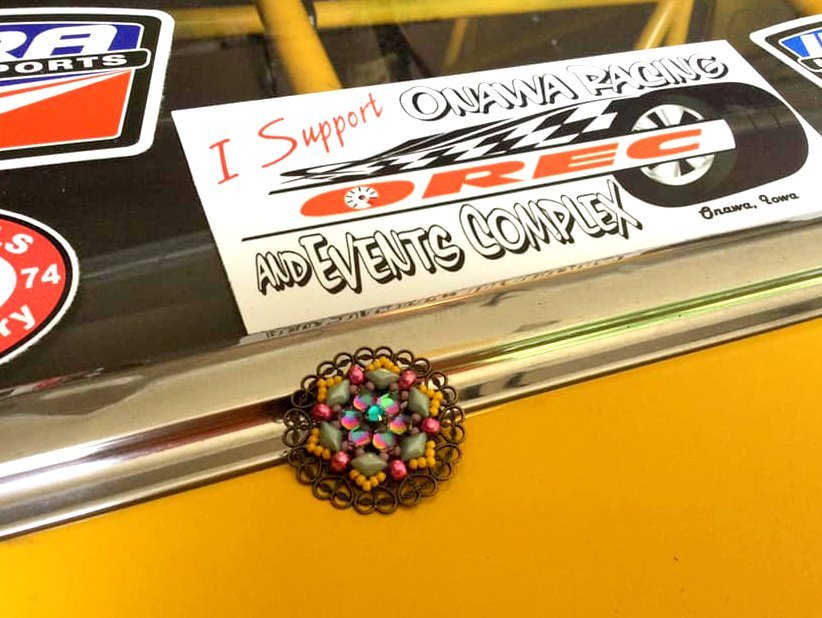 Anikó Hesz:
I'm supposed to be at the Balaton right now, but I got ill, with a fever for 2 days, so I couldn't start my holiday I wanted to take a picture with the Beadingschool mandala at the Balaton but now I can take a photo only on the balcony with my beautiful geraniums I wish a lovely day to everyone!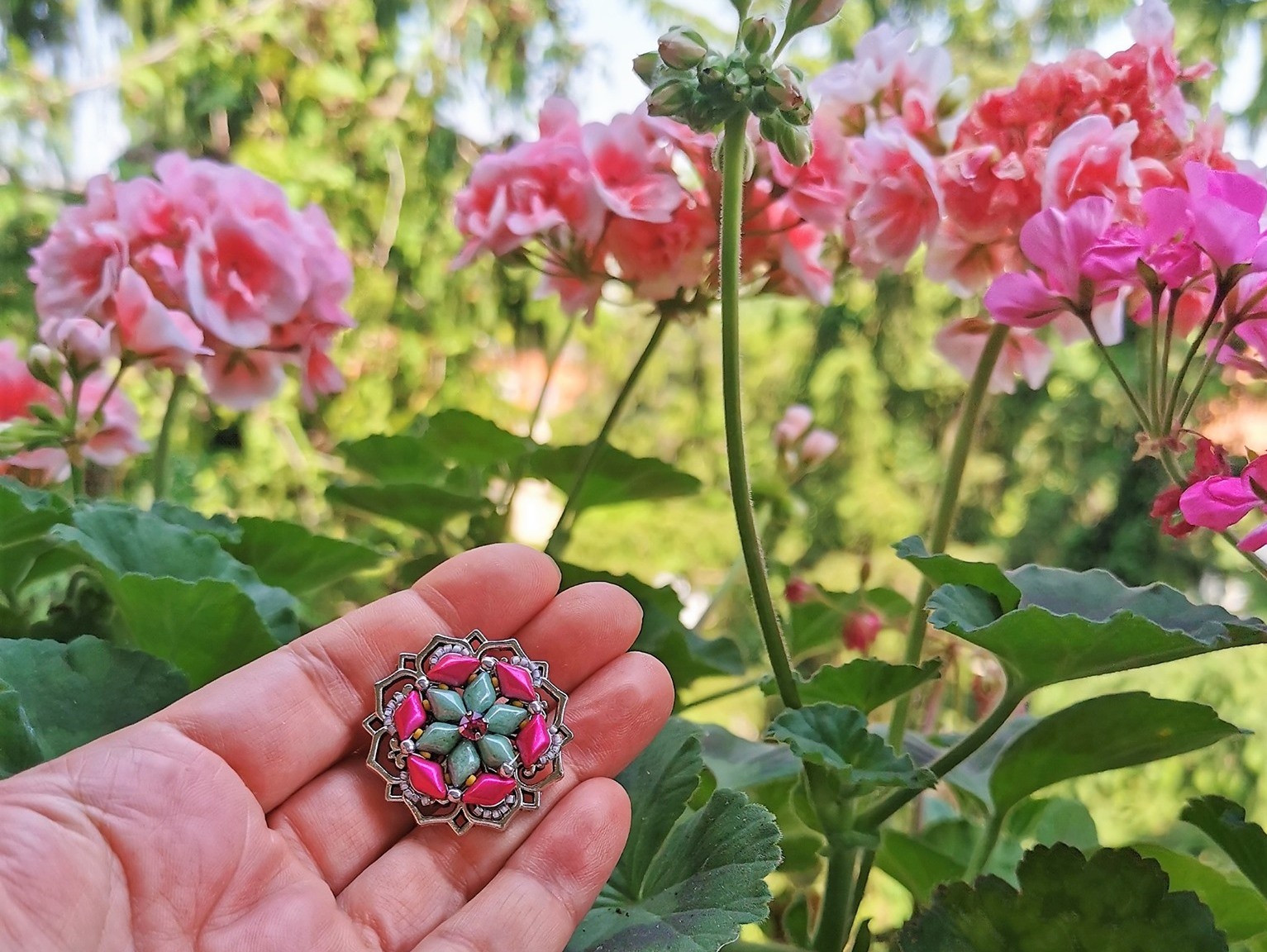 Ulla Edenmark:
Combining my two favorite pastimes – beading and gardening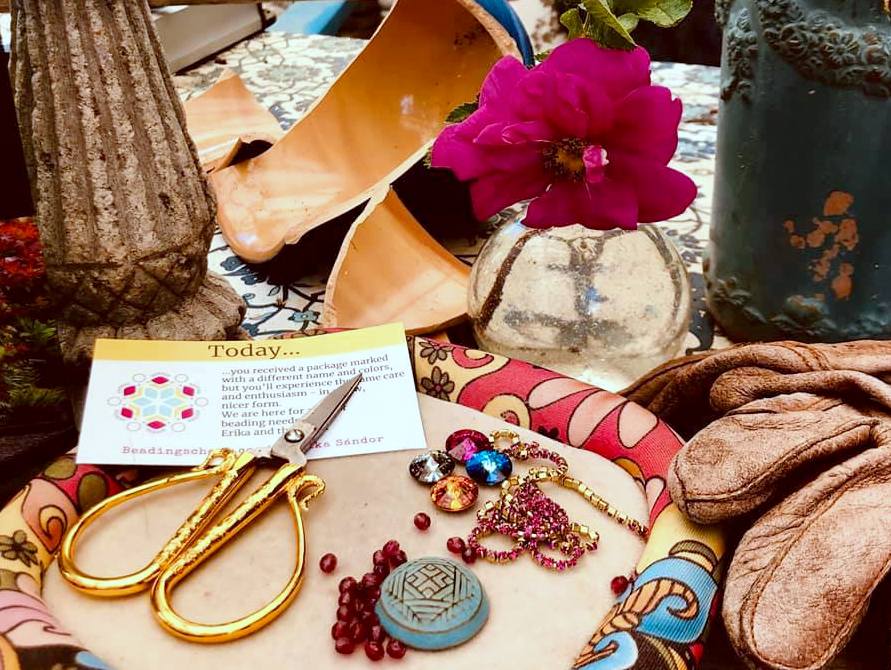 Sara Lilja:
The beach nearby us, is soooo warm today, 30 degrees Celsius, now in the evening!!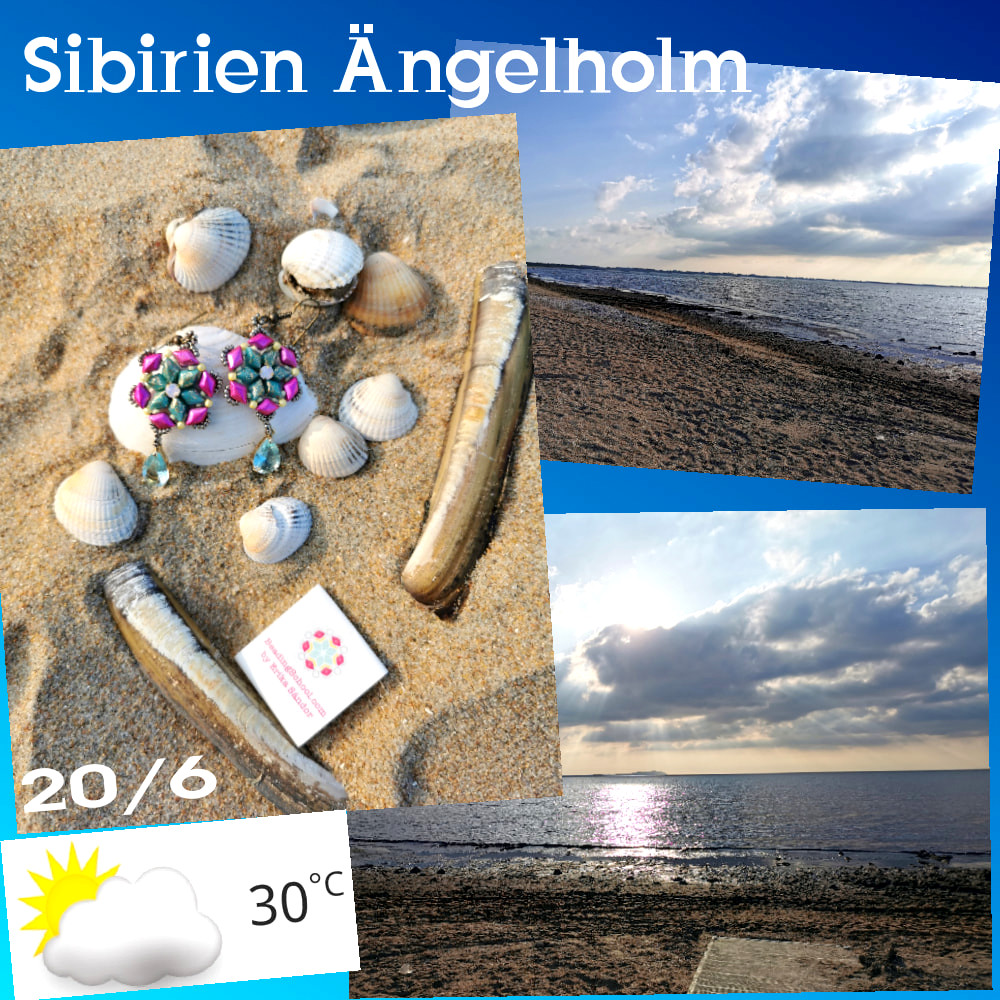 Katalin Dudás:
No holidays yet, BUT this week I met my colleagues after a looong time for two occasions: saying goodbye and wish the best for the future careers of 3, while having picknick and the day after discussing about strategy and other future stuff, having a delicious lunch, watching the football game between Sweden and Slovakia with a glass of rosé wine. Nefertiti, Beadingschool earrings & bag and Janis J were my company as well, enjoying the Swedish Summer afternoons and evenings. I am so blessed living in my country of dreams, cannot digest the beauty of this city.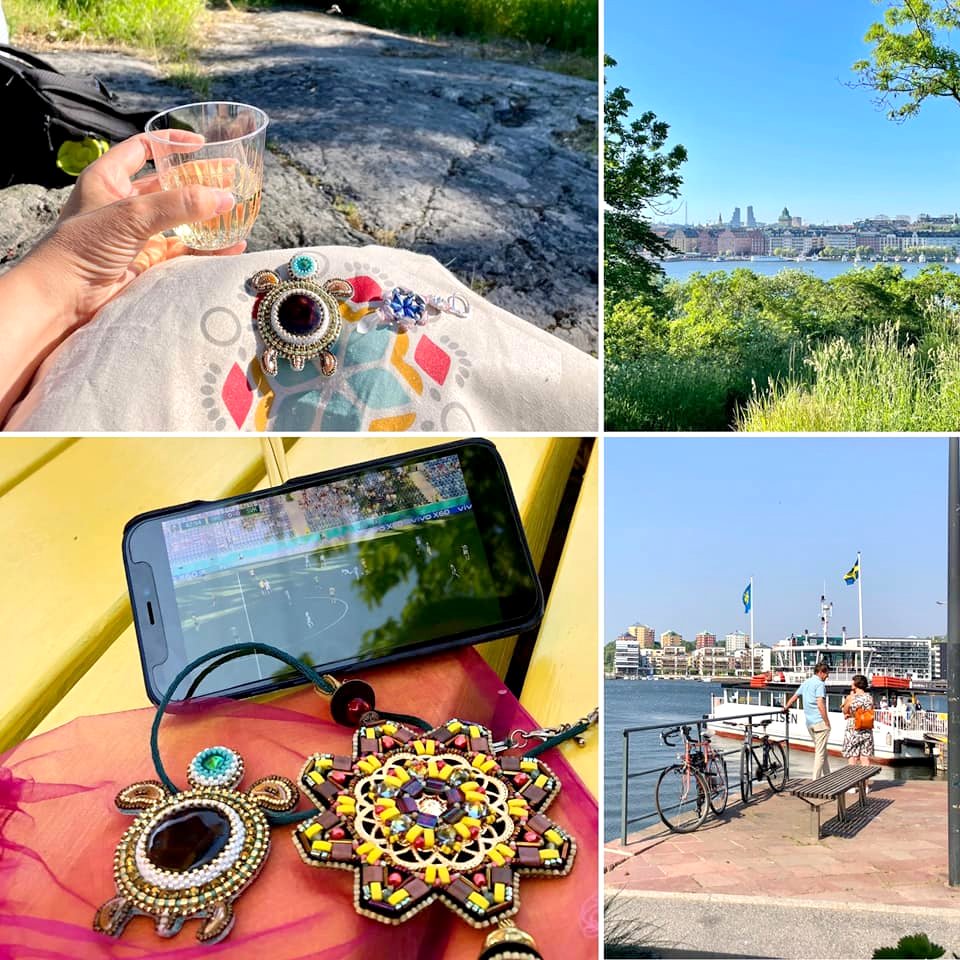 Kathy Quintelier:
I don't go on holiday but I enjoy the sunny evenings on my terrace. Since the exams started for the pupils I have some free time so I can catch up with older No one has to bead alone-designs. Here are my Codex-earrings. Jaroes is helping to decide which earstud from the wonderful Bloombox will make the earrings complete… Together we decided to go for the roses. And off course she wants a piece of my eveningsnack: 3 macarons in some lovely color.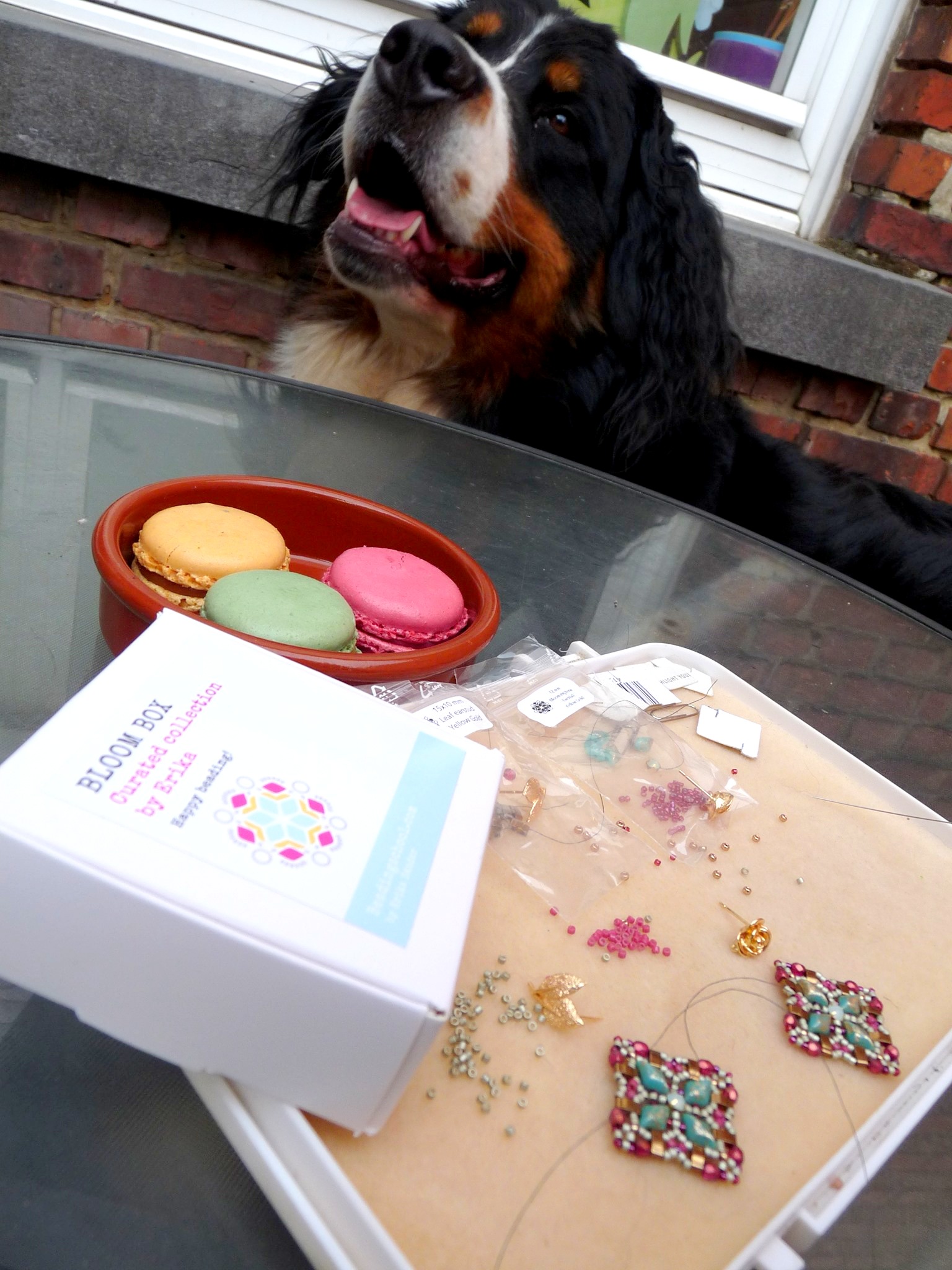 Faye Williams:
Out in the garden (after some winter rain) and saw some fallen blossoms from one of my camellia trees. My BeadingSchool boxes felt right at home with these colors!
Note from Zuzi – Faye lives in New Zealand, hence the different season 😉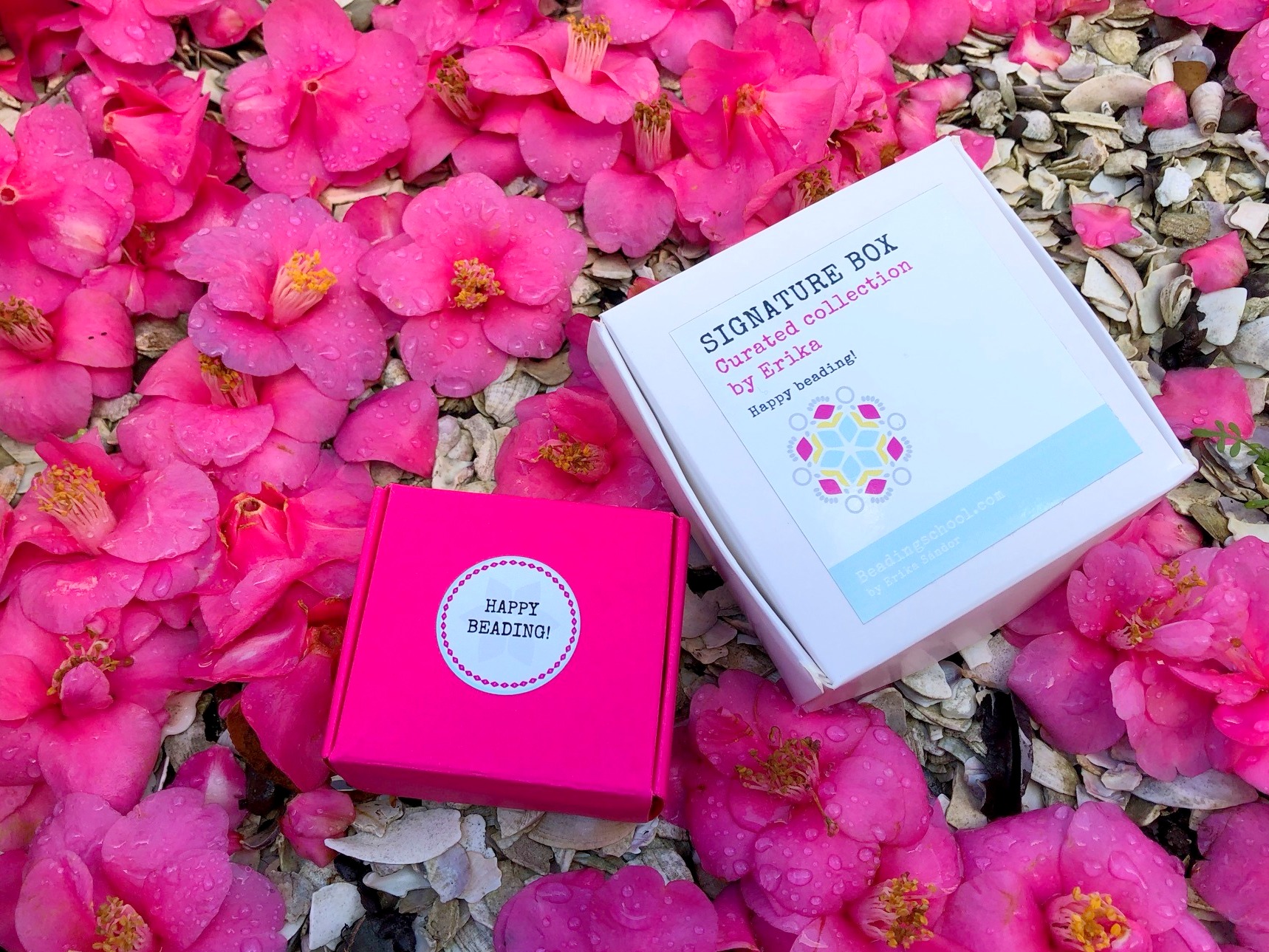 Katja Foierl:
Best Buddies are enjoying their day off at the balcony, waiting for some snacks and cool drinks.

Note from Zuzi – Please, see the Teddy is wearing earrings! 😉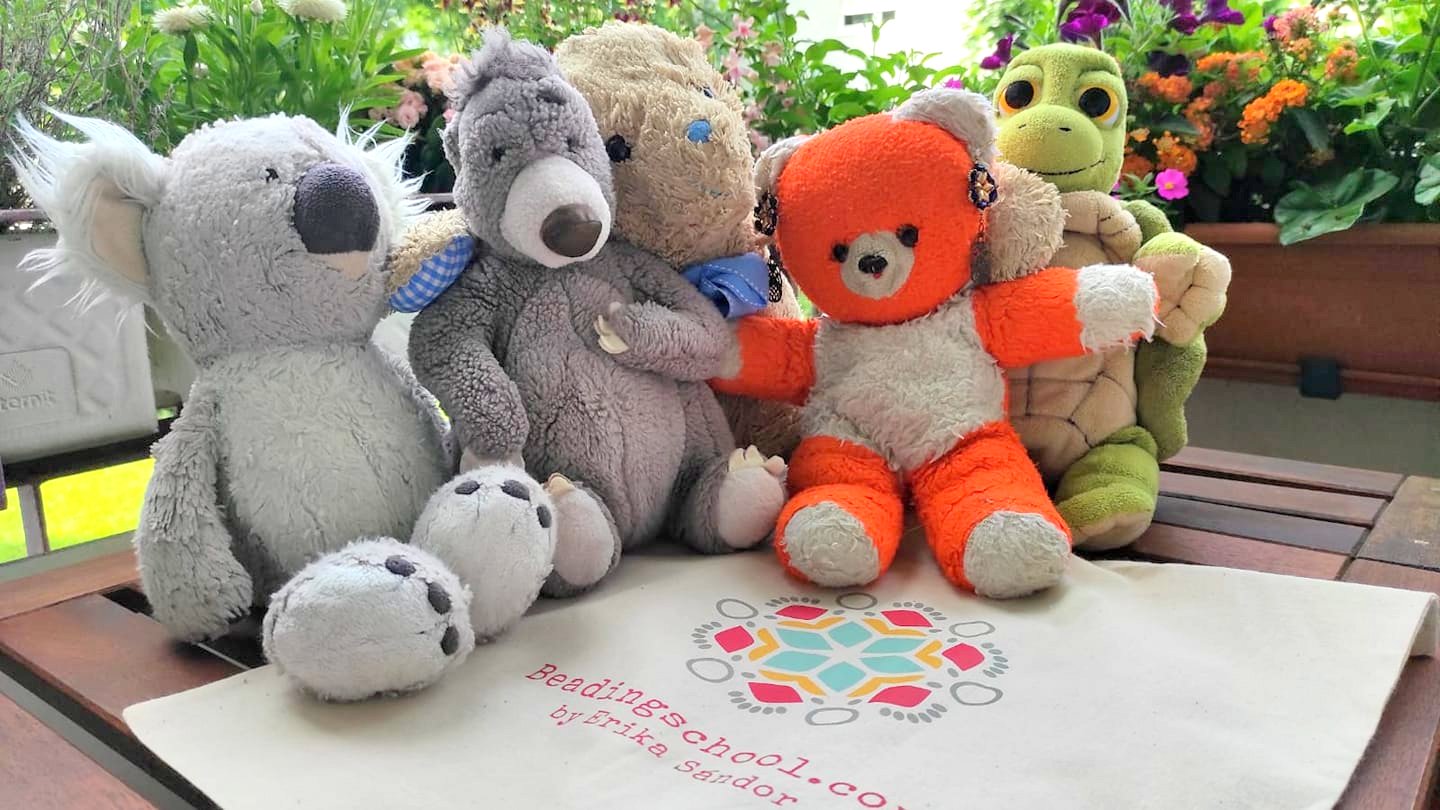 Applause to the Winners of the Giveaway!
We had TWO winners in the end as there were a lot of nice posts and sharing from our beaders. One winner was selected by ladies in the Beadingschool warehouse and one winner was selected by Erika. Congratulations!
Vania Stabnov Jacobs:
My house is in front of an Alpaca farm. We are good friends with the owners. So I took a little walk and got some pictures of the animals next to the goodies I just received! I will add the other Photos to my other posting. They are funny!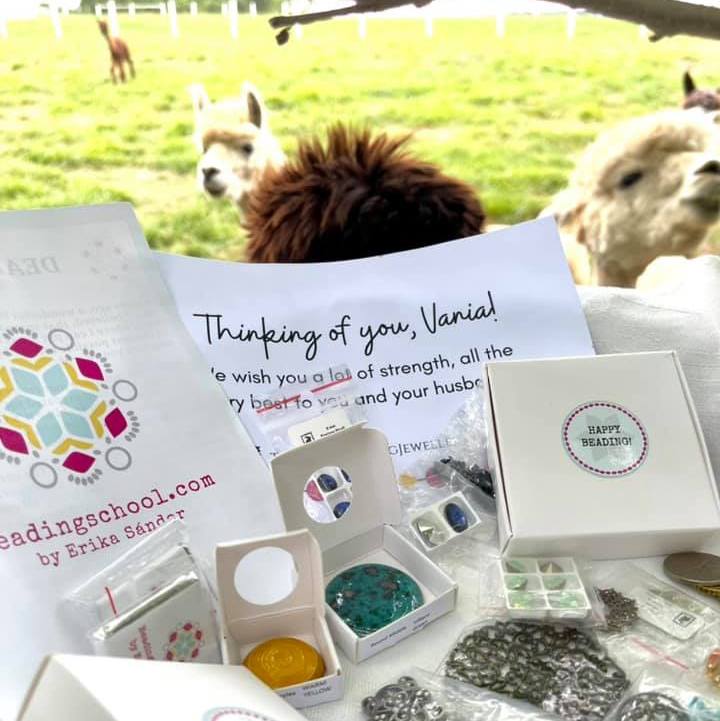 Tanja Quintelier:
My Beadinschool Mandala earrings are sailing away in water with yellow, rose (because no fuchsia) and purple-blue (because no turquoise- flowers …. the sun is shining very brightly…enjoying all the beautiful Beadingschool items on my beading mat…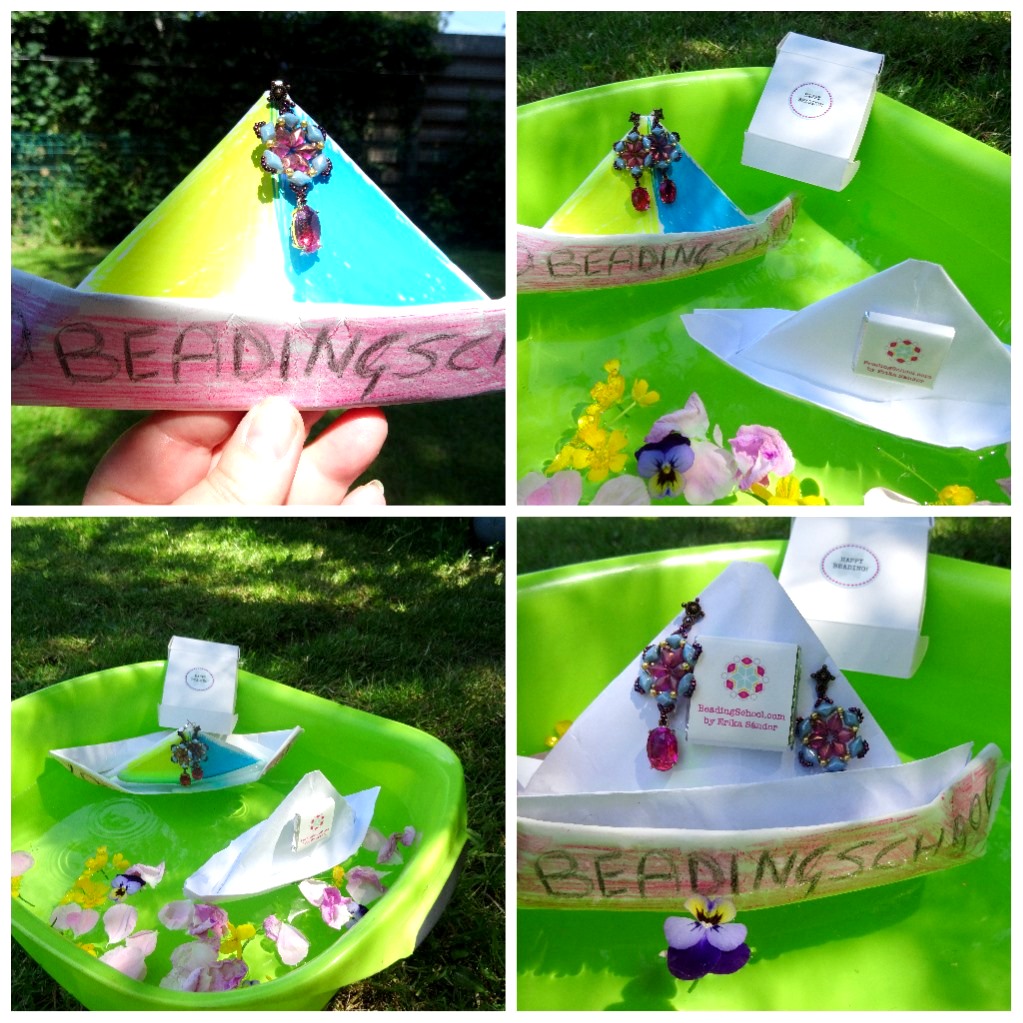 Vania's picture with curious and cute alpacas couldn't go unnoticed! Tanja's idea with a little bright avocado green pond (another favorite color of many Beadingschool Club members) brought a lot of laughter to many of us. Both ladies won a package of Beadingschool goodies. Congratulations!
Summer holidays may be over soon for most of us, but it's still sunny. We await Indian Summer, or Old Women's Summer, in some of the countries we live in. At least in Slovakia, we do. The color palette of beads I choose for my beadwork starts to change a bit, however, they are still more in the Summer Spirit mood, rather than pure autumn.
Let's keep this blog article as the first collection of summer photo memories by Beadingschool and keep the warmth of the memories close to our hearts.

 Beadingschool Club is the place where Erika created a wonderful community with a feeling of being welcomed, cared about. It is a great place to be and bead, to share more than jewelry!