Lenka Gondová and Ladislava 'Lacka' Repková are the two 'L's in L2Studio. They are the heart, soul, hands and talent behind the emerging new brand making artists' (and beaders') lifes easier. Do you know the feeling when you know exactly what kind of storage solution you need, but there's nothing like that on the market? Or would you like to bring your beads and tools to a retreat, but still look elegant – with a clever handmade bag for example, which can be easily transformed into a bead mat? L2Studio is here to answer your calling.
You already had a chance to get to know Lenka Gondová. Today I would like to introduce you both of the designers better, and especially the L2Studio cabochons – handmade, unique, and specifically designed for beaders. Are you intrigued? You better be, because this's gonna be big, and this article is the first place to get a sneak peek.
---
Stay close, because a bit later I am going to show you the necklace I've made using one of the L2Studio cabochons,
and you will have a chance to lay your hands on one, too!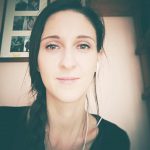 Erika: Lacka, can you please introduce us Lenka, and Lenka, can you please tell us about Lacka?
Lenka: Lacka is a talented artist with zero self-confidence. This is originating from her humility and from too much knowledge about what can go wrong during the creative processes. (Most of the time she is right! LOL). Add her thin and silent appearance and you will have the picture of an ethereal entity coming from some other world.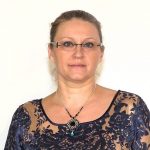 Lacka: Lenka is one of those amazing people who sees potential and opportunities everywhere, ans she is able to turn them into something real and great. She is the most independent and strong woman I ever met. She can read 6 books at once and still have time to work on several projects and find time to press clay to plaster moulds. I tell you… She surely has some superpowers 🙂
Erika: You are family. How does it feel to work together? Is it a smooth ride or do you have difficulties sometimes to understand each other's concepts?
Lacka: It isn't difficult at all. We can switch from "family mode" to "business mode" and further to "creative mode" in seconds. One time we sat at a table at a family gathering and we talked about all kinds of beads. We completely forgot that the meat was in the oven. Guess what happened…
Lenka: Well, we do not see the problem at all but I would not say the same for sure for the rest of our family. People around us must get used to some new words in our vocabulary like cabochons, glazes, peyote, sashiko, etc. But it works great so far.

Erika: What are your common qualities, and in what way are you different?
L2: Our common quality is the need for creative work. We both are very visually thinking people who need to transform all the inspiration around us into something meaningful and beautiful. We are both used to go into depth in everything what we do and we are not satisfied with easy achievements.
Lacka: I think the difference between us is that I am more focused on the emotional and artistic impact of our creations and Lenka is the more pragmatic and practical element in the process.
Lenka: We have very different background and work experience. Lacka spent ten years in the atelier of the Academy of Fine Arts and Design in Bratislava during her university studies and then to earn her doctor's degree. I have spent twenty+ years in different companies as manager and consultant concerning quality management. Beading is my hobby. Lacka is more focused on the technological and aesthetical aspects. I always ask myself how can we sell it and what is the cost of it and if it is feasible to offer. As a result of being a beader for many years I can understand the needs and problems beaders face. This was also one of the reasons why we focused our company to serve the beader and artist community. I love the wonderful creative people that I met thanks to beadwork and I hope that we can connect with them in a new way.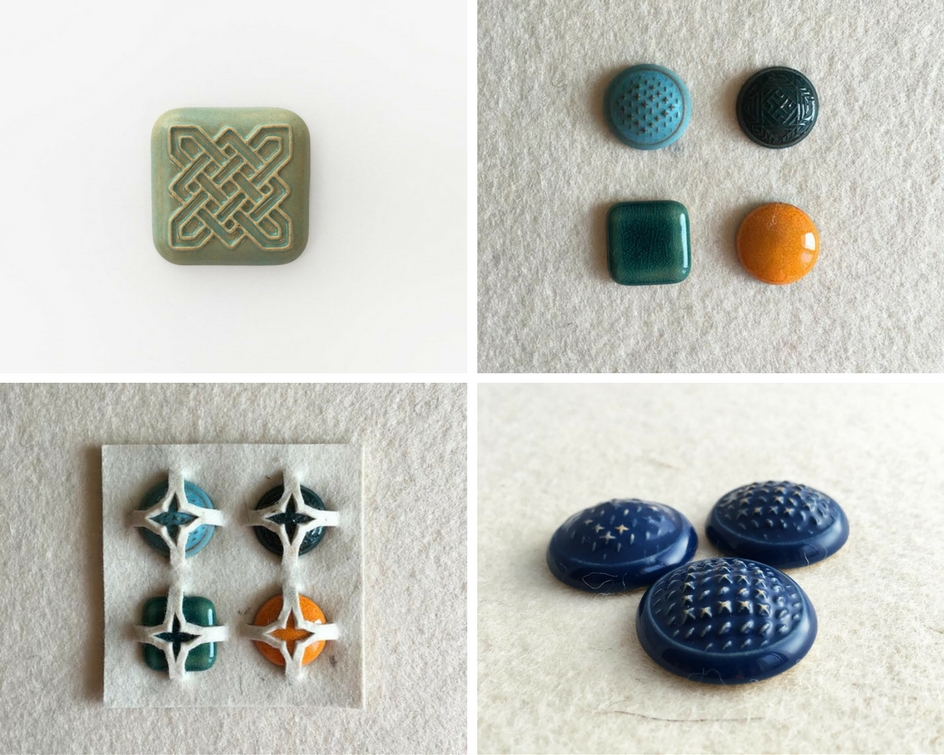 Lenka has a long history with beadweaving, in fact she was one of my students in Slovakia. We spent numerous evenings together in my bead shop learning new techniques and trying out new designs. However, Lacka's just met beadwork recently. How was the first encounter, Lacka? Does it have a long lasting effect?
Lacka: Well… it happened when Lenka asked me to prepare the graphic layout for a beading tutorial. During the process she showed me a few basic techniques. One of them was a stitch called peyote. Next day I found a nice geometric ornament and made a simple pattern based on it. Than I visited a bead shop and spent a small fortune on a few bags of beads and other beading supplies. That evening I sat down to my small wooden table and started to work… Than I didn't stop until three o'clock in the morning. And guess what I did when I woke up in the morning?! I continued to bead until the bracelet was finished. Next time I talked to Lenka I asked her why didn't she warned me that it was such a highly addictive activity 😀
Lenka: I remember that day! In the morning Lacka was complaining that I did not warn her. LOL I just said: didn't you saw my beadwork corner with all the beads? It is not clear enough what is going on here? You could have known from that!
Another story about Lacka's beading experience: after another night spent with peyote she showed me a peyote bracelet she did from 15/0 seed beads! When I asked about the reason she said: "11/0 beads were too big to make the pattern I had on my mind…" And that's it – it doesn't matter how long it takes, she has to make it!
Erika: How did you arrive at the decision to manufacture art cabochons together?
Lacka: We talked about all the different kinds of beads. And also about the possibilities to offer something different and unique. We agreed that ceramic has all the qualities what we seek for. At first it is a very modest material. At the beginning it is 'dirt' in fact. But when it meets with human creativity, when it is under the pressure and heat of the kiln, it becomes something unique.
Lenka: Each piece is a bit different. One of the factors is the amount of water in the clay. It causes different levels of shrinking during drying and firing. And only than it comes to glazing. Glazing is a completely different story. You can never tell the exact result until you open the kiln! The colours and shades of glazes are fascinating. You can achieve effects which can't be achieved by any other technique or material.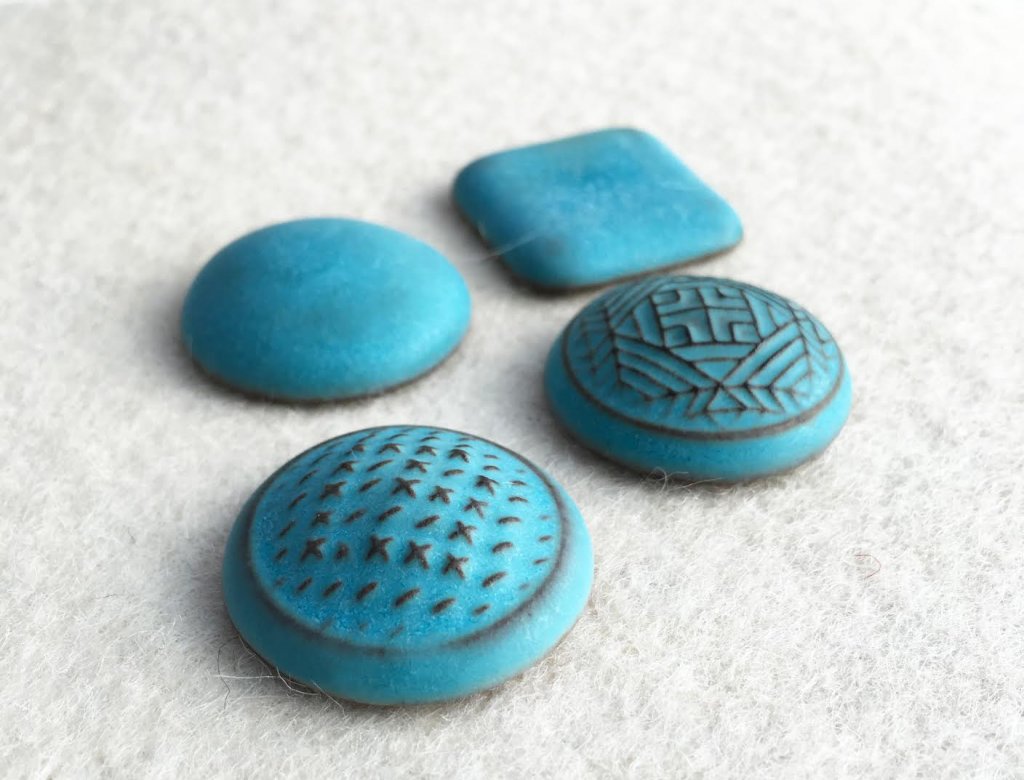 Erika: When you hold an L2Studio cabochon in your hand, you feel that it's a lot more than a factory made component ever can be. What makes them so unique and special?
L2: The answer is very simple. There is tremendous amount of love invested in each piece. We even have a problem to let them go! And now seriously. Working with this material isn't easy. It was quite a challenge to achieve the quality that we expect. We had a hard time and needed to experiment a lot. It resulted in many trials and errors, until we developed cabochons which are custom made for beadweaving and bead embroidery. This is also why our cabochons fall to higher end of the price range. We're are working in small series, and always have a theme on our mind. For example there is the Sashiko collection, the Celtic collection etc. We are trying to bring original and creative ideas to the designs of our cabochons, but it's important for us to leave space for beaders to use the cabochons in their own ways. The character of glazes and the simplicity of shapes inspire you but still leaves you freedom for more creativity.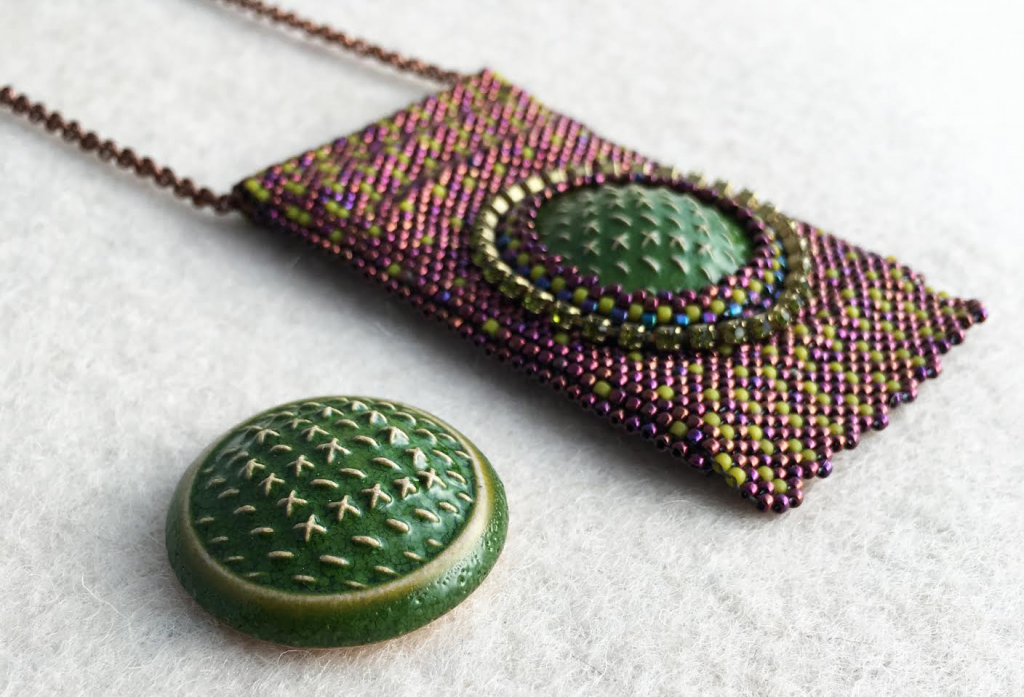 Erika: Would you care to let us have a sneak peek at the manufacturing profess itself?
Lenka: Everything begins with putting two heads together above a sheet of paper. Then Lacka makes some sketches. Taking it a step further she creates the moulds from the sketches. Each mould is handmade and can be used only for a limited amount of time.
Lacka: We use the mould for pressing the clay. Each cabochon must dry and must be thoroughly polished afterwards. Then it goes to the kiln for the first time, and it stays there for a whole day. Afterwards the cabochons are prepared for glazing. After glazing and drying it goes to the kiln for another day. Opening the kiln is always a surprise!
Lenka: According to our statistics we spend twelve minutes with each cabochon in our hands! All the technological process (drying, firing) takes 40 hours for each piece.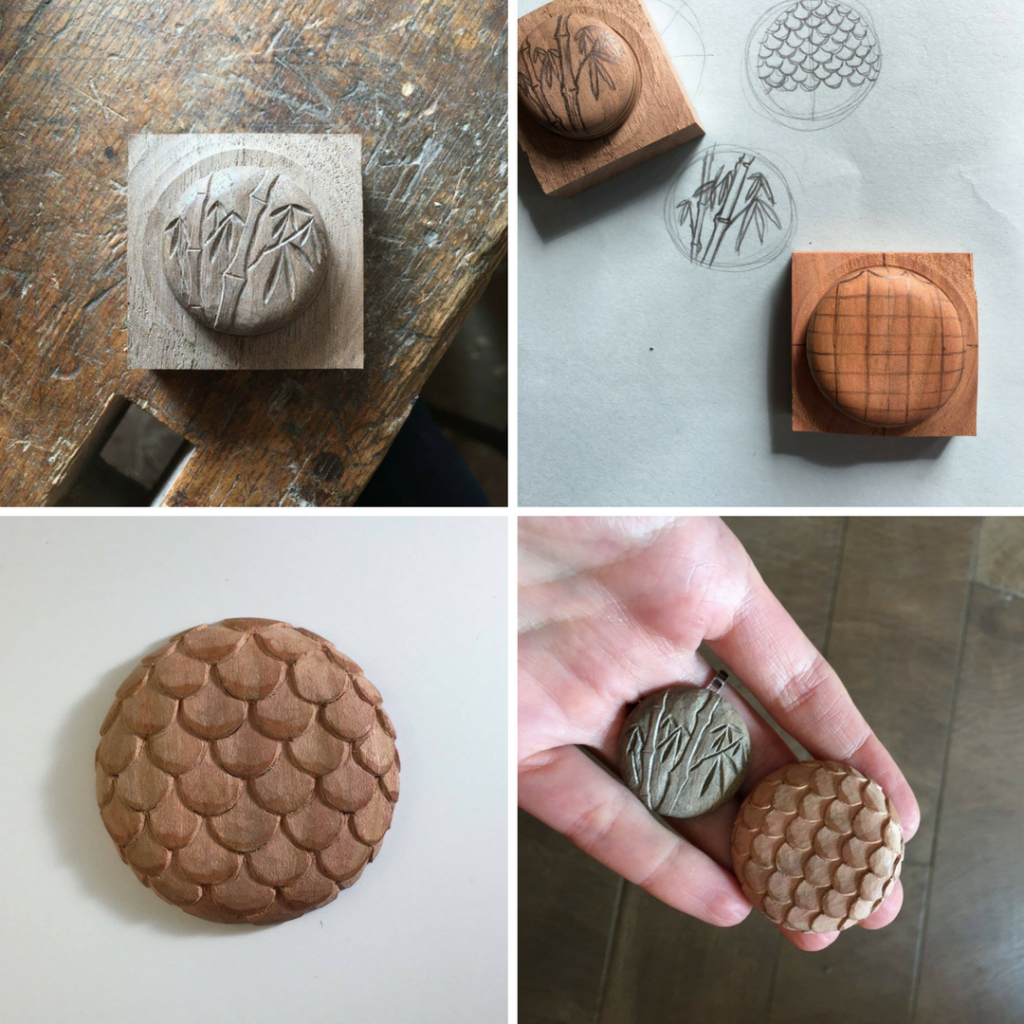 Erika: The cabochons are not the only product you offer. What else can we find in your atelier currently?
Lenka: Parallel to the ceramic cabochons we are providing graphic services. We are also working with wood and making fabric design. And of course Lacka's major skill: illustration. Therefore we can offer full service to artists: leaflets, tutorial writing, storage solutions and packaging design. Below you can see pictures of a wooden box for beads within a felt handbag. After removing the box and fully opening the bag it's suitable to be used as a bead mat!
Lacka: Our new challenge is to work with porcelain. This material with its history and qualities can open us new possibilities in jewellery making.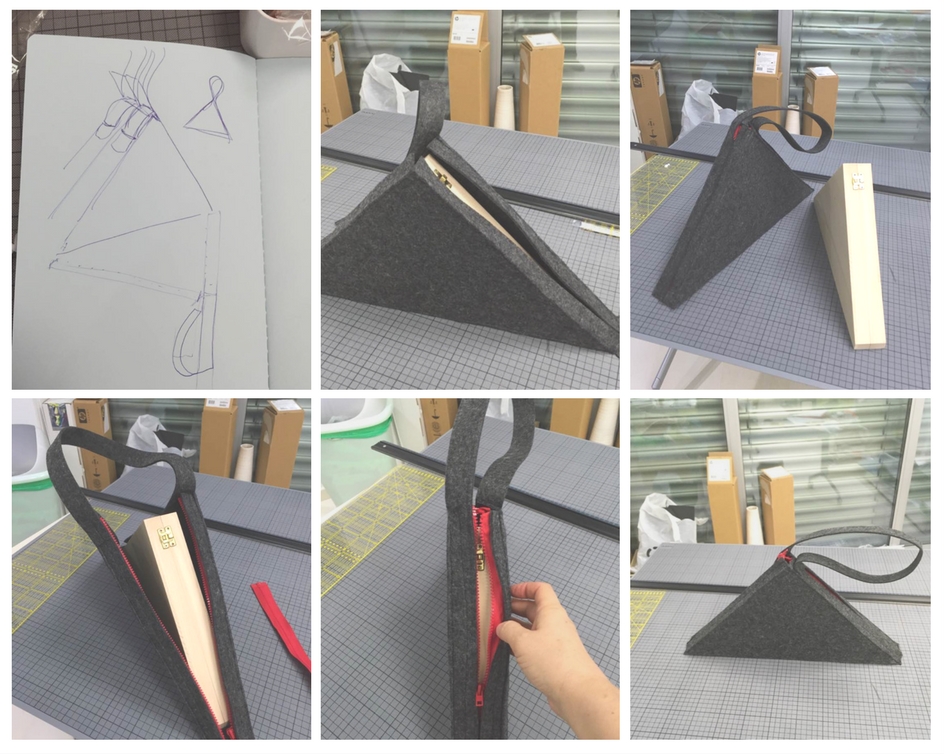 Erika: Thank you for letting us in to your atelier, Lenka and Lacka! I am looking forward to play more with the L2Studio cabochons, and wish you a lot of success!