Did you know, that Father's Day originated in the attempt of Sonora Smart Dodd to show her love and appreciation to her father, a single parent raising 6 children on his own? She fought to promote the idea for several decades. The original idea was introduced in 1910, however, it became a national holiday in the US only in 1972. Nowadays it's celebrated all around the world. The date can differ: in the US it's held on the third Sunday of June, however, there are Father's Day celebrations around the world all year around.
---
How is Father's Day celebrated around the world?
---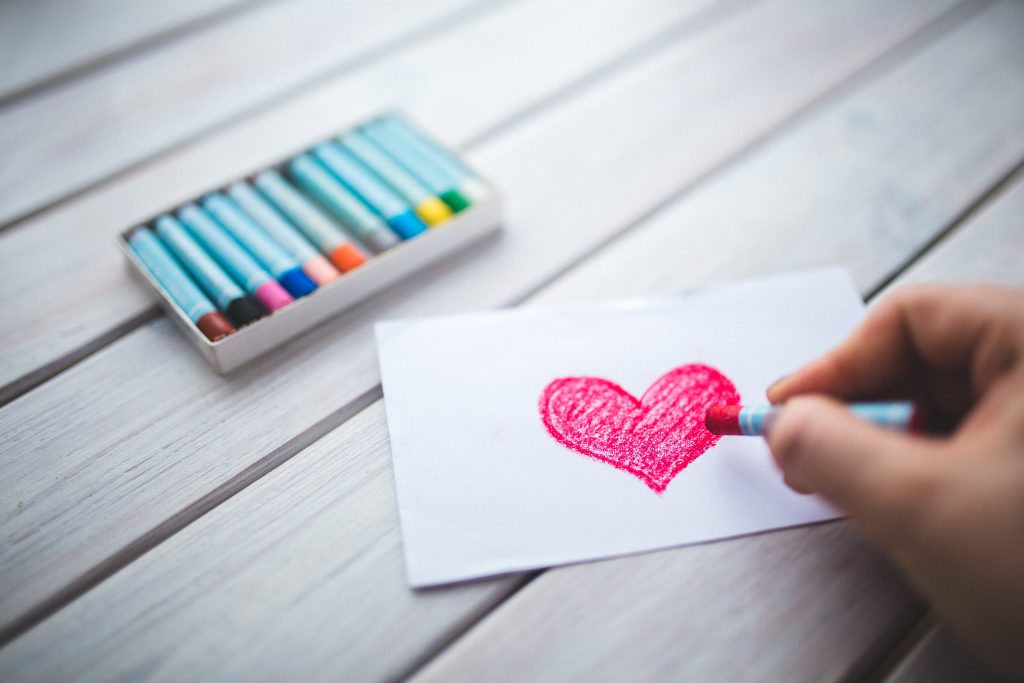 In INDIA Father's Day lasts two weeks, and has a long standing tradition. It's not a public holiday, and is celebrated only in bigger cities like Mumbai, Chennai, New Delhi and Kolkata. Children usually give gifts to their fathers: greeting cards, shirts, coffee mugs or books.
HAITI focuses on spending time together instead of giving gifts. Families have breakfast or brunch and spend the day together with whatever activity the family likes to do: hiking in the mountains, going to the beach etc.
In NEPAL Father's Day is called 'Abu ya Khwa Swoyegu', which means "day for looking at father's face". Since the date is determined by the lunar calendar, sometimes it occurs in August and sometimes in September.
In THE NETHERLANDS fathers get breakfast in bed prepared by the children, just as mothers on Mother's Day. In addition children give handmade gifts crafted in school.
When ROMANIA joined the European Union, it was the only country in the EU which didn't celebrate Father's Day. The law to mark the date was passed thanks to the 'Alliance Fighting Discrimination Against Fathers' in 2009.
In TAIWAN, Father's Day is celebrated on August 8, the eighth day of the eighth month of the year. In Mandarin Chinese, the pronunciation of the number eight is bā, and the pronunciation is very similar to the character "爸" "bà", which means "Pa" or "dad".
In THAILAND Father's Day is held on the birthday of the beloved late king. People wear yellow, because yellow is the colour of the day for Monday, the day King Bhumibol Adulyadej was born.
(Source: Wikipedia)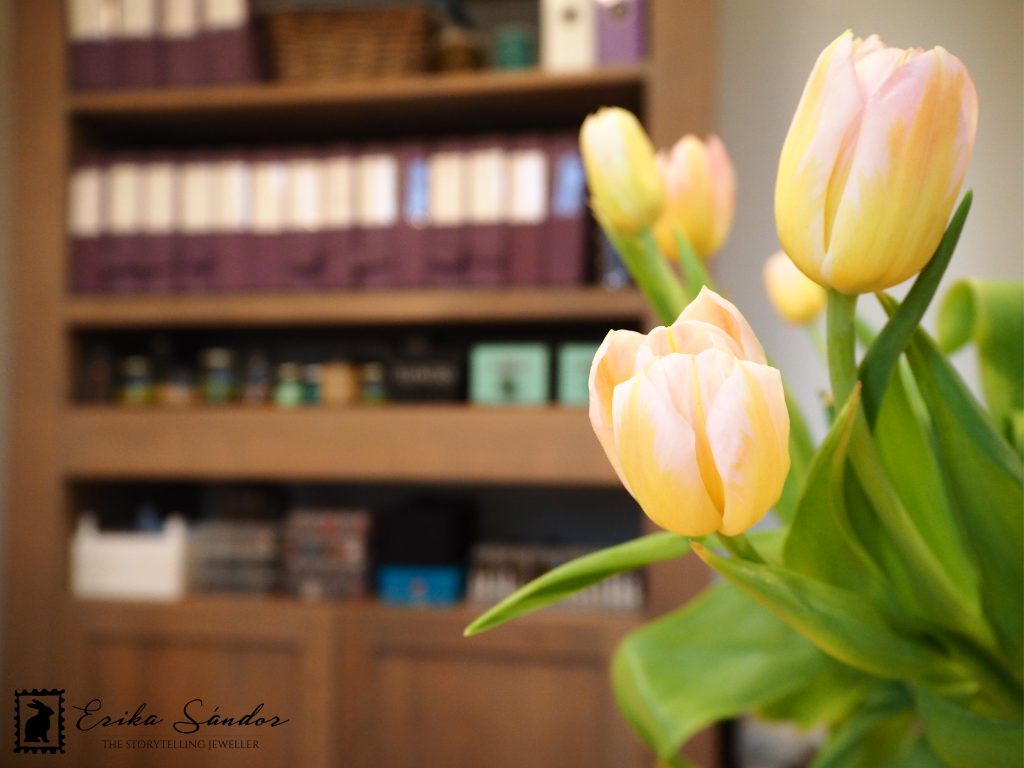 I must confess, that for me personally Father's Day is a totally new concept. Not only because I, well, can't really join the celebration because of the lack of a loving father, but also because back in Slovakia we knew it only from Hollywood movies, not from our own tradition. I think it's a shame, since besides Mother's Day it's a perfect occasion to spend some time together, celebrate family and show our appreciation for each other!
However, I am thinking a lot about my grandpa these days: he was my hero and I loved him very much. I am very sorry we didn't spend more time together. I will always miss him.
Of course the best is to focus on spending time together, but it's also nice to share some happiness with a little gift. And what could be better then a handmade, unique item crafted by you?
---
So here it is, the big list of beaded Father's Day gift ideas!
---
*All the pictures are used with the consent of the designers. Please note, that some of the links are affiliate links. It means that if you decide to place an order, I will get a small commission, and it will help me to cover the expenses for this site. Important: you pay the same amount if you get to the site through an affiliate link as if you go there directly, so it costs nothing extra for you.)
Jewellery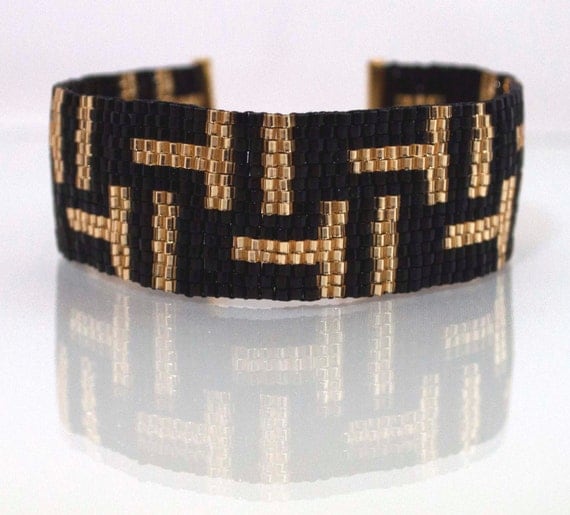 Loomwork
Loomwork is fun, and there are many new beading looms out there on the market which can make our lives easier. I'm a huge fan of the Ricks beading loom, invented by Paul Ricks. In case of other looms you have to deal with dozens of thread ends after finishing your design, if you use Paul's clever invention you have to wave back only two threads! Paul Ricks also designs beaded loom patterns, which are available through his Etsy shop.
Peyote bracelets
Peyote is one of the first beadweaving stitches I learnt and is still one of my biggest favourites. You can find (or even better, draw) a lot of different designs for Peyote. Simpler ones for a more conservative gentleman and colourful ones for the daring ones. For a man think about geometric, modern patterns or nature inspired motifs. Veres Zsuzsa (Vezsuzsi) has many designs which would be suitable to become a Father's Day gift: for example her Gears and Lizard patterns would be perfect!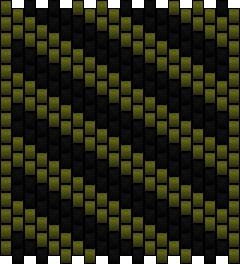 Necklace or bracelet from Peyote tubes
Do you like Peyote but would like to make something with more texture instead of a flat bracelet? You can create beaded "tubes" with Peyote stitch by zipping together the first and the last row, and stringing them with some round shaped glass or stone beads in between.This is a pattern for a simple Peyote tube. You can make it with 8, 12 or 16 rows, so you can have wider and narrower tubes, too.
Semi precious stones on leather to wear as a bracelet or necklace
Peyote and loomwork can produce beautiful effects. However, they have one thing in common: they are time consuming. If you are in hurry, but do want to give a handmade gift, then find some nice semi-precious stones and string them on a strong leather cord. You can make a necklace or a bracelet, or even better: a set of the two. Remember to add a clasp which is easy to open and close.
Beaded beads combined with rough stones
You are not a fan of "easy" beading and only stringing some beads to a cord? Combine some fun beaded beads with stone and semi precious mineral beads! For different designs of beaded beads you can check out Sharri Moroshok's, Vezsuzsi's or mine collection of beaded bead tutorials for example.
Pendant or necklace from beaded beads
Beaded beads can also be used as pendants or stitched together to form a necklace.
Industrial style jewellery
We all love bead shops, but it seems that hardware shops have treasures to play with, too! 😀 The Tuercas (design by Aurelio Castaño – ACL Patterns and More) is perfect as a Father's Day gift. I love the clever and stylish solution of the clasp, too!
Geometric beadwork
Would you like to show off your beading skills a bit? Geometric designs, even a simple triangle can make a nice gift for your loved one. The best source to turn to when talking about geometric beadwork is of course Jean Power.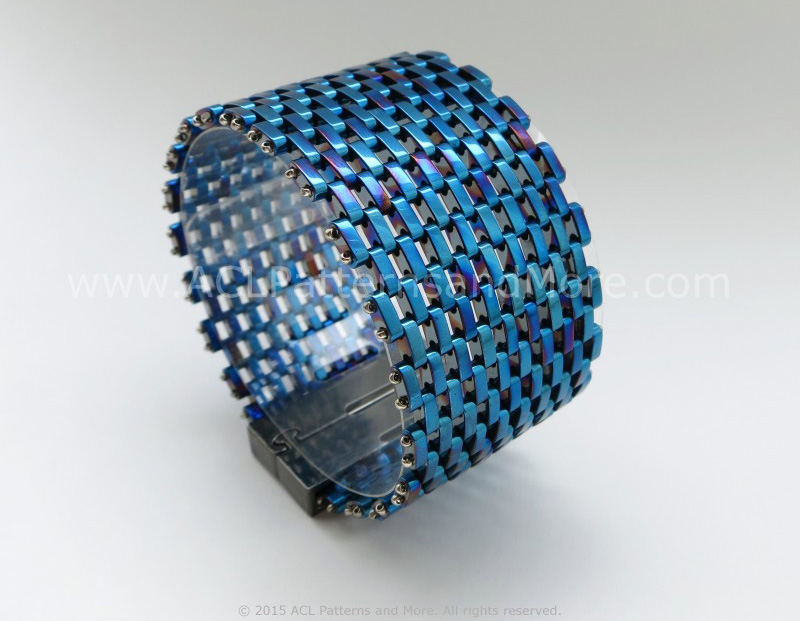 Focus on texture instead of colours
Would you like to give something more interesting but still masculine? Find a design which has a nice texture, but instead of playing with colours too much choose only one or two shades. Metallics work perfect. Check out Aurelio Castano and Edwin Batres' beadwork tutorials Tire Tracks and Wristwatch – they would be perfect!
Macrame bracelet
Are you handy in other techniques, too? Macrame can be easily combined with beads. Check out the Macrame School's Youtube channel for inspiration and tutorials!
Beads combined with wirework elements
Combine beads with wirework or chainmail elements!
Accessories
Decorative buttons
You can replace the ordinary buttons on a shirt or jacket to handmade, bezelled ones using Swarovski Elements crystals and Japanese seed beads. I've made a tutorial for a 18 mm rivoli. The back of the cabochon is fully covered, so it's protected. It can be stitched to any kind of material, or you can attach a toggle to the back to make cufflinks! Important: make sure the button hole is big enough. If it's not, use the button as a purely decorative element, without the need to actually go through the button hole.
TIP: the buttons can be perfectly paired with the Forget-me-not earrings (easy access to the free beading instructions after clicking on the link), so you can give matching gifts to your parents for Mother's and Father's Day. Imagine the surprise on their face!
You can enter your address here, and you will get the beading instructions right to your inbox.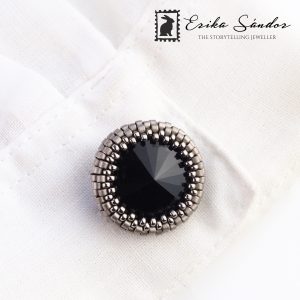 Watch band
You can convert any bracelet or wrist band to a beaded watch band. Choose an easy to use clasp for your father, and make sure the motif will look good when you split it in two, with the watch face in the middle.
Pouch
Bead a little pouch for coins or pills, so he has everything on hand.
Key chain
Make a decoration for his keys! You can use any kind of beaded figure or beaded bead for this.
Beaded necktie
Every gentleman needs a necktie, doesn't he? Here's a link to learn how to make a classic style beaded necktie and I found a pattern and tutorial for a beaded bow tie, too (You probably want to loose the roses in this second one if you bead it for your father).
Tie pin
Does your father already own one too many neckties? Instead of beading him a whole tie you can make a fancy tie pin for him! Visit a vintage shop or market to find a suitable base!
Cuff links
One of the most beautiful beaded cuff link designs I've seen were made by Akke Jonkhof. Aren't they simply beautiful? And just like with the rivoli buttons, you can make matching jewellery for your mum, since they can be used as beaded beads (for example for a pair of beadwoven earrings).
Belt buckle
Is he a cowboy (or has the soul of one)? Check out Triz's beautiful bead embroidered belt buckles to get inspired!
Desktop, business, hobbies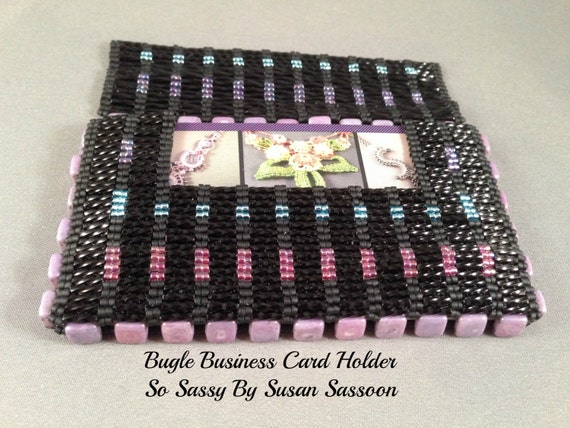 Business card holder
He doesn't fancy wearing jewellery? No problem, there are many ways you can take advantage in your special skill and show your appreciation with something unique and handmade. Beaded business card holders are really elegant and fancy. If your father is in the process of starting his own business (or is dreaming about it for a long time now), then you can make the holder yourself and have some business cards printed for him! (If you are not so sure about the design of the cards, put a gift voucher for business cards into the holder instead of finished ones!)
Fellow Beadsmith Inspiration Squad member Susan Lifton Sassoon has two different tutorials for beaded business card holders. Make sure to check them out here and here! (And read an article about Susan and her art here.)
Bookmark
Many designs can be converted into bookmarks: beaded beads can hang from components like this, or you can simply bead a flat Peyote bracelet to use as one.
Paperweight
You can cover a rock with beads for example. Check out this article about bead bombing from Laura Zeiner to get inspired.
Beaded boxes (Julia Pretl)
Is your father often in trouble finding office supplies, for example paper clips on his table? You can bead him a beautiful little box to make his life easier. And when talking about beaded boxes, of course Julia Pretl's book 'Little Beaded Boxes' is the one to check out.
Desk ornament
Are you desperately in love with beaded beads? Make your father a beaded desk ornament! Choose the biggest and most intriguing beaded bead – you don't have to restrict your beadlove, and your father will always think of you when he looks at his cool new ornament on his desk. Vezsuzsi's Doppler beaded bead with dagger beads would be perfect, or look around at Gwen Fisher's and Florence Turnour's BeadInfinitum.com.
Beaded pen
We all need a pen, don't we? You can go easy and decorate a pen like this or check out Katie Dean's beaded pen patterns. She has more then 20 different versions available, and gives great advice how to choose the perfect pen to bead around.
Pen holder
Make a beaded pen holder to help your father organise his desk! Take care to make it sturdy enough, so it will not fall over when fully loaded with pens.
Eyeglass holder
Does your father wear glasses? Make him a beaded eyeglass holder! Diana Rehfield has has a tutorial available here, and zou can check out some of the many different variations you can bead in this album.
Beaded tapestry to hang on the wall or in the window
Help him decorate his home or office with a beaded tapestry or picture!
Ornament to hang in the car
Is he on the road a lot? I'm sure he would be happy to have something what reminds him of you in his car. You can make a nice beaded bead for example to hang it on the rearview mirror.
Beaded USB stick cover
Cover an USB stick with beads (for example with Peyote stitch). You can copy for example old family pictures on it, so it doesn't come empty.

Wine glass markers
Does he like wine? Get him a nice bottle of his favourite red or white, and prepare a set of wine glass charms. You can find glass charm bases here.
Is he a hiker? Get him a new compass and Peyote around it!
All you need is 15/0 Japanese seed beads and 11/0 Miyuki Delica or Toho Treasure in his favourite colours. If you need help with Peyote, check out the Forget-me-not tutorial (it's free). Of course you will need to adjust the number of the beads and rows, but you will get the basics from it.
Is he in trouble with keeping the flowers alive? Make him one which will never fade away!
Katie Dean's beaded bonsai tree (pattern available) would be perfect!
---
How to choose?
---
I know, there are so many possibilities! Before you read the list once more to choose the perfect present, try to think about the following, so you don't get overwhelmed. Hopefully the topics give you some ideas on where to begin, which colours to choose and how to give a gift he will truly love.
Convert the photo(s) of his loved one(s) to a Peyote or loom pattern using the free bead design program at Easybeadpatterns.com! Can you maybe use the photo in a design, for example as a framed picture or a flat Peyote book mark?
Think general
You don't have to find a beadwork design which was specifically designed for men. Sometimes it's enough to change the colour and the clasp to make it suitable as a beaded Fathers Day gift.
Does he have a favourite sports team? Use the symbol of the team in your beadwork!
Is there a beloved animal in his household? Maybe he would like to have it as a Peyote key charm.
Do you know who is his favourite cartoon character, actor, singer? You can easily convert a photo to a Peyote or loom pattern!
Does he have a hobby? What does he do in his free time? Can you maybe bead an item in relation to his hobby?
Is there something what he always struggles with? (Loosing his keys, not finding coins etc.) Can you make a tool which would help him in this, for example a beaded key charm or a small beaded box for his table?
If you would like to make a jewel or accessory: what kind of clothes does he wear? Is he more elegant or sporty?
What colours does he usually wear?
What will you prepare this year to your father? Tell us in a comment!
I wish you all a very happy Father's Day!
Bye,
Erika