Don't we all need a bit more colors and positivity during these days than usual?
Boho Chic jewels normally belong to the summer months for me.
For festivals, wearing long skirts and being barefoot…
For time with friends, sitting by a canal in Amsterdam, feet hanging over the water, sipping white wine…
Or while cycling with my Ann Shirley-style old bicycle on the cobblestone roads…
To give myself a boost for the upcoming darker, lonelier and colder days I decided to bring back the hippie-vibes. Even if it's autumn now, I'm creating jewels that make me think about freedom, happiness, and friendships. I am listening to a Woodstock Best Of on Spotify. I re-read for a gazillionth time one of my favorite books (Dery Tibor: 'Kepzelt riport egy amerikai pop fesztivalrol' for Hungarian beaders). It's a sad in fact, but the hope for feeling the freedom and forgetting about the everyday troubles is deeply in it, even if it ended with tragedy. The book was a gift from one of my best high school friends. Both she and I were mad into writing, and it bonded us forever. She even wrote a message in it, hidden below the book cover, that brings back memories from those times – and that's exactly what I needed.
My beading table is full of flowers, ethnic-inspired components, and, for a change: pliers instead of thread and needle!
Last Sunday I really needed something easy and fun. And how nice it felt, that I could finish 3 pairs of earrings and a hanger in one sitting.
Join me and make your own Poppy earrings!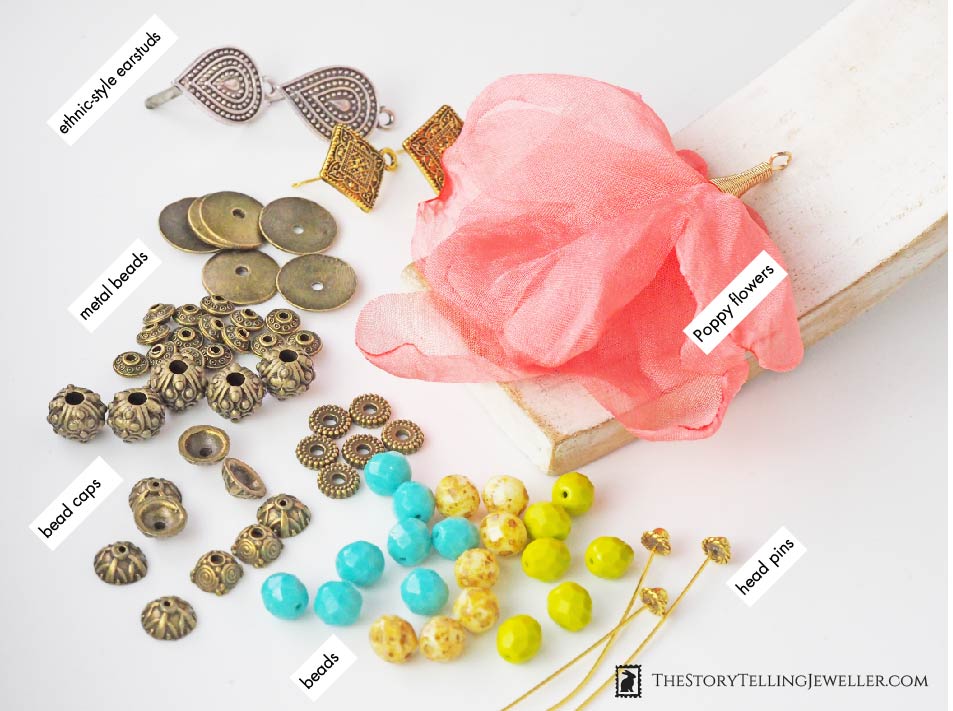 Material that you need
Earring hooks or ear studs
I really like the new ethnic-inspired ear studs, but if it's not your cup of tea (they are quite big), go for simpler, smaller earring hooks. I will show you a pair of earrings with simple hooks, too, in this article.
Bead caps
My new favorites are the ones in Verdigris Patina color!
Headpins
Using a headpin with a 'big head' makes it easier to complete your earrings. But if you don't have them, just use a classic one and put first a bigger bead (for example a flat Czech lentil or Toho Demi round) on it before the fabric.
Metal beads
They emphasis the ethnic influences, what's typical for the Boho Chic style.
Beads
You'll need some bigger and smaller ones – whatever is on hand, even if only a few pieces, will be great!
Poppy flowers
Fluffy, soft, dreamy, available in more than a dozen colors! Sorry (not sorry :D), I'm in love with them!
Tools
Cutting pliers
Round-nose pliers
Tutorial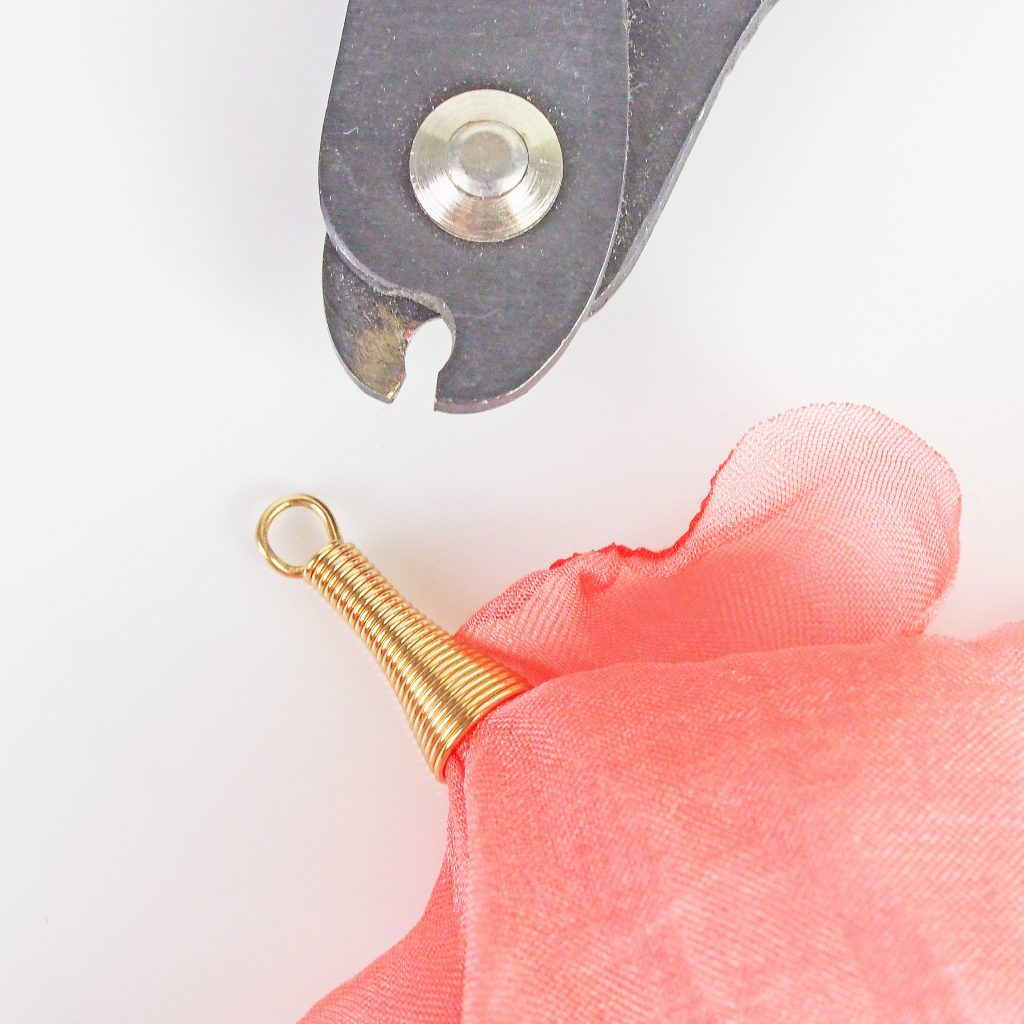 Cut the wire below the loop on the top with cutting pliers. I'm using memory wire cutters because I don't have regular ones, but this is a simple job to do, and your basic cutting pliers are perfect.
Carefully remove the original metal components. The Poppy consists of two layers of fabric.
Put both fabrics on the headpin. If you don't like where the original hole is located, you can usually make it disappear by gently rubbing the fabric. The headpins are easy to push through wherever you want. Make sure that you do it gently so the threads of the fabric don't get damaged.
Decorate the pin with glass and metal beads, a bead cap, etc. I like to start with a bead cap, and I got fond of this big flat metal bead. It gives the 'stem' of the flower some volume, I like it that it's not so thin this way. I put a 2 mm druk bead or a 11/0 seed bead on top. Play with different combinations until you find the one that fits you! Believe me, this is a very relaxing thing to do 🙂
Bend the headpin above the last bead with the round-nose pliers at a right angle. Be careful not to start bending too close to the beads, as the bead on the top might crack. Trim the headpin, so you have only about 7-8 mm after the corner, more if you want to make a bigger loop.
Form a loop with your round-nose pliers.
Attach the earring hooks or ear studs of your choice. The earring is finished 🙂
The purple pair uses the same combination of beads for the 'stem' as the yellow (scroll down), but it has a different vibe because of the simpler earring bases. These small details really make a difference!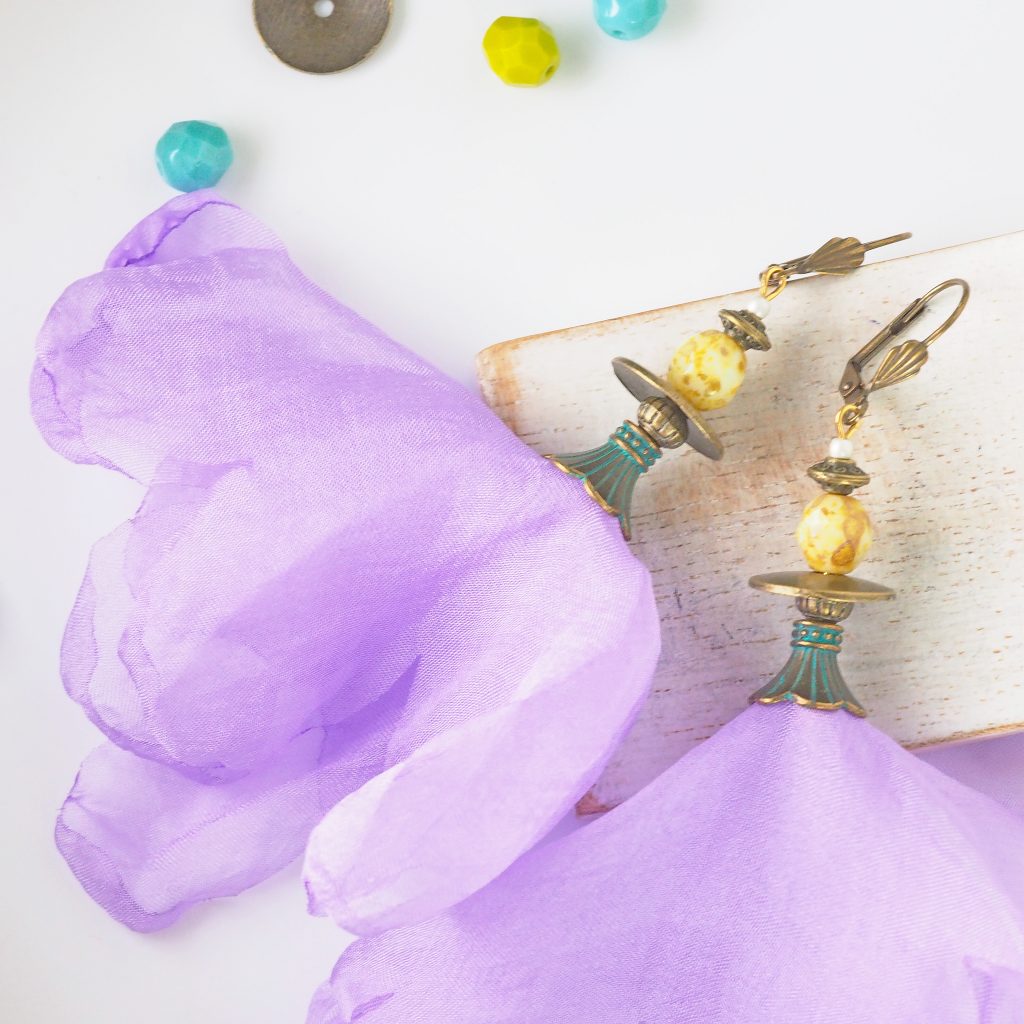 Yellow usually doesn't look good on me, as my skin tone is kind of yellowish 😀 Except for this rich, warm yellow, that, together with the turquoise beads, the extra big ear studs, and the verdigris patina bead caps make me instantly think about India and wanting to go back right away.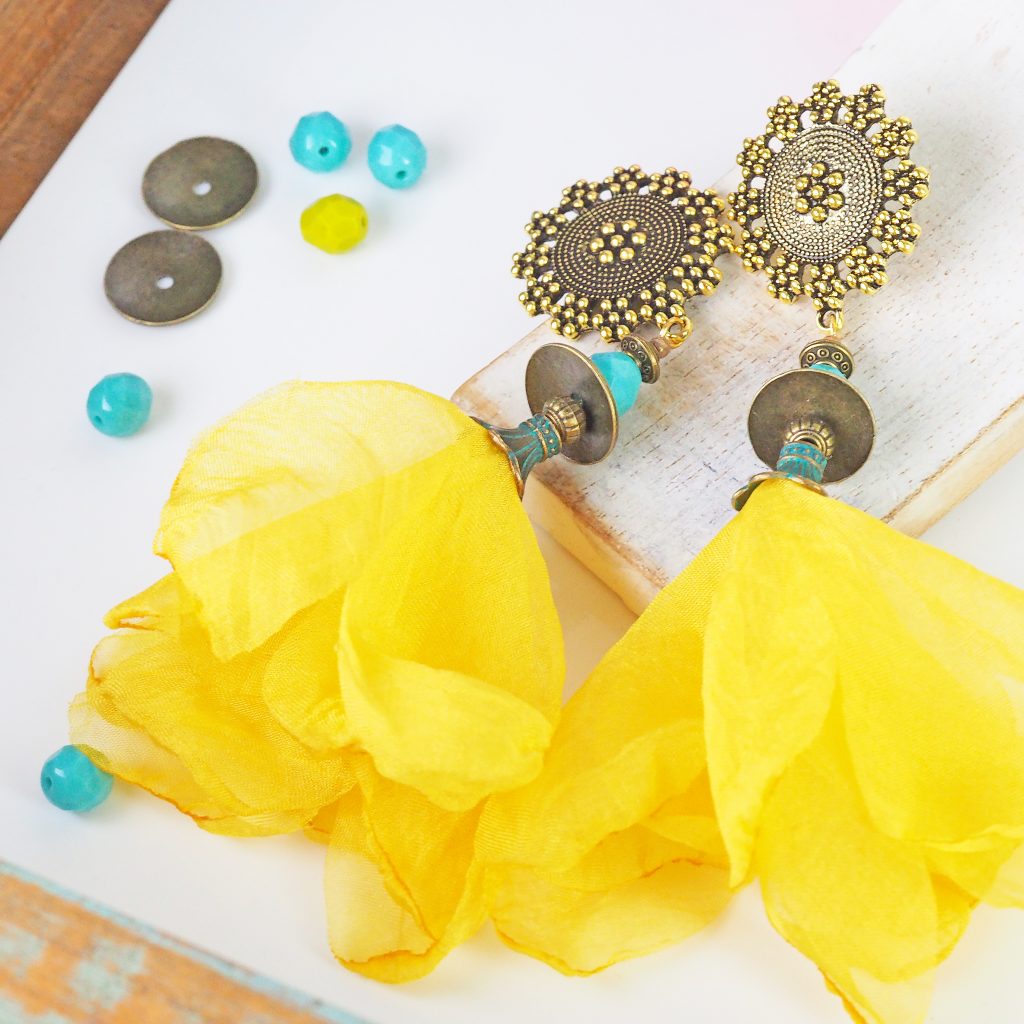 This light grey pair was meant to be more 'reserved' but I'm not sure that anything can be reserved when it has a big Poppy flower attached to it 😀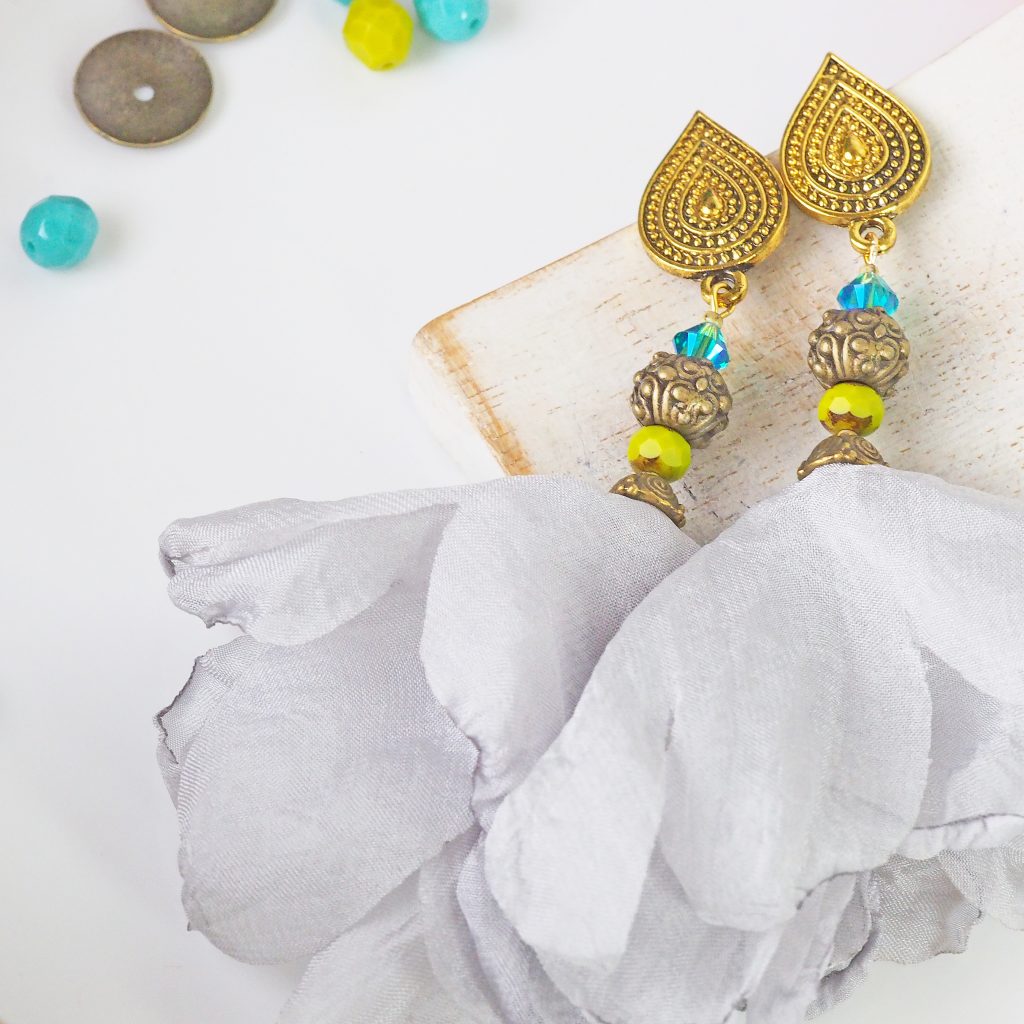 Besides earrings, you can also make a 'hanger' from the Poppies and use them in place of tassels for example. That was my intention with the Bordeaux Poppy, as I had only one piece. However, today morning I got a visitor (a very rare occasion since March): my friend Alina. I was wearing the purple pair yesterday when we met after #CoffeeTimeWithErika to train(she's teaching me handstands, and pole sport). And today right away at the door she asked me if she could have a similar one – and chose the Bordeaux. Having only one of that color couldn't change her decision, so now Alina has a mixed pair of red and Bordeaux, which suits her perfectly!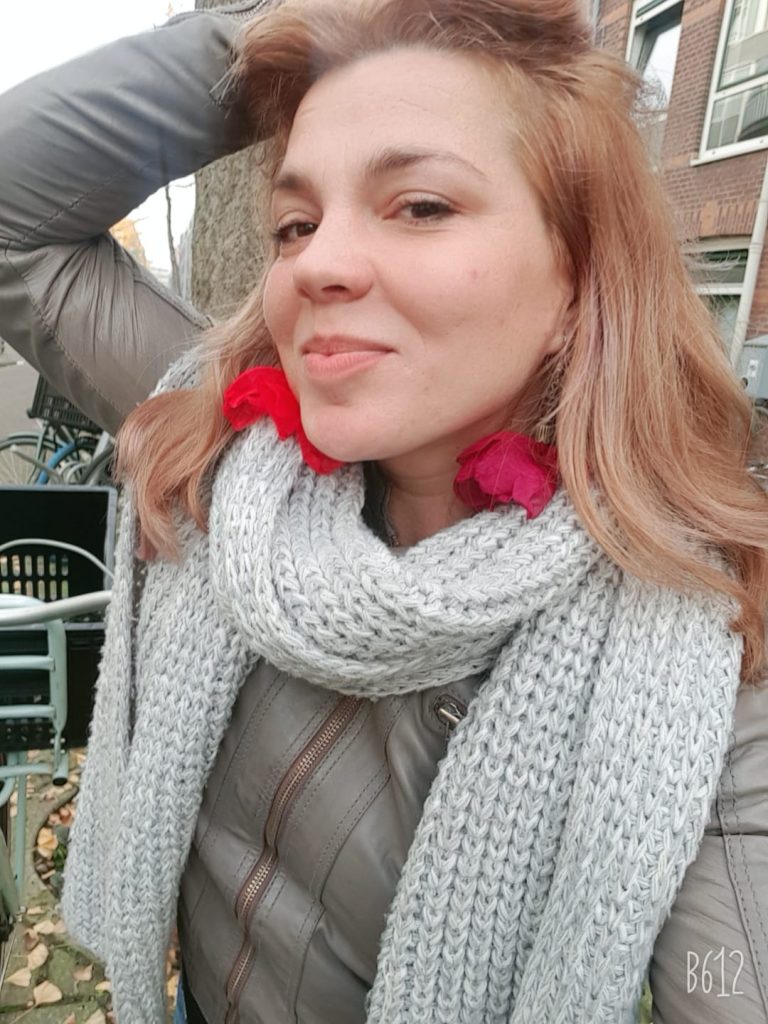 This is how all the Poppy earrings look together, minus the red-Bordeaux pair, of course, which is not with me any more 🙂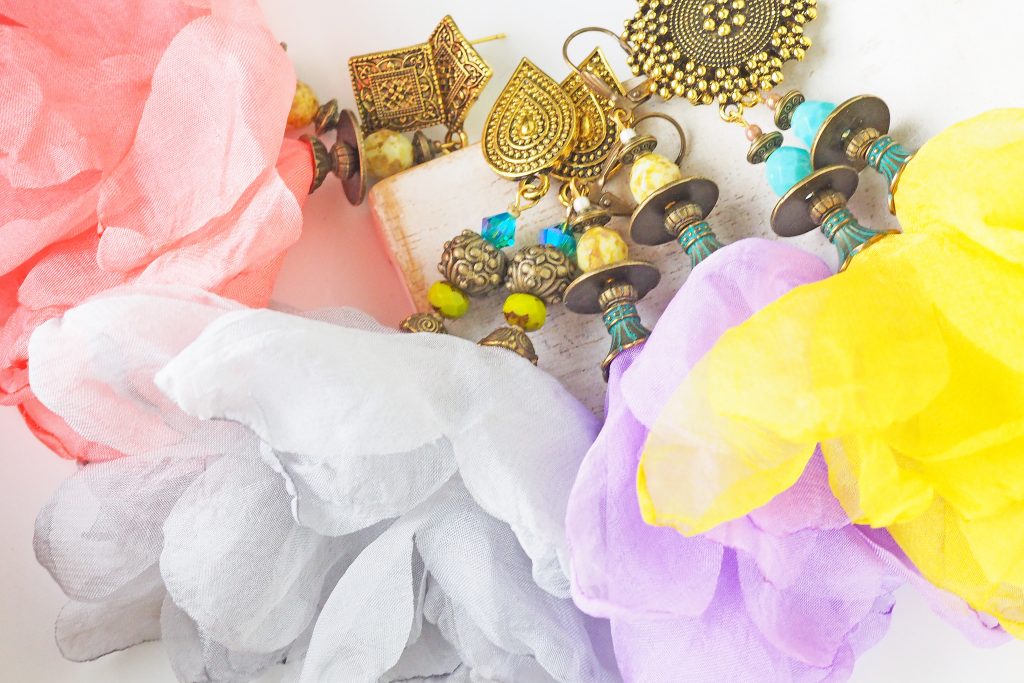 Make your own Poppy and let me know how do you like it!
I am looking forward to seeing your version in the Storytelling Beading Club 🙂
P.S.: I was making the Poppy earrings during yesterday's #CoffeeTimeWithErika, you can watch the recording here.
Poppy Earrings from our Storytelling beaders
Multi-colored 3-layer Poppies from Katalin Dudas – we love them!
Kata says:

"I got the idea when I saw that there are matching tones in the store. Trick advice from the coach: I added beads between the layers, so there is some level difference and the colors are visible better."
Read Kata's guest post about her multicolor Poppy flower earrings!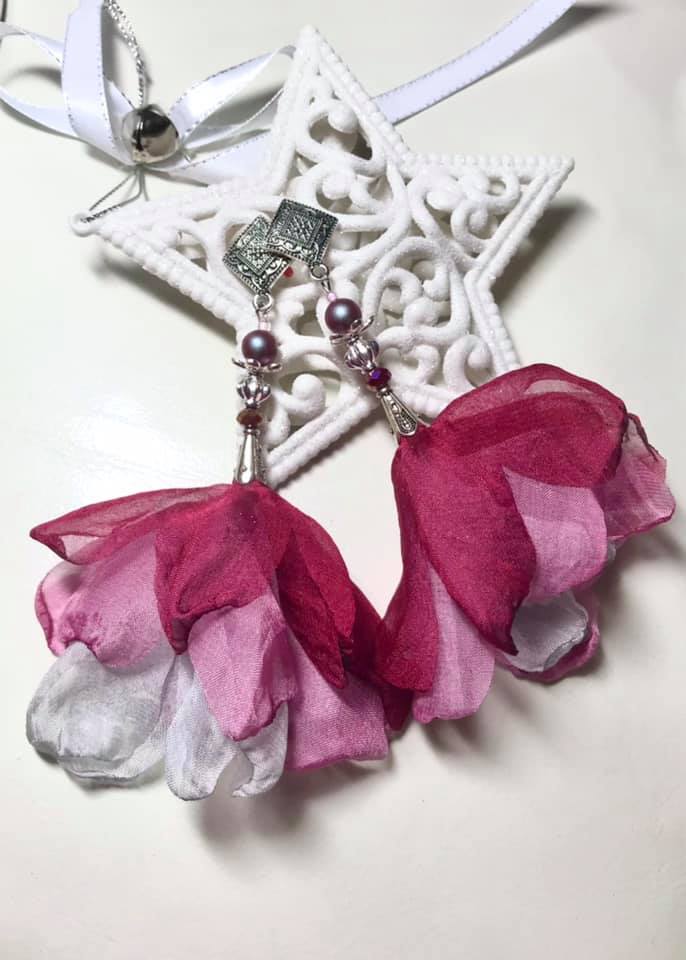 Poppy necklaces by  Zuzi Hake – co-designed with little Matusko 🙂