#ClubDesigns is a series of articles on the Storytelling blog and a series of posts in the Beadingschool Club on Facebook.
Erika says:
"Since the beginning of the first COVID-lockdown, we bead together every Friday, to make sure that #NoOneHasToBeadAlone.
We bead a different jewel every week – designed specifically for the workshop. Afterward, it's really fun to see all the variations beaders come up with! Not only colors differ, but very often a pendant becomes a brooch, a motif that was originally an earring is modified into a bracelet or a ring. Moreover, sometimes it happens that not all the bead shapes are available to someone – and she needs to alter the original design to make it work."
The #ClubDesigns series is the collection of this beady wisdom.
Admiralty design with new Preciosa bicone beads!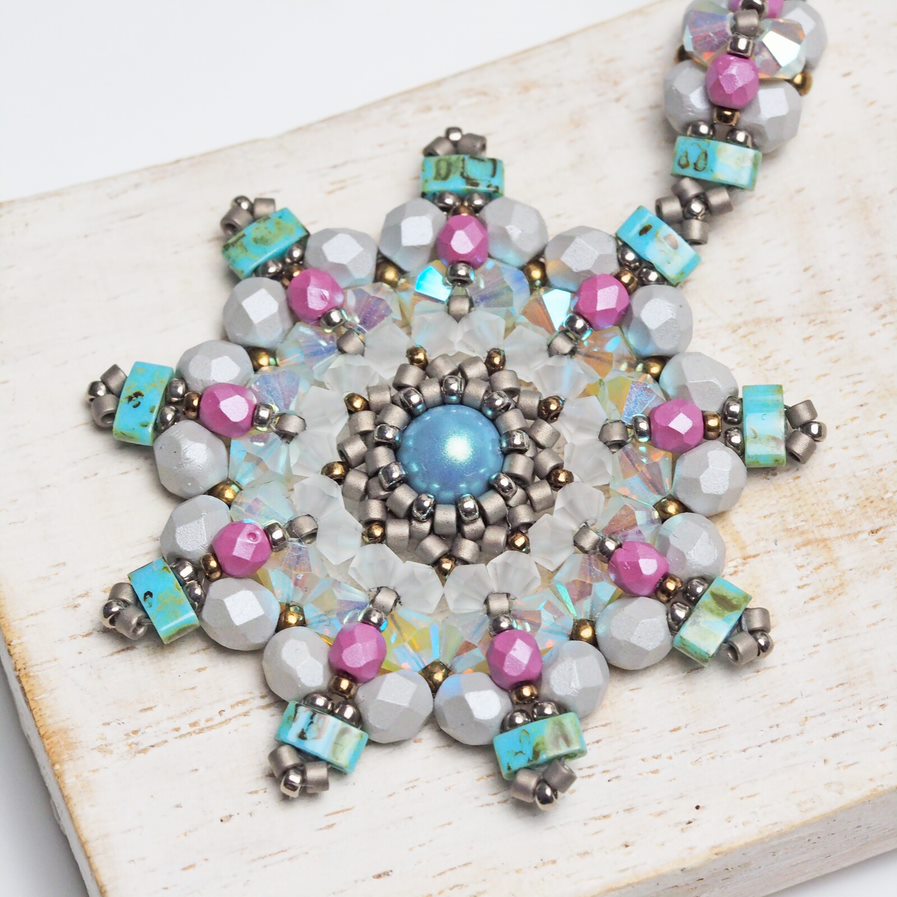 Erika brought to beaders a specially curated selection of beads in Preciosa boxes recently. It didn't take long and we started to fall in love with them and the new designs she prepared using Preciosa crystals. One of her first designs was Tulip Tower, followed by Admiralty.
Admiralty design brings you earrings and a bracelet. You can make a single row, but also a multiple-row bracelet.  One simple motif can be also used as a connector or motif for your simple style earrings. The earrings can be also made into a larger pendant or a full necklace.
It is sparkly thanks to bicone beads and gives a lot of possibilities to add a drop, tassel, or bezelled chaton and finish it with earrings hook.
If you want to make a bracelet
Click here for the beading tutorial!
MATERIAL LIST
If you desire to make earrings or a pendant
Click here for the beading tutorial!
MATERIAL LIST
Don't forget your tools to enjoy beading:
thin beading needle,
Fireline or other strong and thin beading thread,
bead mat,
thread burner or scissors.
Let's have a look at Admiralty variations by Beadingschool Club members!

Elegant and romantic Admiralty bracelet by
Mehtap Uçar Spafford

Mehtap says:
Admiralty is such a delicate design Thank you Erika!

Mehtap combined warm gold and bronze tones with a bit of colder silver-colored fire polished beads. She created a beautiful and romantic bracelet to fit multiple occasions. Enjoy wearing it, Mehtap!

Admiralty earrings by Cheryl Jackson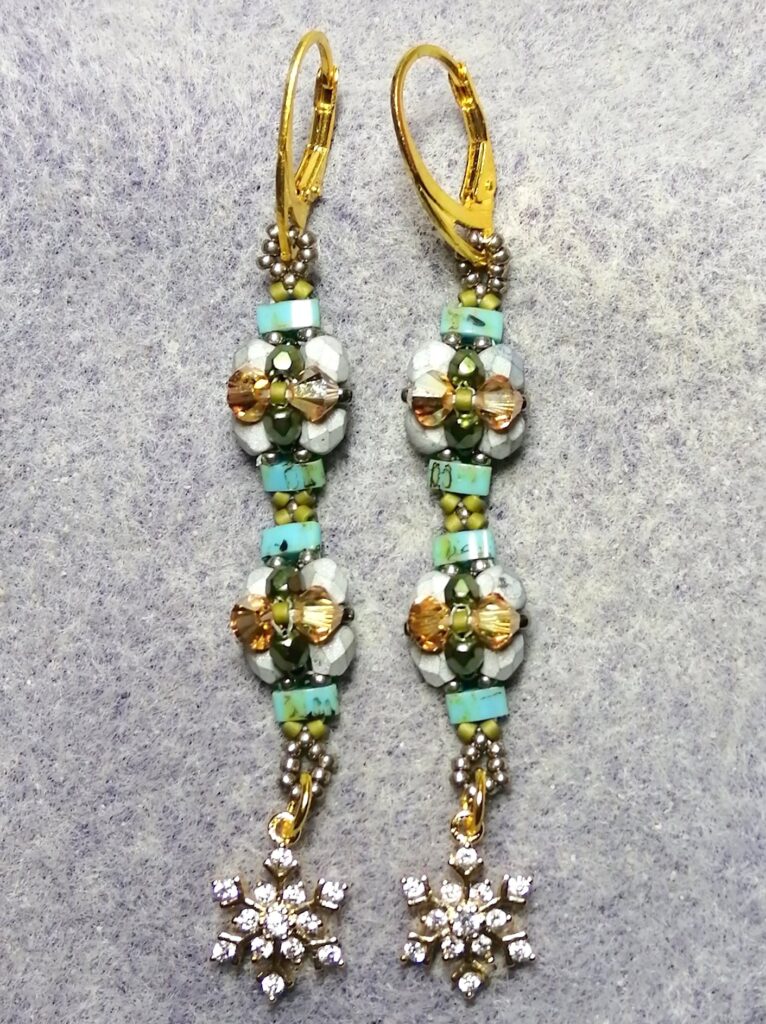 Cheryl says:
Admiralty long earrings – long for me :D. The snowflakes were in my Erika surprise box during the Advent event.
Cheryl decided to bead two motifs for longer pair of earrings. The result is lovely! You can make similar earrings by adding any kind of pendant, drop, or tassel to the bottom!

Admiralty bracelet variations by Elena Lazovik, Angelika Sommer,
and Shirley Jones Moore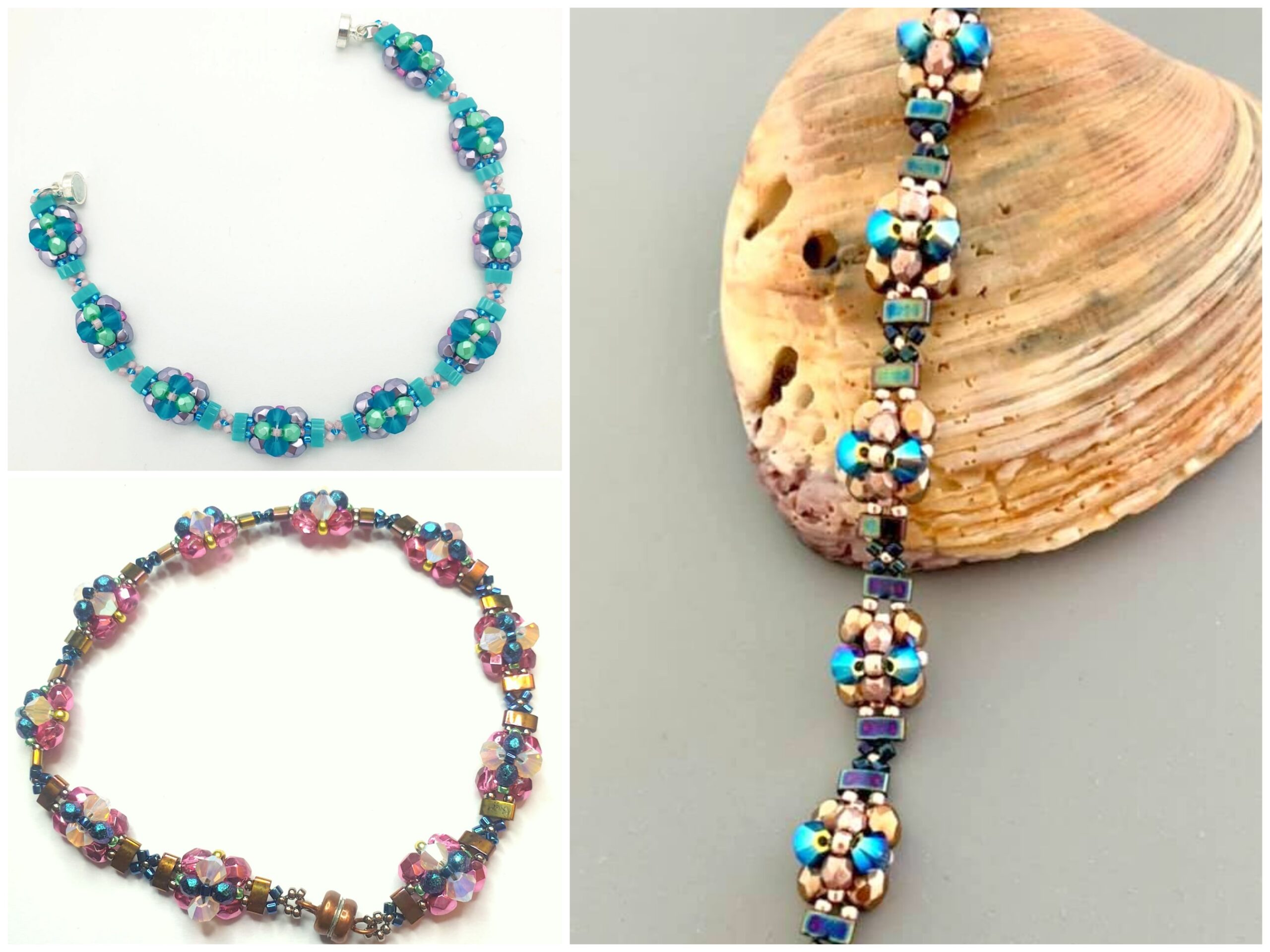 Elena – bracelet on the left top side – says:
This is my Admiralty bracelet from today's #NoOneHasToBeadAlone session. It seems tiny, but how gorgeous it is on hand! Thanks to it I am in a springy mood! And blue zircon matt bicones from the Preciosa Ocean box are the love from first sight!
Angelika – bracelet on the left bottom side – says:
Tadaaaa! Like this pattern. Thank you Erika
Shirley – bracelet on the right side – says:
I haven't added a clasp because I think I'm going to do the double-strand version. It's such a lovely pattern Erika!
Same design, three different colorways, and gorgeous result every time! A wonderful example of how ladies managed to make the bracelet their own. I can't even choose my favorite, it is love!

Admiralty set by Deb Taylor

Deb says:
Admiralty, once I started to make just knew I needed earrings and a necklace to go with it. Such a easy pattern and I used a beads from Romantic Preciosa box.

Deb has a very unique style and this Admiralty set just confirms it. She made a bracelet and used single motifs to decorate butterfly filigree components to make matching earrings and a pendant!

Admiralty Beaded beads in earrings by Rosalind Bisset

Rosalind says:
Earrings on the left side: I've been working on the little Admiralty component and decided to make it into a beaded bead by stitching the bicones to each side of the 4mm Firepolish base. This way when the earrings swing, there is no obvious front or back. I made shoulder-duster earrings using up some simple sea glass circles. I'm so happy with them. Thank you for the design Erika!


Earrings on the right side: I've made another earring set with the double sided Admiralty component. In blues this time with a pop of purple. It's such a dainty pair.
Rosalind had the idea to make Admiralty a beaded bead! I love it, as it is very inspiring and brings a new dimension to the whole design.

Multiple-row Admiralty bracelet by

Katja Foierl

Katja took the challenge to create multiple strand bracelet. She also brought an idea of making difference in the colorways of the middle strand. This brings me to the idea to experiment and make different colorways for single motifs/units in the bracelet, the options are without limits.

Admiralty to complete set of bracelet and earrings by
Shirley Jones Moore, Sheri Chapman, Mehtap

Uçar Spafford

and Katja Foierl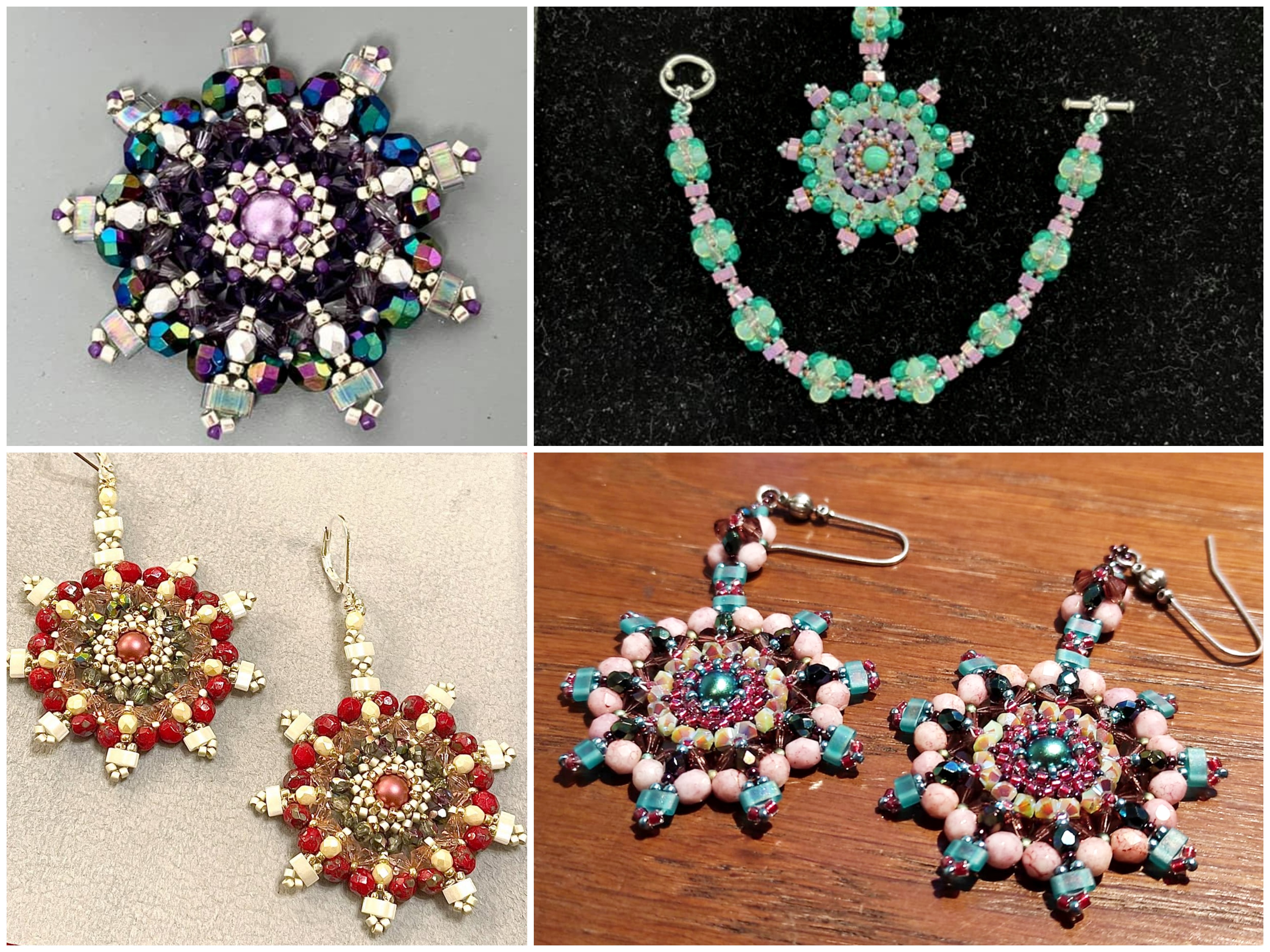 Shirley – pendant on the top left side – says:
Here is my pendant! I'm so in love with it!! Thank you Erika!! I need to think on what type of beaded chain I will make for it before I decide on the bail.
Sheri – set on the top right side – says:
Very happy with the set!! . Thank you Erika for such a beautiful design!
Mehtap – earrings on the bottom left side – says:
Thank you for the Admiralty tutorial!
Katja Foierl – earrings on the bottom right side, to match her three-strand bracelet.

Admiralty Necklace by Sara Lilja and Zuzi Hake

Sara Lilja – pendant on the left side – says:
My Admiralty became a bead embroidery pendant, I used the French Rose Ultra Suede under the filigree and on the back purple. Thank you Erika for this pattern, I really like it!
Zuzi Hake – set with the necklace on the right side – says:
My Admiralty set is finally finished, love it! Preciosa and Miyuki in main roles, joined with glass drop pendant and glass pearls. Thank you Erika
These two examples show the versatility of design when creating a pendant or necklace. You can sew the motif on a filigree or ultra suede base and finish it with bead embroidery. Or, you can connect several motifs with bezelled chatons or use glass connectors in a metal setting. You have endless possibilities to decorate it.

Bead Embroidered bracelet by Ellinor Hellhoff

Ellinor had an idea to make a bead embroidered bracelet, with an Admiralty motif. She shared her initial thoughts and her work-in-progress photos in Beadingschool Club and we all supported her to continue and create this jewel. The result is harmonious and beautiful!

Earrings by Kimberly Crawford Martin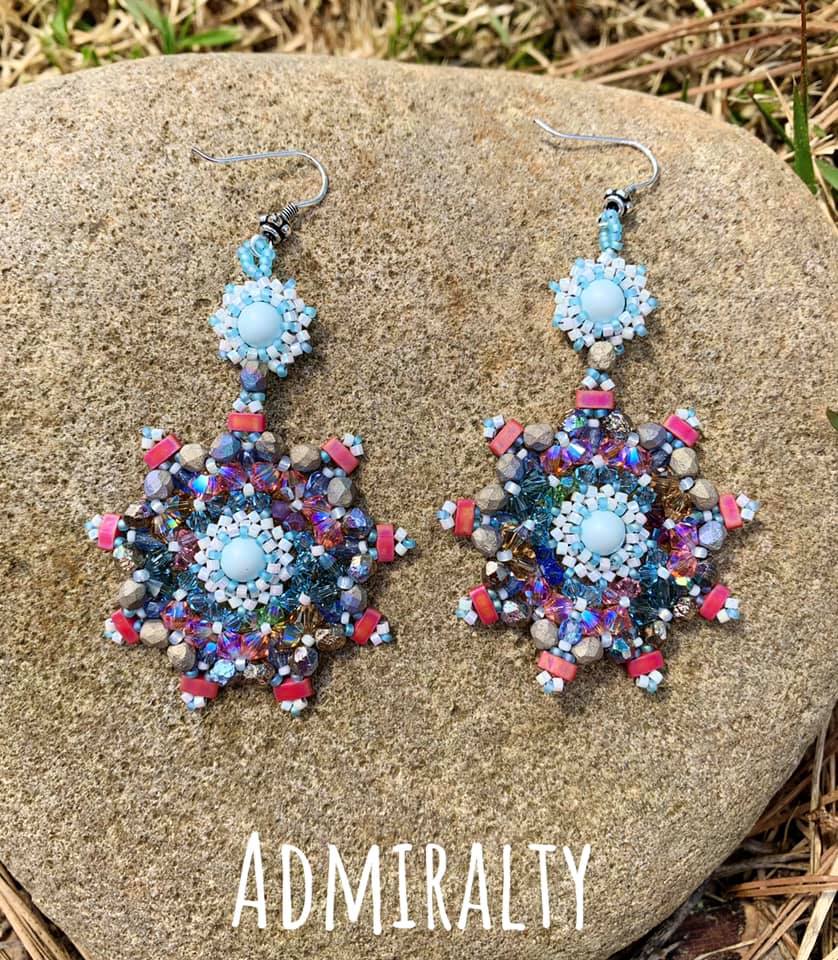 Kim says:
I repeated the pearl in the middle for my extra motif. Look how different they are with the sun shining through them. Another fun pattern!

More of gorgeous Admiralty by Marianske van der Horst, Katalin Dudás,
Erika Vasas, and Faye Williams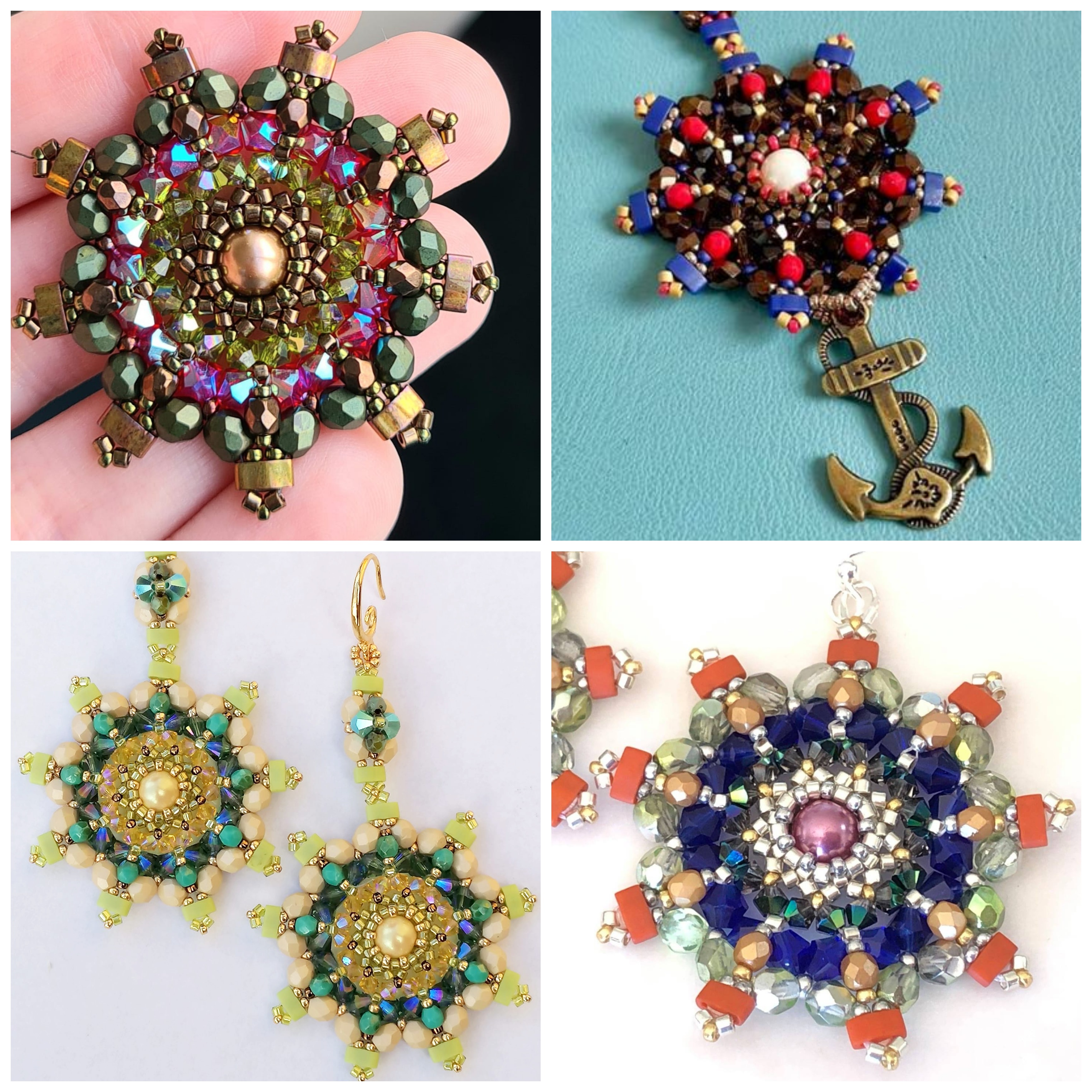 Marianske – motif on the left top side – says:
My Admiralty pendant so far. Love this pattern!
Kata – pendant on the right top side – says:
Now my Admiralty boat steering wheel got the anchor extension Preparing the necklace part by using a twisted soutache cord. After all, it's a marine theme
Erika – earrings on the left bottom side – says:
My Admiralty earring. Erika, I loved making it, thank you for a fantastic design again. I'm happy with the colors, too – a friend helped me choose them. I had some options for each type of bead, for each 'circle' and he (yes, he) chose the final colors.
Faye – earrings on the right bottom side – says:
My version of the Admiralty Earrings. These are colors that I wouldn't normally put together but I challenged myself to think outside my box… and I was inspired by all the FB posts from group members; such gorgeous work. Love the pattern too – thank you!

Set of Bracelet, Earrings and the Brooch by Virginia Bremken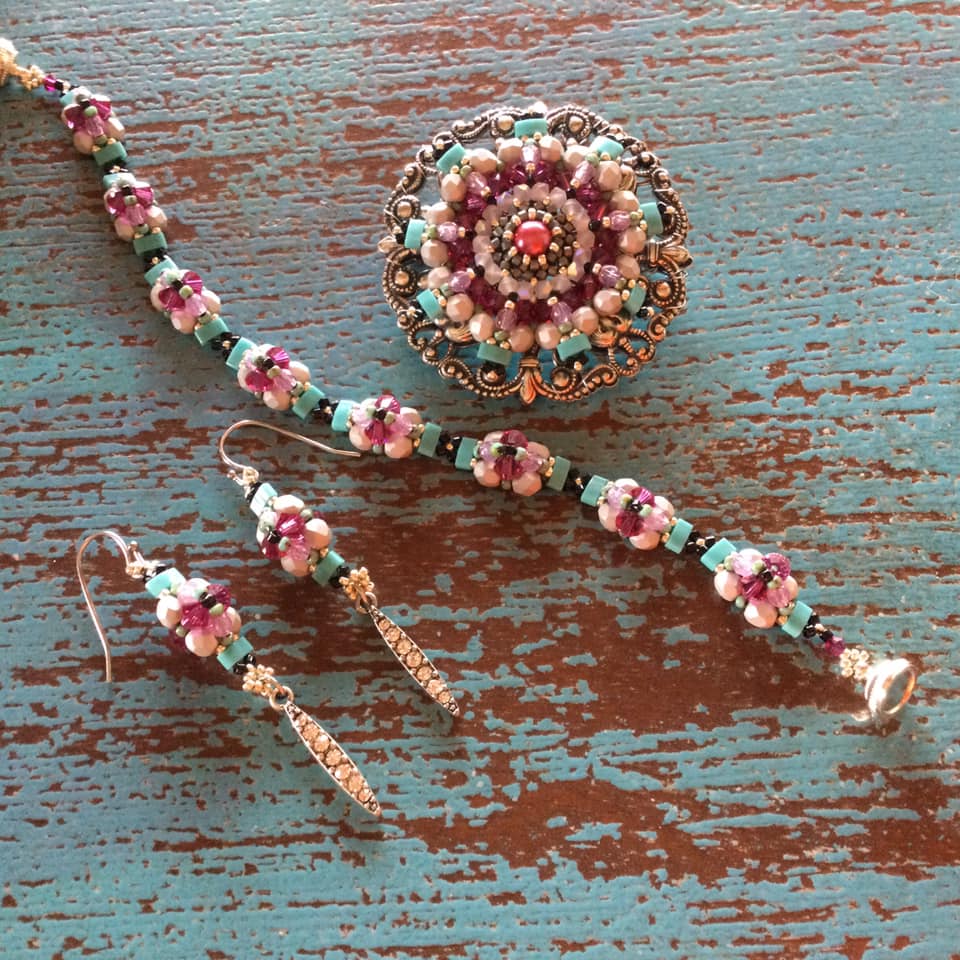 Ginny created unusual three pieces set! Earrings, a bracelet, and a brooch – nice to wear together, or separately.

This design really speaks to many of the beaders and the Beadingschool Club is full of inspiration. Crystal bicone beads let the light shine through what brings colors into life. It is worth to bead as the result is very rich and catchy.
I really hope you liked these few examples of Admiralty design! If you want to join the party, come to bead with Erika and other beaders from all around the world to

#

nooneHasToBeadAlone session.