#ClubDesigns is a series of articles on the Storytelling blog and a series of posts in the Beadingschool Club on Facebook.
Erika says:
"Since the beginning of the first COVID-lockdown, we bead together every Friday, to make sure that #NoOneHasToBeadAlone.
We bead a different jewel every week – designed specifically for the workshop. Afterward, it's really fun to see all the variations beaders come up with! Not only colors differ, but very often a pendant becomes a brooch, a motif that was originally an earring is modified into a bracelet or a ring. Moreover, sometimes it happens that not all the bead shapes are available to someone – and she needs to alter the original design to make it work."
The #ClubDesigns series is the collection of this beady wisdom.

Ballerina in your jewelry
Soft, symmetrically perfect, precise, with a bit of bling in the hair and flowery skirt – just like a real ballerina. It can be earring, pendant, necklace, brooch,…there are no limits.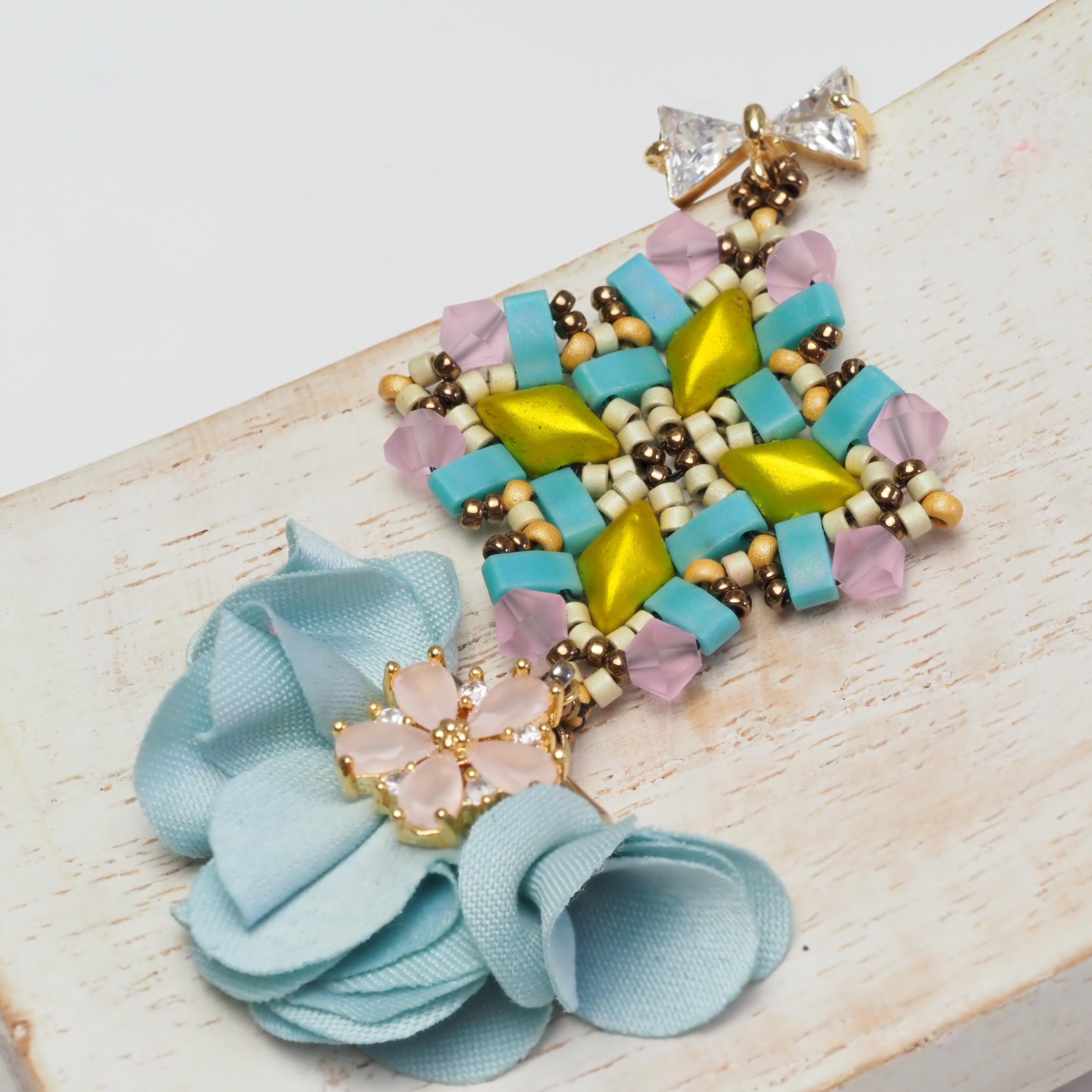 Click here for the beading tutorial!
MATERIAL LIST
thread-burner or sharp scissors,
bead mat,

Ballerina earrings by Tanja Quintelier
Tanja says:
Tadaaaaa…here are my Ballerina's…the soft pink and purple tones are very me…but the use of so much beige in one single little motif is not me at all….but what pushes me completely out of my comfort zone is the fact I have used these poppies….I would never buy them myself…this is not my style….but it was part of my goodiebag I won with the Summer Giveaway and my Beadingschool Cruise and they remind me of the tutu of a Ballerina….so I used them…when I got my goodiebag, Kathy said to me, this will be a thing forever inthe bag…but look…they are out of the bag…that's why I said that I would even surprise Kathy ….I am happy with the result…the earstuds are from the Bloombox, the bicones are from the Sunbox and the poppies are from my goodiebag….I will wear them proudly.
Tanja chose her favorite colors, managed to conquer a challenge and added textile poppy flowers to the bottom of the motif. It looks like these ballerinas have beautiful long skirts.

More from flowery Ballerina earrings by Kirsten Schülp and Joyce Standige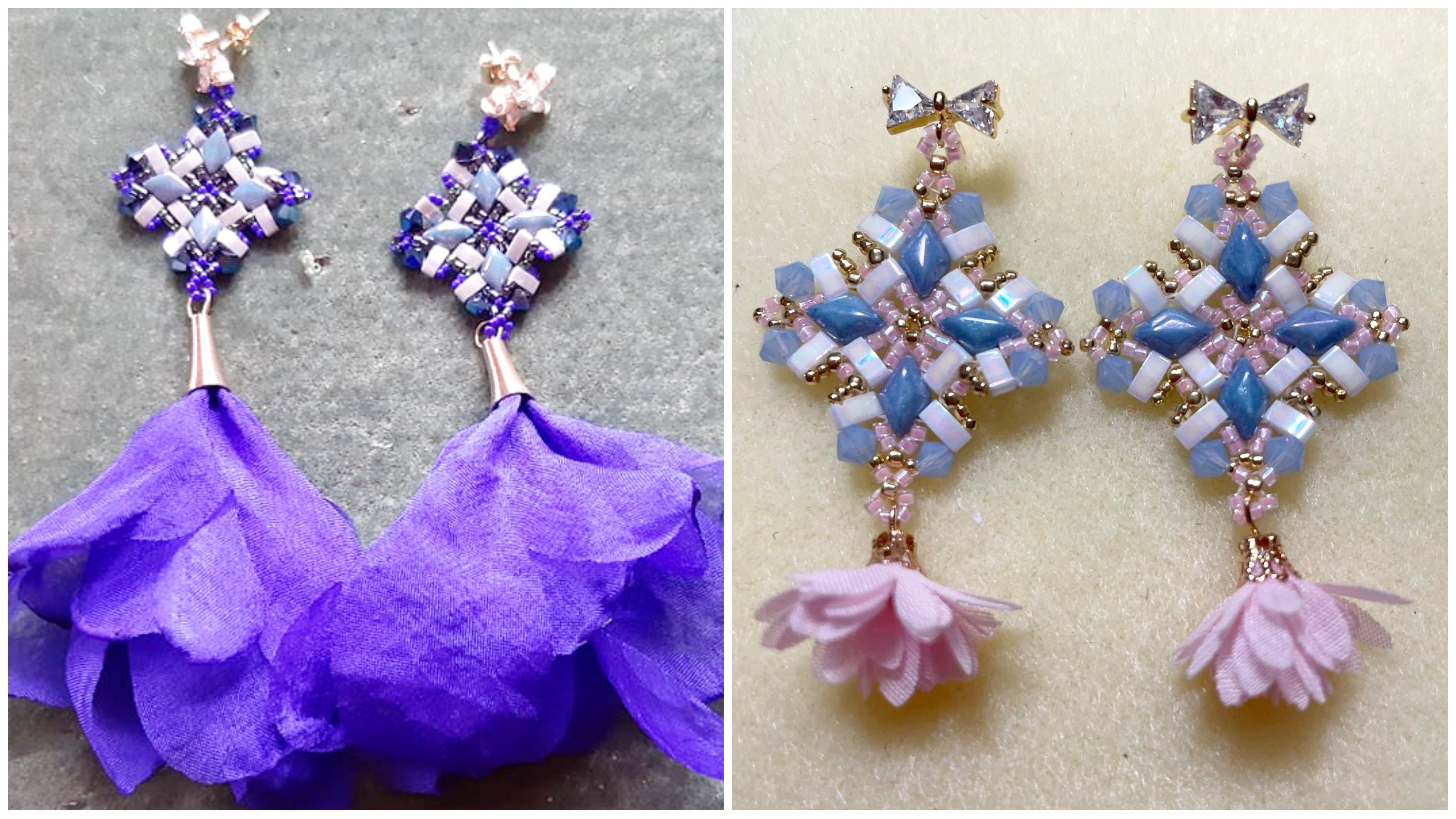 Kirsten – earrings on the left side
Joyce – earrings on the right side
Both ladies chose flowery components to finish their Ballerina motif. No matter what is the size, flowers suit Ballerinas well! Ladies, thank you for beading and sharing with us.

Romantic Ballerina earrings by Nancy Pikulik and Christina Nordin Kilpeläinen

Nancy – earrings on the left side
Christina – earrings on the right side
Nancy says:
Got much enjoyment with Erika Sándor & many other ladies talking about the beautiful Summer Spirit collection. What inspiration came out of that Zoom session! I am attending a wedding tomorrow & was choosing my dress plus, of course, jewelry to match. The dress is a mix of peach, pink, white, & aqua. I had a necklace & bracelet I made last summer that surprised me with how well it matched the dress. But I didn't have earrings! Oh No! Sudden inspiration hit with the ingredients of the Summer Spirit box, Erika's discussion & photos, & Zuzi Hake's pieces she showed us. I hoped I could make the Ballerina earrings in one evening since I needed them tomorrow. Well, I was able to finish two earrings that match to make a very nice set. Thank you, Ladies.
Nancy also shared a picture of her. She matched her jewelry very well and looked gorgeous! I'm sure she had a nice time attending the wedding. I like how she and Christina used similar components, but with different final looks and colors. Both are very beautiful, thank you, ladies!

Earrings with tassels by Katja Foierl, Katalin Dudás, and Ellinor Hellhoff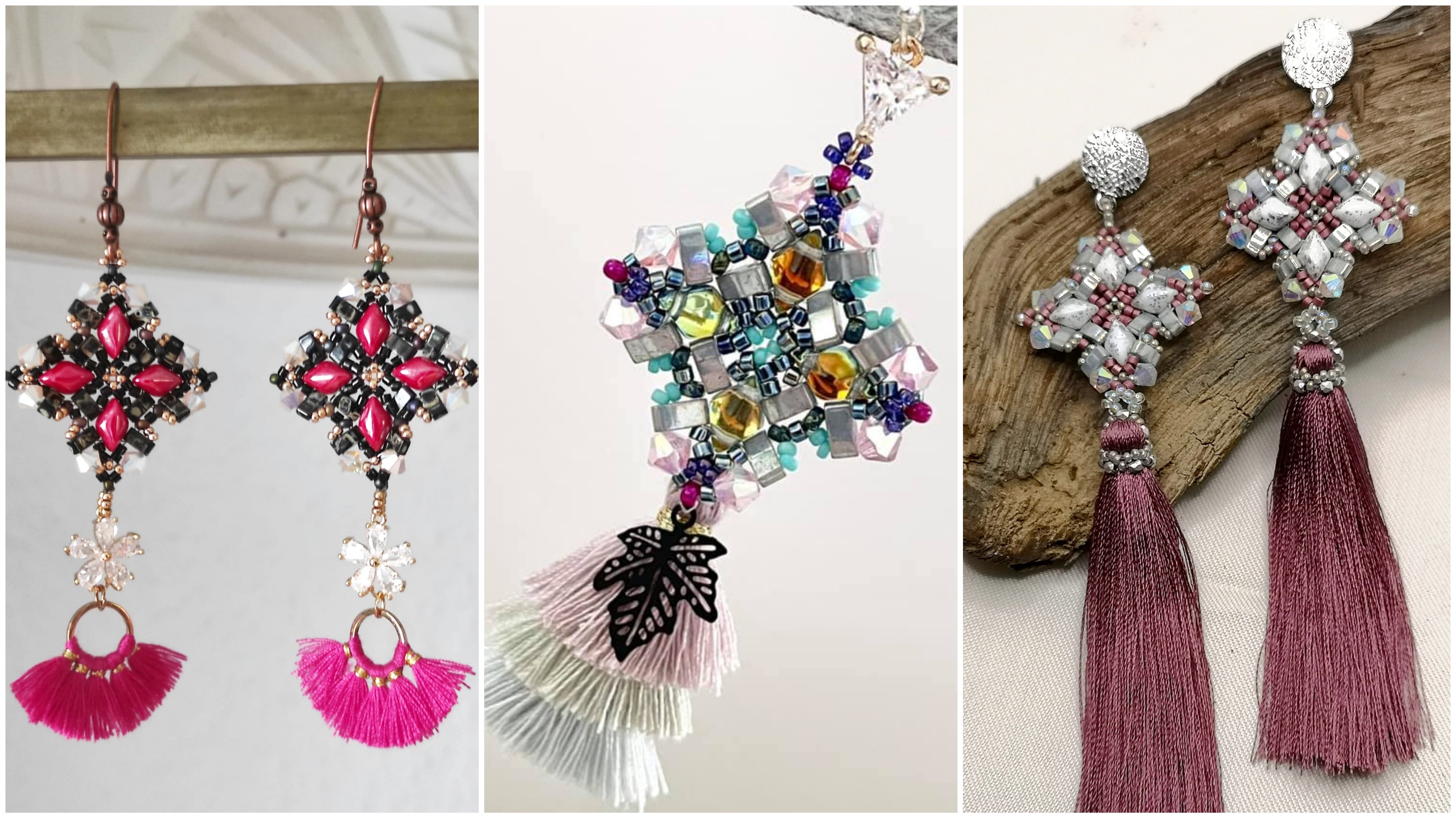 Katja – earrings on the left side – says:
My version of the Ballerina earrings. I used the beautiful fan tassels and connectors from the Summer Spirit Box!
Kata – earrings in the middle
Ellinor – earring on the right side
Ladies decided to use tassels to finish their earrings. A great example that combines three different sizes and styles of this component. They all look amazing. Thank you, ladies!

Very fresh Ballerina earrings by Deb Taylor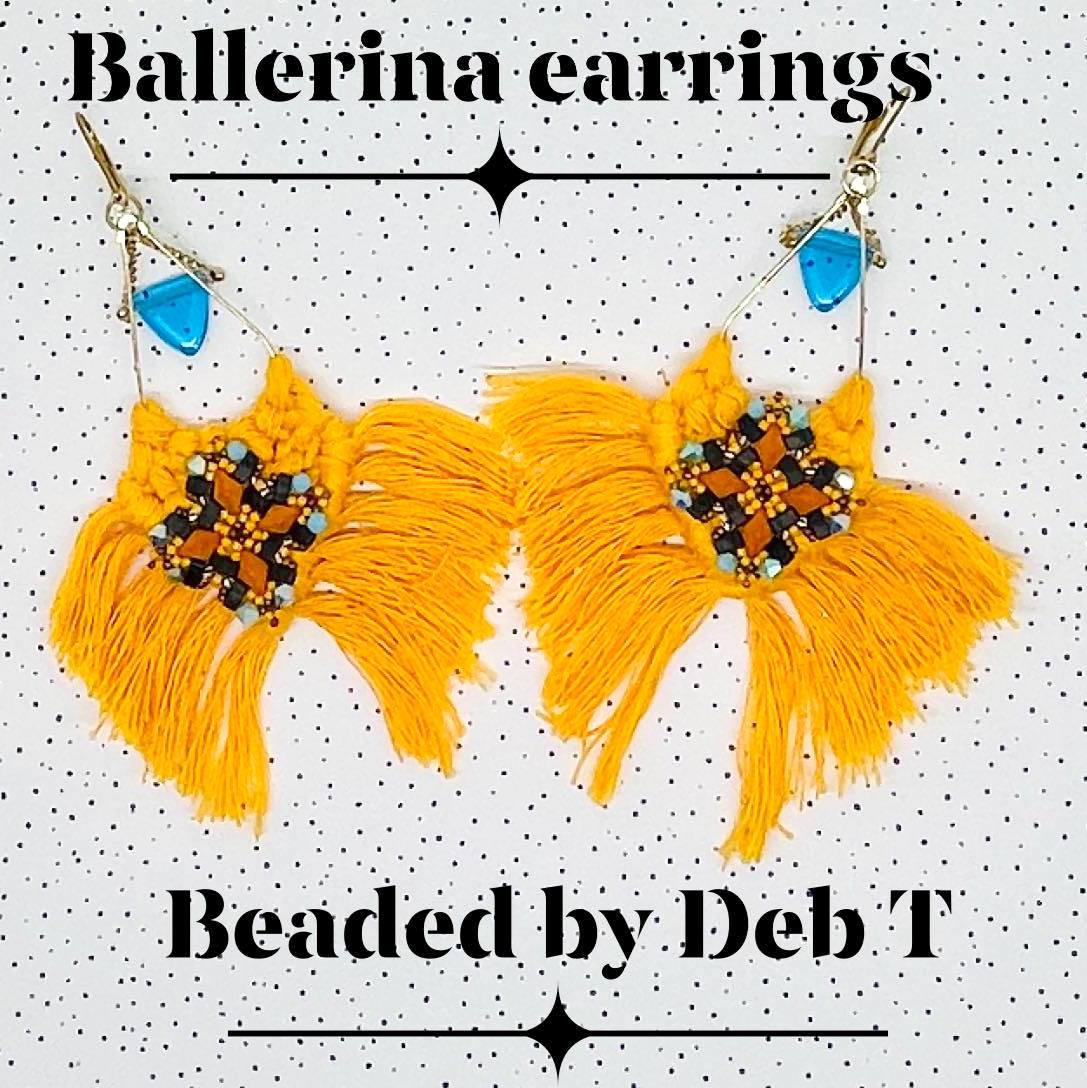 Deb says:
Thank you Erika Sándor for this lovely pattern!
Deb surprised us again! She took pieces of macrame and attached motifs to them. Brilliant idea how to make an unusual combination. She chose contrasting colors to spruce the design up. Thank you, Deb!

Pendant by Marion Hentrich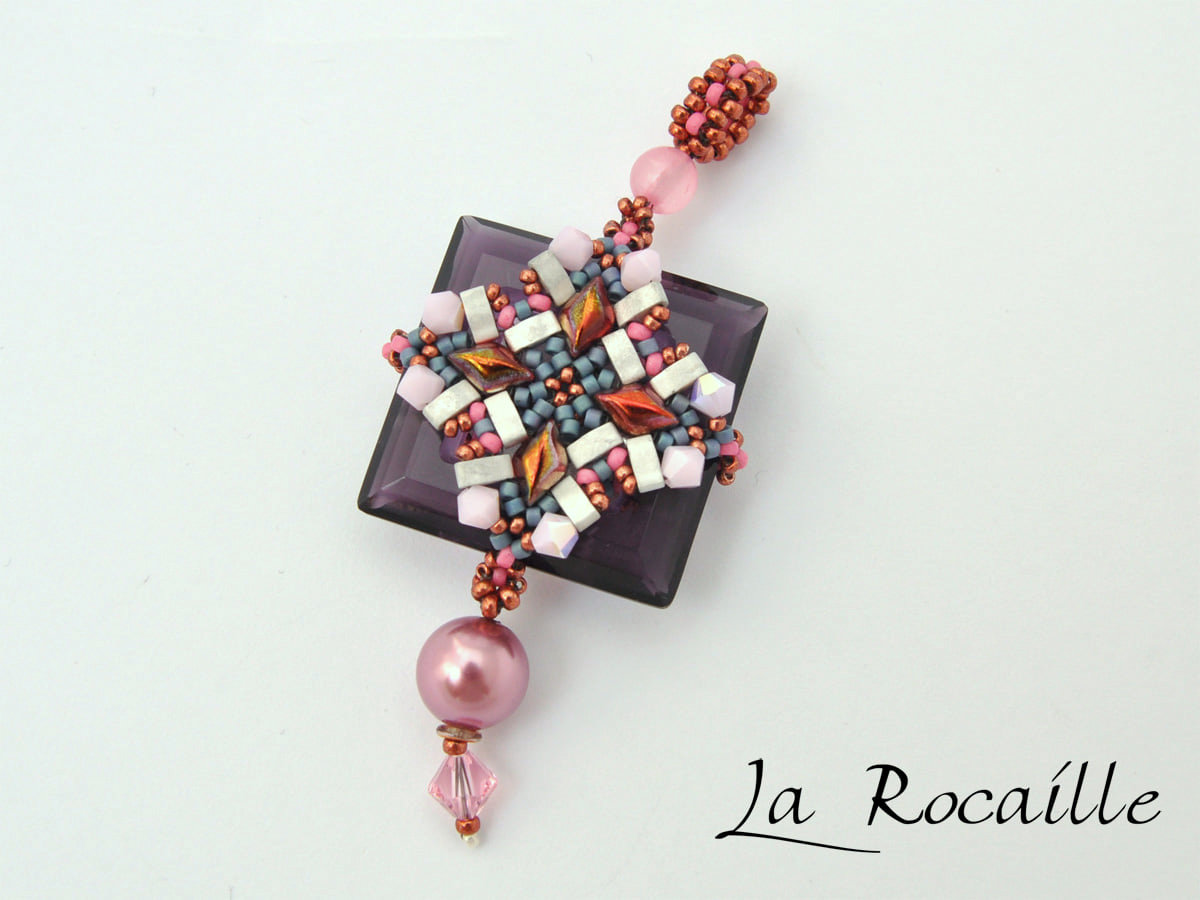 Ballerina as a pendant holding a squared stone. Amazing idea, don't you think? Marion just inspired me to bead my first Ballerina motif and try to combine it with square-shaped art quality cabochon from the Beadingschool webshop. Thank you, Marion, for beading with us!


Brooch with Ballerina motif by our Erika Sándor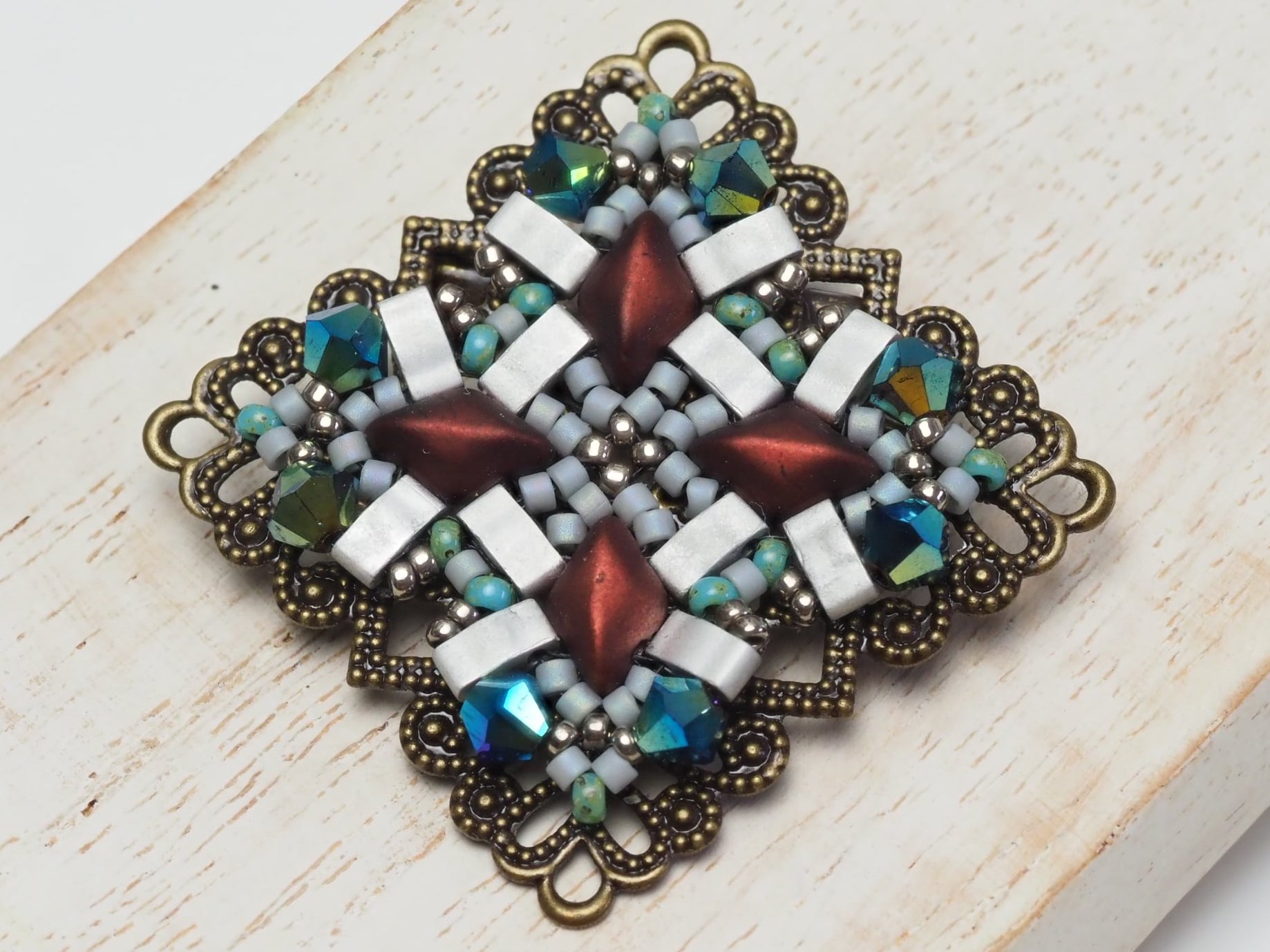 There are rare moments when Erika has time to bead one of her designs more than once. This happened with Ballerina and I would like to share her brooch as an inspiration. It's lovely, isn't it?

Sharing ideas and inspiration
Earrings by Karin Granstrom

Karin says:
My Ballerina earrings. I used quarter Tila in turquoise and gold and I put a 2 mm gemstone in the "gap".
Necklace by Faye Williams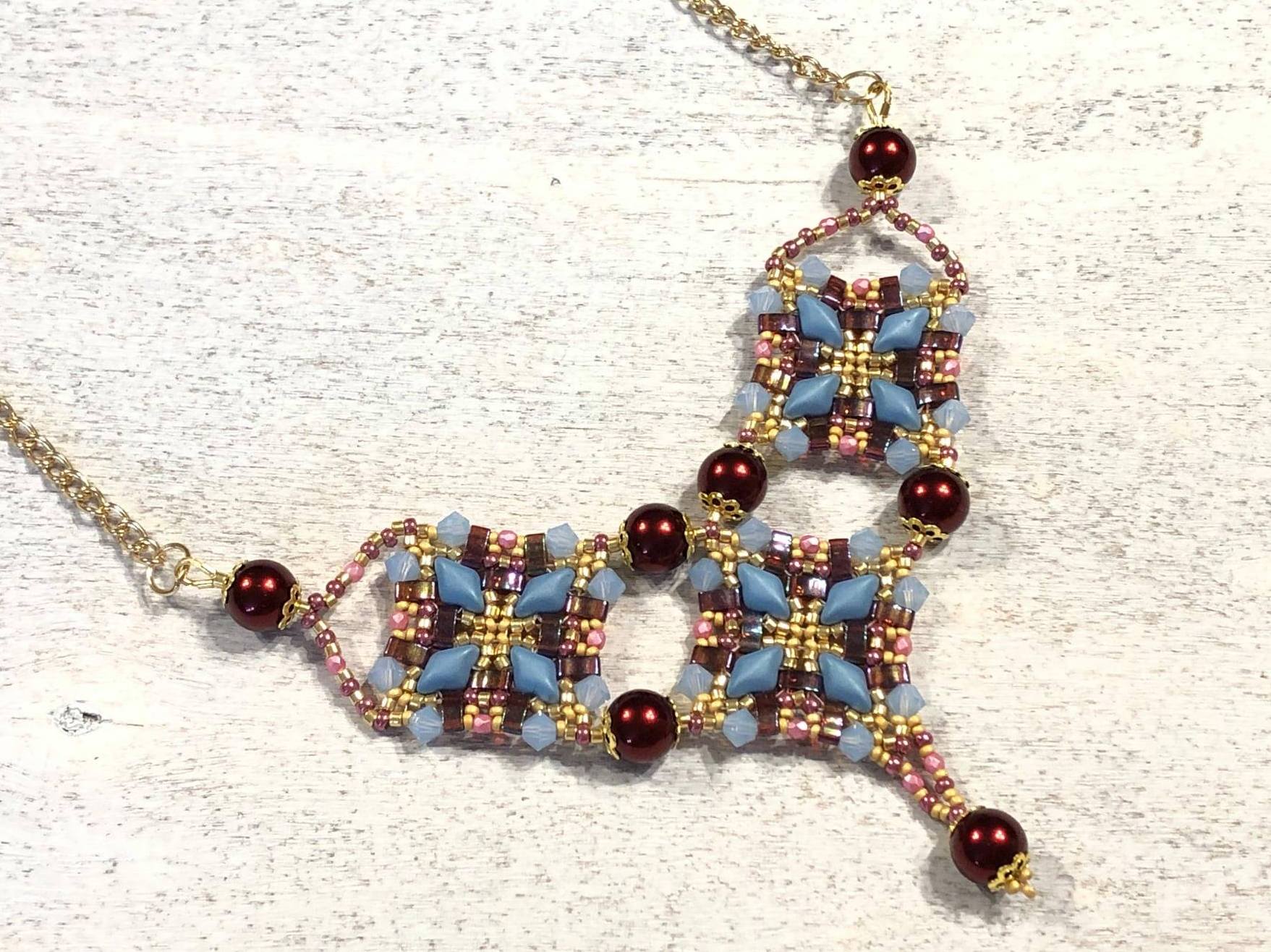 Faye says:
Ballerina Necklace. Do you ever have one of those days where nothing seems to go right? Today was that day for me. This is the 'final' version!!!

. Haha – I've cut my threads off – no going back!

Thanks to

Karin Granstrom

for the idea of using a 2mm bead in the gap – worked a treat! By the way, my first time using Preciosa pearls and they are gooooorrrrgeous!
Karin and Faye showed us what is the spirit and one of the main principles in the Beadingschool Club! Ladies, I'm happy you shared your beautiful, inspiring jewelry and ideas with the rest of us. Thank you!

There is a lot more to see in the Beadinschool Club!
Come, join us, and bead with Erika and other beaders from all around the world.