#ClubDesigns is a series of articles on the Storytelling blog and a series of posts in the Beadingschool Club on Facebook.
Erika says:
"Since the beginning of the first COVID-lockdown, we bead together every Friday, to make sure that #NoOneHasToBeadAlone.
We bead a different jewel every week – designed specifically for the workshop. Afterward, it's really fun to see all the variations beaders come up with! Not only colors differ, but very often a pendant becomes a brooch, a motif that was originally an earring is modified into a bracelet or a ring. Moreover, sometimes it happens that not all the bead shapes are available to someone – and she needs to alter the original design to make it work."
The #ClubDesigns series is the collection of this beady wisdom.

Are you ready for the Crystal Square Earrings adventure?

Erika really touched and inspired many of us last week when she presented her new #NoOneHasToBeadAlone design – The Crystal Square earrings. She used bead shapes we all love and added Miyuki Slender bugle beads to spruce it up. Bugle beads also created corners of the square shape and Preciosa bicones gave the last touch with the extra sparkle. The result is an amazing and versatile motif that provides many options on the final jewel. By changing the angle of the motif you get a different look too.  You can use a single motif or connect and combine more motifs together. This design is exciting and very fresh.
Crystal Square can easily become your favorite:
earrings,
pendant,
bracelet,
brooch,
ring,
embellishment in bead embroidery jewel.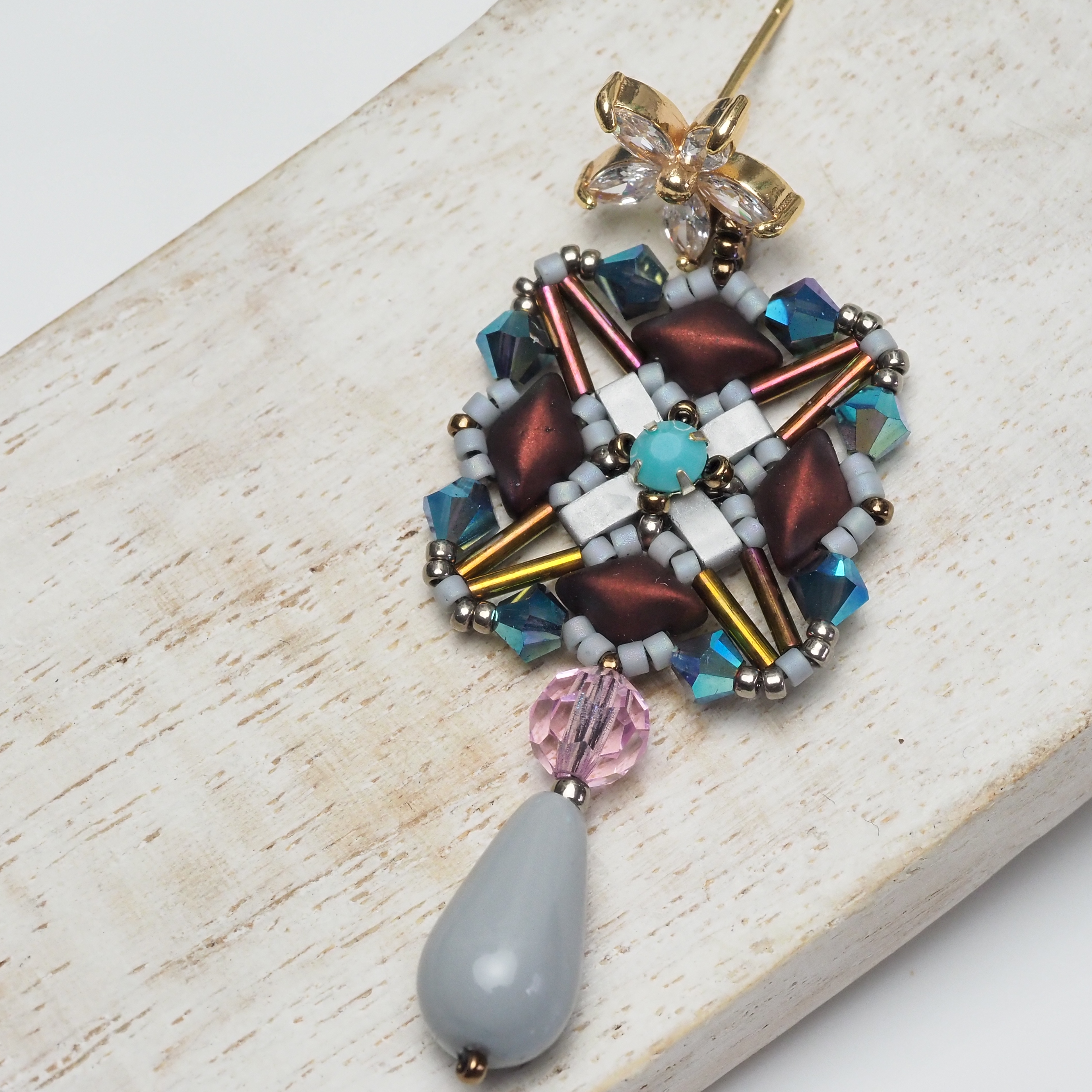 Click here for the beading tutorial!
MATERIAL LIST
OPTIONAL FOR THE BOTTOM:
6 mm Preciosa faceted round crystal beads,
15×8 mm Preciosa pearl drops.
Check out these Crystal Square variations by Beadingschool Club members! I hope you will find them inspiring.

Crystal Square Earrings by Faye Williams, Mariëlle Breedeveld and Katja Foierl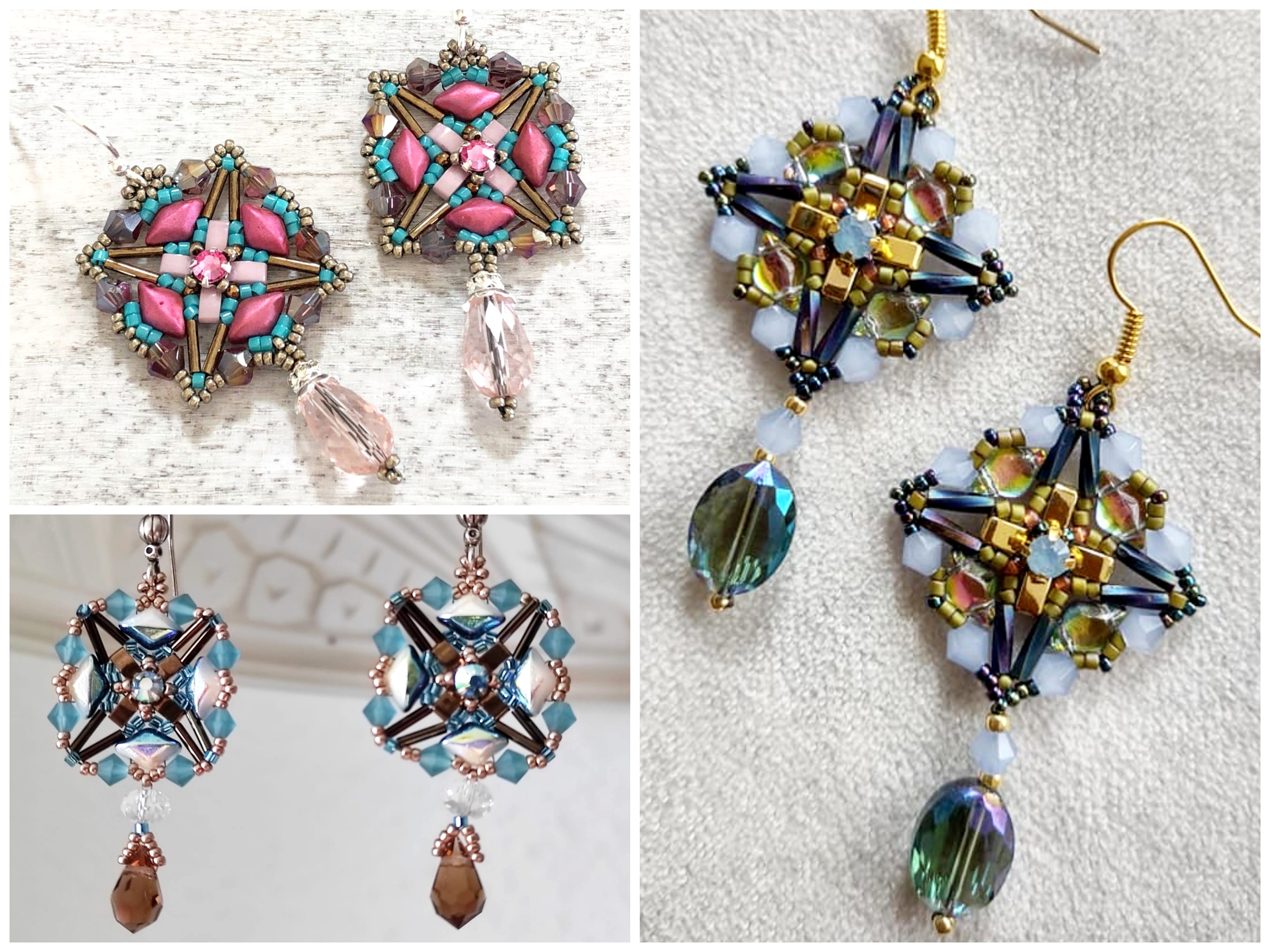 Faye Williams – Earrings on the top right side – says:

Crystal Square Earrings. Another winning design by Erika!!

 
Katja Foierl – Earrings on the down right side
Mariëlle Breedeveld – Earrings on the right side
You can see different variations of attaching the ear hooks (compare left and right of the picture) that change the overall appearance. Faye and Mariëlle added extra picots from Miyuki seed bead to the corner above bugle beads. Katja used GemDuo duet beads what is another experiment with colors. Mariëlle chose twisted bugle beads what add extra texture to the final jewel. Ladies created beautiful versions of the Crystal Square earrings!

Extra-long earrings by Vania Stabnov Jacobs and Deb Taylor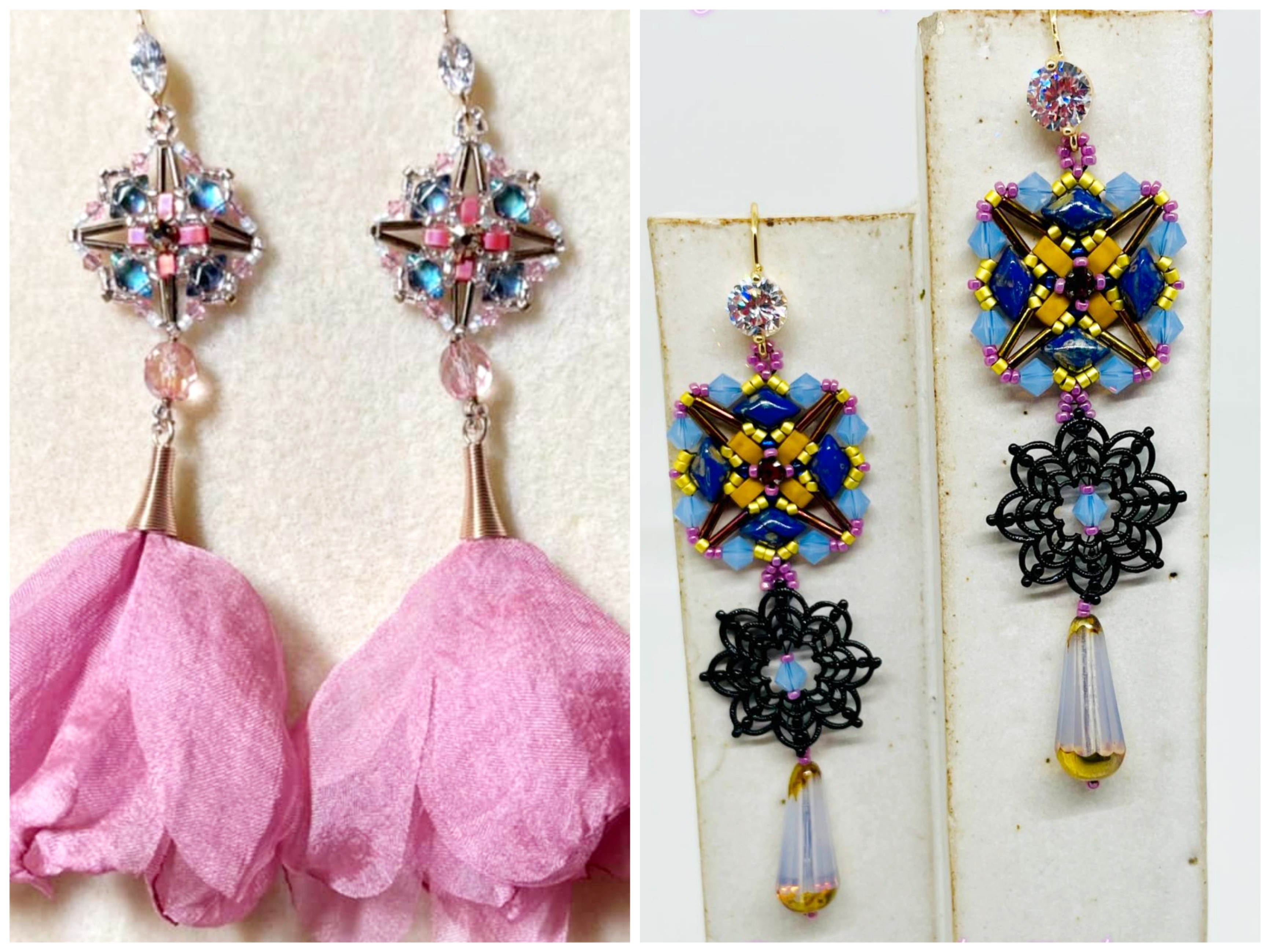 Vania Stabnov Jacobs – Earrings on the left side – says:
I took a few hours off the competition but did not stop beading. I had to make the Crystal Square. I used two components from the gift I won! The earring hook and the textile flower. Just love them. Thank you

Erika.
Deb Taylor – Earrings on the right side – says:
I used a really dark Red sew-on crystal and a filigree before the drop! Thank you Erika.

The motif itself isn't extra-large, but your imagination can't stop you. Both ladies chose ear hooks decorated with crystal and prolonged earrings with adding beads, metal components, drops, and textile poppy flowers. You can use also tassels or decorative chains. Thank you Deb and Vania for sharing your ideas!

Crystal Square on the filigree by Sheri Chapman, Kirsten

Schülp

, and Mirjam W.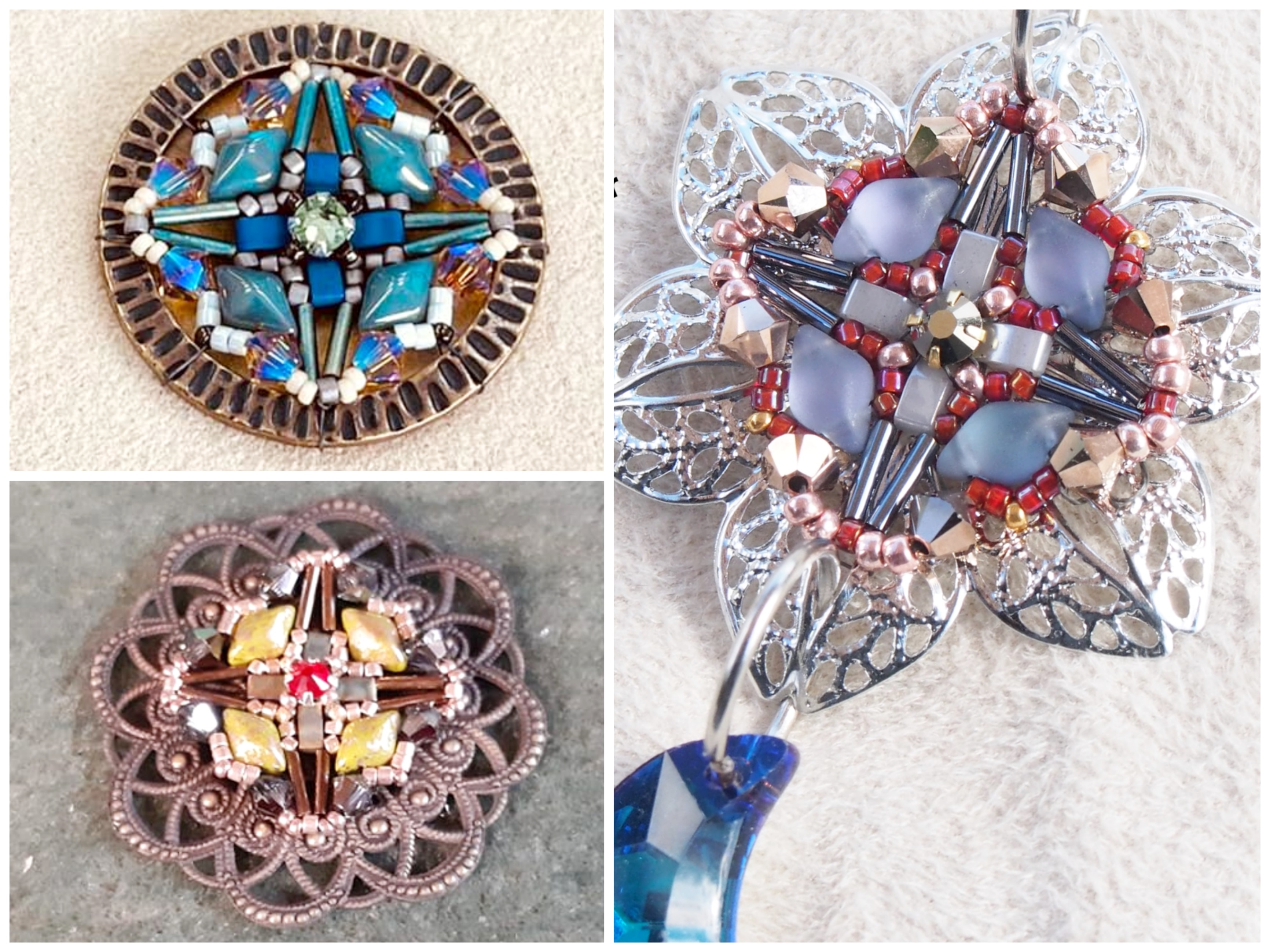 Sheri Chapman – Motif on the top right side – says:

The Crystal Square motif tells me it wants to be on an embroidered piece!! I attached it to a ring, and I think I love it!!! Thanks for the motif, it's lovely!!
Kirsten Schülp – Motif on the down right side
Mirjam – Pendant on the right side
These motifs met different metal components. Sheri found a perfect fit with the circle ring that created the outer border for the square. She mentioned her plans to use this for bead embroidery, however, further decorating with beads and brick stitch is also possible. Kirsten chose Circle Dance filigree that is large enough for a single pendant or necklace. This filigree is also part of Janis J design if you decide to make a larger jewel decorated in the middle with Crystal Square motif. Mirjam showed us she finished a flower-shaped pendant with a crystal pendant on the bottom. Thank you, ladies!

Crystal Square Bracelet by Virginia Bremken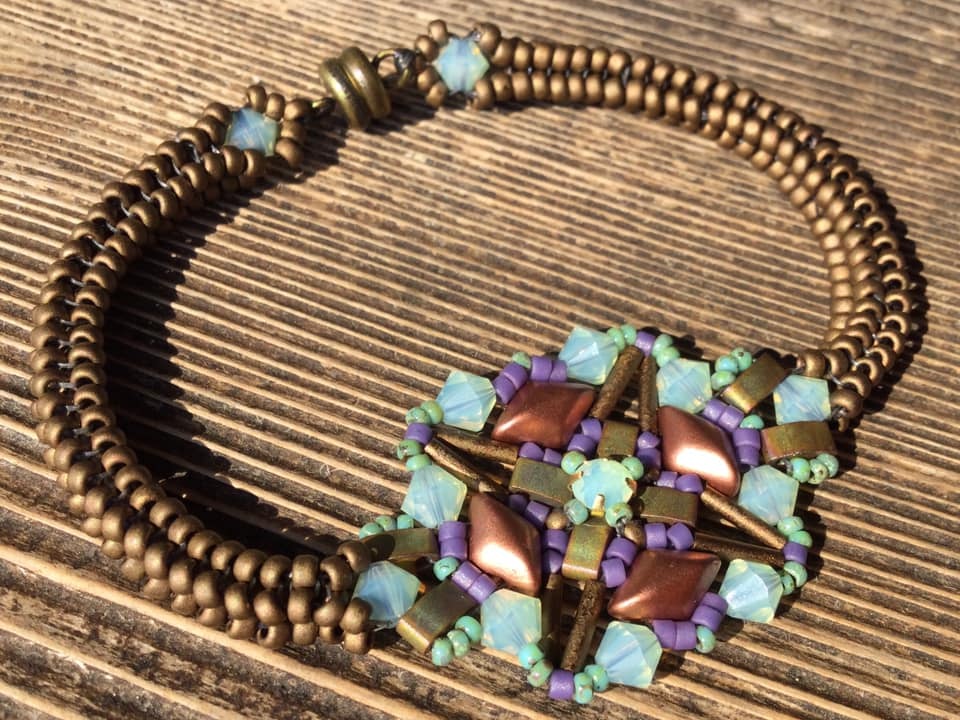 Ginny says:
Glad to say my Crystal Square bracelet is complete. I love how the bicone crystals fit so nicely into the herringbone stitch for the band!
Great idea to make a single motif centerpiece for the bracelet! Ginny provided inspiration and also a solution on attaching the herringbone rope on both sides of the motif. The extra bicone beads close to the clasp are really nice touch. Thank you, Ginny!

Set of bracelet and pendant by Sara Lilja

Sara says:
My Crystal Square set! This is my absolute favourite motif so far I think! Thank you so much Erika!
Everything is just perfect about this set – colors, connecting motifs, components. Dramatic and stunning and still in harmony. Sara keeps beading, surprising, and rocking Erika's designs in her own, perfect way! Thank you, Sara!


Brooch by our Beadingschool Headmaster, Erika Sándor

I love the calm, romantic colorway Erika chose for the motif. The brooch base makes this perfect fit and glass drop in the metal setting just tops it all. Tip by Erika on how to fill the edges can be found in the Beadingschool Club on Facebook.

More from Crystal Square by Ulla Edenmark,

Gonnie Versteeg-Grootendorst, and

Veerle Daeninck

Ulla Edenmark – Earrings on the left side
Gonnie Versteeg-Grootendorst – Earrings on the top right side
 Veerle Daeninck – Bracelet on the down right side
This is what happens when the blog article is almost finished and wonderful jewels in the club keep coming! I can't keep these beautiful pictures only in Beadingschool Club. They need to be shown to the world! Thank you ladies 🙂

I hope you liked Crystal Square in different variations by some of our Beadingschool Club members and found inspiration for your next beading adventures!