#ClubDesigns is a series of articles on the Storytelling blog and a series of posts in the Beadingschool Club on Facebook.
Erika says:
"Since the beginning of the first COVID-lockdown, we bead together every Friday, to make sure that #NoOneHasToBeadAlone.
We bead a different jewel every week – designed specifically for the workshop. Afterward, it's really fun to see all the variations beaders come up with! Not only colors differ, but very often a pendant becomes a brooch, a motif that was originally an earring is modified into a bracelet or a ring. Moreover, sometimes it happens that not all the bead shapes are available to someone – and she needs to alter the original design to make it work."
The #ClubDesigns series is the collection of this beady wisdom.

Louisiana won our hearts
We beaded this beautiful design in May and many of us keep returning and beading it again. It combines Erika's favorite beads and components. It has a perfectly balanced shape, lots of texture, and also sparkle we all love!
You will see a wonderful collection of various finished jewels by our Beadingschool Club members on Facebook. I just want to encourage you to bead your own motif, as it is fairly quick to make.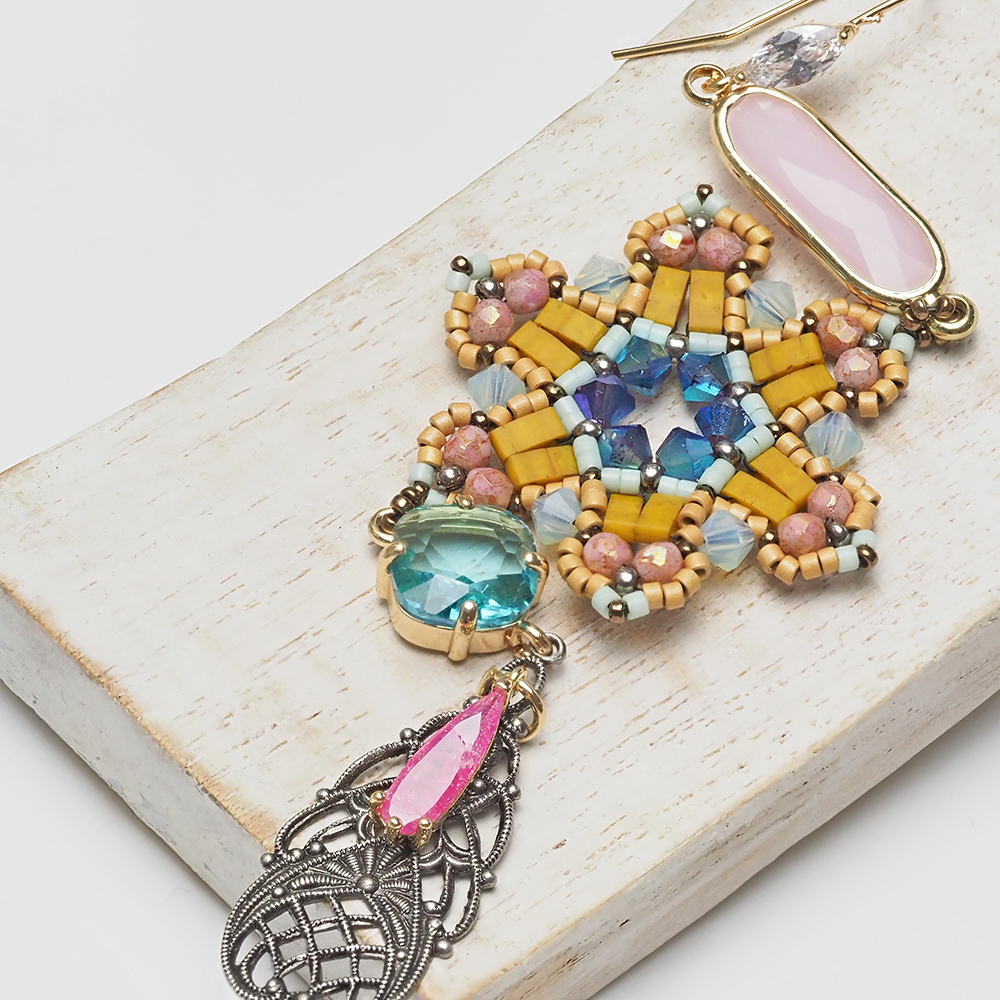 Click here for the beading tutorial!
MATERIAL LIST
4 mm Preciosa bicone beads – 1-2 colors
3 mm fire-polished beads
Miyuki Half Tila beads
Miyuki seed beads 15/0
Miyuki seed beads 11/0
Miyuki Delica 11/0 – 1-2 colors
earring hooks
Optional:
7×21 mm elongated crystal connector
11×17 mm cushion cut crystal connector
Raindrop filigree
5×16 mm pear glass drop in metal setting
Tools:
thin beading needle
0.12 mm / 6LB Fireline 
bead mat
thread burner or scissors
Let's see all the beautiful variations of Louisiana beaded by our Beadingschool Club members!

Louisiana earrings by Katja Foierl and Katalin Dudás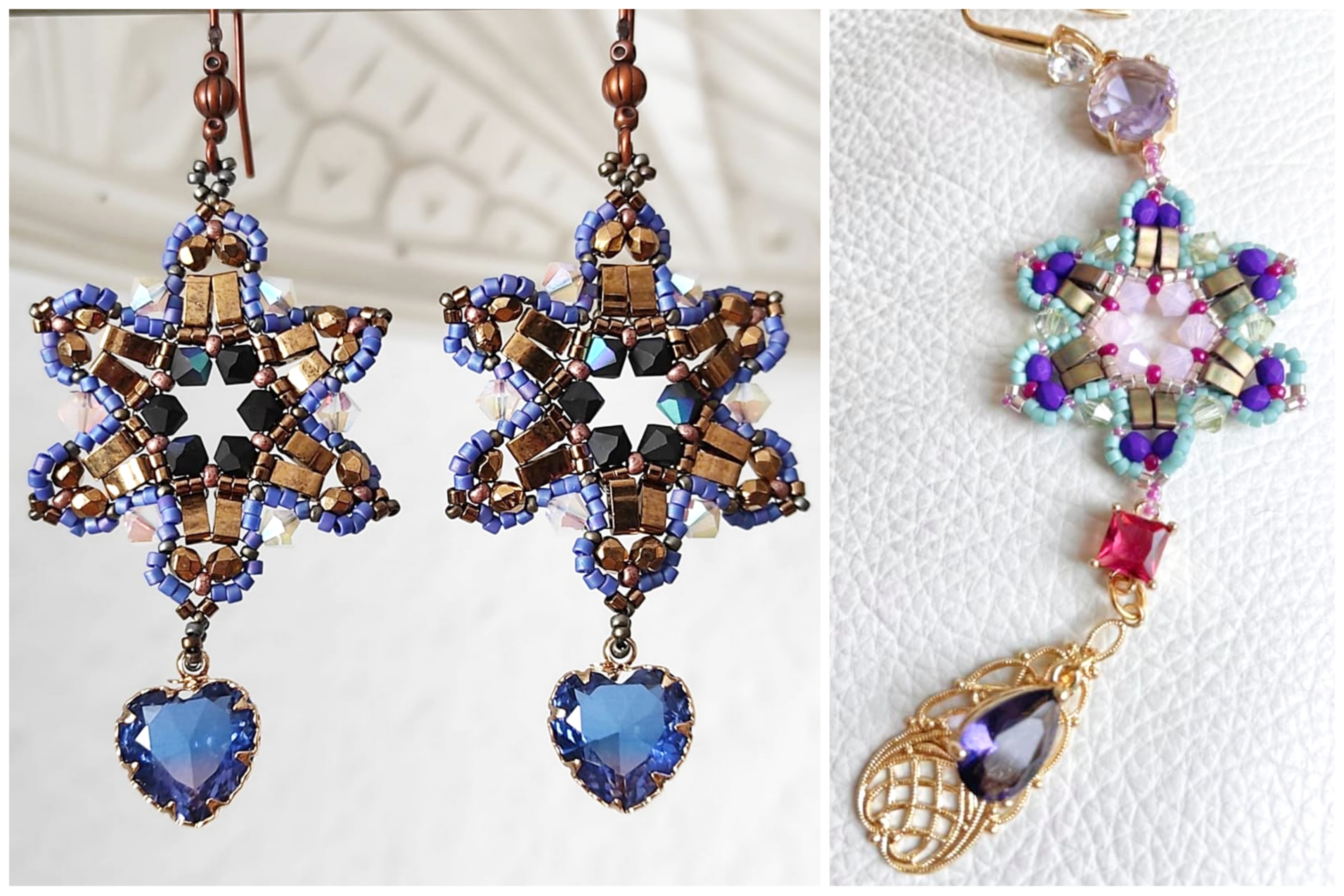 Katja – earrings on the left side
Katalin – earrings on the right side
Two lovely examples presenting different sizes. Ladies showed us that the drop pendant looks really nice with this motif and you can keep it "short" or go XXL with adding various components. Beautiful, classy, romantic, and yet – different. Thank you both, for your variations!

Long Louisiana earrings by Anita Schackmann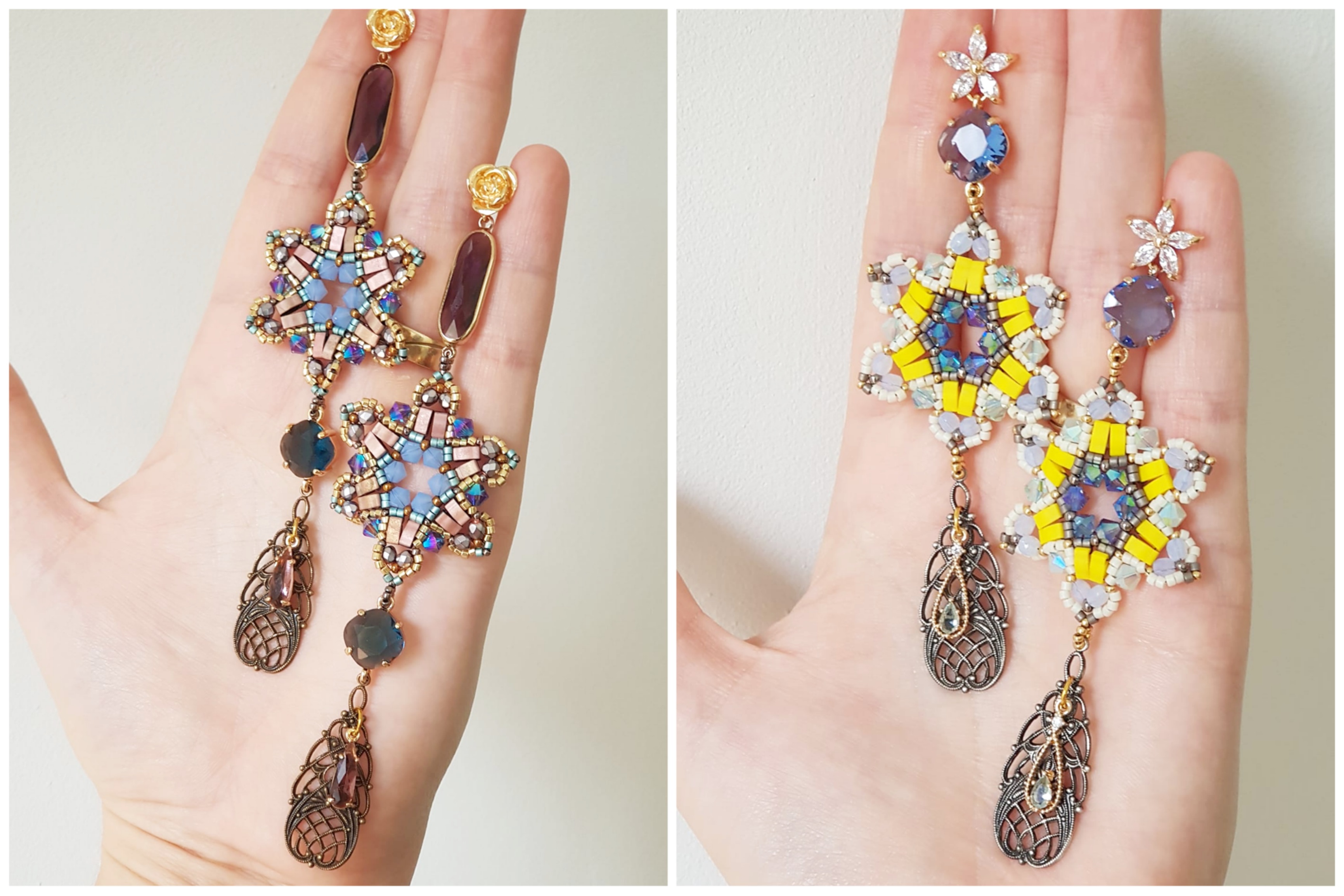 There are sometimes designs we love to bead more than one time. Nitty created these two versions – amazing color harmonies. Thank you, Nitty!

Shorter versions of Louisiana earrings by Marianne Epping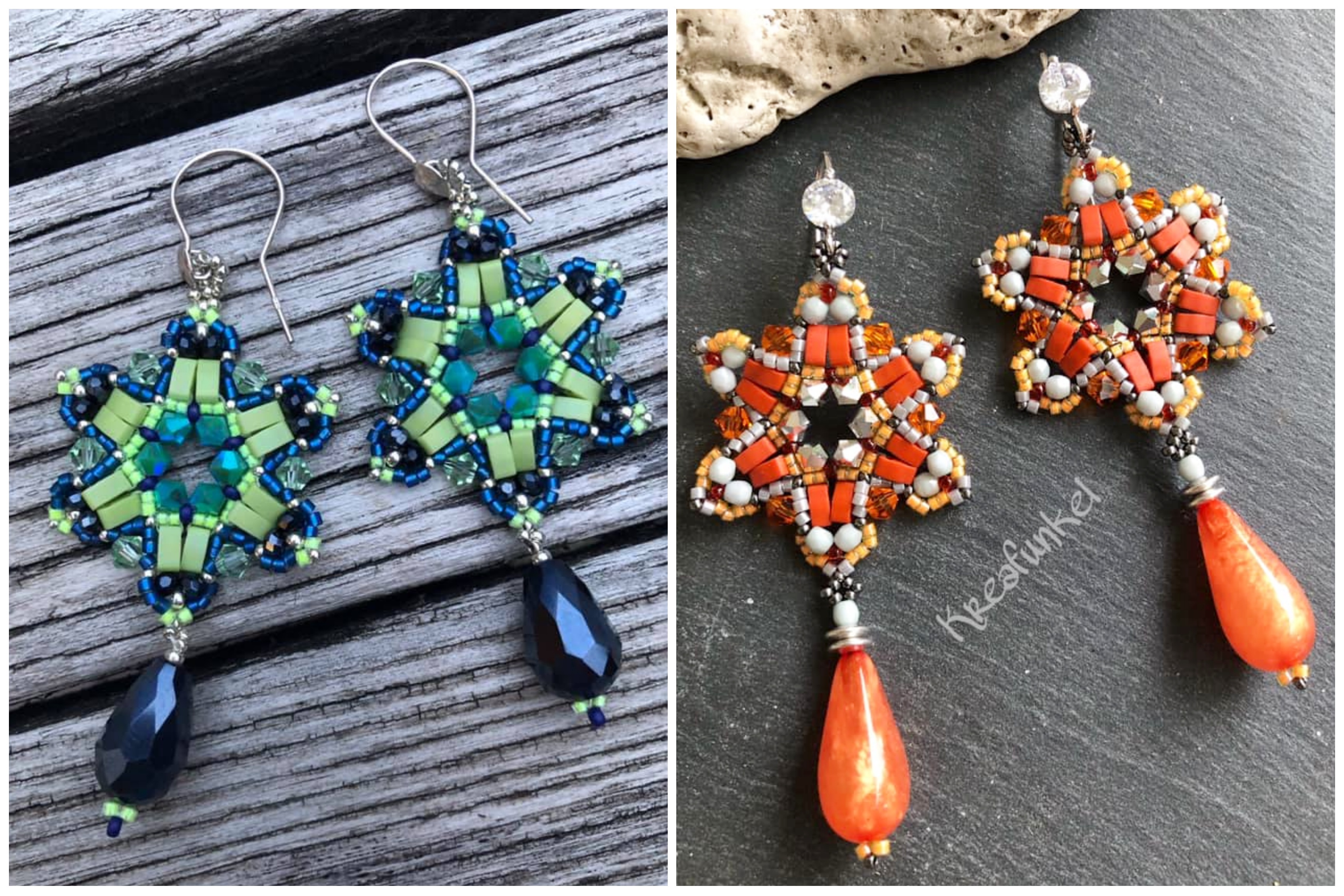 Marianne also created more than one pair of Louisiana earrings. I really like she keeps her style quite similar for both pairs by adding the glass drop bead on the bottom. What amazed me is her color choice, wonderful! Thank you for beading with us, Marianne!

Louisiana pendant variations by Ann Rust, Veerle Daeninck,
Veronka Královičová and Deb Taylor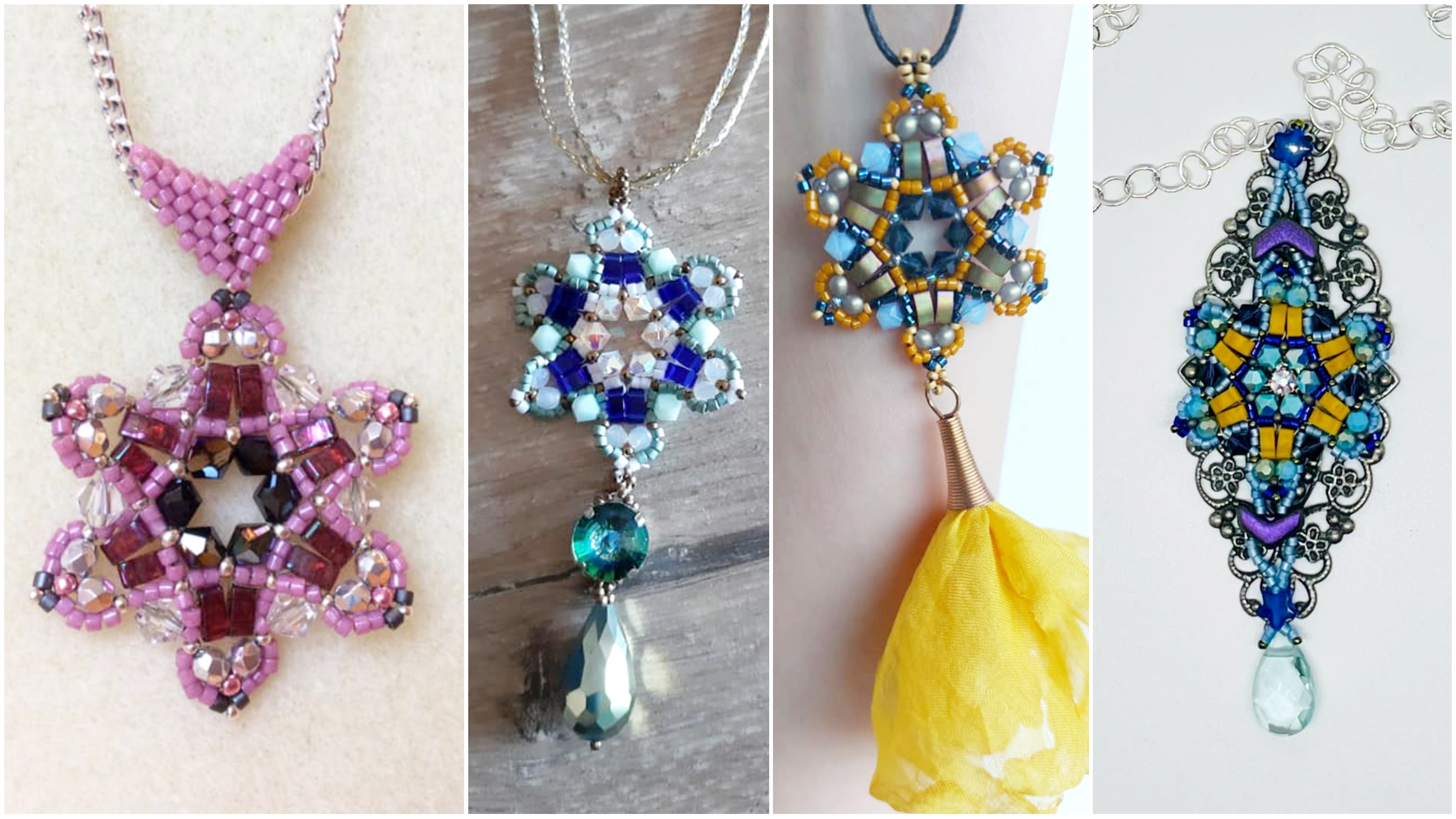 From left to right side, pendants by Ann, Veerle, Veronka, and Deb.
Ann added warped square bail.
Veerle made a simple beaded loop for her chain necklace and added rivoli in a metal setting and a glass drop bead on the bottom.
Veronka added a happy poppy flower to the bottom of her pendant
Deb sewed the motif to the filigree. She also added more beads to the top and the bottom of the pendant to balance the whole pendant, the filigree and motif allowed her to add an extra Preciosa sew-on rhinestone in the centre.
Ladies presented us with very inspiring options on how to create pendants with Louisiana motif in different sizes. Thank you!

Louisiana medal by Mehtap

Uçar Spafford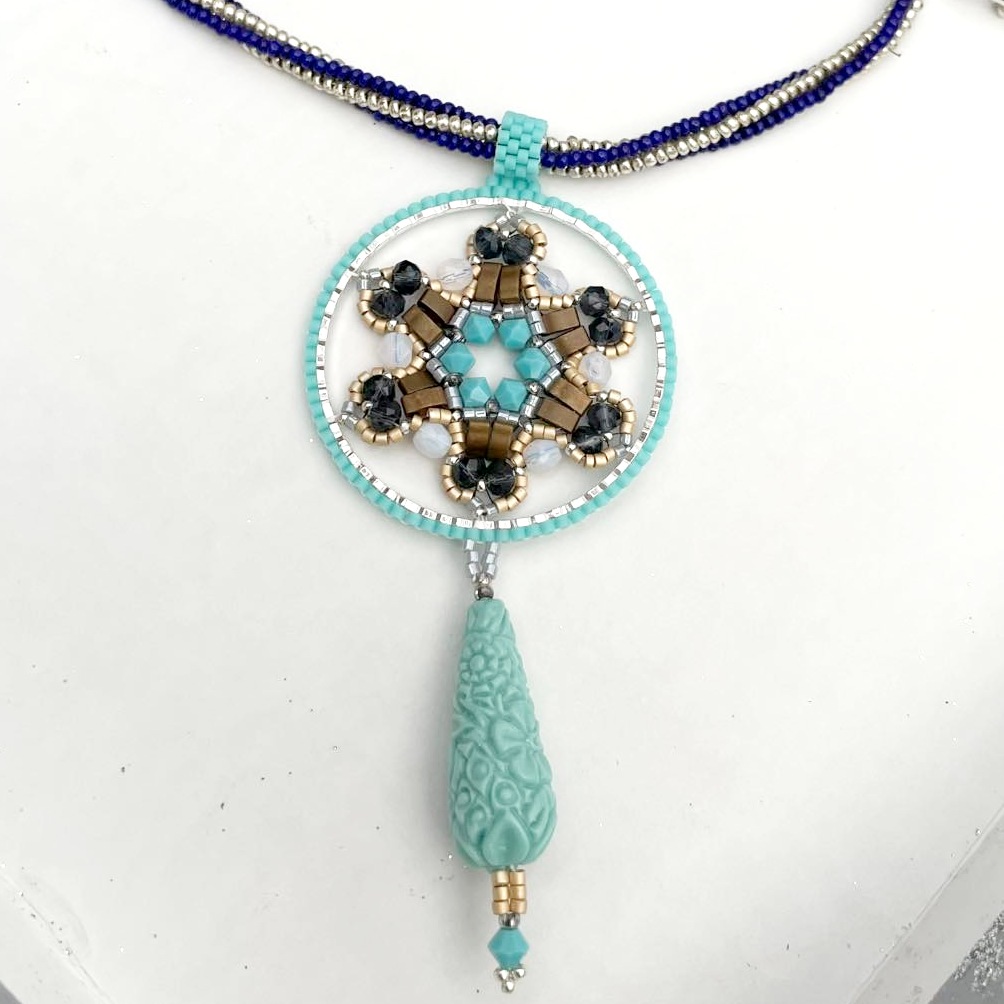 Mehtap found a perfect fit for the motif with the right size of the round metal components. Very interesting and even more inspiring way to create your pendant! Turquoise and earthy color tones are wonderful. Thank you, Mehtap!

Brooch variations by Susanne Brenner, Faye Williams, and Erika Sándor
Susanne – brooch on the top left side – says:
My Louisiana brooch. Colors inspired by this April photo of an azalea bush in Louisiana.
Faye – brooch on the bottom left side – says:
Louisiana Brooch. I used my motif from

#NoOneHasToBeadAlone

session on Friday (28/5) to make a brooch rather than the earrings I had planned. I'm so proud of myself for completing a bead embroidery that is NOT round!!
Erika also created a
brooch
(right side) while drawing and "proof-beading" her Louisiana tutorial. Ladies beaded beautiful motif and showed us options of sewing the beadwork to
filigree brooch base
. The hole on the bottom can be used for additional attachment of
fabric
components or crystal
drop in a metal setting
. Big applause to Faye for taking the challenge of a star shape in bead embroidery!

Louisiana motifs by Cheryl Jackson and Shirley Jones Moore

Cheryl – motif on the left side – says:
I hope you're all sat down. No green – again! I think this will be part of something bigger possibly bead embroidered. My Louisiana.
Shirley – motif on the right side – says:
I love the Louisiana motif! The colors are lovely, but not my style at all. I will find someone to gift them to, as the little cubes I used instead of fire polish were a gift from a beading friend that passed away recently. She would be very pleased.
The journey of these two motifs is still opened. Still, Cheryl and Shirley showed us beautiful color combinations and the possible direction of their upcoming plans to finish their Louisiana. Thank you for beading and sharing with us, ladies!

There is a lot more to see in the Beadinschool Club!
Come, join us, and bead with Erika and other beaders from all around the world.