Face to Face interviews with our fellow beaders and designers are back! We're naturally curious to meet and know more about people in our community, to learn more about them, their life as a person and beader, inspiration, plans. This time I looked into our Beadingschool Club again and asked for an interview.
We haven't met in person yet, but we were in touch often enough to say that besides being an amazing beader and mom, she is also funny, cheerful, carrying, and adventurous in many ways. I feel we're similar souls at some points and I'm equally crazy to help her with the "whiskers project" in the future!  Do you want to know more? Keep reading!

Meet the Beadingschool Club member and amazing beader, Anita Schackmann. Our Nitty!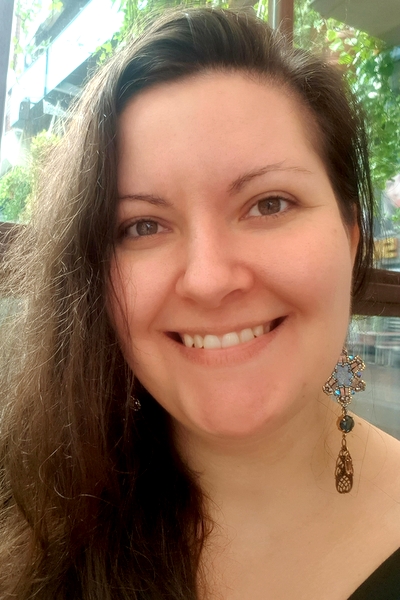 Please tell us about yourself a bit! When and how did you start to create? How did you learn to bead? 
I'm 33 years old and living in the Netherlands for already 6 years. I emigrated. I love that I have a Hungarian heritage, but you most probably will have a job based on your age instead of your capabilities and potentials. I had big dreams and working hard showed the results. By the age of 29, I was a Business Controller in a World Wide top 10 company and I loved it.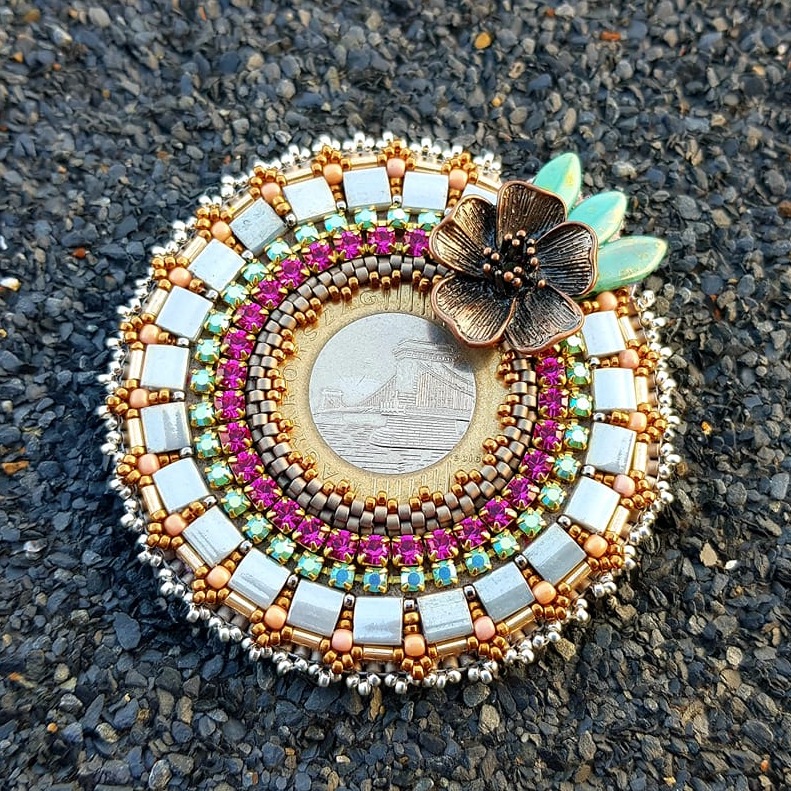 When I was maybe 8 or 9, we had a mandatory Christmas Day at school. Your parents bake cookies and the class sells them to finance small outings. You also have the possibility to participate in small creative workshops or competitions (running, shooting, table tennis, etc). That is when I first touched beads. That day I got richer with a beaded duck. I completely lost connection with the outside world, I was so focused. When I was 14 I lived in a dorm and I discovered a creative and office store during a walk with my friends. I purchased my very first beady book: 3D animals and I made a hummingbird after several tries. I think that was the real start.
Is beadwork your hobby or profession? How does your average day look like? When do you have time to create?
It is a hobby at this point. I got pretty sick 4 years ago and I'm on morphine to ease the pain big part of my time since then. Based on what doctors say I will never be able to get back to my old life and work in my profession again. I have had a little child who makes our lives amazing since April this year. This will definitely have further influence on what I can and cannot do. I started to seriously consider to make creating my profession.
My day starts around 6:30 when Vincent, my son wakes me. From that moment it is all about taking care of him. He is an amazing baby. He can entertain himself for a long time if it is needed, so I have time to choose my colors for a design, for example, bake bread, sterilize his bottles, etc. When his father finished with work, it is papa time. I prepare dinner, we eat and from that moment my hands are free. I can bead! From 9 o'clock the evening ritual starts: Vincent is my husband's, Martin's responsibility, and I clean, tide up. Vincent just turned 5 months and that is the time, that he goes to daycare. It means that I will get 2 full days to create.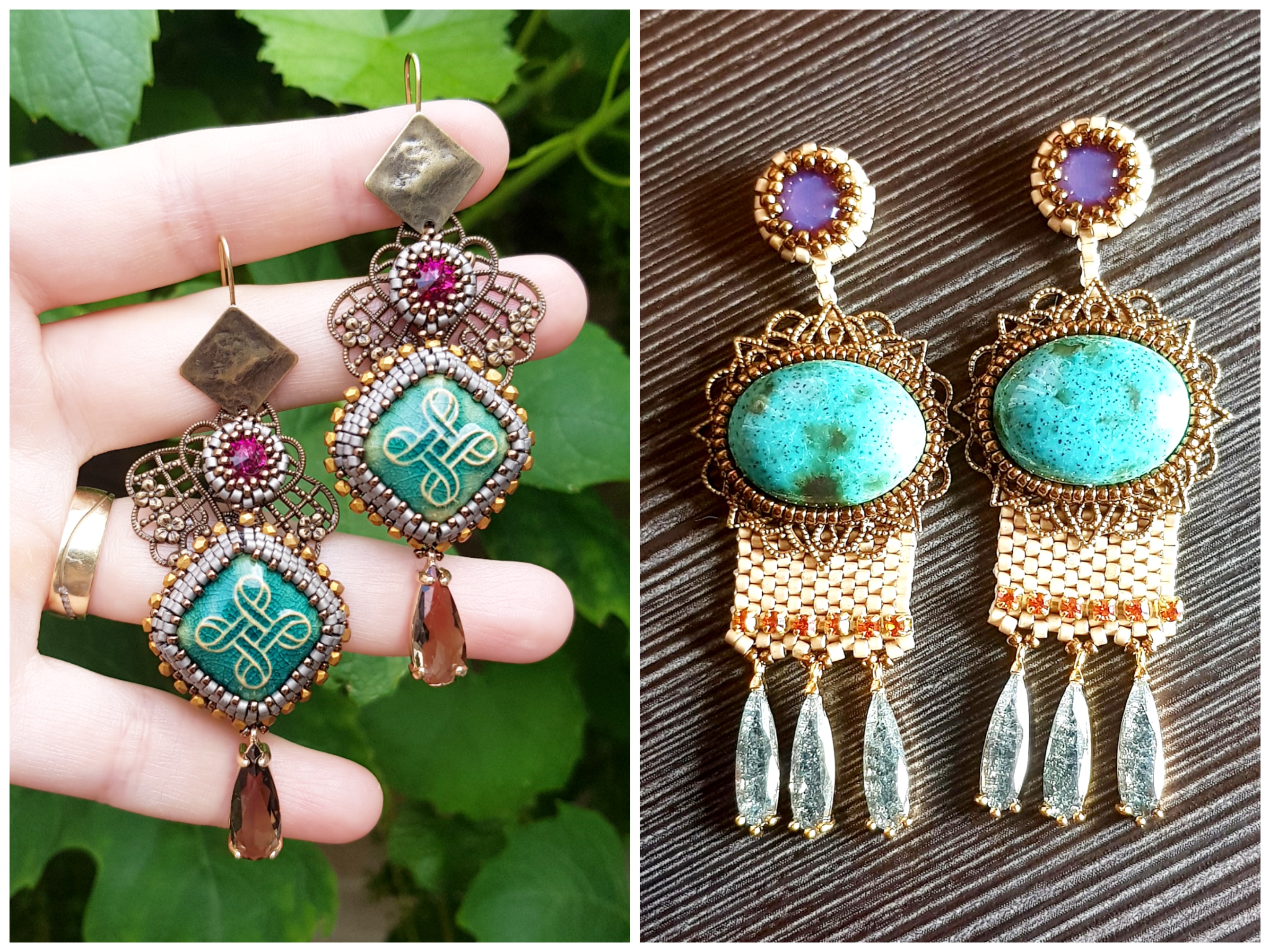 Tell us about the piece of jewelry you are the most proud of!
I needed to walk to my closet to take a look for answering this question. In general, I am super happy with every piece that I can finish. I think my first Asia will be the one I'm most proud of. Me and bead embroidery? Now, yes, but then back? It was so scary! But I heard Erika's words in my mind: be brave, try to explore, STEP OUT OF YOUR COMFORT ZONE! Asia was definitely about stepping out of my comfort zone!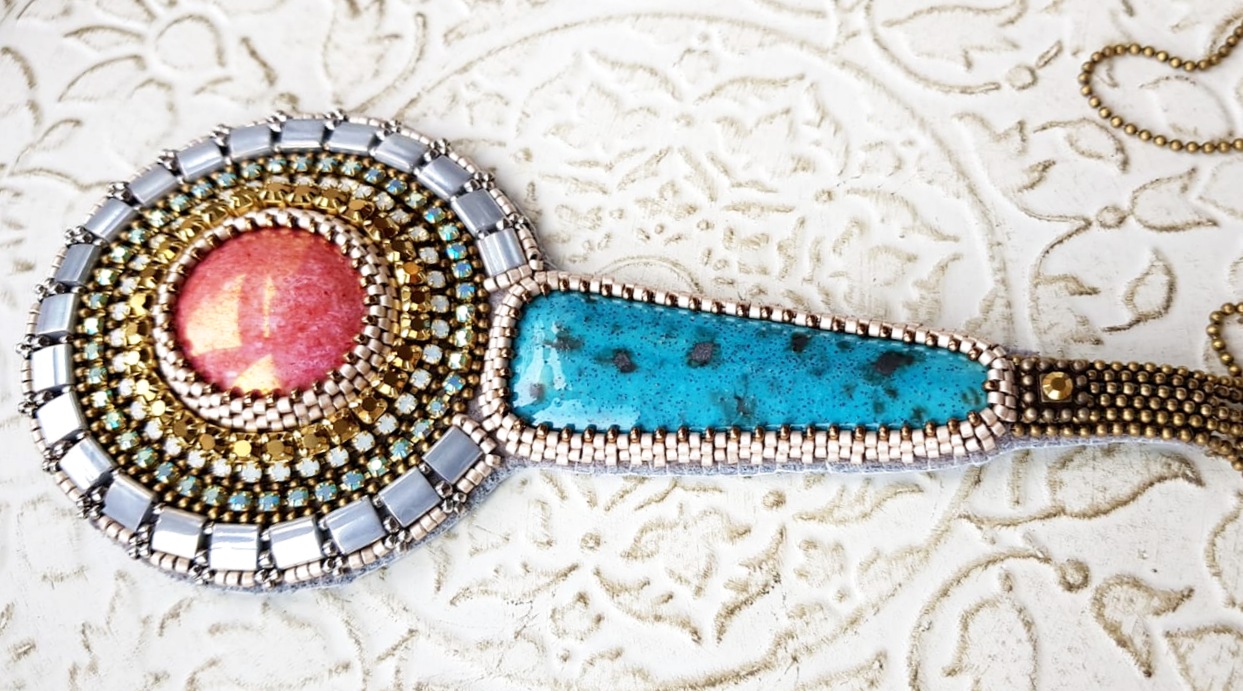 Where do you like to create? Do you have a designated area in your home where you keep your beads? Can you show it to us?
Last week Martin had a remark: it is so nice that you can take your tray and bead everywhere. Because it is exactly what happens! I bead at the dining table, at my desk, on the sofa, in the bed, in the garden… last month I even beaded in a restaurant, in the middle of the woods!
As it is known for so many of us, beading is not only about creating, but also organizing, unpacking, and constantly trying to find a way to store the beads and components that works. Well, I'm indeed constantly moving my stuff. I will want to have a small room that is dedicated to beading in our next house. Also, soon Vincent will start to crawl and walk. Nothing will be safe!
What is your favorite stitch? Which colors do you like the most? On the other hand, is there any color or color combination you try to avoid?
I don't really have a favourite stitch. I'm still in my exploring phase. My favorite color is purple, however I rarely use it in my pieces. I like to work with green, yellow, red (so all those colors I officially dislike). I like to wear purple with white, purple with red or what freaks out most of the people: black with dark blue. They just work for me! I have serious issues with silver-lined colors. So last time I bought a nice amount of silver-lined seed beads. As I mentioned, I am still in my exploring phase.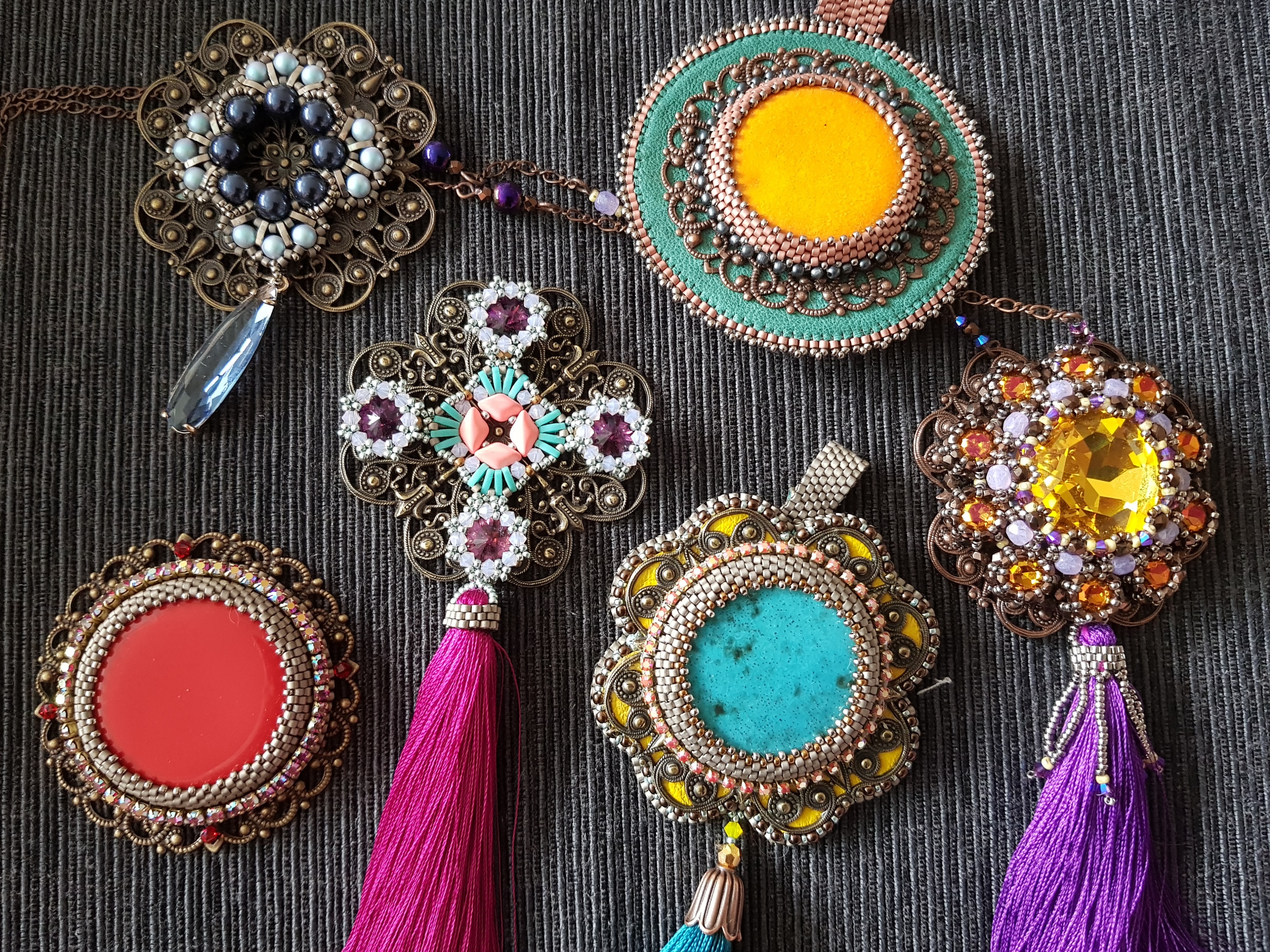 Do you follow instructions or do you like to develop your own designs? How would you define your style?
I only followed instructions for a long time, but I started to sketch my own ideas lately. Sometimes, when I sit in the rocking chair, plugging the baby with the bottle and close my eyes, pictures start to come. I think I will start to materialize my thoughts and show some of them soon.
My style? I would describe it as a hot mess. Maybe it will settle soon, but probably never!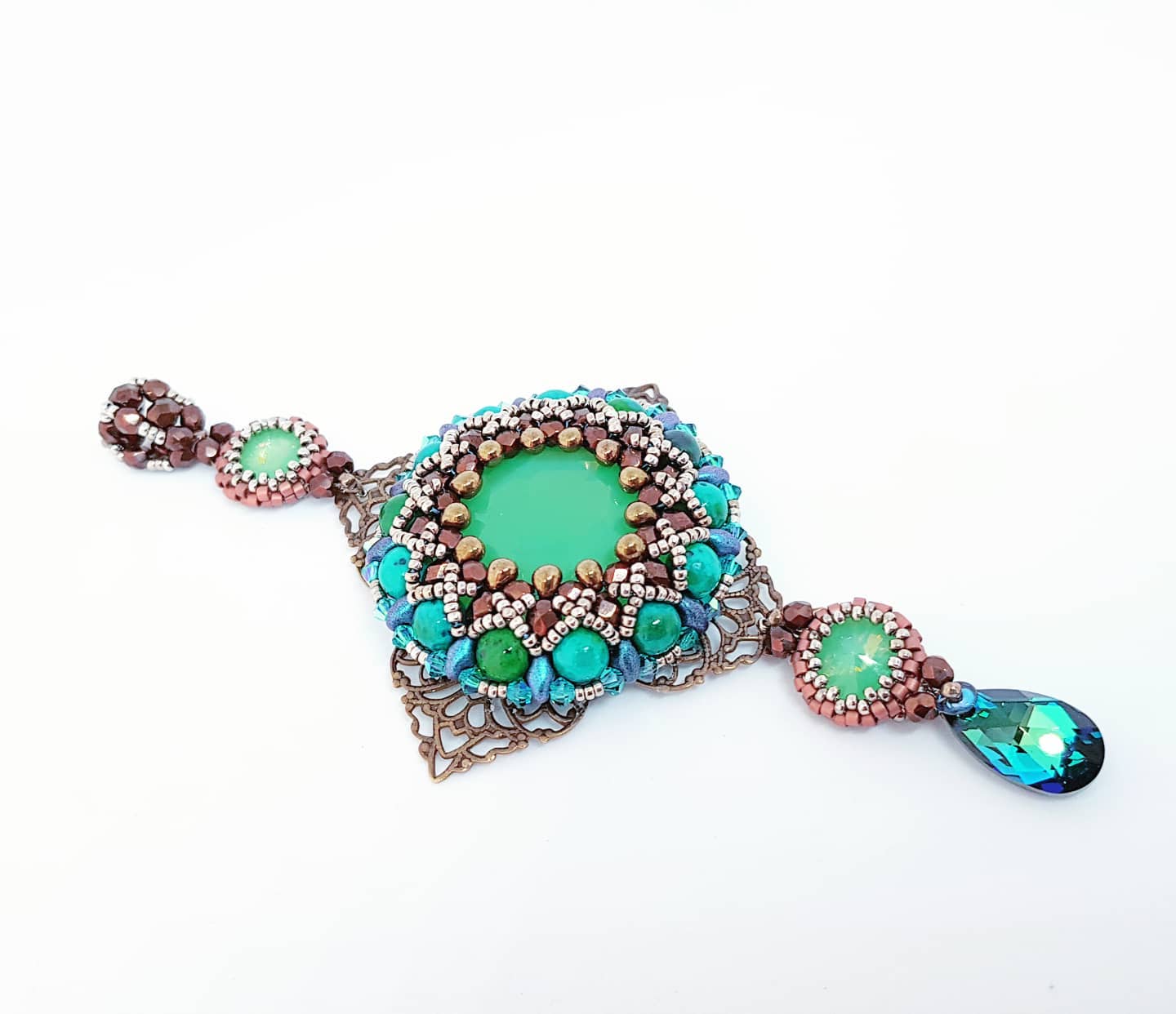 Who are your favorite designers? Why?
Erika brought me back to the beading life and without her knowing it, I got a lot of encouragement from her. I love her designs and at this moment I spend most of my time with her designs too.
I also keep coming back to some great designers like Sabine, Lippert, Simona Svezia, Apollinariya Koprivnik, Zsuzsanna Veres, Ella Des, Ezartesa. I definitely cannot wait to try designs from Helena Tang-Lim or Heather Collin and absolutely adore the works of Rosaria Prete.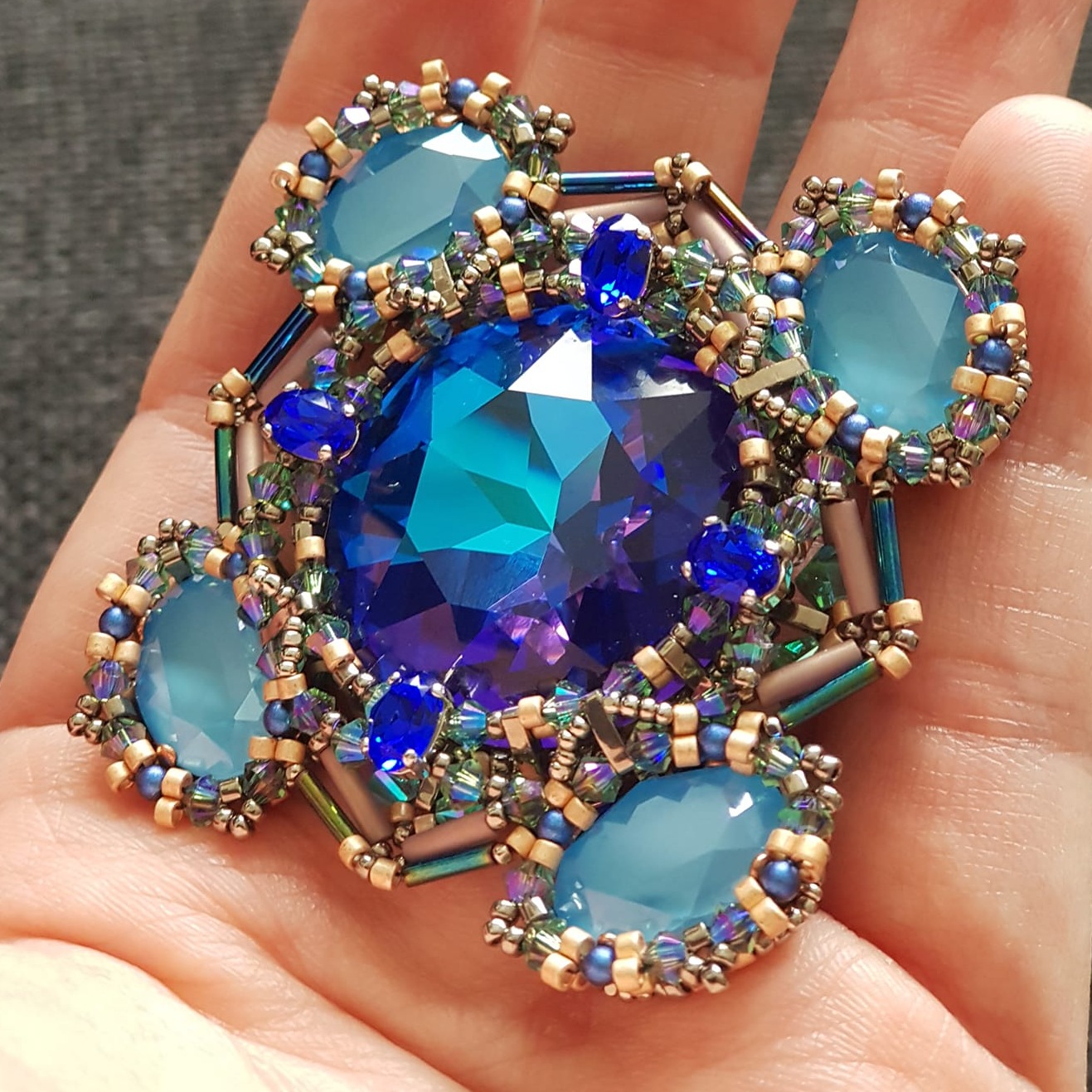 Do you have a favorite design by Erika? Tell us about it!
Do I have to choose only one? This is a difficult one. I have several favorites. I am very proud of my Asia as I said, it was a bold step for me. But Alina, Archangel, Cleopatra Royal, Tilda and Regina are definitely high up on the list as well. I always wanted to make a set from Alina and Caravaggio. For me, those two patterns just belong to each other. By now, I have managed to put together 3 different color combinations. Archangel has some very interesting stitches I loved to make (of course I again have 3 more color combinations put together where I would really love to use those gorgeous rainbow glass raindrop pendants you can still get from the webshop).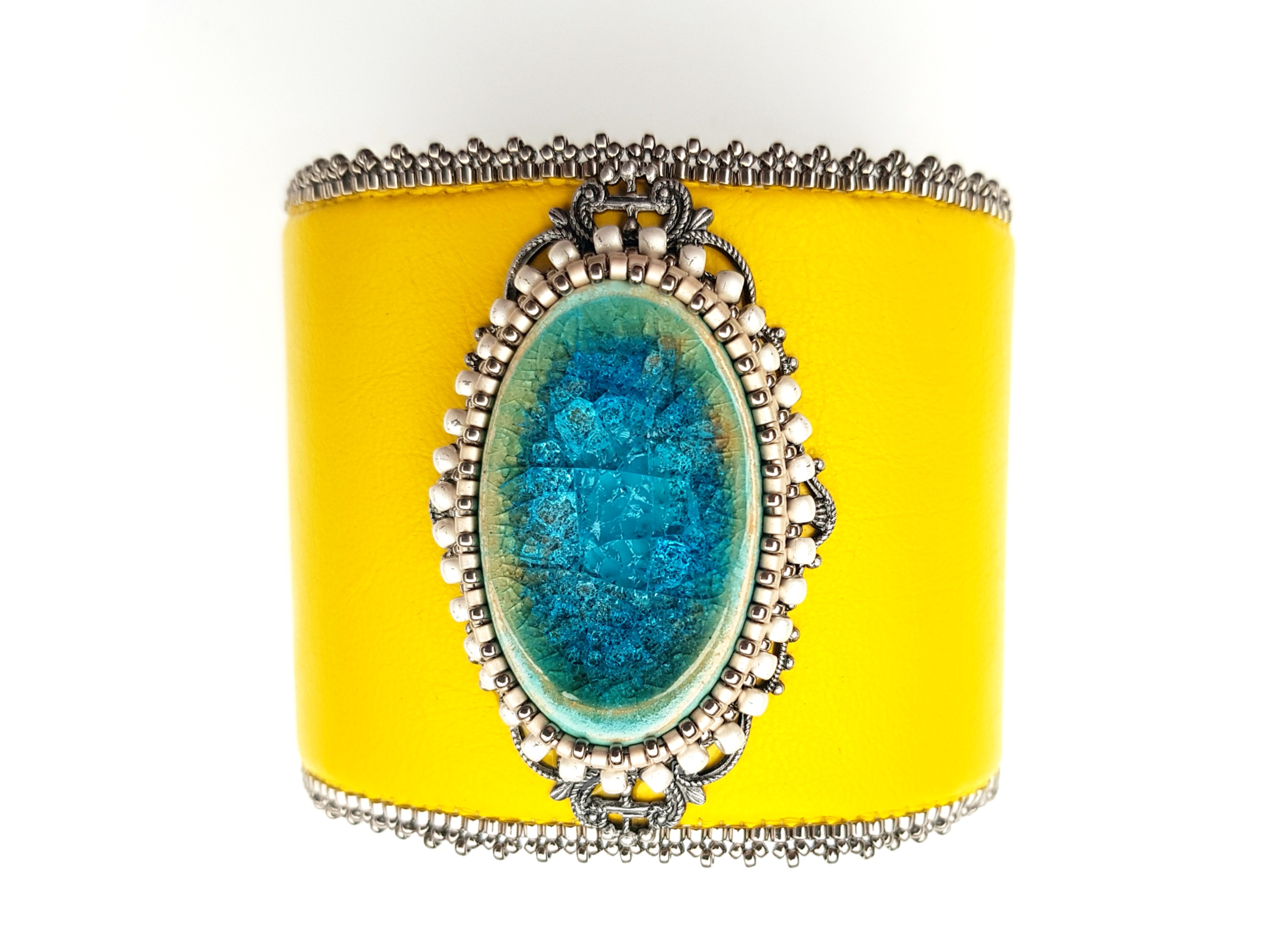 Which is the bead/component in your stash which you treasure the most? Where and how did you get it? Do you already have plans how to use it?
I collect my cats' whiskers. It might be really odd, but I want to incorporate them into a bead embroidery necklace. They are my furry kiddos, but life is not fair. They will leave us way too soon and next to our memories I want to have something that I can have. It did seem like a sweet idea, but saying it out loud doesn't sound odd at all. It sounds creepy! I might need to rethink this!
If you could design something for a well-known person or maybe a fictional character from a film or book, who would it be, and why?
It would be Sia Furler. She has an amazing talent, a deep soul. Her music moves me. She needed to be brave to show herself and I think this braveness can be translated to a truly bold statement piece. Well, Zuzi, it feels now like a challenge! You know what? I will make it! I will make a Sia piece!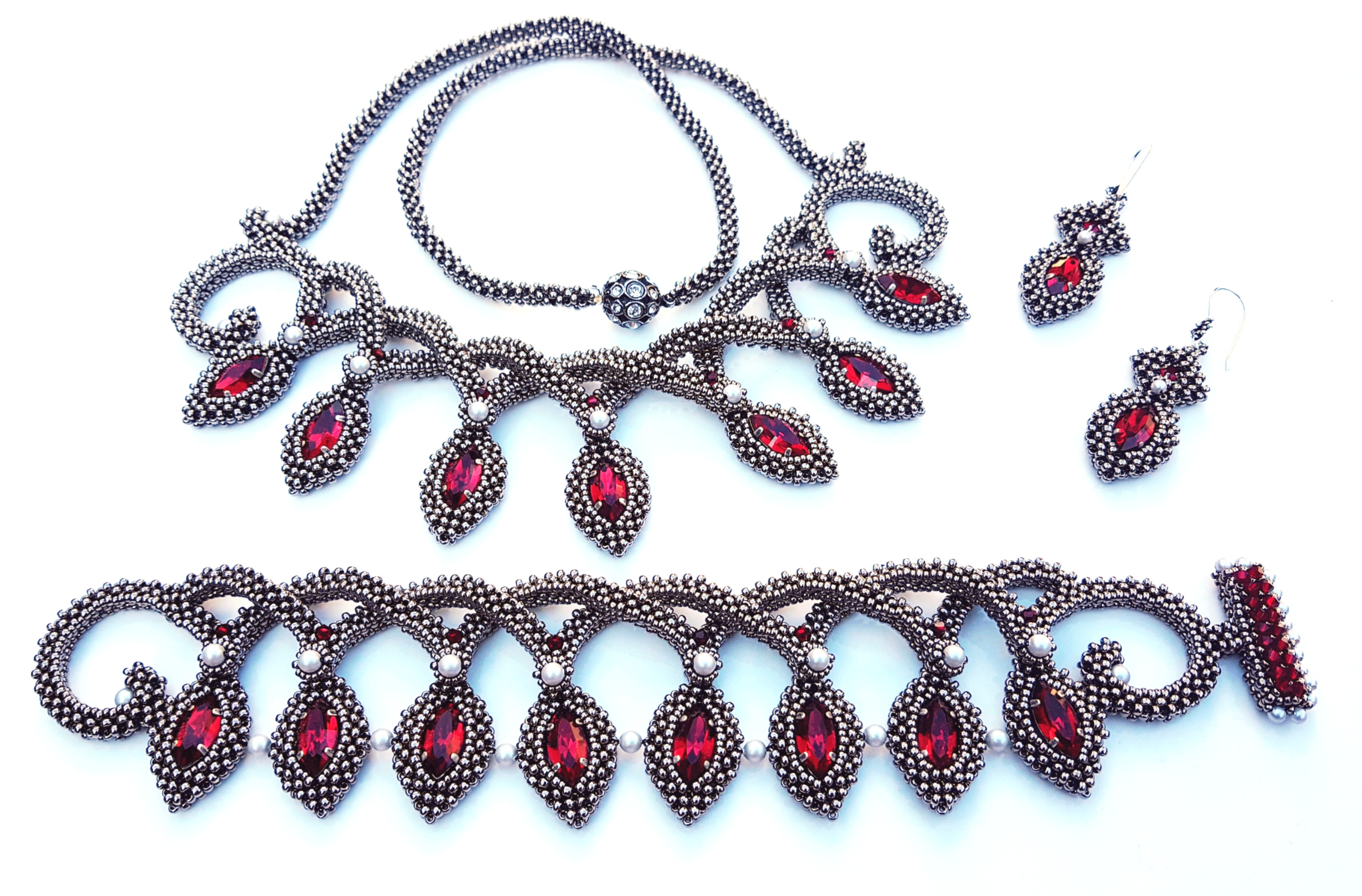 What are your plans for the future as a beader? Is there something you would really like to learn?
Making jewelleries from tutorials, combining them with different elements, and start to make modifications here and there are the first (but slow) steps to find my own voice. I have lately felt that there is something inside that wants to show itself. The process has started and I want to share this journey with everyone. I want to make people smile. I want to give people the feeling of freedom. Whether it is inspiration or escape from this overstressed life we are living, I want to show that there is always something to hold onto. I think this is something I want to translate to my beadwork.
I want to learn everything as I have a very curious personality in general. I think I can catch up by I'm 100 years old!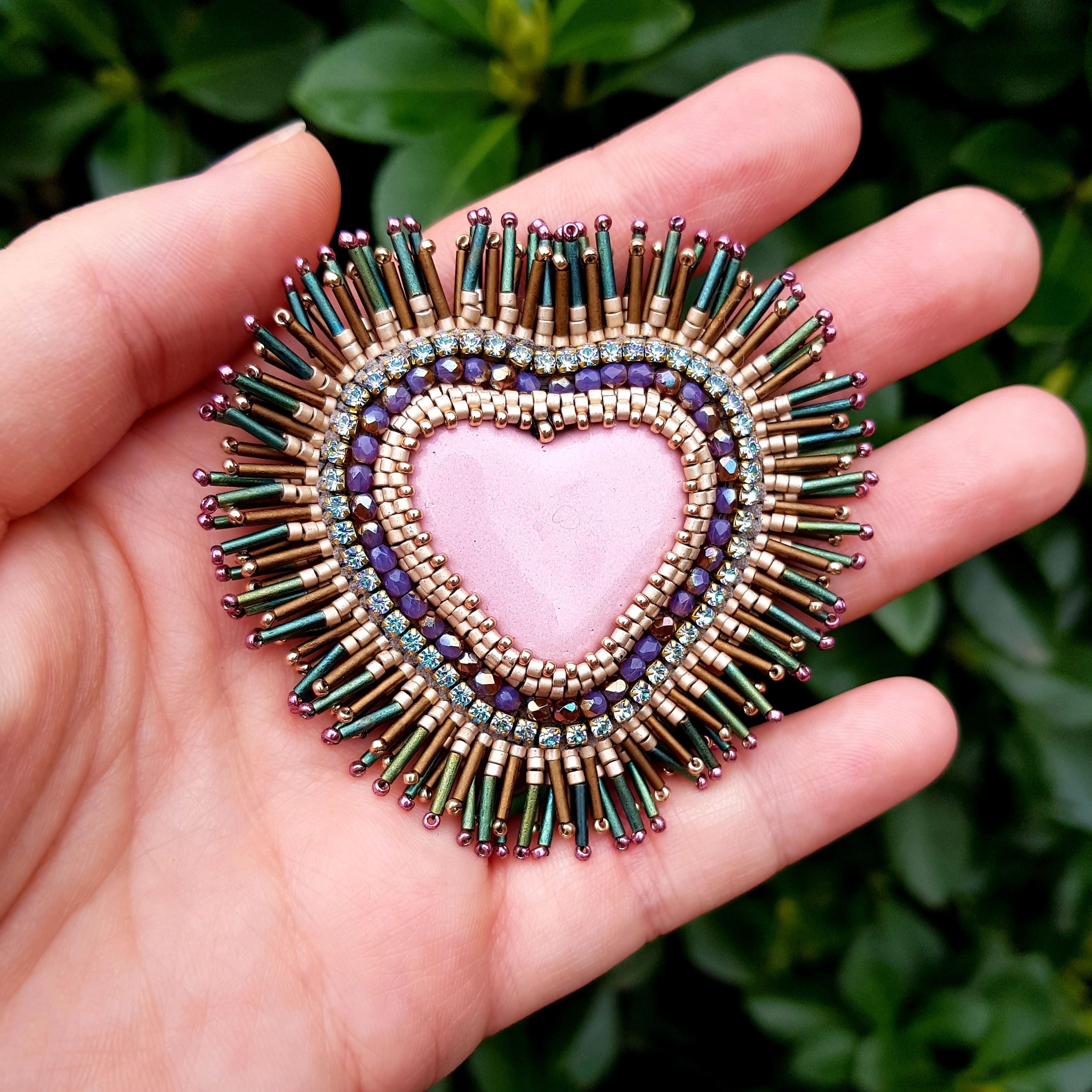 Where can we see and buy your designs?
I made an Instagram account under the name BeadBakery last year. The idea was to bake out some yummy stuff based on the recipes from great designers. I will restart sharing my pieces there and planning to start up an Etsy account too. For now 😉
You can follow Nitty's Instagram account
here
.

Thank you for answering my questions, Nitty!
Dear friends, you can use the comment section if you have more questions you would like to ask, or greet Nitty.
Stay tuned for more interviews for Beadingschool.com by Erika Sándor!