#ClubDesigns is a series of articles on the Beadingschool blog and a series of posts in the Beadingschool Club on Facebook. This week's #ClubDesigns article was written by our guest blogger, Anita Schackmann.
Erika says:
"Since the beginning of the first COVID-lockdown, we bead together every Friday, to make sure that #NoOneHasToBeadAlone.
We bead a different jewel every week – designed specifically for the workshop. Afterward, it's really fun to see all the variations beaders come up with! Not only colors differ, but very often a pendant becomes a brooch, a motif that was originally an earring is modified into a bracelet or a ring. Moreover, sometimes it happens that not all the bead shapes are available to someone – and she needs to alter the original design to make it work."
The #ClubDesigns series is the collection of this beady wisdom.

Magic Garden bracelet and the Magic Garden box
The Magic Garden bracelet got its name after a novel, 'The garden of the Sorcerer' wrote by a Hungarian author, Geza Csath. The very first theme of the Beadingschool Academy is Art Nouveau that appears in the rich symbolism of the book. The RAW base of the bracelet is like a row of small facets hiding tiny treasures that are waiting to be discovered. They are full of sparkling PRECIOSA chatons and sew-on rhinestones.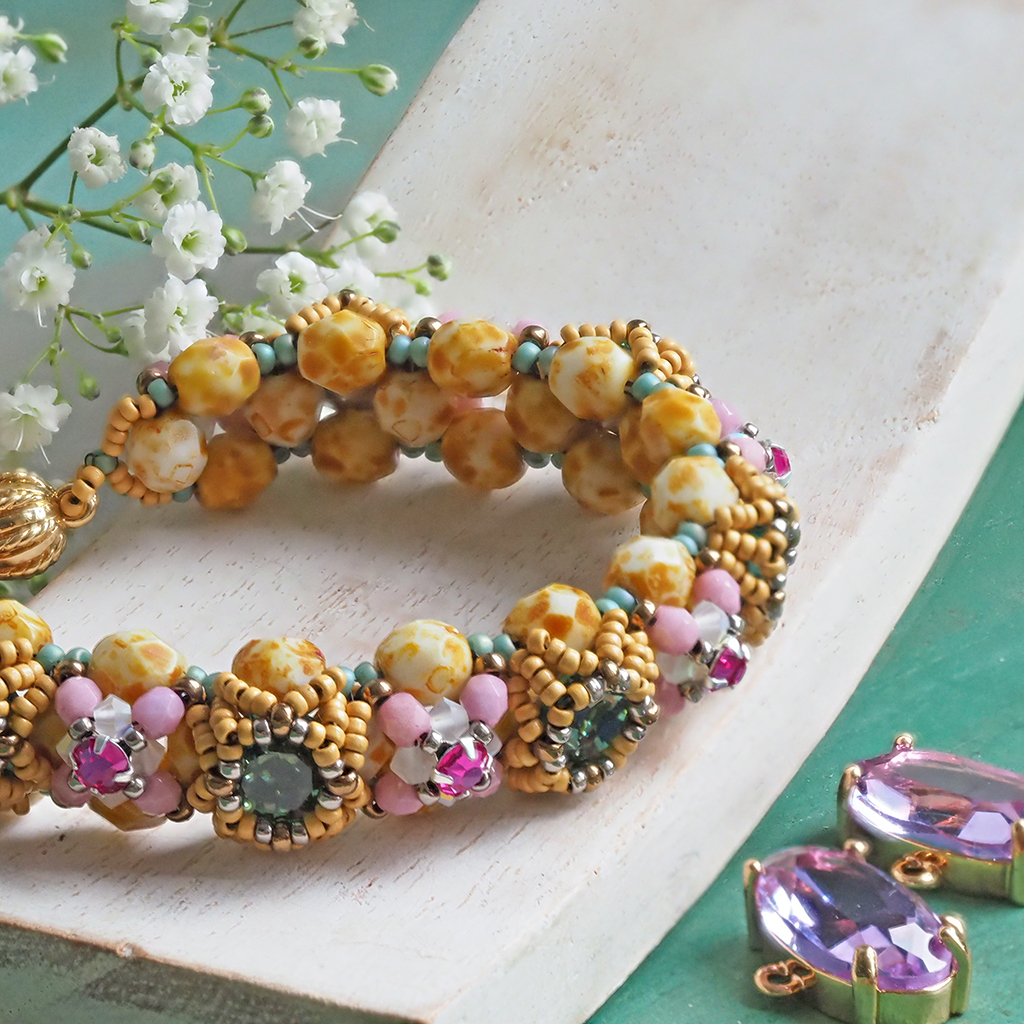 You can purchase the Magic Garden bracelet tutorial here or become a member of the Beadingschool Academy to next to many-many more, receive the pattern for free. You can also take advantage of an ongoing week of celebrations and discounts with PRECIOSA for Creators.
MATERIAL LIST
thread-burner or sharp scissors,
bead mat,
Let's take a look at all the beautiful versions of the Magic Garden jewels created by Beadingschool Club members! 

Magic Garden bracelets by Katalin Dudás and Marianske van der Horst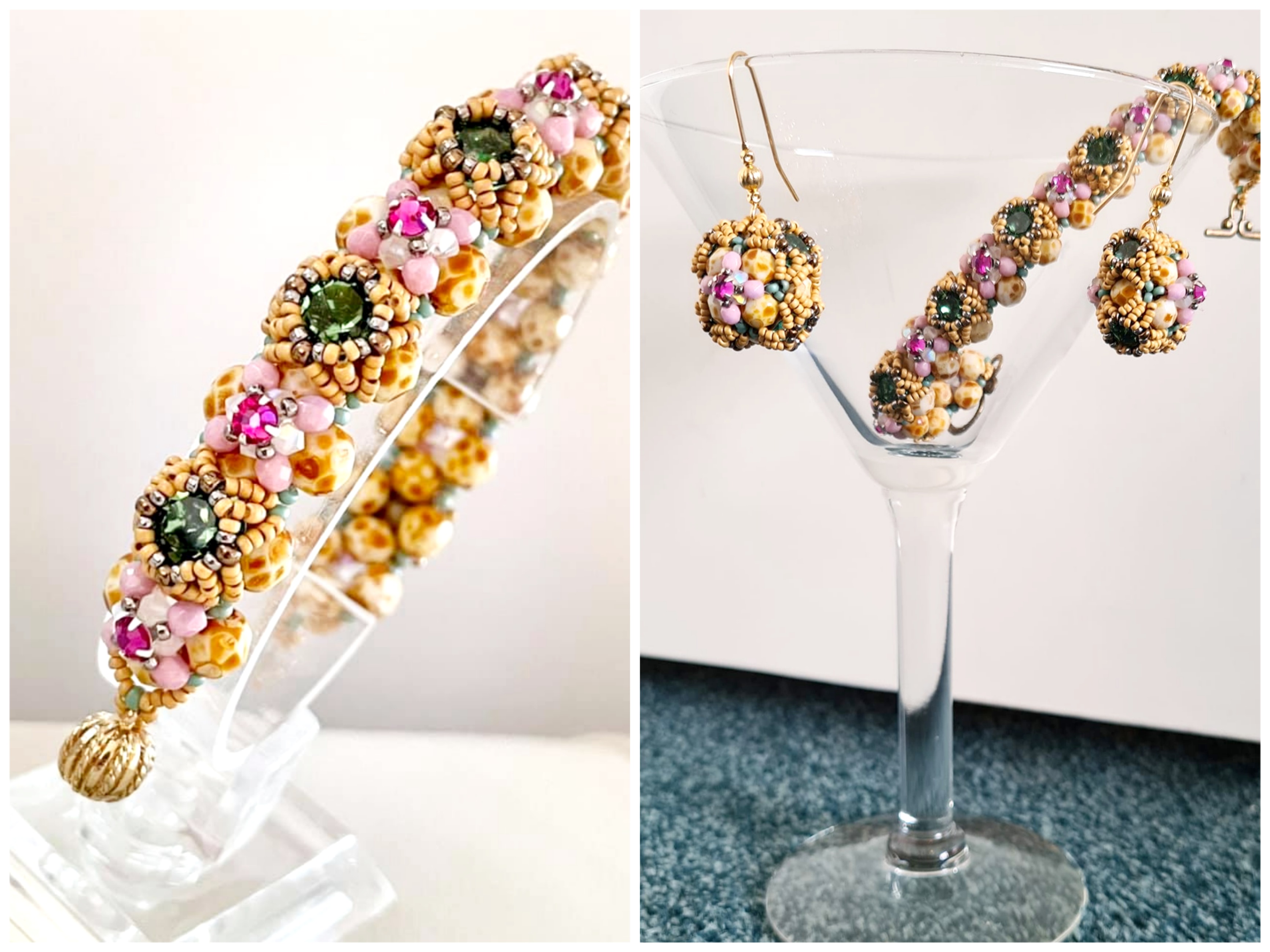 Bracelet by Kata on the left, Marianke's set is on the right.
The ladies beaded this beautiful piece in the original colorway. Marianske moved the pattern to the next level by completing his set by creating beaded bead earrings. What a great idea! Depends on your mood, you can choose to place the chatons to the side, or put them in the spotlight.

Magic Garden sets by Lili Waite and Michaela Molin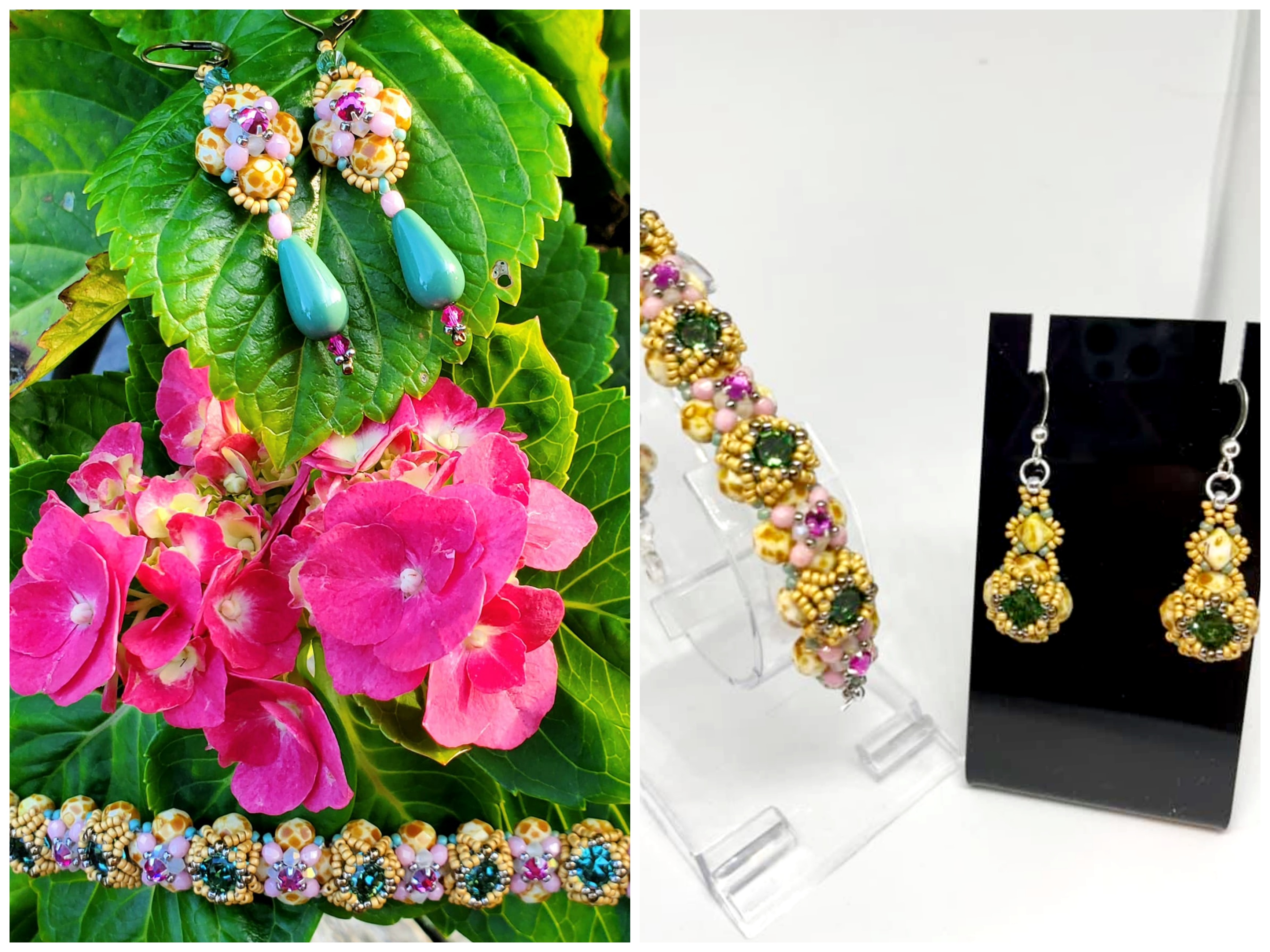 On the left Lili's set, on the right Michaela's jewelleries
The Magic Garden pattern offers a load of possibilities when it is about creating complimentary jewellery.  Lili and Michaela created earrings to go with their bracelets. Either you choose to highlight the beautiful depth of the Preciosa chaton or the bling of the sew-on rhinestone, you can get richer with a pretty pair of earrings within an hour.

 Same colour scheme – different impression: bracelets by Veronka Královičová and Mary Schoeberle Lind
On the top right Mary's, on the top left and bottom Veronkas's bracelet
Being true to Art Nouveau the ladies chose to stay with the already well-known colors of the Academy box: greens, pinks, purples. Still, the tone they leave behind themselves is quite different. They tell Csath's story from another angle. Veronka's bracelet has a toned-down, soft feeling of nature's touch, while Mary's piece is bold and vivid.

Bracelets by Aniko Hesz, Faye Williams and Vania Stabnov Jacobs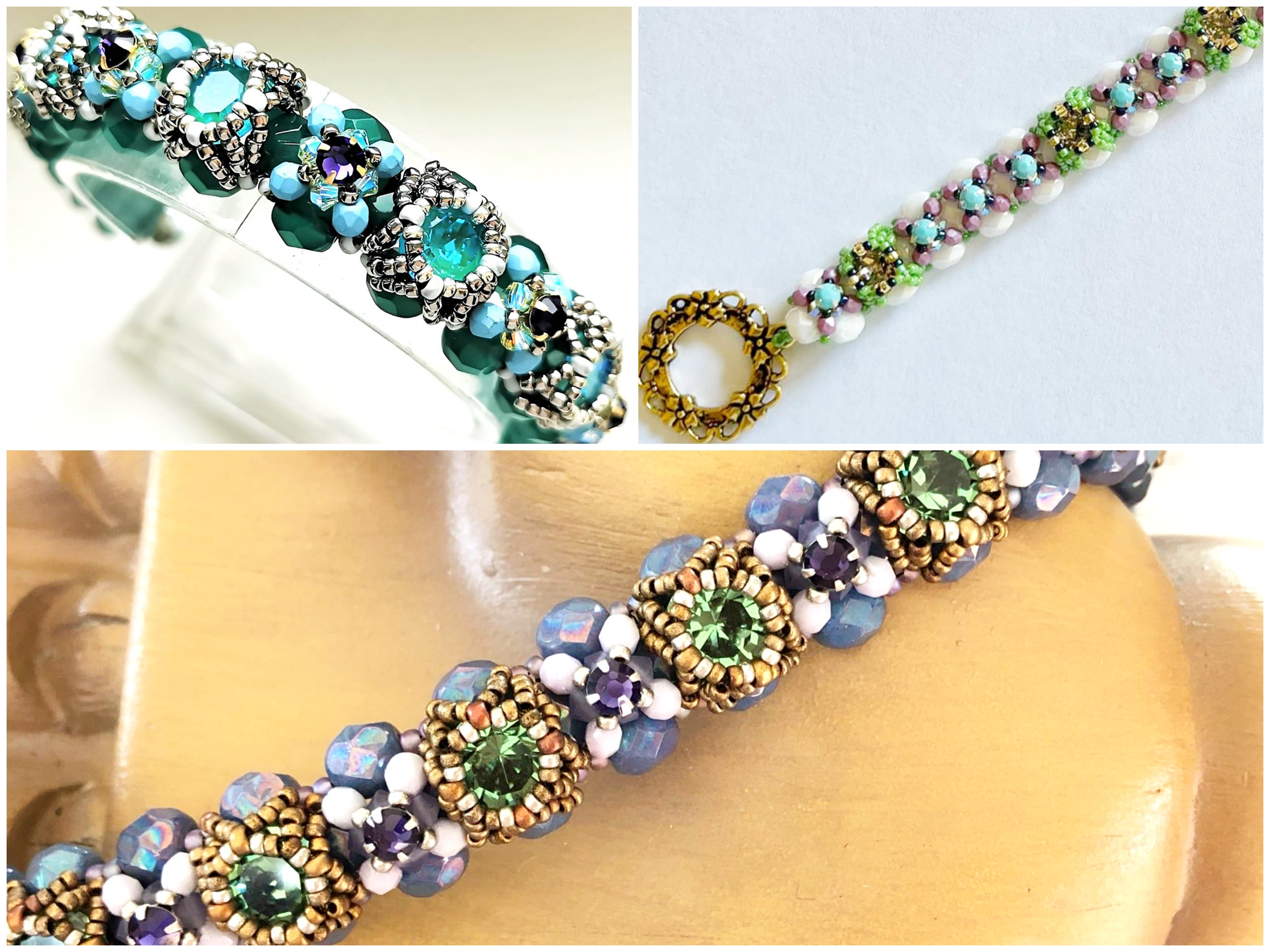 Left top: Anikó Hesz.  Right top: Vania Stabnov Jacobs. Down: Faye Williams.
Aniko's and Faye's bracelets have an elegant vibe, while Vania's use of colors resulted in a more playful accessory. And look at that clasp! It is definitely a great pairing to a Magic Garden.

Substitute! – Sets by Corinne Langshtad and Tammy Netzer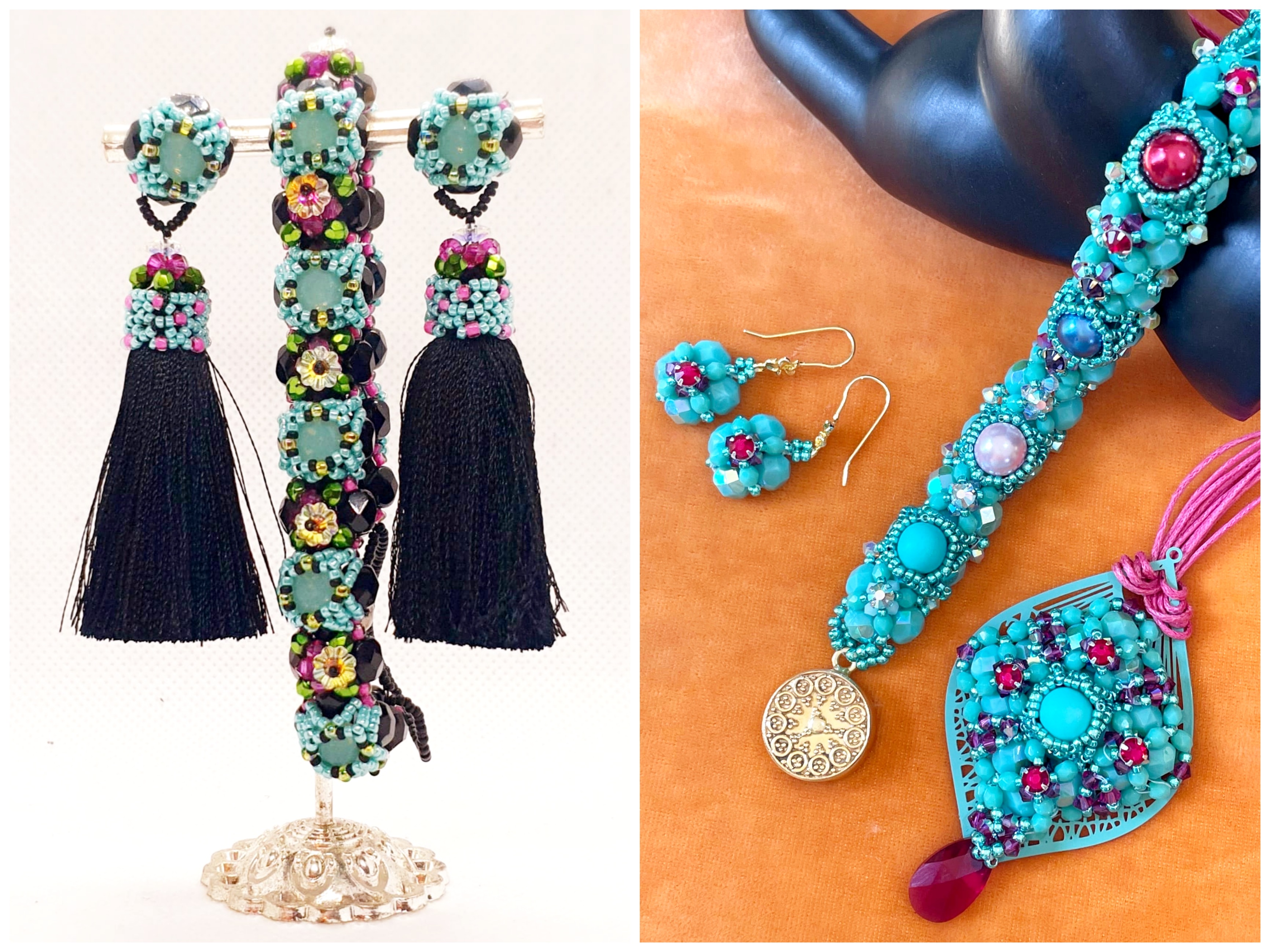 Set by Corinne on the left and by Tammy on the right
Sometimes you don't have a certain material or not in the color you have in mind for a specific design or you just get inspired or adventurous. Then it is time for substitution! Tammy decided to switch up the chatons with some pearls. Corinne used marguerites instead of the sew-on rhinestones. Both solutions are great and give a new direction to discover the versatility of the design.
Tammy says:
My turquoise Magic garden set based on Erika's  bracelet design.  It was fast to bead , and  I enjoyed adding the earrings and pendant.

Thank you Erika!

I didn't get the box yet, because of our holidays, so I used 8 mm pearls instead, with 4 colors..

My base is made of turquoise beads, to have a turquoise look.

My third pair of  earrings this week  (holidays)and ever, based on the rheinestone element.

The bracelet was made with a different sequence of the elements, and with some additions. I connected the pearls, just in case, with thread that doesn't show.

The pendant is made with a middle rheinestone element, surrounded by 4 pearl elements, and with connections on a filigree to stabilize it.


If you like these #ClubDesigns jewels, come, join us, and bead with Erika and other beaders from all around the world.
 #NoOneHasToBeadAlone session is opened for everyone and we continue to bead jewels in the Magic Garden theme!