#ClubDesigns is a series of articles on the Storytelling blog and a series of posts in the Beadingschool Club on Facebook.
Erika says:
"Since the beginning of the first COVID-lockdown, we bead together every Friday, to make sure that #NoOneHasToBeadAlone.
We bead a different jewel every week – designed specifically for the workshop. Afterward, it's really fun to see all the variations beaders come up with! Not only colors differ, but very often a pendant becomes a brooch, a motif that was originally an earring is modified into a bracelet or a ring. Moreover, sometimes it happens that not all the bead shapes are available to someone – and she needs to alter the original design to make it work."
The #ClubDesigns series is the collection of this beady wisdom.

Design to love – Samoa
Originally designed as a brooch, Samoa can turn into anything you imagine. It looks beautiful as a single motif in pendant, in pair as earrings, or as part of a bracelet. The choice of colors brings a variety of styles from happy, romantic to elegant.
This may be a small motif in size, but it got really big and popular in the Beadingschool Club on Facebook. I counted more than 20 pieces of jewelry shared among the group! Samoa is love.

Click here for the beading tutorial!
MATERIAL LIST
Let's see have a look at some of the Samoa brooch variations by Beadingschool Club members. Are you ready? There's a lot to show!

Samoa brooches by

Mehtap Uçar Spafford

, Kathy Quintelier, Kirsten Schl

ü

p, and Ann Rust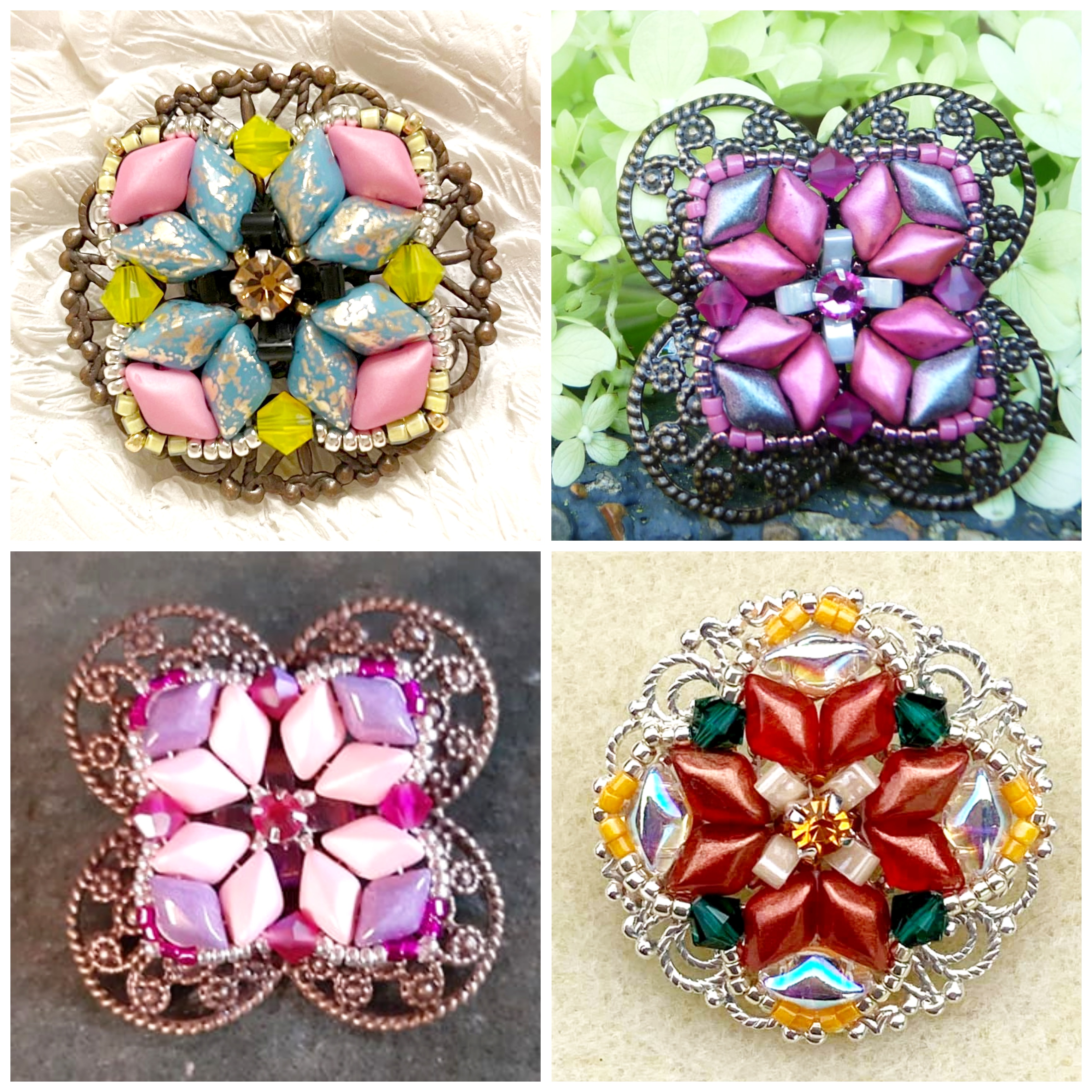 Mehtap Uçar Spafford – Brooch on the top left side – says:

My little Samoa became a brooch Thank you Erika
Kathy Quintelier  – Brooch on the top right side – says:
Samoa. Hard to get my colors good on picture. I loved making this design.
Kirsten Schülp – Brooch on the bottom left side
Ann Rust – Brooch on the bottom right side – says:
Made a brooch for a change. Had the filigree and brooch pin in my stash. Lovely to bead. Thank you Erika.
Ladies decided to keep the original idea of making Samoa brooch. They created different versions. Same design, all unique! Thank you for beading and sharing your jewelry with us!

Samoa earrings by Ludmila Turzová, Maro Mio, Marianne Epping, and Faye Williams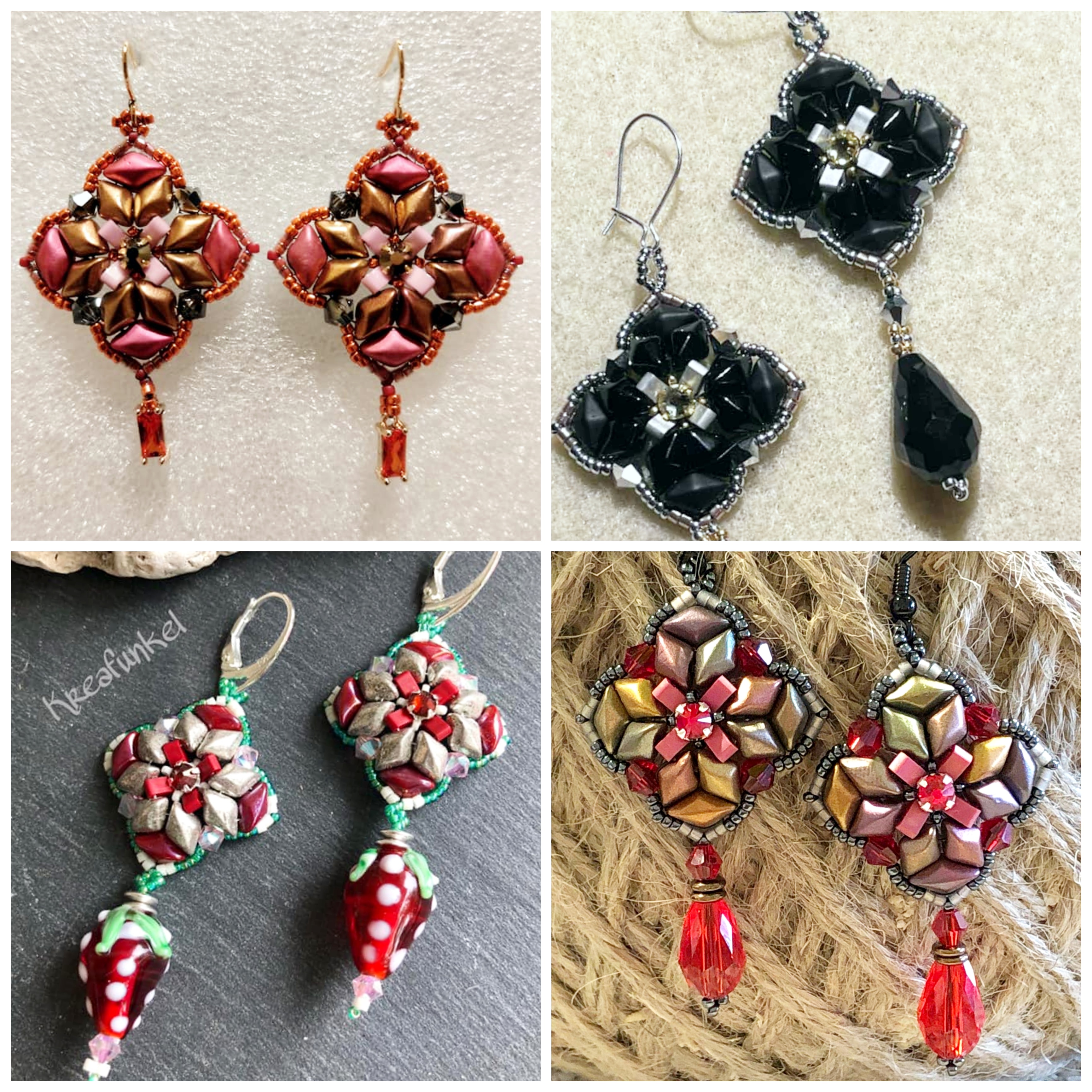 Ludmila Turzová – Earrings on the top left side
Maro Mio – Earrings on the top right side
Marianne Epping – Earrings on the bottom left side – says:
My Samoa, Earings with red strawberry-lampwork-glaspearls.
Faye Williams – Earrings on the bottom right side – says:
I used Gemduo Violet Rainbow which has varied shades. I love how the randomness turned out (NB. I am NOT a random person preferring order and symmetry!!). I think the shades of red tie it all together nicely.
Thanks for another great 'middle of the night' beading session and one more totally awesome motif!
We see jewelry from four beaders who decided to add extra beads and glass drops to the bottom of the Samoa motif. It's a simple way how to prolong the earrings and add extra bling (Maro, Ludka, Faye) or fun and cuteness (Marianne). Thank you, ladies!

Samoa pendants by

Christina Nordin Kilpeläinen,

Deb Taylor, and

Diane Sawczyn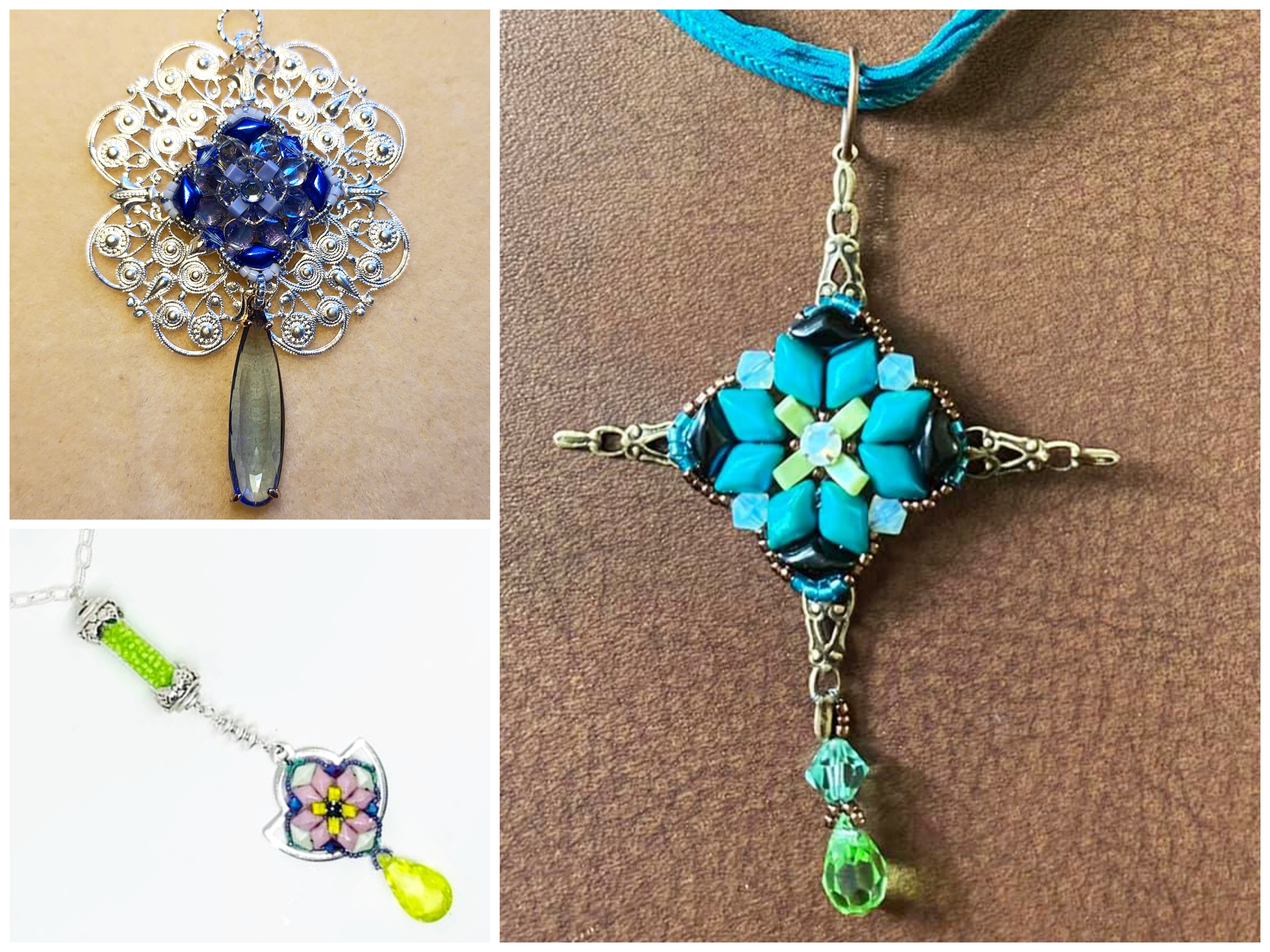 Christina Nordin Kilpeläinen – Pendant on the top left side – says:
My Samoa became a pendant. Love it!
Deb Taylor – Necklace on the bottom left side – says:
Samoa what fun to make made mine into a necklace! I added a backside to it as it kept spinning around, now if it spins it will look the same on both sides!
Diane Sawczyn – Pendant on the right side

Ladies decided to support their Samoa motifs with filigrees, enlarging the original size and making these single pendants. Christina added glass drop in a metal setting that created an elegant look, Deb and Diane chose Preciosa crystal drops to spruce their pendants.

Long versions of Samoa earrings by

Britt-Marie Piltto Häggqvist and

Anita Schackmann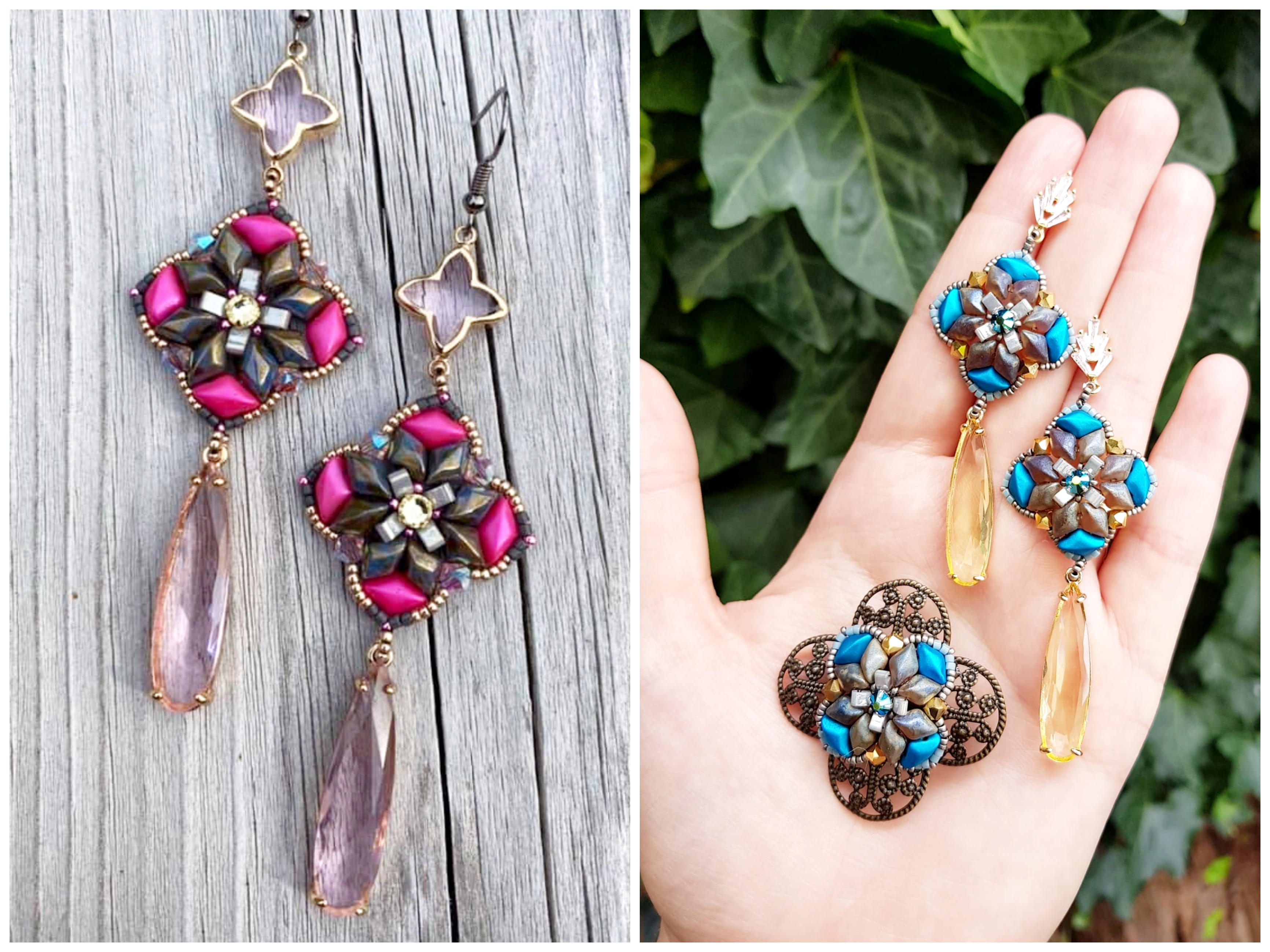 Britt-Marie Piltto Häggqvist – Earrings on the left side

Anita Schackmann – Earrings and brooch on the right side – says:

I will definitely come back to this amazing pattern! It is screaming for a bracelet!
Britt-Marie and Nitty started to decorate their earrings from the top with a crystal connector in a metal setting and decorative ear studs (Nitty). Then ladies ended their earrings with the large drop in a metal setting that created perfect, final touch. Thank you for sharing, ladies!

Samoa as a set of pendant and earrings by Katalin Dudás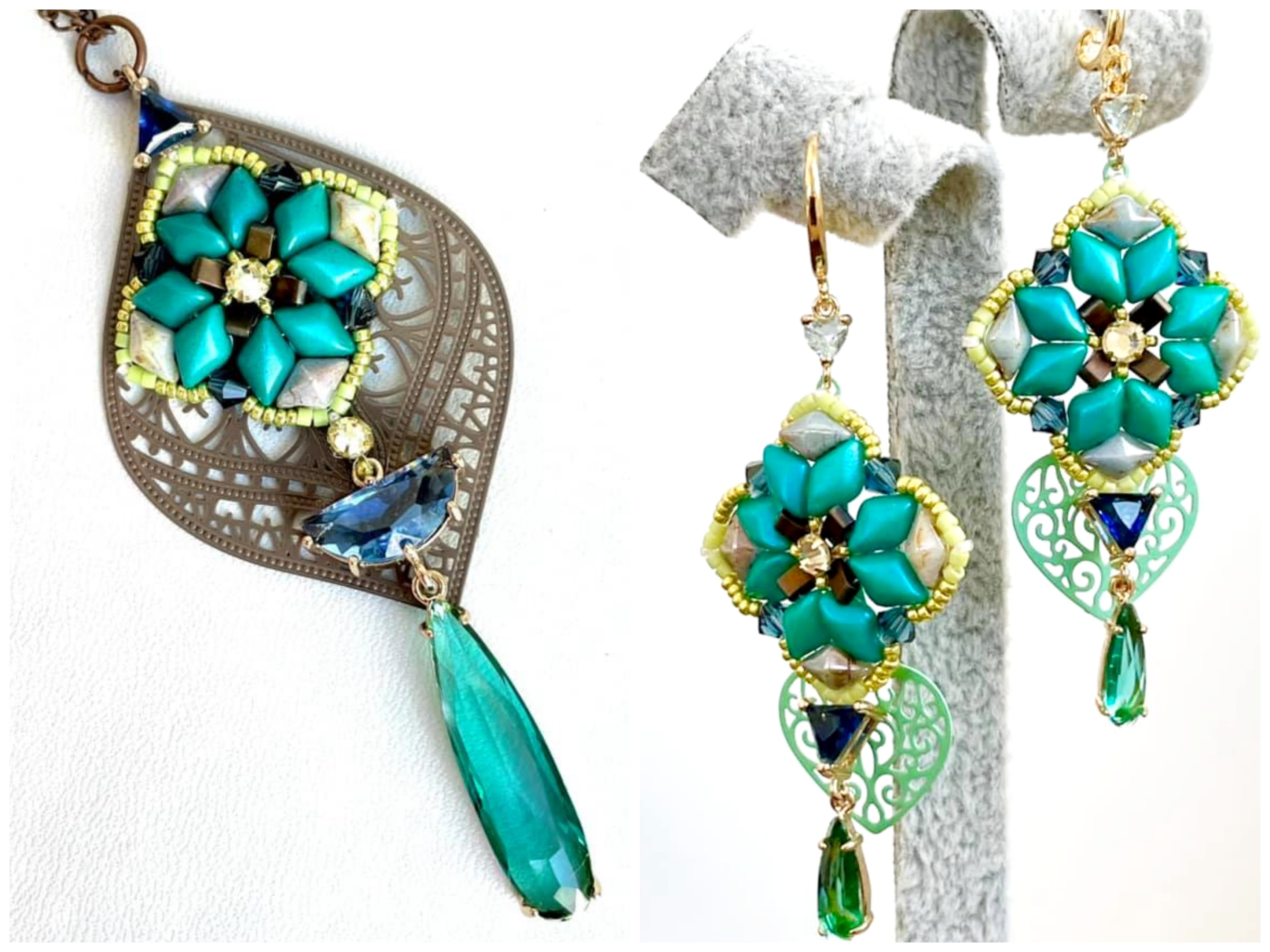 Kata says:
Samoa set. Got a lagoon feeling. I loved playing with the new filigrees
This is beading and finishing jewels in Kata's style! She combined several glass components in a metal setting, together with new colorful filigrees by Beadingschool shop! The result is a fresh summery lagoon. Thank you, Kata!

Samoa set by

Ulla Edenmark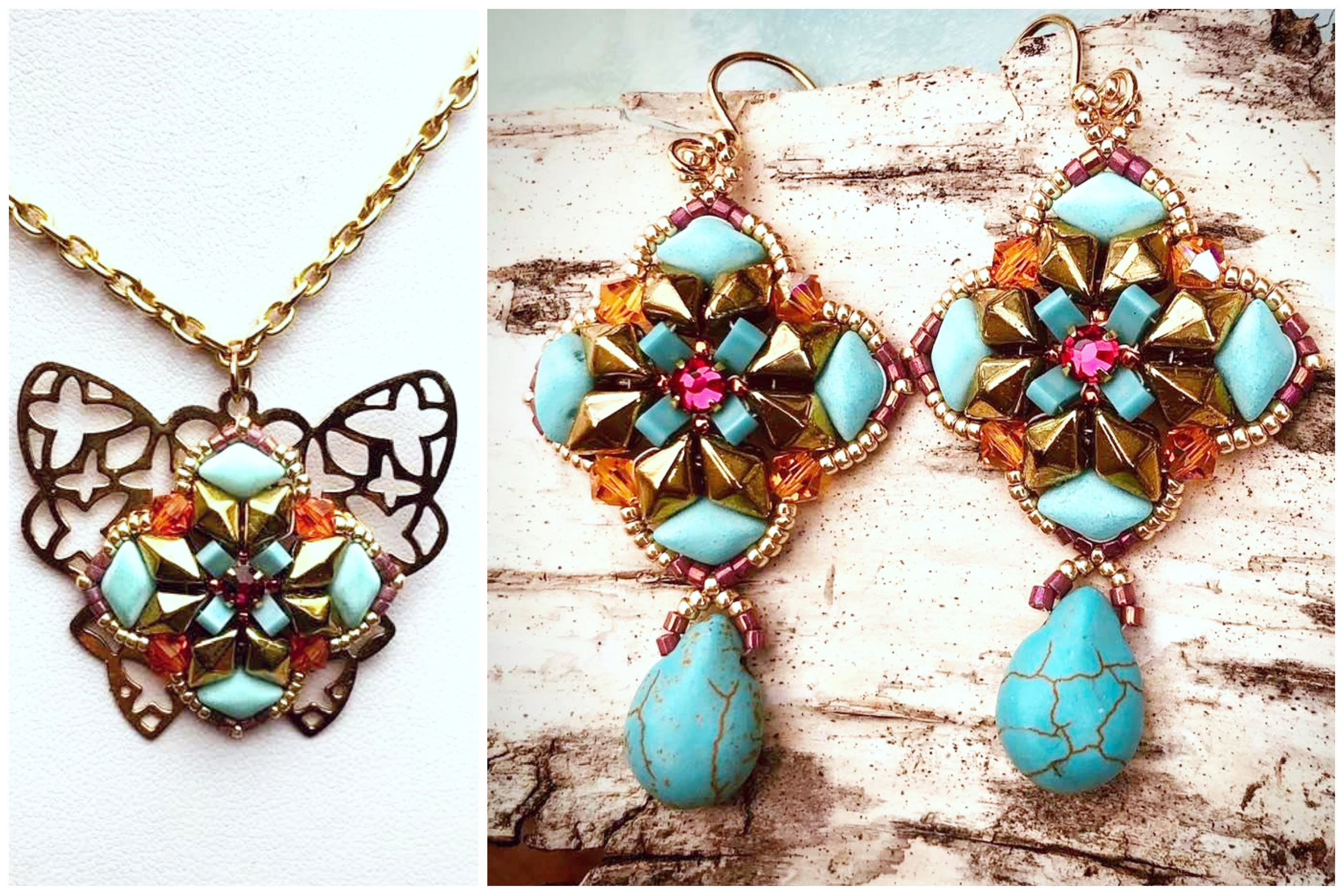 Ulla started with making the earrings first, followed by completing the set with a butterfly pendant. Turquoise, bronze, with a little touch of orange and fuchsia, is perfect for summer days! Thank you for be(ad)ing with us, Ulla!

Samoa bracelet by Virginia Bremken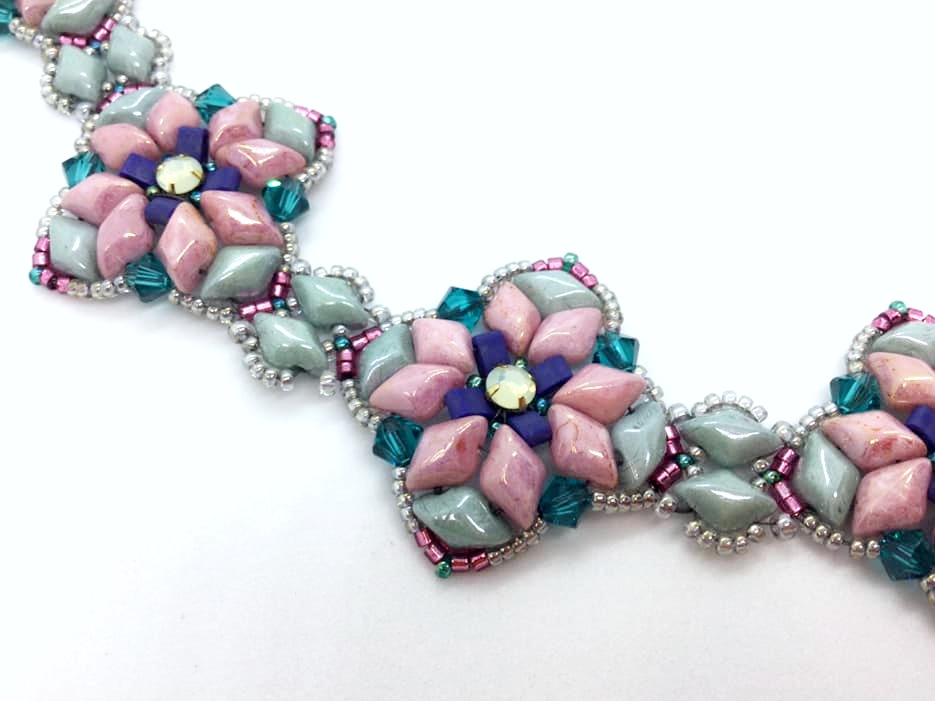 Ginny says:
Samoa is all done up as a bracelet! And I was so excited to do the brooch. I forgot that part. I'll have to try again! 😀

Ginny made another beautiful bracelet and showed us one of the possibilities of how to connect several Samoa motifs together. You can choose several options and connect single motifs with:

More Samoa jewels by our Beadingschool Headmaster, Erika Sándor
Erika usually makes only one jewel from one design, as she's busy with new creations. This time she made several exceptions and became almost unstoppable. I have to show you her beautiful jewelry! There is no other way.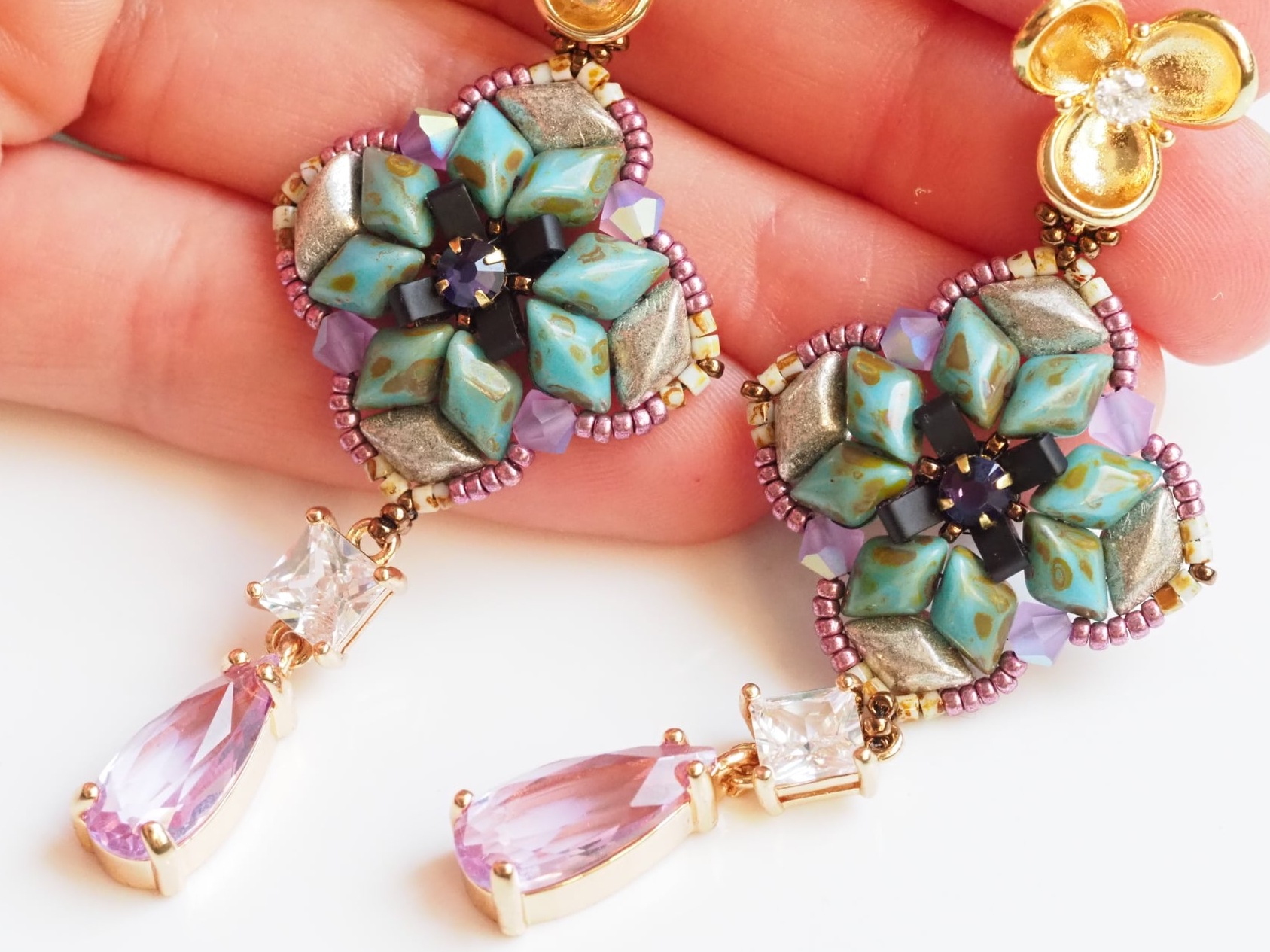 Erika says:
While proof-beading the SAMOA tutorial, half-earring jumped off my needle – with matt black Half Tila in the center. Help, what happened to me?! I actually felt that I WANT TO use black beads.

The photo above is also proof she beaded more than just ONE earring! Beautiful pair indeed! She decorated the motif with gold-tone ear studs, a crystal connector, and drop in a metal setting. The result is romantic, fresh, feminine.
Since she couldn't stop…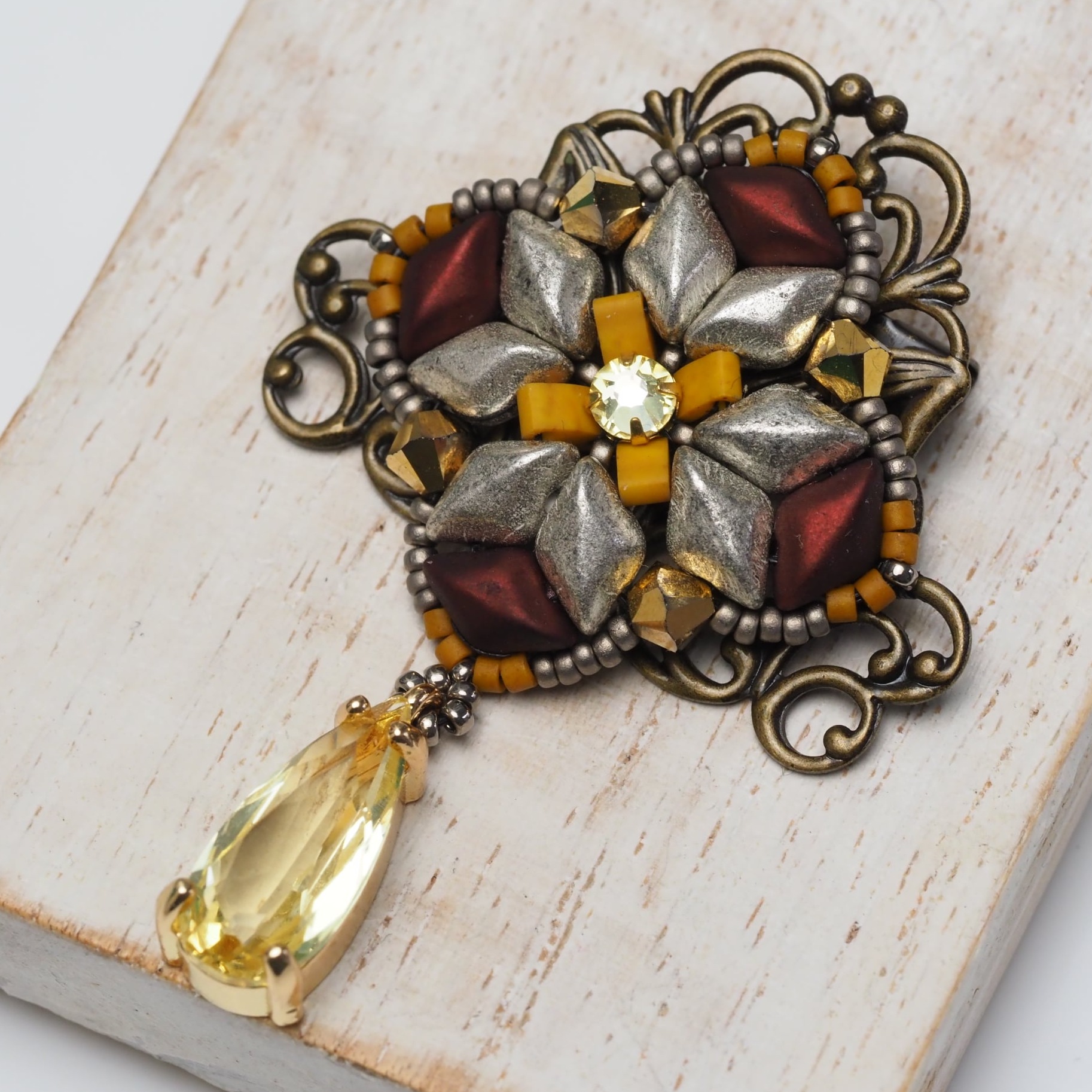 Kind of Pantone, but not only yellow and grey. I added some of the deep brownish-bronze Gemduo beads on the edge (not red, like in the picture) to the two colors that are often been my go-to color combination since the beginning of this year. With a new jonquil rhinestone and matching glass drop

Help, I just want to bead more Samoa jewels – how do I move on now to the next design?
I can confirm Erika moved to a new design to celebrate International Beading Week!

Erika will be presenting Alicia's Flower pendant this Friday during #NoOneHasToBeadAlone. Come and join us to celebrate love for beading and community with Beadingschool by Erika Sándor!