#ClubDesigns is a series of articles on the Storytelling blog and a series of posts in the Beadingschool Club on Facebook.
Erika says:
"Since the beginning of the first COVID-lockdown, we bead together every Friday, to make sure that #NoOneHasToBeadAlone.
We bead a different jewel every week – designed specifically for the workshop. Afterward, it's really fun to see all the variations beaders come up with! Not only colors differ, but very often a pendant becomes a brooch, a motif that was originally an earring is modified into a bracelet or a ring. Moreover, sometimes it happens that not all the bead shapes are available to someone – and she needs to alter the original design to make it work."
The #ClubDesigns series is the collection of this beady wisdom.

This is Shiraz bracelet design!
We're in the middle of the summer months, the ideal season to show a beautiful bracelet on our wrist! Don't you think so? Erika created a beautiful and easy-to-make bracelet design that is composed of repeating motifs. The main roles are taken by Miyuki Half Tila beads, Czech fire polished beads, and Preciosa rhinestone for the extra touch. You will see this can become a different jewel if you desire new earrings or pendants. There are many possible ways!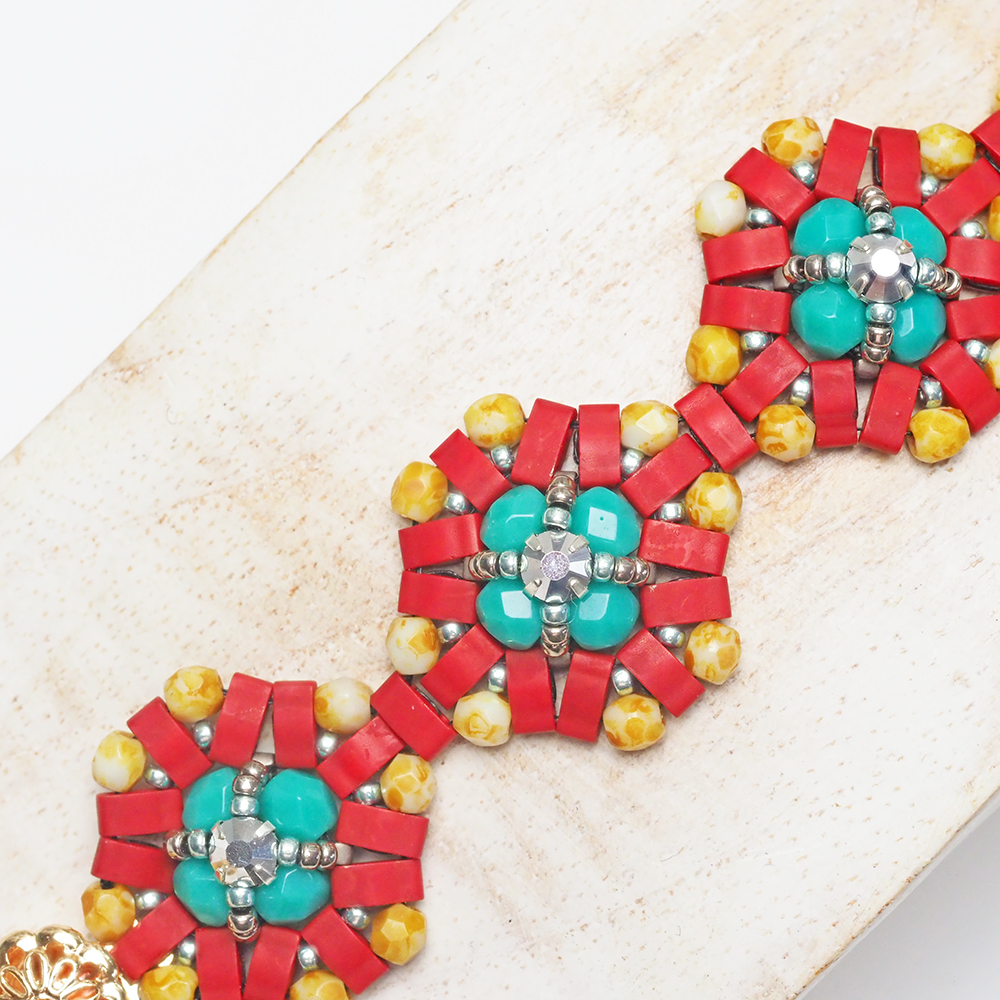 Click here for the beading tutorial!
MATERIAL LIST
thread-burner or sharp scissors,
bead mat,
Let's see some of the Shiraz bracelet variations by Beadingschool Club members! I hope you will find them inspiring.

Shiraz bracelet variation by Virginia Bremken, Tanja Quintelier, and

Christina Nordin Kilpeläinen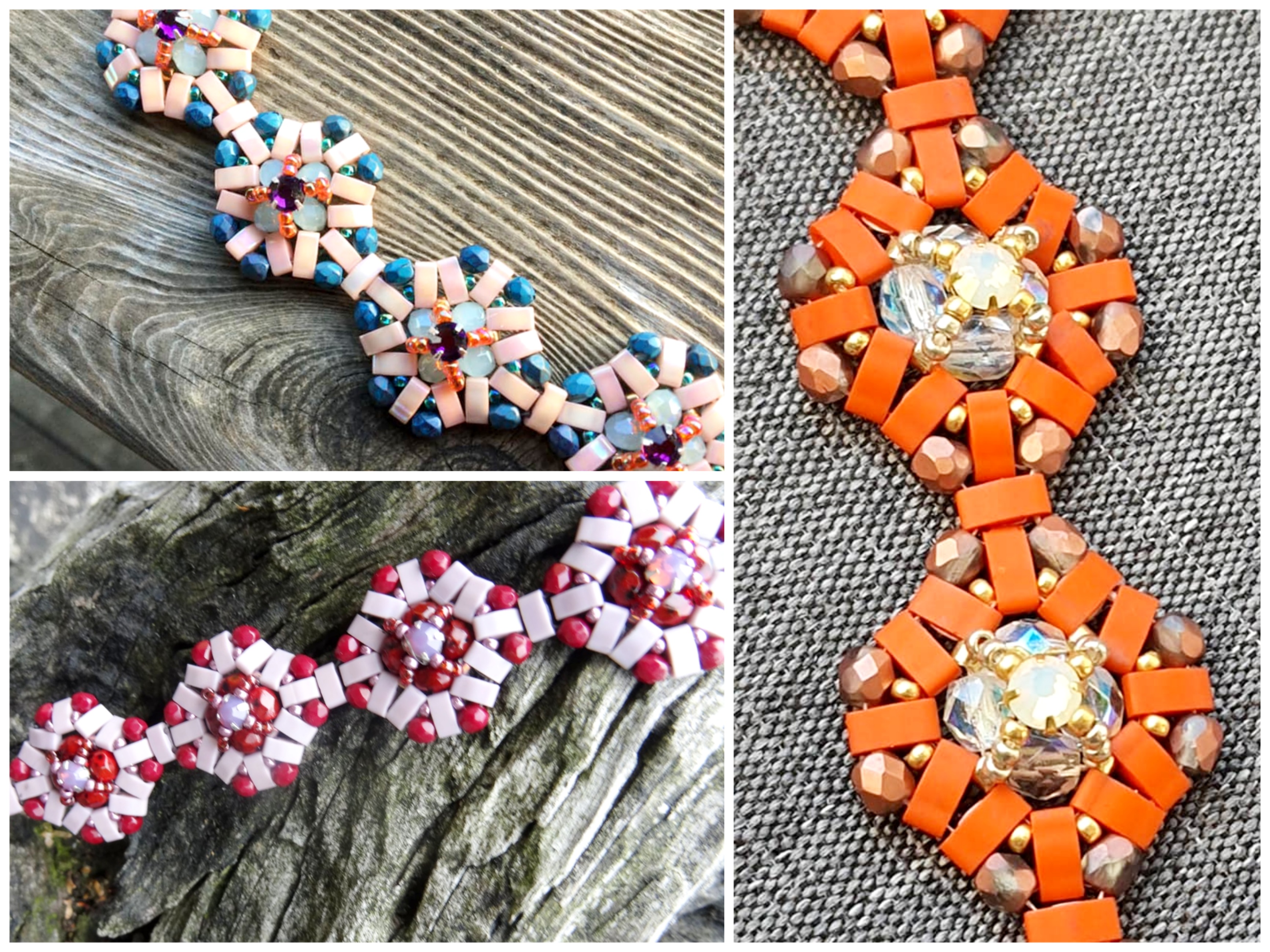 Virginia Bremken – Bracelet on the top left side

Tanja Quintelier – Bracelet on the down left side
Christina Nordin Kilpeläinen – Bracelet on the right side
Let's start with jewels where ladies chose vivid, opaque colors. The result is fresh and eye-catching, there is no wrong or right, just the perfect bracelet to wear! Thank you, ladies, for beading these beauties!

More from Shiraz Bracelets by Martine Lion, Veerle Daeninck, and Janine Heruday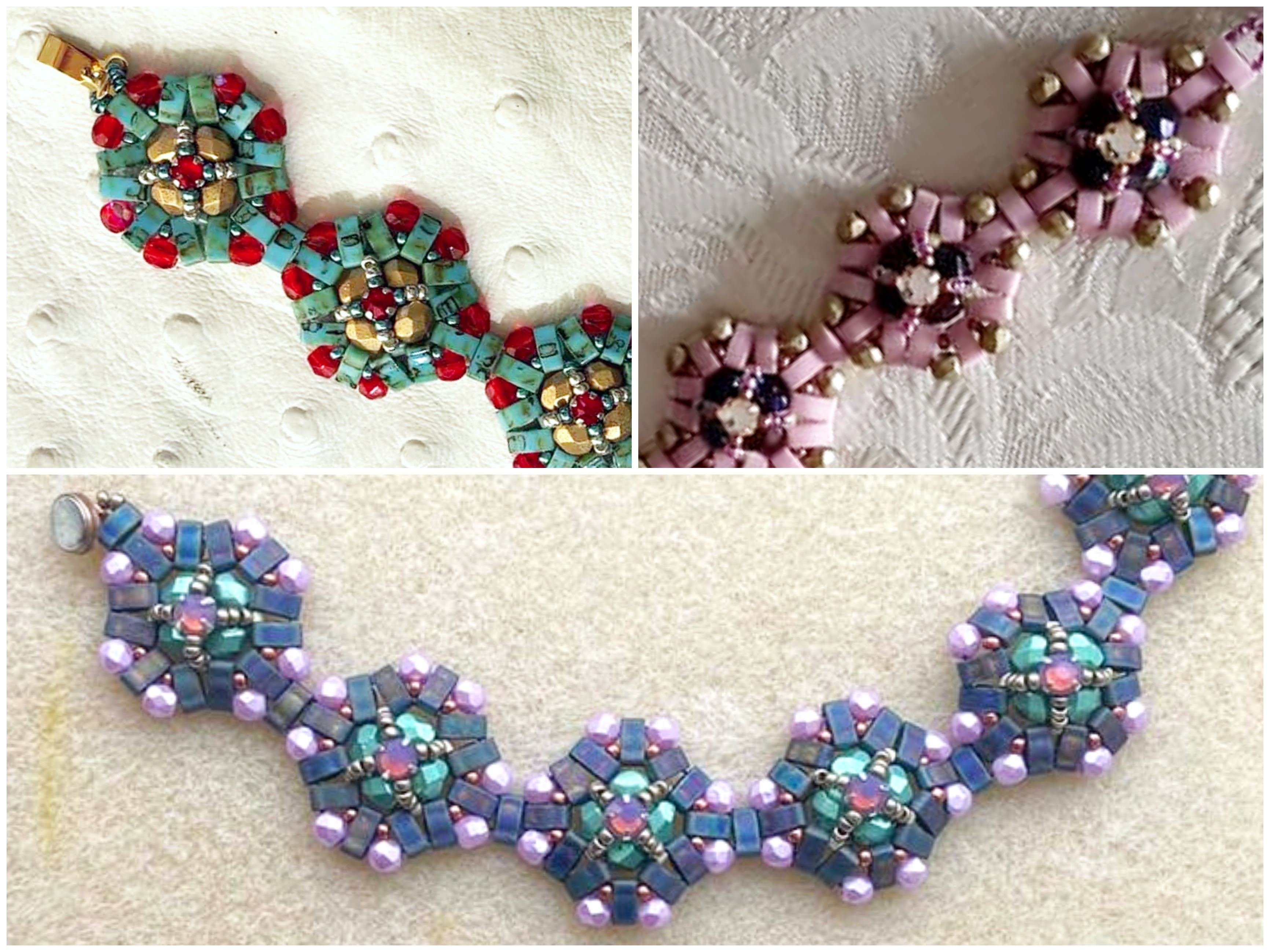 Martine Lion – Bracelet on the top left side

Veerle Daeninck – Bracelet on the top right side
Bracelet Shiraz is finished. It goes well with the Petronella earrings.
Janine Heruday – Bracelet on the bottom
Another three unique versions where ladies used mainly fire-polished beads with a metallic finish. We see different styles – summer-mood, romantic and elegant. Do you have your favorite?

Shiraz Bracelet with button clasp by Sandra Lindahl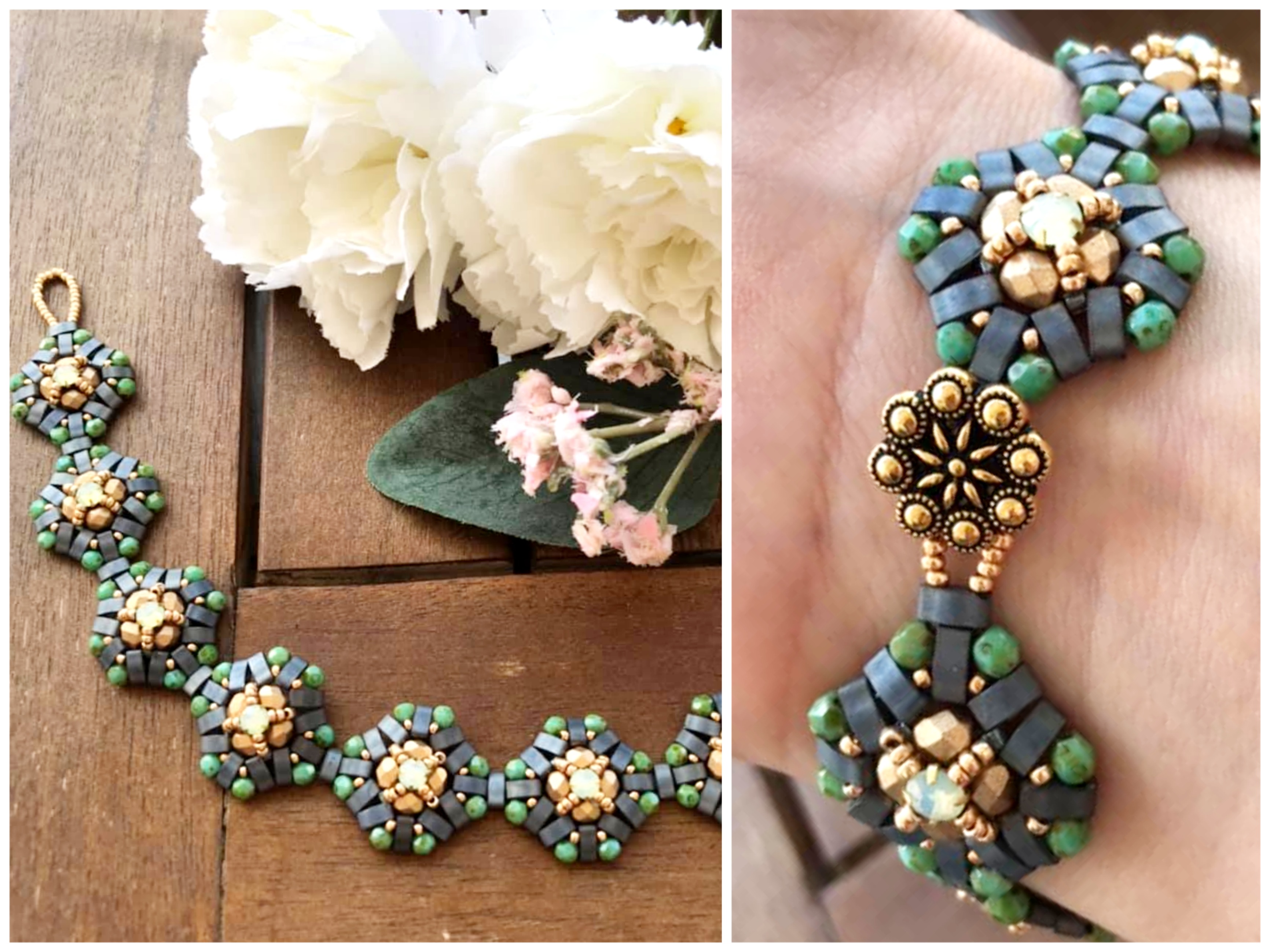 Sandra says:
My version of Erika's Shiraz bracelet. I haven't made a button clasp in quite a while but for this one I just thought the button matched so well Loved this pattern! Thank you, Erika!

Thank you Sandra for sharing your beautiful version of Shiraz bracelet and the smart idea of making a button clasp. I think we all struggle once in a while with finding the right component to finish our beadwork. We can easily create it! If you don't have a button, you can use also a single large bead, button bead, bezelled chaton, or make a small beaded bead yourself!

Bracelet with extra bicones by Faye Williams

Faye says:
I like those Opaque Turquoise Blue Half Tila beads! What goes with blue? Transparent Sapphire fire polish look good! Let me think about those 3mm fire polish?? Opal Sapphire looks okay!!  I guess blue goes with blue – there's a splash of silver in there too!

Another great session last night and some beautiful interpretations in the club today. Thanks for the pattern and company

Erika

and ladies
Thank you, Faye, for sharing this wonderful bracelet and amusing color-picking brainstorming. I love everything about this piece, especially your idea of adding extra bicones and creating the frame for all the motifs. The result is beautiful!


Shiraz design variation by Corinne Langshtad, Ludmila Turzova and

Kirsten

Schülp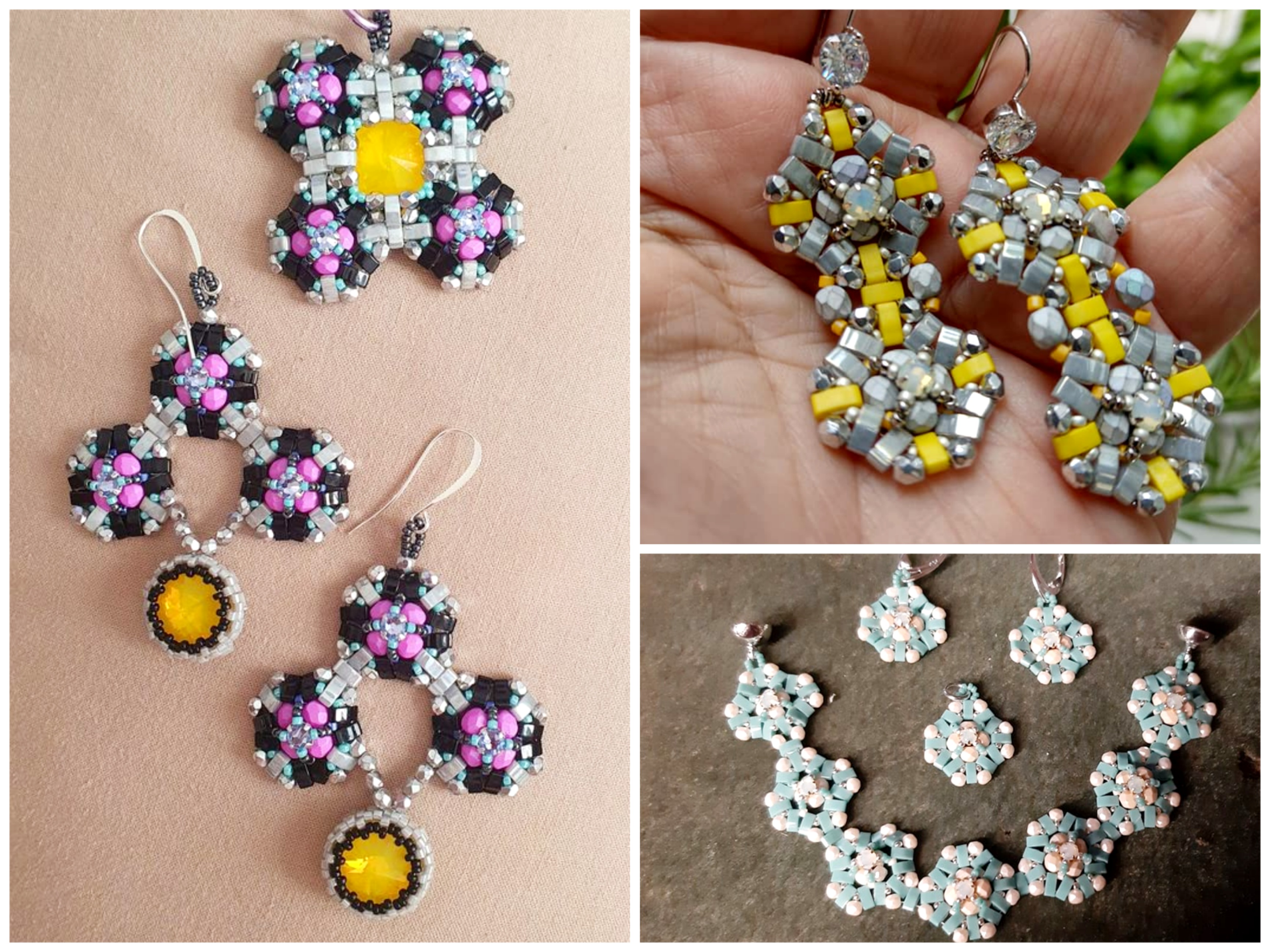 Corinne Langshtad – Set on the left side

Ludka Turzova – Earrings on the top right side says:
I finished my Shiraz earrings I reinforced the two motifs on the sides with 4 mm firepolish, which are in the center of the motif, and I also used Preciosa sew-on rhinestones from the back of the earrings. They are a little heavier but fit really nicely.
Kirsten Schülp – Set on the down right side
Ladies show us other jewels than bracelets, using the Shiraz as a single motif to start and connect into pendants or earrings. The motif allows you to attach also bezelled rivoli, chatons, tassels, glass drops. You can see it can be really simple (Kirsten), grow a bit to double-sided earrings with two motifs (Ludka) or you can create extravagant, fun pieces too (as Corinne did and I love her for this!).

Shiraz Ornament by Katalin Dudás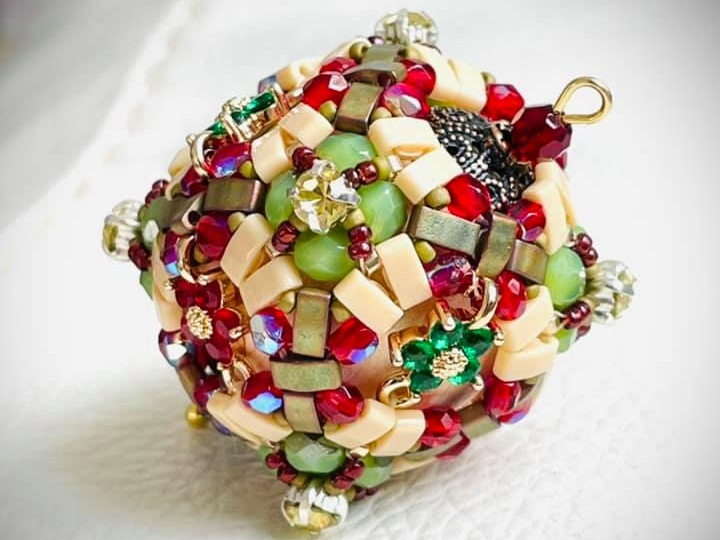 Kata says:
Cube on a ball with triangle holes. Geometry deluxe

Based on the Friday's Shiraz design.
I left the last version of Shiraz to the very end. Kata is one of the beaders who can always surprise us and she did it again! She wrapped large bead-ball into Shiraz motifs and filled the blank spaces with flower crystal connectors. Jaw-dropping and simply amazing! Thank you, Kata!

I really hope you liked these few examples of Shiraz design! If you want to join the party, come to bead with Erika and other beaders from all around the world to

#

nooneHasToBeadAlone session.