Face to Face interviews with our fellow beaders and designers are back! Erika asked her questions couple years ago and I'm here to continue today. Beadingschool by Erika Sándor is also about the friendly, growing community where we're connected with the passion for beading. Each of us carries a story, experience, and inspiration that can be told and shared.

I met Anikó Hesz and her ANNIE & The Beads thanks to Erika's Beadingschool Club. Her work with colors and components are naturally elegant and made me curious to ask her for an interview, to learn a bit more about her too.
This is ANNIE & The Beads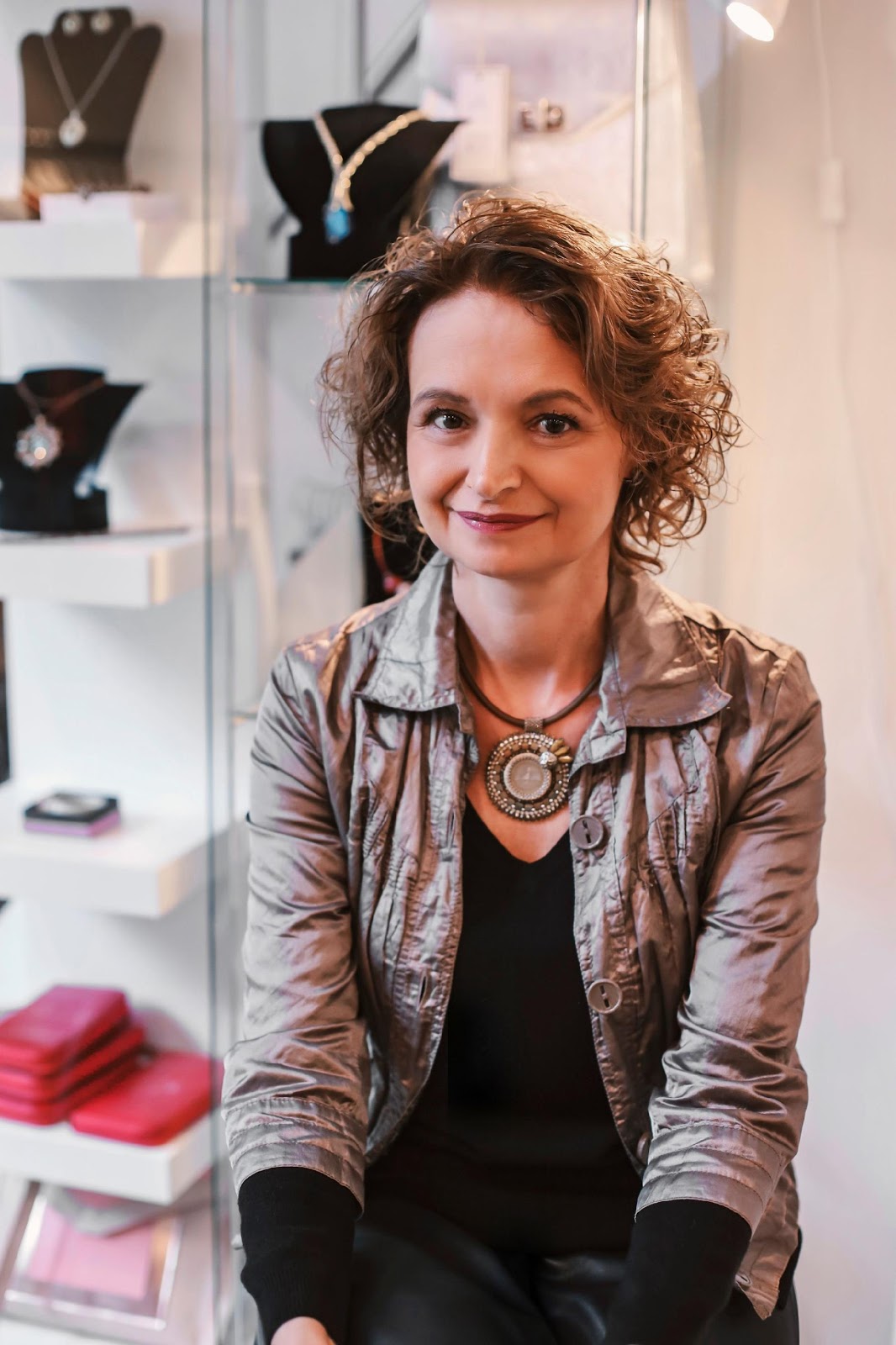 Photo: Anikó wearing the Traveller
Please tell us about yourself a bit! When and how did you start to create? How did you learn to bead? 
My serious adventure with beads started in 2010. I went with my daughter, 8 years old at that time, to a creative workshop for children. As she liked it a lot, we continued going to the workshops, making simple but lovely beaded jewelry together and we were very proud of ourselves. It was so much fun! I got to know that there are also workshops for adults and the lady had a lovely bead shop in downtown Budapest. So I visited some of her workshops and it didn't take me long to fall completely in love with bead weaving.
Actually, I started collecting beaded jewelry much earlier, as I had a chance to live in South Africa for more than 3 years and African tribal beadworks are just amazing. Zulu and Ndebele jewelry was my favorite and I loved visiting local markets and buying colorful jewels as well as ornaments and decorative items that local women were making of beads. At that point, I would never think to be able to create something similar.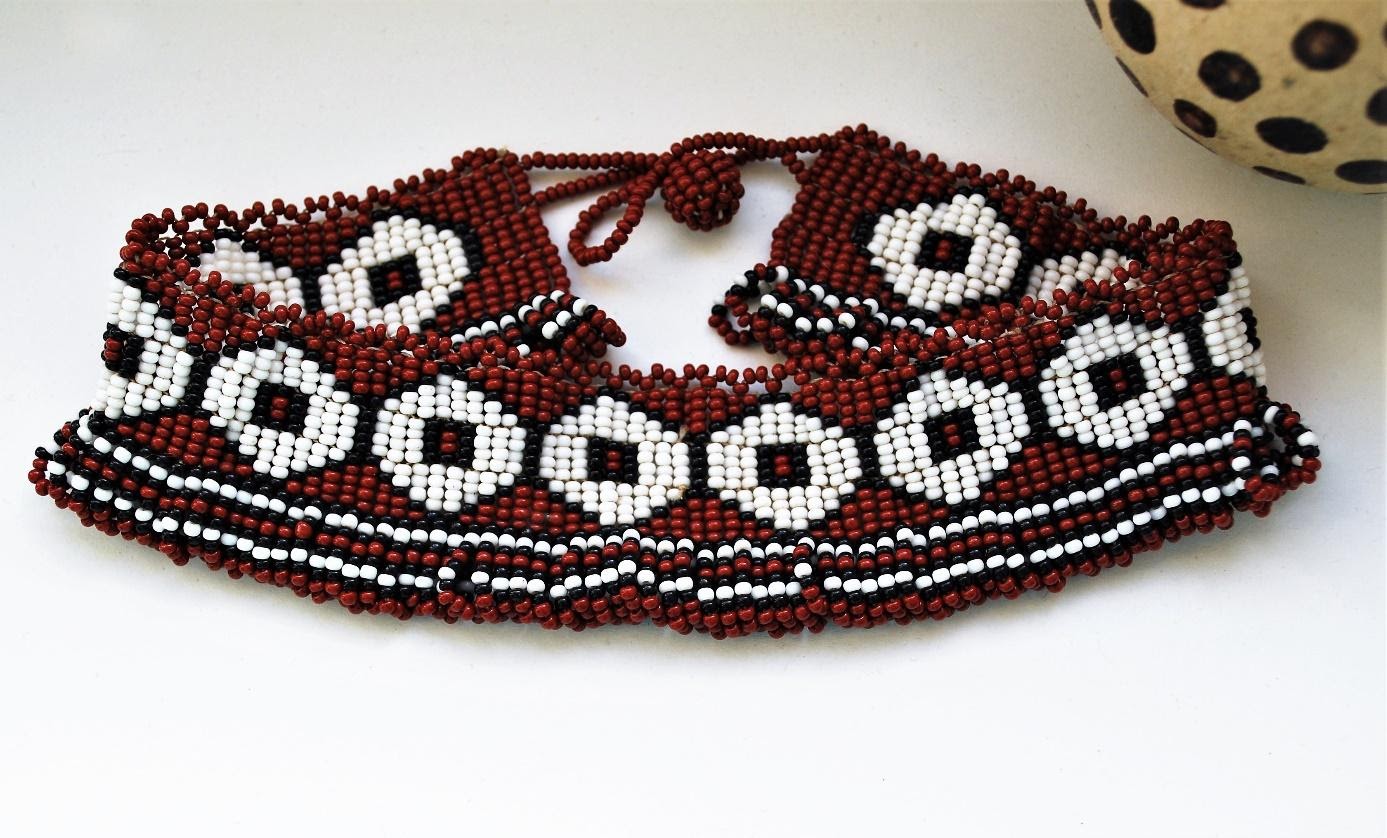 Photo: Zulu beadwork jewelry from South Africa
Is beadwork your hobby or profession? What does your average day look like? When do you have time to create?
It is a hobby AND a profession. I work part-time for a leadership training company, organizing training, and also part-time I manage my own beadwork business as a jewelry maker. I think I need both activities to feel in balance and harmony. I usually spend the first part of the day doing my administrative work, then my creative side takes over in the afternoons, evenings, nights, and weekends.
Tell us about the piece of jewelry you are the most proud of!
My favorite piece is my Klimt – The Kiss necklace, which has been made with bead embroidery technique and it's my own design. I think I managed to catch the mood of the painting. Otherwise, it is hard for me to pick only one piece. I made so many pieces of jewelry over the years. I'm proud that I've had the chance to exhibit my works in public exhibitions in Budapest and also in some other cities in Hungary.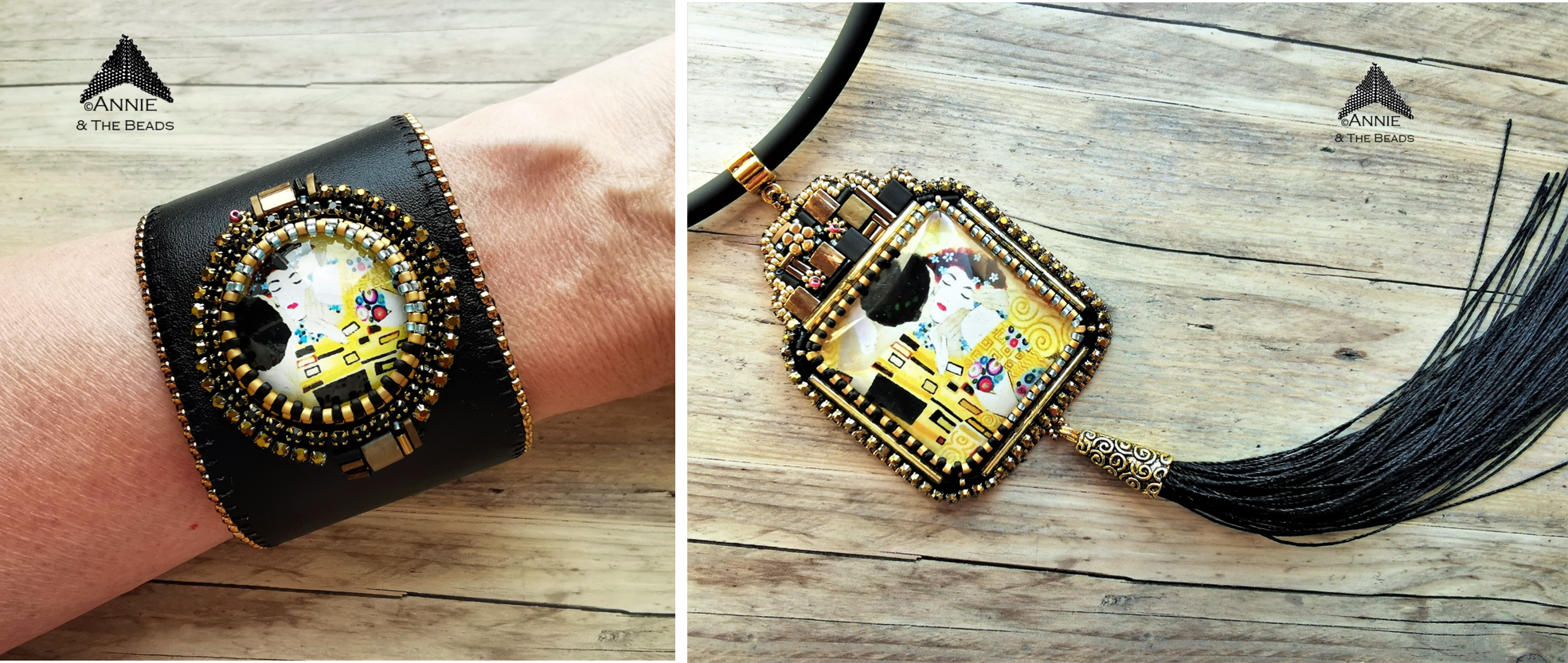 Photo: Klimt jewelry, designed by Anikó
Where do you like to create? Do you have a designated area in your home where you keep your beads?
I have a small studio where I can hide and create. I also keep there my beads organized in cabinets, drawers, and shelves and I have a display case where I  can show off my favorite pieces.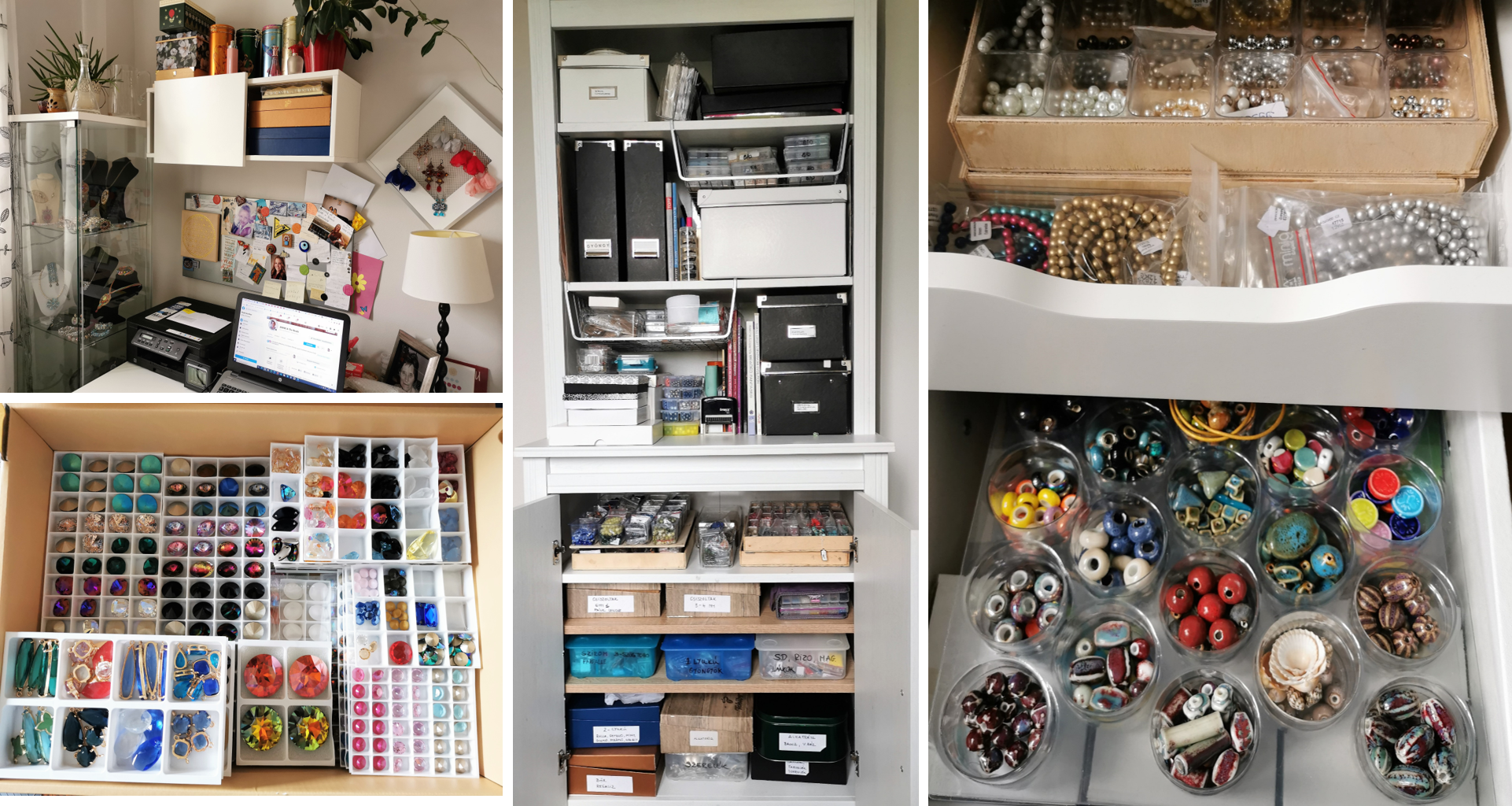 Photo: Studio
"I love the richness of details, the harmony of colors, the variety of beads that can be put together in an infinite number of variations."
What is your favorite stitch? Which colors do you like the most? On the other hand, is there any color or color combination you try to avoid?
I like to work with various techniques. I worked with different bead weaving stitches and used mostly glass beads for years. After a while, I felt that I wanted to learn and try new things, new techniques, new materials, new styles. So I started with bead embroidery, kumihimo, a little wirework, and I began to incorporate new materials into my works, like ceramics, leather, lampwork beads, gemstones, cupchains, metal components. Thanks to Erika I got familiar with using filigrees in many different ways and now I really like them a lot, they are very versatile.
The color transformation was also part of the growing process. I've always liked metallic colors and I got to like vivid colors more and more. I love playing with matte and glossy finishes. It is natural to follow my intuition when choosing colors for beadwork and I'm satisfied only when the combination of colors is pleasant to the eye.
Do you follow instructions or do you like to develop your own designs? How would you define your style?
There are so many wonderful designs and lots of talented designers that I won't be able to make all of my favorites during my lifetime. I like working with tutorials, but I often make changes, so the finished jewelry is not always like the original one. We can bring our personalities into jewelry even if it is designed by someone else, by our color choices, by making changes in the design, by using different components, by replacing some materials with others.
I also develop my own designs in bead embroidery. This technique gives the most freedom in creativity.
Style-wise I like clean lines, geometric shapes, simple designs with a twist. I make jewelry in every style and combination as long as it encourages me to try something new or stirs my imagination or is technically challenging, but my favorite style is Art Deco.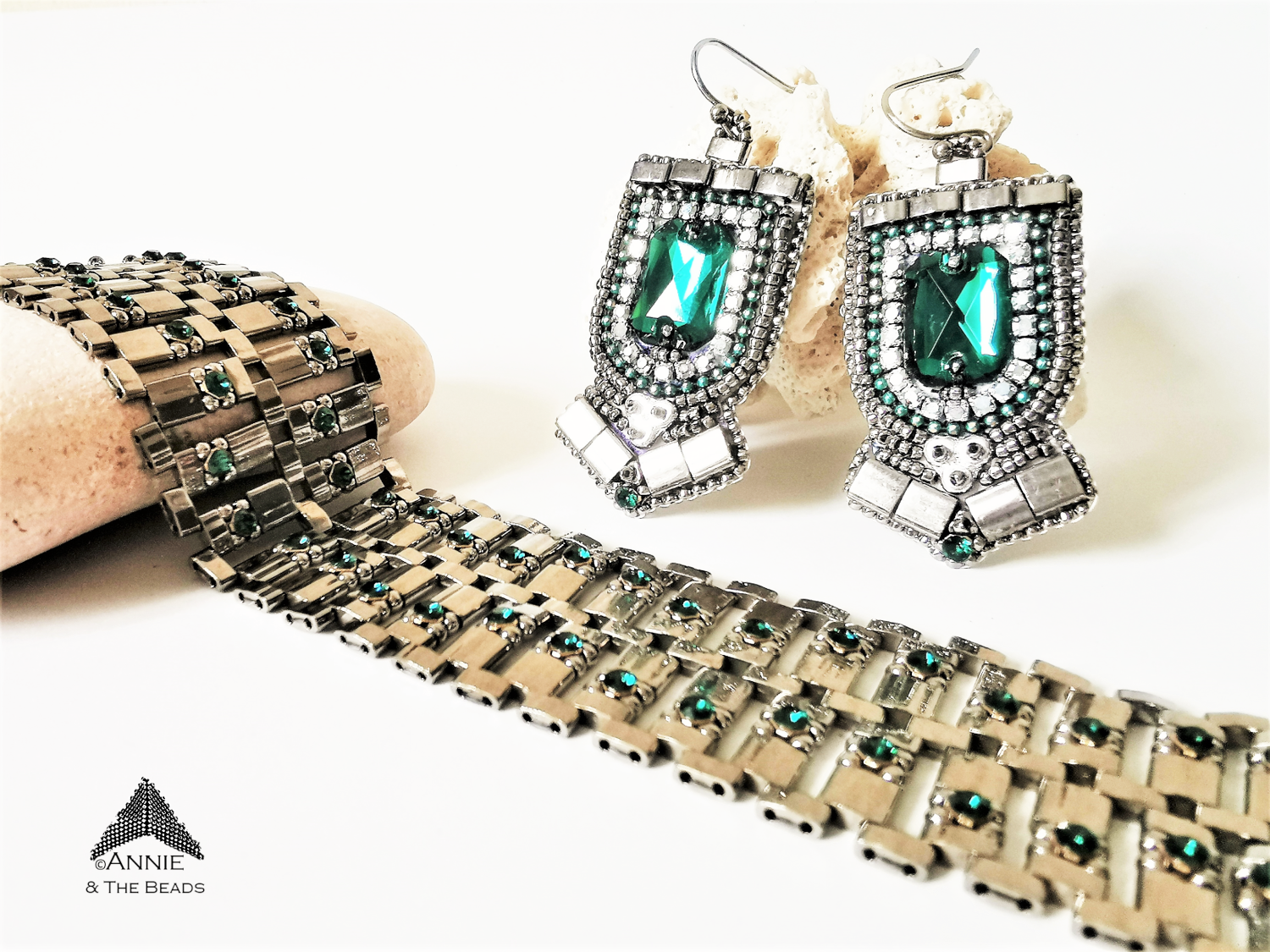 Photo: Art Deco set (earrings designed by Anikó, and bracelet designed by Akke Jonkhof)
Who are your favorite designers? Why?
I have more designers who I like for different reasons.
I like Sabine Lippert's designs because all of them are little engineering masterpieces. Every single bead has its own place and the finished jewelry always has a perfect shape.
Next is Akke Jonkhof because of her geometric patterns that are very close to my taste.
When it comes to bead embroidery I adore two fellow Hungarian designers, Kinga Nichols and BéKata. Both have a unique, rich, and unmistakable style.
And I left our Erika for last, but she is really one of my favorite designers because of her endless creativity, her unique designs of wearable jewelry, her kind, caring, and generous personality. I admire the way she develops her business, she treats people, she encourages us to try new things and she understands beaders' needs.
Do you have a favorite design by Erika? Tell us about it!
I do have, and not just one, but many!
I love Tarak! It was love at the first sight! A necklace with Tarak beaded beads is so beautiful, quick, and easy to make, yet very decorative. As far as I remember it was the first tutorial I bought from Erika.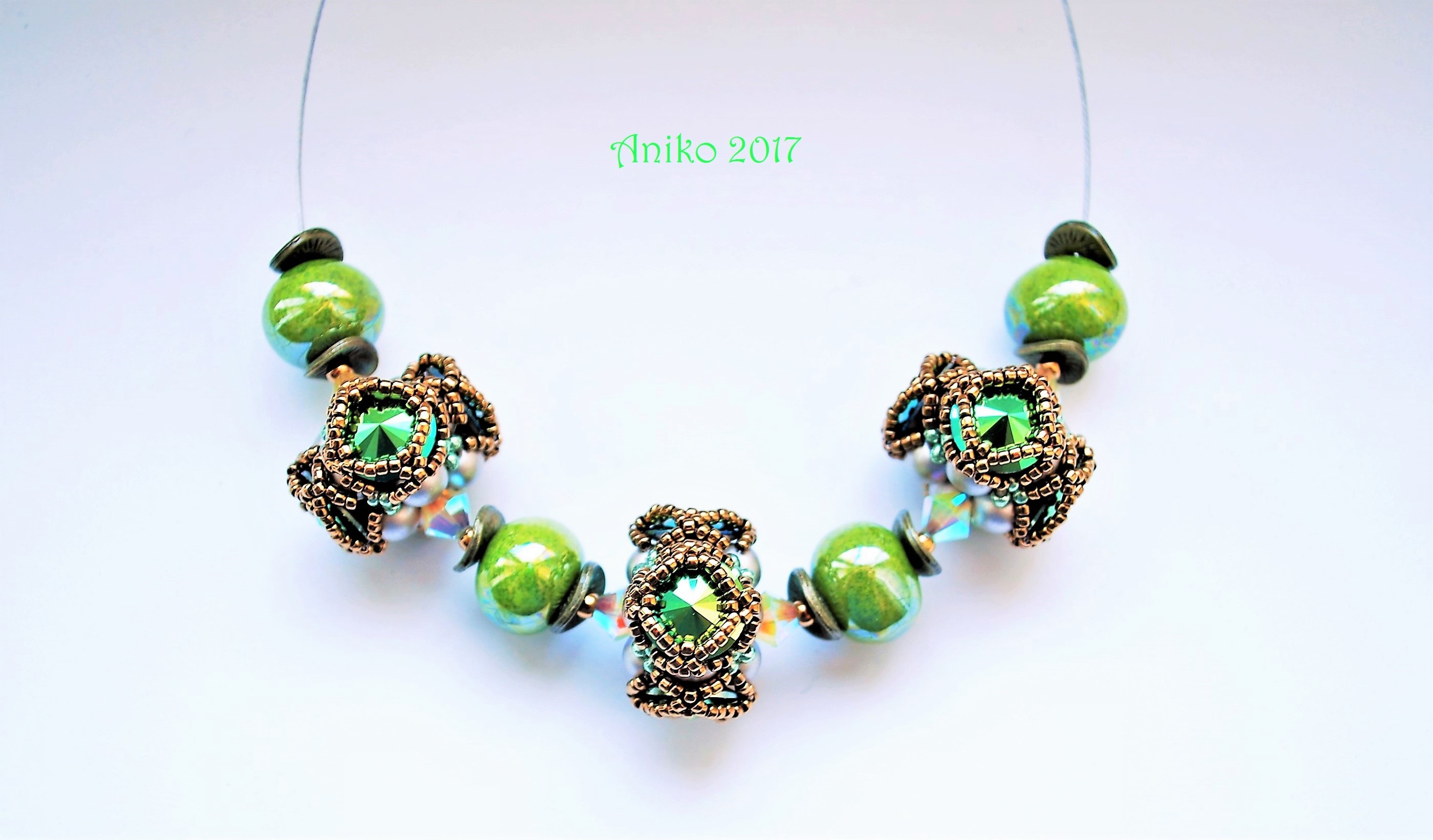 Photo: Tarak (Designed by Erika Sándor, beaded by ANNIE and The Beads)
From bracelet designs, my favorites are Pomegranate, Indira, and Vanitas. Not quick projects but they are well worth the time. And I just put together the materials for a Flower Carpet and a Cleopatra Royal bracelet. I'm very excited about them. I have seen beautiful pieces from Beadingschool Club members recently.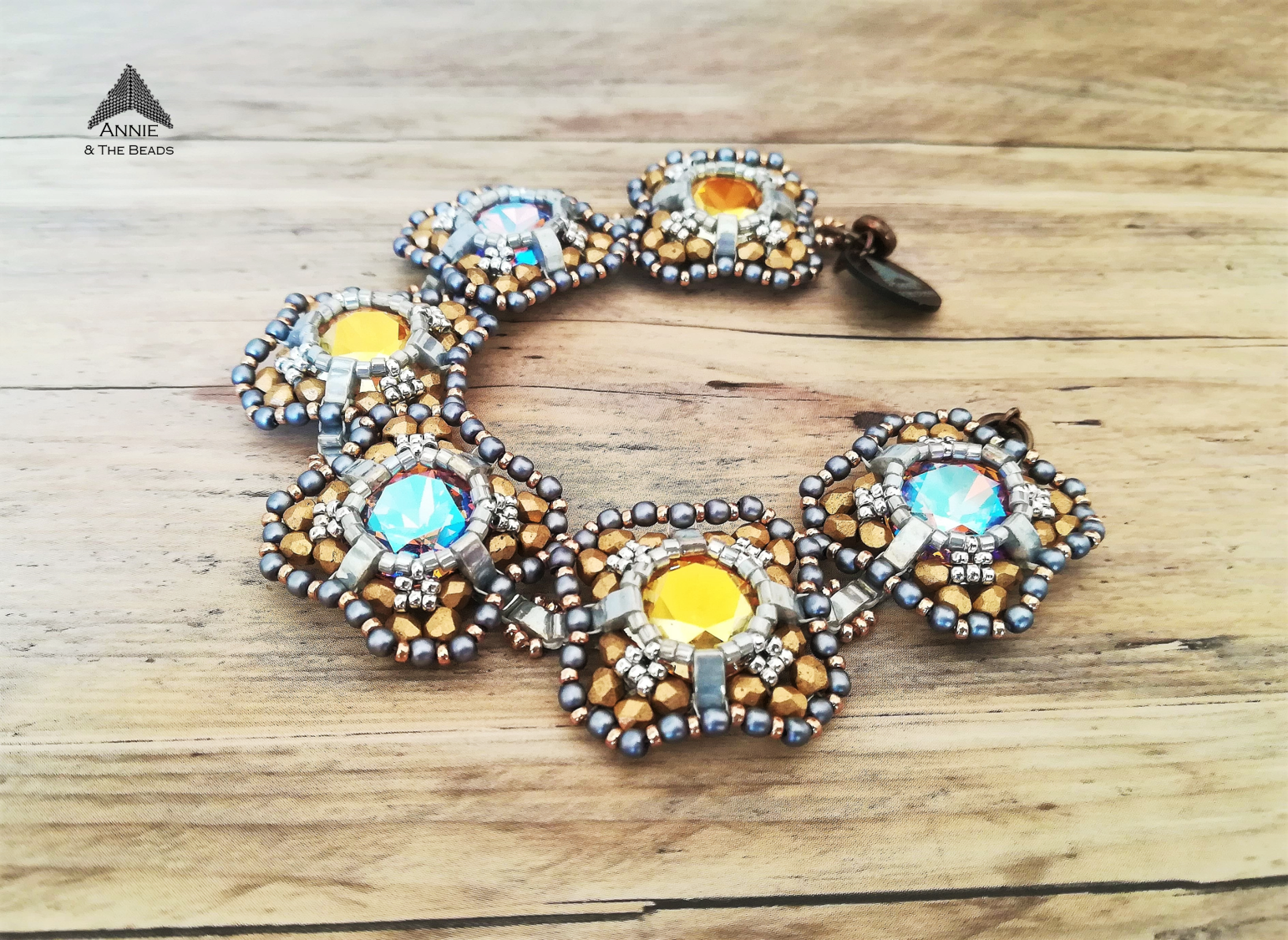 Photo: Indira bracelet (Designed by Erika Sándor, beaded by ANNIE & The Beads)

I like Alina, Antoinette, and Sophia most from the earrings designs. They are absolutely gorgeous.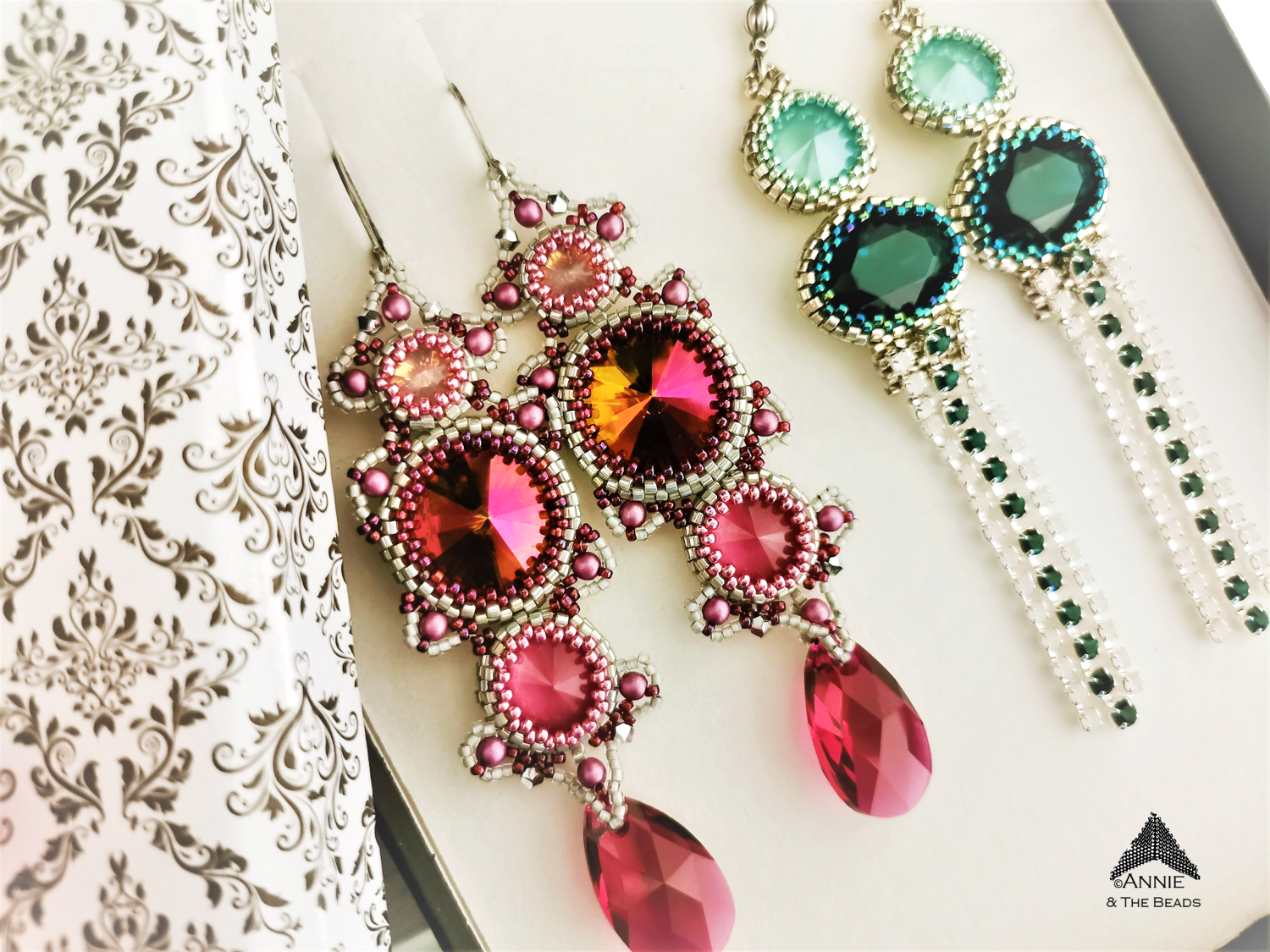 Photo: Alina & Sophia earrings (Designed by Erika Sándor, beaded by ANNIE & The Beads)
Which is the bead/component in your stash which you treasure the most? Where and how did you get it? Do you already have plans on how to use it? 
My husband brought me some unique local beads from Marrakech and I also have some Austrian crystals from the not-to-mention-by-name-anymore company that are very rare and no longer produced. I don't know if I will ever use them, they are too precious. And maybe one day they will be worth a fortune (LOL).
If you could design something for a well-known person or maybe a fictional character from a film or book, who would it be, and why?
I would love to design earrings for Sade. I love her soft music, the sound of her voice. Her face is beautiful and big earrings suit her so well.
Is there a beadwork-related group/blog you would like to recommend to other beaders? Or any other trick to make a beader's life easier?
One of my favorite FB-page that I follow is Contemporary Geometric Beadwork. It started as a research project for new shapes and new ideas in geometry in beadwork and it is really unbelievable what it has grown into.
My other favorite place to roam around is The Battle of The Beadsmith: Official page. Just in case you are ever short of beady ideas or you lack inspiration.
Back to school, not only with Beadingschool!
What are your plans for the future as a beader? Is there something you would really like to learn or an instructor you would like to meet?
Besides my plans to further develop my own skills and business as a beader, I decided to learn more about style, interfaces between style and jewelry, and many other aspects of how our style can influence our lives. I'm planning to enroll in a style communication course at the University of Szeged as of September. I'm sure it will broaden my views and I will be able to provide a wider range of services to my customers. I'm really excited about being a student again and very much looking forward to it.
As a beader, I dream that one day I can attend a workshop with Erika. Her workshop designs are amazingly beautiful, I especially love Adelaida and Byzantine. My daughter will study in The Netherlands in September. I'm sure I will visit her sometimes, so a personal encounter with Erika and other lovely beaders from the Beadingschool Club no longer seems unrealistic for me.
Where can we see and buy your designs?
At the moment the best place to see my works is my Facebook page, ANNIE & The Beads.
You can follow my Instagram profile and I also have plans to set up a website soon.
A selection of my jewelry is also available in the lovely and trendy Salon19 showroom in Budapest, if you happen to visit this city.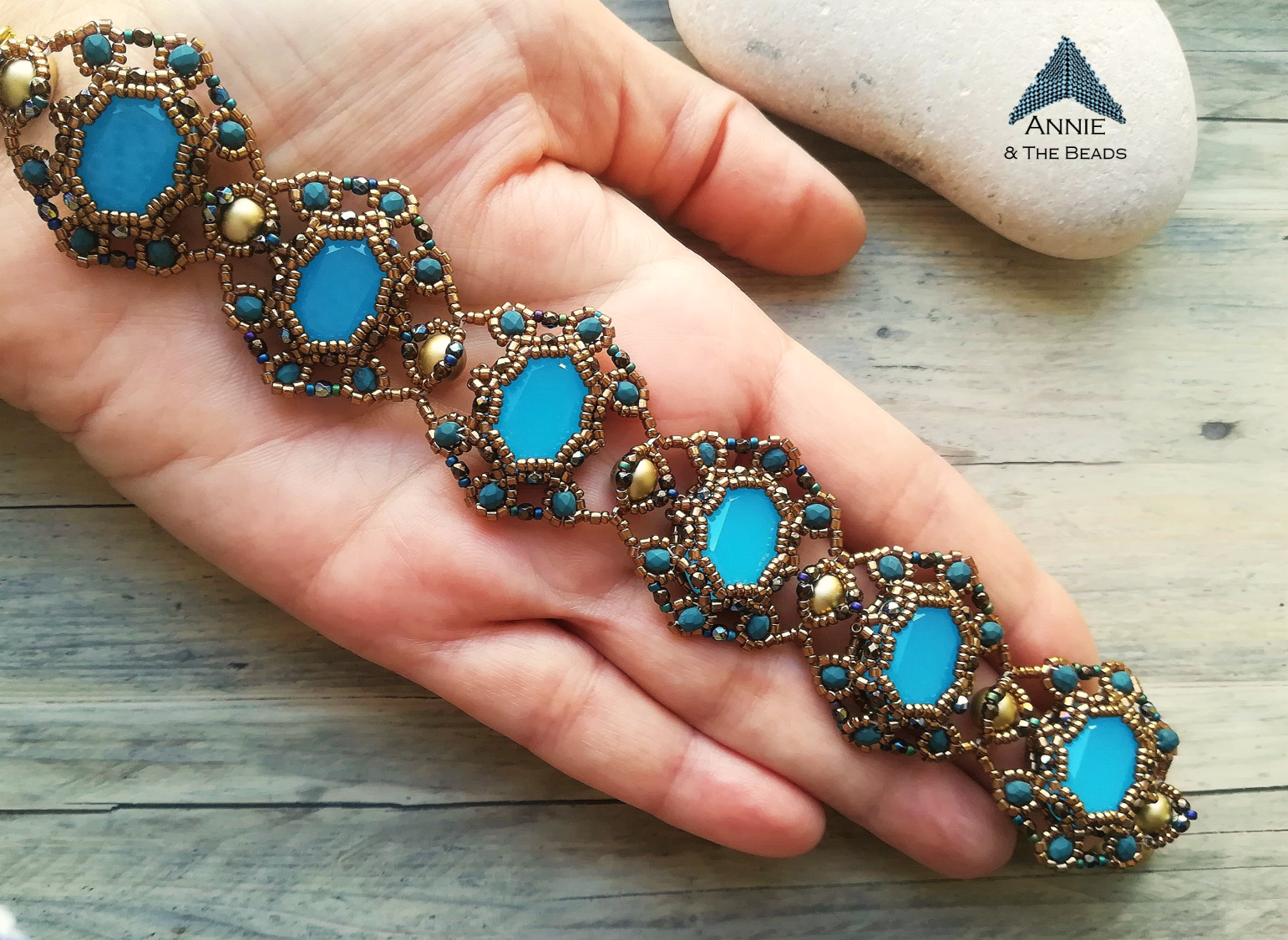 Photo: Vanitas bracelet (Designed by Erika Sándor, beaded by ANNIE & The Beads)

Thank you for answering my questions, Anikó!

You can use comment section if you have more questions you would like to ask, or greet Anikó.

We'll be back with more interviews for Beadingschool.com by Erika Sándor.