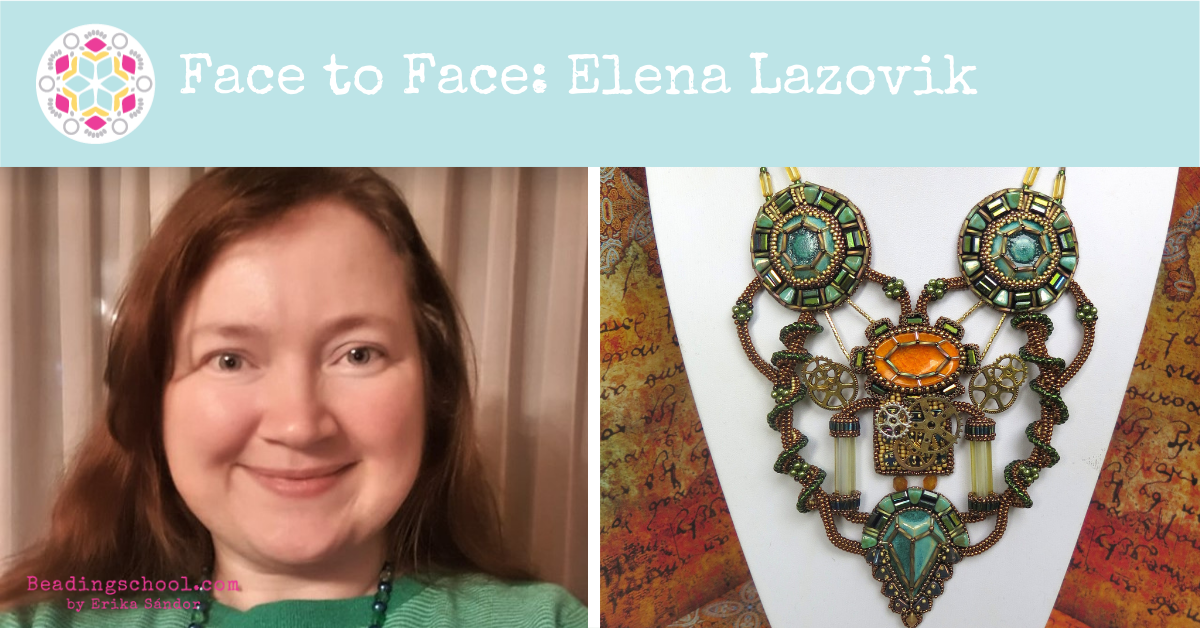 Face to Face: Meet Elena Lazovik
We're back with a new Face to Face interview with our fellow beaders and designers! Beadingschool is not only about beads and beading, but what is really important for us, is the community. The Beadingschool Club grew a lot in last two years and we love to learn more about our talented beaders, who inspire others.
If you look for necklace inspiration, it's her signature and you won't be disappointed! You can easily recognize her style and she's able to transform the smallest motif into a magnificent piece. She won the Beadingschool contest TWICE (!) with her necklaces in Art cabochon category/bead embroidery in 2020 and 2021.
Her jewels will take you to a completely different world and make you feel part of it for the moment you perceive its beauty. She's amazing, inspiring and lovely person and beader and we are very happy she's here with us and shares her talent.

Meet the Beadingschool Club member, Elena Lazovik!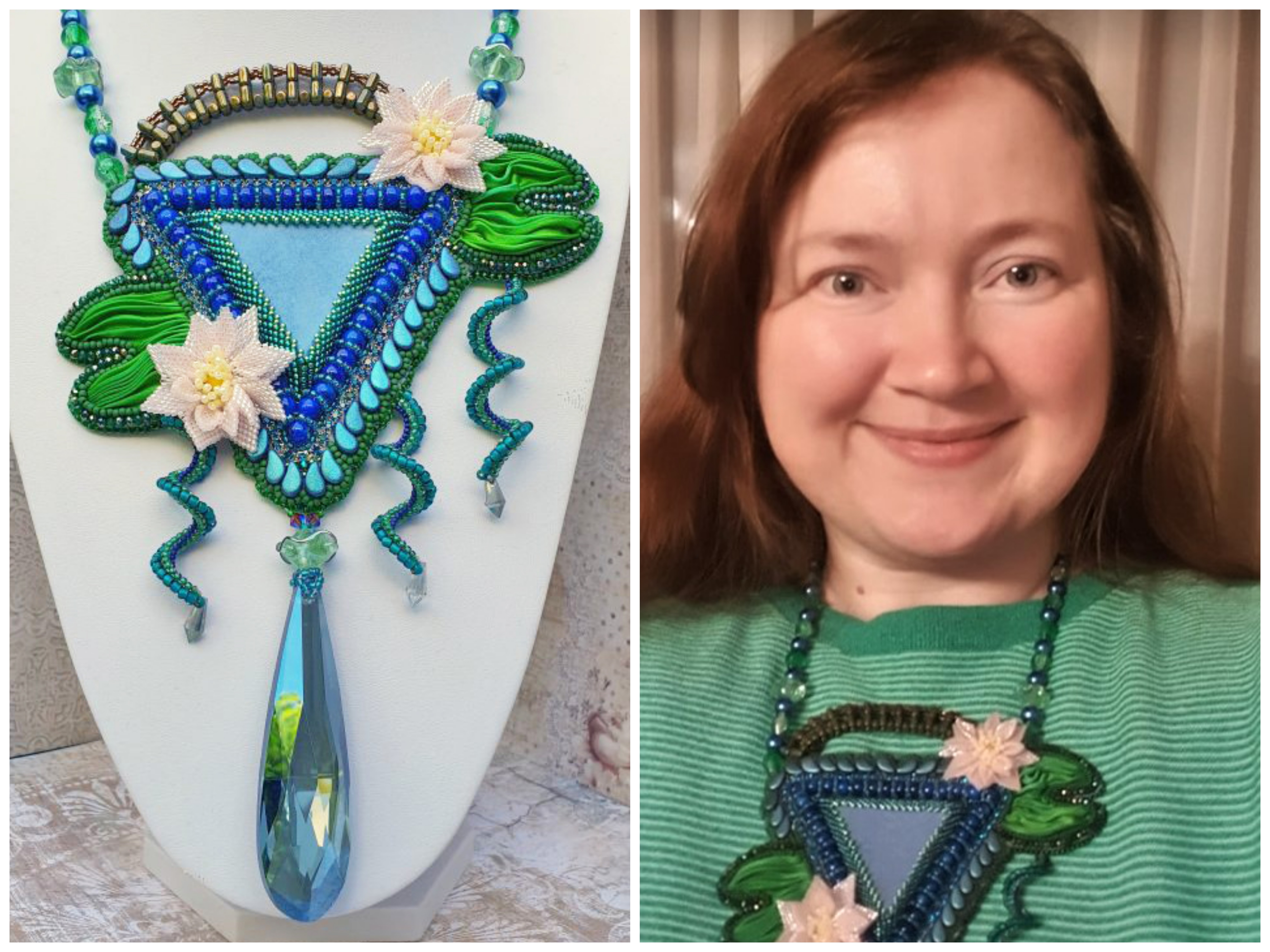 Please tell us about yourself a bit! When and how did you start to create? How did you learn to bead?
Hi all! I needed to open the first project made by me to understand when exactly I started. And it was in 2014 (is it already 8 years???). The story is quite funny. In one of the accessories shops in that year I have seen an amazing hair accessory which I found so unique and beautiful. I have asked about the technique in which it is made, and the answer was – soutache. I haven't known anything about beading, so for me it was like a parallel universe. I started to Google it, and in the meantime I have found quite some photos. From that moment I was mesmerized. Actually, I have learnt mostly from YouTube videos. There were quite some explaining the process. I dreamt about the design in soutache (remember – that is the only technique I knew at that moment), and in the end I have made my first jewelry. Only in one year I have realized that I have learned quite a seldom bead embroidery technique. From that time I started to learn different techniques, and slowly develop different bead embroidery designs. I mastered different techniques by using books, going to master classes and through Beadingschool online sessions. Very recently I finally started to design in bead weaving, honestly, thanks to #NoOneHasToBeadAlone sessions.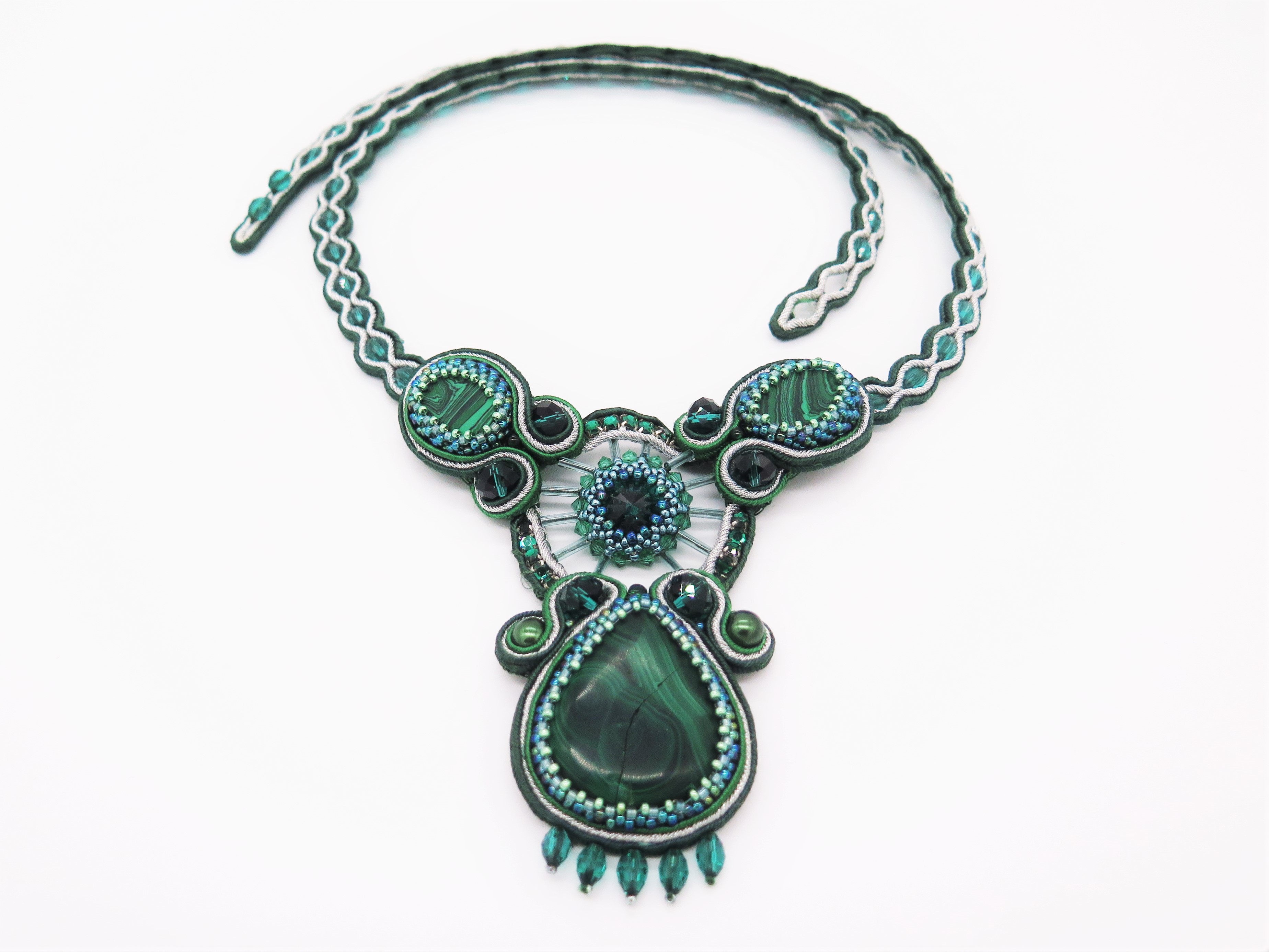 Is beadwork your hobby or profession? How does your average day look like? When do you have time to create?
Beadwork is actually my precious hobby. I am a computing scientist, and that means I spend every working day with the computer. But I really wanted something outside of IT, what would allow my creativity to grow, and create something what I would admire. So, this became my hobby. Actually, as many of us, I do have two hobbies: beading and collecting the beads. One is not possible without the other one, right? My average day starts with work, and almost all my evenings are dedicated to beading. Sometimes I take time to draw new designs, sometimes I experiment with the colors on #NoOneHasToBeadAlone sessions, sometimes I follow the instructions from tutorials and master classes. On the weekends at least a half of the day is spent on beading – my favorite time of the day.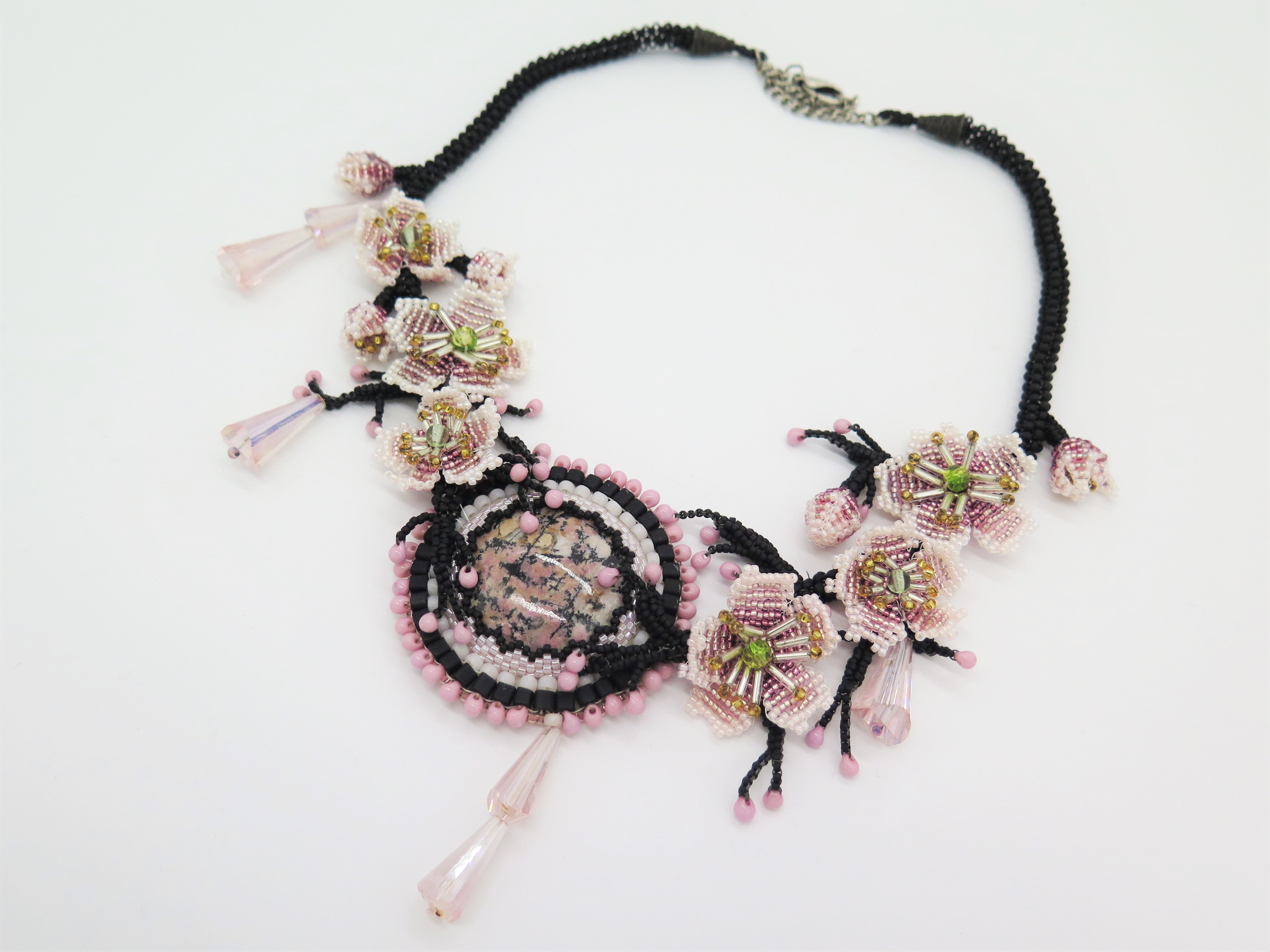 Tell us about the piece of jewelry you are the most proud of!
Well, I can name at least 3 pieces I am really proud of. But maybe, for now the favorite one would still be the piece made for one of the contests, which is called "Chasing the Vanishing Sun". The whole idea was based on the solitude feeling of the end of the year, but with the hope of ever changing life cycle and returning to spring. I believe that I could achieve the best combination of the composition, techniques, air in between and solemn colors. It still touches my heart even now…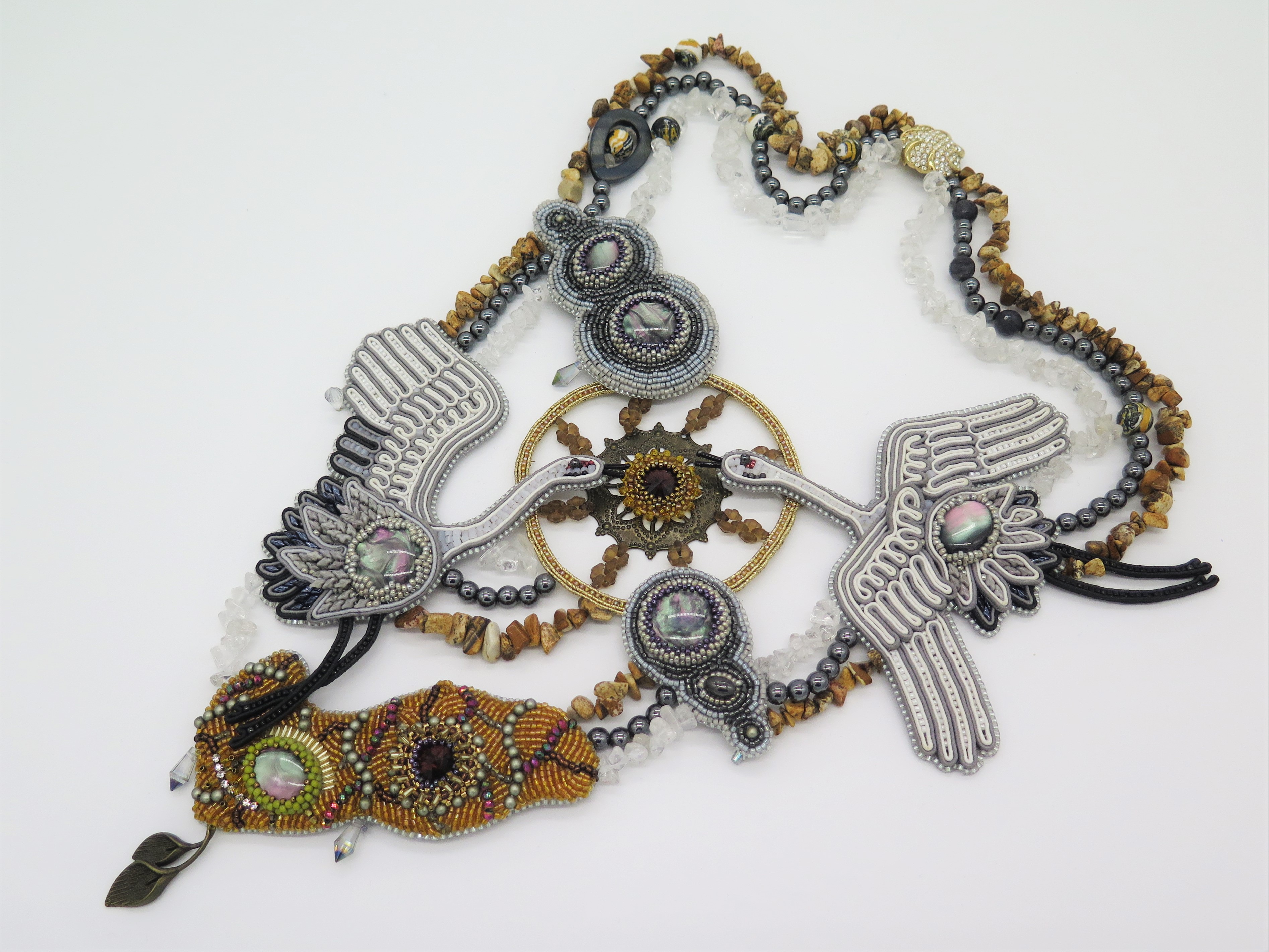 Where do you like to create? Do you have a designated area in your home where you keep your beads? Can you show it to us?
Well, I have a special small table and very comfortable armchair in our library part of the living room. I like its location – it allows to take the beads easily from the shelves within the bookcases. Actually, all lower shelves there are dedicated to beads. And when I sit, I can admire the syringe in our garden from the window near which the table was placed. And look how it all started – this is the photo of me working on the first piece, and there is the first box of the materials…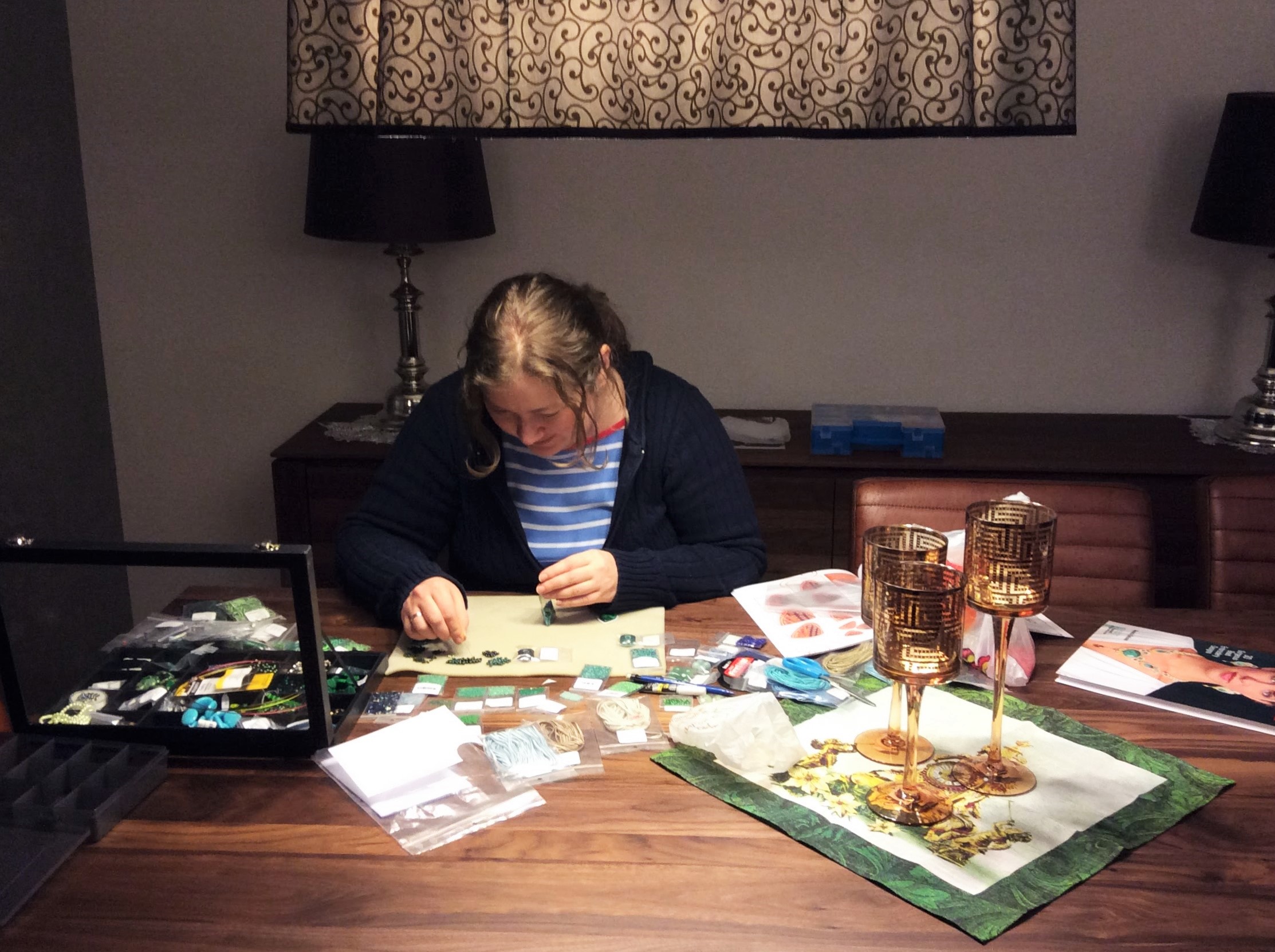 What is your favourite stitch? Which colours do you like the most? On the other hand, is there any colour or colour combination you try to avoid?
To choose a favorite stitch could be complicated. I am happy to use all of them for different pieces. But I think because I have started with bead embroidery and bezelling the semi-precious stones and Rivoli's it will be peyote. I use it so often that for now it is very quick.
What concerns the colours, I think the most natural combination for me would be green, blue and silver. Recently I have started to enjoy gold tints instead of silver. And oh yes, I do have also a combination of the colours I am not good at. Never-ever give me a challenge, please, to use together orange and red. Somehow I can never achieve harmony with them, the result is looking like some stuff from the church robes, and it's driving me crazy every time I look at it. So, please, spare me from it!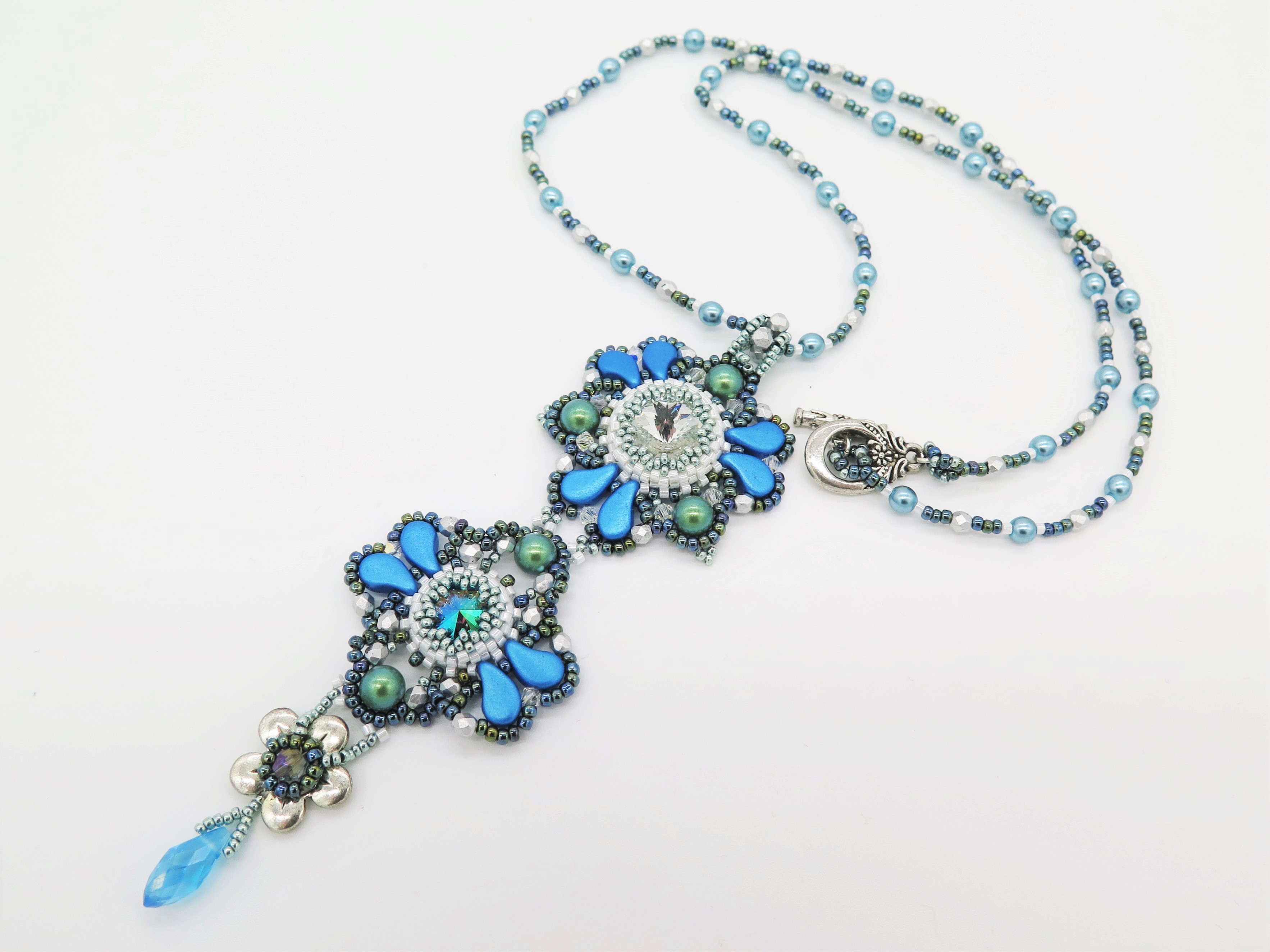 Do you follow instructions or do you like to develop your own designs? How would you define your style?
Actually, I do both: and follow the instructions, and develop my own designs. Following the instructions allows me to learn new tricks, integration of new shapes of beads, experimenting with the colours: what I enjoy a lot by itself. Sometimes I am very surprised at the result – it comes more pretty than I would ever have thought. My own designs do help to experiment with harmony and composition, with the translation of the message I want to provide into some design. Not all designs are great, of course, but from every even not good design I learn a lot – what to avoid next time.
My style is difficult to define. I can only formulate that I go for complex pieces with some idea behind, with a lot of air in between, and intricate colours combinations.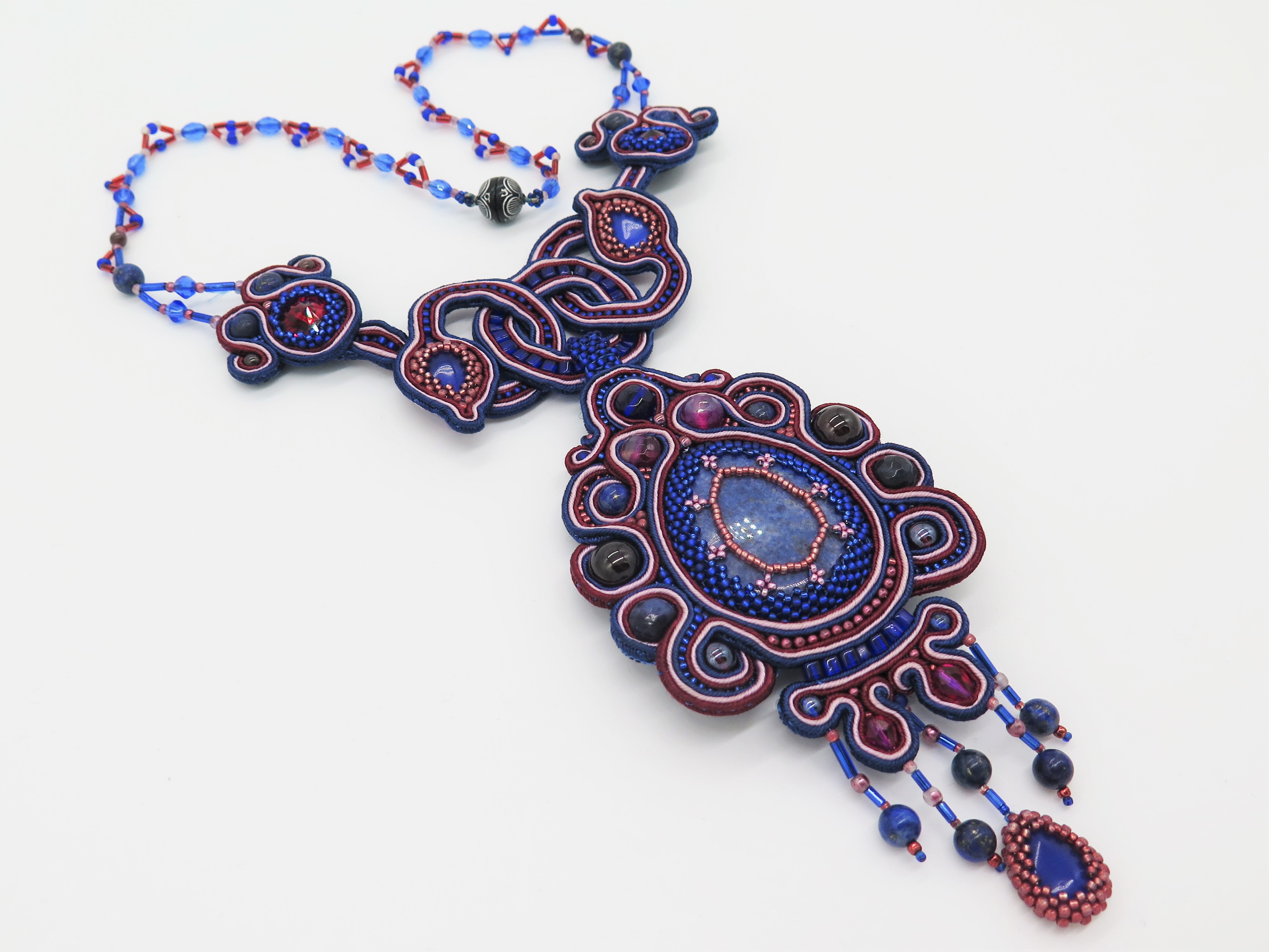 Who are your favorite designers? Why?
First of all it will be Erika. I am really amazed on how she uses different shapes, and such vivid colours to create such intricate statement pieces. It requires special ability and natural talent to produce such great designs, and use so many shapes and colors!
For bead embroidery I would also mention Kinga Nichols – I really like how she mixes the different textures, textile of crazy colors and different kinds of beads.
And as the third, I would mention Sabine Lippert – guru of the RAW/CRAW stitch. I adore her 3D architectural sculptured jewelry. She makes that complex pieces with many layers of nitty-gritty adorations.
Do you have a favorite design by Erika? Tell us about it!
So many designs of Erika are my favorites! It is so difficult to choose from! I'll try to mention 1 design from #NoOneHasToBeadAlone sessions and one from Erika's workshops. I think for sure many people adore that #NoOneHasToBeadAlone design as I do – it is Edmee brooch. This subtle elegant design simply exuberates the classy feeling, and you cannot take eyes from it! I really like also how all that different shapes are combined together there.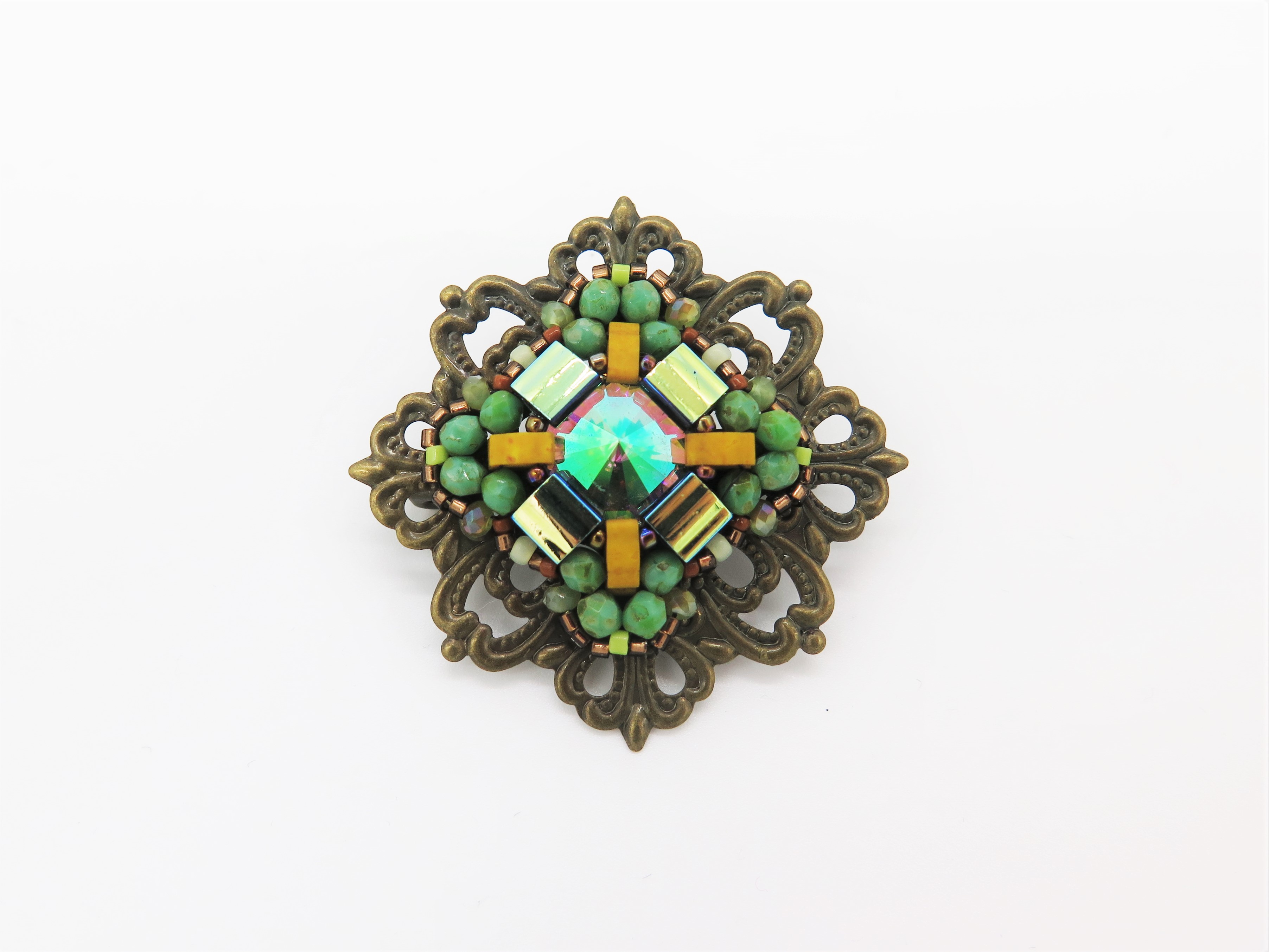 From the workshops I should mention Lemonade! I have never received so many compliments before wearing it. And it is not for nothing! That design has so many novel ideas: and what's regards bezelling the glass cabochon, and what regards the use of rhinestone chains, and all that lacy subtlety produced from the exquisite combination of different beads. I simply adore it, and have a long queue of requests for making it in different colours.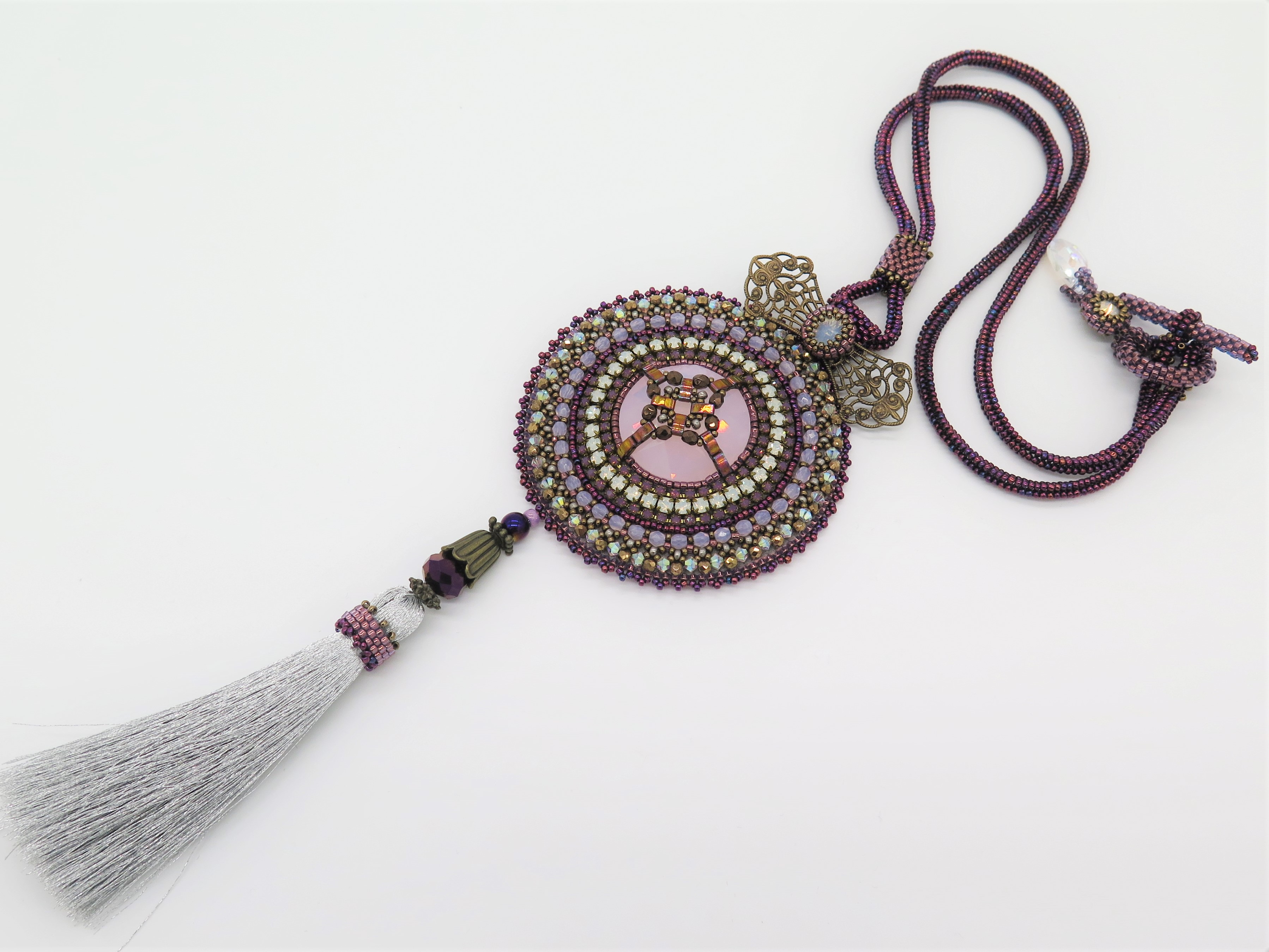 Which is the bead / component in your stash which you treasure the most? Do you already have plans how to use it?
Honestly, the most treasured component changes in time. I think for now I treasure a lot the newest filigrees we were able to buy at the Beadingschool shop. Especially Excalibur one drives my fantasy crazy. I treasure it because of so many ideas it brings me – I simply cannot choose one for now!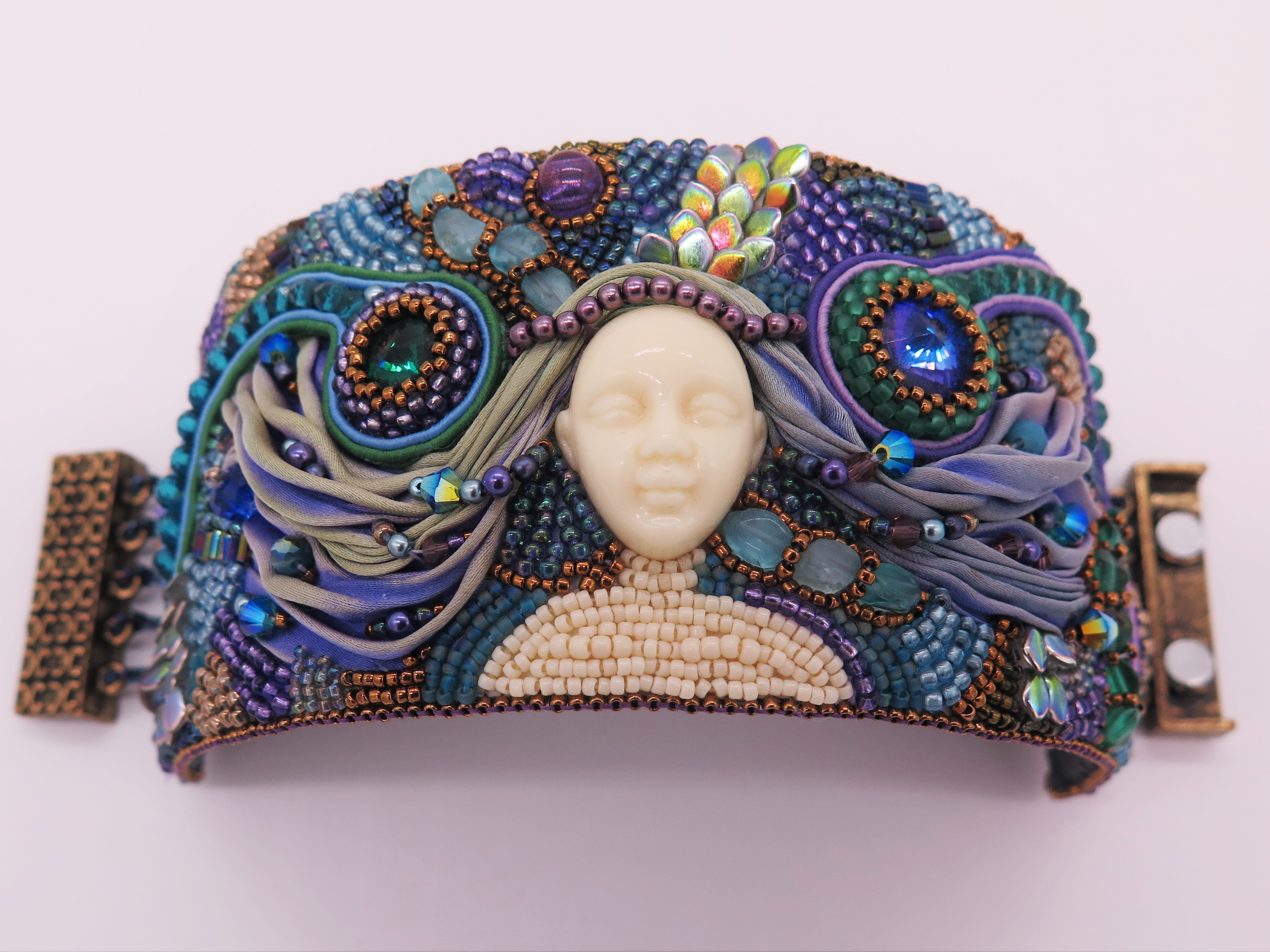 If you could design something for a well-known person or maybe a fictional character from a film or book, who would it be, and why?
I think it would be Cate Blanchett in her role of Elven queen Galadriel in the Lord of the Rings saga. Her character there was so perfect, so ethereal, that I see on her some tiara and necklace: very airy, very tender, something that looks like it is from the ancient kingdoms… That would be great to design!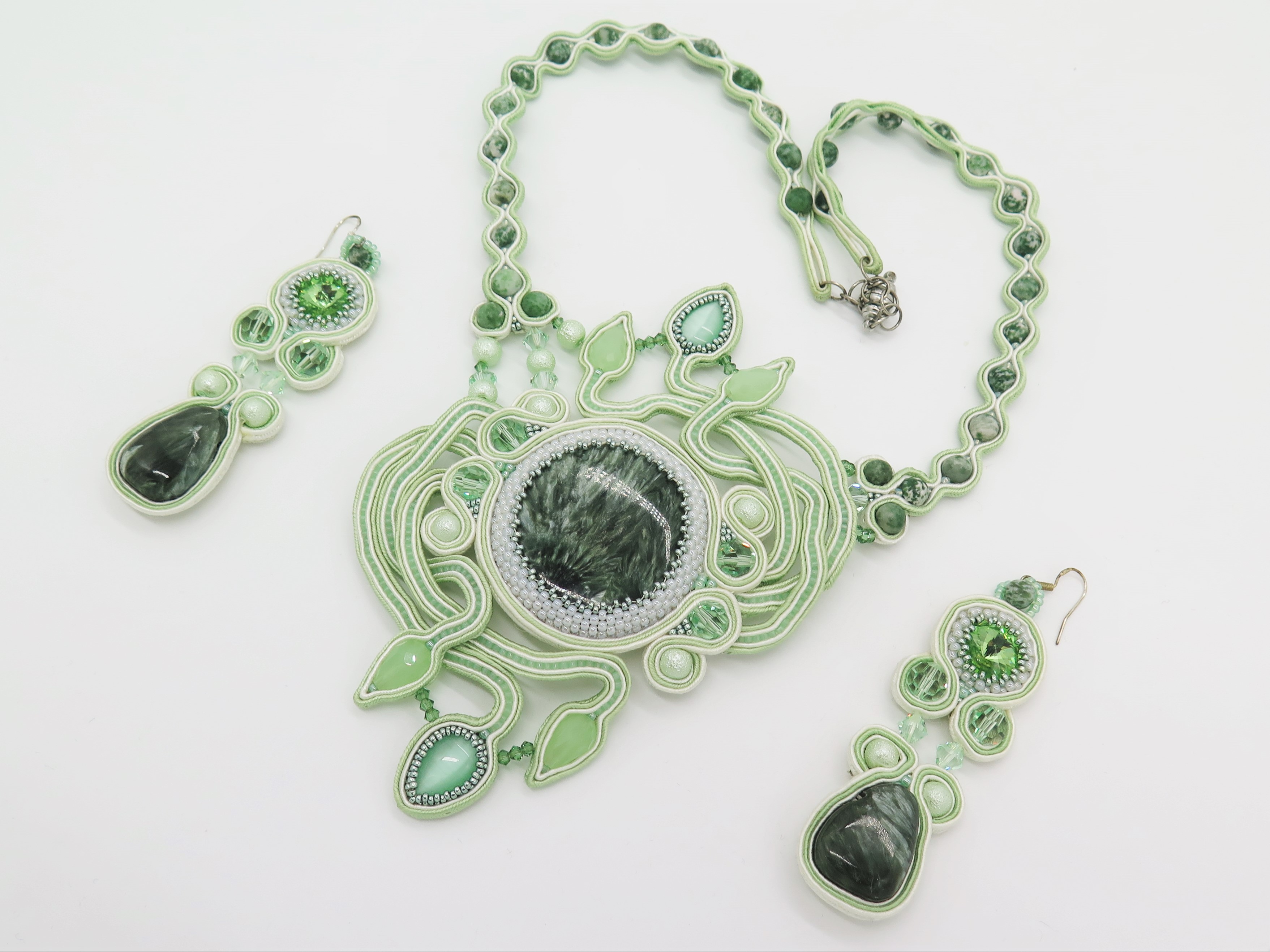 What are your plans for the future as a beader? Is there something you would really like to learn?
My plans are always to learn more techniques, tricks, take inspiration, and hopefully bring the inspiration to others as well. What especially triggers me is to understand the process of thinking the great beaders go through. I am sure I can learn a lot from that. That is why I adore live design sessions with Erika! And I start to think to try myself with the designs and patterns for the others. If there will be enough interest, I would be glad to make some.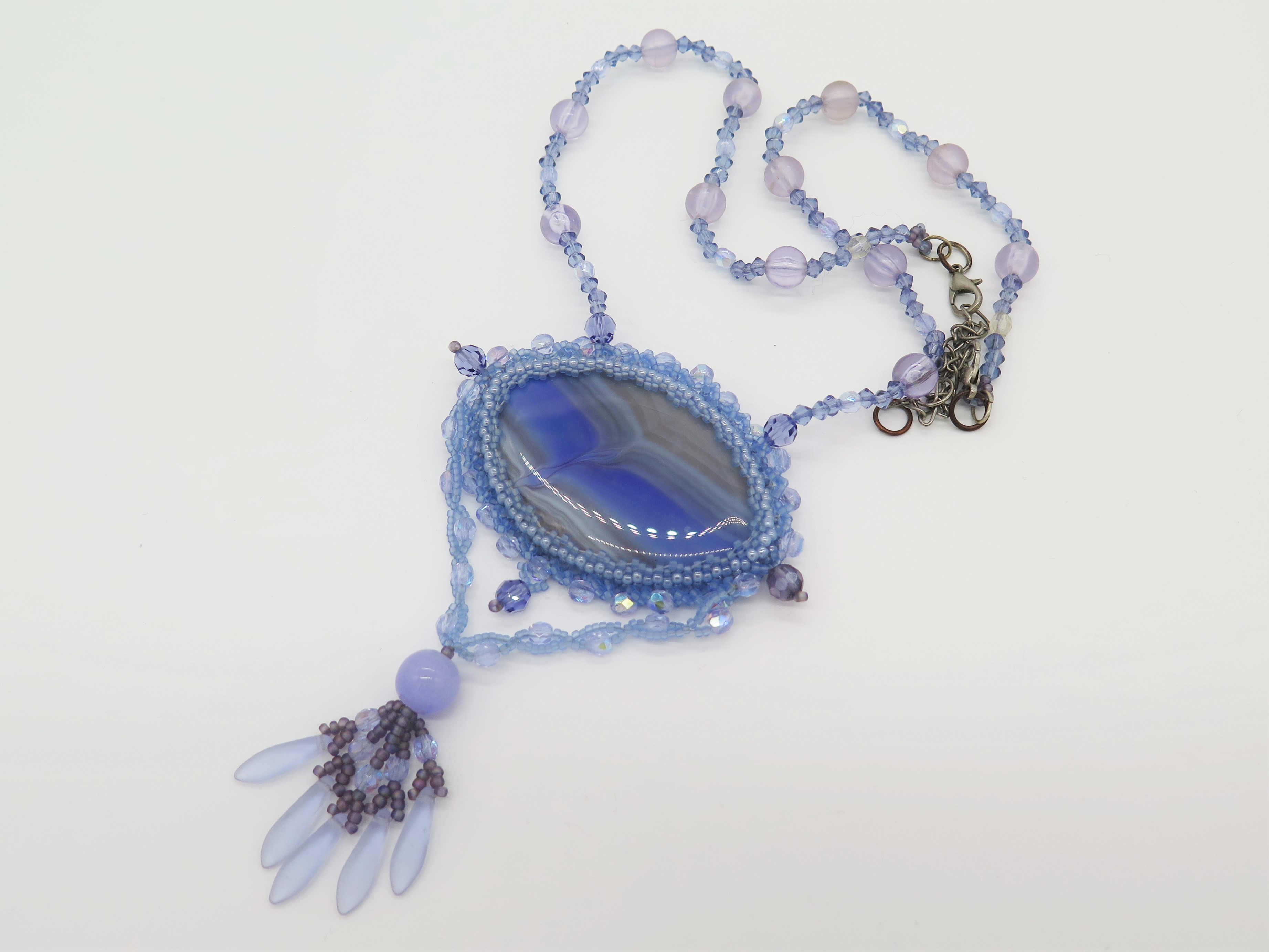 Where can we see and buy your designs?
I put the new designs on my Facebook and Instagram account (there it is easy to find all of them by tag #mybeadingworks), but for now I don't sell them. I am preparing a special page on Facebook with my designs and works, which will come in a month. For now I don't sell the designs, but I started to think about making them… I just strive to enjoy the beading in all forms, as all of us do.

Thank you for answering my questions, Elena!
Dear friends, you can use the comment section if you have more questions you would like to ask, or greet Elena.
Stay tuned for more interviews for Beadingschool.com by Erika Sándor!
Reader Interactions