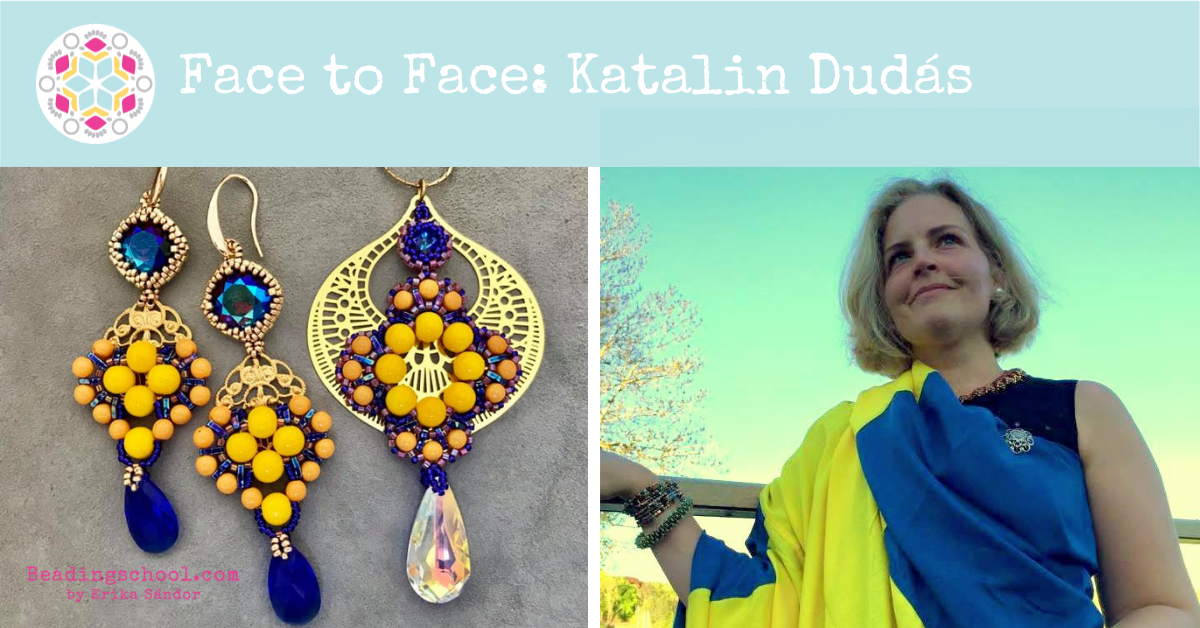 Face to Face: Meet Katalin Dudás
Face to Face interviews with our fellow beaders and designers continue and this is the first one Beadingschool brings you in 2022!
We're naturally curious to meet and know more about people in our community and the Beadingschool Club. We learn about each other every time we share a bit of our jewelry, comment, or talk through video conference.
There are some beaders so settled with their style and colors that you know who made the jewel when you see it. She's brave, creative, also incredibly kind, and carrying in the beading community. Her striking tones are yellow, orange, red and our ongoing Beadingschool Academy theme of Maharaja's Jewel fits her perfectly. If you look for an inspiring person and beader, who's not afraid to use colors and combine different components then follow her work in the Beadingschool Club and you won't be disappointed.  Our one and only, Kata Dudás.

Meet the Beadingschool Club member, Katalin Dudás!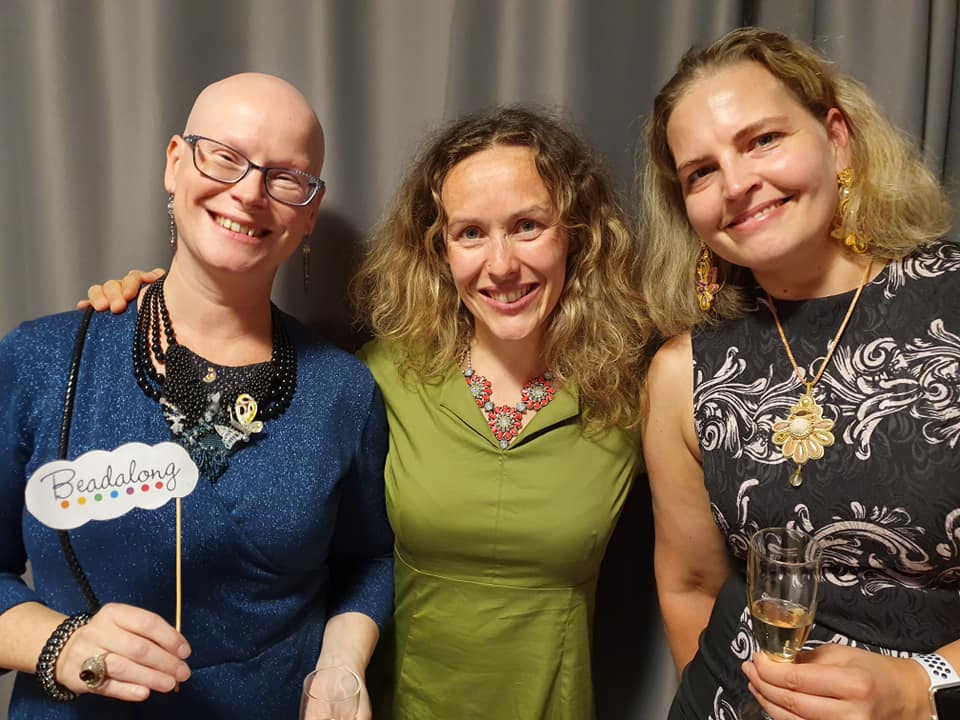 Please tell us about yourself a bit! When and how did you start to create? How did you learn to bead? 
This beading background starts to be a 20 year-long story now 🙂 As a little girl and teenager, I wasn't a blingy-girly type. I was doing a lot of sports, wearing functional clothes, had short hair (swimming is the all-time fav) and so never cared about jewels. The few pieces I used to wear sometimes, were the golden and silver things, which I got as a present for various big celebrations (birthday, finishing schools, etc). I also played violin, which required not having long and painted nails either, so I think I just put all this effort into dressing my Barbie as long as I was young enough to play with dolls… But then in my early 20s, as I started to look for matching jewelry, I realized that affordable pieces from an ordinary shop you can only find made of plastic or/and bad quality. During a discussion at work, one colleague told me, that his girlfriend had a hobby, working with quality material. So, basically, she introduced me to the beading world, 1-2 shops in Budapest, and already at that time we also had some online places to share ideas. I must mention her artist name, though she's not beading anymore, I must give credit to her, Arduinna. Surprisingly, the beading ladies did not meet in person that much… Anyway, I immediately fell in love with the beads.
My first beads were some 15/0 Miyuki seeds, Delicas, Miyuki cubes (green iris/turquoise and dark bronze matte 4mm), and fire-polished from the Czech Republic. I jumped into the deep water and made a 1m long tubular herringbone rope with the 15/0s and FPs.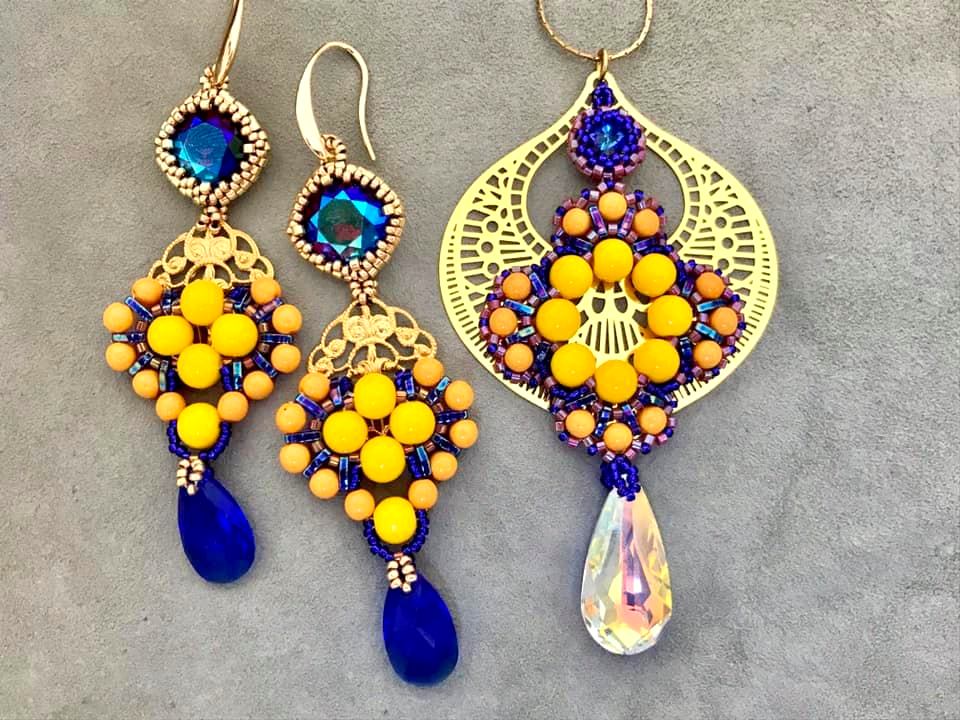 Is beadwork your hobby or profession? How does your average day look like? When do you have time to create?
Unfortunately, it's a hobby. I think I'm just too chicken to start taking it seriously. I've always had my stability with the IT-jobs I've been doing, this world is very much organized, structured and controlled and the beads let me be creative, switch off my brain, relax and fly. I'm not sure that I would feel the same kind of freedom if it would be my work. But who knows, one day I might be brave enough.

Tell us about the piece of jewelry you are the proudest of!
I made a black & white soutache necklace to my niece's school graduation dance event, they were dancing Wiener Waltz and she was shining in her outfit.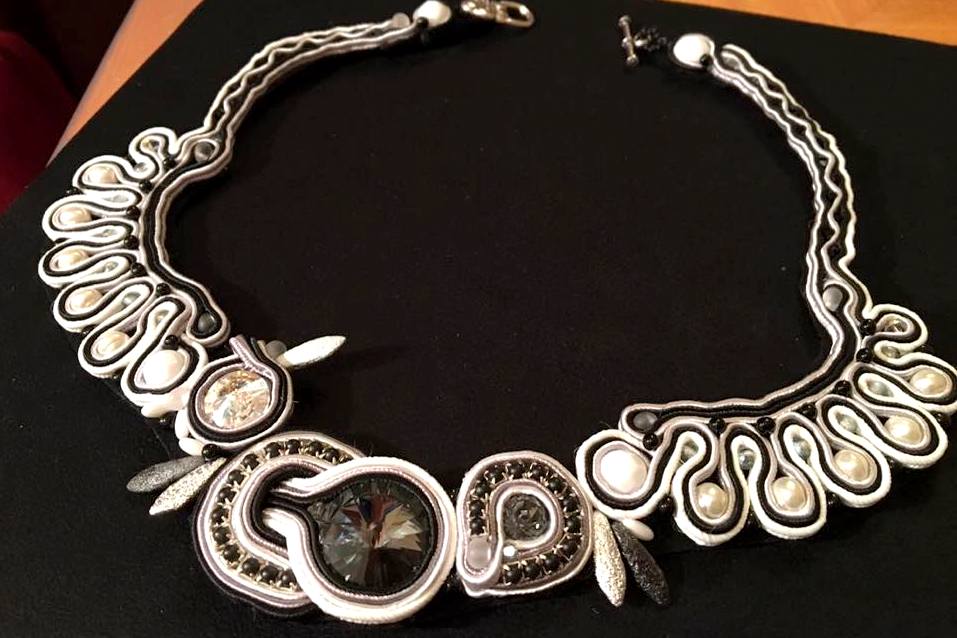 Where do you like to create? Do you have a designated area in your home where you keep your beads?
I am a mess, never been a person who could keep it tidy and organized, so my beads are everywhere and I can't keep them in boxes. I usually sit on the couch in my living room when I bead. It was a new year's promise to build some shelf system and buy a desk – however I literally hate desks and I don't know which year I'm talking about. 🙂 So I'm just becoming very silent when the beaders start talk about storage and organization.
What is your favourite stitch? Which colours do you like the most? On the other hand, is there any colour or colour combination you try to avoid?
I'm not sure if I have a favorite stitch, I think I go for the design, don't care about the technique. My color preference developed and I like to work with vivid colors, maybe it became my signature. But I love turquoise with brown, it's my go-to combination. I don't use much of transparent beads, having a hard time with certain tones of the rainbow, white and black don't happen too often. I particularly find red and green (not together) hard to work with, so I try to challenge myself. I think that going out of my comfort zone leads to evolution – regardless the area.
Do you follow instructions or do you like to develop your own designs? How would you define your style? 
I mainly follow the pattern, but like to develop it further. Sometimes I feel brave enough to do something by myself as well. Maybe it's just due to time issues.
Who are your favorite designers? Why?
Depending on the technique. I love when someone can come with new ideas time to time, even if I recognize the style. But no-one mentioned, no-one forgotten.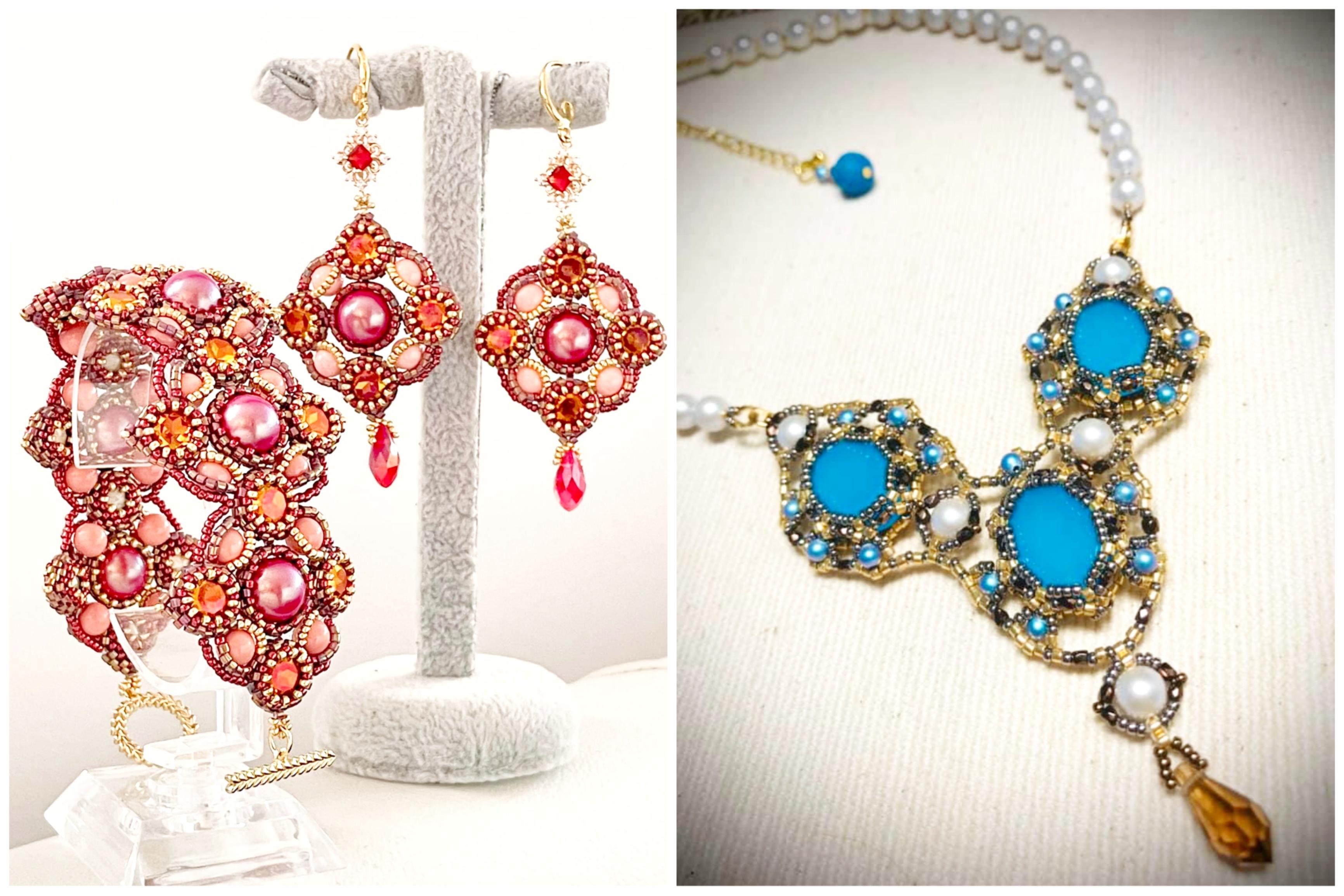 Do you have a favorite design by Erika? Tell us about it!
It's a very tough choice, I made several versions and adaptations of Erika's designs and there are not so many designs which I have not started or beaded yet. Byzantine, I think I have in 6 colors now. I'd say, as it pushed me out of my comfort zone, these embroidery designs must be on the list: Sashiko. Chandr Devee, Janis J and now the using the filigrees on colorful US. They are edgy, different, innovative and outstanding.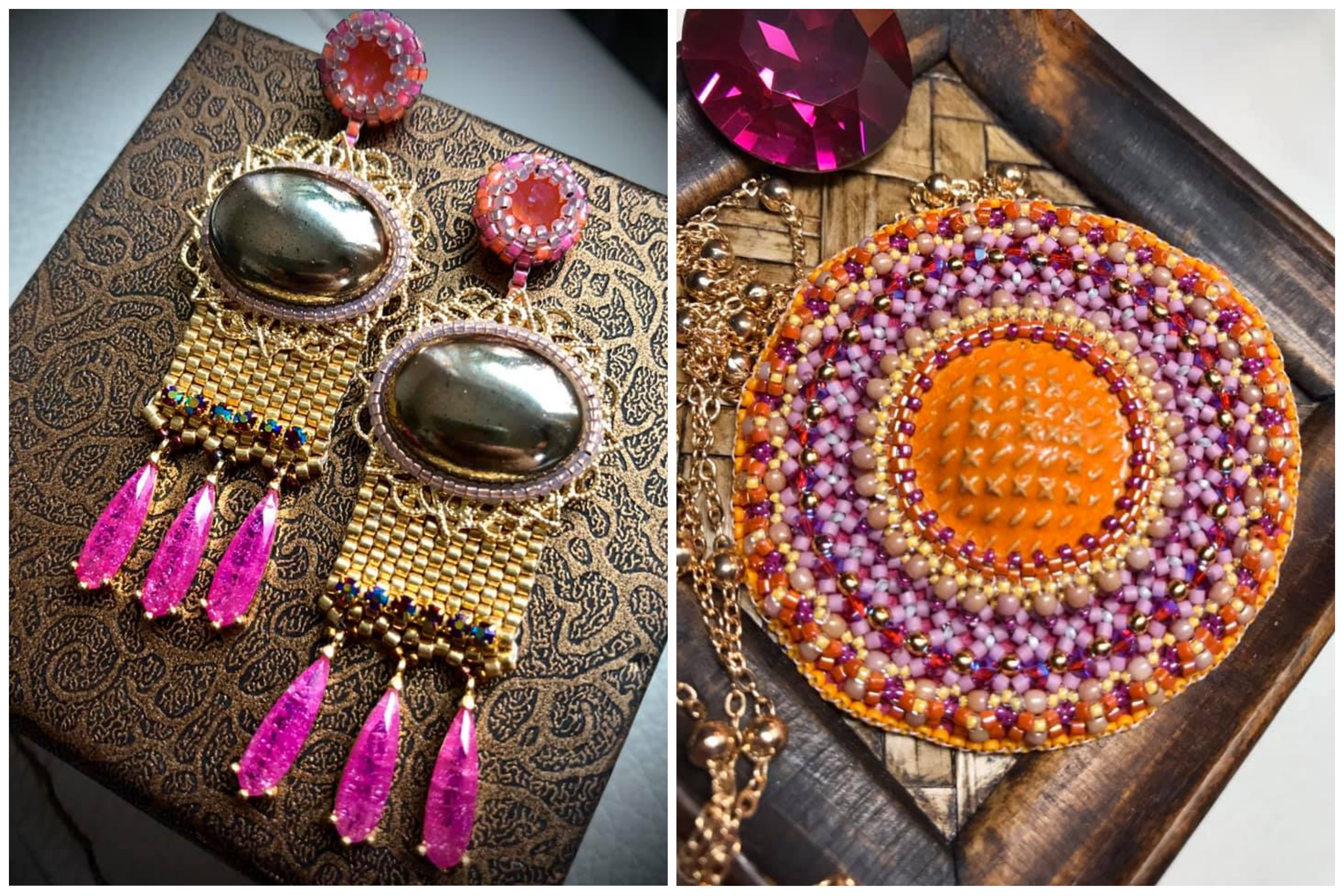 Which is the bead / component in your stash which you treasure the most? Do you already have plans how to use it?
I think we all love petting our beads. I have this black fox and when Erika, Anna Lindell and me picked them, we said, it's a competition who will do something first with it. I lost this BIG TIME, but I'm just eager to make sure that I will be happy with the result. No, it's not a UFO! 🙂
If you could design something for a well-known person or maybe a fictional character from a film or book, who would it be, and why?
It would be for my idol and favorite singer, the late Marie Fredriksson (singer of Roxette). I adored not only her talent but also her style; brave rock-chick, still elegant and stylish, matching the type of event she showed up. Actually, I gave her a cross-shaped pendant on a silver chain, made of Swarovski rivolis, the last time I met her personally. So, maybe it's a half-achievement? Sadly she left us in 2019 and I'm still processing this.
Is there a beadwork-related book/Facebook group/blog you would like to recommend to other beaders? Or any other trick to make a beader's life easier?
Does anyone remember Biloba? I recently found her first book on my bookshelf – one of the first beading books I bought. I also love Csilla Papp's soutache book, keep going back to that for inspiration.

What are your plans for the future as a beader? Is there something you would really like to learn?
Actually I enjoyed teaching, I tried out holding workshops both live and online. I would definitely do it again. I want to gain confidence in embroidery, try out new techniques and combine beads with different things. The sky is the limit, I guess. Inspire and get inspired. If I'll be brave enough to start my own things, I already have a brand name (and the godmother is Anna Lindell) – is that enough push?  Yes, there are some designers I'd love to learn from, attend workshops: Helena Tang-Lim, Sabine Lippert, Kata Budainé Nagy and many more, almost an endless list.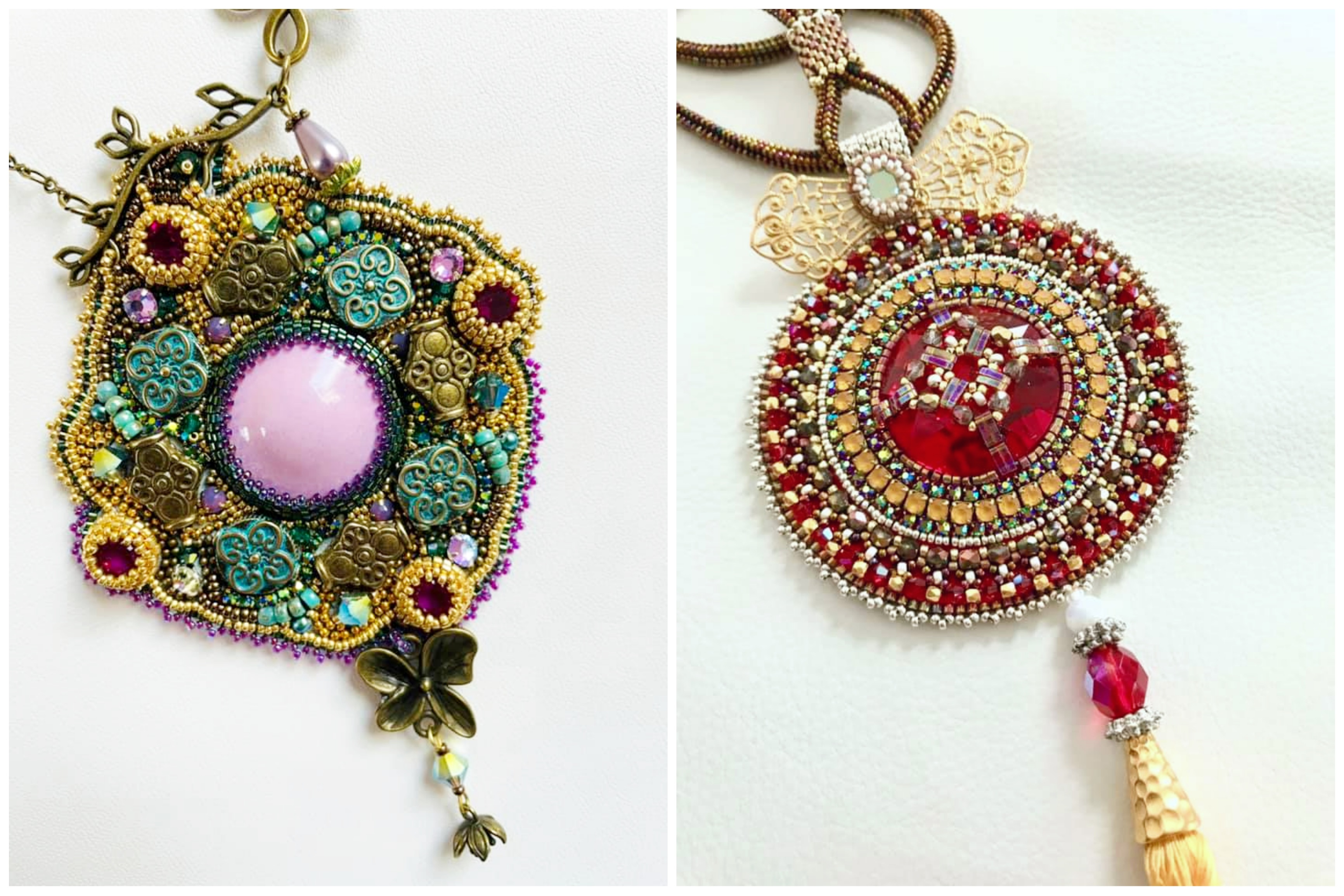 Where can we see and buy your designs?
I am a very annoying Facebook-post-factory, so whoever connects me, should accept this fact and I start to develop this behavior on Instagram as well.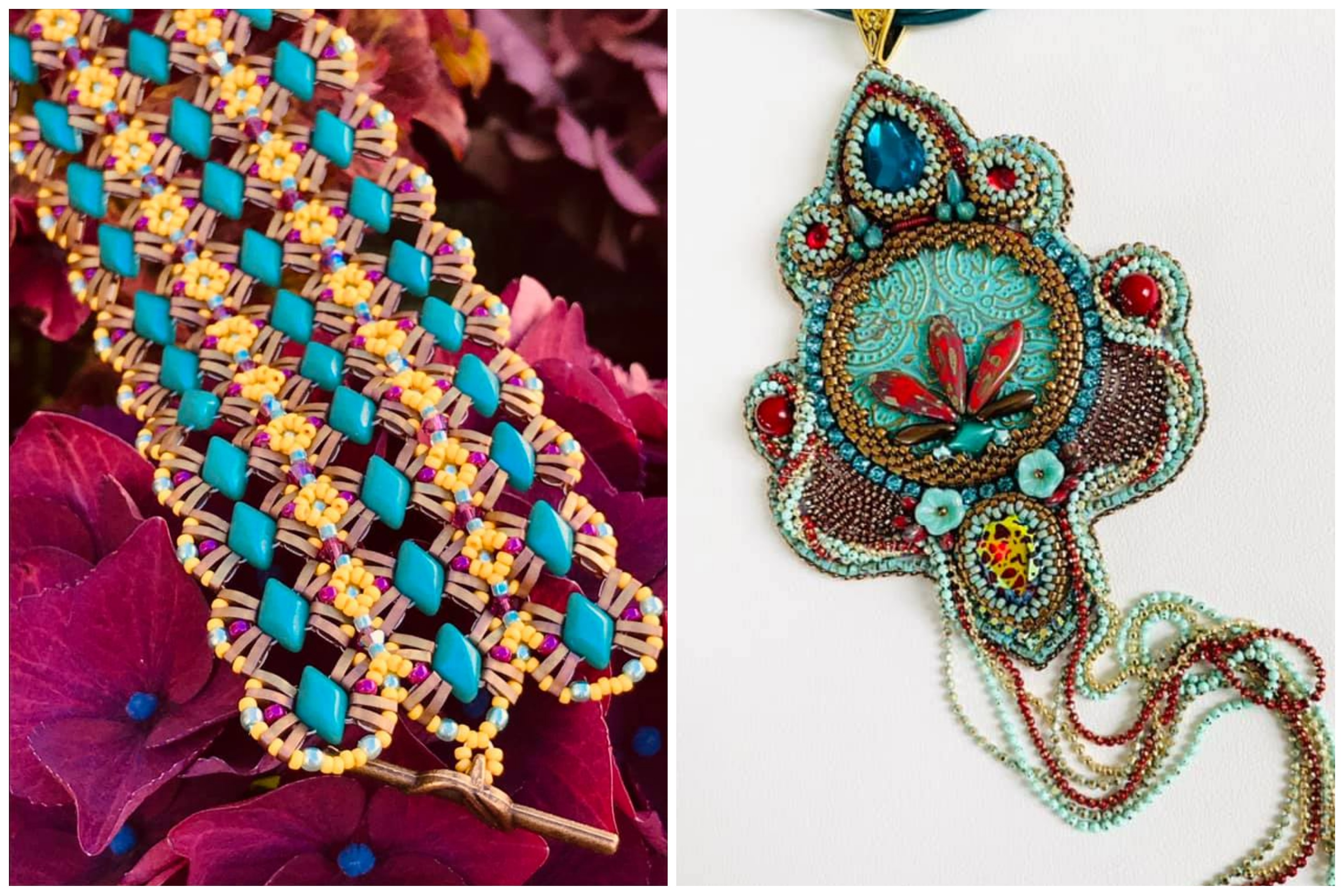 Thank you for answering my questions, Kata!
Dear friends, you can use the comment section if you have more questions you would like to ask, or greet Kata.
Stay tuned for more interviews for Beadingschool.com by Erika Sándor!
Reader Interactions