Last year's Beading competition organized by Erika was a huge experience and its 2nd annual was announced two weeks ago to the joy of many of you. 
Beadingschool contest 2021 is on and we start to feel its vibes in the air already! If you doubt if it's a good idea to join, stop! It's the best idea!
You have a unique

possibility to show your beadwork to world-known designers, and show off your creations together with fellow beaders from the Beadingschool Club and beyond.

Win great prizes from generous sponsors.
Have a new learning experience, but most importantly have fun!

We, at Beadingschool, know many of you started to work at your competition entries already. While you're working, beading your best, thinking about some of the designs and details every free minute, don't forget to relax your hands and brain a bit too. Take this time to read more about our amazing jury consisting of world-known designers! We're happy and honored they said yes! Huge applause to:

Before we start with their introductions, let's take the Beadingschool mini-quiz:
Can you guess (some of you know) and align the jewel to the designer who made it? Don't scroll down, no cheating 😉 The result will be at the very bottom of this blog post.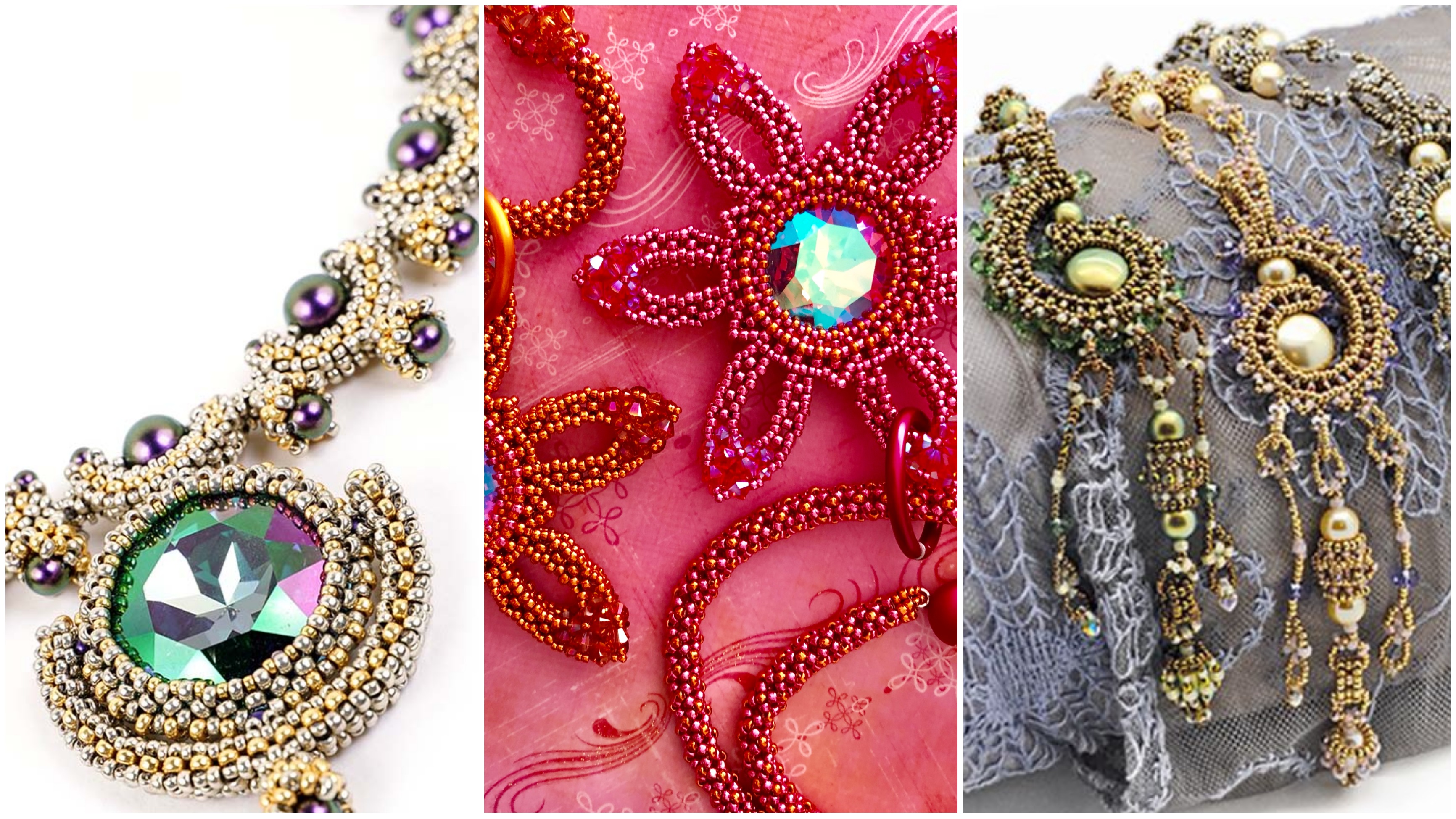 Are you ready to meet the fantastic ladies who are on the jury? Here we go!

Helena Tang-Lim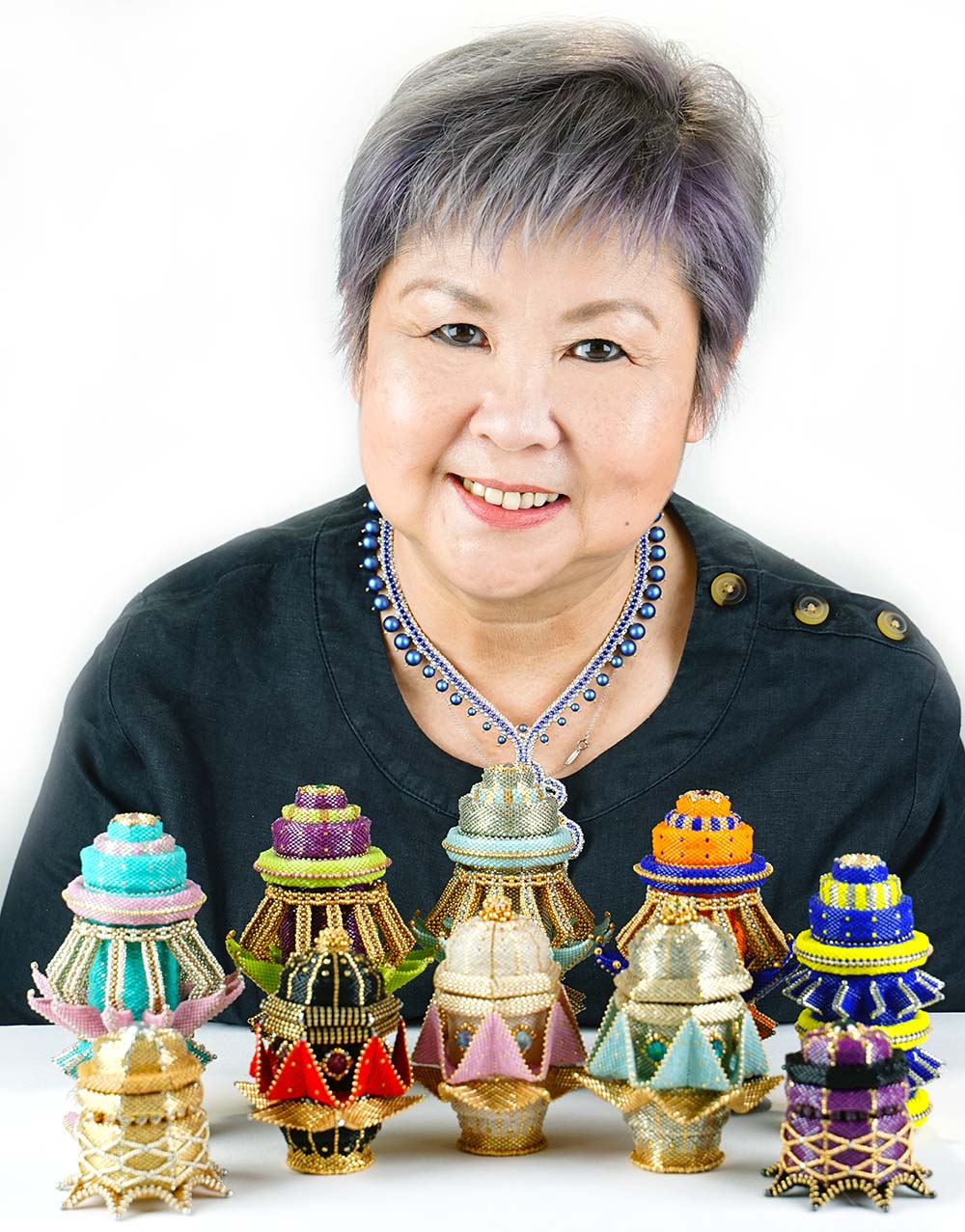 Hi, I'm Helena and I started with beading in the mid-1990s so I could make a pair of beaded shoes for myself. And from there, a passion, nay an obsession with the colorful, glittering little balls of glass and crystal was born.
I'm a predominantly self-taught artist, who specializes in tiny seed beads using many off-loom techniques to create colorful, exquisite beaded creations. After leaving an extremely fulfilling and rewarding career managing an eyewear distribution company, I decided to fulfill my dreams to own a "bead shop". However, given my management expertise and the high cost of operation, I knew that a traditional shop was not the way to go. It also did not allow me to indulge in my other passion which is to travel and see the world as a tourist. Instead, I harnessed my creativity in both management and my love of creating in beads to have a completely virtual bead shop.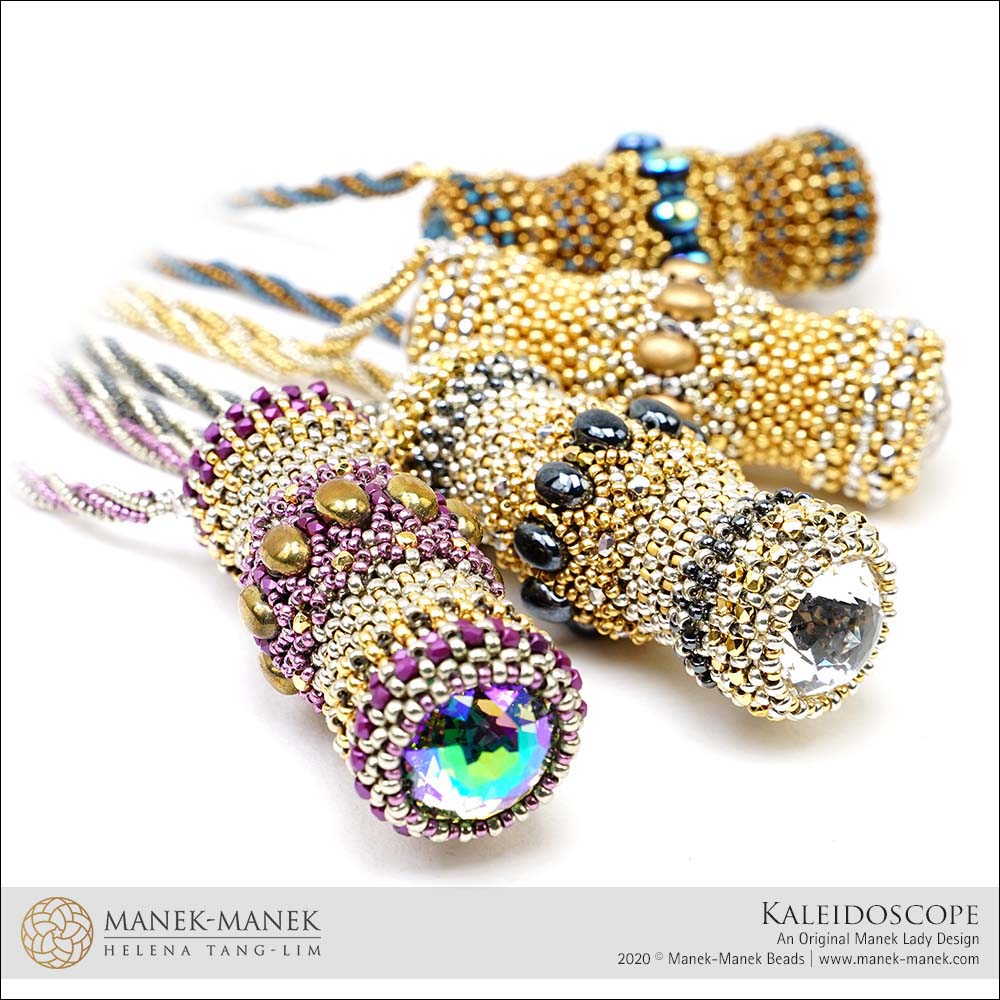 I'm spending my time "painting" with my beads to create exquisite beaded jewelry and objects. My work in beaded wearables often resembles fine haute joaillerie which I love. Inspired by the colors and cultures of my adopted country of Singapore, many of my works incorporate accents and nuances of my people and culture.
My virtual shop, Manek-Manek Beads, takes its name from the Malay word for beads – manek-manek and also pays homage to my first encounter with beads, the first pair of kasut manek (beaded shoes). Many of my works can be found in specialized bead and craft publications and I have been honored with international awards. I share my work through teaching and selling pre-packed kits and instructions so that others may create and own one of my beaded creations.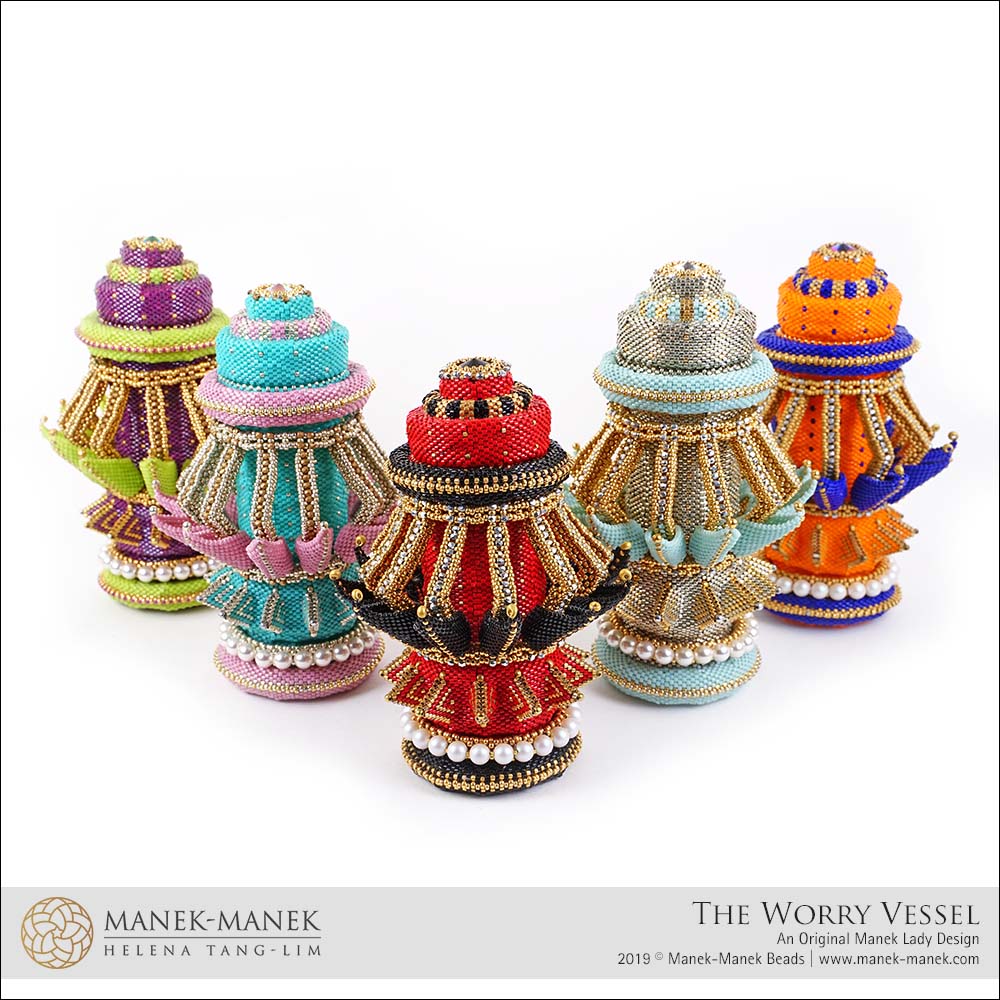 The place to see more from my work and current workshops is the Manek-Manek website.  You can follow me on the FaceBook page ManekLady and Instagram.

Heather Kingsley-Heath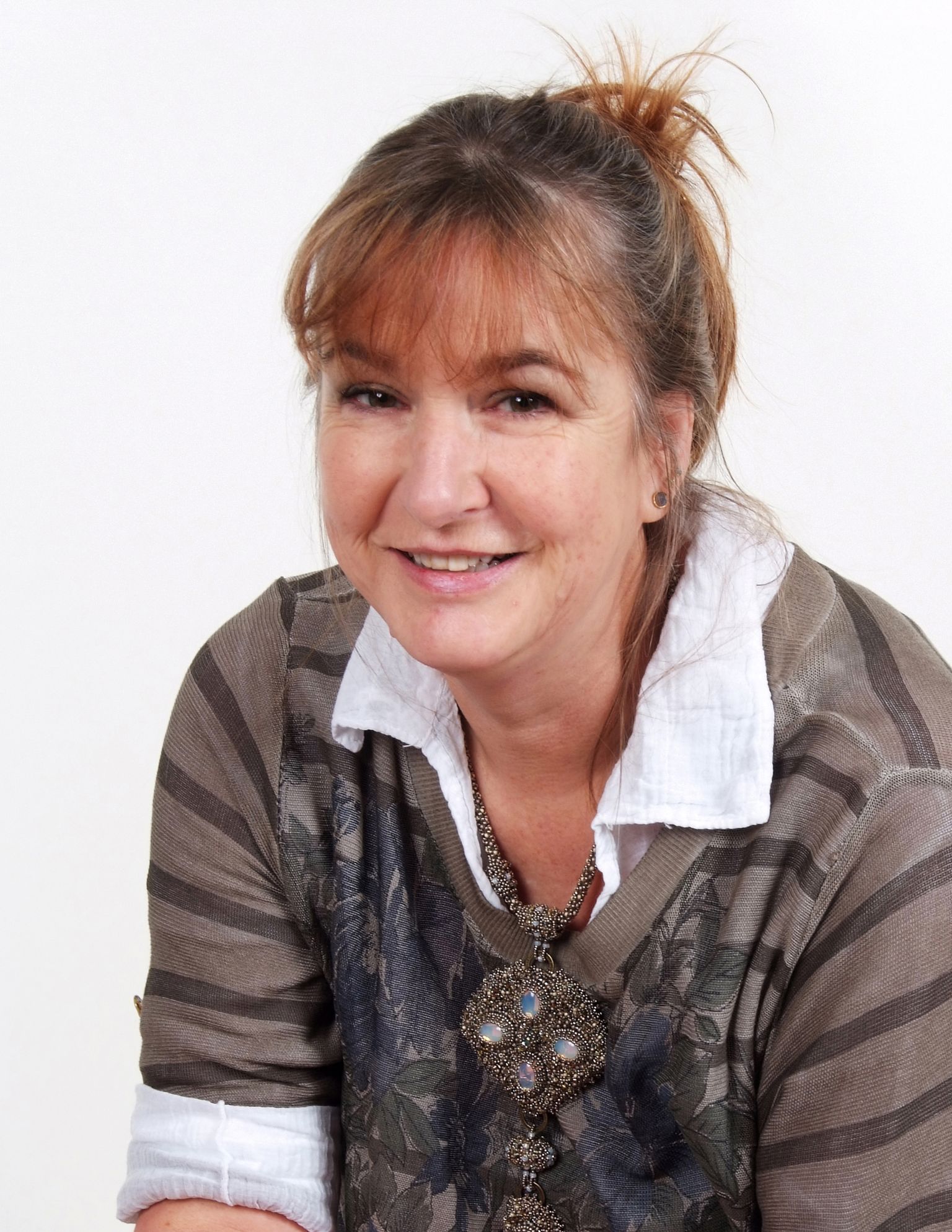 Hi, I'm Heather and I love beads. I also love textiles and metal, but most of all I love using colors and creating shapes. I design and teach beading, mostly with thread and seed beads, but occasionally include some silk or velvet, or some gentle wire work. I love all the beadwork techniques, from bead embroidery through to Prismatic Right Angle Weave, mixing them together creates really interesting textures. Vintage and history are great sources of inspiration, soft metallic colors and antique-looking pearls and crystals are a favorite.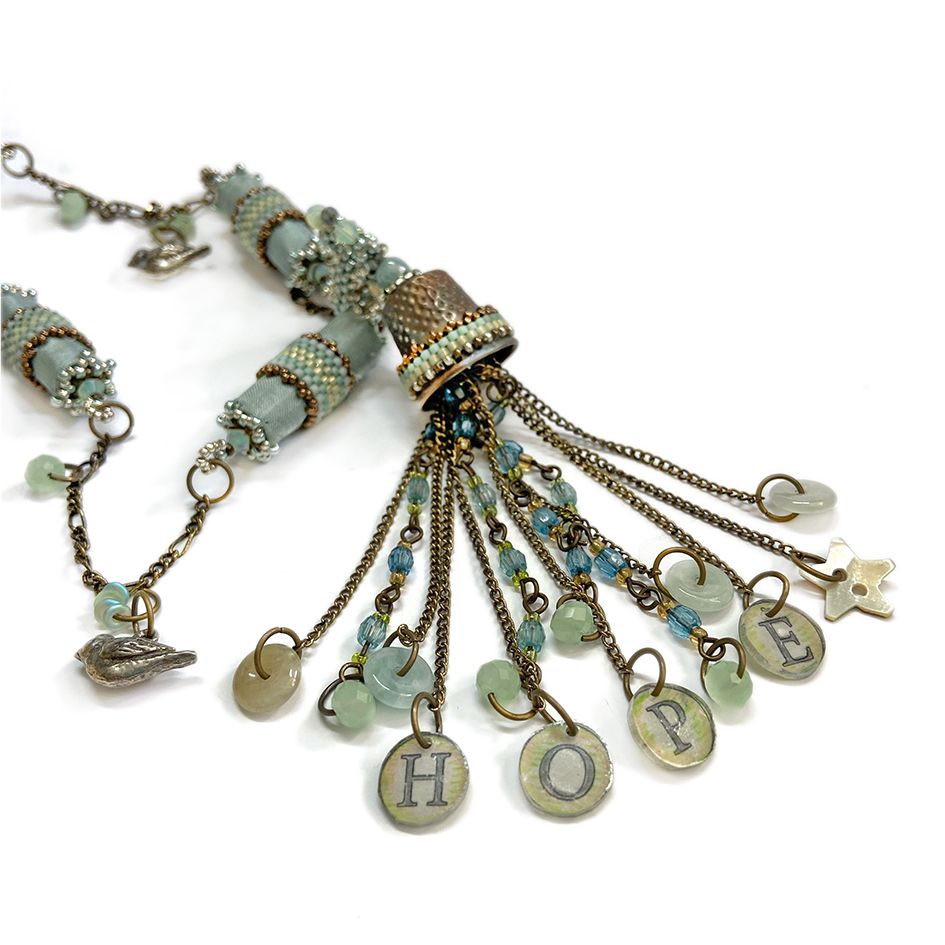 I started beading by looking at books and bits of beading in museums, then I took a few classes with beadwork artists I admired, like sisters Wendy Hubrick and Sue Jackson, the inspirational David Chatt, and queen of divine details Cynthia Rutledge. When my friend opened an embroidery shop with a lovely teaching room she asked me to go along and show people how to bead. My beading career just grew from there.
I love travelling to meet up with beaders. I discovered a whole different way to work last year, via zoom. It's fun to welcome everyone into my home and workspace. Zoom is great, I have a whole workroom full of beading and samples I can share on-screen, when we start discussing ideas. Way more than I could ever get into a suitcase or on to a long haul flight.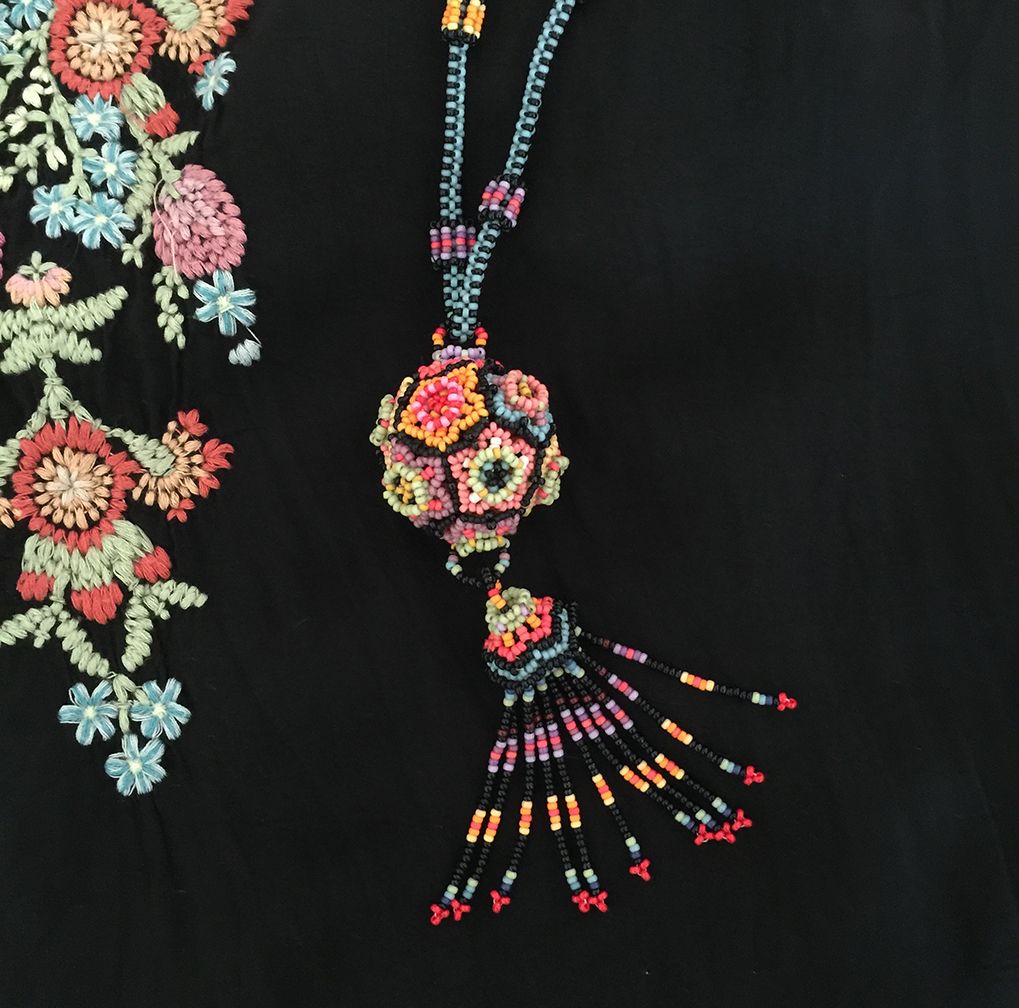 The second episode of my beading life is writing about beadwork. I enjoy spending time exploring museum archives, digging out the thread paths of the past. It's important to keep techniques developing and moving and to rediscover lost ideas and methods. I wrote three books about Albion Stitch, a technique I developed from many experiments. It appears often in my work and it's my go-to for 'drawing' with beads. It's ideal for beading bezels for stones with corners or irregular edges. I also co-authored 'Tudor Inspirations' with Melanie de Miguel. We teach more of the elemental beadwork we introduced in the book at beading retreats here in England. My bead boards are full of in-progress pieces for magazine articles, upcoming workshops, and yes, more books.
I'm so looking forward to seeing the entries for the competition! I think you can tell if the maker was in love with the process of making, and I'll be celebrating the courage it takes to finish and submit a piece for sure. After that, I'll be looking for happy color combinations and shapes that feel satisfying to look at.
My book, kits and patterns are available at www.heatherworks.co.uk. You can also follow me on my FaceBook Page Heatherworks.

Siân Nolan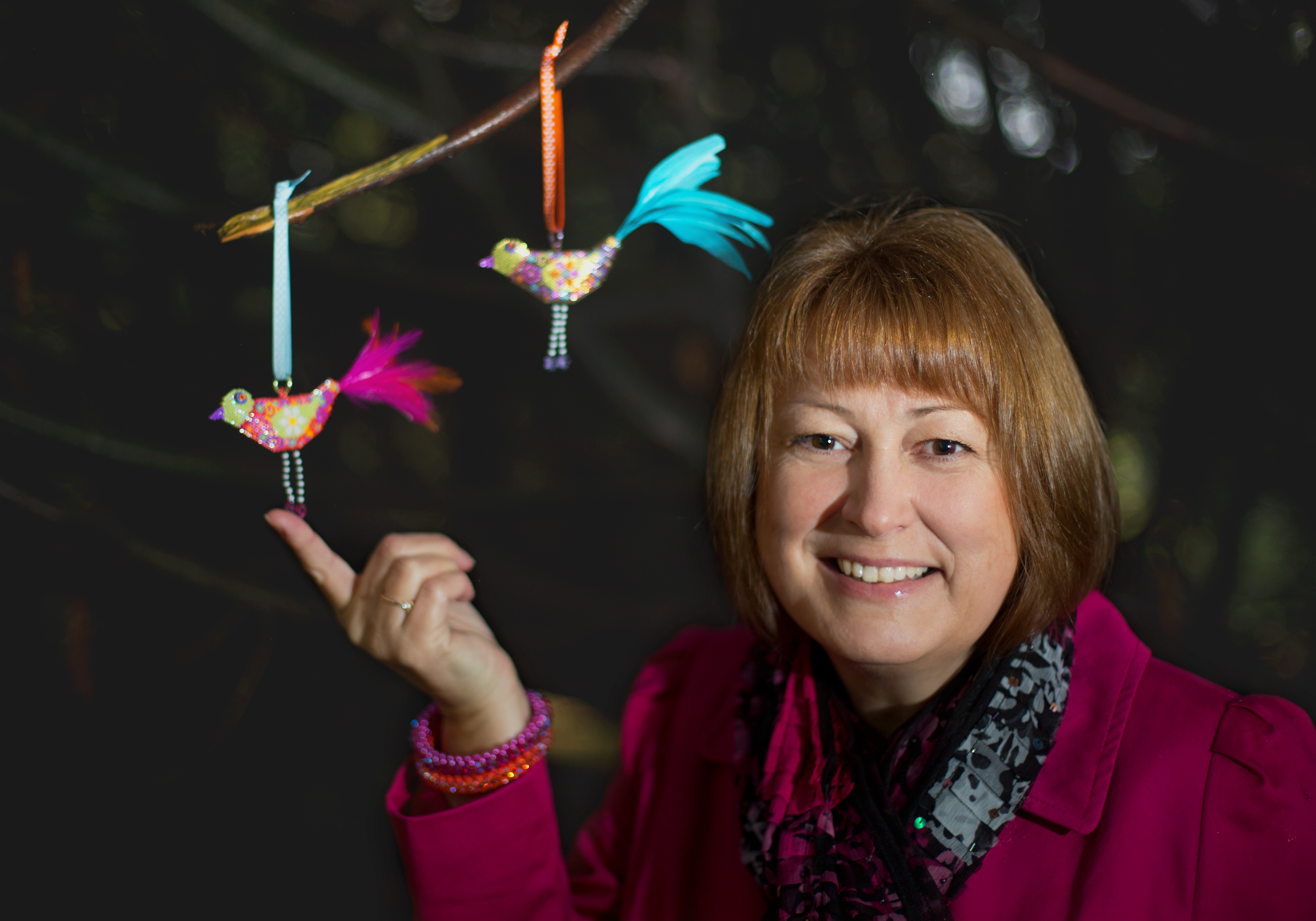 My name is Siân and I live on the South Coast of England near Portsmouth in Hampshire with my husband of 34 years Tony and our two sons Toby and Barnaby. My obsession with teeny tiny glass beads began over 20 years ago and at the beginning, I never could have imagined where it would take me; traveling, teaching workshops, writing for books and magazines, meeting my beading idols, making wonderful friendships worldwide.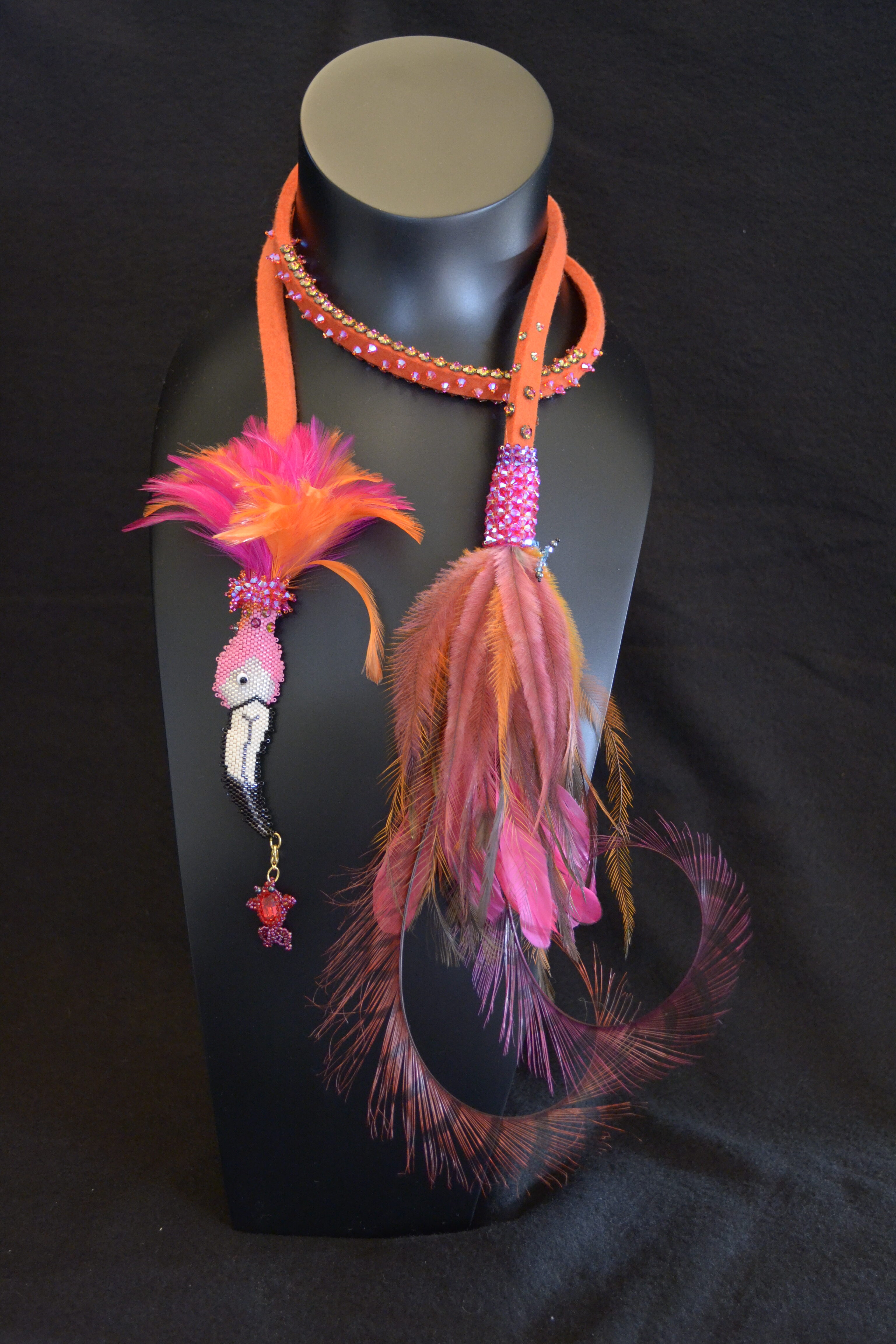 The biggest surprise of all was having my own book published in 2015. My book, 'Siân's Needle Cases' contains a fun collection of whimsical and contemporary beaded needle cases.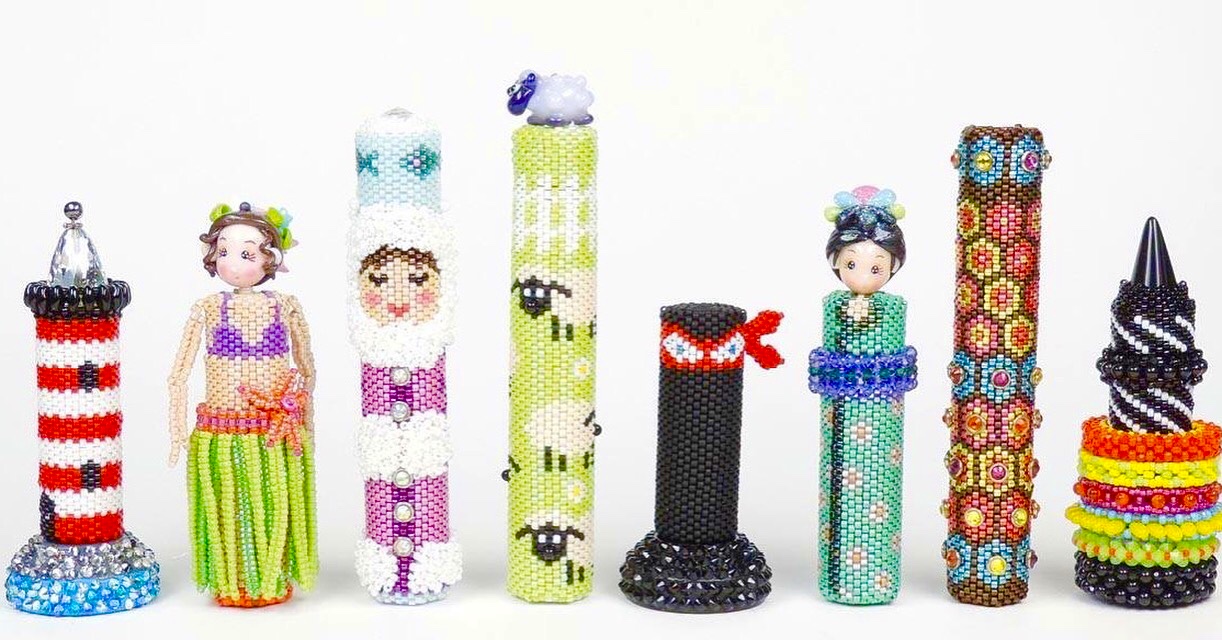 I love all things quirky and unusual and my work is usually bright, colorful, with a touch of sparkle. My favorite stitches are Peyote and Right Angle Weave and the materials I use most are seed beads, Miyuki Delica beads, and crystals. I'm always on the search for curios to add to my collection to use when inspiration strikes!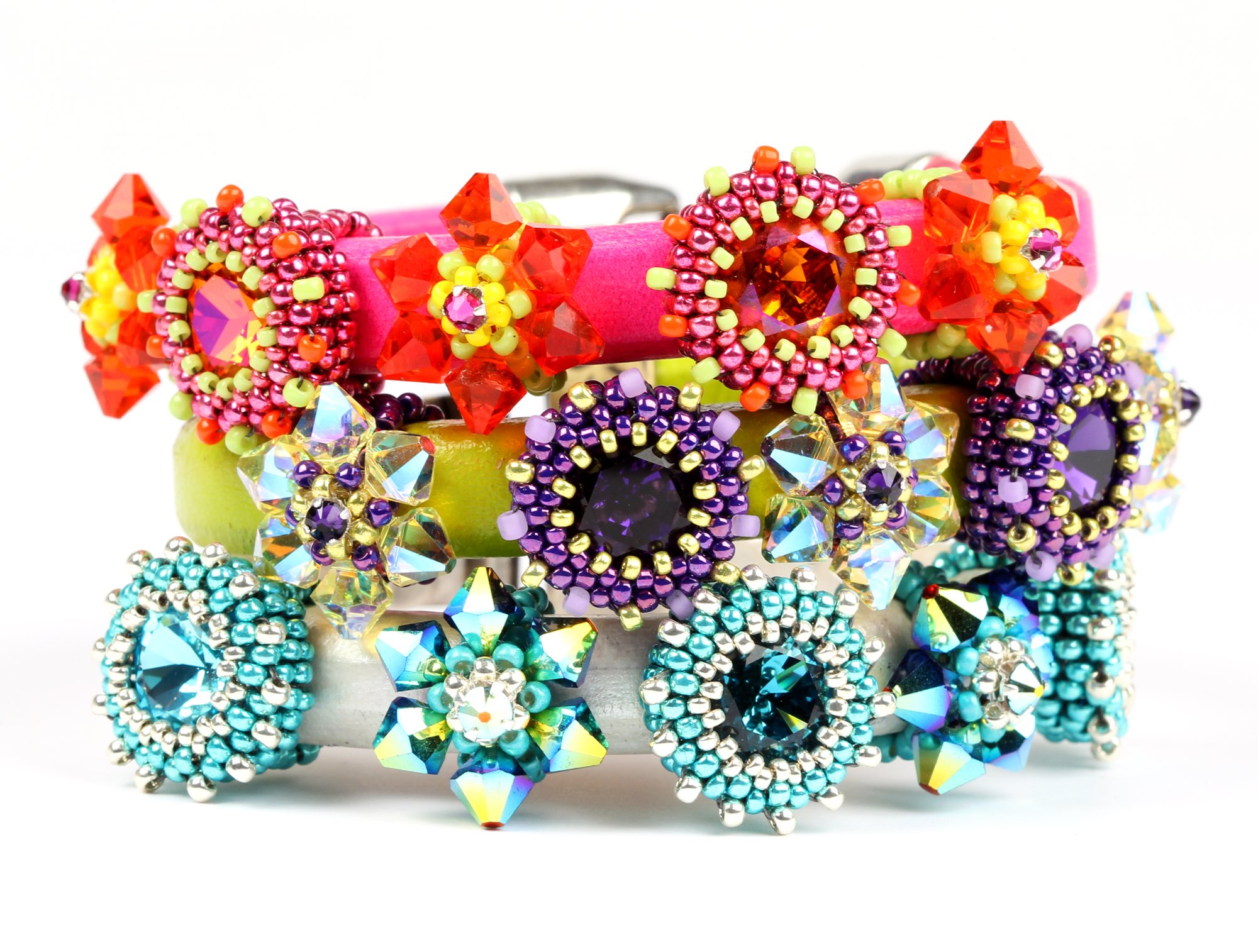 You can see more from my work here: Beadwork by Sian and follow my Instagram.

Each of our jurors shines, brings something different, unique, and beautiful into our world and beading community. Ladies decided to share their time, knowledge, providing support, and judging in our Beadingschool contest 2021. We're very excited and curious to see what comes with the following weeks after our participants submit their entries into the contest!
We're at the end of this blog post and here's the Beadingschool mini-quiz resolution!
Did you guess? Or did you know for sure?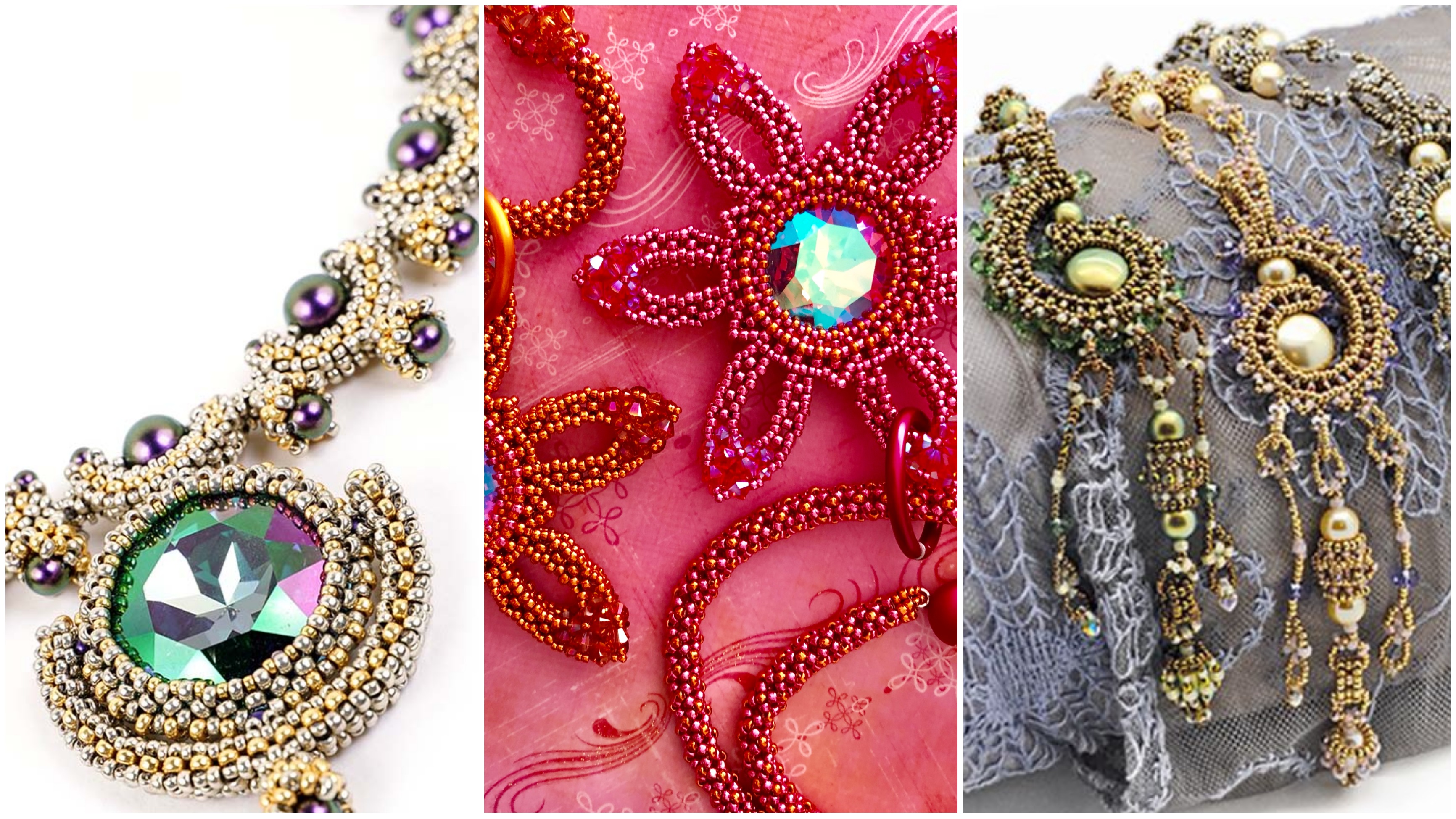 The picture shows jewels made by our jurors in the following order – from left to right:
Helena Tang-Lim,
Siân Nolan,
Heather

Kingsley-Heath.
Thank you, Ladies!