After the past few days of work I might have a new criteria to determine, which focal stone (crystal, mineral or any other cabochon) is much more than 'good enough' to work with. Here's the thing: I'm sure all of us have in our stash beads which we treasure more than usually. Some uniquely coloured semi-precious beads, hard to come by fire polished rounds, or as in my case this time, some pretty expensive and oh so beautiful Swarovski Element bicone beads in Turquoise 2xAB and Dark Red Coral. I ordered them from Perles and Co. several years ago, but unfortunately they don't carry them any more.
Since at the moment I can't replace them (and in case of the Dark Red Coral I'm not sure if I ever can), I was saving them for a pretty long time. A year or two, maybe even more. Always waiting for the perfect project, always thinking 'meh, not this time.' Until now, when in the span of only a week I used up all of my precious stash of them. The reason is the package of handmade, unique cabochons I got from Lenka Gondova and Lacka Repkova of L2Studio.

The cabochons I received were beautifully packaged: a solo red one in an embroidered little pack, the other four (two orange, a bronze and the nicest, in turquoise) within a square of felt cut in a special way. The openings hold the stones in place, and while they streghten the 'one-of-a-kind' feeling even more, they also protect the pieces. I received three different designs in various colours, and I chose to work with the one called 'Sashiko' at first. The red one on the picture above is responsible for mopping up my last pieces of the Dark Red Coral bicone beads, and the turquoise one ate up nearly all of the Turquoise 2xAb ones.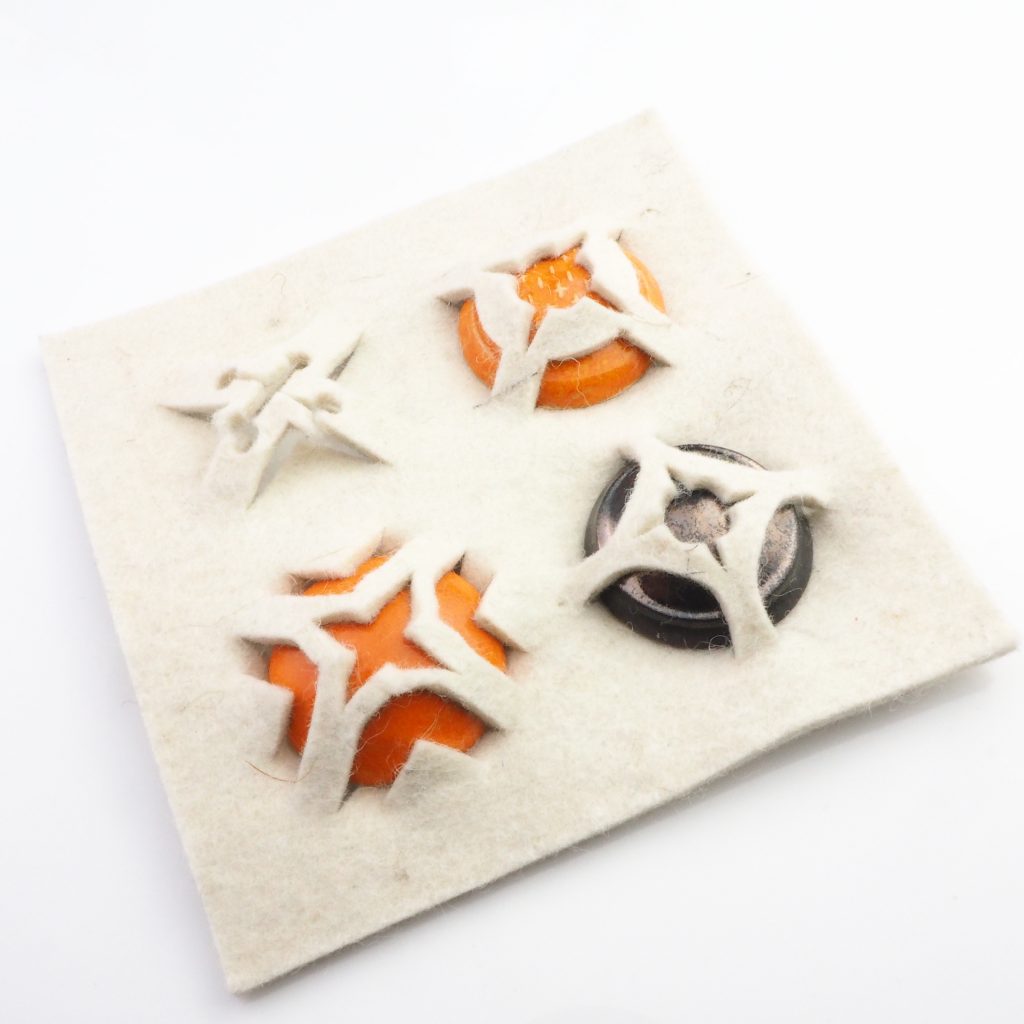 By the way according to Wikipedia the Japanese word "Sashiko (刺し子, literally "little stabs") is a form of decorative reinforcement stitching (or functional embroidery) from Japan. Traditionally used to reinforce points of wear or to repair worn places or tears with patches, this running stitch technique is often used for purely decorative purposes in quilting and embroidery. The white cotton thread on the traditional indigo blue cloth gives sashiko its distinctive appearance, though decorative items sometimes use red thread."
And finally, this is what I've made. The design of the cabochon recalling the little crosses of Sashiko embroidery inspired me to try a new stitch. Well, at least new for me. I'm a 100 % sure the stitch was invented before and I'm not the first to use it, since it's quite simple, but I didn't find any fancy name for it, so let's call it Sashiko stitch, shall we? 🙂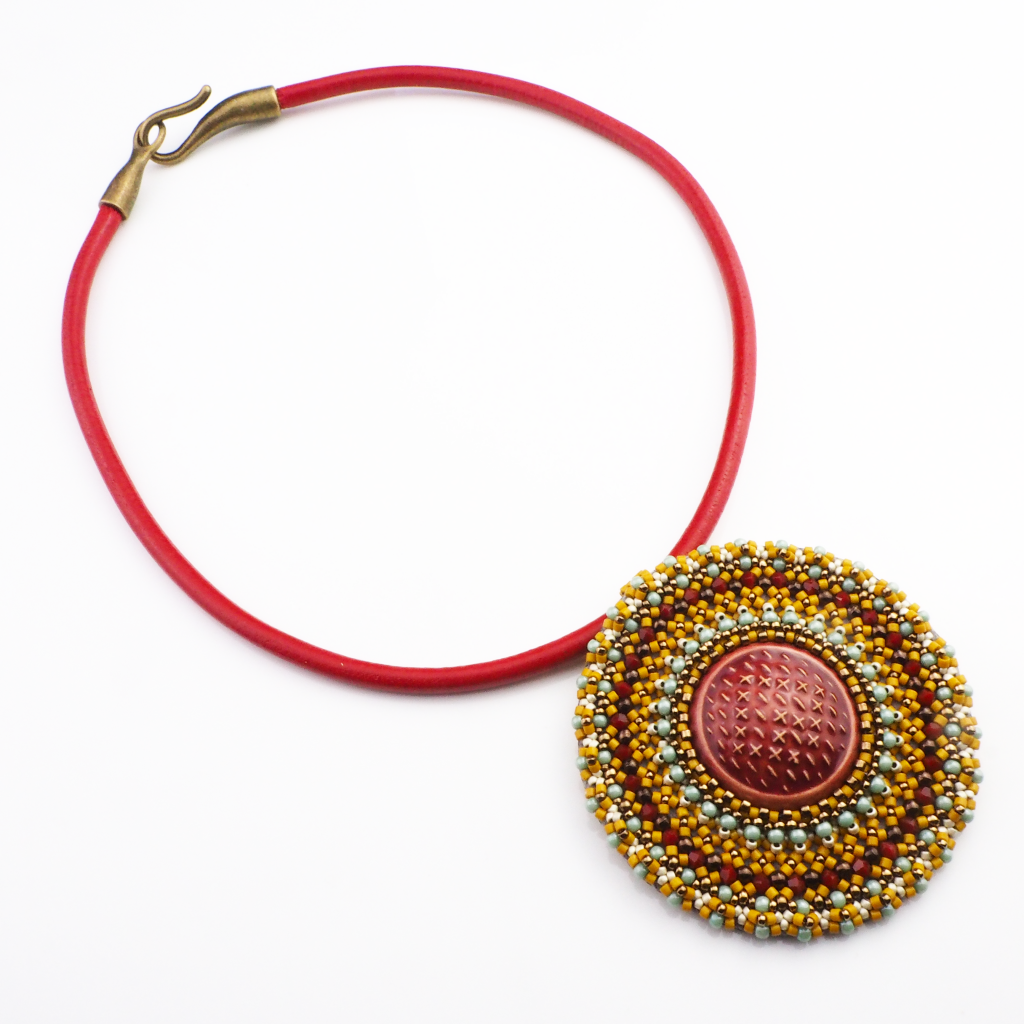 I would like to walk you step-by-step through the process, so you can easily bezel your own Sashiko cabochon, too. (You can purchase the beautiful clay cabs here. You can also win one of  these beauties, just keep reading!!!) I will show you the steps on the second, turquoise – spring green version I've made. And if you would like to get one of these luxurious, handmade clay cabochons as a gift from L2Studio, fill in the form below and keep your fingers crossed! Also, please answer some question how do you like them – it will be a great help for the girls to continue making these beauties.
If you turn out to be the lucky one, you will receive a similar turquoise Sashiko cabochon to the one I used in the bead embroidery tutorial. We will randomly select a winner on 21 / 10 using random.org. (contest closed)
---
Sashiko cabochon beadwork tutorial
---
You can buy the tutorial here, or become the member of the VIP Jewelry Maker Club! and download it for free. This is the number 4 tutorial you will get, after the Forget-me-not earrings, the Caleidoscope ring and the Priscilla beaded bead.
MATERIAL AND TOOLS YOU NEED:
1 x Shashiko cabochon from L2Studio in Turquoise blue
11/0 Miyuki Delica in Matte Opaque Light Olive Luster nr. DB0371 (C11)
15/0 Toho seed beads in Opaque Turquoise nr. 55 (R15A)
15/0 Miyuki seed beads in Metallic Dark Bronze nr. 457 (R15B)
11/0 Miyuki seed beads in Metallic Dark Bronze nr. 457 (R11)
cca. 90 x 2 mm round pearls in Shiny Light Spring (P2A)
cca. 30 x 2 mm round beads in Dark Bronze (P2B)
cca. 30 x 3 mm Swarovski Elements bicone beads (article nr. 5328) in Turquoise 2xAB (BIC)
Ultra Suede
E-6000 glue
4 mm thick leather cord
clasp for 4 mm thick cords
leather for the backing
leaf shaped O-T clasp (the leaf part of it)
strong cutting pliers
Fireline, needle, bead mat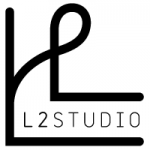 The pendants and the tutorials were made thanks to the generous gift of L2Studio. Thank you very much, Lenka and Lacka!
And dear beaders, here you can check out the hottest products from the kiln of L2Studio. These are only the newest, for the whole collection visit L2Studio on Etsy! Enjoy!